Hatch Rest Sound Machine – My Full Review (and Why I Bought Two)
Before having kids, white noise was the last thing you'd hear bumping from our speakers at night. Now that I'm a mom with both an infant and a toddler, we use sound machines every day to drown out background noise, soothe our little ones, and help them sleep.
With remote control capabilities and a wide range of adjustable nightlight and sound options, the Hatch Rest has been a helpful tool for us during naptime, bedtime, and throughout the night.
The Hatch Brand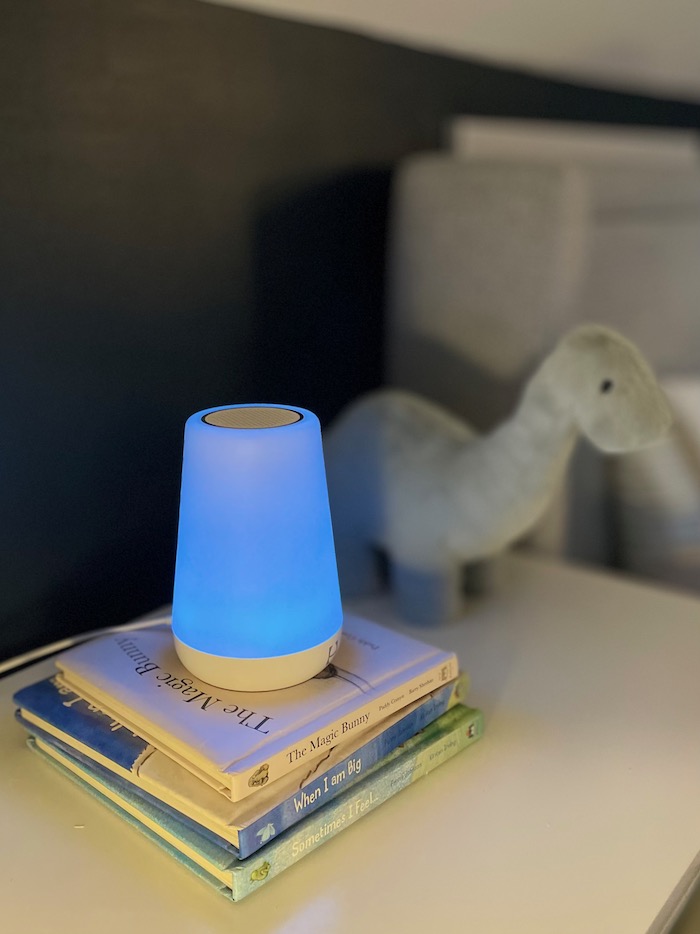 Ann and Dave Weiss founded Hatch after raising a newborn baby and struggling with insomnia. In 2016, they appeared on Shark Tank and secured a $250,000 investment in their growing business. The Hatch Rest sound machine for children was their first product.
Hatch now sells multiple models of the Rest (including first and second generation Rest and Rest+ versions), along with a mini sound machine, two adult sound machines, and an adjustable pillow. Almost all their products capitalize on the benefits of white noise for encouraging sound sleep.
The Benefits of White Noise
Parents of little babies will try almost anything for a solid night of sleep. I don't even want to think about how many swaddles and sleep sacks we've bought, convinced that each purchase would be the magic solution we needed. Fortunately white noise is an intervention that really does work for helping little ones doze off.
White noise is calming for babies because it reminds them of the womb—which is apparently a noisy place—and drowns out environmental sounds. Researchers have shown that white noise decreases crying and lengthens sleep in babies with colic. It's even more effective than gentle rocking or swinging motions.
Tips for Safe White Noise Use
Although white noise can be a major win for parents trying to calm their babies, sound machines can damage little ears if they're too loud. They can also create dependence with repeated use.
The American Academy of Pediatrics conducted a study on sound machines in 2016. When they found that many exceeded noise exposure recommendations, they published the following recommendations for safe use:
Play white noise at low volume.
Place the sound machine far away from your infant's head.
Only play white noise for a short period of time.
Now that you're armed with some information on how white noise can be helpful and safe for your kids, let's review some features to help you decide if the Hatch Rest is right for your family.
The Skinny on the Hatch Rest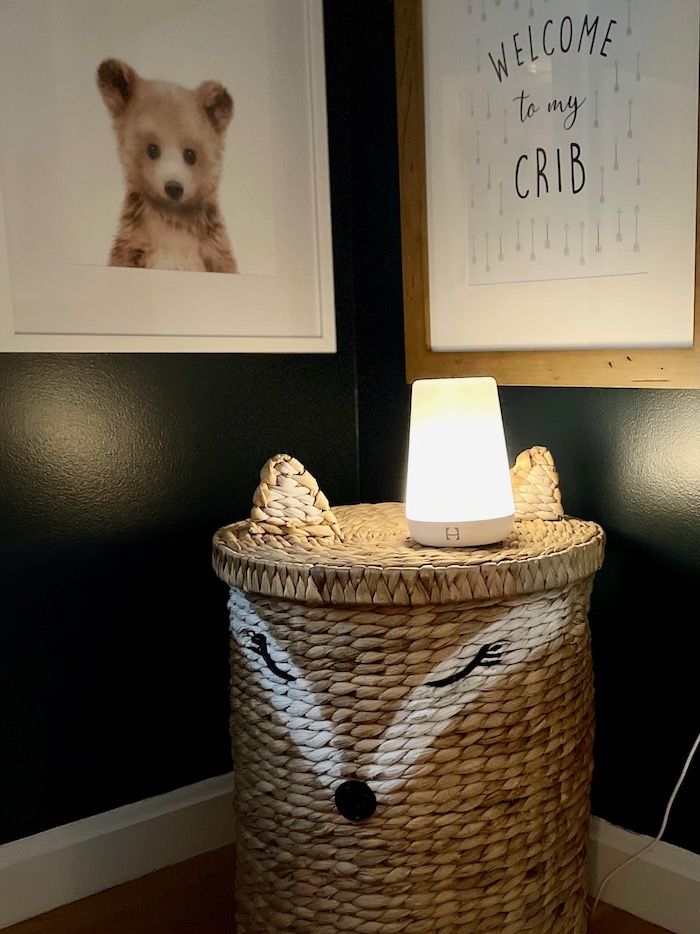 The Hatch Rest is a smart sound machine and nightlight designed for children, from babyhood to the big kid days. The device has 11 different sounds and 10 color options that users can adjust on a broad scale of volume and brightness.
The Rest has a compatible app that lets parents create preset favorites, design sleep programs, and create a time-to-rise schedule for toddlers. The ability to change the device's settings remotely is a huge win for parents who want to power up the machine to kickstart bedtime or make adjustments after their little ones are asleep. Hatch sells multiple accessories for the Rest including a handy travel case and cute coverlets to match your child's aesthetic.
Hatch Rest: Weighing the Pros and Cons
Pros
Parents can change the volume remotely without disturbing their sleeping child.
Adjustable nightlight can be bright enough for diaper changes or dim enough for sleep.
Sleep programs allow parents to set the machine to scheduled nightly settings.
Cons
Expensive for a sound machine.
Although lightweight, the Rest can occupy some valuable suitcase space when traveling.
Hatch Rest Features
Cost
The Hatch Rest (first and second generation version) costs about $70. That's high compared to most sound machines, which typically fall into the $20 to $30 range. It is possible, however, to find it secondhand for less.
Portability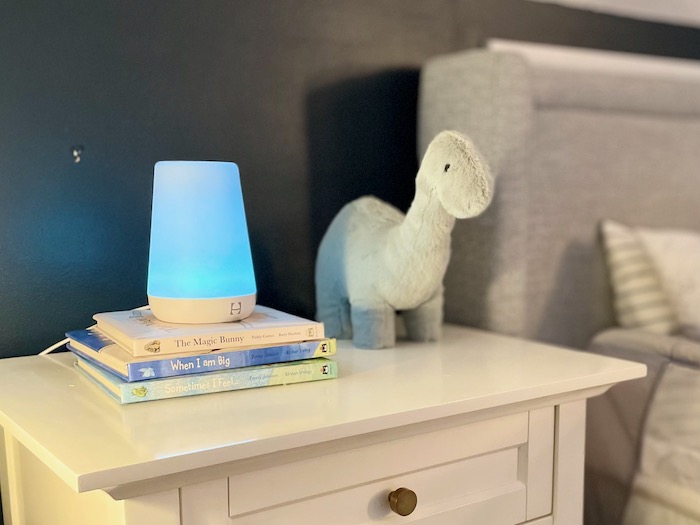 The Hatch Rest measures 4″ by 4″ by 6.6″ and weighs only 0.81 pounds. Although it's only the larger side for a sound machine, we always travel with ours, even if we're flying. Hatch also sells a travel case to protect your machine and power adapter on the road.
Battery
The Hatch Rest does not have a battery to keep the machine running when not plugged in. This is true for both first and second generation models. For use without a power adapter, check out the Hatch Rest+.
Sounds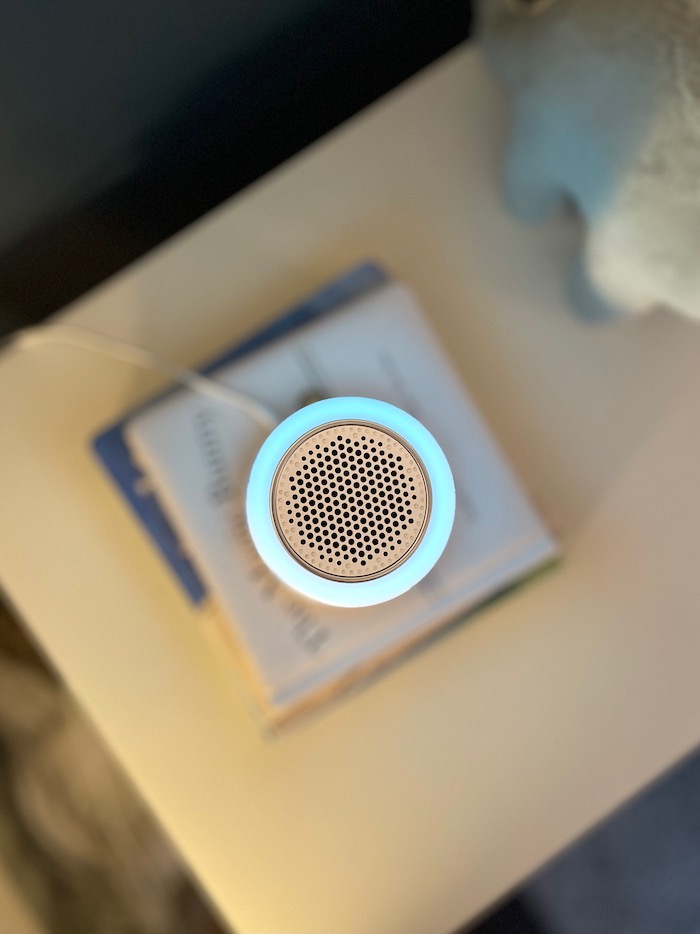 The Rest offers eight background sounds—white noise, crickets, rain, birds, wind, ocean, water stream, and dryer—and three lullabies. The app has a volume scale of 1 to 100, so parents can really dial in on the exact level they'd like.
Although we usually choose white noise or ocean, my toddler did go through a phase when all he wanted to listen to was a lullaby for sleeping. The included songs are gentle and soothing, and he slept great even with the music playing.
Nightlight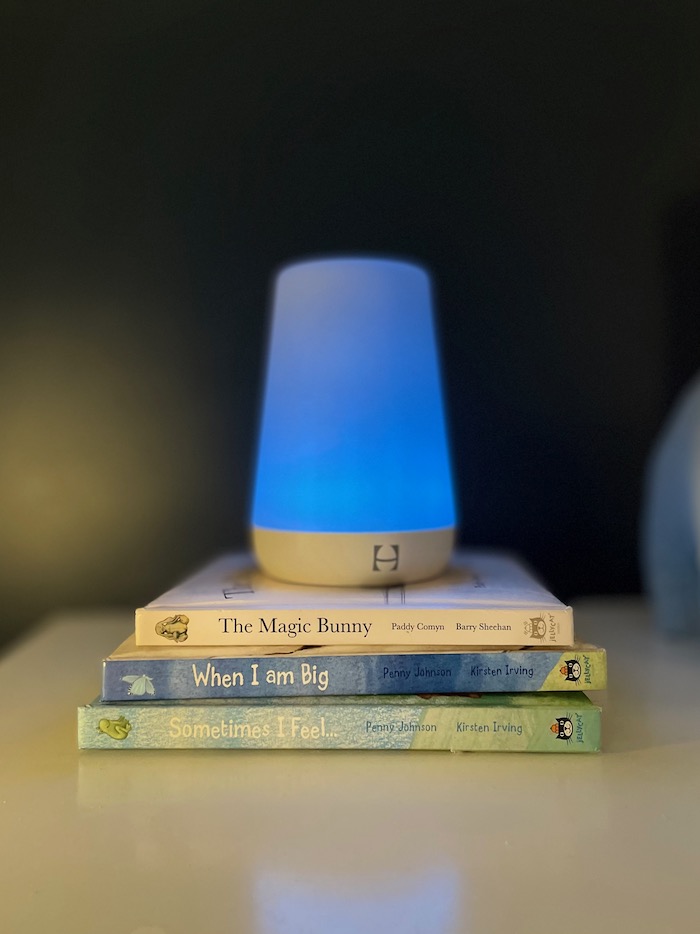 The Rest has a comforting nightlight that emits a soft glow. We love the wide range of the light's brightness, which we can fine-tune on the app or on the device itself. While the light's brightest setting is strong enough to change a dirty diaper or find a pacifier on the floor, its dimmest setting is just enough to soften a pitch-black room and chase the monsters away.
The Rest has nine built-in color options as well as a color wheel that lets you select a custom tone. There's also a rotating color-changing option if you're looking for that help-me-sleep-but-make-it-feel-like-a-disco vibe.
We didn't use the nightlight feature on a regular basis until my son turned two and started having the occasional bad dream. After that, I was thankful we had an adjustable nightlight to keep his fears away and help him sleep soundly.
Device Controls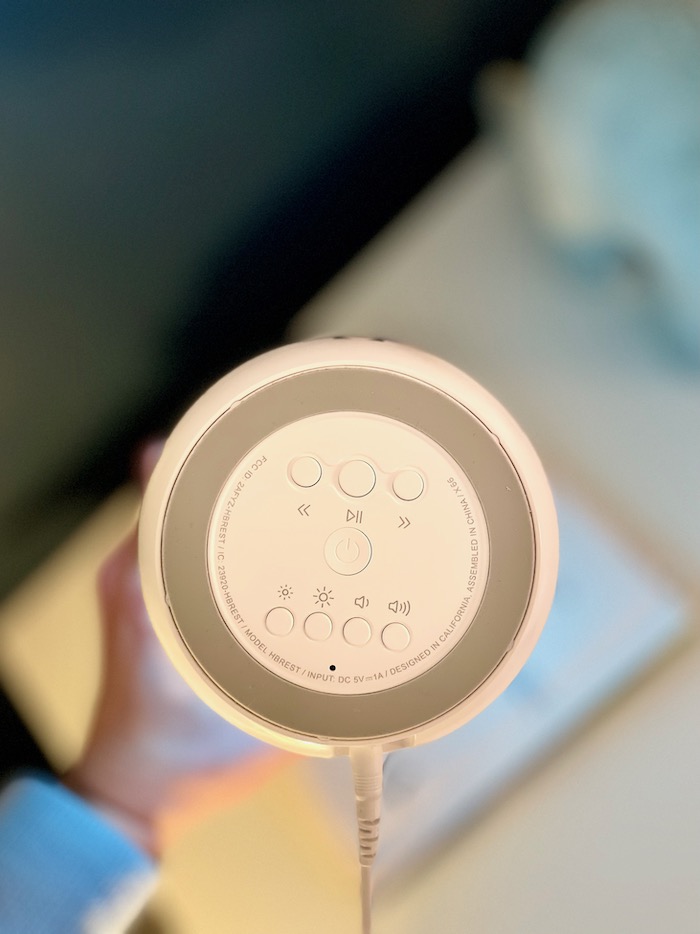 The Hatch Rest has a clean and modern look without any visible buttons on the machine itself. A clever metal ring at the top lets you cycle through your favorite presets or power off the device. Buttons located underneath the Rest allow you to cycle among all sound types, toggle the volume and brightness, and turn the machine on and off.
App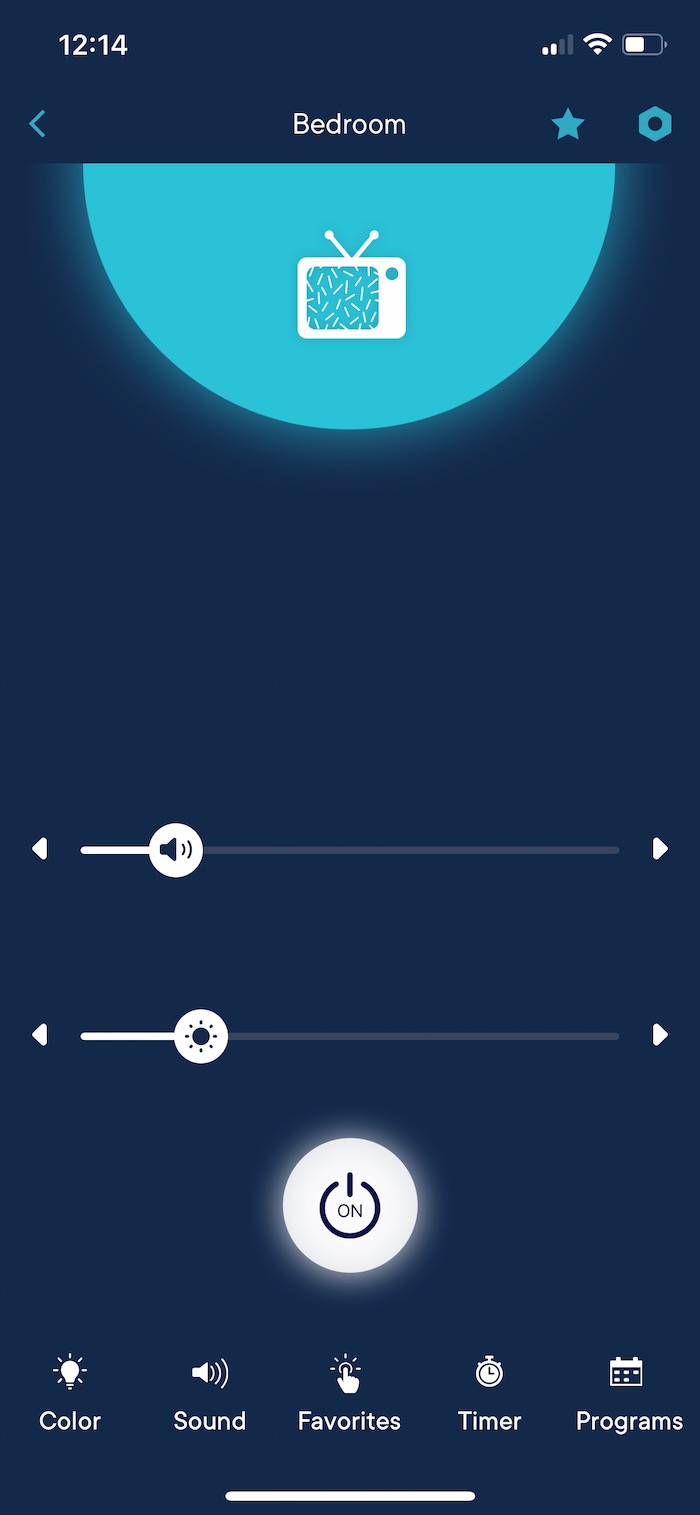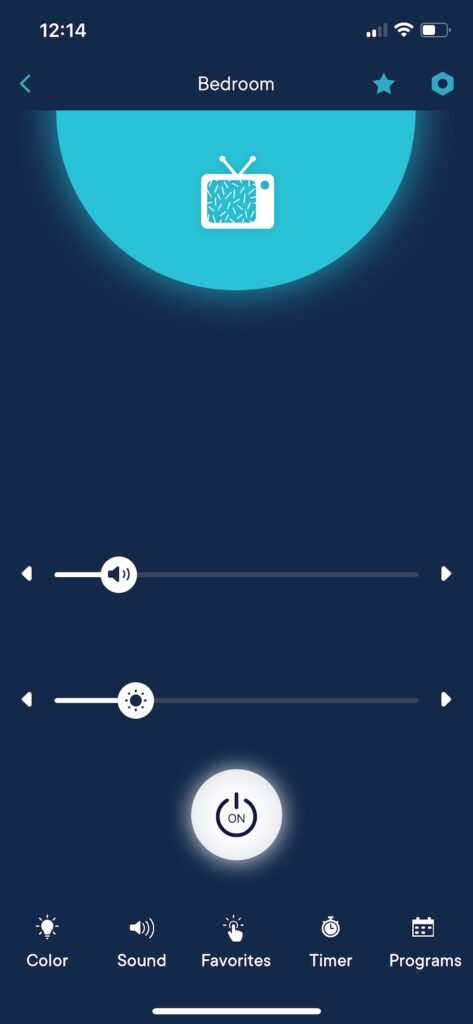 The free Hatch Rest app is one of the brand's major selling points for this device. Parents logged into the app can control the sound and light for all Rest devices in their home. They can also program favorite sound-and-light combinations to easily scroll through from the device itself.
The Hatch app gives us the flexibility to change the volume depending on what's happening in our home. If our infant is napping upstairs and our (loud) toddler is playing downstairs, I can increase the sound a bit. If we turn the white noise on for our kids at bedtime, I can turn the volume down or off later in the night when everyone is sound asleep.
For the first generation Rest model, the app requires bluetooth, but no wifi is needed. This has been helpful for us when traveling to remote places without internet access. The second generation Rest and both editions of the Rest+ require wifi.
Sleep Programs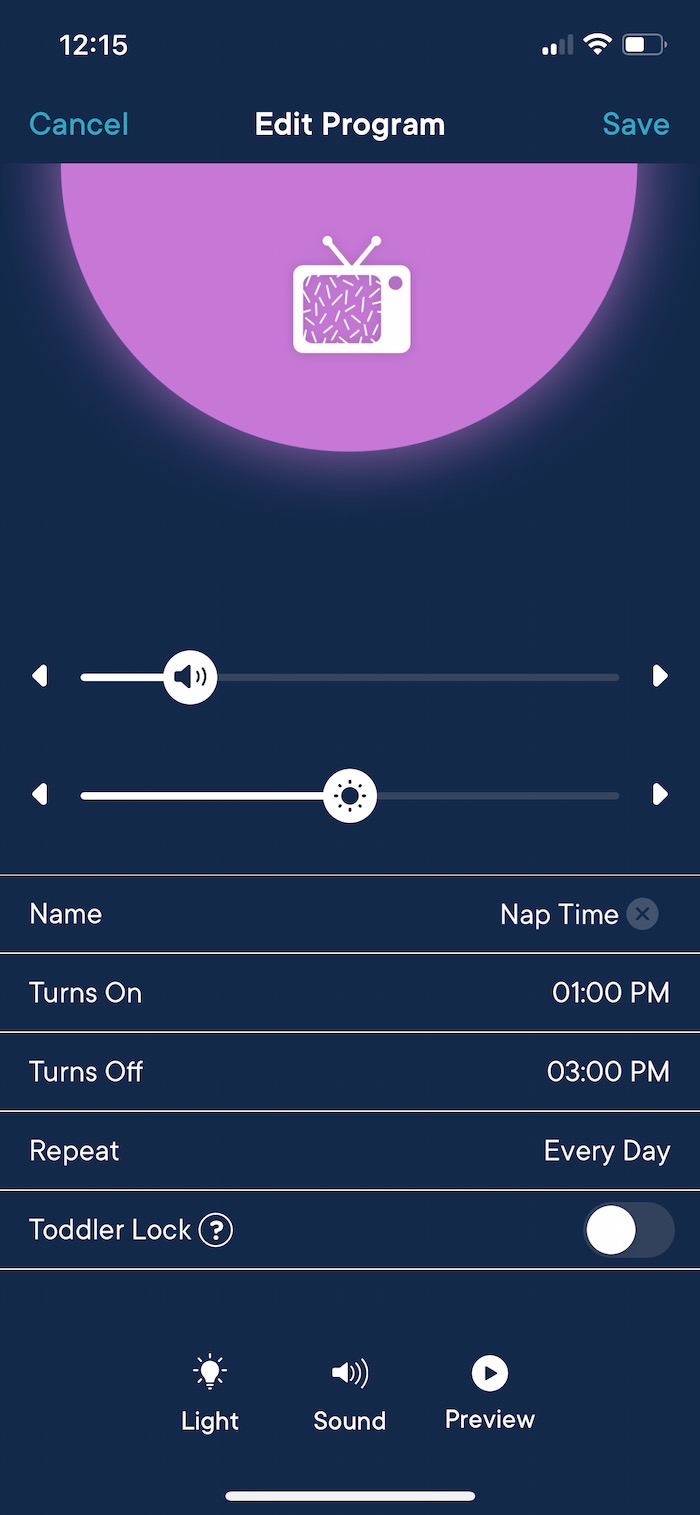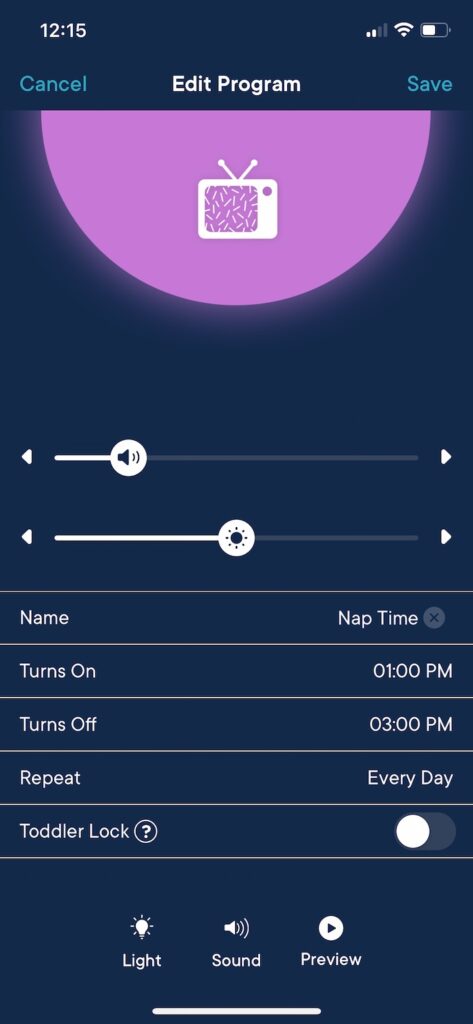 Using the app, parents can program recurring blocks of time for the machine to turn on automatically. Sleep programs can be a helpful way to signal to your little one that it's time for some quiet time, bedtime, or a nap.
Time to Rise
Hatch's time-to-rise feature was designed to help toddlers learn when to get out of bed in the morning. For example, parents can program the Hatch's nightlight to shine red overnight, and then have it switch to green at the same time each morning. The goal is for toddlers to try going back to sleep while the light is red, and start their day when the light is green.
Parents can also customize this feature with sound, creating a variation of an alarm clock. Hatch advises parents to start using time-to-rise at age 2, but we've personally never needed it for my almost 3-year-old son.
Accessories
In addition to extra power cords, Hatch sells a Rest travel case and several coverlets. The plastic coverlets lay overtop the nightlight to create a fun look in your child's bedroom.
What's different about the other Rest models?
Hatch's four Rest models can get a little confusing. Here are the primary differences between the first generation Rest (reviewed in this post) and the brand's other Rest options:
The Second Generation Hatch Rest
The second generation Rest has a clock located on the base of the device. App users control the machine via wifi, so internet access is needed to operate it. The cost is the same as the first generation Rest (about $70).
With a paid membership, this model allows parents to access Hatch's sleep library to play sleep stories and music. A sleep library subscription currently costs $5 per month or $50 per year.
The First Generation Hatch Rest+
The Hatch Rest+, which also has a dimmable clock, offers hands free voice control. The wifi-enabled app allows parents to access the sleep library and add additional caretakers. The Hatch Rest+ costs $20 more than the Hatch Rest, totaling about $90.
The first generation Rest+ does not need to be plugged in to use it, meaning it won't turn off and disturb your baby's sleep if your power goes out. The built-in battery lasts for an impressive 8 hours.
The Second Generation Hatch Rest+
The primary upgrade from the first to second generation Hatch Rest+ is improved portability. The second generation Rest+ has a cordless charging base, so parents can bring the device to wherever their child is sleeping in the home without unplugging the whole machine. The cost ($90) is the same as the first generation Hatch Rest+.
Comparing the Hatch Rest to Others in the Field
Is the Hatch Rest worth the cost? Here's how it measures up against competing sound machines on the market.
HoMedics SoundSleep White Noise Machine
This HoMedics sound machine is simple, effective, and only a quarter of the cost of the Hatch Rest. It has six different sound options and a timer with an optional auto-off setting. HoMedics does not offer a compatible app, but clear controls on the device make adjustments easy. The SoundSleep has excellent reviews and costs less than $18.
The Hatch Rest Mini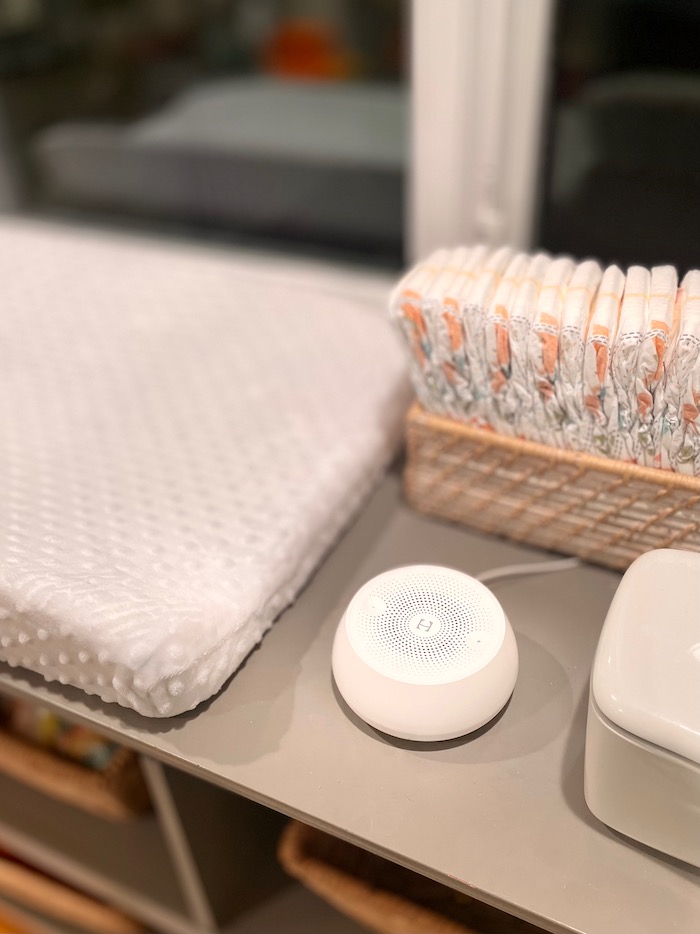 The Hatch Rest Mini is similar to the Rest without the light or clock feature. Sounds are easier to adjust on the device itself than on the Rest, thanks to simple volume buttons right on top. Mini owners can also control the device via the app and access Hatch's sleep library (with subscription) when wifi is available.
The Mini is more portable than the Rest, weighing only 0.58 pounds and measuring 4″ by 4″ by 2″. Totaling a little over half the cost of the Rest at $40, the Mini is an excellent choice for parents who prefer to control their sound machine remotely but don't need the nightlight feature.
We received our Hatch Mini for free when we purchased our second Rest during a promotion. I always travel with this sound machine and used it frequently during my daughter's newborn days for impromptu naps throughout the house.
Yogasleep Hushh Portable White Noise Machine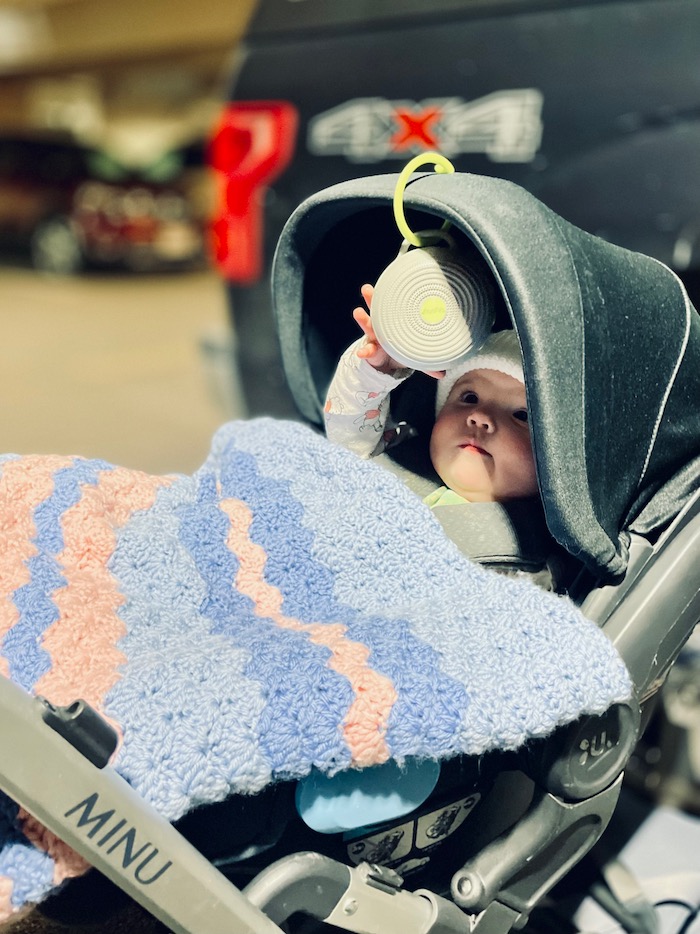 Yogasleep's Hushh Portable White Noise Machine is great for the car seat, stroller, or baby carrier. It has three simple sound choices, an impressive rechargeable battery, and a convenient lanyard for hanging.
I keep this sound machine in our diaper bag for naps on the go. We use it frequently for car naps—a much better solution than playing white noise on the stereo. At a little over $20, it's a solid supplement to your at-home white noise machine.
The Upshot: The Hatch Rest Sound Machine
The Hatch Rest is an impressive sound machine with smart features like the ability to control from a distance or program recurring sleep routines for your little one.
We've loved our Hatch Rest so much we decided to buy a second one, even before we had a second kid. A little after my son turned 2, he started having the occasional bad dream and needing to come see us during the night (I live for those toddler snuggles!). We found it helpful to have a Hatch Rest set up in our room to give him some soothing white noise. We also leave our nightlight on every night to help him find his way.
Now that we have a toddler and an infant, I appreciate having two Hatch Rest devices so I can adjust them from afar depending on their sleep needs. When used with care, white noise can be an excellent tool for baby sleep, and it might give mom and dad some much needed rest!
Pin me for later: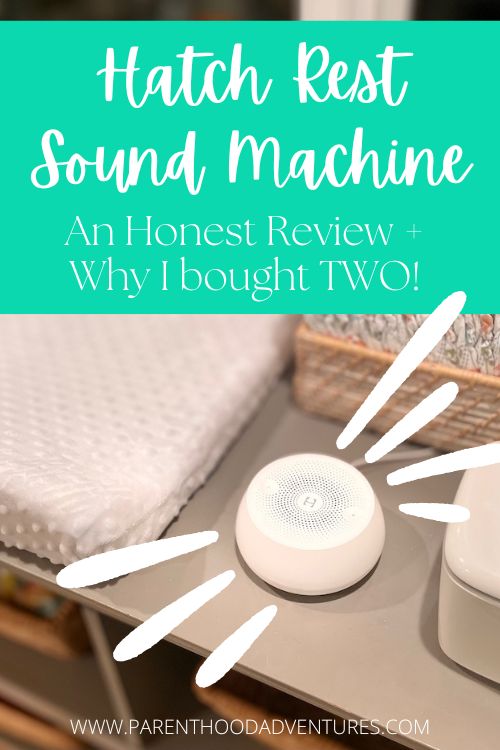 *Some links in this unsponsored post are affiliate links that support this site at no extra cost to you. Thanks for keeping us going!