How I Essentially Get Baby Items for Free by Buying and Selling Used
Back when I lived in Berlin, way before I even had the notion that I wanted to be a mother, I discovered the beautiful world of thrifting. Germany is full of cool old stuff, and when I found a solid oak owl desk for only €100, and a red velvet couch from the '70s for €300, I was hooked.
I had the same thrill when I came across a $700 Snoo Smart Bassinet, which retails for $1700. We used it for 5 1/2 glorious months, and now it's time for me to turn around and sell it for exactly what I paid. Essentially, I got to rent it for free.
It's shocking how quickly babies outgrow things. Just about everything from the swing that he loved last week to the newborn clothes that fit him for all of a few days have had a much shorter use life than I expected. It just makes sense to buy used and sell it again when you're done.
We have saved thousands of dollars on high-end baby items by doing this. Plus, our baby has to live on this planet, so the less we pollute it with all of the energy and omissions required to manufacture new things, and a reduction of items that end up in landfills, the better.
So how do you make sure that you're buying good items, and how do you make sure that there's no ick factor?
These are the things that I look for when purchasing used, and where I find the best deals:
Where I Shop:
For big and bulky items, I try to buy in person. But I have also bought plenty of things on various online platforms where you can see reviews of the sellers, which is also helpful. These are my favorites:
Mercari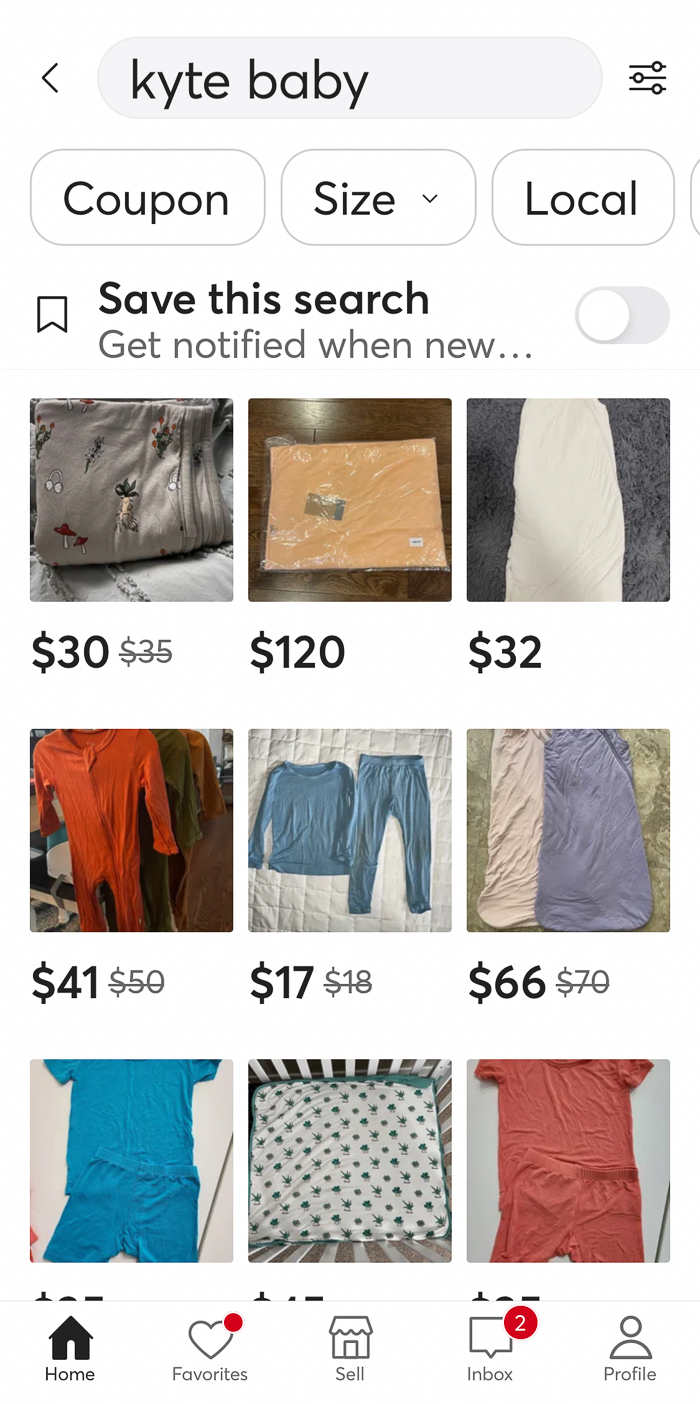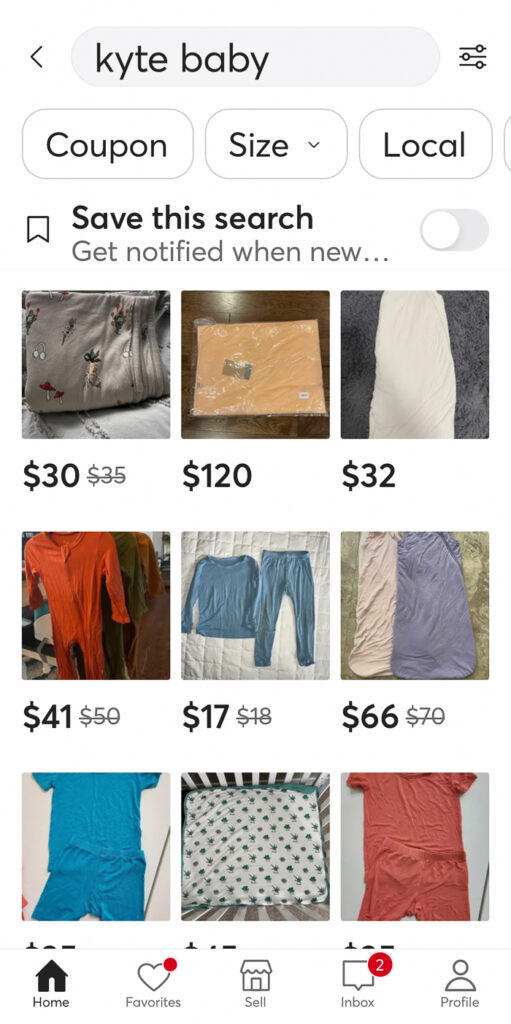 This is the platform where I have made the most purchases. It's great for baby gear and clothes. To date I've purchased a Beaba babycook double for $40 ($214 new), a Baby Brezza sterilizer for $30 ($140 new), and a few Kyte baby sleep sacks and clothes.
I also finally sold the dance/work out pole that was awkwardly standing in the middle of the baby nursery. They make it easy by sending a shipping slip, collecting sales tax, and waiting until the buyer has approved the item to release funds. This is helpful both ways to ensure quality of the item. You can sign up for Mercari here.
Poshmark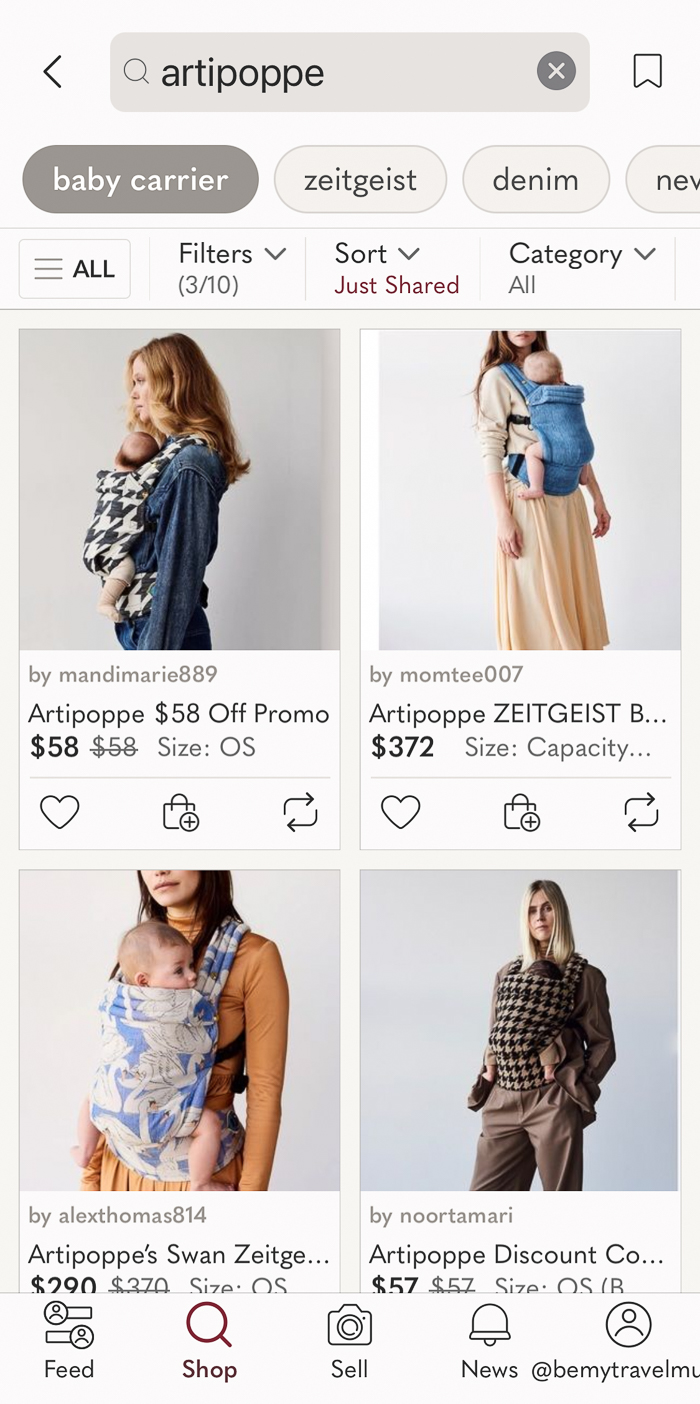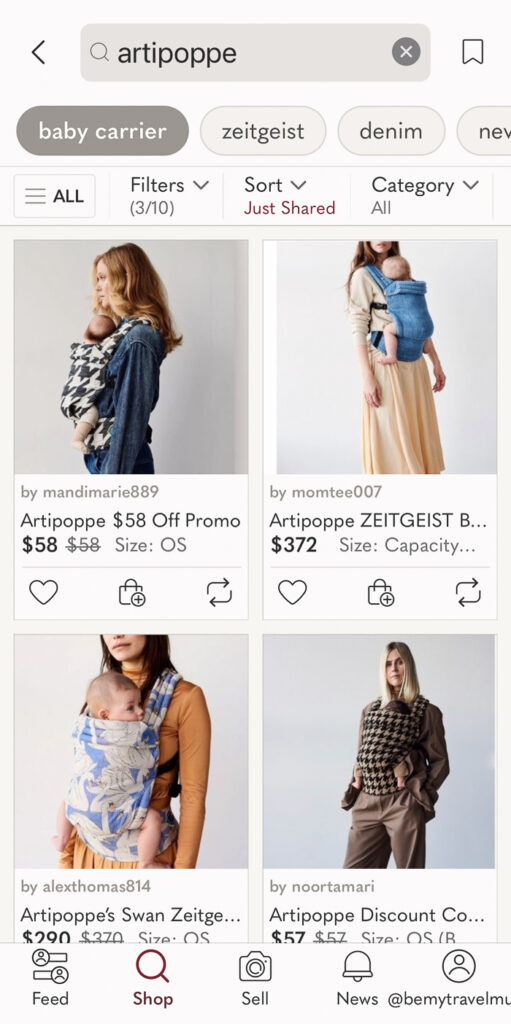 Similar to Mercari, Poshmark has baby gear, though it is more known for fashion and clothing. You can often find Artipoppe baby carriers for a hundred dollars off, baby and maternity clothes, and the occasional baby gear item. I've purchased two Seraphine Maternity babywearing jackets, one of which was new with tags, for $200 off, and have sold a bunch of my old Blackmilk clothing items as well. It's way more money than selling to a consignment or thrift store! Check it out here.
The only downside of both Poshmark and Mercari are the hefty selling fees, which can drive up the prices. Be sure to doublecheck the brand itself isn't offering a better sale or deal.
Goodbuy Gear
Poshmark and Mercari are peer to peer selling services, and you have to trust that the item is in good working condition. Of course you can let the platform know if it's not, but since I haven't run into that, I'm not sure how good they are about handling it.
Goodbuy Gear purchases the items from sellers and then verifies the quality before listing it on their website to resell. They're essentially an online thrift shop/consignment store.
They have everything from high end strollers to the Snoo Smart Bassinet at varying price points.
As a seller, Goodbuy will pick up your gear for a small fee, or you can drop it off at a fulfillment center where they'll clean, photograph, and market the items for you, giving you 80% of the sale total. Considering Poshmark and Mercari take a big chunk just for the privilege to list, this isn't a bad deal. However they're only currently servicing Philadelphia, Denver, and New York.
Facebook Marketplace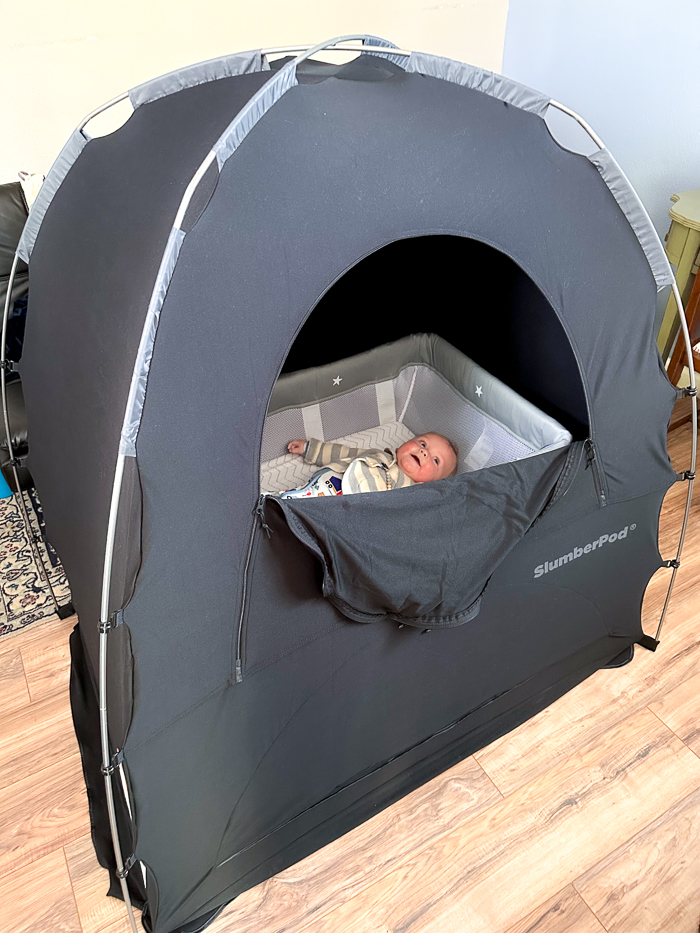 I buy and sell quite a bit within my local community on the Facebook marketplace. The upside is you get to see the item in person before purchasing, and there's no shipping to deal with. You don't have to pay sales tax on the item since you're just paying in cash, in person as well. Plus, you get the item immediately.
The downside is, of course, going to some random person's house, or having a random person come to your house as the seller. You could probably find a neutral location, but if it's an electronic item, the person will probably want to see it plugged in, just like you should insist on if you are buying an electronic item.
Still, the nice thing about this is the seller also doesn't have to pay the steep Mercari or Poshmark fees, so I typically find better prices on Facebook where it is free to list and browse items.
I've bought a nursery rocker, Snoo, and Mamaroo off of Facebook marketplace, as well as household furniture. I love selling on the platform as well for ease and cash in hand.
You can also order items to ship. I most recently bought an unopened Slumberpod from a seller in Arizona for half price.
Once Upon a Child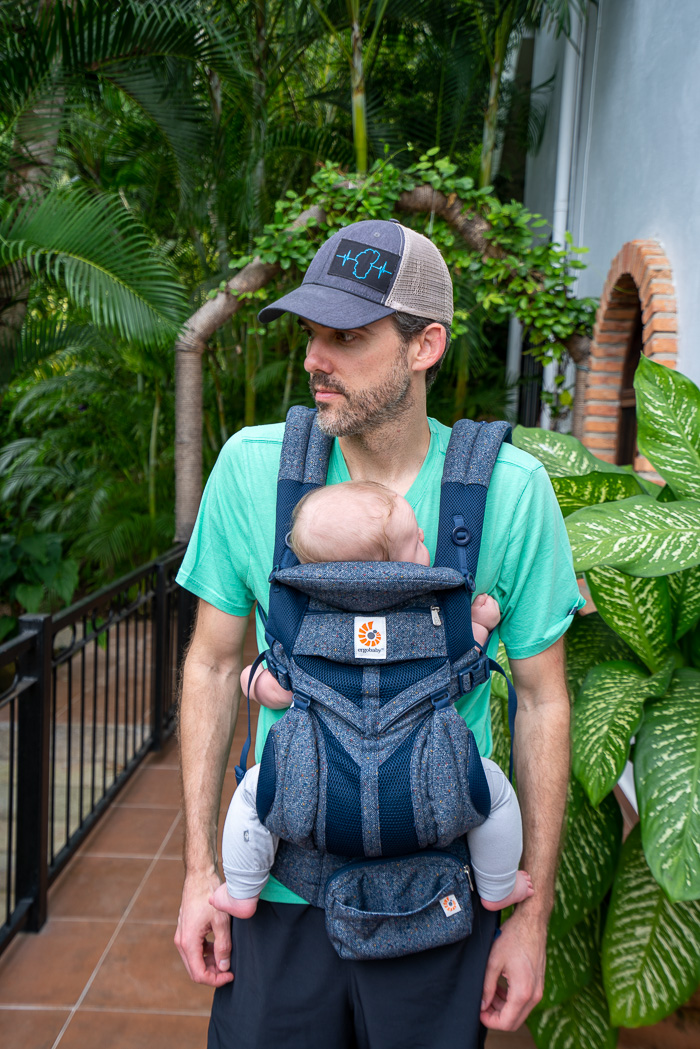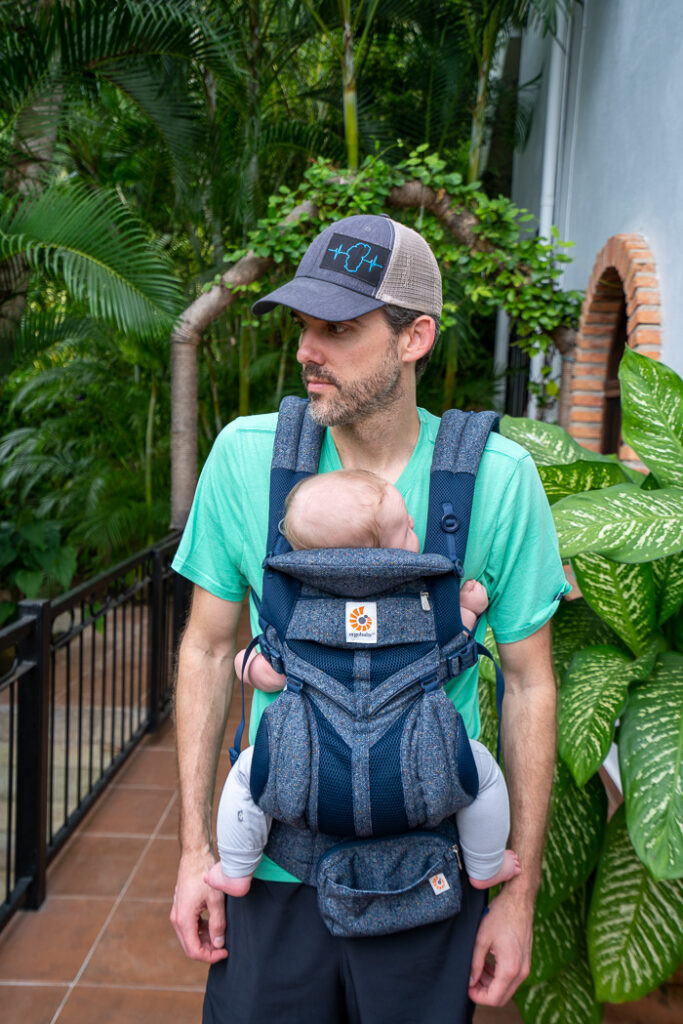 Depending on where you live, there may be a once upon a child location nearby, which is a secondhand store only for baby and kid gear. 80% of the store is baby clothes, but I have also found some amazing deals there, like a $200 Nuna stroller that retails new for over $1000, and a $250 Ergobaby Carrier for $25. Generally the deals are better here than on Mercari or Poshmark.
This is also where I have bought the majority of the secondhand clothes we have for my son. It's a lot less painful when they outgrow clothes that only cost a few dollars.
They also regularly have unopened boxes of diapers and wipes for half price – even the Honest Company ones that I use!
eBay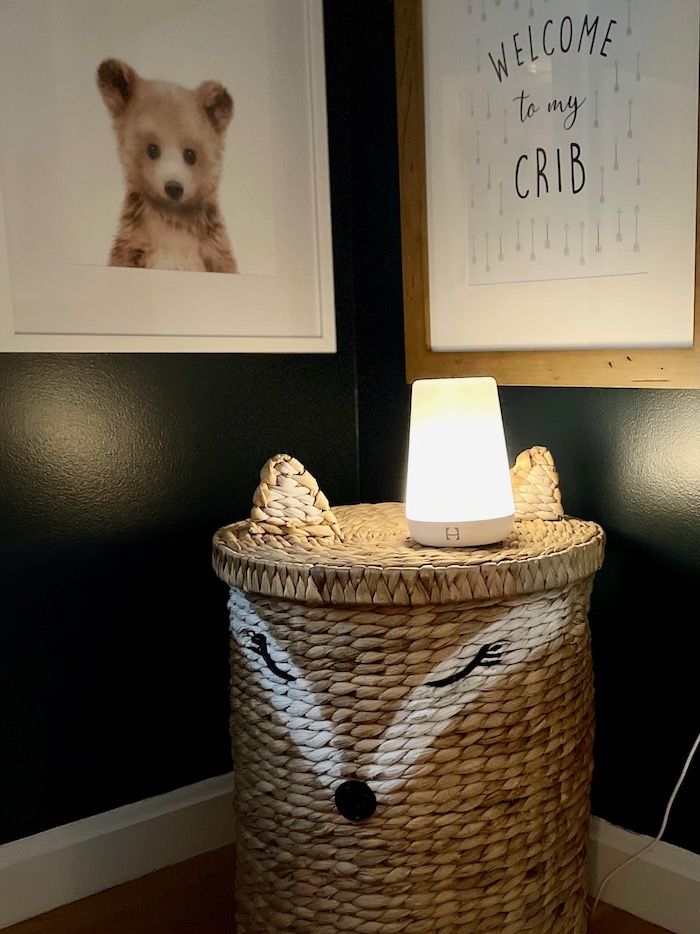 Chances are good you've heard of eBay. You can buy and sell just about any item under the sun on this platform. I haven't tried it as a seller, but could see it being competitive given how many sellers are career eBayers and have hundreds of reviews.
Though I find less on here that I end up buying, I've used it to purchase a Hatch Restore for $40, which retails for $140.
Although I use them less often there's also Craigslist, Rebelstork, and Goodwill in addition to your local thrift stores.
How to Make Sure it's a Good Item
How do you make sure it's not a lemon? First, I try to only buy directly from people who are clearly parents. If it's someone just selling a one-off, random car seat, I would run the other way.
When shopping on Facebook, I try to see if I can look at the person's profile at all. Parents often have their kids in their profile pictures even if the rest of the profile is private. On a platform like Poshmark or Mercari, you can see all of the other things that the person is selling or has sold, as well as a seller rating. Same goes for eBay. You can also go through a reseller that will verify the quality of the items like Goodbuy Gear.
If buying in person, make sure that you see the item in working condition before you pay and leave with it. If you arrive and it's not what you expected, you're not obligated to buy.
Don't be afraid to ask for original purchase receipts, serial numbers, date of original purchase, whether or not they are the original owner, and their experience with the product as well. Why are they selling? How much did they use it? These are great things to know.
How to Clean
Some items are simple to clean and can be just as good secondhand, like clothes, carriers, cooking and cleaning products, and play mats. Just wash any clothes on hot and sun dry for ultraviolet sanitizing power. Rubbing alcohol is great for secondhand toys or kitchenware.
For the secondhand Snoo, since the mesh can't be removed and washed, I looked up how Happiest Baby cleans their rentals and followed the same method – a steam cleaner. You can see how we did it in the video above.
Steam, when hot enough, can kill 99% of bacteria and viruses, but you've got to be thorough. We went over the mesh several times, careful not to get it in the electronic parts.
We also used the steam cleaner extensively on the used stroller.
I had initially looked into renting one, but struggled to find an actual steam cleaner rather than a carpet cleaner in my area. However, Harbor freight had one for $80 with a holiday discount, so now we have a steam cleaner for all of the secondhand items we buy and sell in the future.
Are There Things You Shouldn't Buy Used?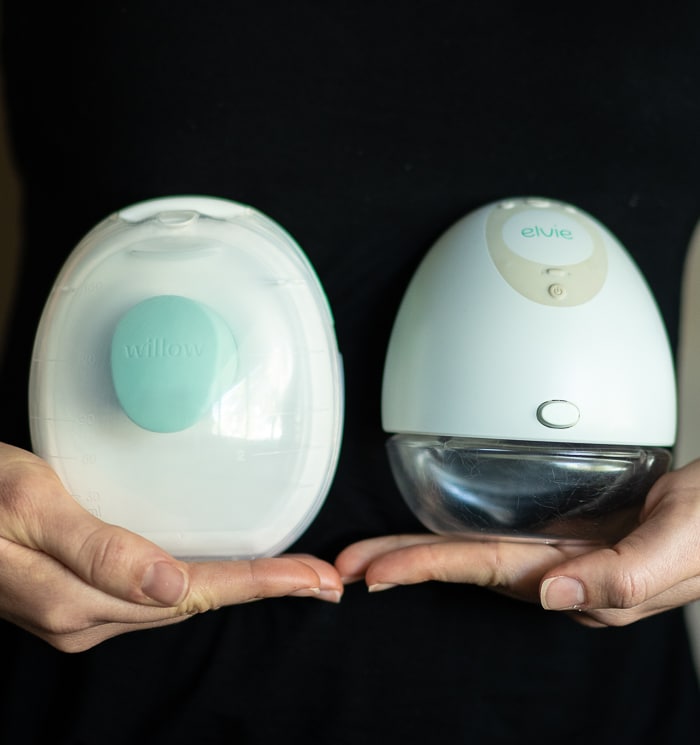 What you're willing to buy secondhand will mostly come down to a personal preference, though there are some items to be very cautious about.
I typically don't buy things like carpets, mattresses, breast pumps, or anything tough or impossible to wash that could have bodily fluids on it. Safety items like carseats are also better bought new unless you're sure about the history of the item.
Ask how old the item is. New laws and safety measures are always coming into effect, so I try not to buy anything much more than a few years old. Be sure to get the model make and year and check www.recalls.gov to be sure it hasn't been recalled.
Considering how quickly babies outgrow things, many of the items you come across could still be new in the box or hardly used anyway. That's always what I look for first!
It's also worth knowing that as the second owner, you are usually not going to be able to take advantage of any warrantees. Some people have run into problems buying secondhand Snoos that stop working properly, which I knew was a risk when I bought mine.
Still, with a rental coming out to about the same as I paid for a secondhand Snoo, and knowing that a rental could have had even more previous users, I took the risk, knowing that if it all worked out at the end, I could sell it for what I paid.
Buying and selling secondhand, there is certainly the chance that you could get burned. Knock on wood, I haven't had an issue yet.
Although I don't always find exactly what I'm looking for, in which case I buy new with the intention of selling when I'm done, I feel good about the fact that over half of our baby gear is either hand me downs or secondhand finds. I'd so much rather spend that money on experiences together as a family, have the opportunity to test out more things without worrying about the cost or clutter, and be kinder to the planet than buying everything new and throwing it away when I am done.
I hope this post helped you to explore the beautiful world of second hand baby gear shopping. Questions? Ask in the comments below!
Pin me for later: