My Honest UPPAbaby VISTA Stroller Review
If you're shopping for your family's primary stroller and planning on having more than one kid, I'm sure the UPPAbaby VISTA is on your list.
The VISTA has been our primary stroller for the past three years, from our first days with our son to the birth of our daughter two years later. If you're looking for a comprehensive, no-frills, honest review of the UPPAbaby Vista stroller, read on to see what I love and what I find limiting.
The UPPAbaby Brand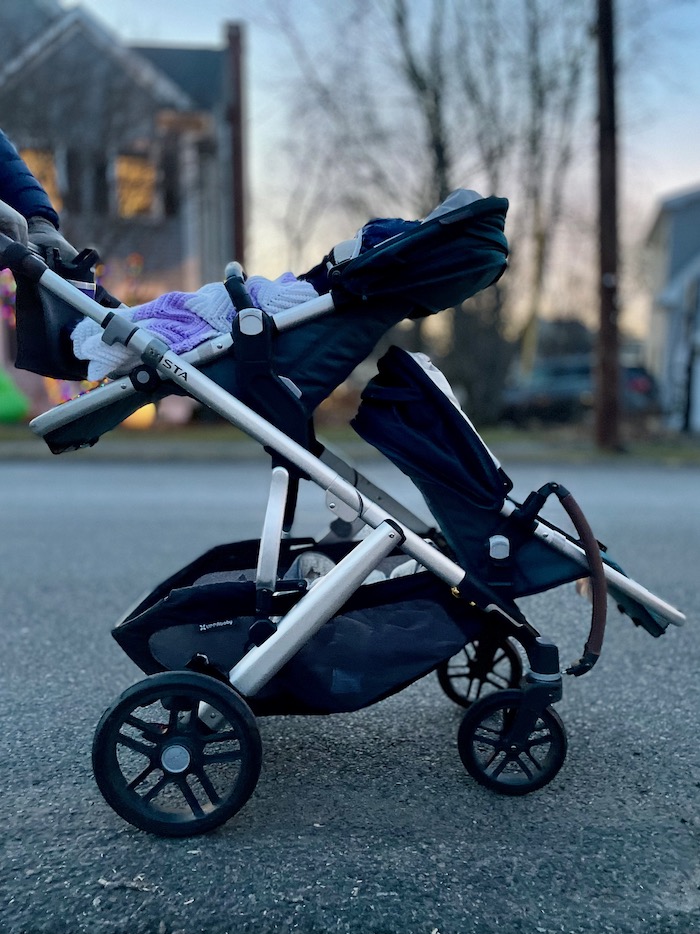 UPPAbaby — now a household name —broke into the stroller scene in 2006. Their flagship stroller was the UPPAbaby VISTA, which remains their most well-known product on the market. When the VISTA was first released, it was unique in its mid-to-high-range price point, its simple click-in mechanism to change configurations, and its modern aesthetic. They're also known for being nontoxic, appealing to natural mamas.
At a time when most strollers were branded as kid-friendly items with bright colors, large logos, and fun patterns, the VISTA appealed to the parent's aesthetic. Like all UPPAbaby products, the VISTA stroller has clean lines, neutral color schemes, and a sophisticated frame.
With a little help from word-of-mouth advertising and adored celebrities like Reese Witherspoon toting their tots in the VISTA, UPPAbaby took off. Their strollers are now ubiquitous in both urban and suburban neighborhoods across the country. Sometimes the VISTA is the only type of stroller I see when we visit the playground.
According to Vogue, the husband and wife duo who founded UPPAbaby consider their brand to be at an "attainable luxury" price point. While their price tags are at the higher end of the spectrum, they aren't as staggering as those of Stokke, Bugaboo, and Orbit.
The Skinny on the UPPAbaby VISTA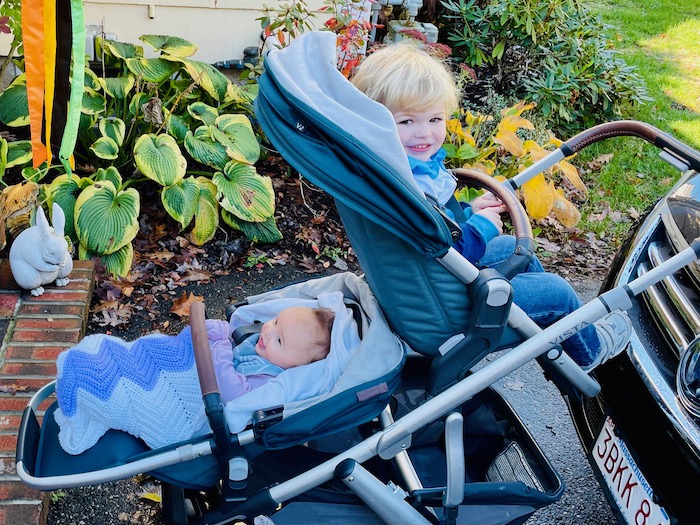 The VISTA is UPPAbaby's single-to-double stroller that supports up to three children with the purchase of a standing piggyback board. It's a popular stroller for young families because it's easy to use, reliable, and beautiful.
The VISTA is constructed with a sturdy frame and thick, durable fabrics to keep your little ones comfortable. It comes with an infant bassinet that's helpful to use in the home and on the go. The brand also sells many convenience-focused accessories to make your strolling experience more enjoyable.
If you're worried about dealing with product issues related to the VISTA, UPPAbaby prides themselves on excellent customer service. They also offer an impressive extended three-year warranty on all registered strollers.
UPPAbaby VISTA: Weighing the Pros and Cons
Out of all this stroller's features, here are what I've found to be the greatest advantages and disadvantages of the VISTA:
Pros
Grows with a growing family. The VISTA has many flexible arrangements for two children seated. A compatible standing ride-along board can transport a third child.
The smoothest ride in all the land! Large rear wheels, premium shock absorption, and a super supportive seat keep kids comfortable on sidewalks, grass, and cobblestones.
If you want to bring it, the the VISTA can fit it. The VISTA has a 30-pound capacity in its super large and accessible storage basket.
Cons
Costly. UPPAbaby founders might consider their prices attainable, but there's no denying that the VISTA is expensive (think $1k).
Large and heavy. Although its size offers benefits for weight capacity and maneuverability, the VISTA is bulky and difficult to carry.
Limited weight range in lower seat. If you're strolling with a baby and a large toddler, the toddler needs to sit in the parent-facing upper seat. This leaves baby in the lower (and visually blocked) rumble seat.
Detailed Features and Specifications
Cost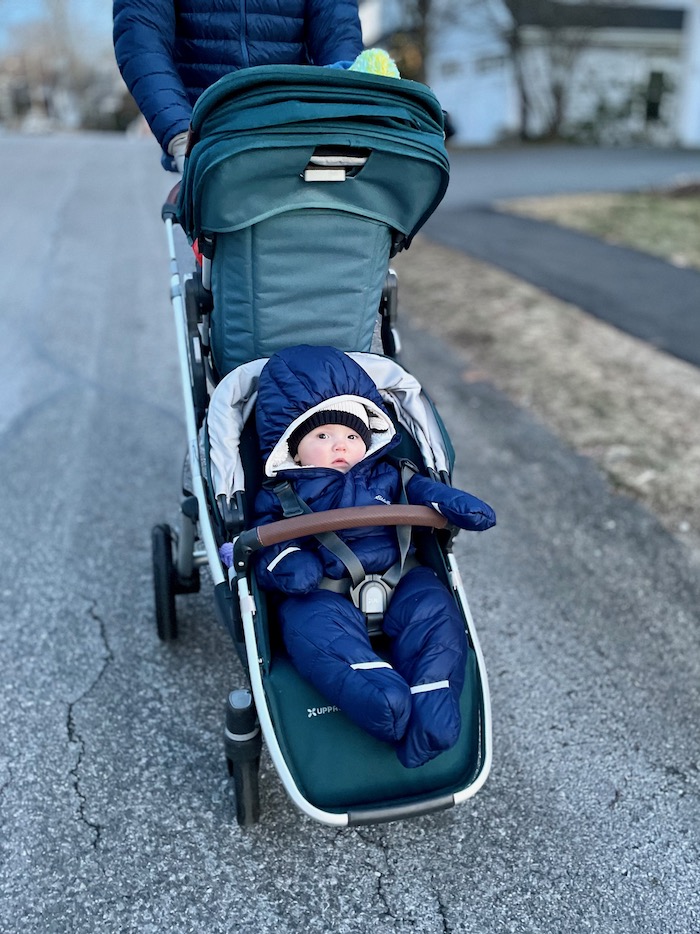 Although the price changes a bit every year, you can expect to pay about $1000 for a new UPPAbaby VISTA. It's also possible to get them secondhand for anywhere from $800 to $400.
Although this isn't as costly as the very top-tier brands, it's more expensive than most convertible strollers out there. The good thing is that the VISTA is designed to grow with you and last your family through the years to come.
Portability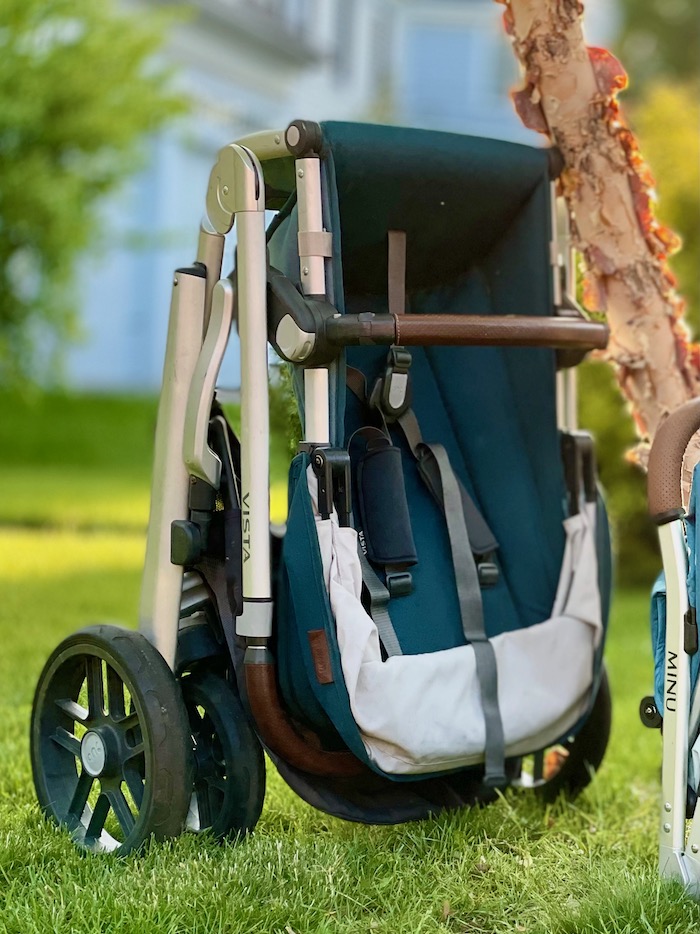 There's no denying it; the VISTA is large. With one seat attached, it weighs 27 pounds. That makes it difficult for parents and grandparents to lift the stroller into the car or up the stairs.
Unfolded, the VISTA is 36″ long, 25.7″ wide, and 39.5″ high. When collapsed, those dimensions shrink to 17.3″ long by 25.7″ wide by 33.3″ high. The unfolded length and width make it difficult to navigate crowded store aisles and narrow doorways.
We lived in a walk-up condo in Philadelphia for the first nine months of my son's life. The VISTA was our only stroller, and it felt like a monster to carry up our front stoop. We had to undo all the latches on our (ancient) double doors to enter the building with the stroller. Lugging it in and our of our home was such a headache that I actually opted to carry my son to daycare instead of pushing him.
Size and Weight Range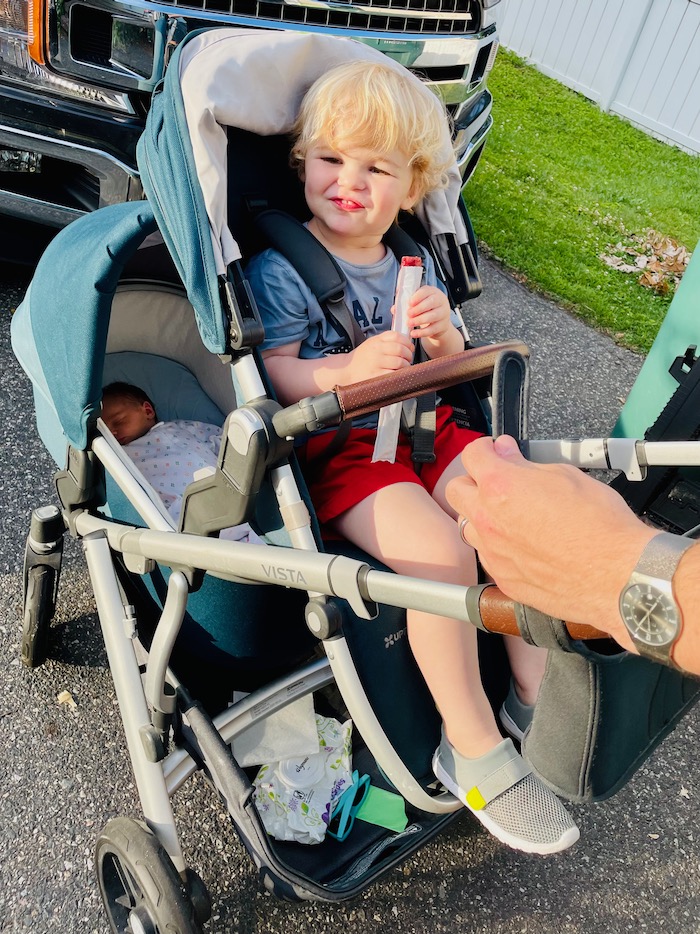 The VISTA is the one stroller that will fit your kids from day one all the way into young childhood.
The stroller comes with an infant bassinet with purchase. This gives newborns a flat place to lay out comfortably as you stroll. Parents can also use the stroller from day one by attaching an infant car seat.
The toddler seat that comes with the VISTA accommodates children from 3 months of age up to 50 pounds. Parents who need to tote two children can purchase a second rumble seat, which supports kids from 3 months to 35 pounds.
We often use the VISTA to push our infant daughter and toddler son. My son is two years old and is too heavy for the rumble seat, so he sits in the original toddler seat while my six-month-old sits in the rumble seat. While this works well with two children of differing ages, the 35 pound limit on the rumble seat is limiting for families with twins.
Maneuverability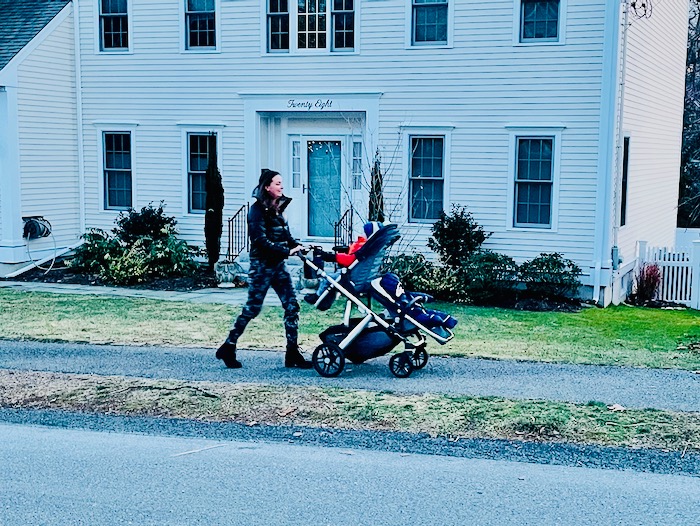 The VISTA delivers a super smooth ride. It can literally be pushed with a fingertip, and it's easy to steer with one hand. When my son's grandparents first pushed him around in the VISTA, they were immediately impressed by its maneuverability and dubbed it the Cadillac of strollers.
It's worth stopping into a baby gear retailer near you and giving the VISTA a push. It's one of the reasons we chose this stroller, and I'm happy we did. When we're walking on dirt paths or uneven sidewalks, I'm confident that my kids are comfortable and aren't being bounced around.
The VISTA has large (11.5″ diameter) rear wheels. Combine that with their advanced all-wheel suspension, and the stroller can absorb bumps with ease.
I will note that the VISTA does not roll well on the beach—we've tried. For strolling through sand and snow, you'll want to look for an all-terrain stroller like the Thule Urban Glide 2 or the UPPAbaby RIDGE jogging strollers.
Accessories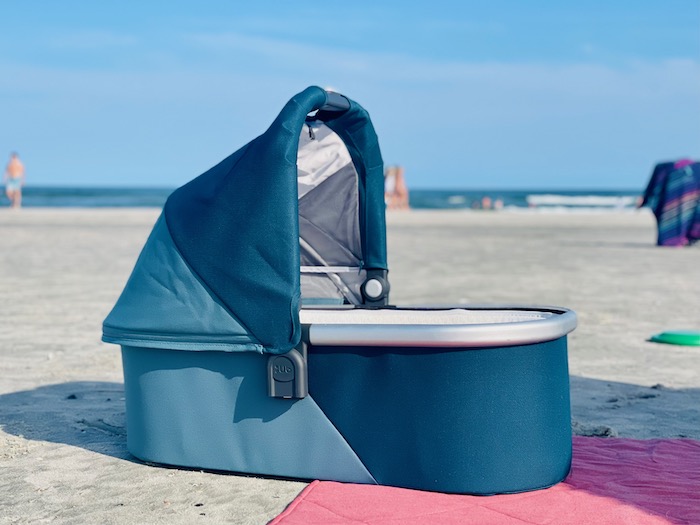 UPPAbaby offers a range of convenience-focused accessories that make their strollers favorites for parents. Along with the stroller frame and seat, parents who buy the VISTA automatically receive an infant bassinet, bassinet bug shield, bassinet storage bag, toddler seat bug shield, and toddler seat rain shield. You can also purchase compatible accessories like a toddler snack tray, a carry-all parent organizer, and a parent cup holder to carry your drink of choice.
The infant bassinet included with stroller purchase is approved for overnight sleep. It even clicks into a separately available bassinet stand to use as a sleep solution in your home. When not using it, you can collapse the bassinet down flat and stow it away.
The bassinet was a huge win for our family during my daughter's first few months. If she fell asleep on walks outside, we could easily remove the bassinet from the stroller and bring it inside with us without waking her. Anything to avoid disturbing those precious newborn naps!
If you plan on flying with the VISTA, you'll probably need to check it at the ticketing gate since it's too large to gate check or carry on the plane. UPPAbaby sells a travel bag to protect the stroller in flight. After purchasing the bag, you can register your stroller with the brand's TravelSafe program, which reimburses families for damage sustained during air travel.
Storage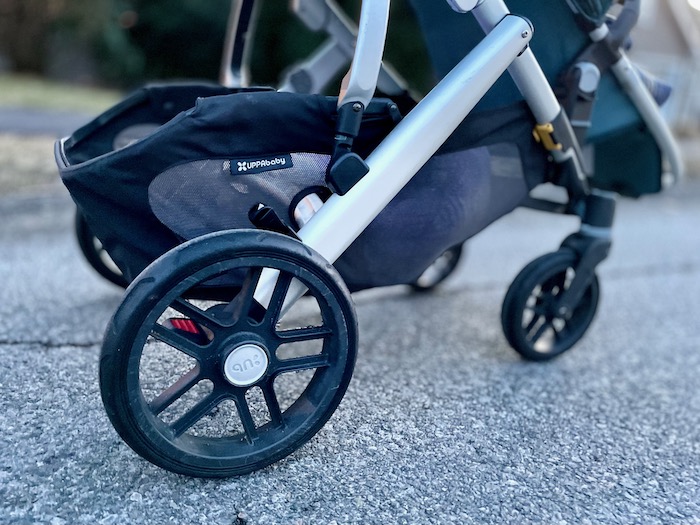 The VISTA's storage space is one of my very favorite features. UPPAbaby designed the VISTA for the American shopper, and its cargo capacity really delivers.
The stroller has a roomy under seat basket that supports 30 pounds of gear. That's a lot. Here are some examples of what I've been able to fit in this stroller:
A small cooler, a loaded diaper bag, and a travel potty.
My son's helmet, tricycle (little legs get tired), and an extra blanket.
Various home decor items I don't need yet somehow end up purchasing when I go to Target for laundry detergent.
Two sandwiches and a full case of 24 16-ounce beers (perhaps our most impressive).
A couple years ago I flew with my infant son using the VISTA. I was able to hang our diaper bag from the push bar and stuff a backpack and a duffle bag under the seat, so I didn't have to carry a thing. Since then, airports have become more strict on what size stroller parents can bring to the gate, but I was happy to have the VISTA at the time.
Aesthetics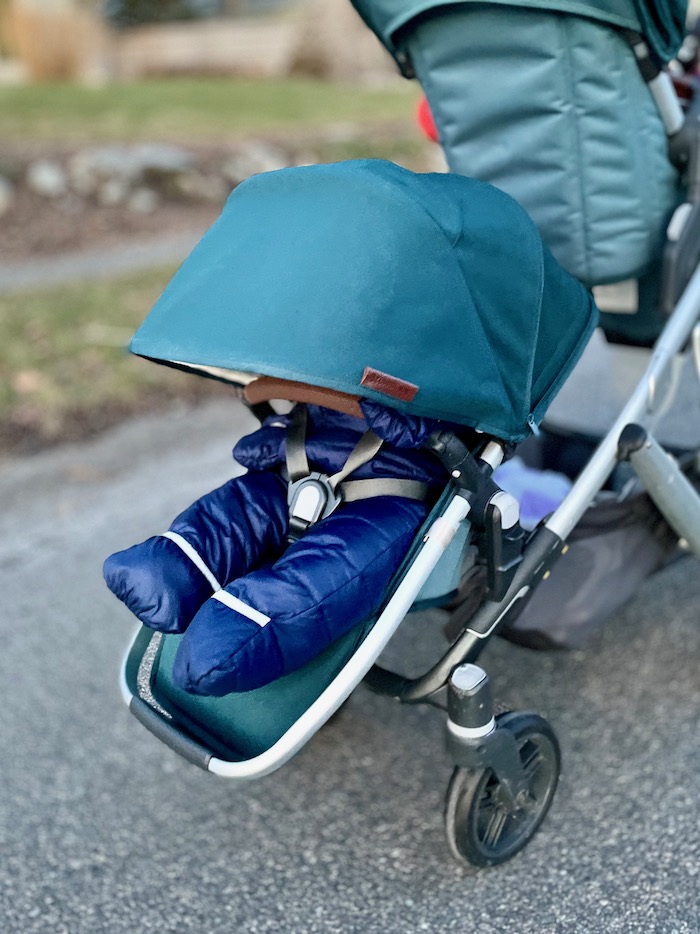 When the VISTA first came out, it was unique in its modern and sophisticated look. The brand changes up some of the color ways each year, but UPPAbaby has classically avoided vivid, colorful fabrics and gimicky logos. The stroller sports a streamlined frame with clean lines.
The VISTA comes with thick, durable seat and canopy fabrics in nine neutral tones. Depending on the fabric color, the stroller has either a carbon or silver frame. Each model is adorned with full-grain leather accents in chestnut brown, saddle brown, or black.
When we selected our VISTA in 2019, we chose the brand's (no longer available) deep sea teal, which was the most vibrant option at the time. While parents do appreciate the stroller's ability to mesh with an adult aesthetic, some find it to be a bit too neutral. After all, this is baby gear we're talking about—not living room furniture.
Folding Mechanism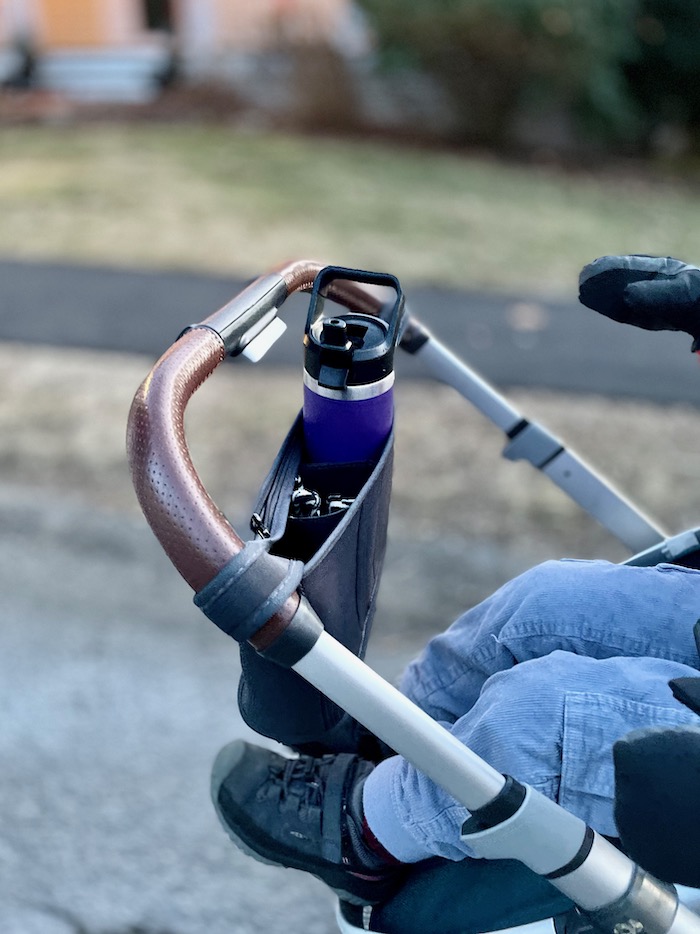 The VISTA has a simple one-step folding mechanism located on the push bar that's easy to master after a few repetitions. The stroller can fold with the toddler seat in place in the forward-facing position. It stands when folded to make for easy storage.
While it might seem trivial before using a stroller, having a stroller with a complex folding mechanism can really make things more difficult when you're already managing one or two children and all their gear.
Car Seat Compatibility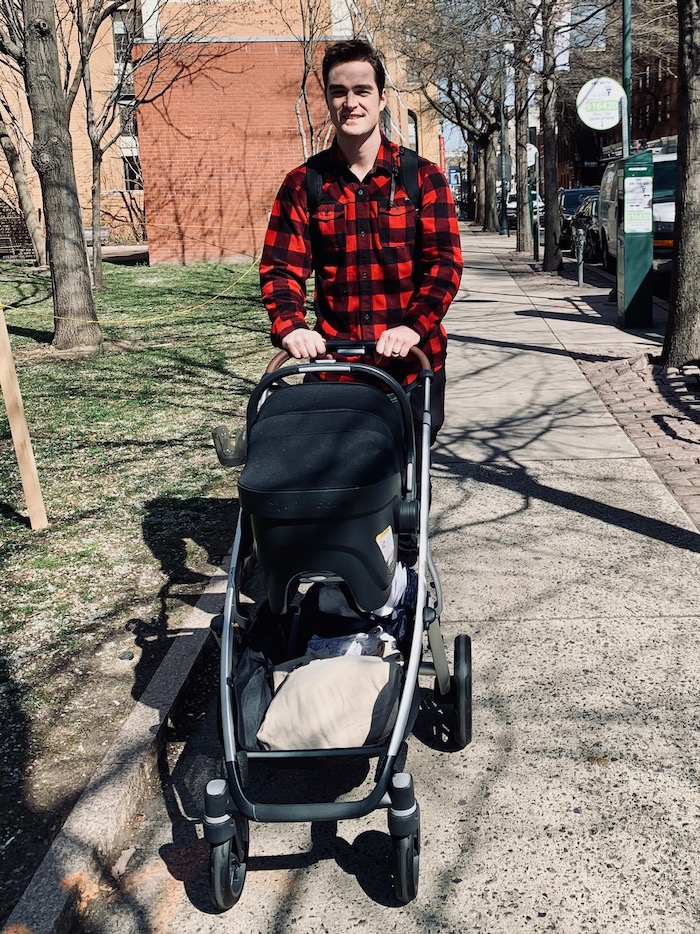 If you're using the UPPAbaby MESA infant car seat, no adapters are needed to hook it up to the VISTA. Simply remove the bassinet or toddler seat in one motion, and the car seat clicks in place. Adapters are available to use the VISTA with infant car seats by Chicco, Maxi-Cosi, Nuna, and Cybex.
Seating Configurations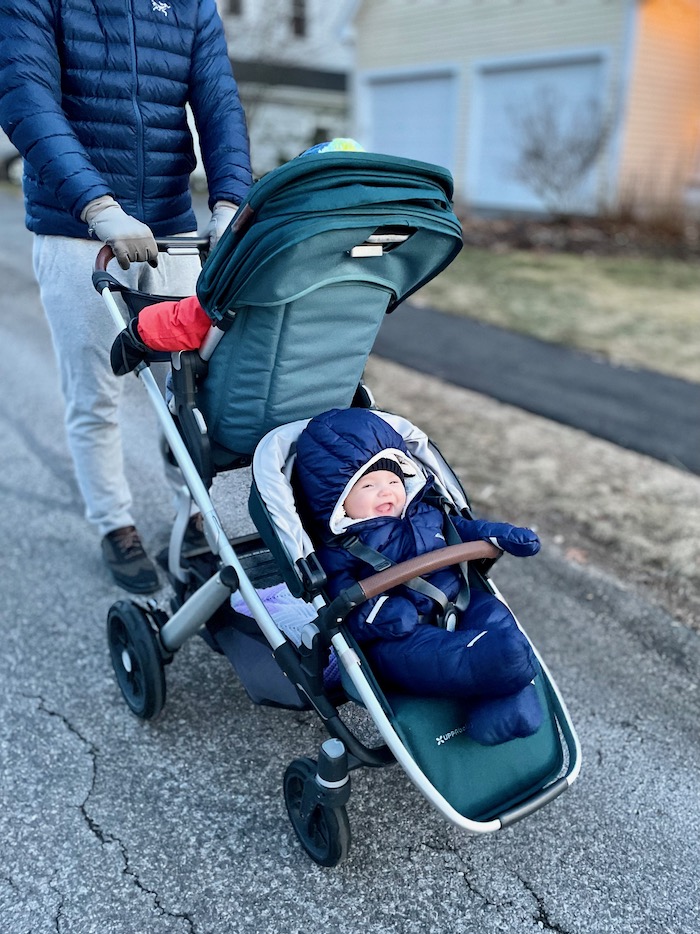 One of the VISTA's greatest selling points is its ability to grow with your family. Parents can attach any combination of seat and bassinet, seat and car seat, or bassinet and car seat. The stroller also supports two car seats, two bassinets, or a combination of both the toddler seat (included) and the rumble seat (not included).
UPPAbaby has a helpful VISTA expansion tool that lets you visualize what seating combinations you can use and which adapters you'll need for each. The different seating configurations available offer families a lot of flexibility, but one aspect we've found limiting is the 35 pound weight limit on the extra rumble seat.
If you want to use the stroller with two kids, and one of them is over 35 pounds, that child has to sit in the upper toddler seat that originally came with the stroller. My son passed 35 pounds at age 2 by the time we had my daughter. Therefore, whenever we use the stroller with both children, my son has to sit in the upper position, while my infant daughter is in the lower position. This is true whether she's in the bassinet, car seat, or rumble seat.
If your children are closer in age, or if you have more average-sized kids (mine are giants), this might not be a problem for you. I still love taking the stroller out with both children, but this one limitation has made it difficult to keep an eye on my newborn—or replace her pacifier repeatedly—on strolls through our neighborhood.
Finally, UPPAbaby also sells a piggyback board that lets you transport an impressive 3 passengers with the VISTA. Ride-along boards are pivotal for letting older siblings stand and hitch a ride when their legs get tired. We ended up purchasing a universal BuggyBoard by Lascal so we can use the same board for all our strollers, but many moms have told me that the VISTA piggyback is a great buy.
Stroller Seat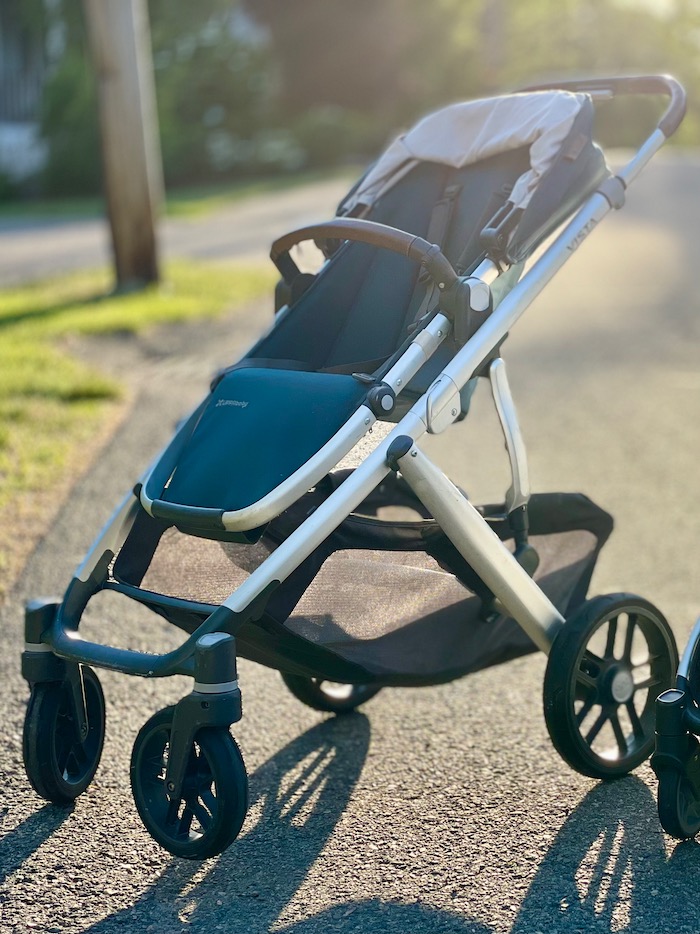 The VISTA stroller seat is robust and sturdy. If you shop the VISTA in person, you'll see that the seat back offers great support for your little one's growing body.
The toddler seat boasts a five-point safety harness with no-rethread technology, so you won't have to spend time removing and reattaching straps as your child grows. UPPAbaby recently updated the stroller to include a longer seat back to fit larger children.
Adjustable Features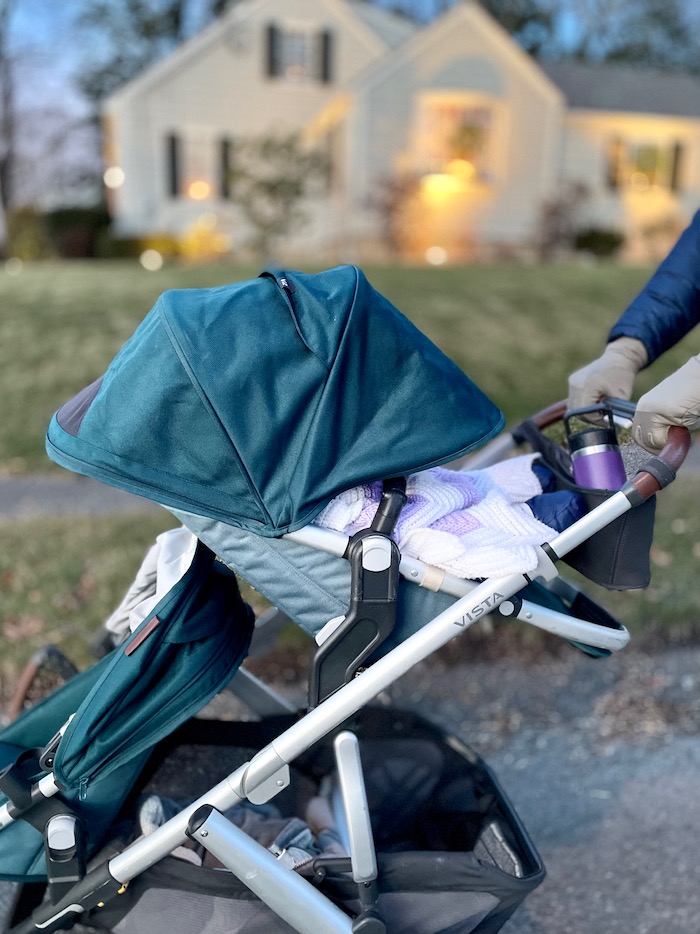 The VISTA's leather-covered push bar telescopes upward to adapt to adults of varying heights, which is a major win for taller parents. The stroller seat has an adjustable leg rest and a multi-position, one-handed recline mechanism, so your child will be comfortable sitting up to see the sites or laying back to snooze on the go.
Sun Protection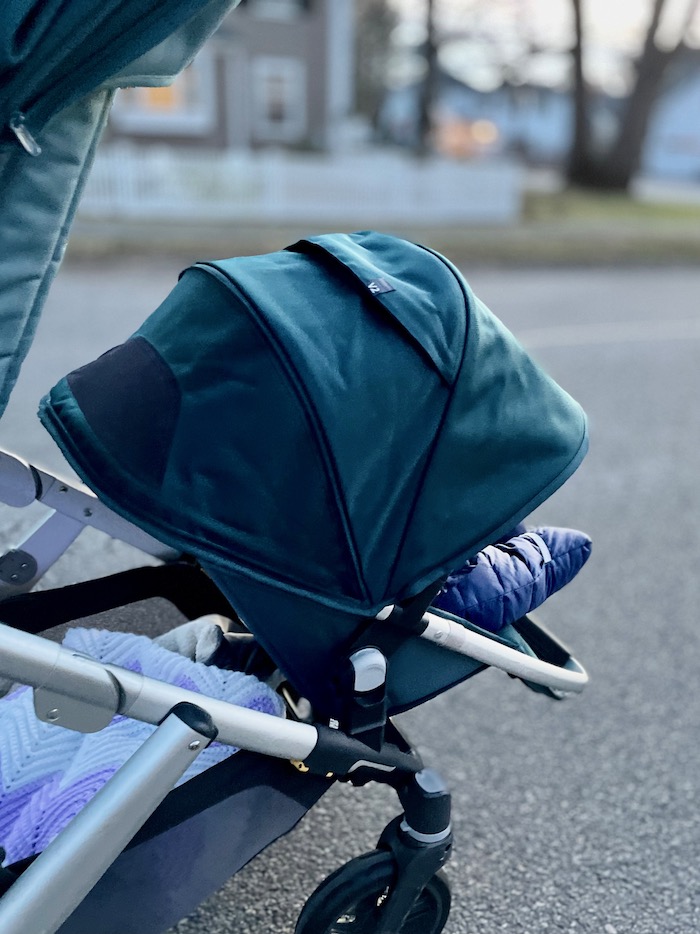 The UPPAbaby VISTA stroller has an extra-large sun canopy with UPF 50+ UV protection. It zips out to extend further over your little one if they're dozing off on a sunny day.
The sun canopy has a mesh peekaboo window to provide airflow and let you check on your precious passenger during walks. It also has an extension option that allows you to raise it higher and create more head room underneath. This is a feature we've been thankful to have as my son grows taller.
The Upshot: The UPPAbaby VISTA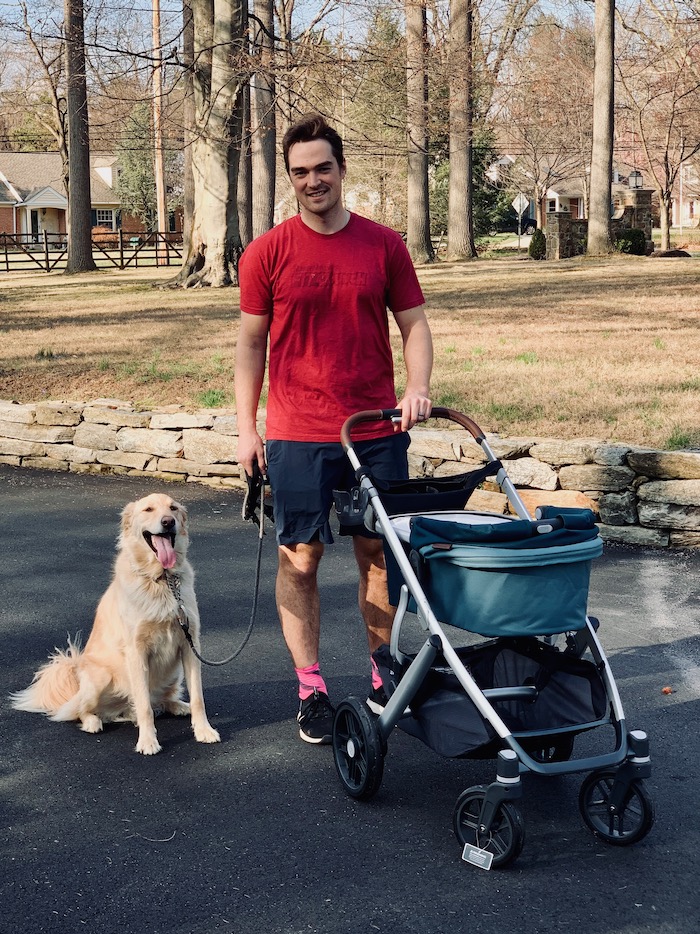 The VISTA is an impressive, full-size convertible luxury stroller that does it all. It's been a great go-to stroller for our family, from our very first walk (see photo above—price tag still attached!) to our strolls with two kids. As our family grows and we have to carry more with us, I've been thankful to have such a sturdy stroller to keep our children comfortable and navigate adventures together.
Because the VISTA is on the larger side, I've been happy to have our UPPAbaby MINU travel stroller for trips and for use in tighter spaces. If you need a secondary travel stroller, it's worth checking out our full UPPAbaby MINU review.
Pin me for later: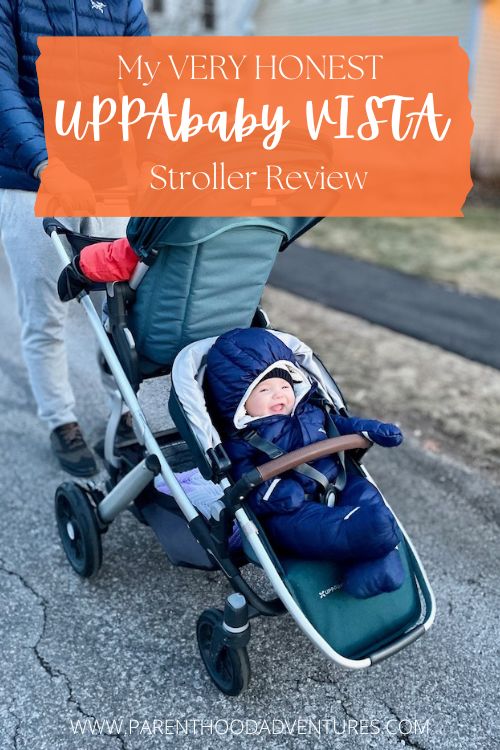 *Some links on this page are affiliate links. Any purchase you make through them supports us at no extra cost to you. Thanks for keeping us going!