Is the Kolcraft Cloud Plus Lightweight Double Stroller Worth It? An Honest Review
Is the Kolcraft Cloud Plus Lightweight Double Stroller worth the $209.99 price tag? This is a seriously light, compact double stroller that costs less than many single strollers. While it doesn't have much storage, which is my least favorite thing about it, this is an easy double stroller to grab and go for travel and day trips.
The Kolcraft Double Stroller is not for infants and is not compatible with car seats, so this stroller is best for toddlers and young children.
These are the real pros and cons with this stroller, from hikes, to parks, to Disneyland adventures (yes, it fits Disneyland's stricter stroller regulations!). Throughout, I'll be comparing the Kolcraft Cloud Plus Lightweight Double to a Graco single infant stroller we had and to the Joovy Big Caboose Triple Stroller, to give you some points of reference along the way.
First the Specs
Price: 162.99 on sale on Amazon
Assembled Dimensions: 36″L x 31″W x 38″H
Folded Dimensions: 20″L x 31″W x 33.5″H
Stroller weight: 23 pounds
Recommended child weight: 40 pounds maximum child weight per seat, 80 pounds total
Additional features: travel-friendly lightweight design, child trays and parent tray with two drink holders included
The Pros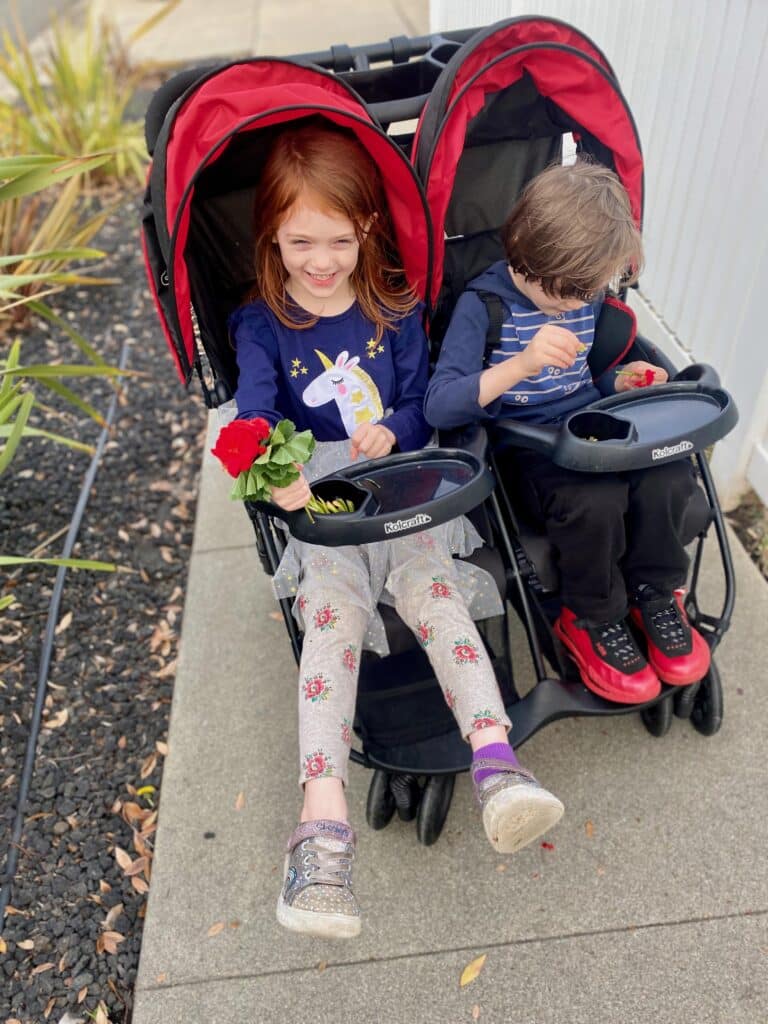 There are plenty of things to love about this double stroller. Let me count the ways:
It's Lightweight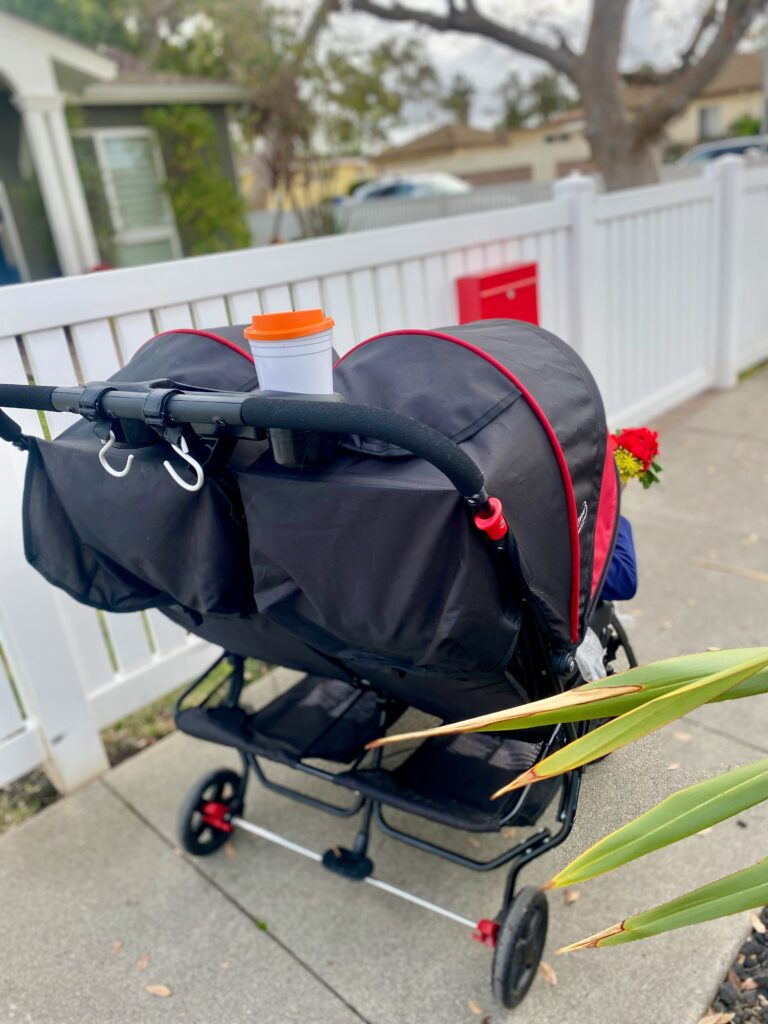 The Kolcraft Cloud Plus Lightweight Double Stroller lives up to its name — it is truly lightweight for a double stroller. This makes it ideal for travel and life on the go.
Looking at it, it looks like would be much heavier than it is. It doesn't weigh much more than a single stroller. Surprisingly, it isn't much heavier than the Graco single infant stroller we had.
This is particularly useful for pushing over long distances. When compared with our Joovy Big Caboose Triple Stroller, which we dearly loved and miss, it's a a quick, light, responsive push. I pushed the Joovy Big Caboose Triple Stroller not long after giving birth, and then not long after an intense surgery, and in both cases, it eventually hurt.
If you are ever planning to venture out without another adult, or simply want to avoid massive stress, and you know you may have to collapse and carry the stroller, the weight and bulk of a collapsed stroller becomes of massive importance. The lightweight, relatively compact size of the collapsed Kolcraft feels like a big relief in these situations.
For travel, this is especially important, because you may not always be able to take elevators, and you may use transport like buses, trams, and shuttles where strollers must be collapsed.
The weight and bulk of a stroller is also important to consider if you live up stairs, or ever have to deal with stairs, on your trips. In all these situations, the Kolcraft Cloud Plus Lightweight Double Stroller can truly shine, because it is very lightweight, and you can handle it with one hand for a short while if you need to.
Storing it in Your Vehicle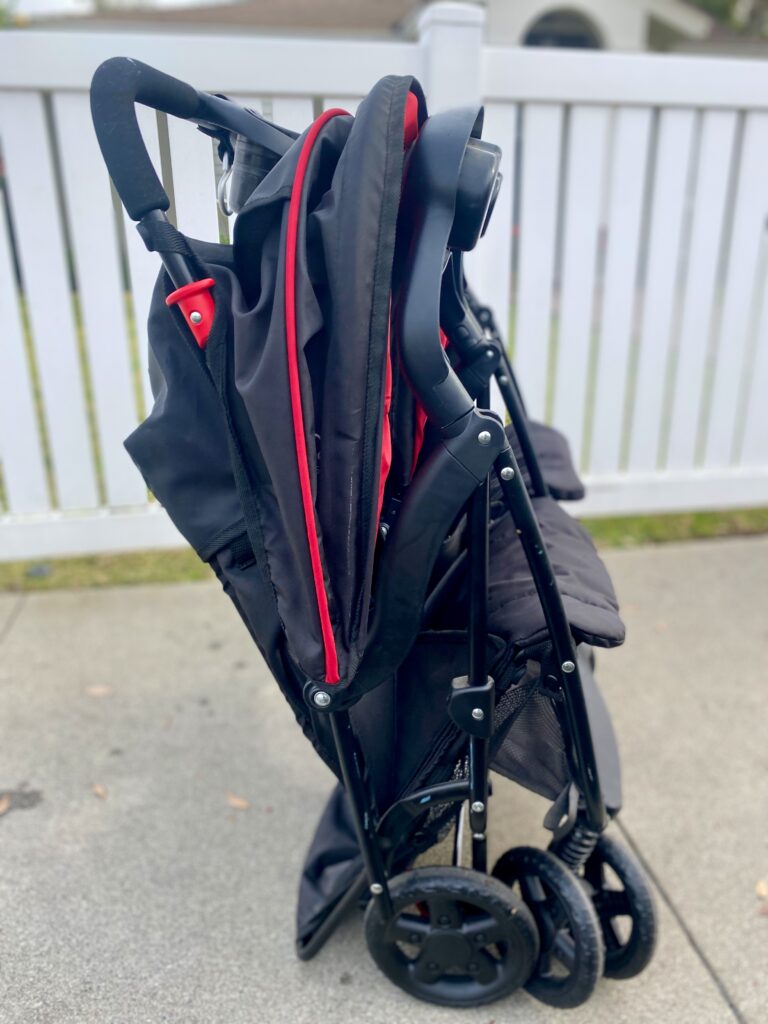 The Kolcraft Double Stroller being so compact is a big relief if you have a smaller car, smaller trunk or back area, or are worried about smoothly getting into transport like shuttles and buses.
The worst thing about having a huge bulky stroller is trying to fit into your car, which was a real struggle for us with the Joovy Big Caboose Triple Stroller. Even if we somehow managed to squeeze it kind of scarily into the car, it really prohibited us from bringing along much else — which nixed trips to the grocery store, travel bags, and so on.
The Kolcraft Double Stroller's folded dimensions are 20″L x 31″W x 33.5"H, which is pretty compact for a double stroller. If you have a decent sized cargo area or trunk, you should able to fit other things as well, which is great for travel, going to shops, and so on.
The Canopies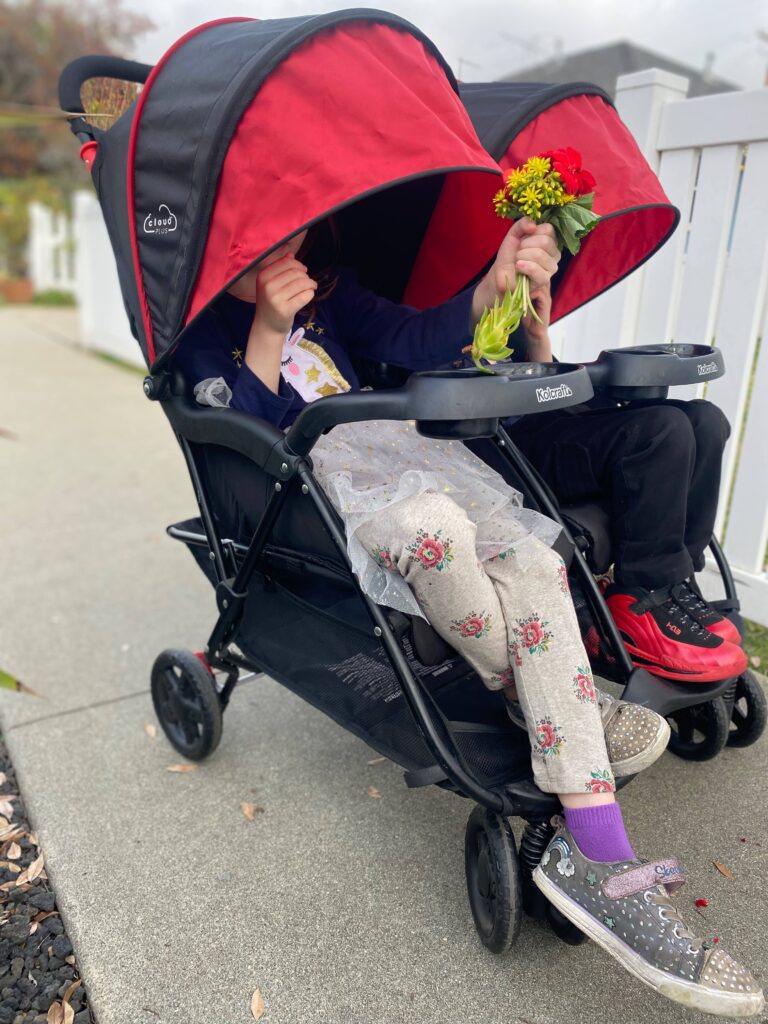 The Kolcraft Double Stroller has two large, very deep retractable sun canopies for both children, which is wonderful if you have children who are at all sun sensitive.
If you are going to be spending a lot of time outside, like on long hikes or walks, travel and long days out, you'll love the depth of the canopies and how they are adjustable for more protection.
The deep canopies are also great for recovering from sensory overload and over stimulation, and for encouraging nap time on trips and days at theme parks, zoos, and similar environments.
The Snack Trays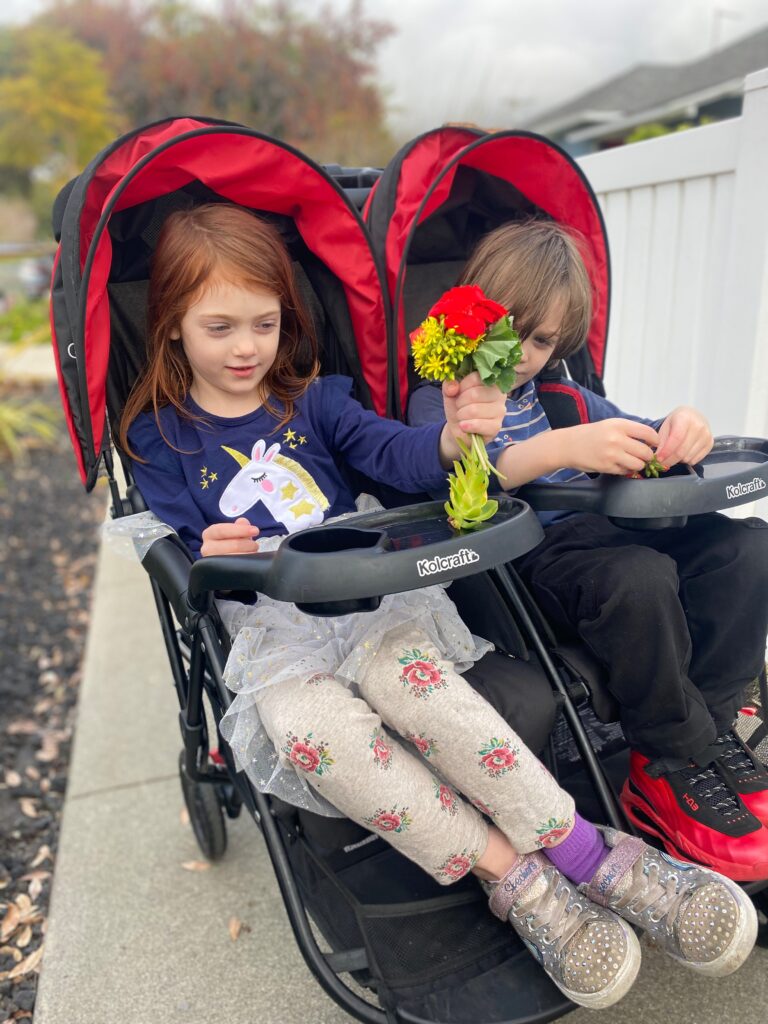 The snack trays are pretty deep, which is great to prevent the inevitable flying projectile food situations.
The snack trays also feature drink holders, which is one of my favorite features. Whether holding milk bottles, juice cups, water bottles, or the-dreaded-completely-open drinks, these holders really help things stay in their place to avoid spills.
For some families, though, the circumference of these drink holders just isn't wide enough — a standard to-go cup BARELY fits, and since most sippy cups are wider, you may find yourself having to buy special slimmer cups just for this stroller, which could be annoying.
For us, we had pretty good luck with the First Year Hard Spout 9 Ounce Sippy Cups.
In general, a good rule of thumb is that a compatible sippy cup should not be wider than the average slim takeout cup.
The snack trays and seats are comfortable enough that you can set up meal times in this stroller on the go, which is a big bonus. When are you are out, finding child seats for eating is not always easy. And some child seats can feel precarious if you have boisterous, energetic toddlers.
Eating meals in the stroller can offer small children a lot of safety, ease, and comfort, and a much more containable mess.
Additionally, the parent snack/ thingamajig holder tray, with two drink holders, is WONDERFUL.
The Width
The Kolcraft Double Stroller's smaller width makes it easier to get in shops, in and out of doorways, through aisles in a market or shop, and to navigate through crowds. Stroller requirements, size wise, have also become stricter at Disneyland, and it's awesome this stroller makes the cut.
That said, If you are used to a single stroller, it does take a little adjustment to get used to a double-wide stroller.
Cons
With all of the strollers I've tried, it's safe to say none of them are perfect. Here are the things I don't love about the Kolcraft Double Stroller.
Side-by-Side Seats (Both Good and Bad)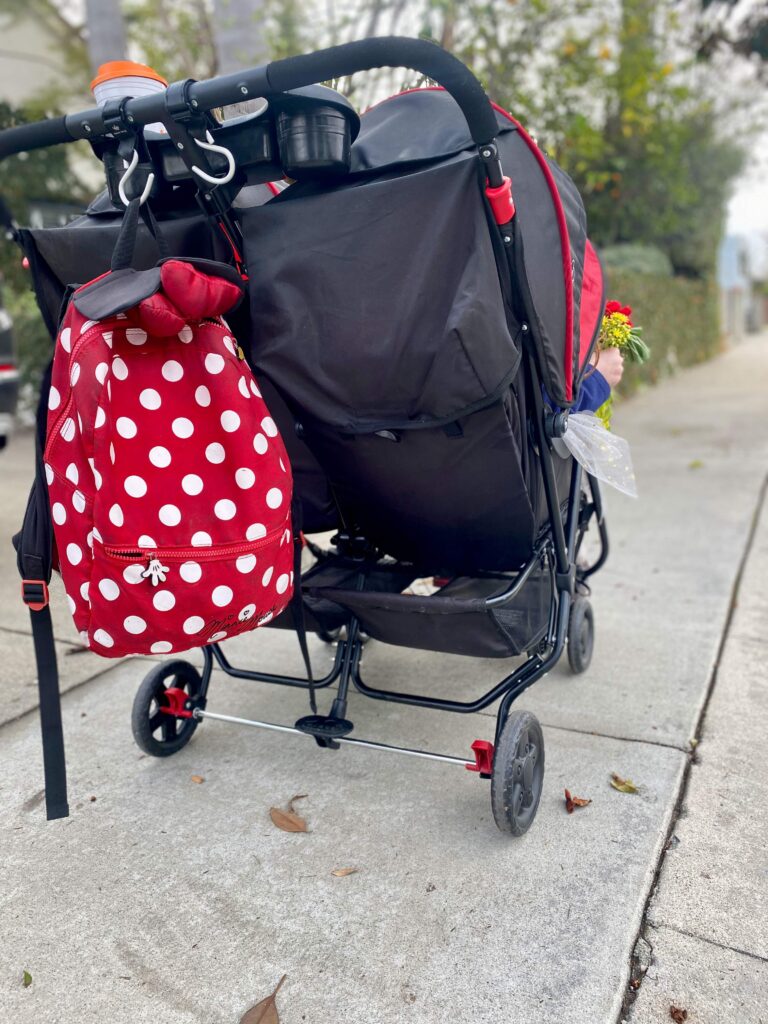 There are advantages and disadvantages to to be had with side by side seating.
The big advantage is that your little ones can talk, interact, share snacks, and have fun with each other.
A disadvantage is that a rowdy, energetic little person can keep awake the other little person who is trying to sleep…and food theft of particularly tasty snacks becomes a real temptation!
In tiered stroller seating, like the Joovy Big Caboose Triple Stroller, nap time is a little easier because each child has their own little cocoon. The disadvantage? The sibling seated just a little higher soon finds swift little kicks to the head of the lower sibling an easy mistake when excited…or a naughty temptation.
When I moved my little ones from the Jooby Big Caboose Triple Stroller to the Kolcraft Double Stroller, my children instantly loved how they could talk, share sights, and dig into snacks and meals. So although there are pros and cons, side by side seats ultimately win for my family.
Not for Infants
This is definitely not an all-ages, one size-fits-all stroller. You would need have an infant stroller first, or do baby-wearing until your infant is large enough to fit in this stroller. That might be a downside if you only want to buy one stroller.
How old should your children be for this stroller? Kolcraft says 6 months. I think it depends on your children's size. Your child needs to be able to hold his or her head up, and be a pretty decent size to fit into these seats, which are larger.
The weight limit on the stroller is 40 pounds per child and 80 pounds total. The age range, of course, depends on the weight and size of your children. At 4 years old and 6 years old, my little ones are still very comfortable in the Kolcraft Double Stroller.
Storage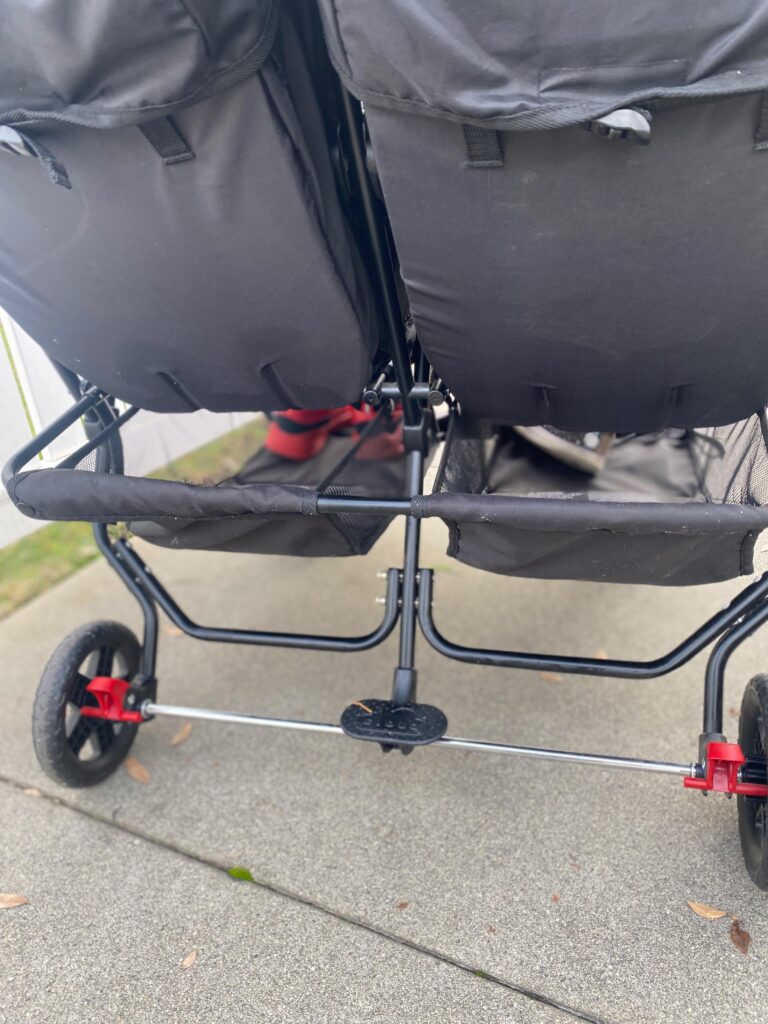 The biggest downside by far is the storage. It is limited, especially considering this is a double stroller, and you will need enough supplies on hand for two children.
The storage is set up with two divided, very slim and narrow mesh baskets. There is no way to fit a bulky diaper bag or backpack underneath these seats.
If you are coming from a stroller that has truly generous storage, this can be a real shock. For us, we were very indulged with the Joovy Big Caboose Triple Stroller. One of its most endearing and useful features was a huge amount of storage, that enabled us to take everything we needed for an entire day's out with us in the stroller. We never once struggled with space. This was a big relief, since it meant no trips back to the hotel room or the car for a long day out.
For things we really need on the go, like snacks, backpacks, diaper bags, I found hooks on the handle bar of the stroller worked the best.
With two bag hooks on the Kolcraft Double Stroller, you can accommodate two backpacks, a backpack and a diaper bag, or any combination of things, and you can get the storage level to something sustainable for a long trip. It also feels really good to get those heavy bags off your back and onto the stroller bar, where you hardly feel their weight.
Not Very Rugged
The Kolcraft Double Stroller is budget friendly, but it also feels a little flimsy.
The fabric feels thin and like it could possibly tear. The wheels are made of plastic and they are not all-terrain, rugged wheels. If you want to regularly go off asphalt or concrete, this would not be a good stroller for you.
This is very much a neighborhood or theme park or paved walk / hike kind of stroller, not a jogging or all terrain stroller. However, the wheels do have a bit of tread, they do not have completely smooth wheels, which is great. It performs a bit better than I would have expected.
Would I Buy the Kolcraft Double Stoller Again?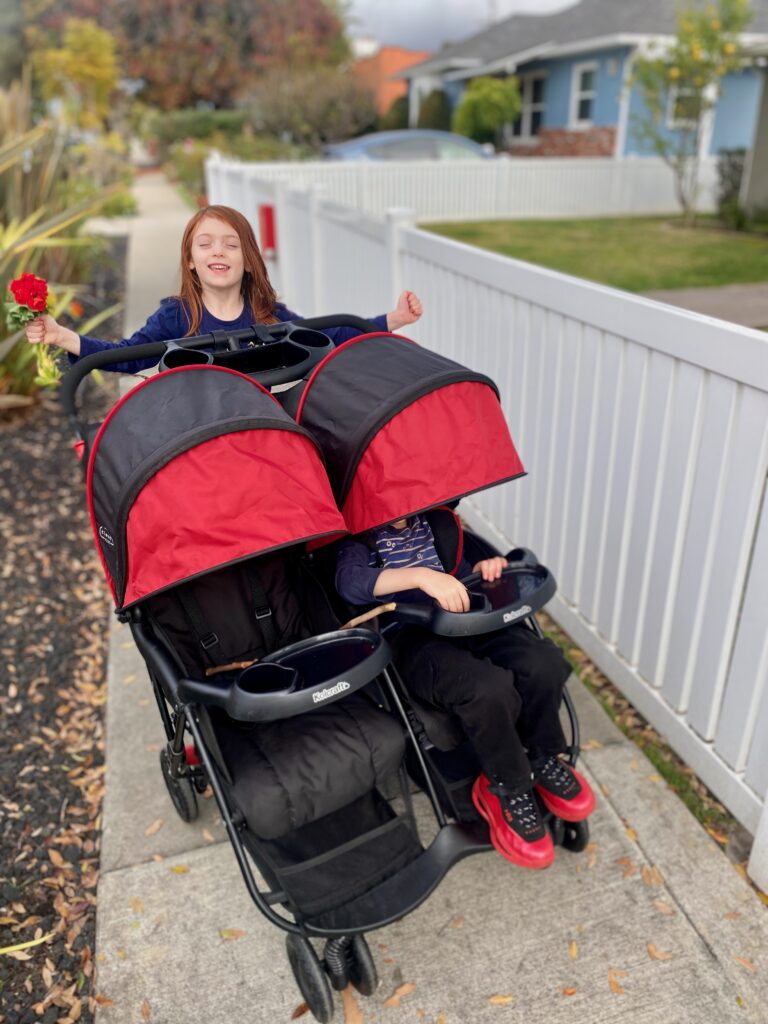 Knowing what I know now, I still feel the Kolcraft Double Stroller is a terrific stroller at an affordable price point.
It's surreal in how lightweight it is, which makes it ideal for travel and long days out. It's comfortable for toddlers and small children, and the parent double drink holder and small tray is a favorite with us.
The fact that it's not super wide means it doesn't restrict you much in going through crowded areas, narrow aisles, or doorways. And the benefit that it's compact when folded, and not heavy, means you won't struggle much getting it on to trams or shuttles, or up stairs, or into your car.
For me, the only really serious downside of this stroller is its very limited storage. If you are more of a minimalist, you might find this more workable. Or if you can find a workaround with stroller hooks, I think you and your little ones could love the Kolcraft Double Stroller. My 4 year old and 6 year old munchkins still get excited about walks around in the neighborhood in it. It's fun, lightweight, and always ready to go.
Pin me for later: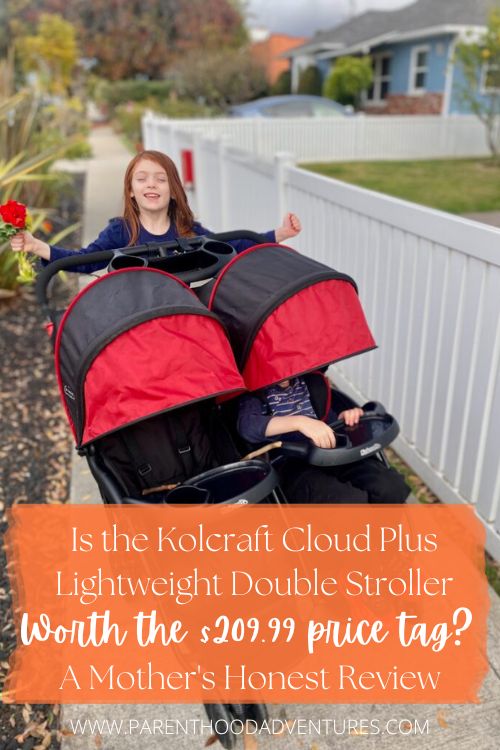 *Some links in this post are affiliate links that support this site at no extra cost to you. Thanks for keeping us going!