UPPAbaby VISTA vs. UPPAbaby MINU: Stroller Comparison from a Mom with Both
Two of UPPAbaby's most popular strollers are the full-size VISTA and the travel-size MINU. After recovering from the sticker shock of the VISTA's $1,000 price tag, you might be wondering if the MINU could be a suitable, more budget-friendly alternative for your family. As a mom of two who owns both and uses them daily, I'm here to share my honest thoughts on the differences between them and the pros and cons of each.
A Snapshot of UPPAbaby's Stroller Models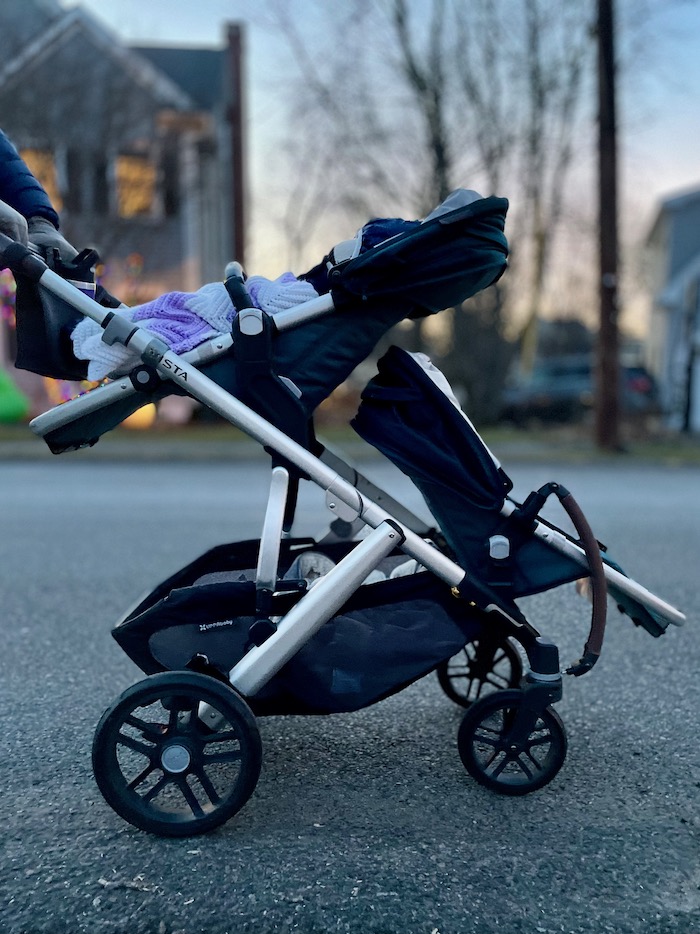 UPPAbaby has been making high-quality, dependable strollers since its debut in 2006. Now a household name among new parents, UPPAbaby uses textured fabrics and modern designs to make options that are attractive to parents and easy to use at home and on the go.
In addition to three car seats and a pack-and-play, UPPAbaby makes seven strollers: three full-size models and four lightweight ones.
Full-size strollers:
The UPPAbaby VISTA is the brand's flagship stroller. It's a large, luxury, single-to-double model with top-of-the-line suspension and adaptable accessories. The VISTA is also UPPAbaby's most expensive stroller, with prices ranging from $1,000 to $1,350.
The UPPAbaby CRUZ is similar to the VISTA. The primary differences are that this one is slightly smaller, cannot accept a second seat, and does not include an infant bassinet with purchase. It costs about $700.
The UPPAbaby RIDGE is an all-terrain stroller and jogger with large rear tires and disc brakes. The RIDGE is the brand's least expensive full-size model, costing about $600.
Lightweight Strollers:
UPPAbaby VISTA vs MINU: The Major Differences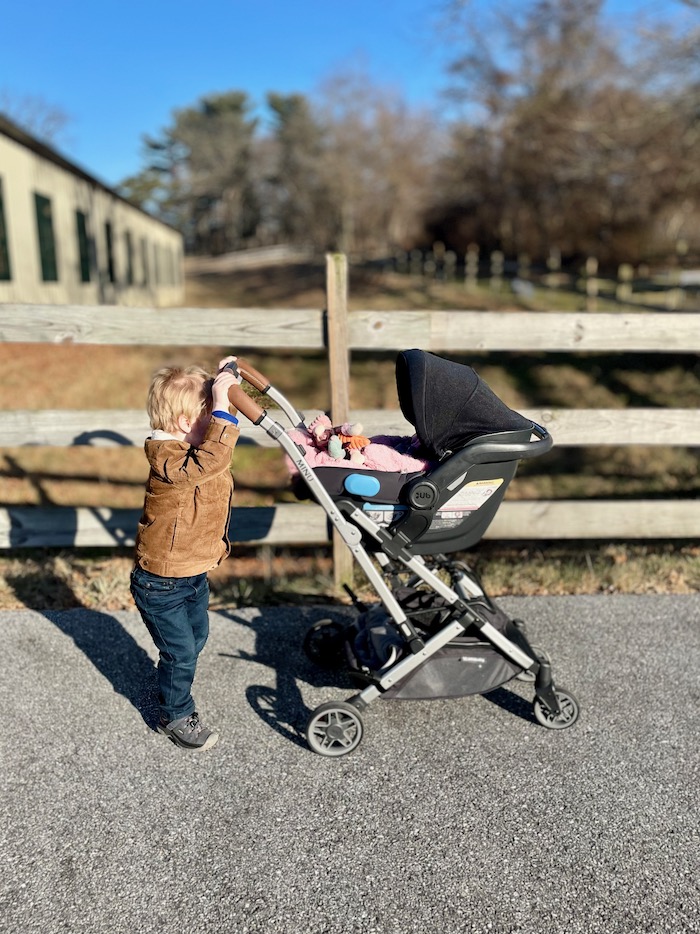 The UPPAbaby VISTA and the MINU are both sturdy, high-quality, durable strollers.
The VISTA is a large stroller that switches from single to double mode with a snap. It includes an infant bassinet with purchase, contains a huge storage basket under the seat, and offers an incredibly smooth ride for your little one. Parents never have to worry about their kids becoming uncomfortable, given the VISTA's supportive seat and premium suspension.
The MINU is branded as a travel stroller. Even though it's lightweight and compact, it still has all the features parents care about: a wide range of accessories, four-wheel suspension, and one-handed recline adjustment. It's unique compared to other travel strollers because of its 20-pound storage capacity and its compatibility with a variety of car seats and with UPPAbaby's infant bassinet (which is not included).
When I use the VISTA vs. the MINU
We've owned both these strollers for over a year now, and we use both frequently with our toddler son and infant daughter.
The MINU is our go-to option for errands. It's easier to fold up and put in the car, and it holds the amount of cargo we need on a regular basis. Since it's narrow, it's less cumbersome for navigating store aisles.
In addition to travel, we also use it for family meals at restaurants, thanks to its compact fold that makes it easy to set it out of the way.
If we're walking to the playground with our kids or strolling through the neighborhood, we always take the VISTA instead. While our toddler son usually opts to walk or ride his tricycle at first, the VISTA's second seat is a lifesaver for someone with two kids. The difference in suspension is noticeable on bumpy sidewalks, so we prefer it over the MINU for longer walks.
The VISTA vs. the MINU: Weighing the pros and cons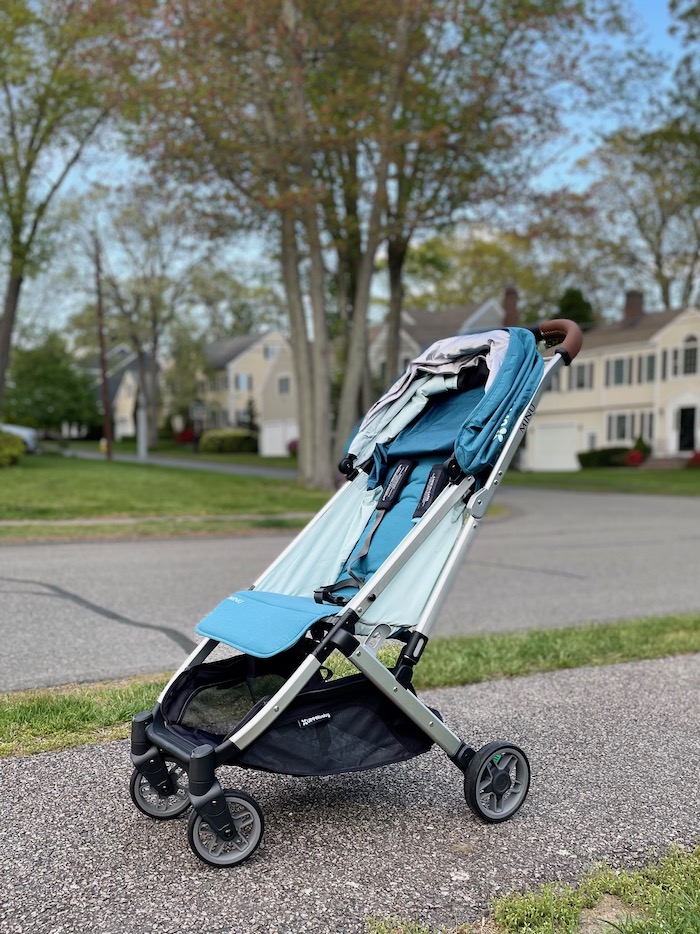 Having trouble deciding which stroller is the right fit for your family? Here are some reasons to opt for one over the other:
Advantages of the VISTA over the MINU
The VISTA includes an infant bassinet (approved for overnight sleep) with purchase. This makes it suitable for use from birth, without additional accessories needed.
Large rear wheels (although more difficult for transporting) make the ride much smoother than the MINU, especially over varied kinds of terrain.
A telescoping push bar is adjustable for adults of varying heights.
The VISTA offers twice as many color options as the MINU.
More accessories for the elements (like rain covers and bug shields) are included with purchase.
The VISTA's cargo basket can hold 30 pounds of storage, which is larger than the MINU's 20-pound capacity.
No adapters are needed to for use with UPPAbaby's MESA car seat or infant bassinet.
With adapters, the VISTA is compatible with more car seats than the MINU.
The VISTA has many seating configurations and can carry two seated passengers.
The VISTA toddler seat is more supportive and comfortable than the MINU's.
Advantages of the MINU over the VISTA
It's much less expensive! The MINU is less than half the cost of the VISTA.
The MINU is narrower and more than 10 pounds lighter than the VISTA.
The MINU folds into thirds for smaller collapsed dimensions.
Parents can fold the MINU in one step, with one hand only.
Areas where both strollers shine
Both are compatible with many accessories for kids and parents.
The age and weight range of both the VISTA and MINU's seats is 3 months to 50 pounds.
Both have all-wheel shock absorption.
Parents can buy a standing piggyback board for either.
Both have large sun canopies with UPF 50+ protection (although the VISTA's is slightly longer).
Detailed Features and Specifications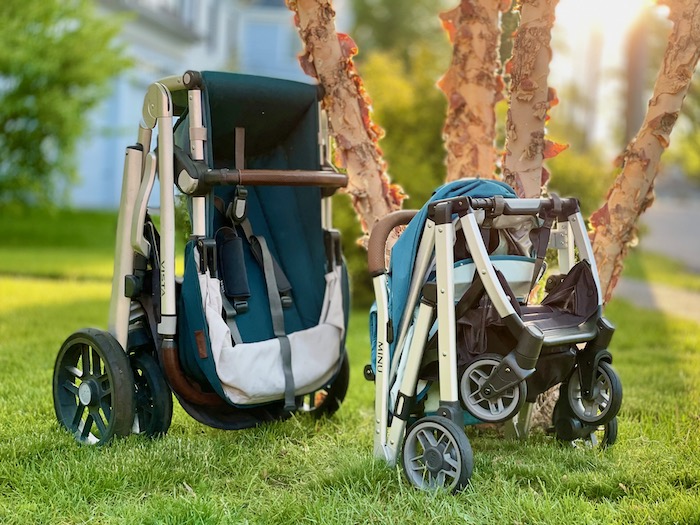 Let's compare the MINU and the VISTA side by side on each of the categories parents evaluate when shopping for a new stroller.
Cost
The VISTA is twice as costly as the MINU, but they're both expensive. A new VISTA costs parents anywhere from $1,000 to $1,350 depending on the fabric they choose. The MINU's price tag is about $450.
Although parents pay considerably more for the VISTA, they receive more enduring features and versatility than with the MINU.
Portability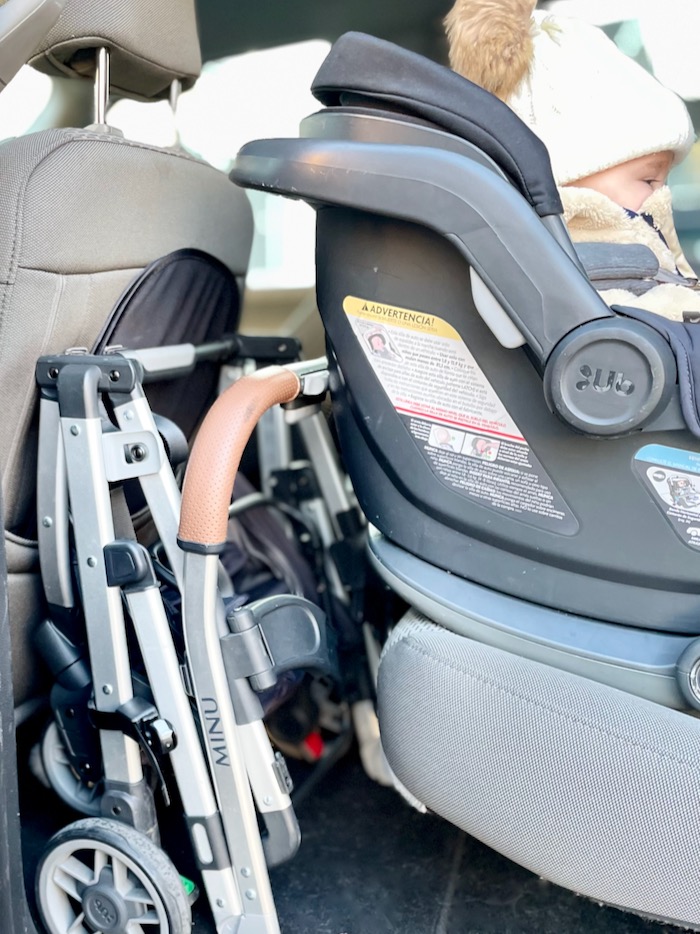 This is one category where the MINU wins big.
The VISTA is a large stroller. It weighs 27 pounds, making it difficult to carry (especially up stairs!). Since the MINU only weighs 16.9 pounds, it's easy for parents and grandparents to load it into the car trunk or lift it over a few steps.
When expanded, the VISTA's dimensions are 36″ long by 25.7″ wide by 39.5″ high. The MINU measures 35.5″ long by 20.3″ wide by 41″ high. Since their widths are so different, the MINU is much easier for winding through crowded aisles in the grocery store or through narrow doorways.
The VISTA folds in half to reach its collapsed size (17.3″ long by 25.7″ wide by 33.3″ high), while the MINU folds into thirds (12.0″ long by 20.3″ wide by 23″ high). The MINU has an included carrying bar and a padded shoulder strap, giving us two comfortable ways to carry it.
The MINU is so small when collapsed that we can fit it in an overhead compartment on most airlines. We can also store it in the back seat of the car just in front of our infant car seat.
Until our son was nine months old, we lived in a walkup condo downtown. The VISTA was our only stroller at the time, and it was a hassle to carry it up the front stoop and unlatch our ancient double doors just to fit it inside. I actually opted to carry our son to daycare because the VISTA was too cumbersome. In hindsight, I wish we had owned a MINU for our city days.
Size and weight range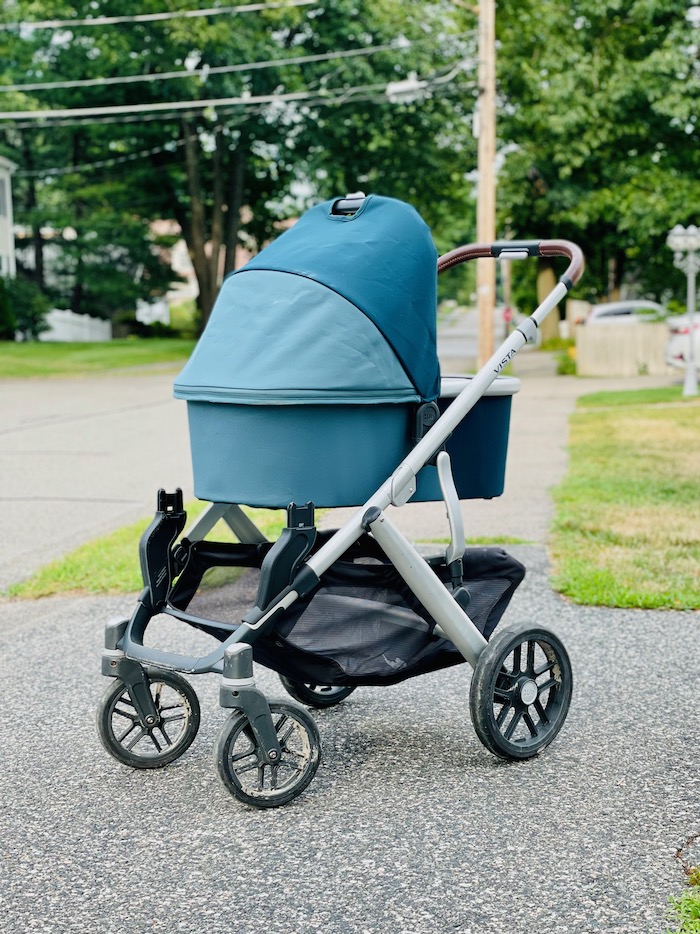 While parents need to wait three months to start using the MINU for their newborn, they can use the VISTA from day one.
The VISTA comes with an infant bassinet that gives new babies a flat, roomy spot to lay out during strolls. No adapters are needed for use. Once babies reach 20 pounds or are able to push up on their hands and knees, parents should switch them to the stroller seat.
MINU owners can purchase adapters to make the MINU compatible with the UPPAbaby bassinet and with a variety of car seats to use from birth. (The VISTA also accommodates several car seats, some of which require adapters.)
The included seats for the MINU and the VISTA support kids from three months to 50 pounds. UPPAbaby's rumble seat, which parents can purchase to add a second seat to the VISTA, holds children from three months to 35 pounds.
We purchased our MINU stroller when we already owned a VISTA. We decided to buy MINU adapters for the UPPAbaby bassinet in anticipation of our daughter joining the family. It was extremely convenient to switch the bassinet back and forth between the two during her first few months.
Maneuverability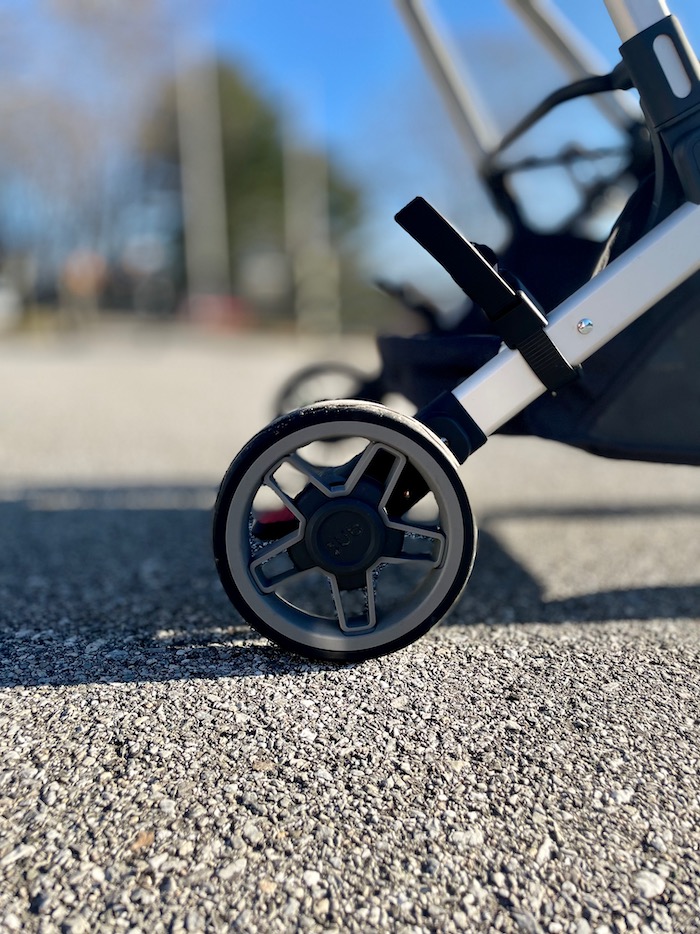 UPPAbaby incorporates premium shock absorption into all four wheels of the MINU and the VISTA, but the VISTA definitely has a smoother ride. It's hard to appreciate without pushing them both in person, but the suspension on the VISTA is unlike most strollers out there. Its large rear wheels with 11.5″ diameters give it an advantage over the MINU, which sports smaller, 6.5″-diameter rear wheels.
The MINU feels comfortable for our son or daughter to ride in for long days out, but the VISTA is easier to push over bumpy terrain, like wooded trails, uneven sidewalks, and cobblestones. The VISTA also has a telescoping handlebar that makes it more ergonomic for parents of varying heights to maneuver.
Both the MINU and the VISTA have a convenient foot brake to prevent it from running away when not in use.
Aesthetics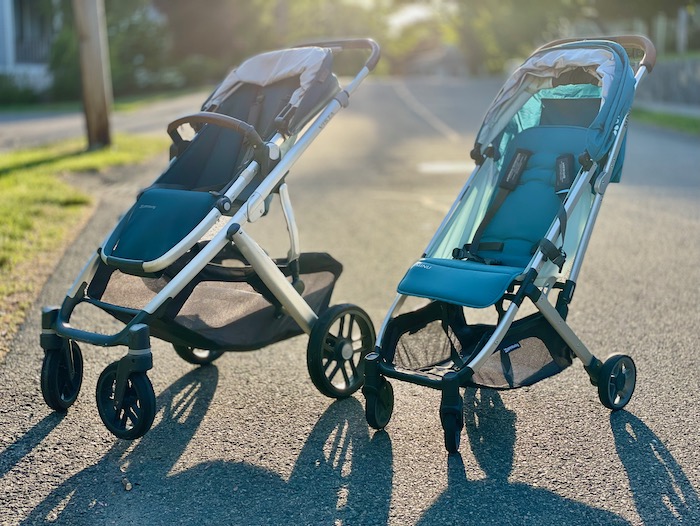 These two strollers are similar in appearance, with the MINU resembling a downsized version of the VISTA. UPPAbaby trends toward muted tones that appeal to the parent's aesthetic, rather than more kid-friendly, vibrant colors. The modern styling is one of the reasons UPPAbaby became so popular when it first started out in the stroller market.
The VISTA currently comes in ten neutral tones, including a limited-edition lunar new year design. It's available in a carbon or silver frame, with chestnut, saddle, black, or maroon full-grain leather accents.
The MINU's color choices are more limited. UPPAbaby makes it in five different fabric tones, with a carbon or silver frame and chestnut, saddle, or black leather accents.
For parents who'd like to evaluate color choices in more depth, the brand offers free fabric swatches for both strollers.
Accessories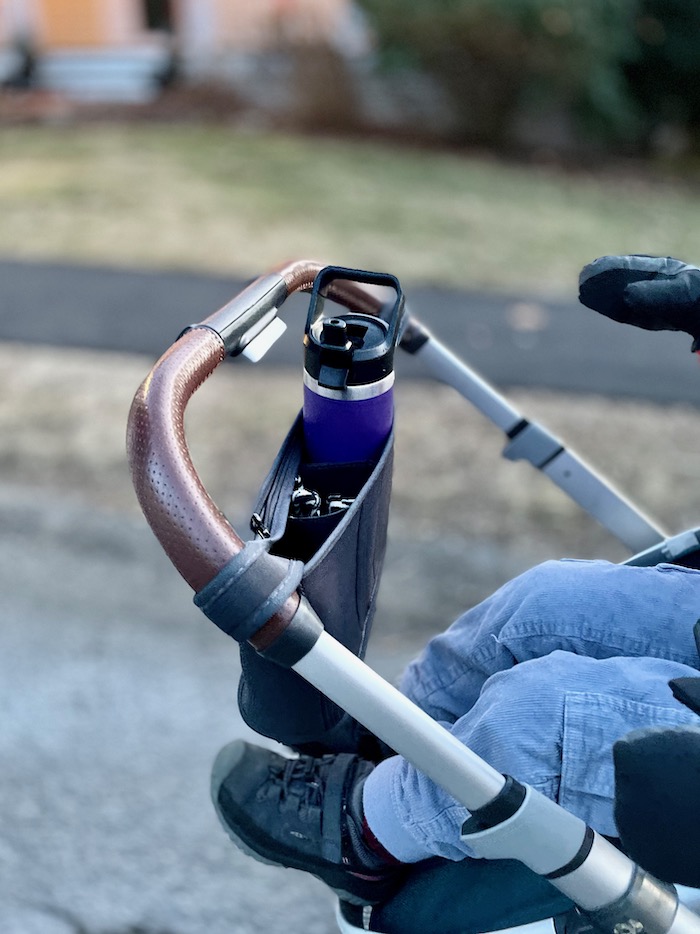 UPPAbaby has a serious leg up on other brands when it comes to accessories. This applies to both the MINU and the VISTA.
Included with purchase of the MINU is a thin storage bag. Accessories included with the VISTA are the infant bassinet, toddler seat bug shield, toddler seat rain shield, bassinet bug shield, and bassinet storage bag. Parents who own an UPPAbaby bassinet can also purchase a sleek bassinet stand, which provides an indoor spot to place the bassinet for naps or even overnight sleep.
Both strollers are compatible with a parent cup holder, carryall parent organizer, and toddler snack tray (see the MINU version here). Owners of the VISTA can purchase an infant snugseat to give more head and neck support to younger babies. Parents can choose from a variety of car seat adapters for either stroller.
Travel bag
UPPAbaby sells a protective travel bag for the VISTA and the MINU. Parents who purchase a travel bag can register their stroller with the brand's TravelSafe program. Through TravelSafe, UPPAbaby reimburses owners for damage incurred during air travel.
We haven't purchased a travel bag for either stroller, but we have traveled frequently with both and haven't encountered any damage. The VISTA is too large to take through the terminal at most airports (although we've been able to once before), but the MINU is small enough to gate-check. We've also taken the MINU onboard to stow in an overhead compartment.
Storage capacity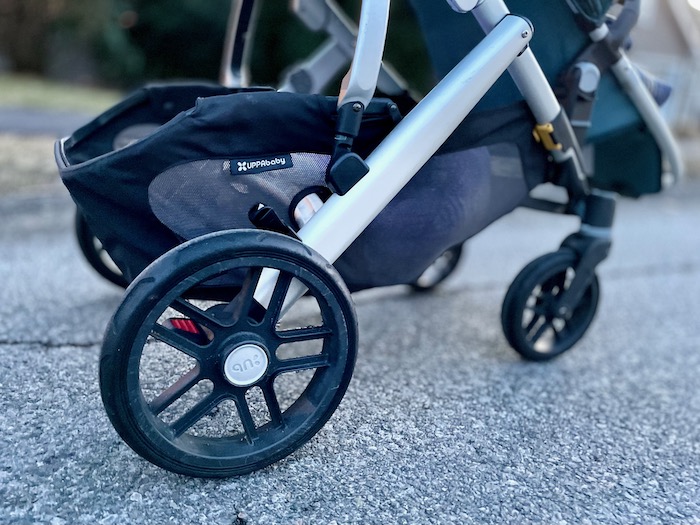 I don't think we fully realize the power of storage capacity until we become parents. The VISTA under-seat storage basket is huge. It can fit a loaded diaper bag and another piece of luggage, or even our son's tricycle and helmet for when his legs get tired. Unlike other single-to-double strollers, adding a second seat to the VISTA does not compromise cargo space.
The MINU's cargo capacity is on par with most full-size strollers and larger than other travel ones. The MINU also has a convenient storage pocket behind the seat back. It's the perfect size for a phone, sunglasses, and a large wallet.
The VISTA's storage capacity is 30 pounds, while the MINU's storage capacity is 20 pounds. Both are impressive.
Folding mechanism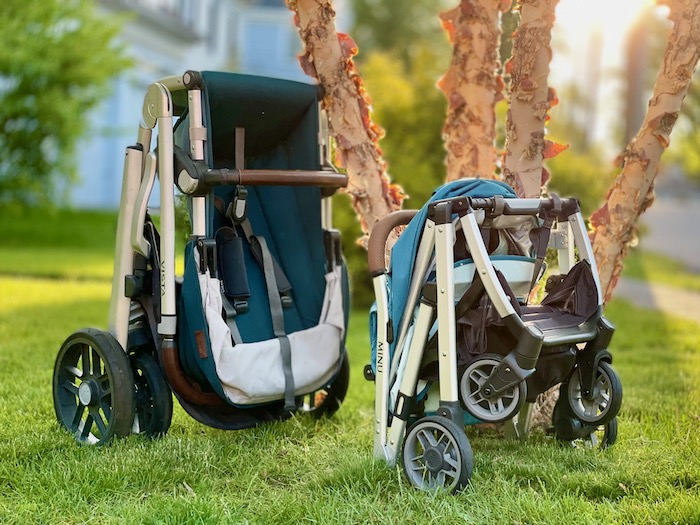 Both the VISTA and MINU are easy to fold. The MINU wins in this category, because parents can fold it in one step, and with one hand only. This is clutch when holding a bunch of stuff (or even a baby) in the other hand.
Both strollers stand on their own when folded, making it easier to store them inside the house or garage when not in use.
Car seat compatibility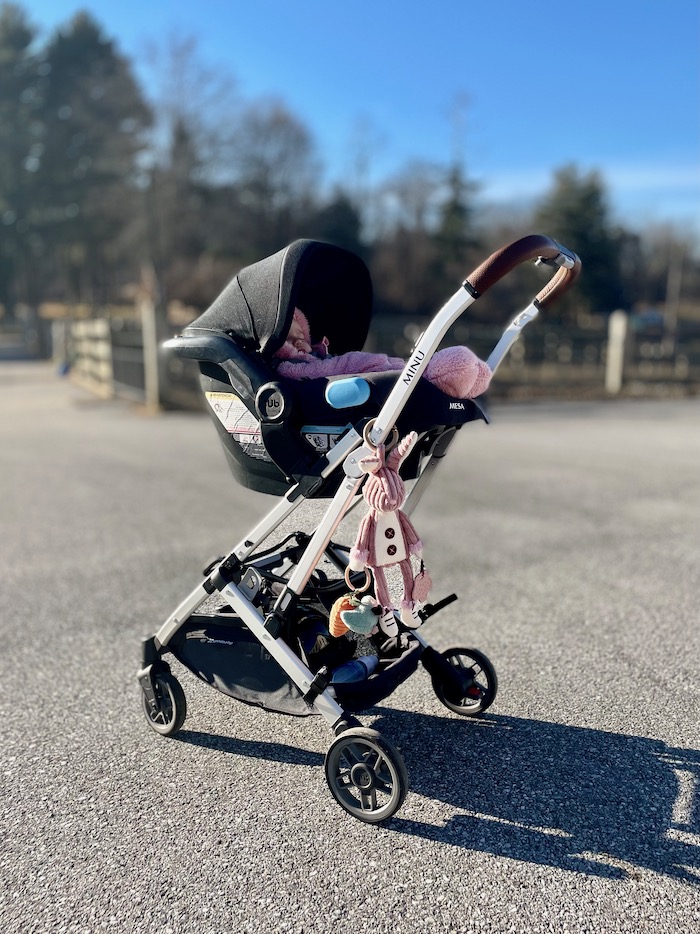 The VISTA requires no adapters for parents who use the UPPAbaby MESA infant car seat. With the purchase of adapters, the VISTA is compatible with car seats by Chicco, Maxi-Cosi, Nuna, and Cybex.
The MINU requires adapters for use with any car seat, including the MESA. The MINU can convert to a travel system with car seats by UPPAbaby, Nuna, Maxi-Cosi, and Cybex.
Although we have to snap on the adapters to use the MINU with our MESA car seat, we use it much more often than the VISTA with a car seat attached. Since the MINU is easy to fold up and throw in the car, it's perfect for quick errands. If our infant daughter is sleeping when we get to the grocery store, I love that we can put her whole car seat on the stroller without having to wake her up.
Seating configurations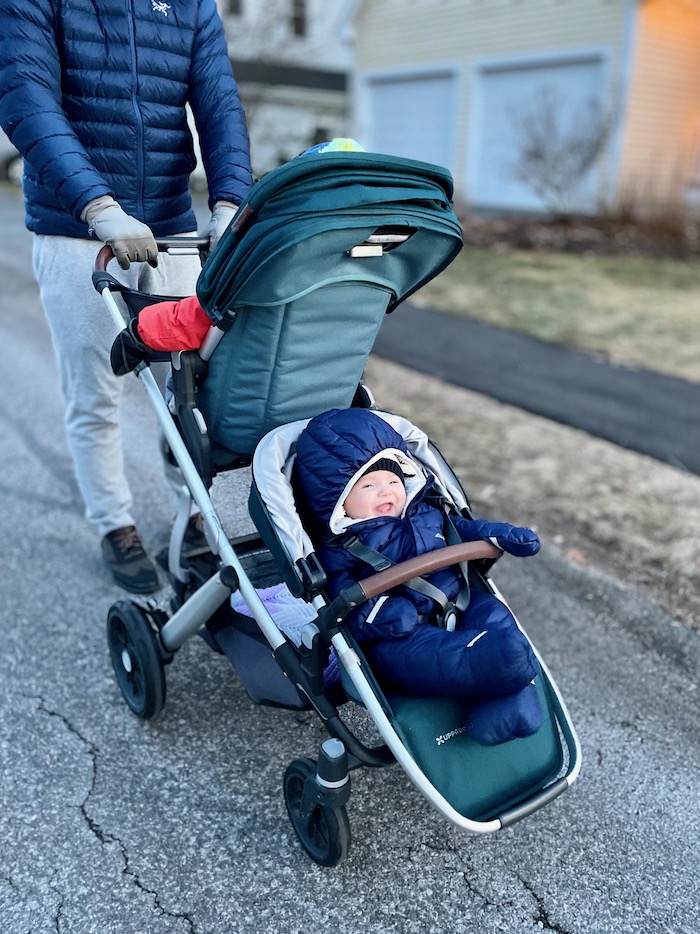 The MINU's seat is only forward-facing, but with adapters, parents can attach their car seat or UPPAbaby bassinet facing either direction.
The VISTA seat can face mom and dad or face forward for walks. Parents can also purchase a second seat to stroll with two kids. The VISTA is a versatile stroller that accommodates two seats, two car seats, two bassinets, or any combination of stroller seat, car seat, and bassinet. This makes it ideal for twins or siblings.
Piggyback board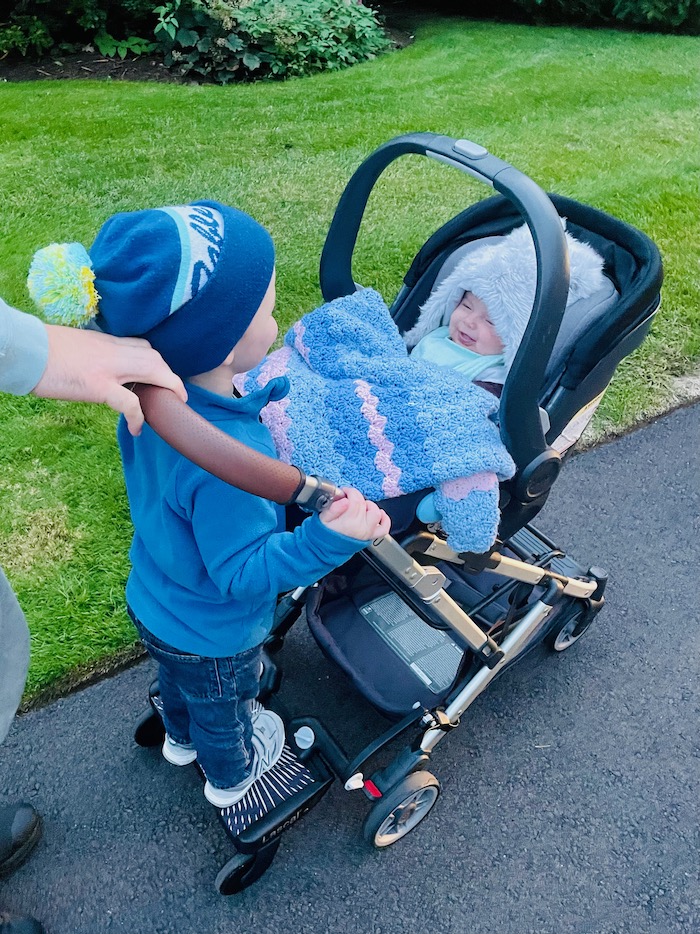 UPPAbaby makes a piggyback board for the VISTA and for the MINU. This allows an older sibling to stand along for a ride, and it lets the VISTA transport an impressive three kids at once!
When we welcomed our second child into the family and wanted to add a ride-along board to our strollers, we decided to buy Lascal's universal buggy board. It's easy for us to switch the board from one to the other, and purchasing a universal model prevented us from needing to buy two separate boards. The buggy board has been great for when our toddler son doesn't want to sit in the stroller but still wants to stay close.
Stroller seat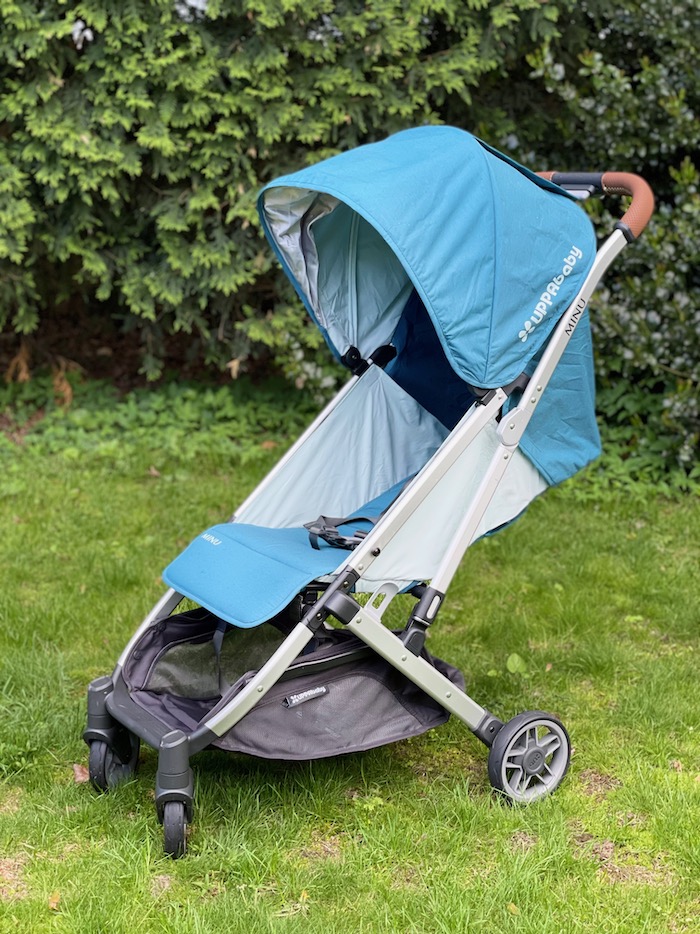 The seats included with both strollers give ample support to little ones for long strolls, but the VISTA seat is stiffer and more robust. They both have a one-handed recline option and an adjustable leg rest, which is important when setting our kids up to nap on the go or sit up and look around.
UPPAbaby incorporates a five-point harness with no-rethread technology on its stroller seats. This lets us quickly change the sizing between our two children, without undoing and redoing all the straps.
Sun protection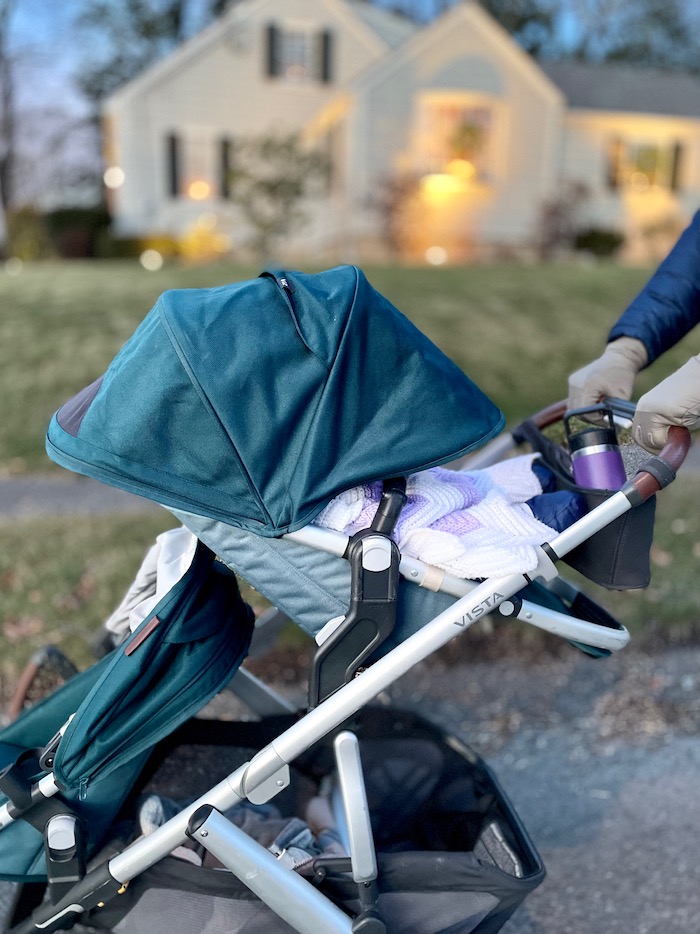 Both strollers have ample sun canopies with UPF 50+ protection, but the VISTA's canopy is larger. It zips out to extend completely over your child for naps. Both strollers' canopies also extend upward to make more head room for children as they grow taller. Vented peekaboo windows improve airflow and let you check on your child from the push bar when out for walks.
The Upshot: UPPAbaby VISTA vs. UPPAbaby MINU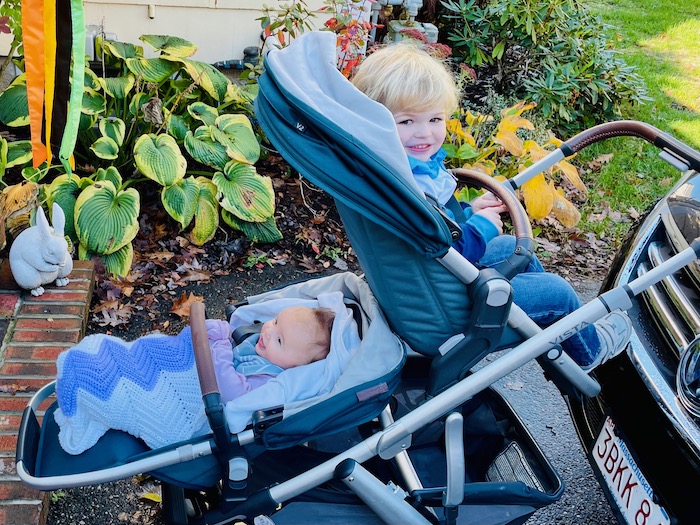 The UPPAbaby VISTA has all the bells and whistles a parent might want in a stroller; its major downsides are its price and its large size. If you're expecting your family to grow and anticipate needing a stroller that seats two children, the VISTA is a high-quality choice.
The MINU is an impressive stroller for its cost. It's small and light while still offering substantial comfort and many of the same convenience-focused features as the VISTA. Although it lacks a bit in shock absorption and expansion options, the MINU could serve as an excellent primary stroller for families in smaller spaces or urban settings.
To read about each of these strollers in more depth, check out our comprehensive reviews of the UPPAbaby VISTA and UPPAbaby MINU. If you're looking for an all-terrain option, read our thoughts on the Thule Urban Glide 2.
Pin me for later: