30 Tips for Keeping a Toddler Happy at a Restaurant — Without Screen Time!
Going to restaurants is one of our favorite things to do together as a family, especially when we're with grandparents, aunts, and uncles. Tackling such a night out with a wild toddler can be a tricky task for any parent, but we've learned some tools along the way to help the night go smoothly, without having to hand over the phone with the Disney+ app queued up.
Here are our top 30 tips for keeping our young son happy at a restaurant, and creating an enjoyable evening for the whole family.
Planning Your Evening
Here are a few things to keep in mind when you're scheduling your big night out:
1. Don't schedule the meal too late.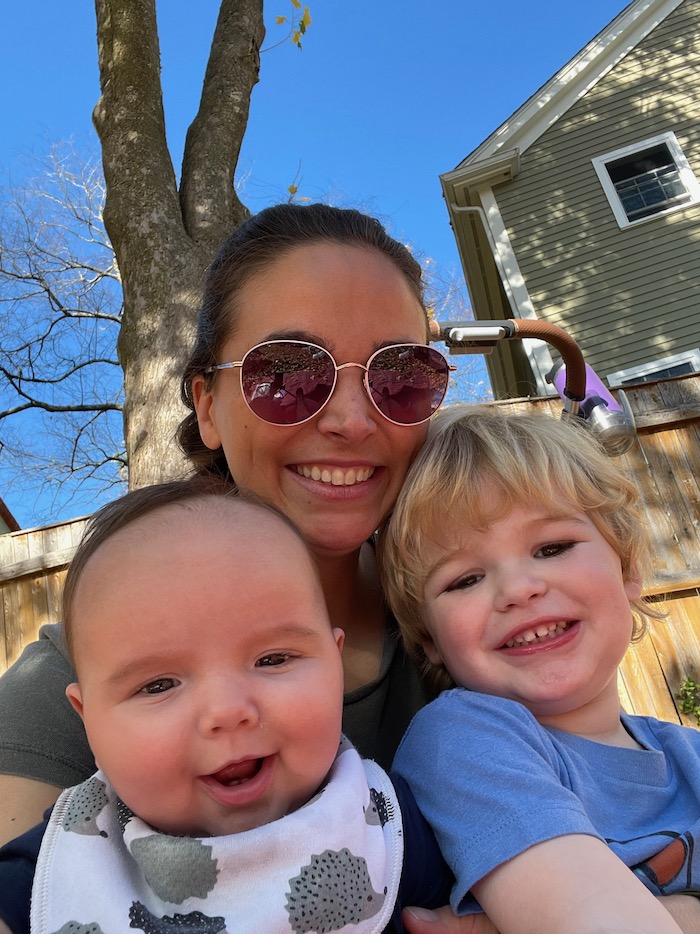 If you have control over the timing of your dinner, it's best not to be out too late, when your toddler can be tired and cranky. If we have a late dinner planned, I'll have our son nap a little later that day, so he has more energy while we're out.
2. Go when your child is hungry!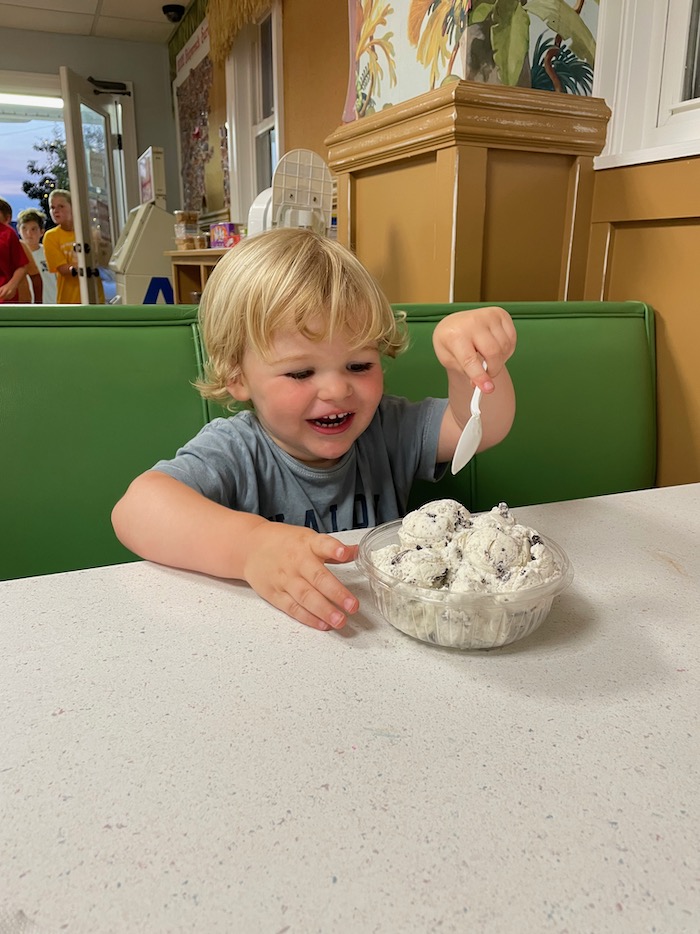 Try not to let your son or daughter fill up on snacks before your reservation. We find it best for our son to be hungry for dinner when we arrive at a restaurant, so he's just excited as we are to sit down for a meal.
3. If you can, eat outside.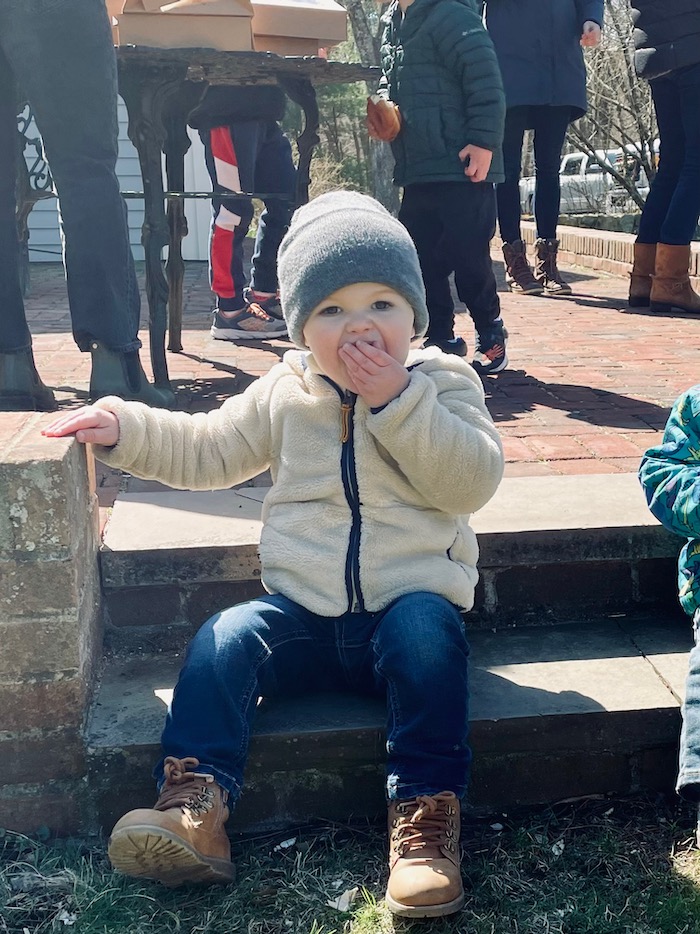 As a mom, I find that our kids are always happier when we're outside. Eating outside makes it less disruptive for children to use louder voices or get up from the table. Casual restaurants with outdoor picnic tables are our favorite places to dine, because they give our son a ton of space to jump and play.
4. Invite another family with children.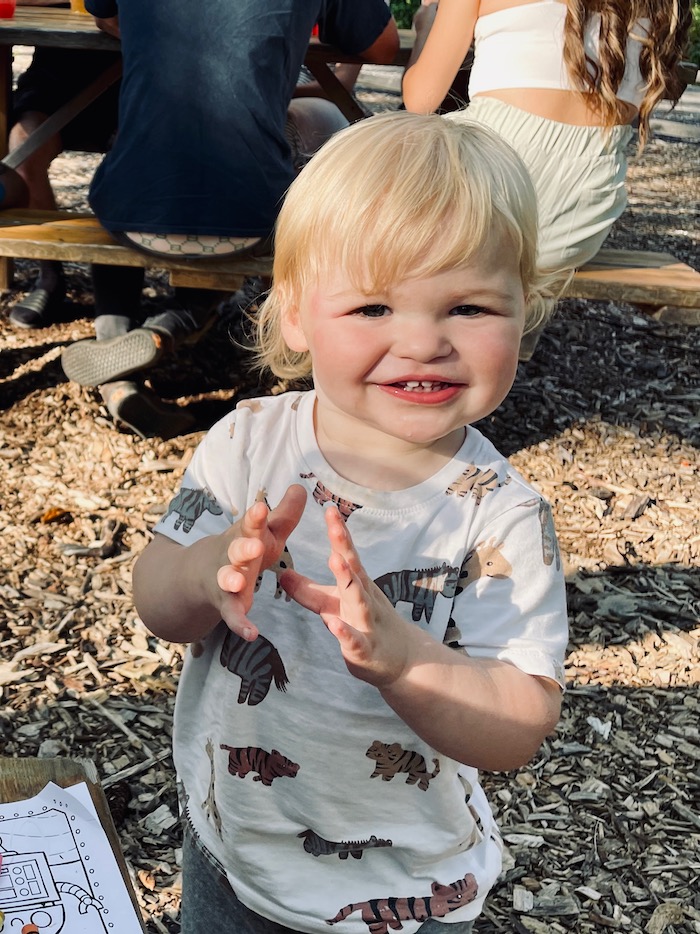 Kids are great at entertaining each other. When we eat out with other families with children, our toddlers have fun and play with toys together, giving us the chance to relax and enjoy our meal.
5. Get yourself a great diaper bag.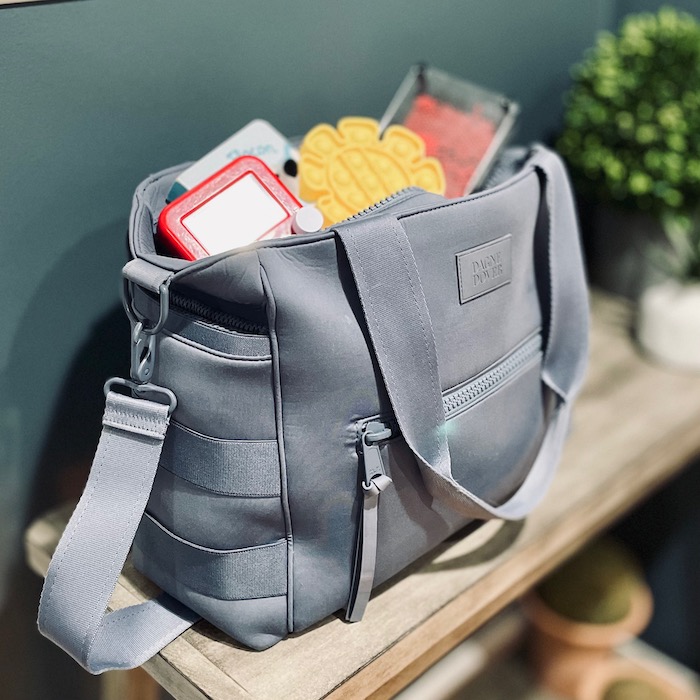 I like to go full Mary Poppins when we go out to dinner, pulling endless snacks and toys from my diaper bag as the night rolls on. My huge Dagne Dover diaper tote was one of my favorite baby shower gifts. It has tons of pockets to stash food, crayons, and books. It also comes in a cute backpack model.
6. If you're walking to dinner, bring a compact stroller.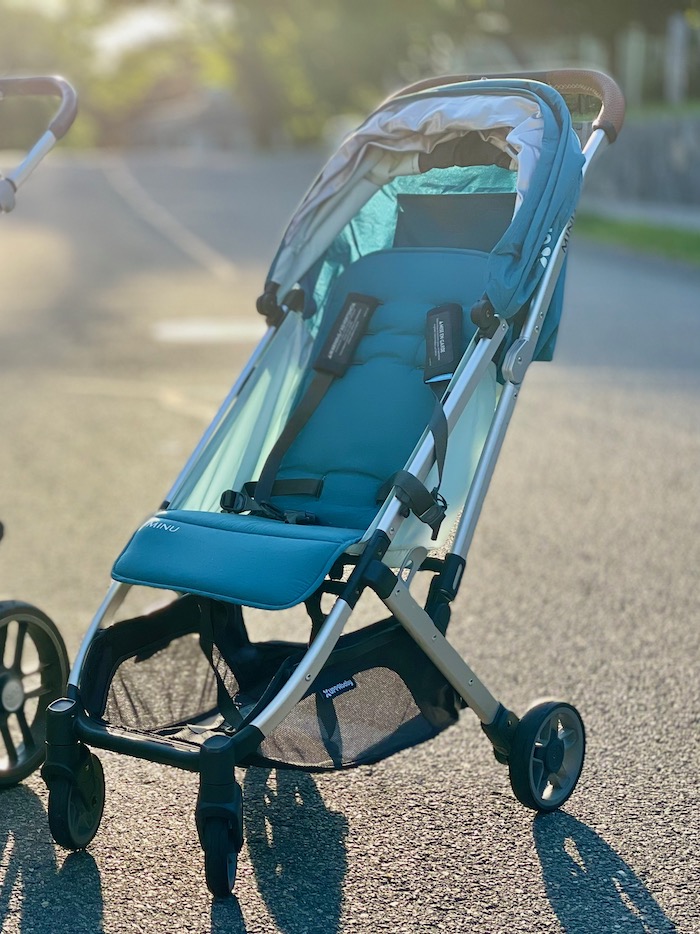 A full-size stroller can feel bulky and awkward to steer through a restaurant and stow nearby. A compact travel stroller like the UPPAbaby Minu will keep your child comfortable on the walk to dinner. It can carry everything you need in the under-seat storage basket, and it collapses down to a small size, so you can tuck it away discreetly during the meal.
7. Make sure the high chair is secure.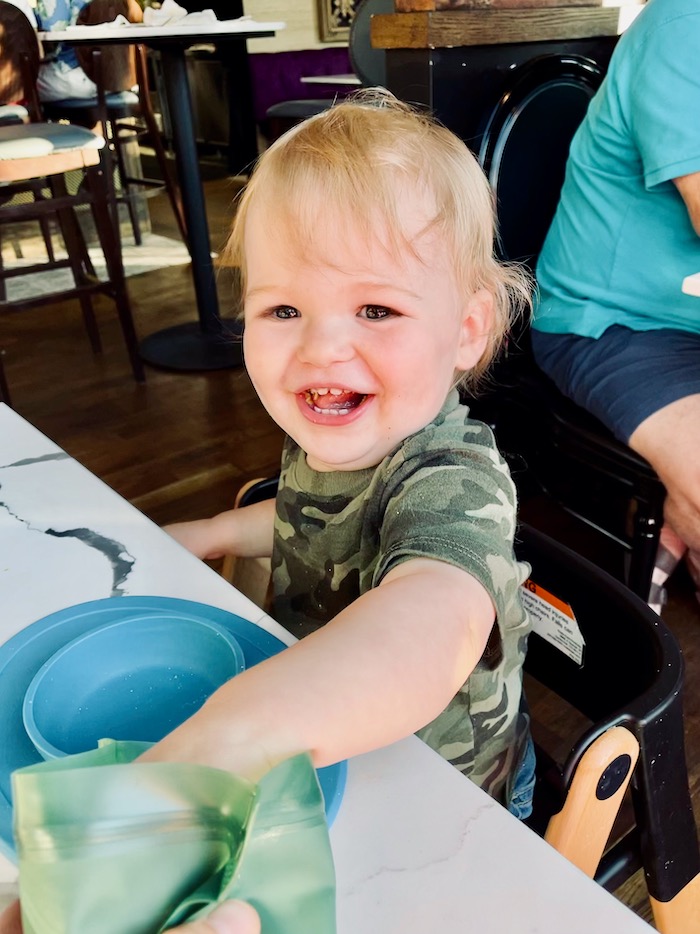 Restaurant high chairs all work a little differently, even though they often look the same. If you're using one for your toddler, always make sure the harness strap is fastened between their legs. The last thing you want is for your little one to slip through and get injured while you're out. As an alternative, bring your own chair.
8. Come to dinner prepared to play.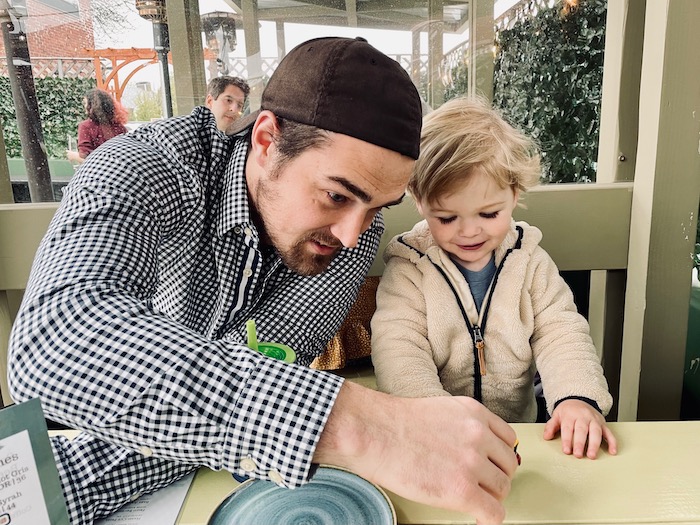 Parents know that toddlers don't typically sit quietly at the table for long discussions. If your goal is to keep your youngster happy through the meal without screen time, be prepared to engage them in calm play throughout dinner. Make up a new game with their coloring book, or zoom their cars across the table. The meal might look a little different from your romantic date nights of the past, but it can still be just as fun.
9. Remember that your meals won't always go as planned.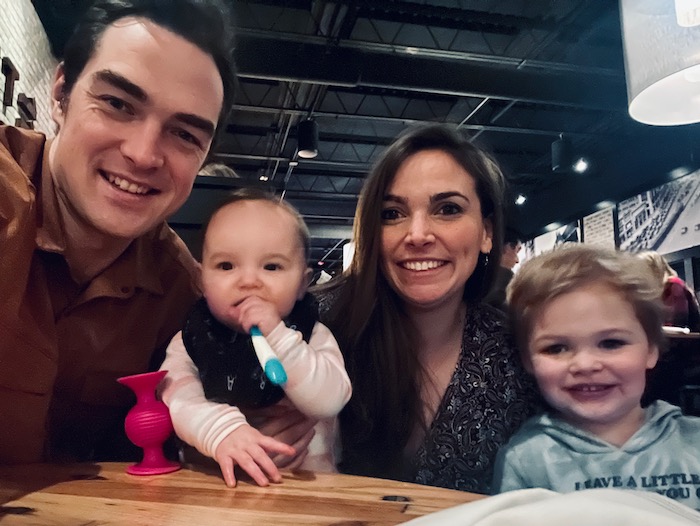 We can plan all we want, but kids have a way of making us pivot.
This year for Valentine's Day, we decided to go out for an early dinner as a family of four. Between our daughter's teething pain and our son's shenanigans, I think every other guest in the restaurant was thankful that we wolfed down our food and left within 45 minutes of arriving. We'll try again another day!
Planning Your Toddler's Food
You've got your reservations, and you're excited for your family's big night out. Now let's plan a restaurant dinner meal that will make your kiddo smile.
10. If there isn't something on the menu your child will like, bring a meal with you.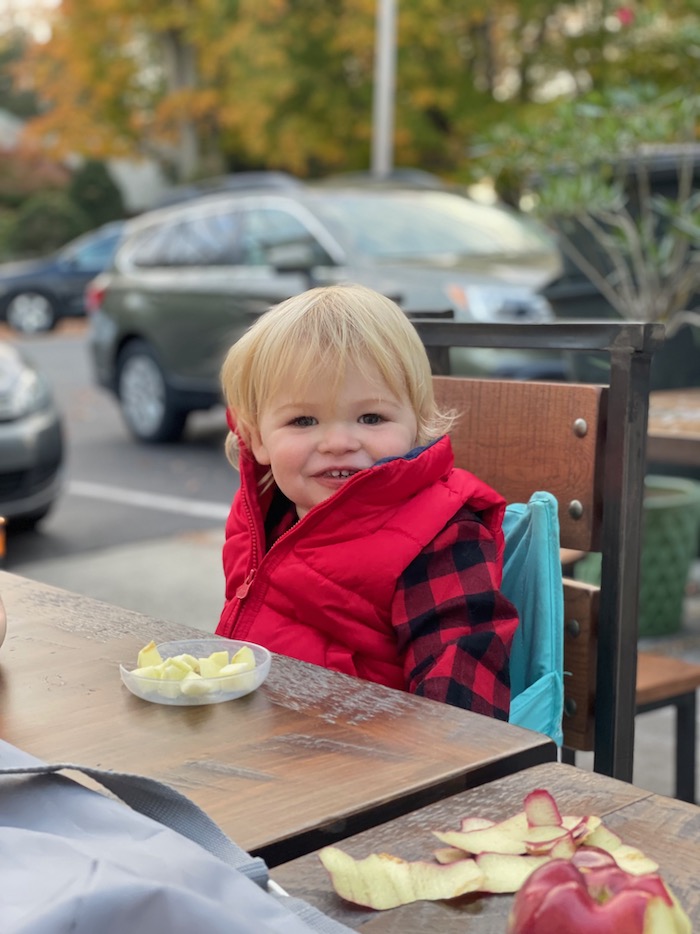 Our son is a pretty particular eater, so I always look at the menu ahead of time to figure out what to order for him. Most restaurants can put together a simple plate of butter pasta (which is a homerun dinner for our son), but I've also brought his food with us in the past. We usually make one of his favorites ahead of time and keep it warm in a Yeti bottle or a Hydroflask food jar.
11. Order your toddler's food as soon as you're seated.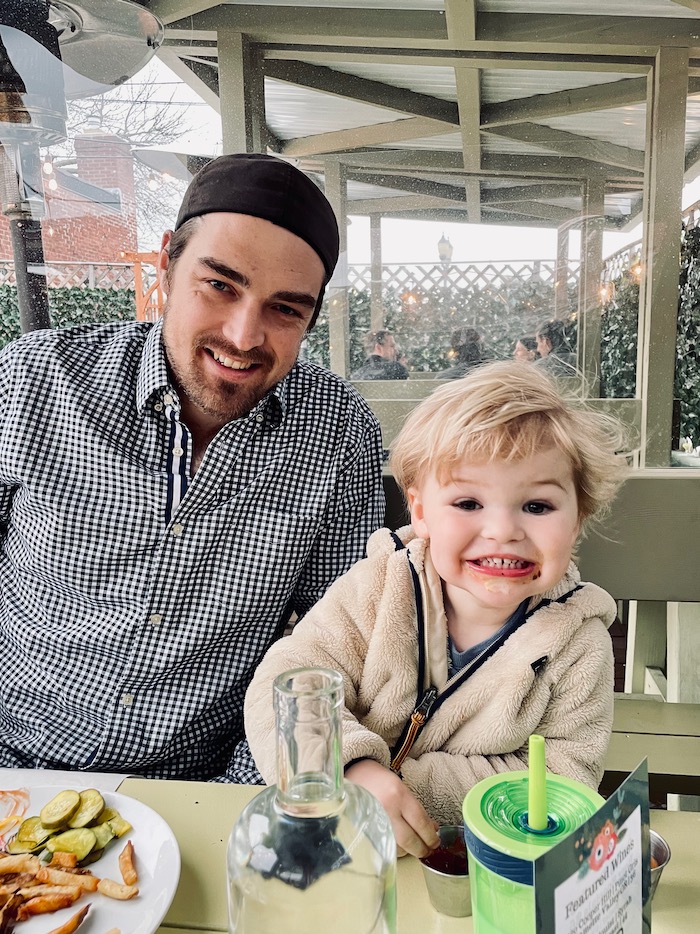 You might not want your child to have to wait to eat until all the entrées come out. Try ordering their food as soon as you sit down — and maybe your beer, too, in case you need to make a quick exit!
12. Get creative with those veggies.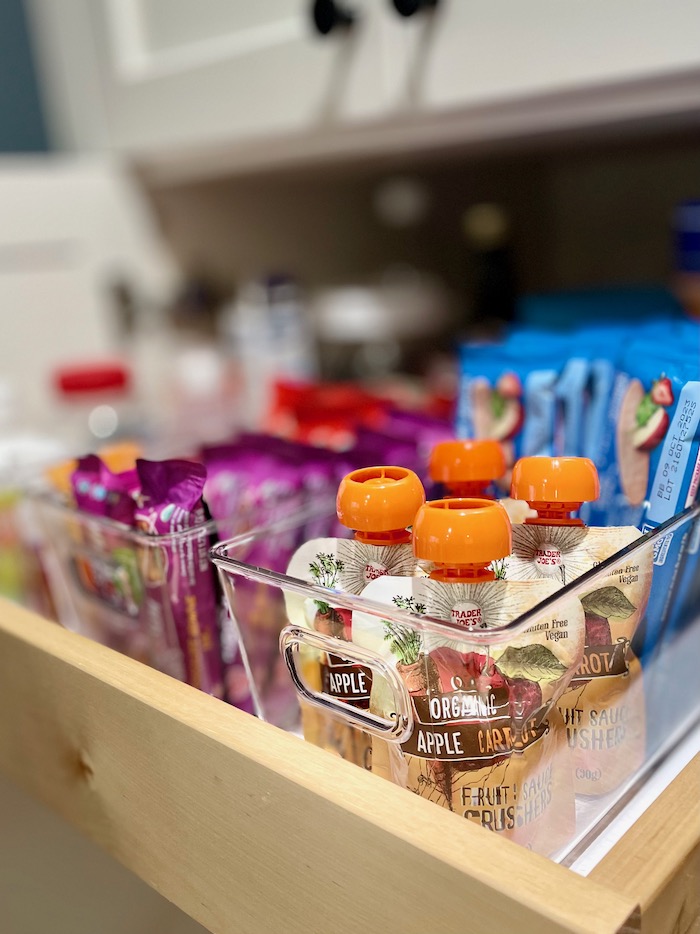 If you're hoping to maintain a healthy diet for your tot when you're eating out, you might need to bring some of their favorite vegetables with you. I usually use restaurant meals as an opportunity to sneak veggies in a food pouch. Our son loves these apple and carrot purée pouches from Trader Joe's, and he has no idea that they're healthy. Major win.
13. Bring some light snacks.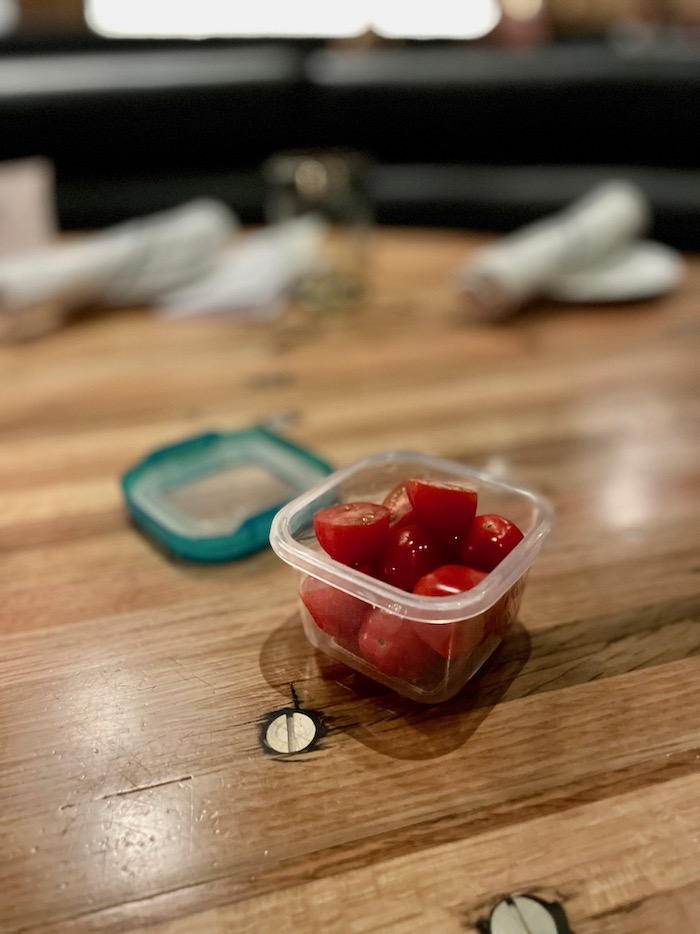 Even if you order right away, it might take a while for your son or daughter's meal to arrive at the table. Bring some small snacks along that won't fill them up before dinner, like cherry tomatoes or applesauce.
14. Order fries to share.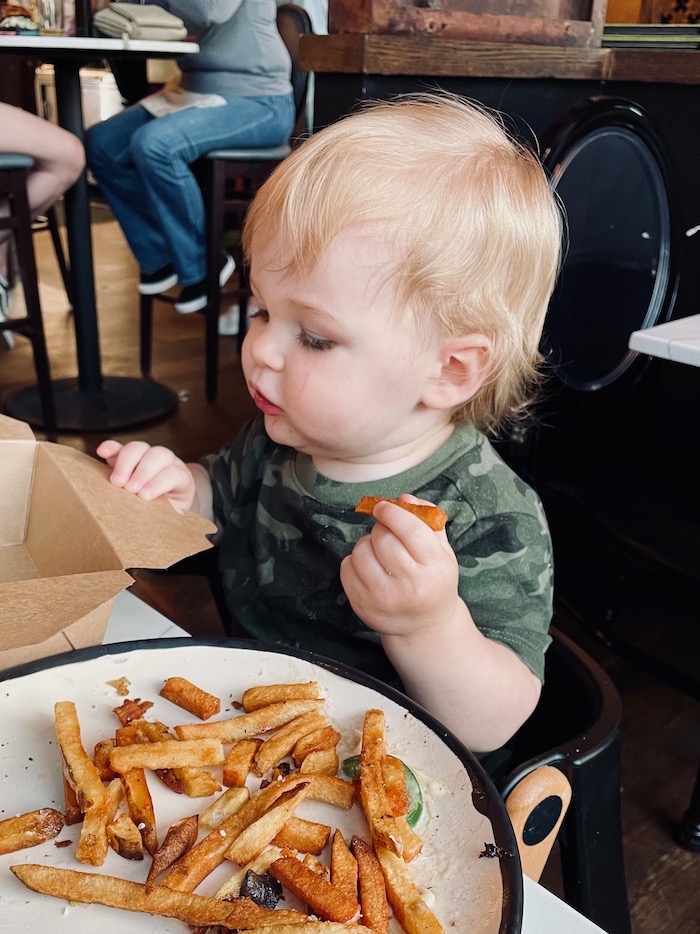 Okay, so you've snuck some veggies in and kept your toddler happily fed until everyone else's plates arrive. Now that all the food is arriving, it's a good idea to have a little something on your plate to share with your kid. French fries and ketchup are always a winner with our little dude!
15. Pack "dessert."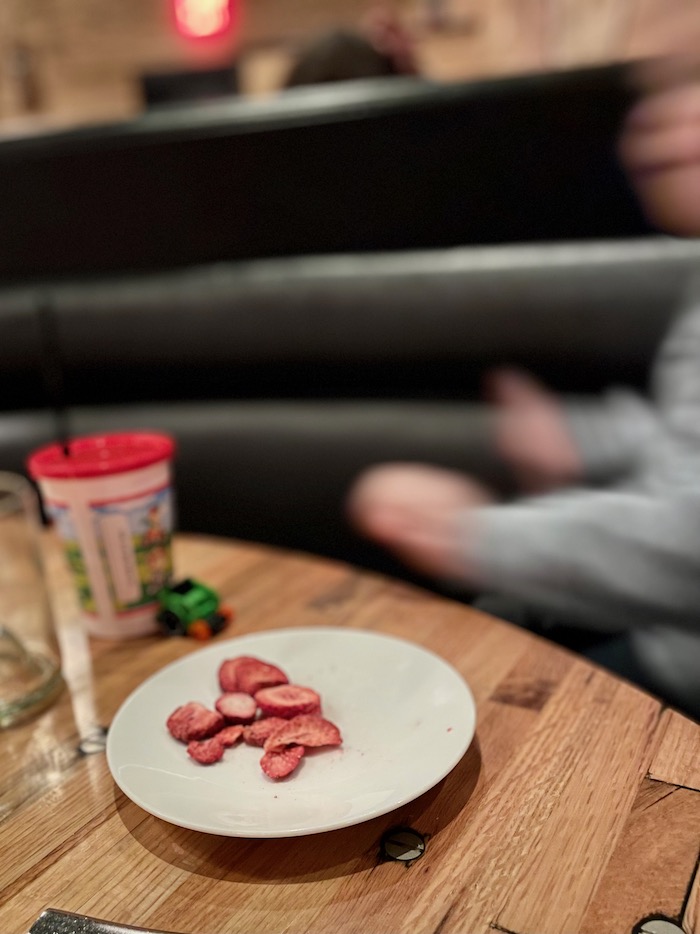 When our son is finished eating long before everyone else is, it's nice to have something for him to munch on to keep him happy in his seat. I love foods that feel special to him without introducing crazy amounts of sugar, like yogurt bites or dried strawberries.
16. Bring your own utensils.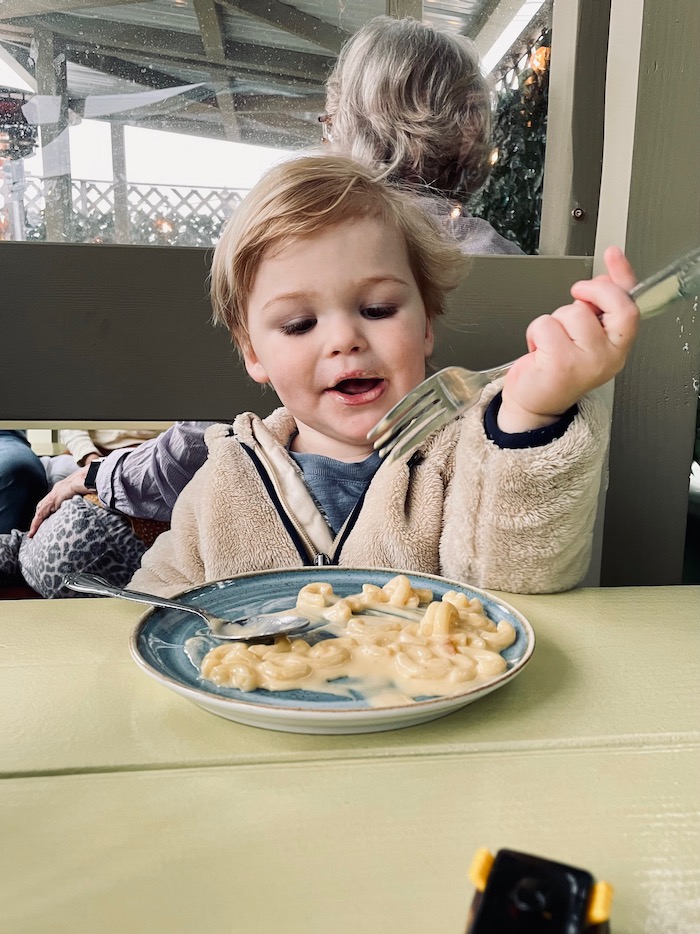 Restaurants rarely have toddler utensils on hand. Unless your son or daughter doesn't mind eating with a large fork and spoon, it's helpful to bring some that are easier for them to hold. Just don't forget to pack them up and bring them home when you're finished.
17. Use your child's spill-proof cup…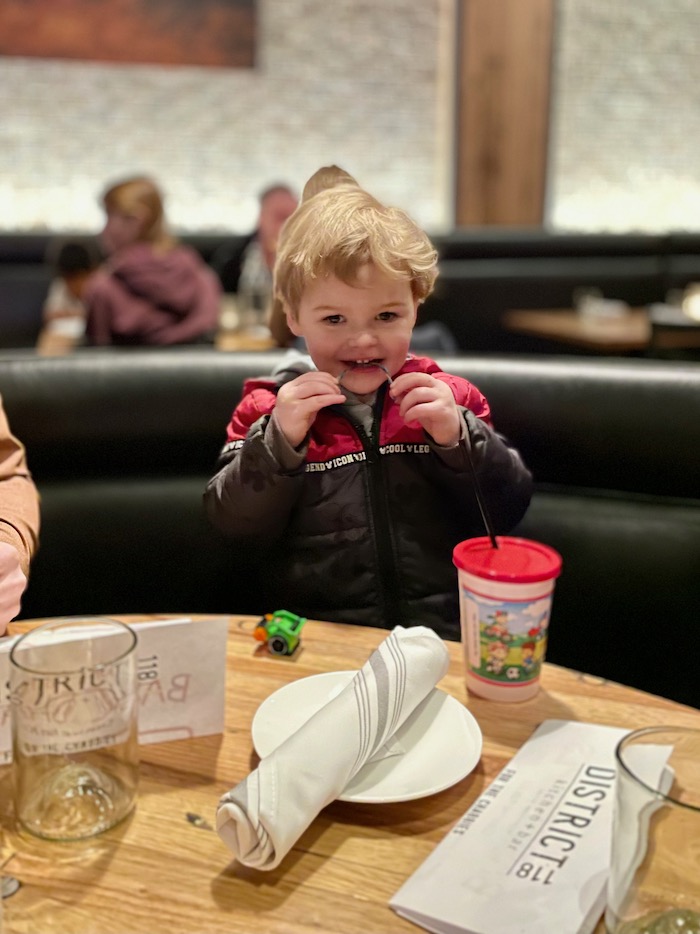 Most eateries have a kid's water option with a plastic cup and straw. Although it won't break, the drink will still spill everywhere if your youngster drops it. To prevent any worries of wet tablecloths and clothes, we usually pack up one of our anti-spill kids tumblers filled with milk or water.
18. …or a juice box.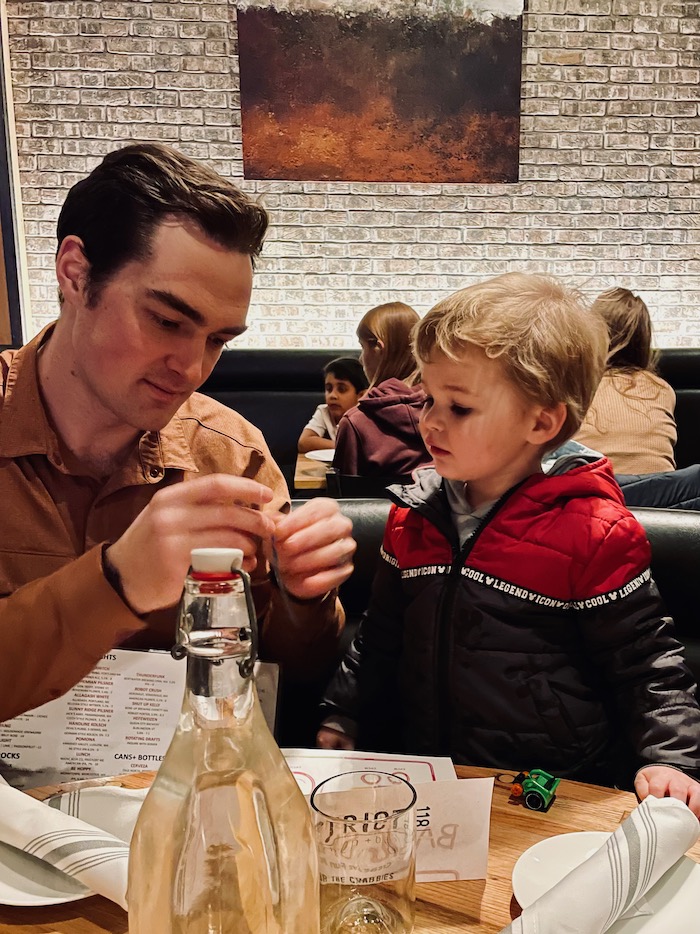 A big dinner out might be the time to offer your kid a juice box as a special treat. These are easy to transport and convenient for children to drink on the go. If you're looking to avoid juice, try apple-infused water instead.
Bringing the Fun
Perhaps the most important part of planning a dinner out with a toddler is planning some entertainment throughout the meal. Here are some key tips and toys that have been lifesavers for our family nights out:
19. Have a secret "restaurant bag" of toys.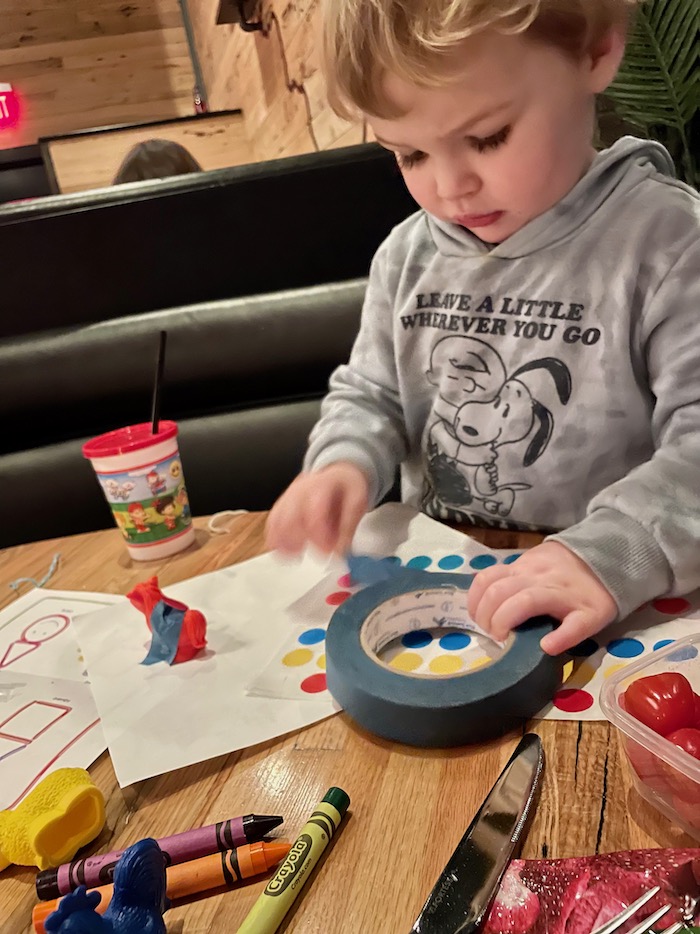 This idea came from my mom, who always swore by it when we were growing up. Keep a bag of special restaurant toys that only come out when the family is dining out. When you go back home, stash the bag away, and don't let your children play with the contents until the next restaurant trip.
20. Don't bring toys that roll.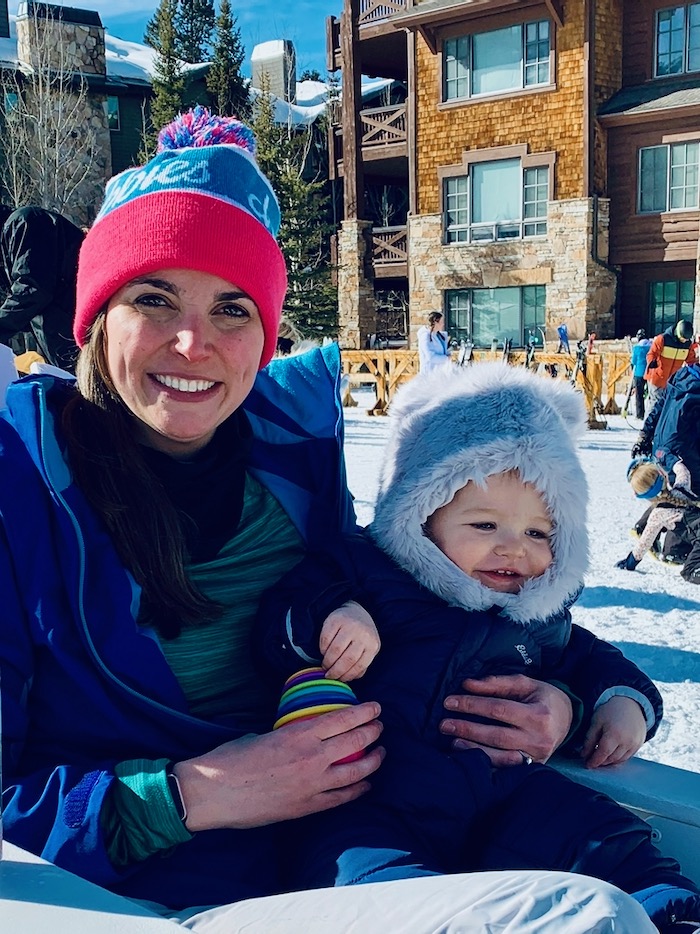 We learned this one the hard way. We went out to dinner when our son was around nine months old and decided to bring his set of nesting cups and his ring stacker with us. I think the only thing worse would have been a bag of marbles. Learn from our mistakes, and spare yourself the hassle of chasing toys around the restaurant all night!
21. Avoid toys with small pieces.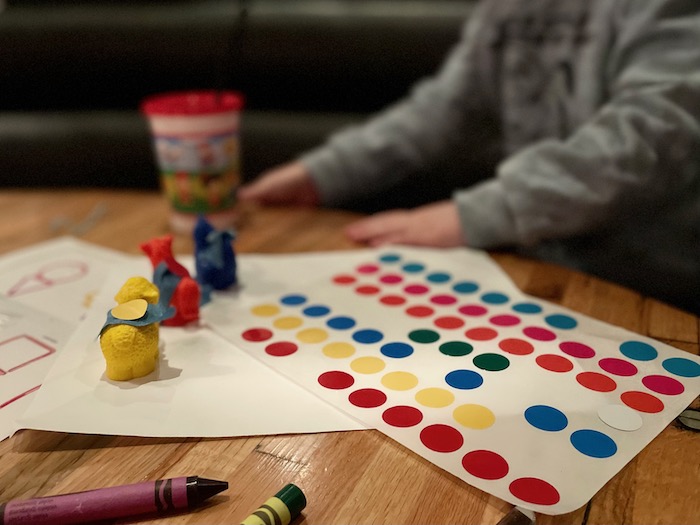 Skip the tears over lost toy parts when you get home after dinner, and stick to those with larger parts that are easy to spot under the table.
22. Try a doodle pad.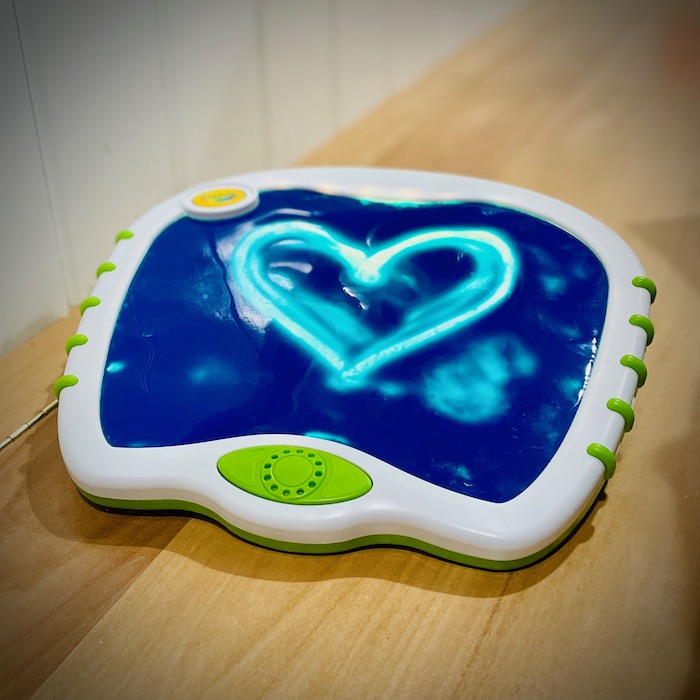 Doodle pads are awesome toys that let kids create over and over without dealing with 20 crayons to pick up. We love our LCD writing pad and our Crayola touch lights board.
23. Buy a pack of reusable Water Wow coloring books.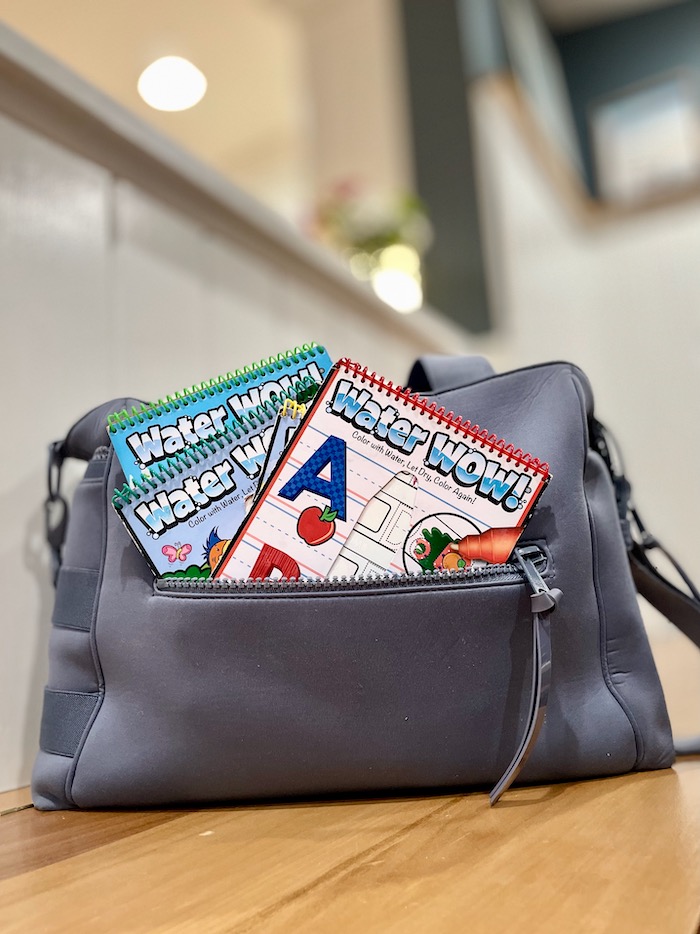 I could write about these Melissa & Doug activity boards in every article I write. They come with a simple pen that fills with water. The water pen infuses the pages with color, and then the color disappears when the pages dry. Each page has a list of things for kids to search for, so they're great for engaging with your young one to keep the fun going.
If your child is anything like ours, at some point they will realize how the pen works and constantly open it up to dump and refill, but it's still an awesome toy that keeps little hands entertained.
24. Pack some cars and trucks.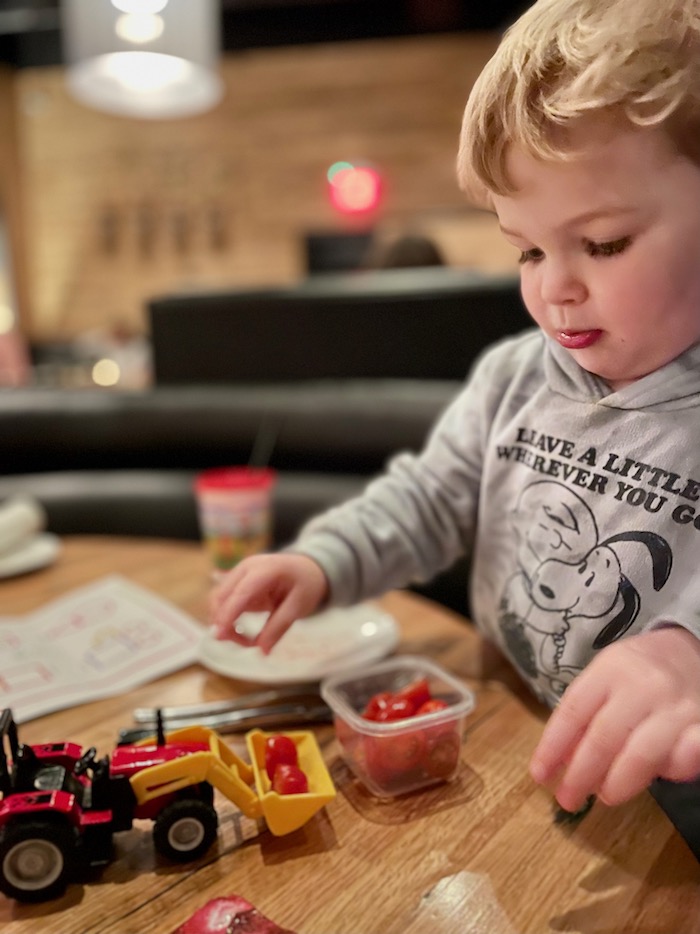 If your child likes toys on wheels, restaurant tables are great places to use them. We always bring a few Hot Wheels cars to quietly zoom across the table. If you really want to go all in, dump trucks are great vessels for food deliveries from one plate to another.
25. If your child likes crayons, invest in a triangular set.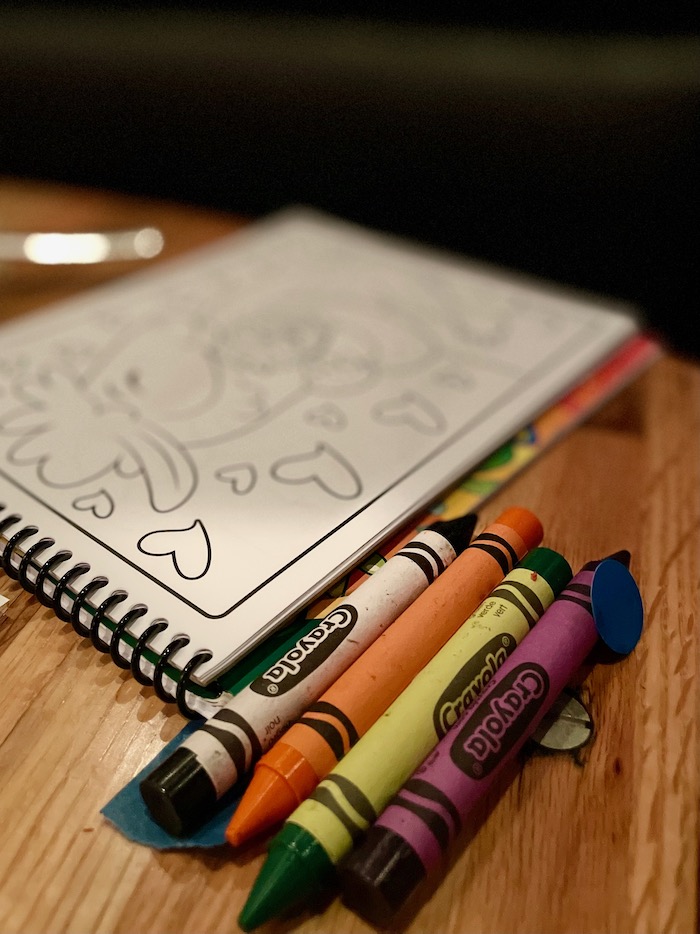 When our son's grandmother bought us these triangular Crayola crayons, it totally changed our stance on crayons. We used to search endlessly under dining tables to look for them and could count on losing a couple every time we went out. Chunky triangle crayons don't roll, and they're easy for small hands to grab. Melissa & Doug sells sets with adorable truck and princess cases that are almost as much fun as the crayons themselves.
26. Grab a bag of fidget toys.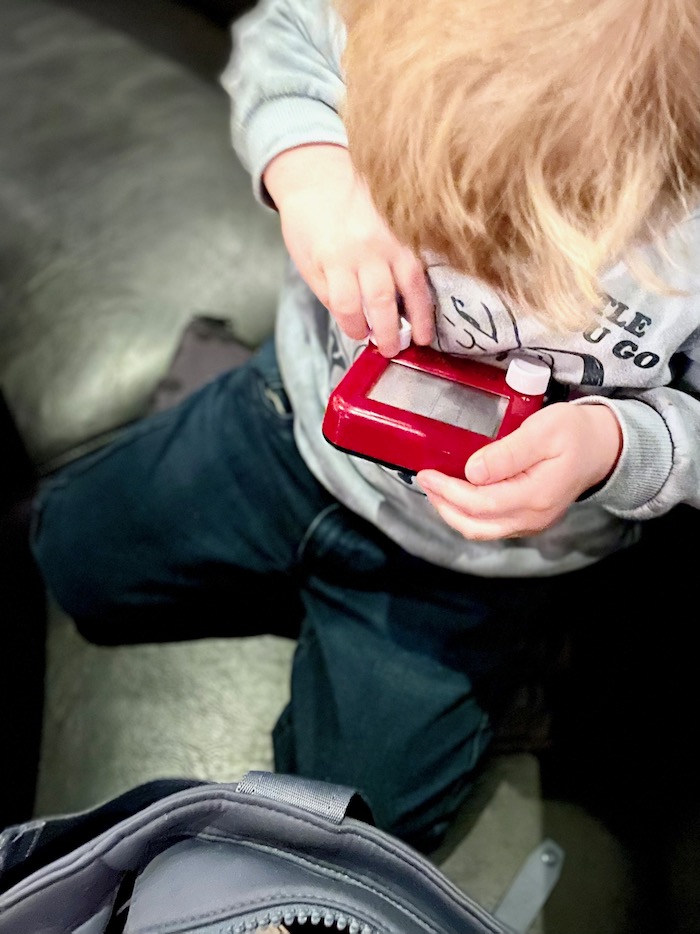 Fidget toys are great little gadgets for keeping tiny hands moving. We usually bring a small Etch-a-Sketch, a slinky, a bubble bopper, and a pin art toy to keep our son busy. You can even find bags of fidget toys sold as a whole set to keep youngsters engaged. Just beware of small parts creating choking hazards.
27. Take some books with you.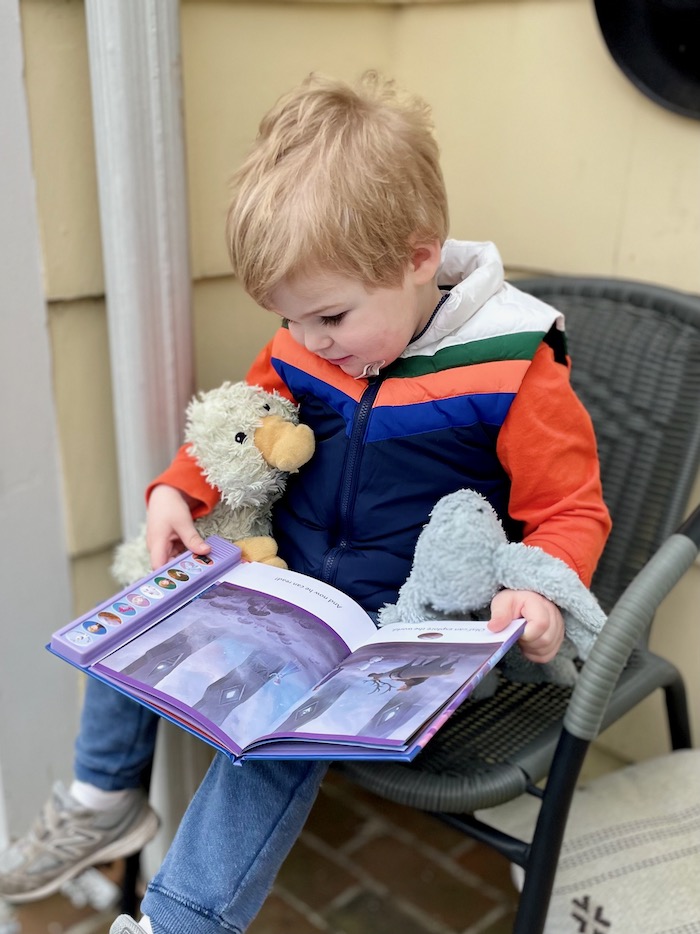 As long as you're okay with some pages getting dirty, books are a tried and true way to keep toddlers content. We like to use books with sounds that our son loves to flip through on his own. A big board book with photographs of their favorite items, like My First Things That Go, is also a great option to keep youngsters interested while they turn the pages.
28. Consider bringing small figurines.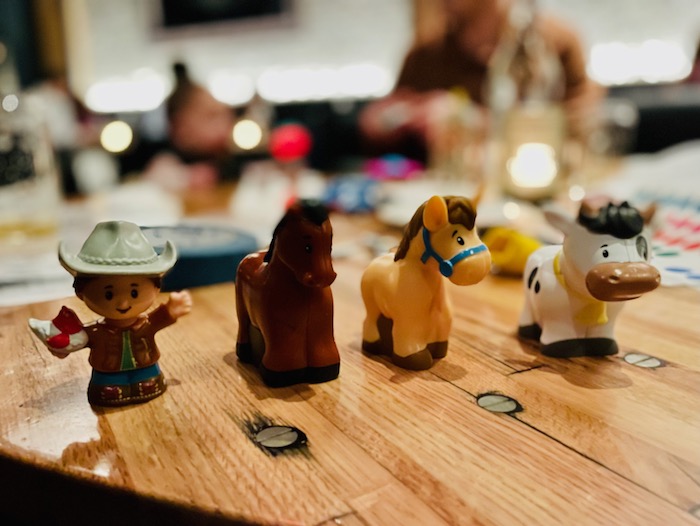 Ever since our son started getting more into pretend and imaginative play, Fisher-Price's Little People figurines have been excellent toys for restaurants. He loves to line them up, act out conversations, and have them prance around the table. We also like to bring these Smart Max magnetic animal figures, which he can take apart and put back together in fun arrangements.
29. Ask about a kids menu or coloring page.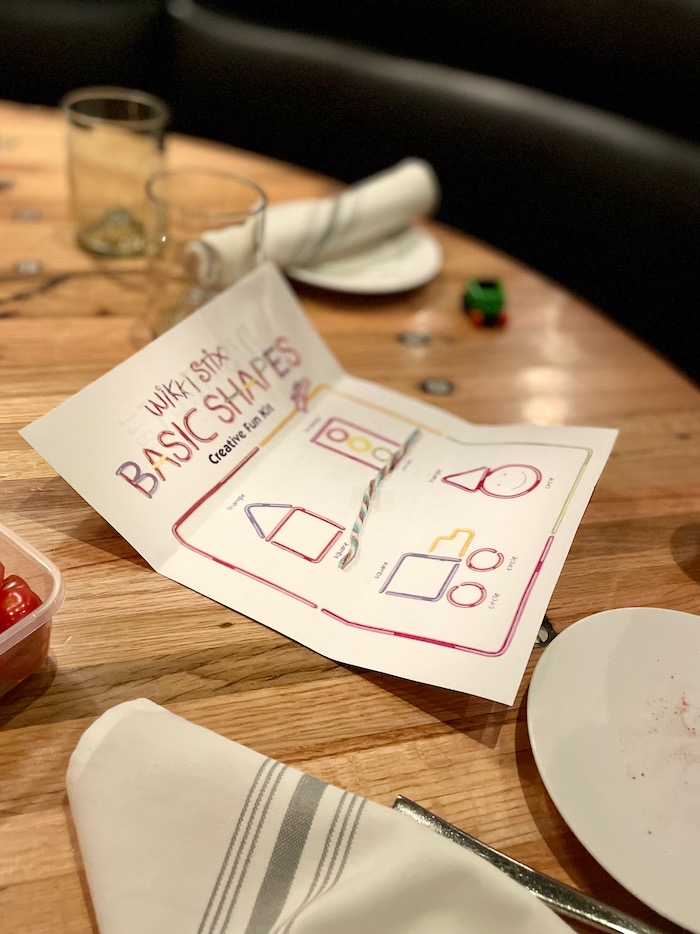 Many restaurants with kids menus will have small toys or coloring pages for families to use. They aren't always provided automatically, so ask the host when you arrive.
30. If you really want to set yourself up for success, buy your child a new toy for the restaurant.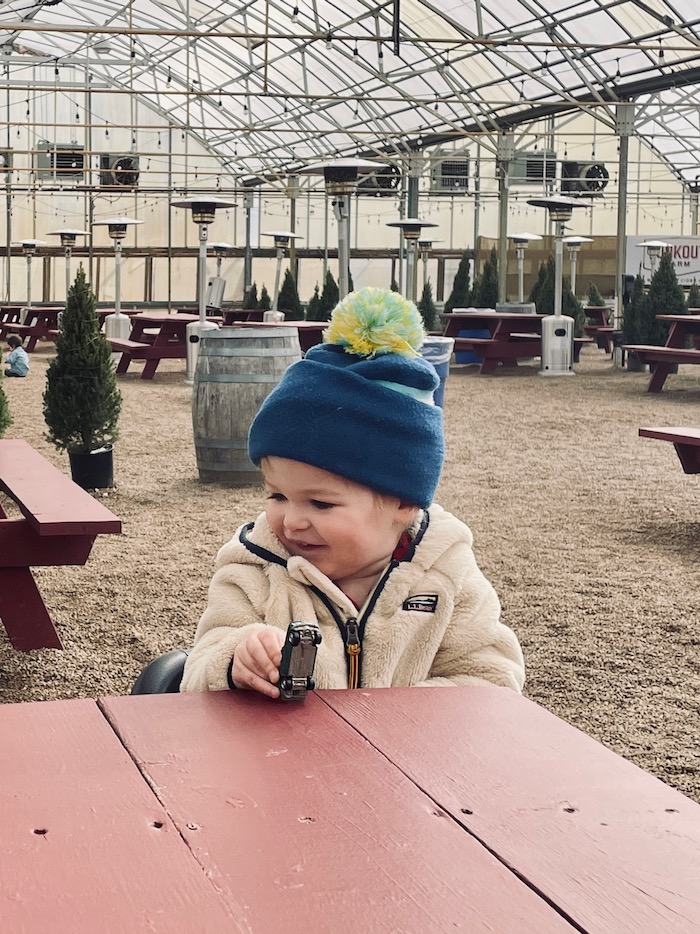 This might be a little extreme, but new toys are the best toys in any toddler's eyes. If we have to wait for our table and there's a pharmacy or convenience store nearby, we'll sometimes take advantage of the opportunity to buy our son something new. Even if it's small, he's usually excited to play with it at the restaurant while we sit and enjoy our meal.
***
No matter how much you plan for an awesome night out with your kids, sometimes things don't go as expected. In general, we find it best to bring a bunch of different toy options for our toddler, order his favorite restaurant food, and hope for the best. Nights out together can be a special treat that your youngster looks forward to, so cherish those fun times together as a family—and don't forget to look under the table for forgotten toys when you leave!
Pin me for later: