UPPAbaby MINU Travel Stroller Review – From a Mom Who Uses It Every Day
Earlier this year while shopping in Crate & Barrel, steering my son around in our bulky full-size stroller and trying to avoid toppling over all the wine glasses, I spotted a mom pushing her snoozing toddler in the streamlined and beautiful UPPAbaby MINU.
After literally working up a sweat to get our giant stroller back in the car (I was eight months pregnant at the time), I went home, did some research, and purchased the MINU travel stroller. Lightweight, durable, and unsurpassed in convenience, the UPPAbaby MINU has been one of the best purchases for our family, and now I use it on a daily basis for errands and activities for my two children.
The UPPAbaby Brand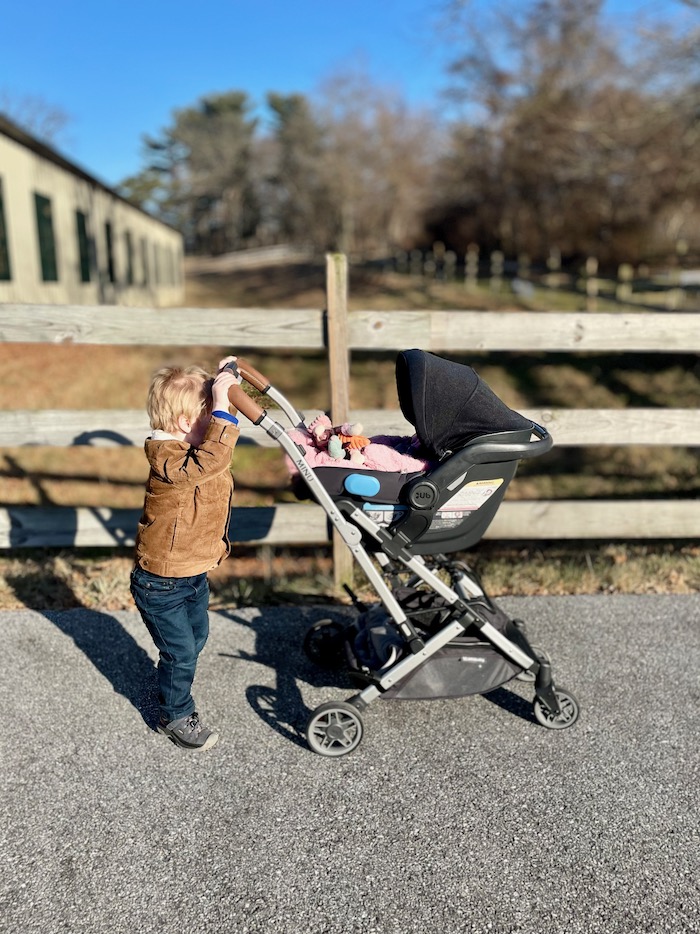 Started by a husband and wife team with three kids, UPPAbaby first entered the stroller scene in 2006. Their flagship stroller, the single-to-double UPPAbaby VISTA, was a sophisticated alternative to others on the market. It boasted a simple click-in convertible system and a modern aesthetic that appealed to parents' sense of style.
UPPAbaby strollers are high end, but not at the very top of the price spectrum. A household name among today's young families, UPPAbaby strollers are ubiquitous in many urban and suburban neighborhoods. Their products are durable and easy to use with first-rate customer service.
UPPAbaby now sells seven strollers, including three full-size models and four lightweight options. They also sell other products like baby gear accessories, a pack-and-play, and multiple car seats.
The Skinny on the UPPAbaby MINU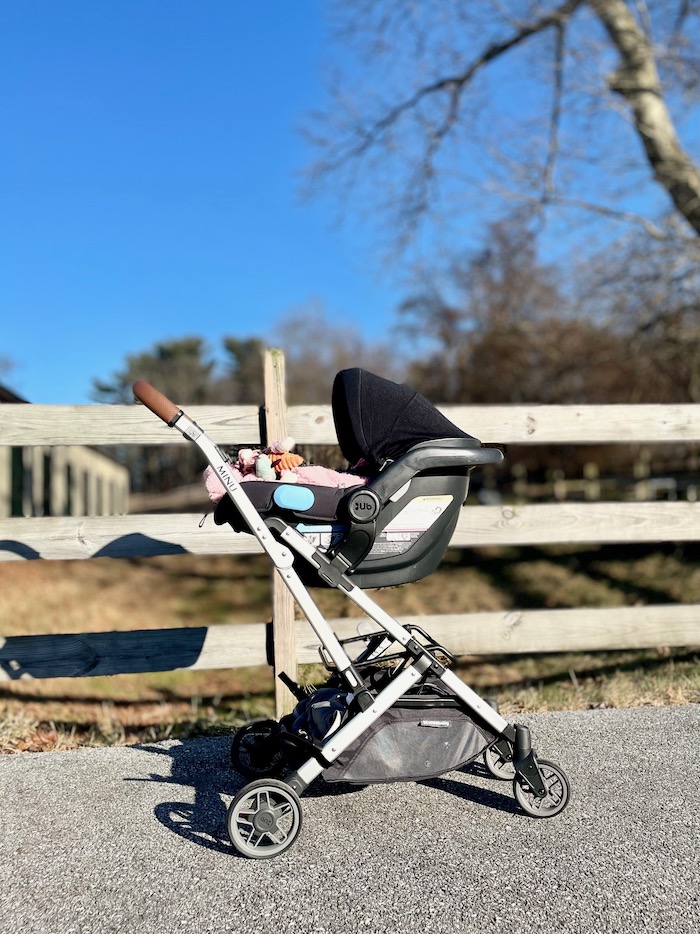 The MINU is the priciest of the UPPAbaby's four lightweight strollers. Sturdier and more compact than an umbrella stroller, the MINU is branded as a travel stroller. It folds into thirds and includes a shoulder strap and carry bar for convenient portability.
There are a few key features that set the MINU apart when compared to other travel strollers. It has a roomy storage basket with a whopping 20 pound capacity, a multi-position reclining seat with adjustable leg rest, and an expansive, zip-out sun canopy for bright days. A one-handed folding mechanism makes it quick to collapse on the go, and the stroller is compatible with infant car seats, and infant bassinet, and an array of convenience-focused accessories.
We have both an UPPAbaby VISTA double stroller and a MINU travel stroller. The MINU is perfect for everyday trips to the store because it's lightweight and painless to load into and out of the car.
We've also loved using it for flights because it fits our loaded diaper bag in the cargo basket and folds down small enough for us to bring aboard and stow overhead. When we get to our destination, it's comfortable and supportive enough to push a little one around for sightseeing and exploring.
UPPAbaby released the updated MINU V2 model in April of 2022. Notable upgrades include an adjustable leg rest, an included leather bumper bar, a larger sun canopy, and a deeper, more accessible storage basket. To see the MINU in action, check out UPPAbaby's video of the stroller navigating everyday settings.
MINU: Weighing the Pros and Cons
Pros
Folds into thirds for extreme portability
Significant storage for a travel stroller
Great maneuverability and a supportive seat for comfortable strolls
Compatible with a wide range of accessories and car seats
Cons
Expensive for a travel stroller
On the heavier side compared to other lightweight strollers
As expected, the seat is not as study or supportive as a full size stroller
Detailed Features and Specifications
Let's take a closer look at the features that matter when you're deciding if the UPPAbaby MINU stroller is right for your family.
Cost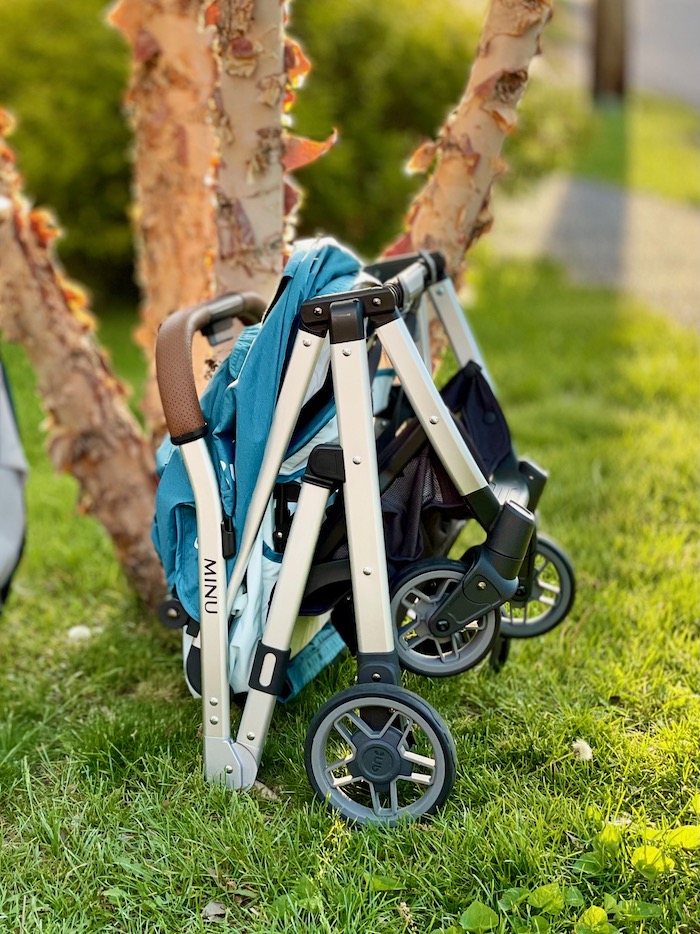 The UPPAbaby MINU costs about $450. While on the expensive side for a travel stroller, the cost is lower than most full-size stroller options.
Although UPPAbaby doesn't sell direct to consumer on their website, buyers can find the MINU on Amazon and at most baby gear retailers. It's also available at Pottery Barn Kids and department stores like Nordstrom and Bloomingdales.
Portability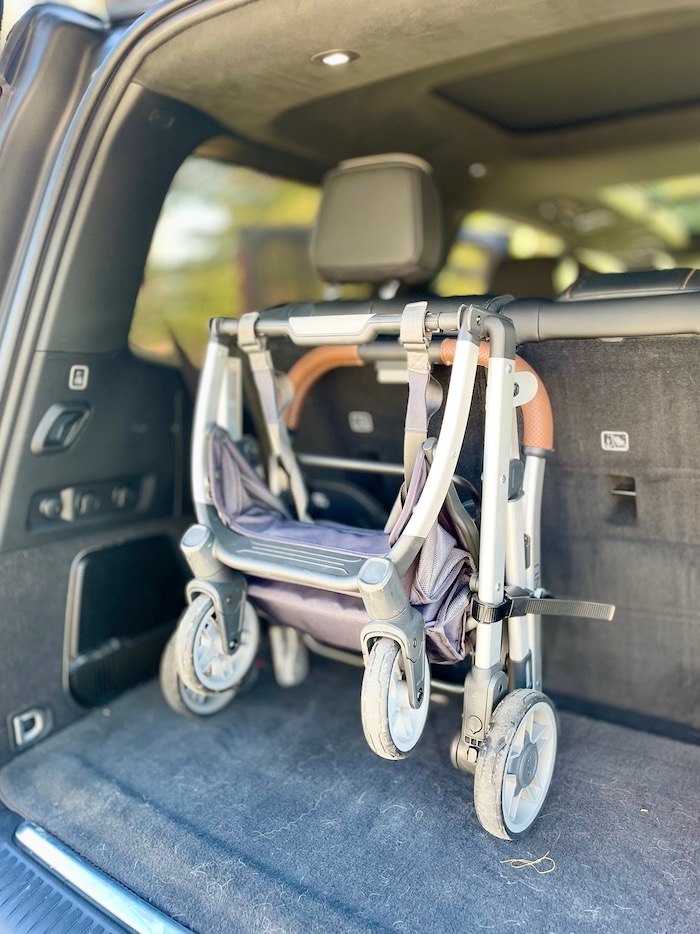 Instead of folding in half like most collapsible strollers, the MINU folds into thirds for superior portability. Its light weight of only 16.9 pounds and compact fold made me (and my kids' grandparents!) fall in love with this stroller after purchasing it. It isn't difficult to lift the MINU into the car or up the stairs, and its built-in carry handle and padded shoulder strap let you take the stroller with you when not in use.
While its unfolded dimensions are 35.5″ long by 20.3″ wide by 41″ high, the MINU collapses down to just 12.0″ long by 20.3″ wide by 23″ high. This means it can sit in the trunk of the car while still leaving room for bags.
Although size limits vary by airline, we've been able to carry our MINU onto multiple flights in the included storage bag and stow it in the overhead compartment. That means no risk of damage from gate checking your stroller, and no long wait to get the stroller back after you land (when everyone can't wait to get home!).
Size and Weight Range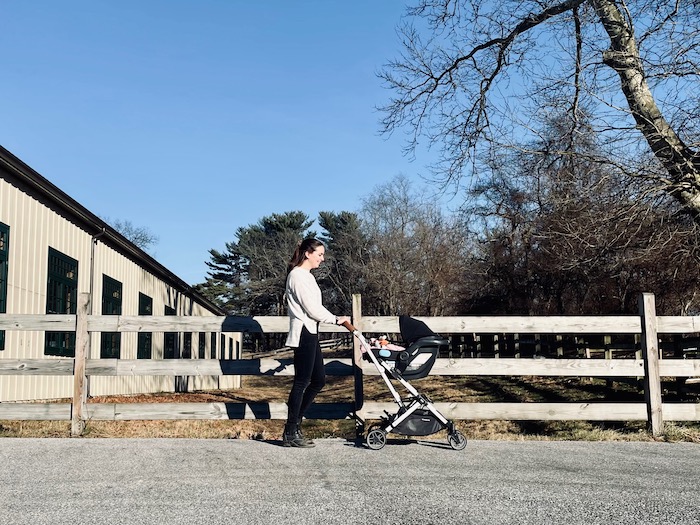 Without the use of accessories, the MINU seat can transport children from 3 months old up to 50 pounds. Parents who want to use the stroller from birth can purchase adapters to attach their infant car seat or UPPAbaby bassinet to the MINU. The infant bassinet is approved for overnight snoozing and has a separately available stand and hamper insert to use as a sleep solution in the home.
Maneuverability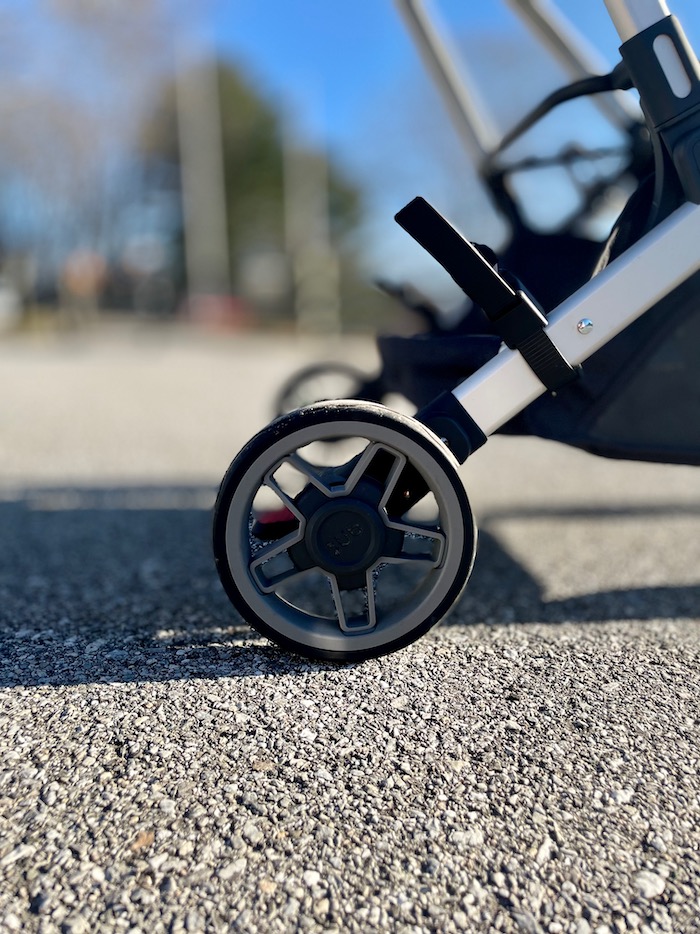 The UPPAbaby MINU has four-wheel spring-action suspension to make the ride super comfortable for baby, and to make pushing the stroller a breeze. Its rear wheels are 6.5″ in diameter, keeping the stroller streamlined and portable.
Its length of only 35.5 inches and width of 20.3 inches make it easy to navigate crowded shopping aisles or fit through narrow doorways. A simple foot brake allows parents to lock the stroller in place when not in use.
It's worth going to a baby gear retailer to push the stroller around in store and test it out. I find the MINU to be a comfortable ride for my toddler son or infant daughter, even over relatively bumpy terrain. The stroller's maneuverability is one of the major features that makes it a standout among other travel stroller options, and it's one of the reasons I choose to use it for everyday adventures as well as longer trips.
Aesthetics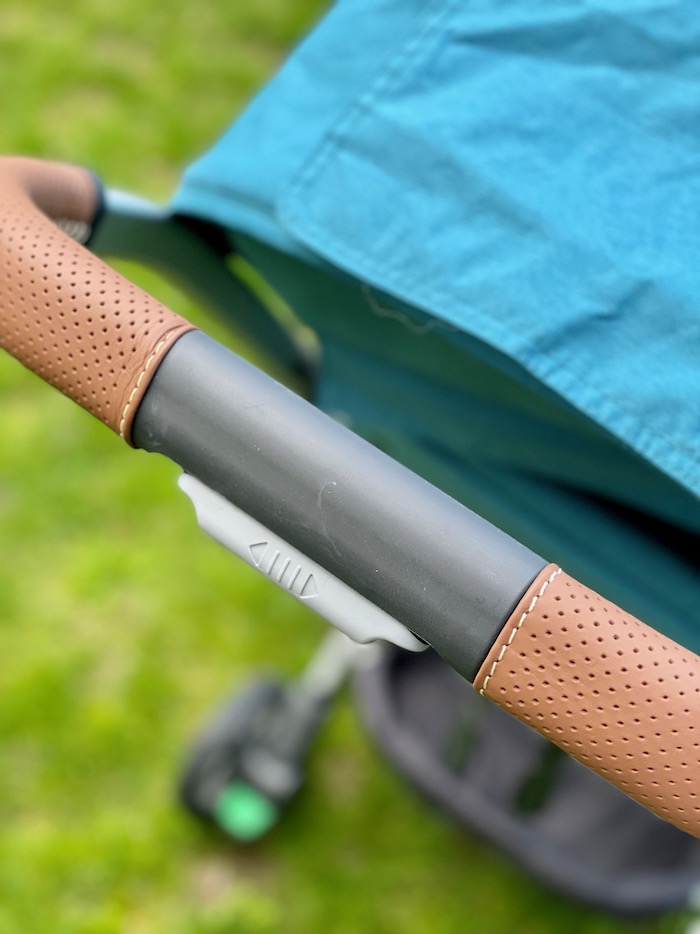 UPPAbaby has incorporated thick, durable fabrics and clean, modern lines into the MINU. The design features a carbon or silver color frame, along with black, saddle, or chestnut full-grain leather accents as seen in the stroller's push bar.
As with most UPPAbaby strollers, the brand tends to change out a few of the MINU's fabric color options every year. There are currently five colors available: charcoal, charcoal mélange, grey méleange, coastal blue, and sage green. All are on the more muted and neutral side compared to the teal color of our 2021 MINU.
Accessories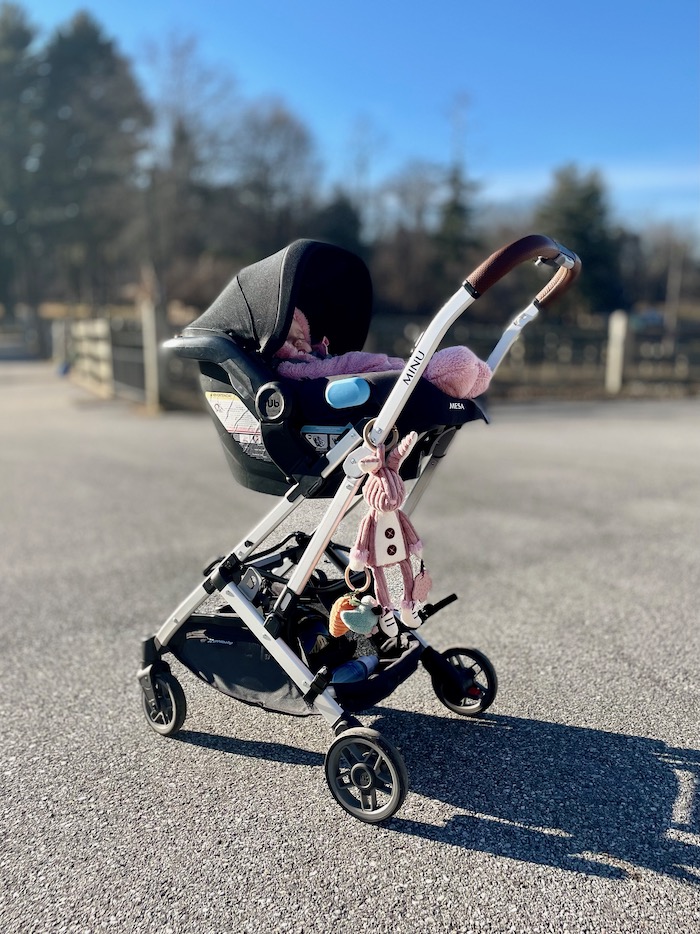 Even though it's a compact stroller, the MINU is compatible with multiple accessories that make life easier. The bumper bar, which is included with purchase of the current MINU V2 edition, swaps out for a snack tray to keep toddlers happy on strolls.
With the purchase of adapters, parents can change out the stroller seat for an infant car seat or UPPAbaby bassinet. To make life easier, UPPAbaby's bassinet is the same across their other strollers. Parents who already have a bassinet for the VISTA, CRUZ, or RIDGE jogging stroller can use it to stroll with their newborn in the MINU.
UPPAbaby also sells a cup holder to carry Mom or Dad's drink of choice. If you do purchase the cup holder, be careful to remove it before folding and transporting the stroller. We've had ours snap off and break loading it into the car.
For parents who want an easy way for older siblings to stand and hitch a ride, UPPAbaby sells a piggy-back ride-along board for the MINU to transport two passengers. This is clutch for walks through the airport when you're carrying too many bags to hold your toddler on your hip.
To protect your stroller in flight, you can buy one of UPPAbaby's protective travel bags. When you register your travel bag with the brand's TravelSafe program, they'll even reimburse any damages sustained to your MINU during air travel.
Storage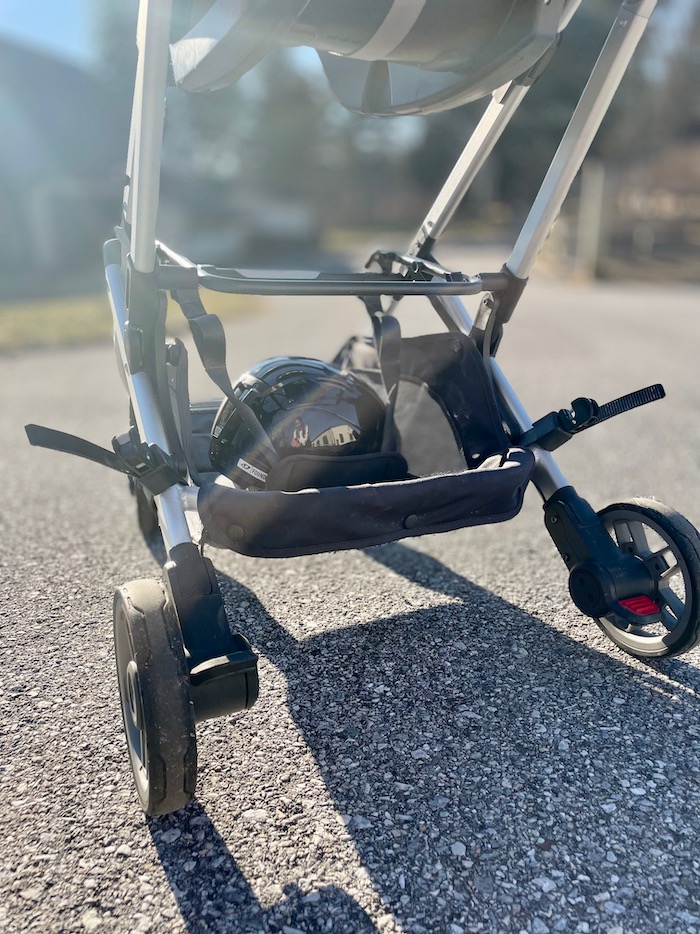 One of the greatest features about all UPPAbaby strollers is their generous storage capacity. The MINU's under seat basket holds an impressive 20 pounds. It's large and accessible enough to hold a loaded diaper bag or a few groceries.
We typically use the storage basket to hold our Lascal universal buggy board (adapters are shown attached to the stroller frame above) when we're not using it. The UPPAbaby MINU also has a convenient pocket behind the stroller's seat back to hold personal items like your phone, keys, and sunglasses.
Folding Mechanism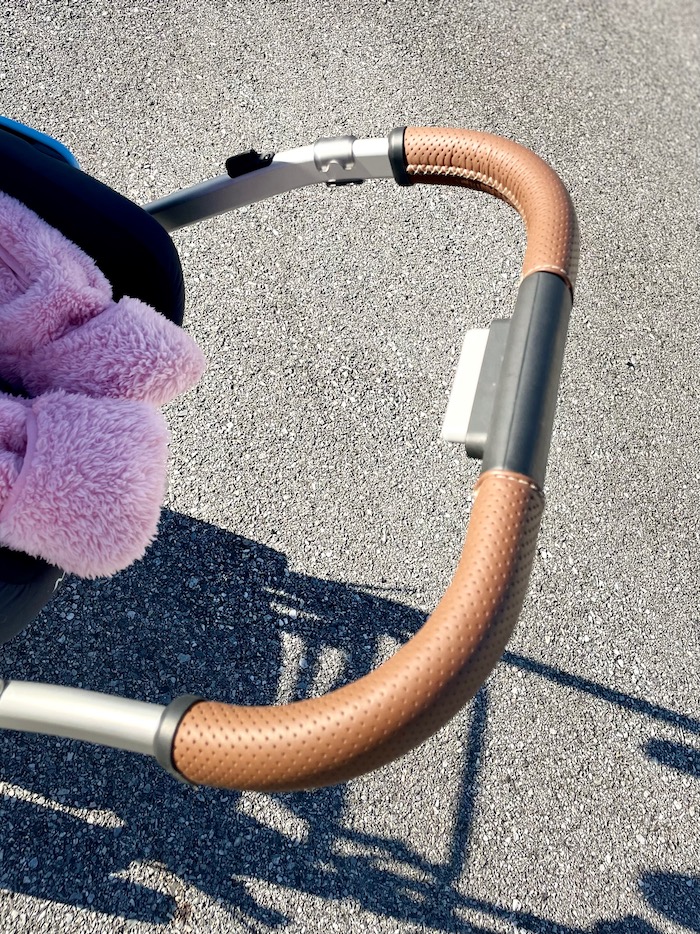 To fold the UPPAbaby MINU, all you need to do is press and slide on a trigger at the center of the push bar. The stroller truly has a one-handed folding mechanism, which is a lifesaver if you're holding a carry-on (or a baby!) in the other arm. The MINU stands when folded for straightforward storage.
Car Seat Compatibility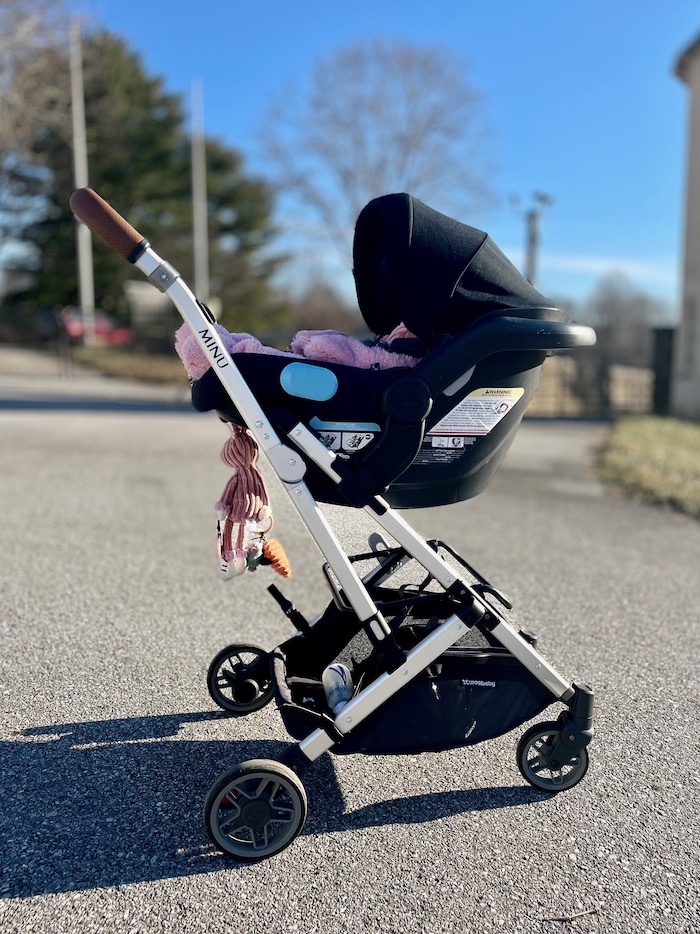 The MINU supports a variety of car seats and transforms in to a travel system with the purchase of car seat adapters. In addition to the UPPAbaby MESA, the stroller is compatible with car seats by Nuna, Maxi-Cosi, and Cybex.
There is no easier way to run errands with my infant daughter than with the MINU and her car seat. I love being able to pull the lightweight MINU out of the trunk, unfold it in one step, and snap her car seat right in place before heading into the store, especially if she's asleep.
Stroller Seat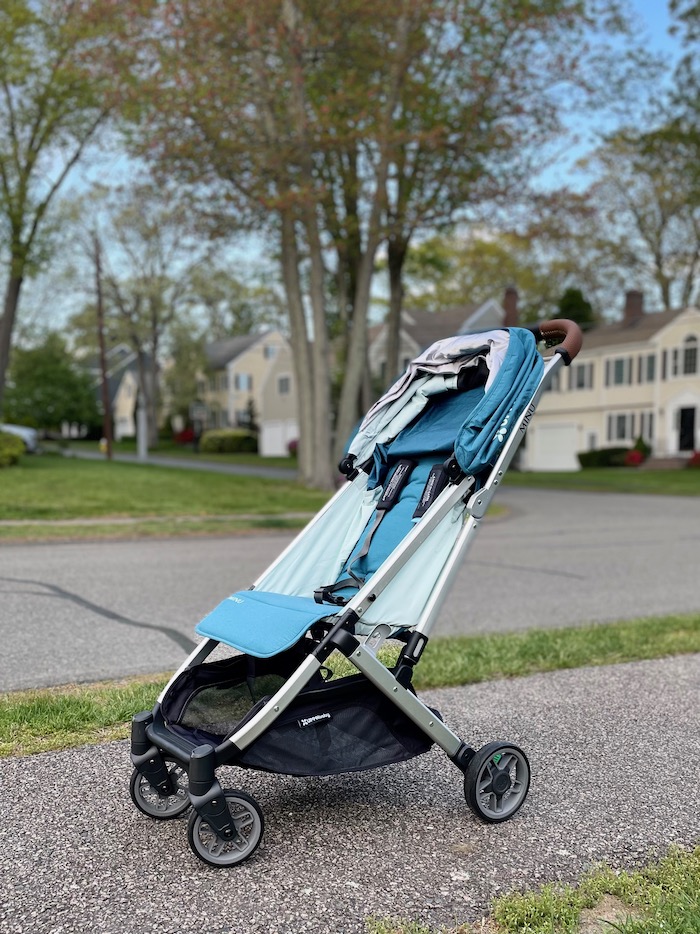 Although not as robust as a sturdy toddler seat in a full-size stroller, the MINU boasts a comfortable, supportive seat for a compact travel stroller. The seat is padded for comfort and lined with soft, thick fabric.
The MINU has a multi-position one-handed recline to keep kids comfortable awake or asleep, and the newest version of the MINU V2 even has an adjustable leg rest. Its simple, five-point safety harness incorporates no-rethread technology, making it easy to adjust the straps for children of varying sizes.
Sun Protection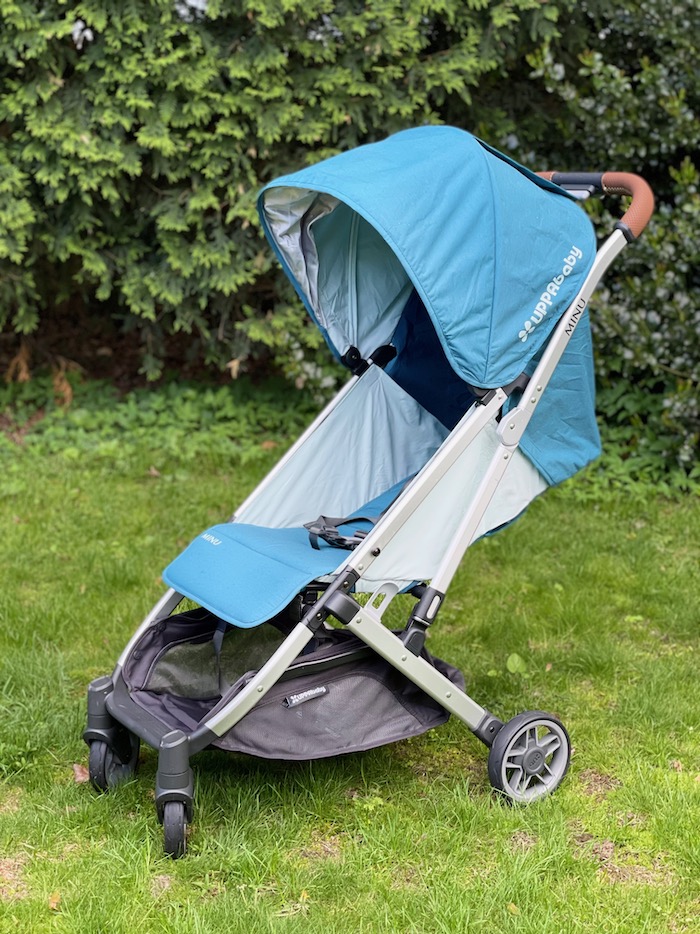 The UPPAbaby MINU has a large, UPF 50+ protection zip-out sun canopy to keep your little one protected from UV rays on sunny walks. A vented peekaboo window lets you check on your child with a glance while strolling. The canopy also extends upward to accommodate taller passengers.
Comparing the MINU to Others in the Field
Tightest Competitor: The Nuna TRVL
Nuna's compact travel stroller, the TRVL, is similar to the UPPAbaby MINU in cost, appearance, and functionality. It folds into thirds and is compatible in size and weight. The Nuna TRVL is slightly more expensive than the UPPAbaby MINU, costing parents around $500 to purchase, and there are some key differences to note if you're debating between these two high-quality options.
The TRVL has a convenient magnetic fastening system on the seat harness and an advanced self-folding mechanism. Unlike the MINU, no adapters are needed to attach an infant car seat to the TRVL, but the TRVL is only compatible with car seats manufactured by Nuna. The Nuna TRVL has no bassinet accessory option, and its under seat storage basket only supports 10 pounds of cargo.
Budget Pick: Kolcraft Cloud Plus Stroller
Parents looking for a lightweight stroller on a budget love the Kolcraft Cloud Plus Stroller. Although some parents might find it lacking in the aesthetics department, it costs a fraction of the UPPAbaby MINU, totaling around $80.
While the Cloud Plus only weights 11.8 pounds, it has no carry handle or strap, so it isn't as portable as the MINU. The Cloud Plus has a one-handed, self-standing fold, but its collapsed size is on the larger side for a travel stroller (its longest dimension is more than 10 inches longer than the MINU). Because it isn't compatible with any car seat or infant bassinet, there are no from-birth options for this stroller, but it's a great product for a reasonable price.
Comparing to a Full-Size Stroller: The UPPAbaby VISTA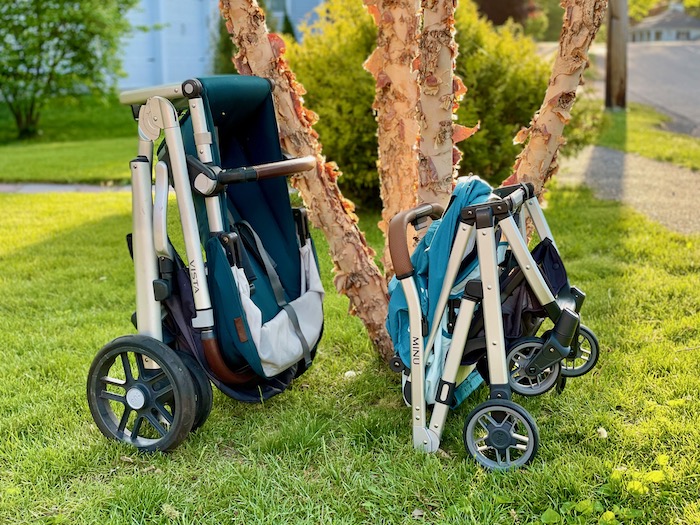 Although not in the same category, I find it helpful to compare these strollers side by side for parents deciding whether to use the UPPAbaby MINU as their primary stroller. As expected, the UPPAbaby VISTA is significantly larger (and more than twice as expensive) than the MINU. The VISTA is bulky to load into and out of the car and navigate shopping aisles, and airport staff will probably tell you it's too large to take to the gate if you're looking to use it for air travel.
Although I love using the MINU for everyday errands and for travel, the suspension on the single-to-double VISTA stroller can't be beat, and it's my go-to option for walks through the neighborhood or to the playground. Its huge storage basket fits a ton. We can load it up with snacks, diapers, a travel potty, and my son's balance bike and helmet when his little legs get tired.
The Upshot: The UPPAbaby MINU V2 Travel Stroller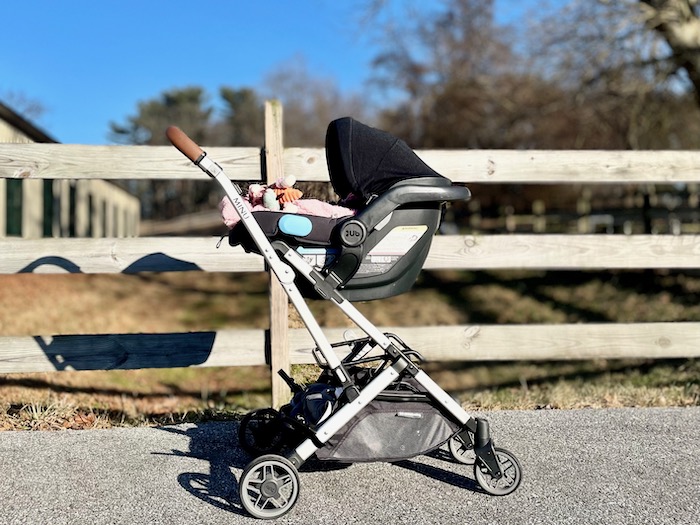 The UPPAbaby MINU is a first class stroller for everyday local adventures and for distant travel. It's sturdy and smooth enough to keep your little one comfortable on varied terrain, and it folds down small enough to fly with or load into the trunk without trouble. While it might be helpful to have a full-size stroller as the primary option at home, the MINU is an excellent choice for parents seeking a lightweight, versatile travel stroller with all the bells and whistles.
Pin me for later: