Thule Coaster XT Bike Trailer: An Honest Review from Active Parents
Before we became parents, my husband and I always loved riding our bikes together. Whether we were just out enjoying beautiful weather, riding to grab some ice cream at the beach, or tackling a quick workout, cycling has always been one of our favorite activities.
After welcoming our son into our lives, we looked for a way to bike with him, too. We soon bought the Thule Coaster XT Bike Trailer. It has been an awesome way for us to bring our toddler along for a bike ride on quiet roads, and we're excited to use this trailer with our infant daughter, too.
Thule's Bike Trailers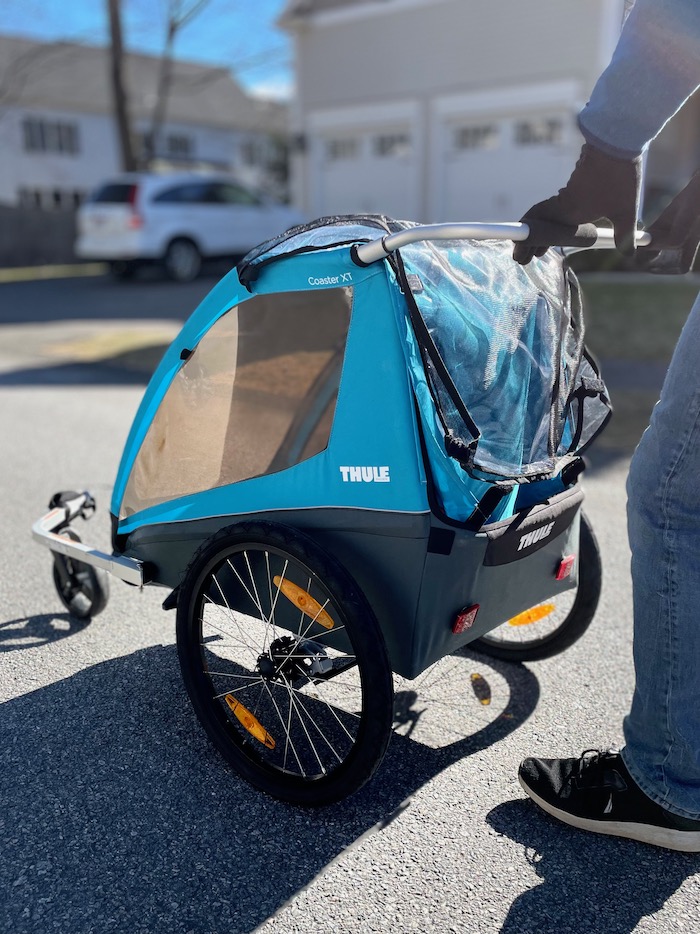 The Thule brand is all about creating gear that lets families bring their kids with them, wherever their adventures may lead. In terms of kids' gear, Thule makes strollers, baby carrier backpacks, child bike seats, and bike trailers.
The brand makes six bike trailers. Some are just for biking and strolling, while others have the capacity to accommodate other sports.
Here's a snapshot of all of Thule's bike trailers, from the simplest to the most full-featured:
The Skinny on the Coaster XT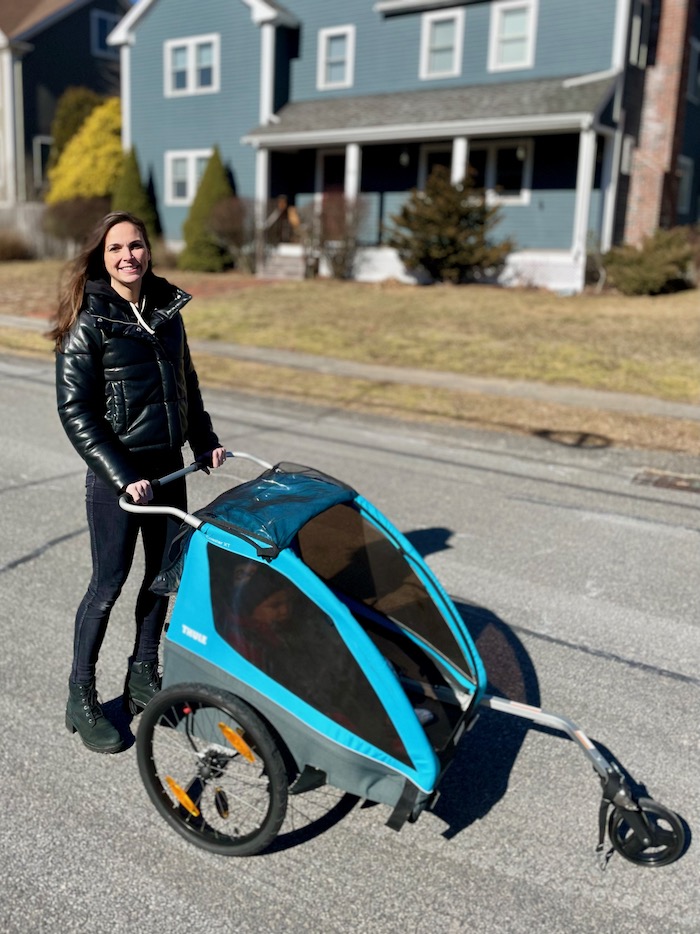 The Thule Coaster XT bike trailer delivers great value for its cost. It's the perfect trailer for walking or taking an easy bike ride with two kids in tow on a flat street. It's got plenty of leg room for growing children, and a large storage basket to hold everything you might need for the day. The Coaster is an attractive bike trailer, with blue and black color options and modern styling.
We love using our Coaster XT for local bike adventures with our toddler son, or for easy strolls with him and our infant daughter. Reliable safety features like a five-point harness, wraparound reflectors, and a robust safety flag help us keep our children safe from injury.
My husband and I decided on the Coaster XT originally because we felt we were getting a high-quality product with significant value and flexibility for the cost. We still agree with this assessment, but there are a couple features we wish this trailer had.
The two major drawbacks we've found are that the seats do not recline, and there's no option to jog with the Coaster. We now have two children and can't fit them both in our Thule Urban Glide 2 jogging stroller. Running with our kids is one of my favorite ways to exercise, and I'd love to have a double stroller or chariot that lets us jog with two.
See Thule's video for an outline of all its features and setup demonstration:
Thule Coaster XT: Weighing the Pros and Cons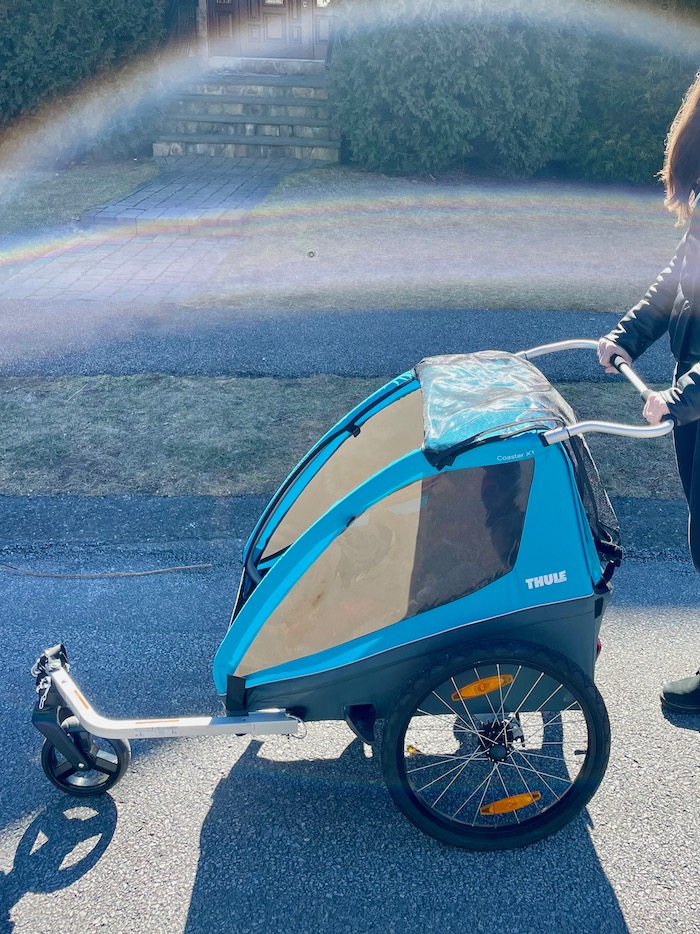 As parents who love to bike, here are some of our favorite things about this trailer, and a few areas with room for improvement:
Pros
The trailer's capability to easily switch from biking to strolling means you can bike with your kids to get to your destination, and then explore on foot with the stroller once you arrive.
It has a simple folding mechanism and collapses flat for storage.
The included safety flag and five-point harness help keep children safe from injury.
The trailer has a large storage pocket behind the seats.
The trailer can support an impressive 100 pounds of total weight.
Compared to Thule's other bike trailers, the cost isn't staggering.
Cons
There is no option to use the trailer as a jogging stroller, or to purchase a jogging add-on kit.
There is no option to recline the seats.
Although large, air-filled tires help make the ride smooth, this trailer has no suspension system. It's only suitable for paved roads and smooth paths.
This bike trailer is heavy and bulky to carry, even when folded (although this is likely true with any trailer!).
Detailed Features and Specifications
Let's take a closer look at all the nitty-gritty details of this bike trailer from Thule.
Cost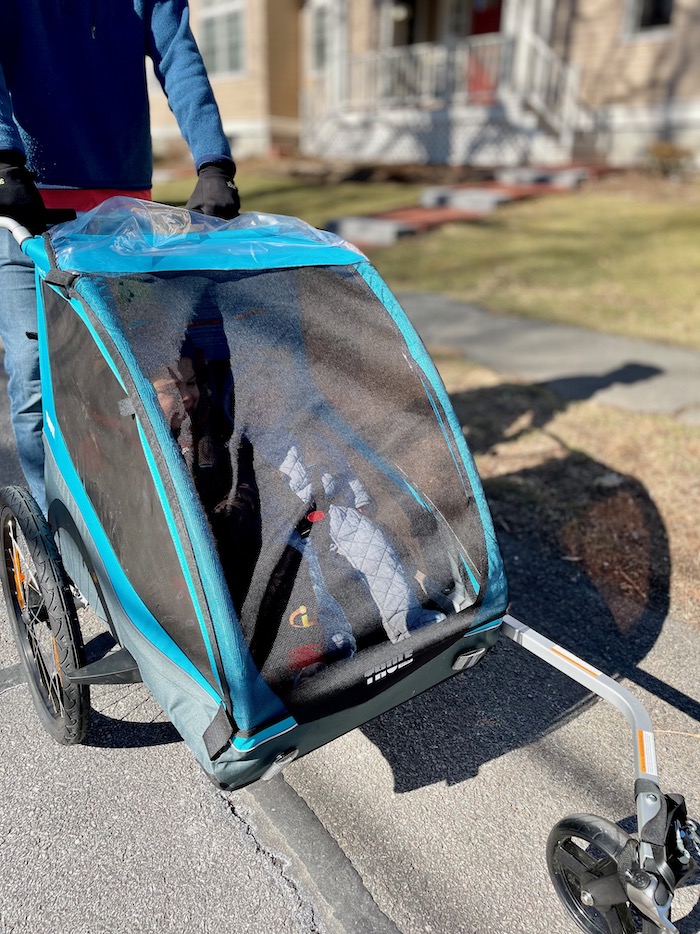 The Coaster XT bike trailer costs parents around $450, with the option to buy additional accessories. This is significantly more budget friendly than most of Thule's bike trailer options. When compared to those on the market by other brands, however, the Coaster XT sits at the higher end of the price spectrum.
Portability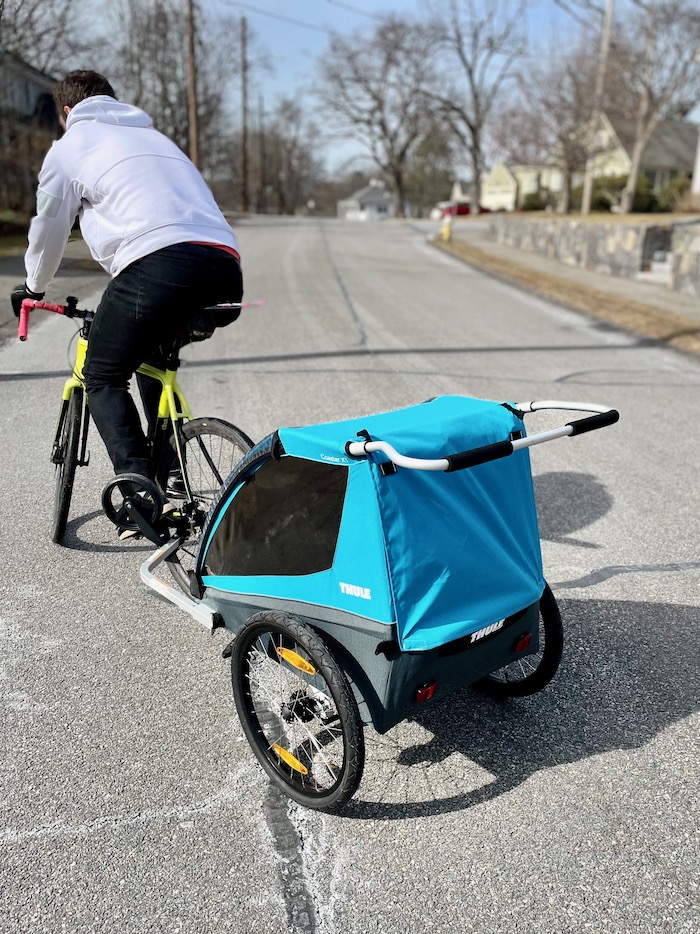 As with any two-seater bike trailer, the Coaster XT is large. When it's open and ready for strolling or biking, it measures 34.6 inches long by 30.7 inches wide by 41.3 inches high. It's really meant for outdoor use, as doorways would need to be extra-wide to pass through.
The Coaster's ability to fold flat despite its size is impressive. The dimensions drop down to 37.8 inches long by 30.7 inches wide by 11.8 inches high when collapsed. Even when folded, however, the trailer is bulky and awkward to carry, and it takes up some serious trunk space.
Its weight of 26.5 pounds (similar to many full-size luxury strollers out there) makes it a bit difficult to carry up stairs or load into the car.
Maneuverability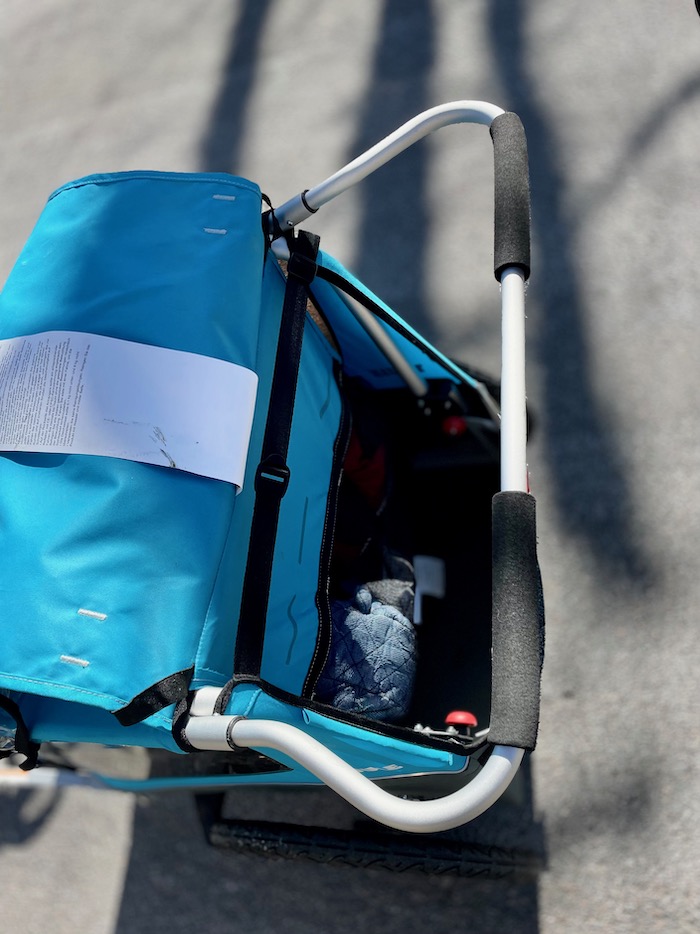 According to Thule, the company designed the Coaster XT to master sidewalks, roads, and smooth paths. Its lack of suspension makes it incompatible with off-road trails and varied terrain, although the 20-inch, air-filled rear tires help absorb some bumps.
The added weight of the trailer and up to two little ones definitely makes it more difficult to maneuver on the bike. The trailer attachment somewhat limits the bike's turning radius as well.
In stroller mode, parents can flip the handle bar to accommodate varying heights and make for a comfortable walk. Although the stroller operates on a three-point wheel system, the front wheel is on a swivel with no lock.
The Coaster is not appropriate for running, and unlike some of Thule's other trailers, there is no compatible jogging kit attachment.
Size and weight range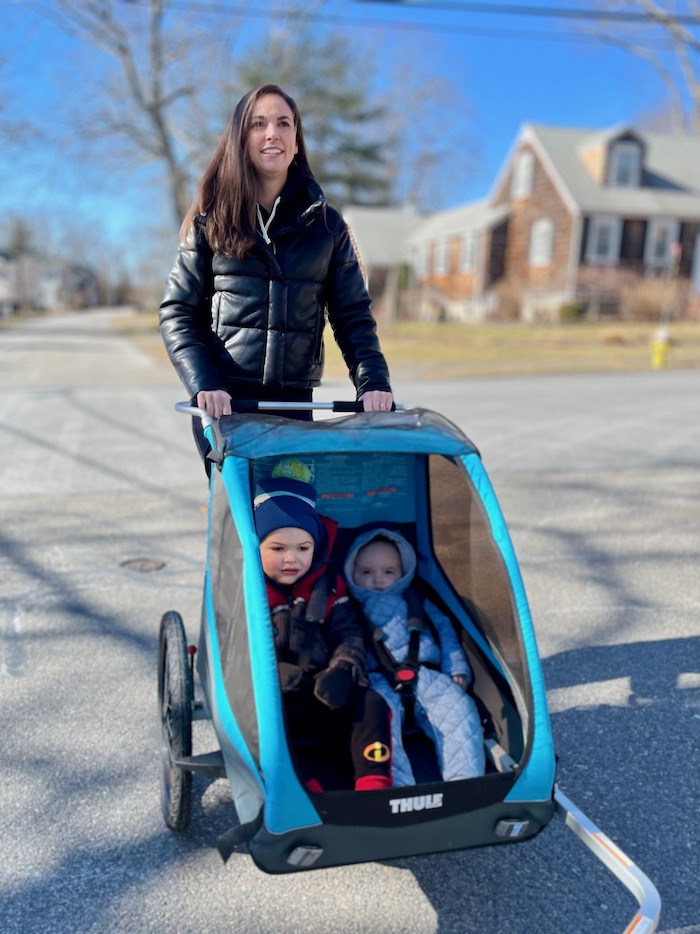 The Coaster can support two children, up to 49 pounds each in weight. Although most boys are still under 50 pounds at age six, the chariot's user manual specifies that it's appropriate for kids up to age four. Until a child's sitting height is greater than 23.6 inches, they should be comfortable riding in this trailer.
Babies should be at least six months old, with the ability to sit up unassisted, to ride in the Coaster's seat for strolling. To push a younger baby in stroller mode, parents can purchase an infant sling.
An infant needs to be able to keep a helmet on and sit up fully unattended before coming along for a bike ride. Thule recommends getting clearance from the pediatrician before cycling with any tots under 12 months old.
Our son, who is almost three, rides comfortably in our Coaster XT. He has plenty of head room and leg room. Our daughter is eight months old, and although she's certainly stable enough to bring along for a stroll, I wouldn't feel comfortable biking with her in the trailer just yet.
Seats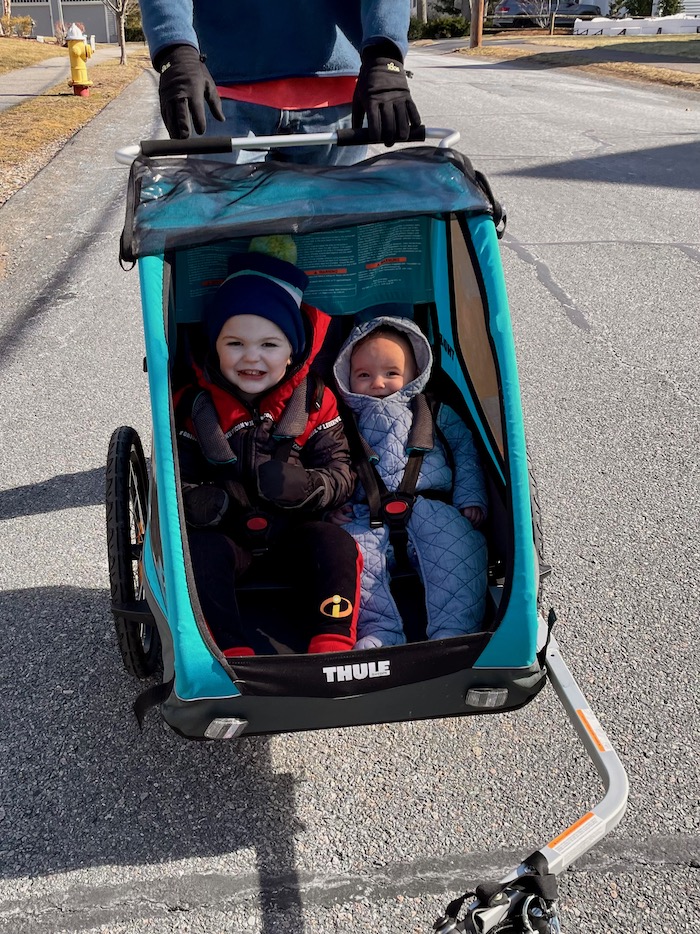 After becoming a mom of two, I've come to love the side-by-side stroller setup. Kids are great at entertaining one another, and sitting our youngsters next to each other in the Coaster lets them interact while we walk.
The straps of the Coaster's seats are padded for extra comfort. The bottom of the seat is flexible and raised up off the bottom of the trailer, so it helps absorb impacts on bumpier terrain. The Coaster XT cannot accommodate an infant car seat.
One of my biggest reservations about this trailer is that the seats don't recline. We've learned from experience that bike trailers are recipes for naps. If you place a child who is at all tired in the trailer for a bike ride, they will probably fall asleep.
Most parents have had the experience of their child falling asleep in a car seat that's positioned too far upright. The child dozes off, and a few minutes later their chin is on their chest. The Coaster XT seats are no different.
When our son falls asleep, the Coaster's seat back pushes his head forward, and the weight of the helmet pulls his head down to his chest. Not only does he appear wildly uncomfortable, but his neck is bent in a way that doesn't seem the safest. A reclining seat feature would help keep his head upright and put his spine in a more protected position.
To prevent our toddler from falling asleep in the trailer, we only use it early in the morning or after his afternoon nap. Although it's still a great way to remain active with kids, the upright seats limit our use of it and make me wish we had Thule's Chariot Cross or Chariot Sport instead.
Safety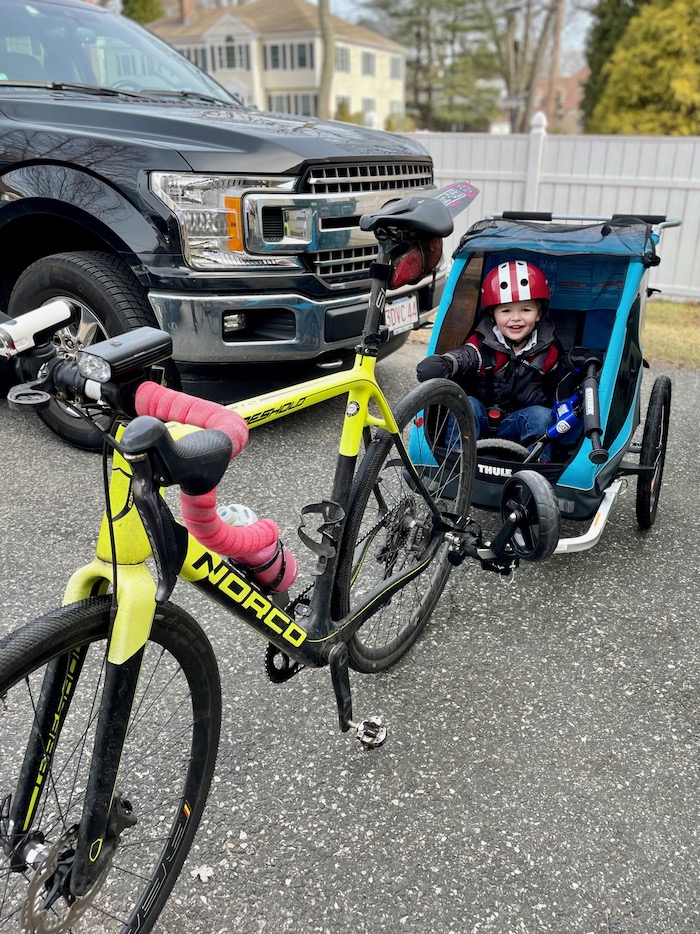 Parents should always use significant care when pulling their kids along in a bike trailer. The Coaster XT incorporates a robust five-point harness to help keep kids safe. We always use a helmet for our son when the trailer is in biking mode, and Thule also recommends that the cyclist uses a bicycle mirror to improve visibility.
The Coaster was designed for use in daylight and includes no built-in lights, but it is equipped with reflectors throughout. A sturdy safety flag helps alert others on the road. The brand cautions parents to only use the trailer on roads with light traffic, and never to exceed 15 miles per hour.
When we aren't actively using the chariot, we can reach down and to activate the parking brake next to the right rear wheel. I find it a bit difficult to access, but it keeps the trailer secure and prevents it from rolling away unintentionally.
Setup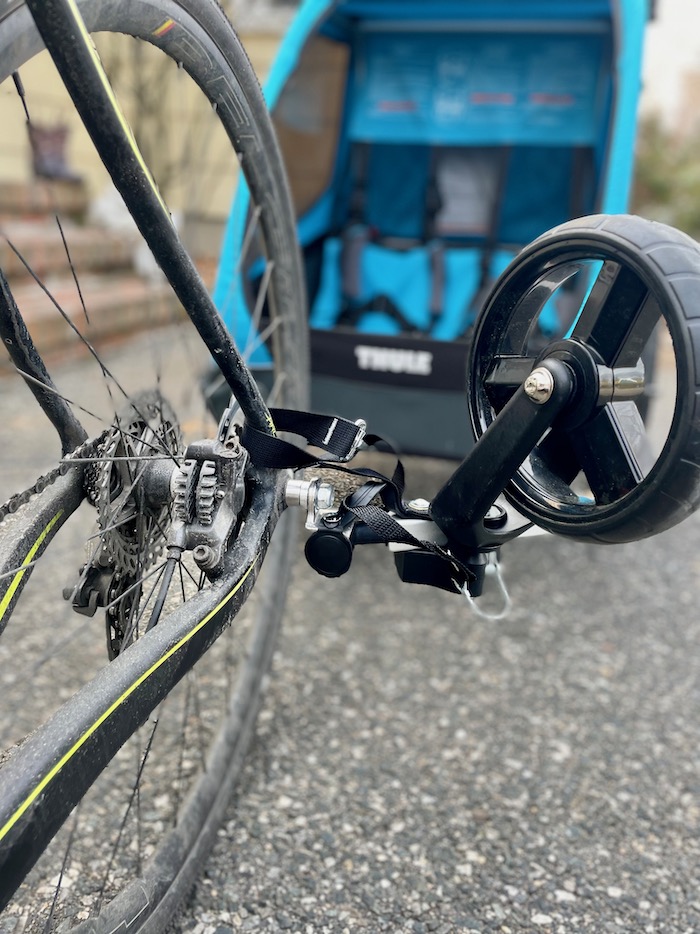 One of the greatest features about the Coaster XT is its simple setup. Parents can switch between bike and stroller mode in under a minute.
When in bike mode, the trailer's front wheel remains attached and flips upward, out of the way. This keeps it close by for a quick transition. It also ensures that you won't have forgotten the front stroller wheel when you reach the end of your bike ride and need to continue on foot.
For my cycling people: The trailer connects to the rear bike axle. For bikes with a quick-release axle, the trailer simply attaches to the left side of the skewer. Bikes with thru-axles require an adapter (like this one) to securely attach the trailer. The pitch varies from bike to bike, so make sure to buy the right one for your ride.
Storage capacity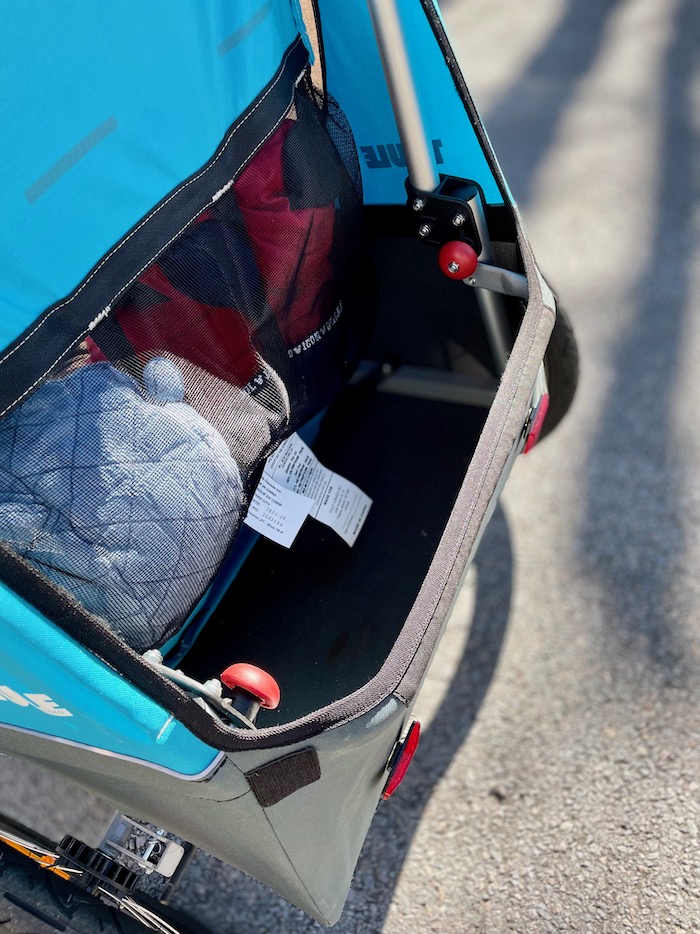 The Coaster boasts a large storage compartment behind the seats. It's accessible and easily fits a diaper bag, a travel potty, and lunch for the family.
Thule lists no specific weight limit for the storage basket, but the total weight of kids and cargo in the chariot needs to remain under 100 pounds. This allows for ample storage in most cases, but parents with two kids who are almost 50 pounds each might not be able to bring more than a few water bottles.
The Coaster XT has two small pockets in the children's seating area. I find them to be positioned farther forward than what seems comfortable for a toddler to reach, but they're convenient for keeping a toy or a snack nearby.
Unlike some other strollers, the Coaster does not have a storage compartment by the parent push bar.
Protection from the elements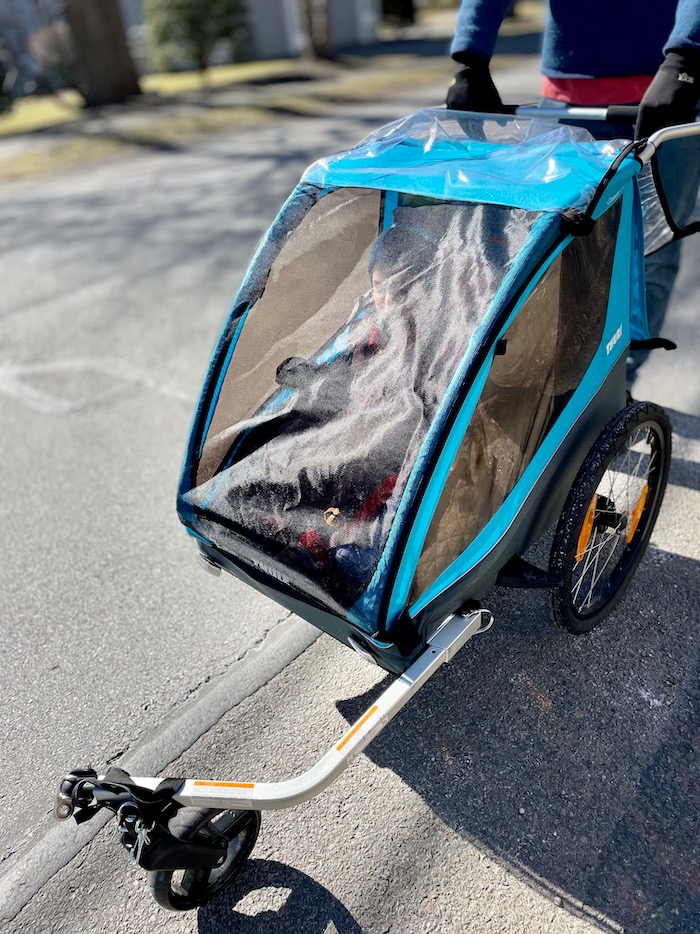 Included with purchase of the Coaster is a mesh shield to keep out bugs and debris. Parents can lay a thick, clear plastic windshield over the top for cycling. Both secure over the front of the trailer with simple Velcro fasteners. When not in use, they'r'e easy to roll up and secure with an elastic band.
The trailer has tinted windows on the side to help keep the sun's glare out. On hotter days, parents can improve the trailer's ventilation by lifting a flap from the back of the seat, which doubles as a small sun shade when positioned over the top of the chariot's seats.
Accessories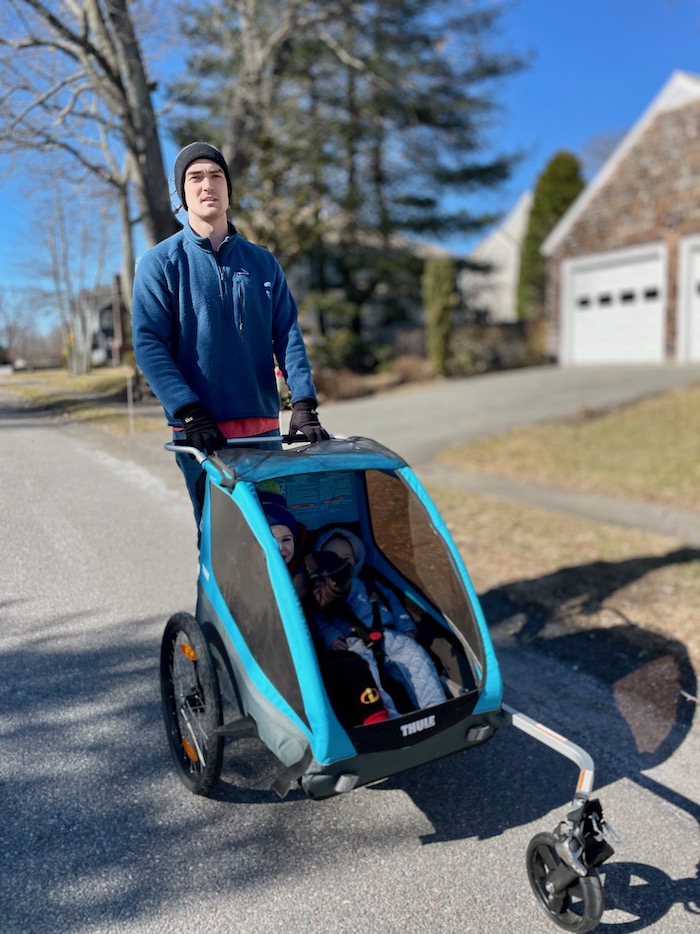 Although this multipurpose trailer comes with the strolling and cycling kits included, Thule sells multiple optional add-ons for the Coaster XT. Parents can buy a rain cover to keep kids dry, a storage cover to keep the trailer clean when not in use, and a foot muff to keep little feet warm.
Thule also sells two options to help make the Coaster's seats more supportive for younger ones: an infant sling holds babies anywhere from one to ten months old, and a baby supporter gives extra cushion for those 6–18 months old.
Folding mechanism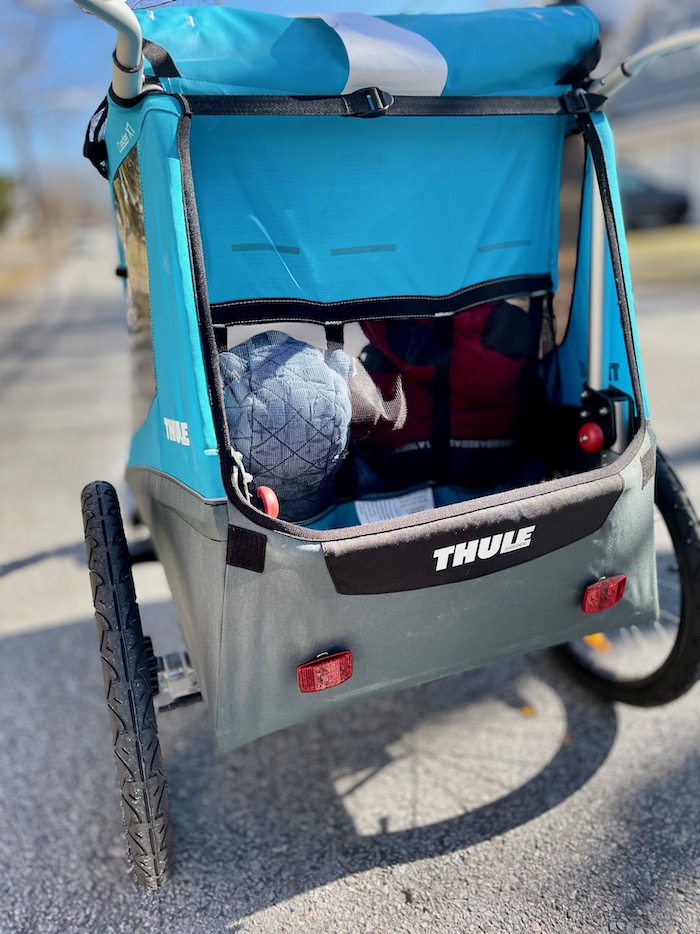 Although I find it a little difficult to do on my own, the Thule Coaster XT collapses flat in one step. All parents need to do is pull inward on two red knobs in the storage area and push forward on the seat back. The trailer then folds flat, with a space in the center to store its large rear wheels.
The Upshot: The Thule Coaster XT Bike Trailer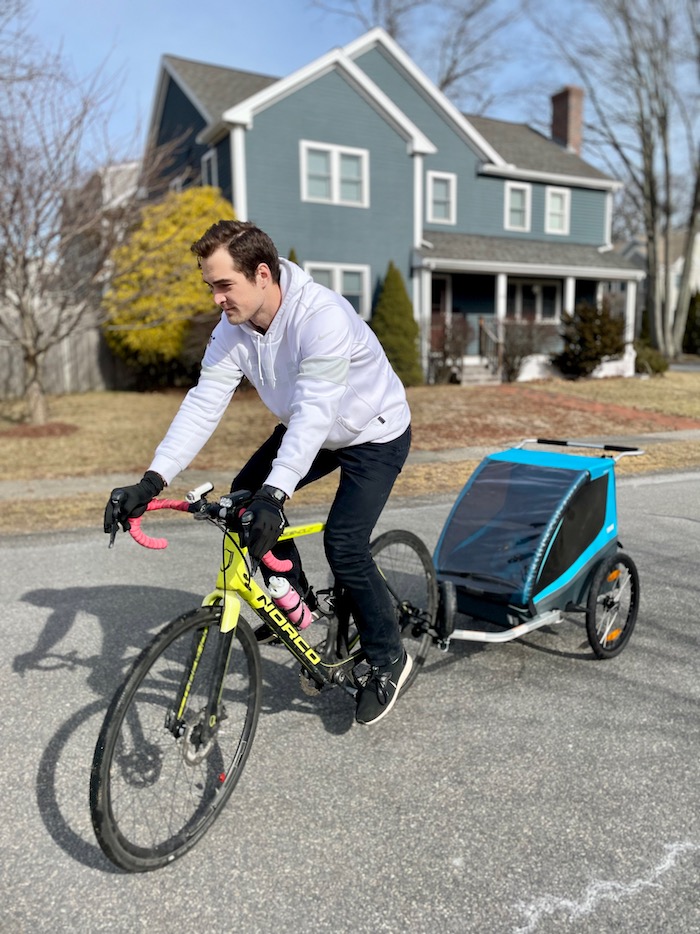 The Coaster XT is a durable, easy-to-use trailer that's perfect for strolling and biking on smooth paths. We've loved using it on quieter roads in beach towns or on bike paths near our home for fun outings with our son. He gets excited every time we mention the big blue bike trailer, and he even requests it sometimes for simple walks through the neighborhood. My only two hangups with this trailer are that it doesn't have reclining seats, and it doesn't have any jogging capability.
Although we might end up opting for one of Thule's more comprehensive multisport trailers at some point soon, the Coaster is a high-quality product that delivers excellent value for its cost. I would recommend it to any parent looking for a simple trailer that can switch from biking to walking in a cinch and transport two kids in comfort.
Pin me for later: