Everything to Know About Hotel Cribs
Traveling with a baby or toddler usually means bringing a lot of stuff with you. Ideally, a crib doesn't have to be one of them, assuming the hotel you've picked has a decent one!
But how do you know if the crib is safe and meets your child's needs? After seven trips with our 9-month-old, we've encountered our fair share. In this post we'll explore what to look for in a hotel crib and provide some tips to ensure your child's safety and comfort:
Check Availability Ahead of Time
In my experience with hotel cribs, sometimes their website or whatever booking platform you're using will show that they have them, but sometimes they don't, and adding a baby throws the whole thing off.
I've had situations where the website wanted to charge me for an entire extra person, or said that the hotel did not have capacity for cribs when they, in fact, did. Sometimes the only thing you can do is contact the hotel directly to clarify. A baby and a crib almost never truly cost extra.
If you're staying at a standard major US hotel chain, they almost always have cribs to offer, but if you're staying at an Airbnb, there may not be a crib available. If you only want Airbnbs that offer one, there's a box that you can check when you are searching to only display those options.
Destination seems to matter as well. It was hard for us to find cribs in Japan, but for our upcoming Portugal trip, every single place offers one.
Once you've confirmed the hotel has the crib, make sure it is added to your reservation prior to your arrival.
Ask What Type of Crib the Hotel Offers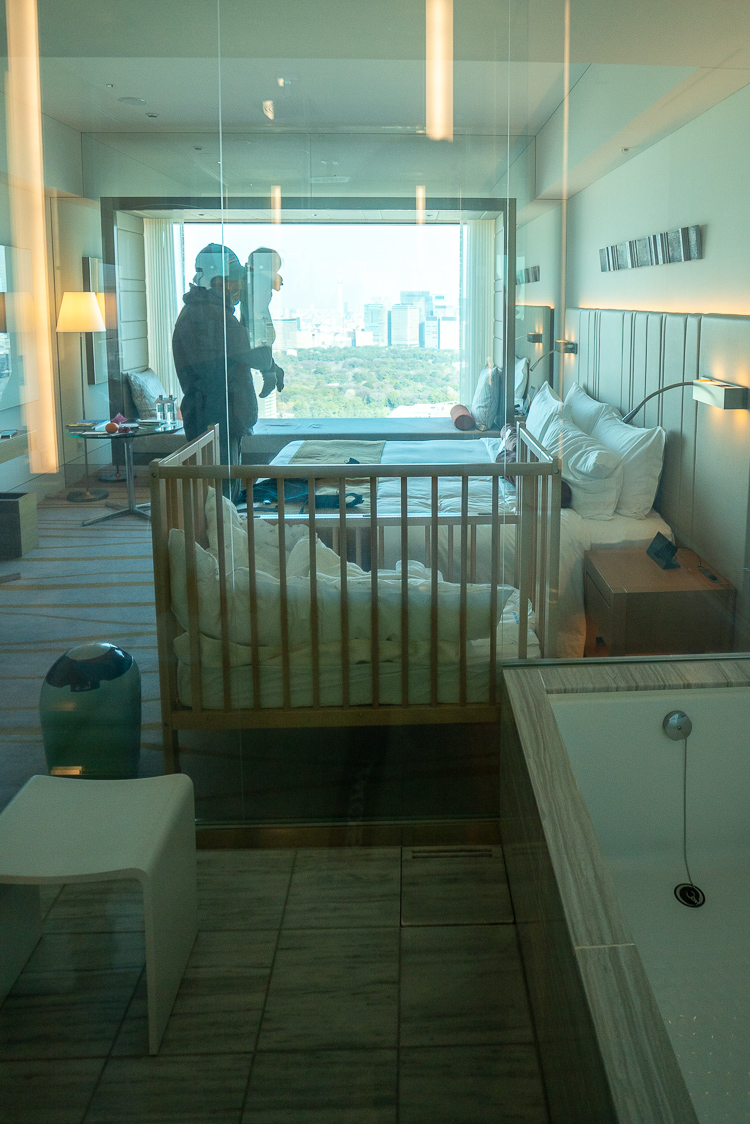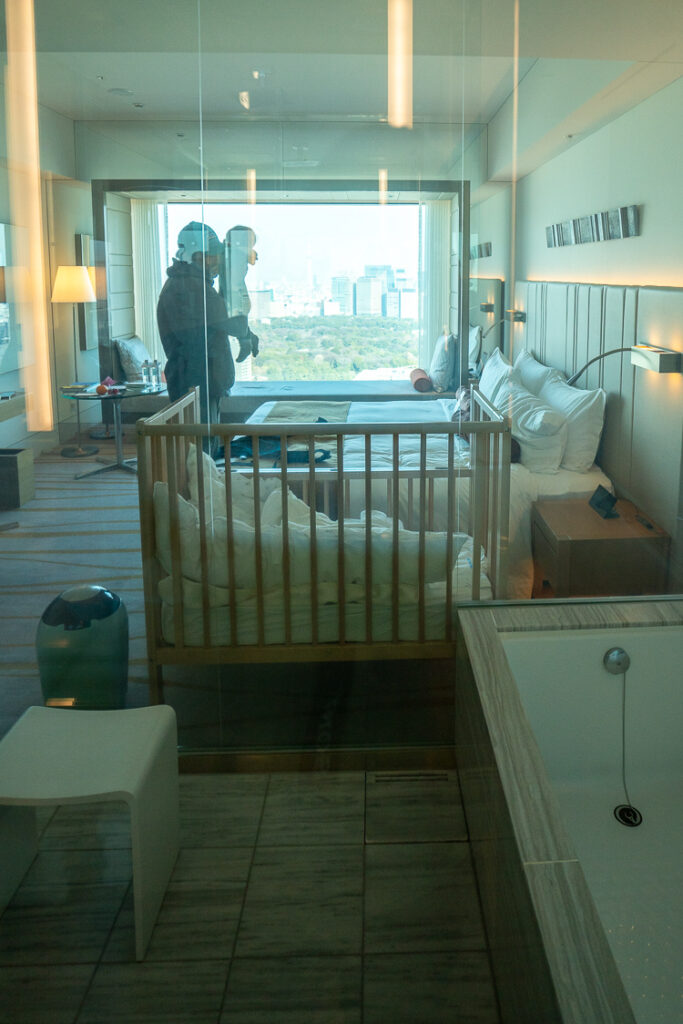 This is a good time to inquire about what kind of crib they have. The quality and type of sleep space can vary wildly from hotel to hotel. Unsurprisingly, the nicer the hotel, the nicer the crib has been in our experience.
We have had everything from an old metal crib on wheels with an incredibly hard mattress, to a beautiful wooden crib with a wonderful mattress, extra toys and blankets, and even a little baby pillow at a 5-star hotel in Tokyo. Of course, all of these things are not standard in a crib in the US and are considered sleeping hazards, but it was interesting to see what the high-end option was in Japan.
We've most commonly had pack and plays in 3-star hotels, and on our upcoming trip to Portugal, it looks like a lot of wooden cribs/cradles.
Inspecting the Hotel Crib
As mentioned before, quality has been quite variable with all of the hotel cribs that we have come across. I didn't even want to use the metal one at the casino motel that a winter storm forced us to overnight at, and my son woke up and screamed pretty early on in the night in it. My partner ended up letting him sleep in his lap while he barely got any rest. It wasn't the best scenario.
Here's what to look for:
Make sure that there are no loose parts or rust.
Make sure the crib slats are no more than 2 3/8 inches apart to prevent your child's head from getting stuck.
Check for any sharp edges or corners.
Make sure the crib is free of any loose blankets, pillows, or toys that could pose a suffocation risk.
Double check the sheets are clean.
Consider using a sanitizing wipe on the slats.
If Using the Slumberpod, Ask for Dimensions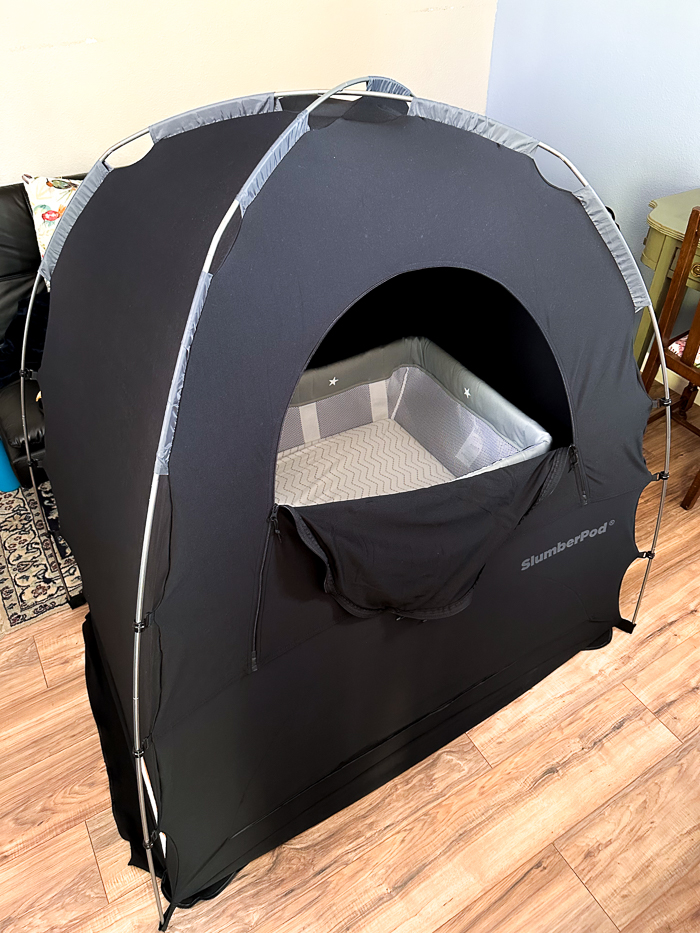 Although some parents think that the Slumberpod is overkill, I have been very glad to have it along on trips where we are all sharing one room. Since babies tend to go to sleep sometime between 7 and 8 PM, it blocks out the light so that we can still have some lights on in the room and our son can sleep in darkness.
It also has a pocket for a fan and a baby monitor. Read my full Slumberpod review.
That said, you can only use it if it fits over the hotel crib, meaning it would have to be on the smaller side. Most pack and plays are, but be sure to ask for the hotel crib dimensions to see if it will fit before you bring it.
Consider BYO Sheets
Given that the quality can vary so much from hotel crib to hotel crib, if you're not going to bring your own travel crib or bassinet, consider bringing your own sheet. Ideally it will be one that can fit a variety of sizes and tucks in easily. I suggest this because babies have sensitive skin, and we have found that only one specific detergent — Dreft — keeps our son from breaking out. Yet most hotels bleach their white sheets, so it's not ideal for babies.
For this reason we will be bringing our own sheet with us to Portugal, but will take advantage of the hotel cribs offered.
Comfort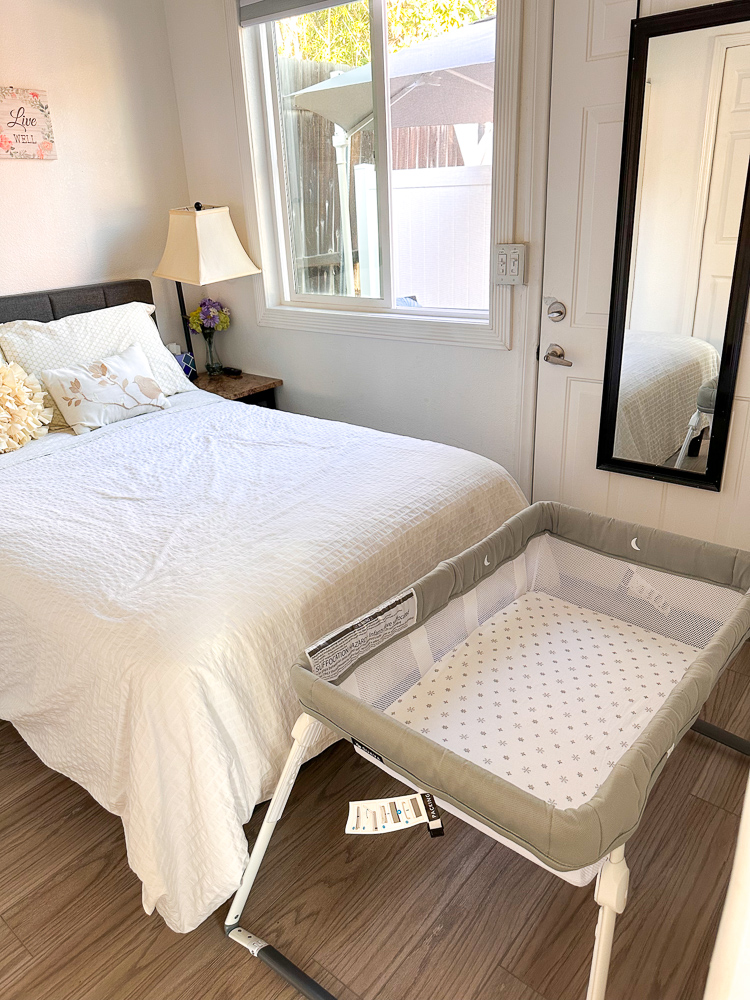 At home, our baby is used to a nice mattress and a large crib. He sleeps great in it, but on the road it can be a much different story. For our Europe trip, I was able to see a lot of the cribs in the hotel pictures and felt good about what I saw, so we're relying on them rather than bringing our own.
But for our most recent trip to the Utah national parks, we were in smaller towns and found that sometimes in domestic hotels, particularly 2 or 3-star hotels, we haven't wanted to use the crib. It didn't seem safe nor did it seem comfortable.
Bring or Rent Your Own Bassinet or Travel Crib/Bed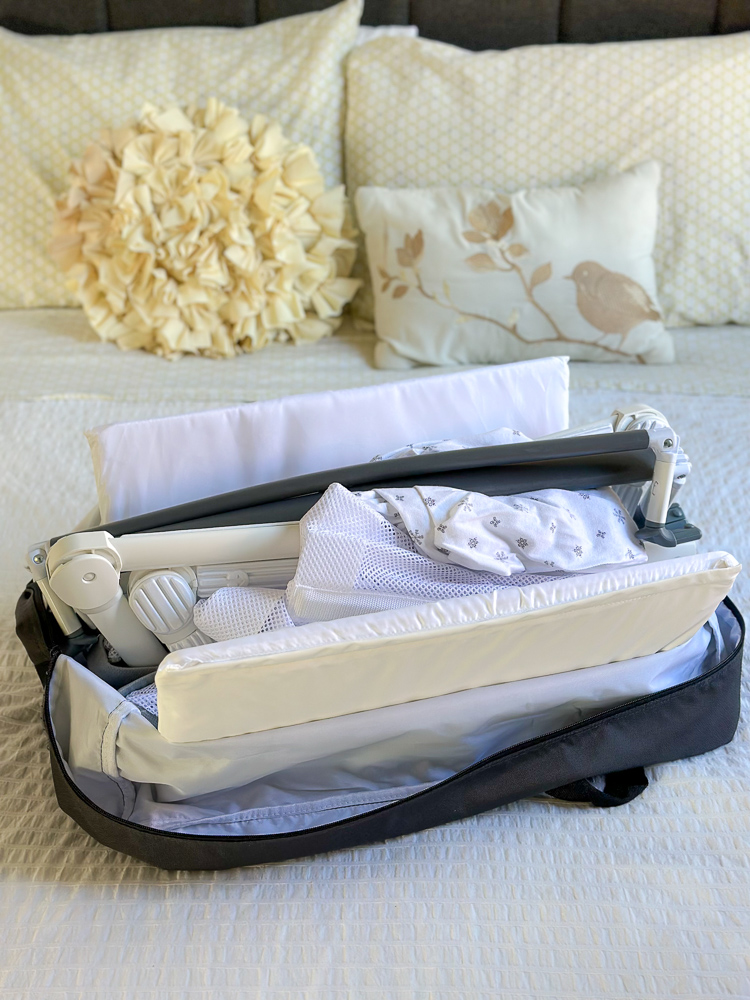 Since we now have our own travel crib as back up, I tend to use that instead if it's at all convenient to bring it along. For road trips, it's a no-brainer.
Although on the pricier side, I decided to go with the Guava Lotus Bassinet and Crib since it is so lightweight and folds up so easily. I pretty much only use this now instead of even asking for a hotel crib because it's a familiar sleep space for my baby, I know the quality, and I know that it's safe.
But what if you really don't have space? There's a third option – you can rent a crib through Babyquip from a local family at your destination. Parents who use the SNOO especially like this option while traveling. Although I have never personally used the service, I have friends who have and they have good things to say. That said, a hotel crib is usually free, and the rental can add up!
Again, the quality of the crib tends to match the quality of the hotel, but you can always inquire ahead of time to get a better sense of what they have to offer. That way you can make an informed decision about whether you want to use the hotel crib, bring your own, or rent. The cases where we have had the most issues have been where we didn't do this ahead of time and ended up playing baby crib roulette. A little bit of preplanning can ensure that your hotel crib matches your expectations.