Little Sleepies vs. Kyte Baby – a Mom's Honest Comparison
Which bamboo clothing is better? Little Sleepies or Kyte Baby? Since my baby pretty much only wears bamboo clothing, particularly from these two companies, I'm here to let you know.
Which is worth buying? Are both worth buying? Here's everything I've learned over a year of testing each:
Main Features of Little Sleepies (Material and Extras)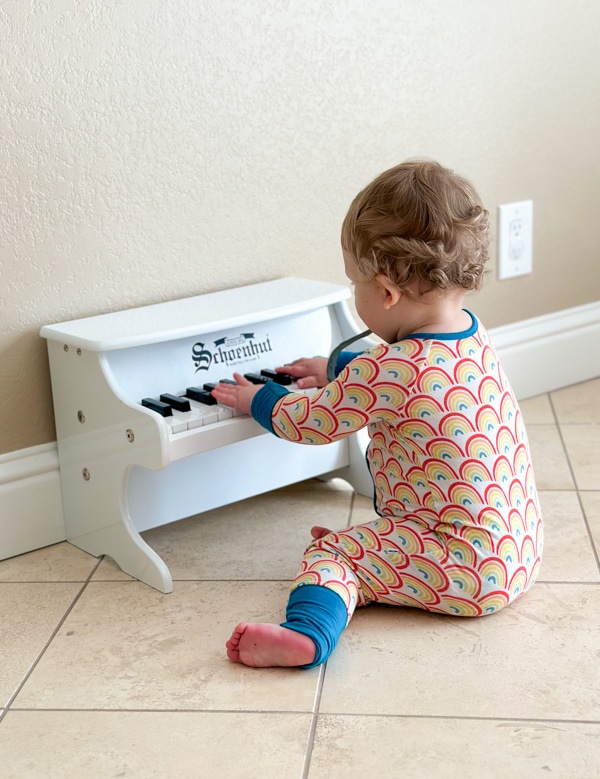 Little Sleepies are made from their own blend of bamboo viscose called Lunaluxe. It's stretchy (more so than Kyte Baby), soothing to sensitive skin, and helps regulate body temperature.
I can vouch this is the most buttery, softest fabric. For Christmas, I got us all a family matching set and they were so comfortable that I bought another set for everyone! It's all we wear around the house.
The other big selling point for me is that the little zippies, the hands have fold over mittens all the way until 12-18 months. For the babies with eczema out there, these are a god-send.
They also make a 'play' set of clothes that feature rompers, sleeveless rompers, and dresses.
They also offer free shipping on low order minimums, making it possible to buy just one to test out without having to pay for shipping.
Main Features of Kyte Baby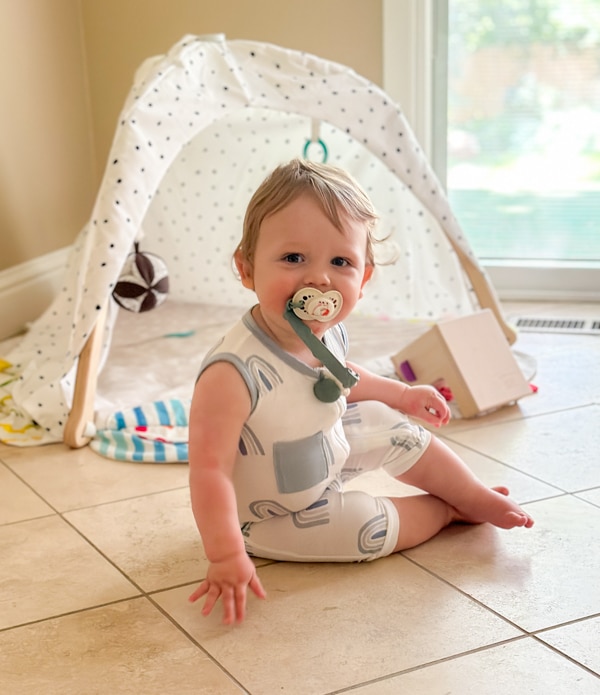 Kyte Baby has always looked classy to me, which is why I love their stuff. The slim fit takes something that would otherwise look like PJs and make them appropriate for any occasion. Their garments are made from 97% bamboo rayon and 3% spandex, providing exceptional softness and breathability. Of all of the bamboo clothing companies out there that I'm aware of, they have the highest percentage bamboo in their blend.
They also make bamboo jersey clothes like hoodies, overalls, and have a bit more variety to their garments from ruffles on the girl clothes to pockets on the rompers. I'm also a fan of their crib sheets and sleep sacks.
Kyte Baby also has a rewards program that makes getting future discounts possible, though they can take a long time to ship, especially if there's a sale.
Sizing and Fit of Little Sleepies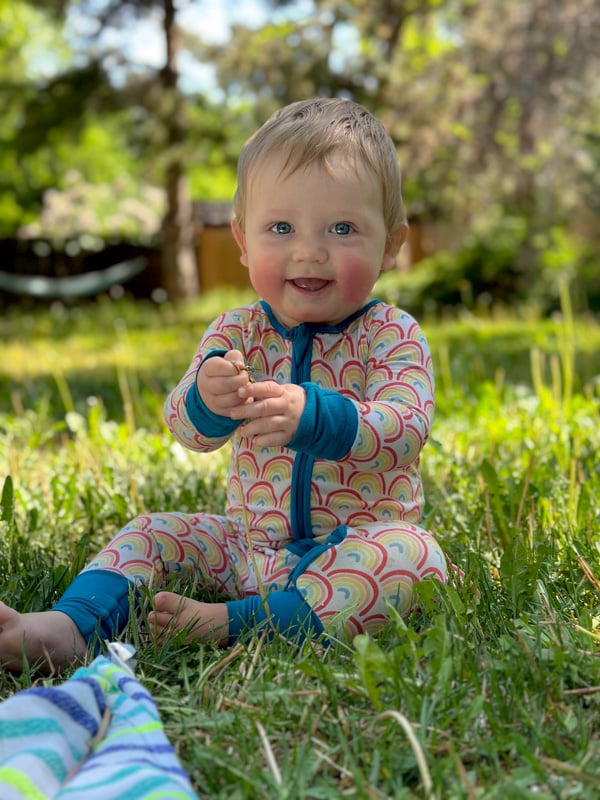 To me, this is the biggest difference between Little Sleepies and Kyte Baby. Longer fit is Little Sleepies' main selling point, or at least their Facebook ads would have me think so.
I can attest, they do seem to fit forever. My one year old, who has always been quite large for his age, still fits comfortably in the 3 to 6 month size! This is not true for any other brand of clothing we have. Not even close.
Thanks to the material being so stretchy, a larger fit overall, and the long hand and feet areas that can fold over the hands, they are longer and can stretch more than other brands.
That said, their clothes do run large. We still haven't made it to the 12-18 month zippies since they'd be too long on my 12 month old. In every other brand, we're about ready for 2T.
Sizing and Fit of Kyte Baby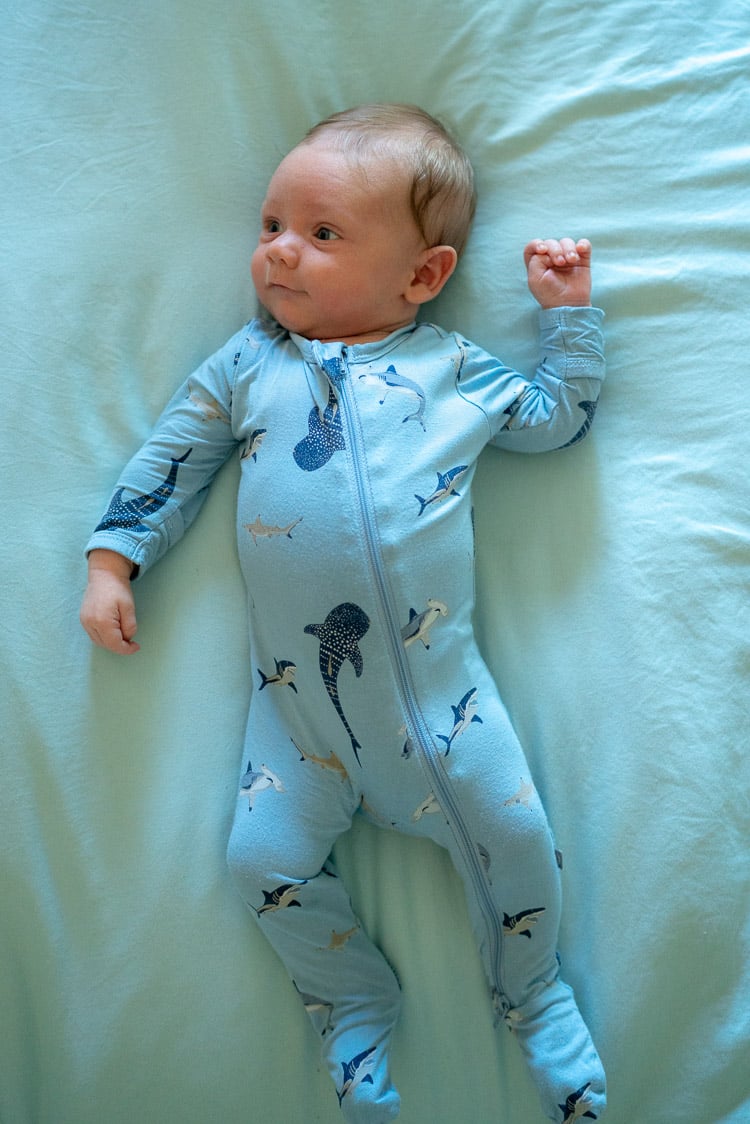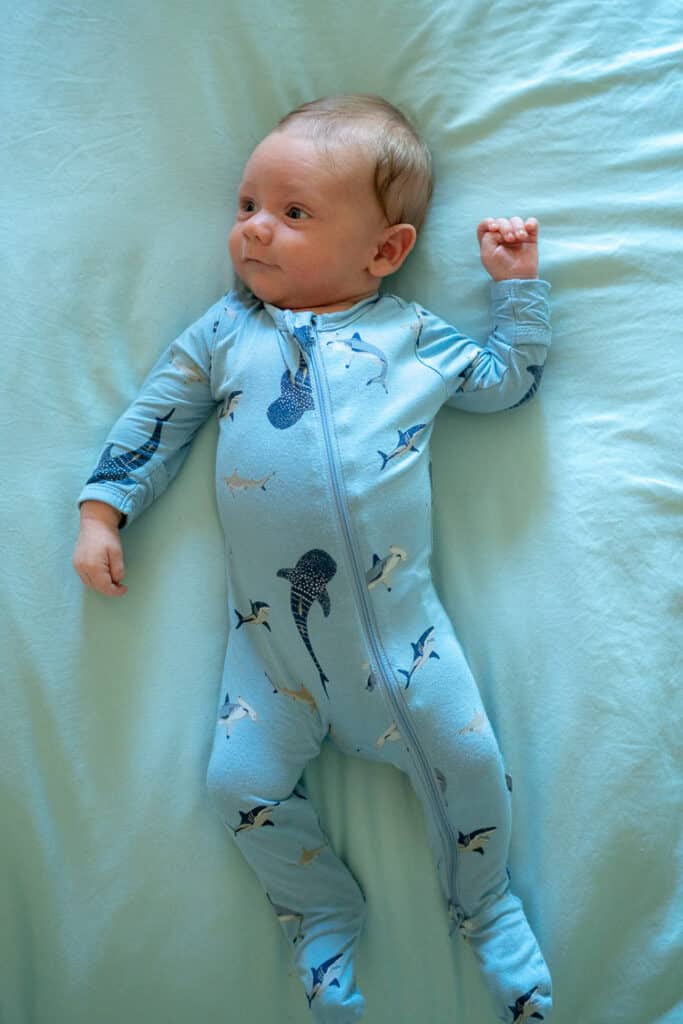 Kyte Baby clothing is more of a 'slim fit' than Little Sleepies. I think this is why it looks so classy to me, though it does mean clothes fit truer to size. While my baby has been able to wear his Little Sleepies for months and months, he usually fits in a Kyte Baby outfit for a month to two, max.
Since I have a large baby, this means I need to size way up and my baby has sized out of many of the footies and zipping rompers earlier than I would have liked. At a year old, he currently wears the 18-24 month size. I'm having the same problem with just about every other brand, other than Little Sleepies, which are kind of an anomaly for sizing.
The exception is their bamboo jersey hoodies, which are adorable and slouchy. Those have fit my son for much longer, and I love them.
Style of Little Sleepies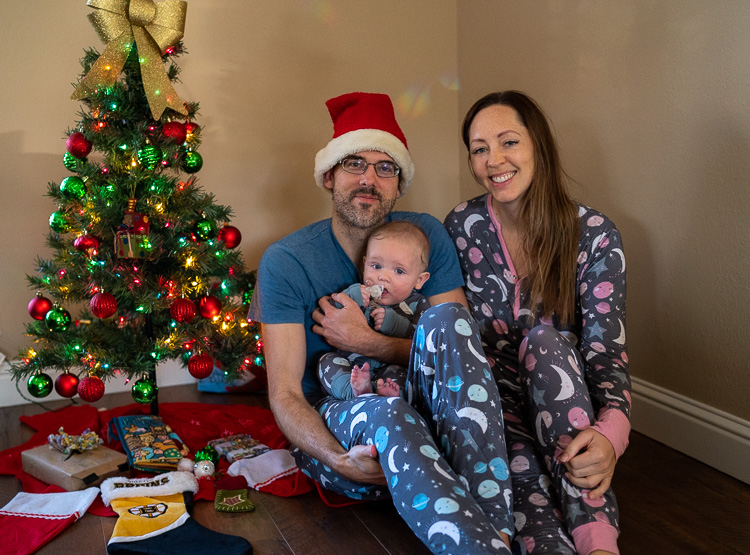 As much as I love Little Sleepies zippies, the majority of them really do look like pajamas. I get it — that is what they are meant to be — but I also love when a onesie can be comfortable enough to sleep in and also be worn throughout the day.
I'm lazy and I don't want to change my child's clothes if they're still clean. Who's with me?
However, now that they have their play styles, they look less like PJs, and I have also noticed that they've been putting out more solid colors. Still, I don't like the color palette as much as Kyte Baby's.
Style of Kyte Baby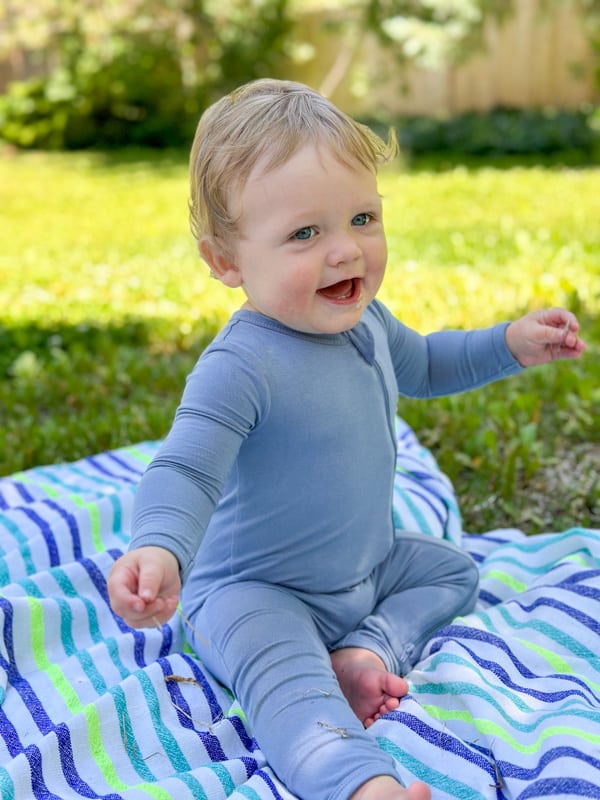 I like the look of the slim fit from Kyte Baby, as well as their less busy patterns and nice selection of solid colors. There are more muted, more neutral, and nothing is too loud of a pattern. This suits my style better. I also think the solid colors don't look too much like pajamas, although they are comfortable enough to sleep in.
I'm a big fan of their bamboo jersey hoodies, which are a looser fit, as well as their sleeveless shortie rompers, pictured at the beginning of this post. They have some adorable girl styles as well.
Pricing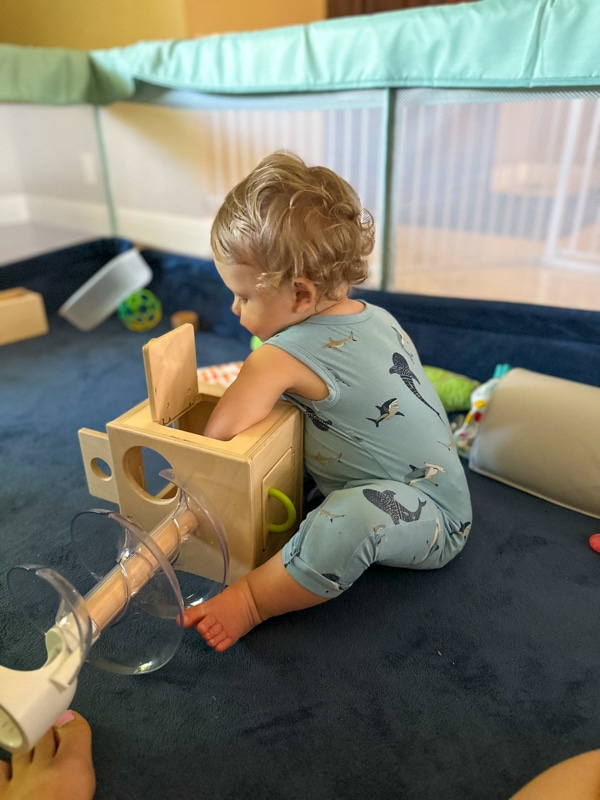 Both companies have similar pricing for their garments, though Kyte Baby is slightly more expensive, especially when it comes to toddler sizes.
Kyte Baby zipping rompers and footies start at $36, while Little Zippies start at $34.
Kyte baby sleeveless rompers start at $32, while Little Sleepies shorty rompers also start at $32. However, I have to point out that Kyte baby's sleeveless romper zips all the way down to the cuff, whereas the Little Sleepies shorty romper zips to the crotch of the garment. I much prefer down to the cuff for ease of changing.
Kyte Baby dresses start at $42 and come in toddler sizes, or $36 for their bodysuit styles for babies. Little Sleepies dresses start at $36, and there's no difference in price between baby and toddler styles and sizes.
I have unfortunately seen that Kyte Baby pricing goes up as soon as you're shopping for larger sizes (2T+), however Little Sleepies don't go up in price based on size.
Resale Potential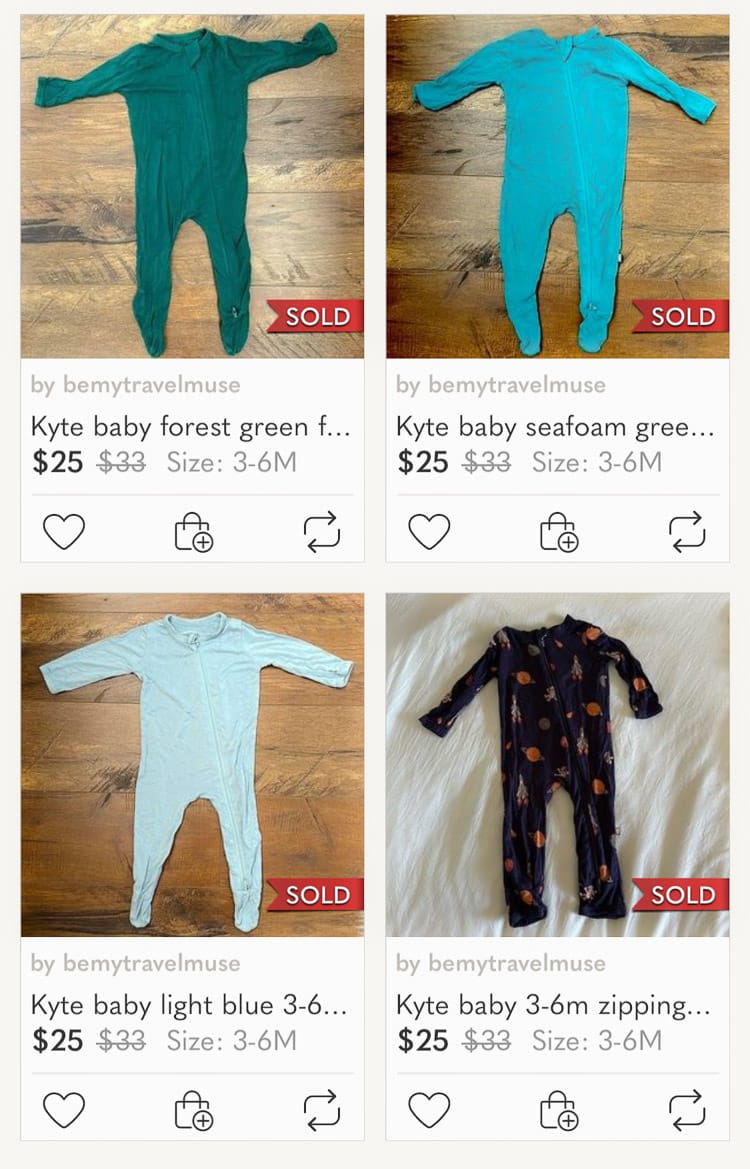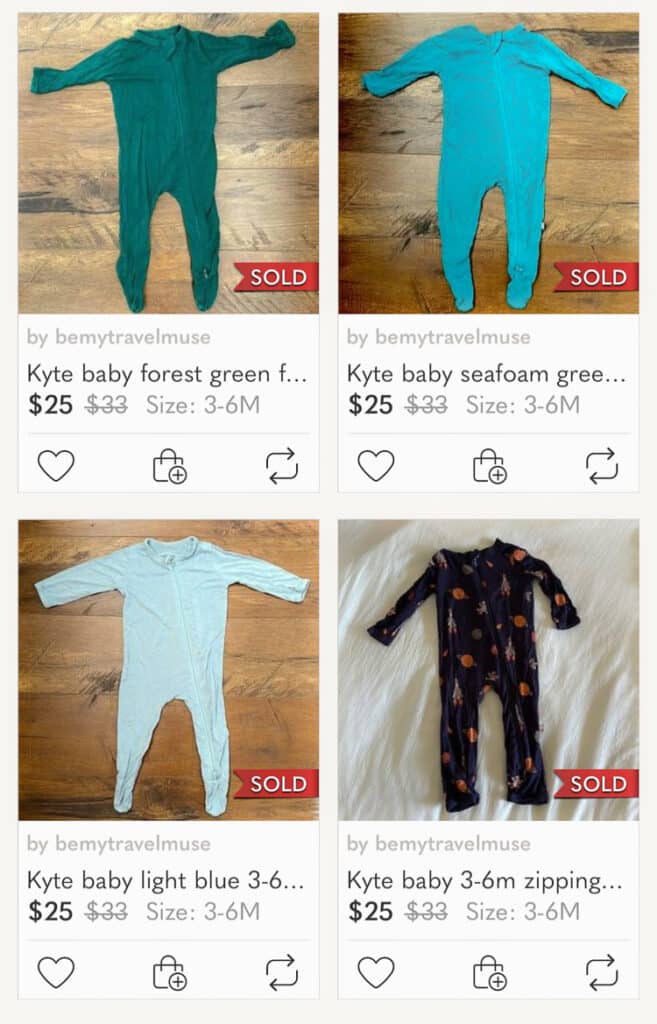 I am pleased that reselling my Kyte Baby clothes has been easy on Poshmark. I am usually able to sell them for around $20, with a net profit after selling fees of around $13. Since I use Kyte Baby points to get discounts or buy during sales, I've calculated I'm basically renting each garment for $10.
I haven't even tried to resell any Little Sleepies yet because he's still wearing them! He's also gotten so much use and wear out of them, they're a little more beat up. I'll still try to sell them when I'm done, but probably not for as much since they're not in as great of condition as the Kyte Baby.
My Verdict on Little Sleepies vs. Kyte Baby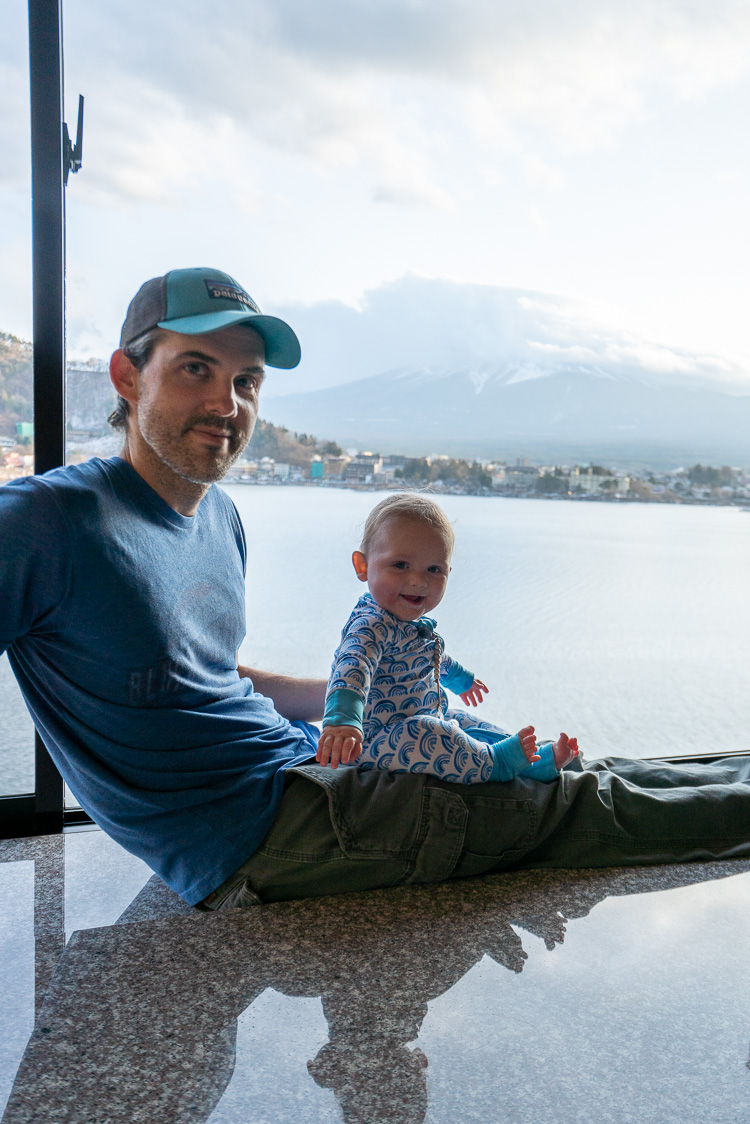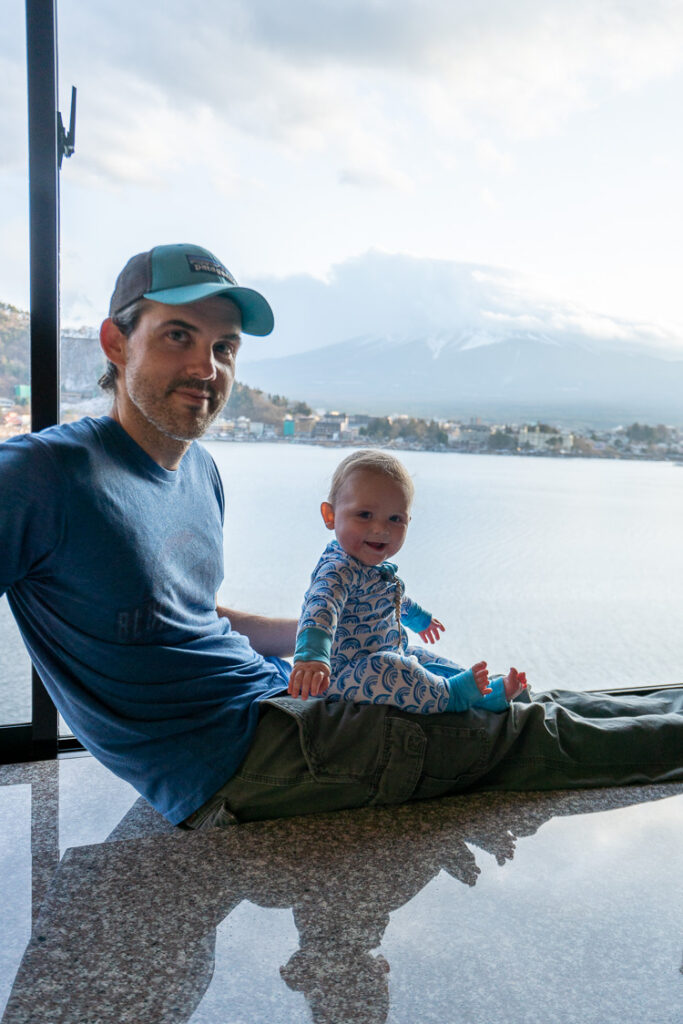 I really wish I could combine the things I love about both of these brands into one garment. I so appreciate how long the Little Sleepies fit for, and that they have fold over mitts on sizes up to 18 months. However, I love the style, colors, and pattern selection of Kyte Baby so much more. It is heartbreaking when he only wears the onesies from there for such a short period of time, though. I end up buying way more as a result.
I love both of these companies and I see the utility of having a little bit from each. The Little Sleepies have really just become bedtime outfits for us now, and the other bamboo clothes we have from Kyte Baby, Bums N Roses, and Birdie Bean are in heavier rotation for the daytime (read more about all the bamboo baby clothing brands out there here).
Given how much he wears from both brands, it's safe to say I am a fan of both of them and think that they are both the real deal!
*Some links in this post are affiliate links that support this site at no extra cost to you. Thanks for keeping us going!