Artipoppe vs. Ergobaby – I Tried Both So You Don't Have To!
I love wearing my baby. Throughout his first six months we didn't even use a stroller, including on long international trips, since babywearing was so much easier. It gave me ultimate freedom when going up stairs, avoiding elevators (which a stroller requires me to take, especially in airports), and navigating uneven pavement. Plus, they fold up so nice and small.
I loved the bonding as well. It was the perfect nap space and a guaranteed way to soothe my son when he was fussy.
I've tried A LOT of different carriers (I have three from Artipoppe, one from Solly Baby, and three from Ergobaby as well). Here's everything to consider so you only have to buy one:
Look and Style of Artipoppe vs. Ergobaby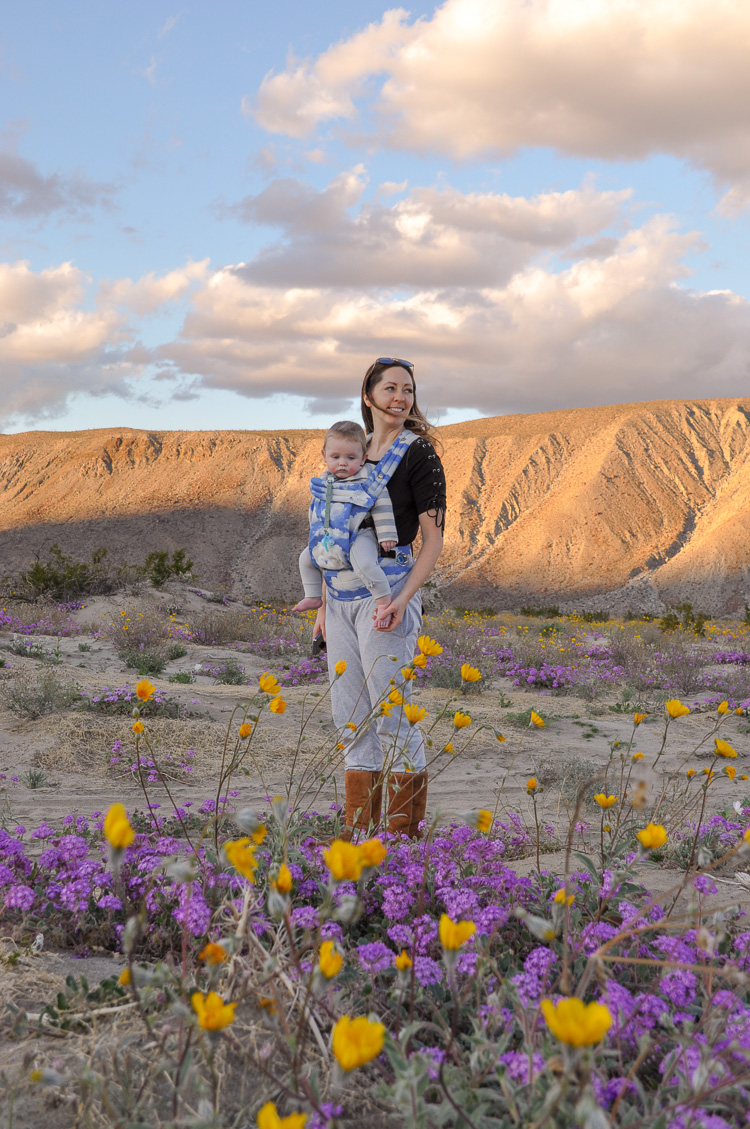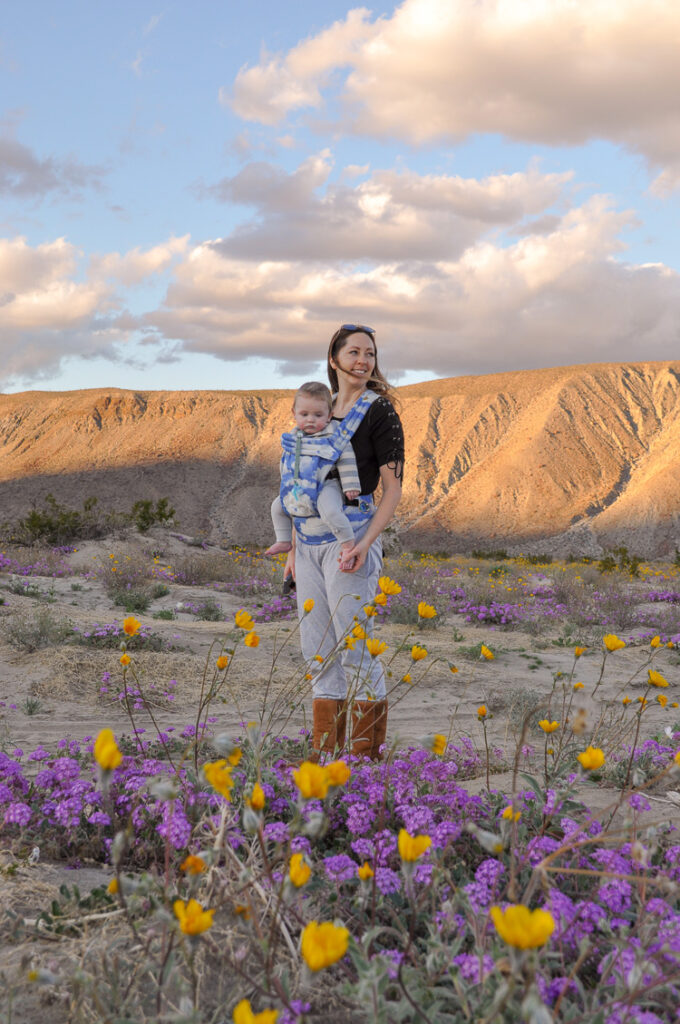 Artipoppe Baby Carrier:
Artipoppe carriers are a true fashion statement. They come in a variety of stunning patterns and designs, often resembling works of art.
They have new designs coming out all the time in a variety of patterns and fabrics. I have one of each in linen, organic velvet, and cotton. They come in everything from animal prints to yin and yang, fringe, the clouds featured above, tweed, and more. If you value style and want to make a statement while babywearing, Artipoppe has the market cornered.
That said, I've ended up with several since the patterns can be so dramatic. They don't always go with every outfit. Different fabrics make sense in different environments, as well. I used the velvet during a winter trip to Japan but have opted for the linen for our current trip in Bali.
Ergobaby Carrier:
While Ergobaby carriers may not be as artistic as Artipoppe, they still offer some attractive designs and colors. They tend to have a more practical and versatile look that fits well in almost any setting, particularly if you go with a more neutral color.
When I was initially looking at baby carriers, Ergobaby was the name I'd heard the most and what I came across at the thrift store. I bought two different kinds of carriers, including the Omni 360, and was gifted an Aerloom later on by Ergobaby.
If you're specifically seeking a carrier that stands out as a fashion accessory (let's be honest, that's the main reason for looking at Artipoppe!), the Ergobaby might not be as visually striking as the Artipoppe Zeitgeist.
Winner: I love the patterns and fabrics of Artipoppe, so they win for me here!
Fit and Comfort of Artipoppe vs. Ergobaby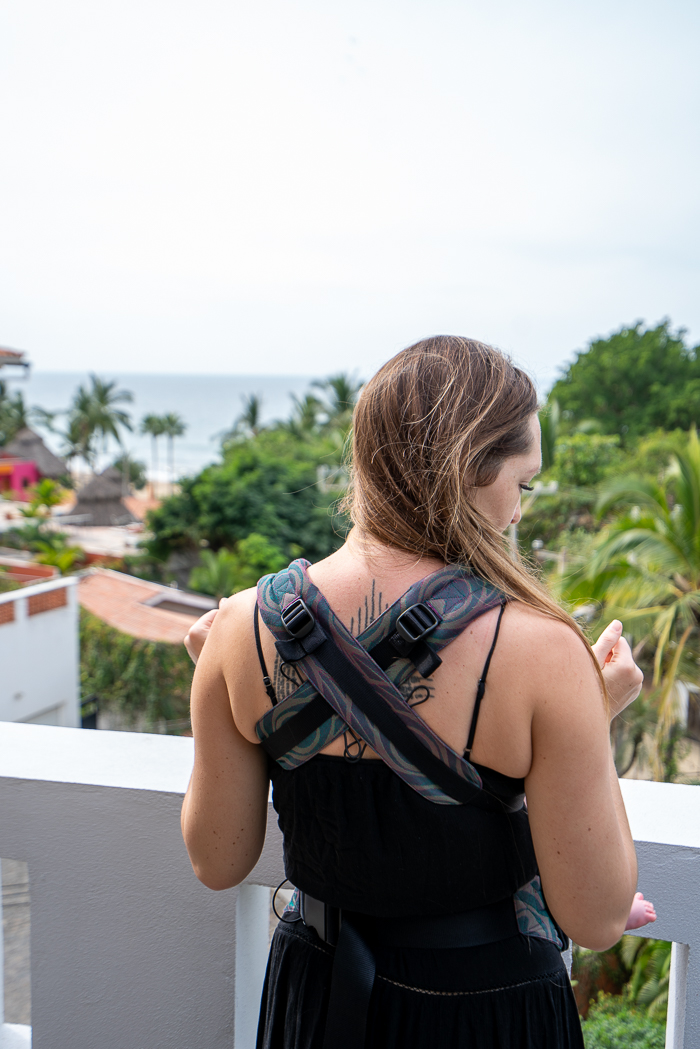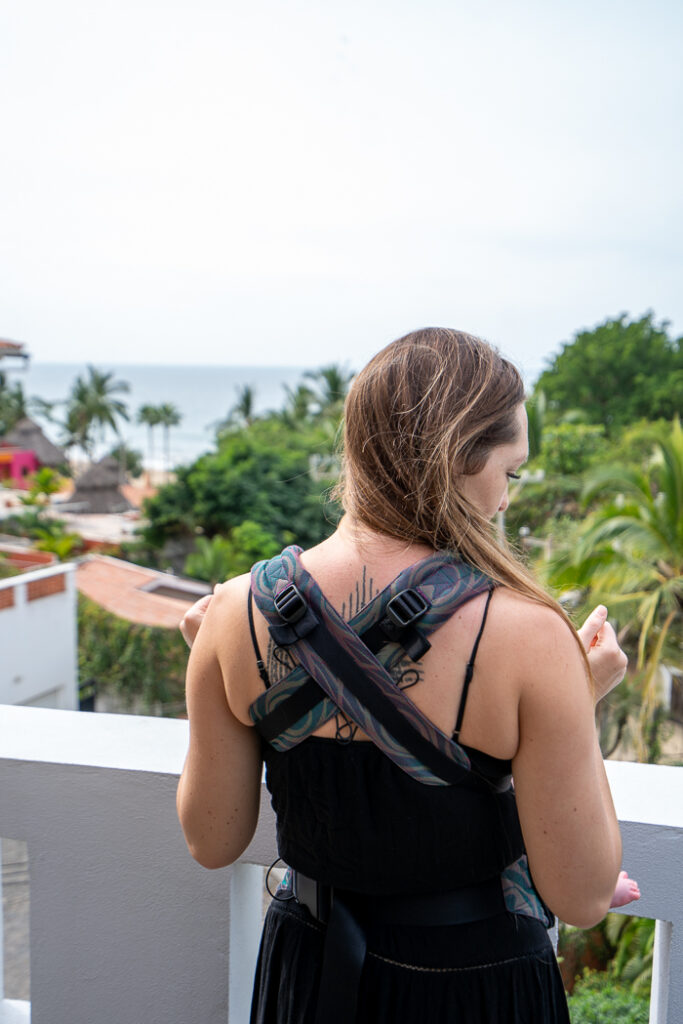 Both carriers have been designated as hip-healthy, and both are known for their comfort. Still, I find there are some big differences between the two:
Artipoppe Baby Carrier:
Artipoppe carriers are made from luxurious fabrics like silk, cashmere, and organic cotton, which I found softer and more comfortable than Ergobaby. Our baby has extra sensitive skin, so that makes me reach for the Artipoppe carriers more often.
The back strap is also SO MUCH better. I really appreciate that it crosses in the back rather than strapping across with an additional strap like the Ergobaby. The Omni 360 would allow for some adjusting to make the straps cross in the back, but it doesn't seem to me like that's workable with the Aerloom.
That said, Artipoppe doesn't work great for newborns. It's got a wide opening near the top that allows for too much movement. I preferred the Solly Baby wrap when our little guy was tiny and would have used it for longer had my baby not outgrown it so quickly.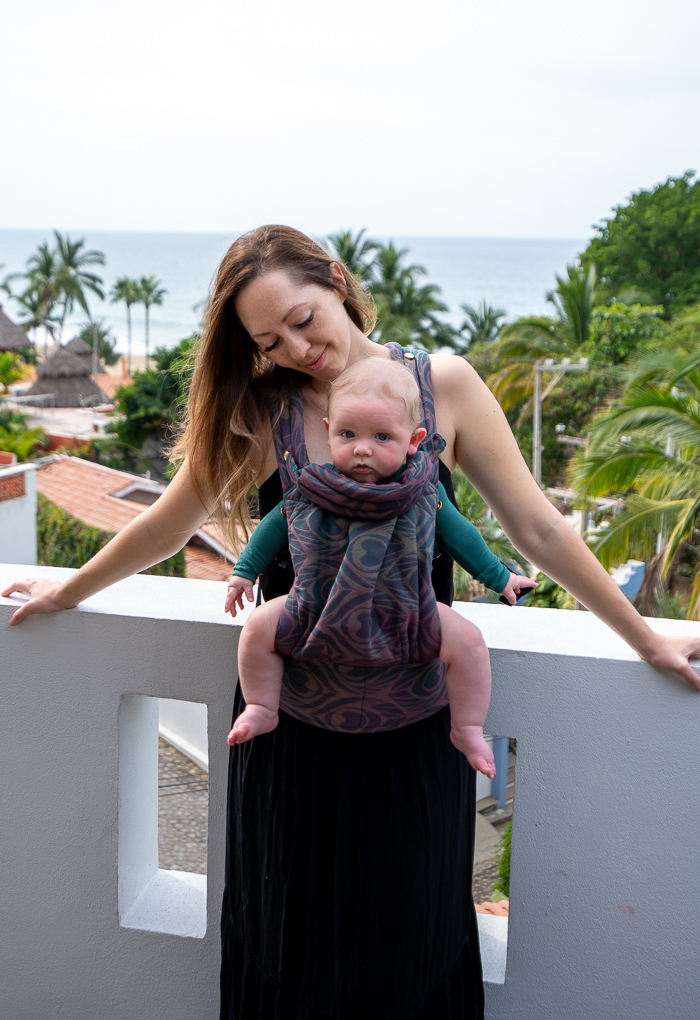 I also don't like the Artipoppe front-facing mode. It requires an insert that is kind of clunky, causing the fabric to bunch in the front. It basically shrinks the area and pulls the baby in closer to you by gathering the fabric. It makes putting the carrier on a little more difficult and I don't love having multiple parts that are easy to lose. It also doesn't seem like that comfortable of a ride for my baby, especially as he's grown older and bigger.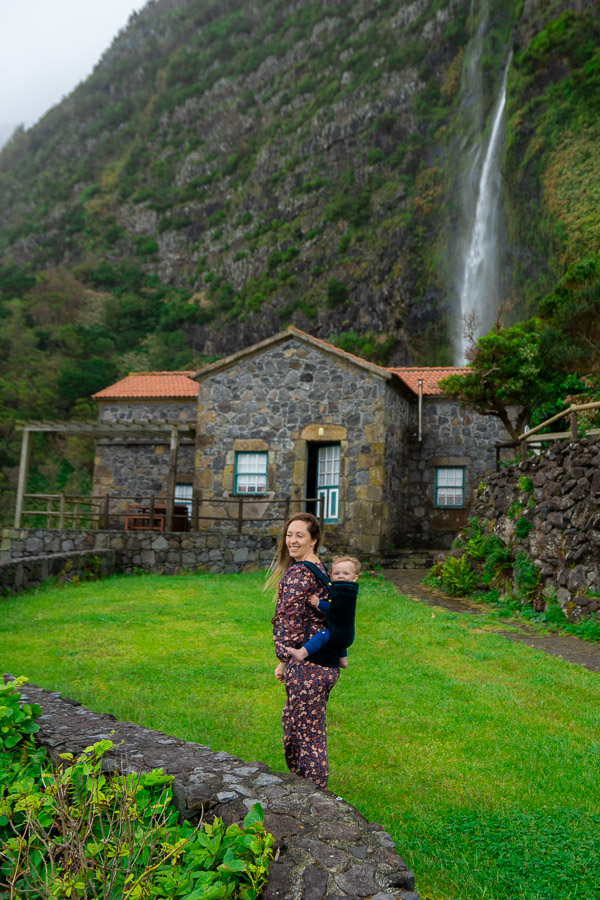 The back carry mode works great, and it seems like a comfortable ride for Felix, as well as for me.
This also requires some adjusting, though, since the straps are longer for the back-cross and need to be folded in and buttoned for the back carry mode. It's not a huge deal if you leave it in back-carry mode but if you want to switch between front carry facing outward, inward, and back-carry, it's a process to change everything over.
Ergobaby Carrier: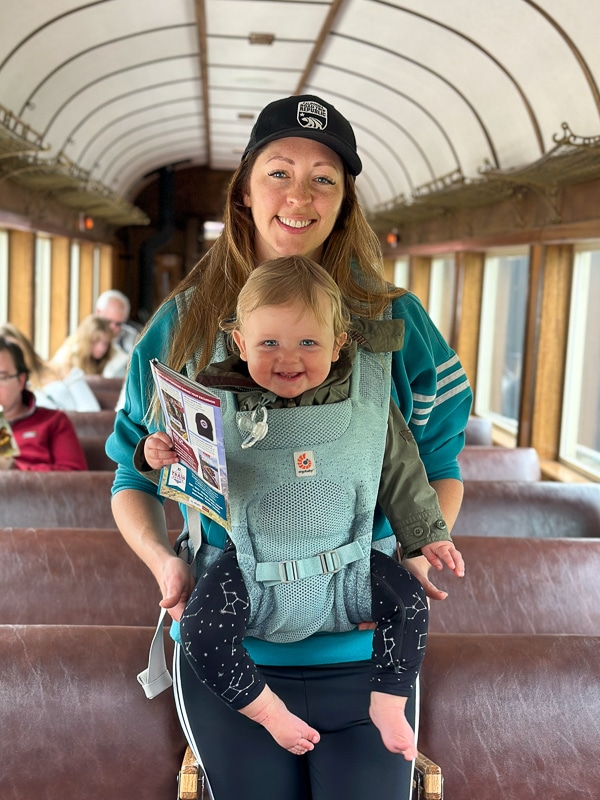 The Ergobaby carrier's claim to fame is that it's an ergonomic fit and design. It does seem to be comfortable for my baby overall, but it's not always comfortable for me.
I prefer the design where the straps cross in the back like the Artipoppe, though it's possible to do with some of the Ergobaby carriers. I'm really not a fan of the pressure put on my shoulders otherwise.
It does have more features, though, like a pocket for a wallet or keys, and a sun/rain shade. It's pretty small and my baby never liked it, though, so on sunny or rainy days I just use an umbrella.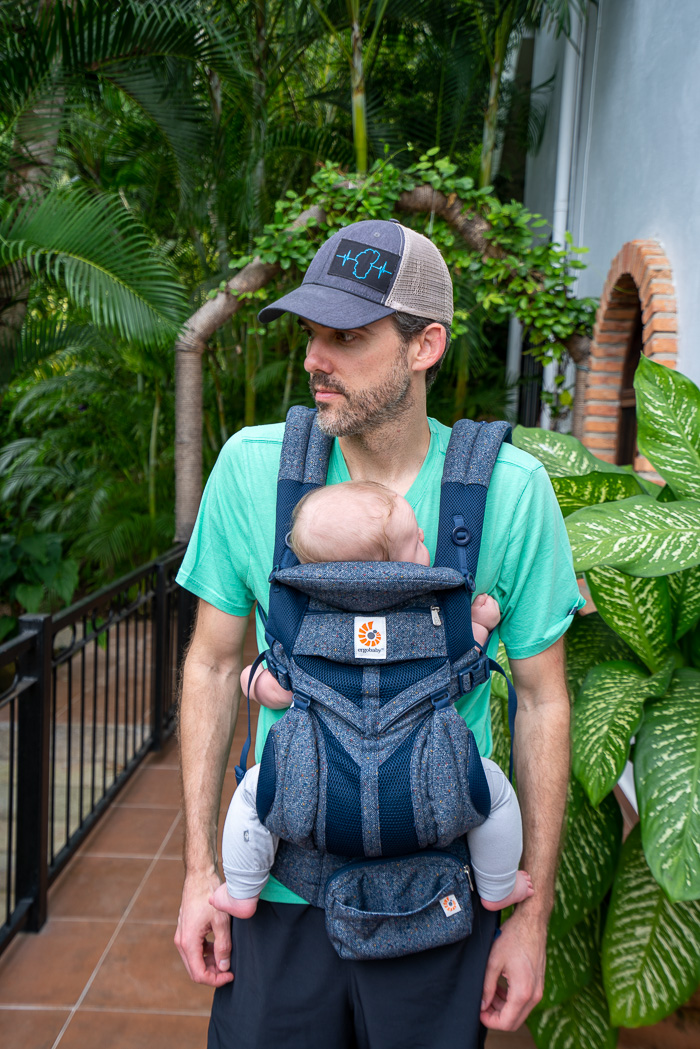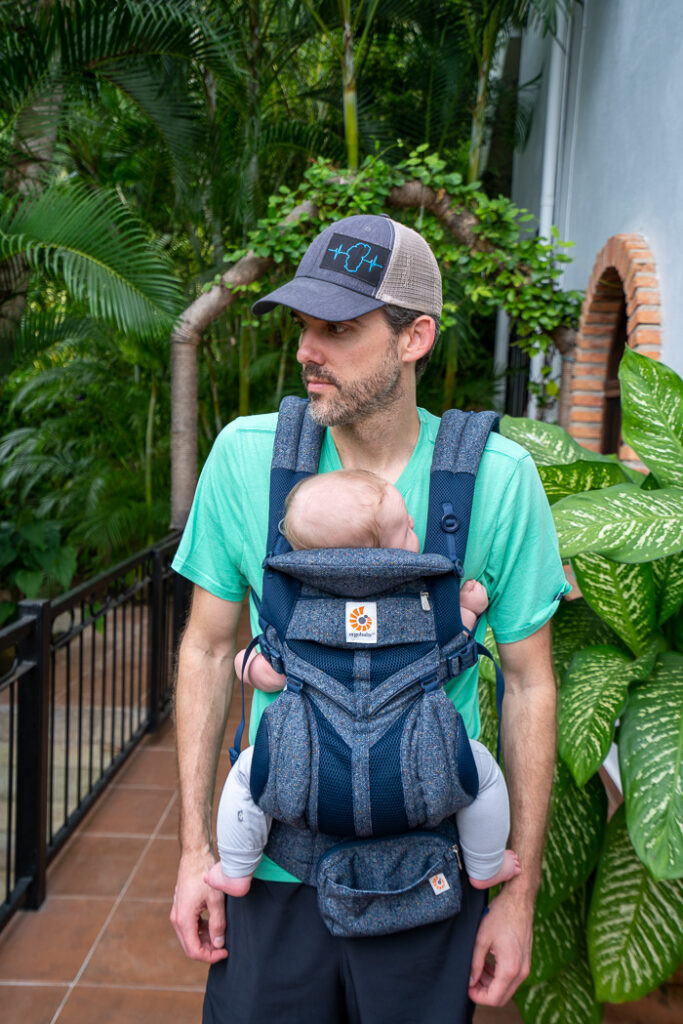 As for my son, it seems like the Ergobaby is comfortable for him in terms of his positioning, especially in front carry mode with him facing outward. It's also easy to adjust by just pulling in straps on the Aerloom, or sliding the hip pads inwards like on the Omni 360, pictured above.
That said, the mesh was irritating to my son's skin. We had to put him in pants when traveling in Mexico and use a burp cloth under his face when he was facing outward due to the chafing. Now that he's bigger and taller, it's less of an issue, but Ergobaby fabrics are certainly less soft than Artipoppe.
Winner: I wish I had a clear winner here, but I prefer the Artipoppe for front-carry facing inward and back carrying, and the Ergobaby for front-carry facing forward. This is my biggest conundrum when considering which one to bring on a trip with me!
Cost of Artipoppe vs. Ergobaby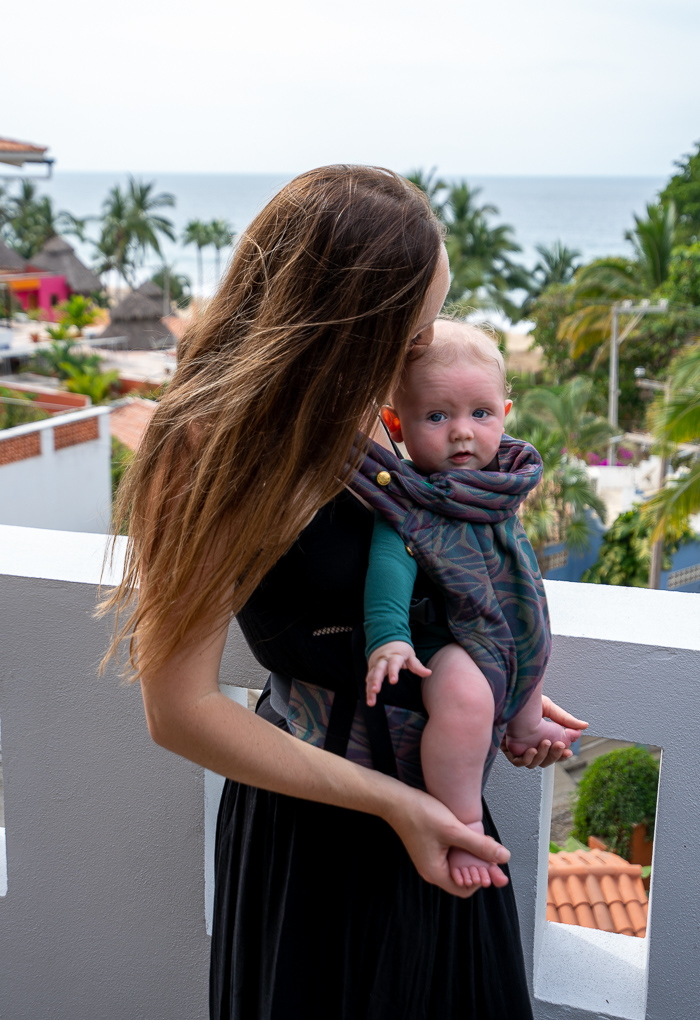 Artipoppe Baby Carrier:
The Artipoppe carrier is a luxurious and stylish option that I think we all know reads as a status symbol, like any high-end or designer item. It's used by celebrities and royalty, and it offers a unique fashion statement that you won't find in many other carriers.
The major downside of the Artipoppe carrier is its cost. The cheapest one is the cotton Unnatural Zebra, which costs $350, all the way up to the $3,750 Argus Bolivar in vicuna and cashmere. However you can search Poshmark to find referral codes that will give you €50 off.
The carriers I purchased ranged from $370 (or $300 when I bought it, which was with a discount code and before they raised their prices a bit) to $550, though I was able to get a significant discount off of the second two from referral credits.
Artipoppe invites anyone who has bought a carrier to refer friends for €50 per referral up to 12 referrals, but I had an advantage with an existing readership and social media following that made getting the 12 referrals pretty easy.
Artipoppe also have great resale value. I was able to sell one of mine on Poshmark for $290 and will sell the other two when I'm done. You can also find used Artipoppe carriers from time to time as well.
I'm a big fan of utilizing the secondhand market whenever possible.
Ergobaby Carrier:
The Ergobaby carrier is a more budget-friendly option compared to Artipoppe, making it accessible to a broader range of parents.
That said, it's still not a super cheap carrier. The Omni 360 costs $179.
They are super easy to find used, though, from thrift shops to online. The cheapest I found was $25 for an older Ergobaby model at our local Once Upon a Child.
Winner: Ergobaby is cheaper and just as functional as Artipoppe. It's just less of a status symbol.
Final Thoughts
Though Ergobaby has some attractive designs, the Ergobaby carrier just doesn't have the same level of artistic flair and diversity as the Artipoppe carrier. As much as I like the Ergobaby's ease of use, Inlike the fabrics of the Artipoppe carriers more for the comfort and softness.
For the price, Ergobaby is a great carrier, and versatile enough to be the only one you'll need. If you're looking for unique styles, though, it's hard to beat Artipoppe.
*Some links in this post are affiliate links that support this site at no extra cost to you. Thanks for keeping us going!