A Cozy Air Mattress for Toddlers: Intex Kids Travel Bed Review
Once your child grows out of the pack-and-play, figuring out where they'll sleep when you travel becomes a whole new obstacle. When our toddler son reached this hurdle, we researched multiple children's air mattresses and settled on the Intex Kids Travel Bed. For well over a year now, it has served as a safe, durable, and comfortable place for our son to sleep on family adventures.
The Intex Brand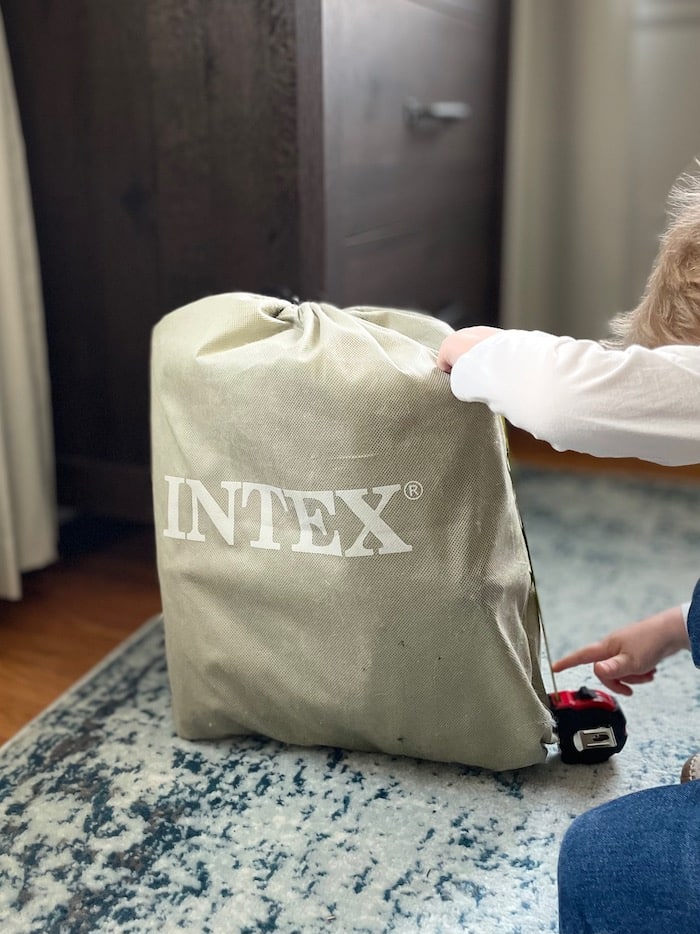 Based in California, Intex has been making family-focused inflatable products for over 50 years. Having started out with an inflatable beach ball, the brand now sells air-filled furniture and toys. It makes almost any inflatable gear you could think of, including a queen bed with a headboard, a sectional sofa, and a hot tub.
Intex makes two different inflatable beds for children: the simple Cozy Kidz Air Mattress (which has no frame) and the Kids Travel Bed (reviewed in this article).
Our Experience with the Intex Kids Travel Bed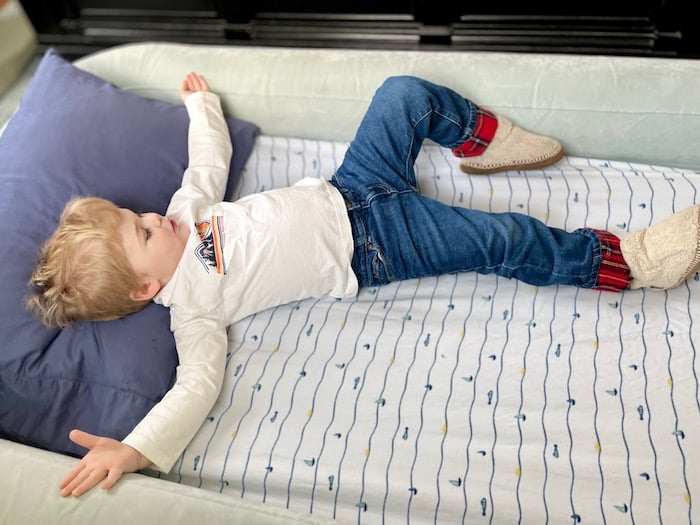 Once our son switched from a crib to a twin bed with protective rails, we needed a solution for nights away from home. After hearing about the Intex travel bed from a family member and doing a little research, we decided to try out this highly rated kids bed.
The Intex Kids Travel Bed has been a great piece of travel gear for our family. It has been so useful for our family that our children's grandparents also bought one for any tykes that stay over at their house.
The bed has an inflatable base (the same size as a crib mattress) with a protective bumper all the way around it. It's rather compact and takes up less floor space than a traditional twin air mattress. Once deflated, it is small enough to pack into one of our larger suitcases for flying.
It's one of our son's favorite things about traveling. He loves to play on it, and he'll say "watch this" and crash into the bed 50 times in a row if we let him. Despite my worries about damage from his jumping and bouncing, the bed has proved to be quite durable. It has held up well, without any leaks, in spite of significant wear and tear.
Besides serving as a fun landing pad, this travel air mattress has been a cozy place for our son to snooze. We had no trouble convincing him to sleep on it when we first bought it, and he snoozes well on it throughout the night.
The Intex travel bed is perfect for sleepovers, trips to visit the grandparents, camping, and taking vacations with the family. As someone who has accidentally dozed off on it for a few drool-worthy naps, I can personally say that it's a comfortable place to rest and recharge.
Intex Kids Travel Bed: Weighing the Pros and Cons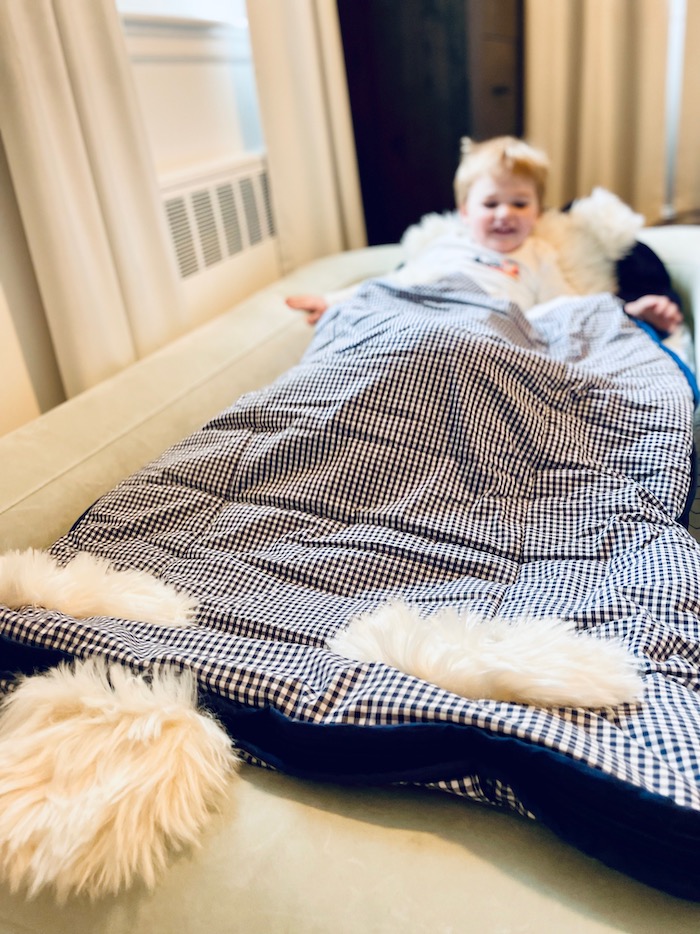 Here are some of the things we love most about our Intex kids bed, and a couple with room for improvement:
Pros
This kids travel bed has a reasonable price tag.
A pump and storage bag are included.
The bed has a bumper all the way around the mattress, instead of just on the sides.
The air mattress is durable and sturdy.
The materials are water resistant and easy to clean.
Intex offers a one-year warranty on this product.
Cons
The Intex travel bed weighs almost 10 pounds, which can add significant bulk to your luggage when flying.
The bed is loud when children shift on it during the night.
The included hand pump is small and slow.
Detailed Features and Specifications
Here's everything you need to know if you're thinking about purchasing this inflatable bed for your family:
Cost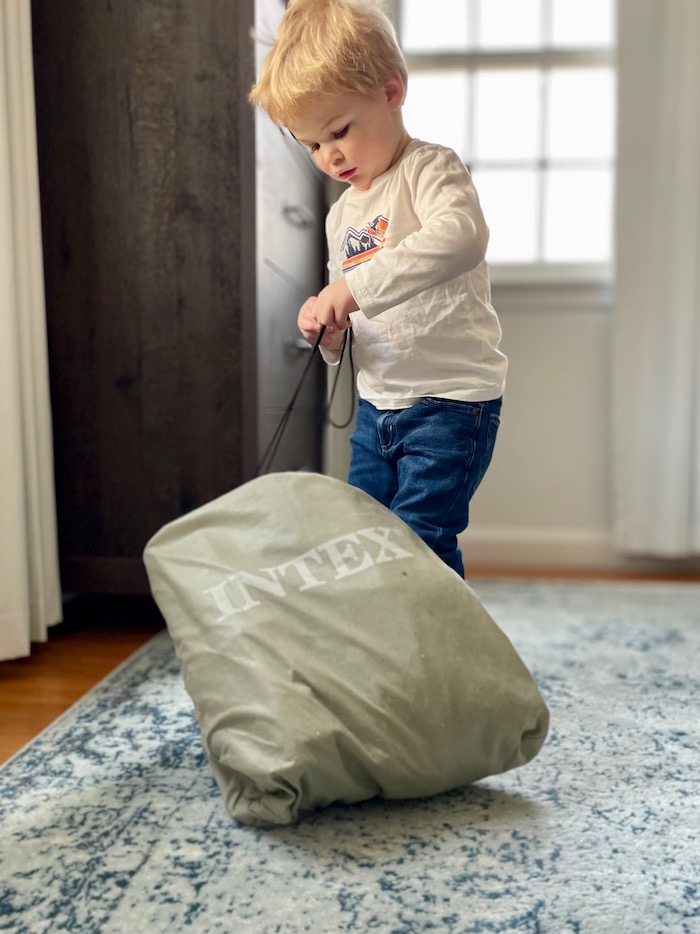 The Intex kids travel bed has a reasonable price tag. It currently costs about $39.95 on Amazon. Compared to other kids travel bed options, it sits at the low end of the price spectrum.
What's in the box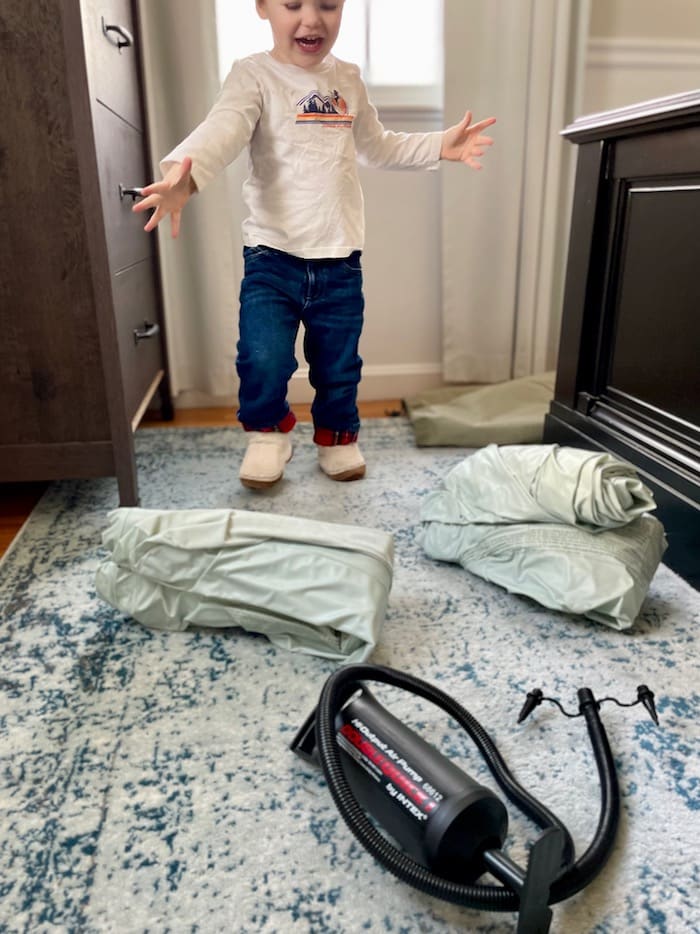 Parents who purchase this air bed receive the inflatable mattress, inflatable bed bumper, hand pump, and storage bag. Once inflated, the bed is easy to assemble, with the mattress nestling securely into the frame.
Age range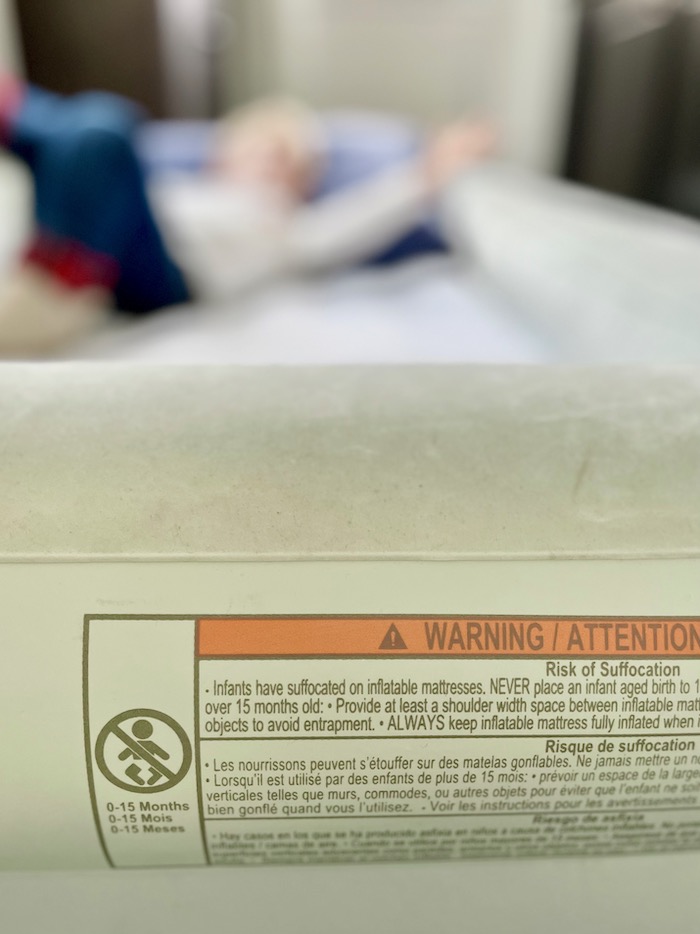 The recommended age range for this product is a bit of a gray area. The Intex website suggests that the air bed is appropriate for children from three to six years of age. The air bed itself indicates warnings for babies under 15 months, as the mattress and bumper are not ventilated for infant sleep. Customer reviews for the Intex indicate that many parents use it for toddlers around the age of two.
Size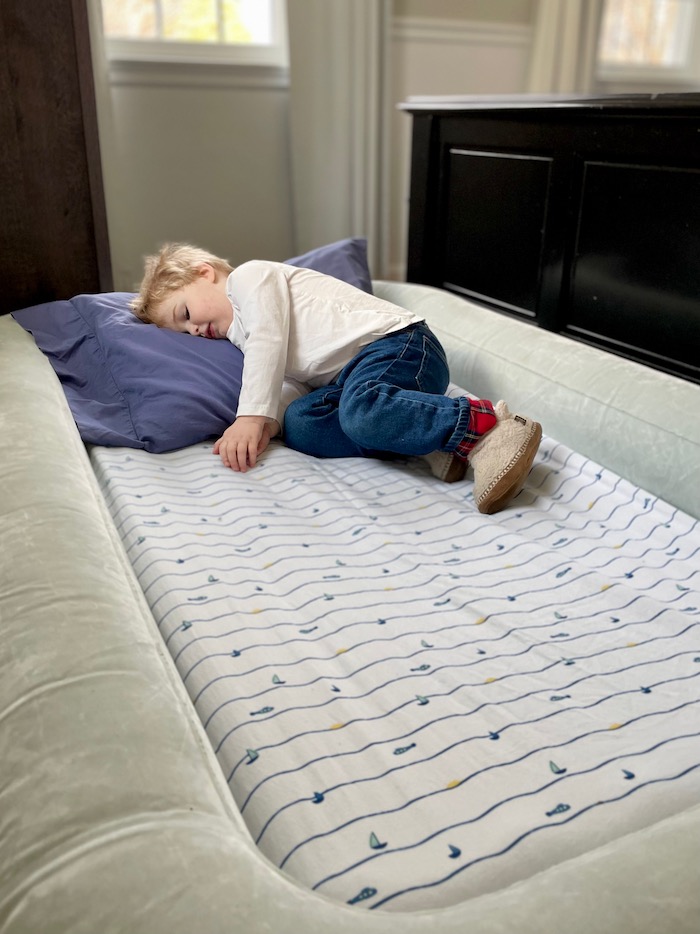 Even though this air mattress is tot-sized, it does have a significant footprint. When fully inflated, its dimensions are 66″ long by 42″ wide by 10″ high. That's slightly smaller than most twin mattresses.
The brand recommends using the air mattress for children up to 48 inches in height or up to 50 pounds in weight. The bed is roomy enough that a couple youngsters could probably squish in together, but specifications clarify that it should only be used for one child at a time.
We've learned from experience that jumping from a pack-and-play to this kids air mattress is a serious bump up in size. Nevertheless, with a little furniture rearrangement, we can usually fit it alongside our bed wherever we're staying.
Portability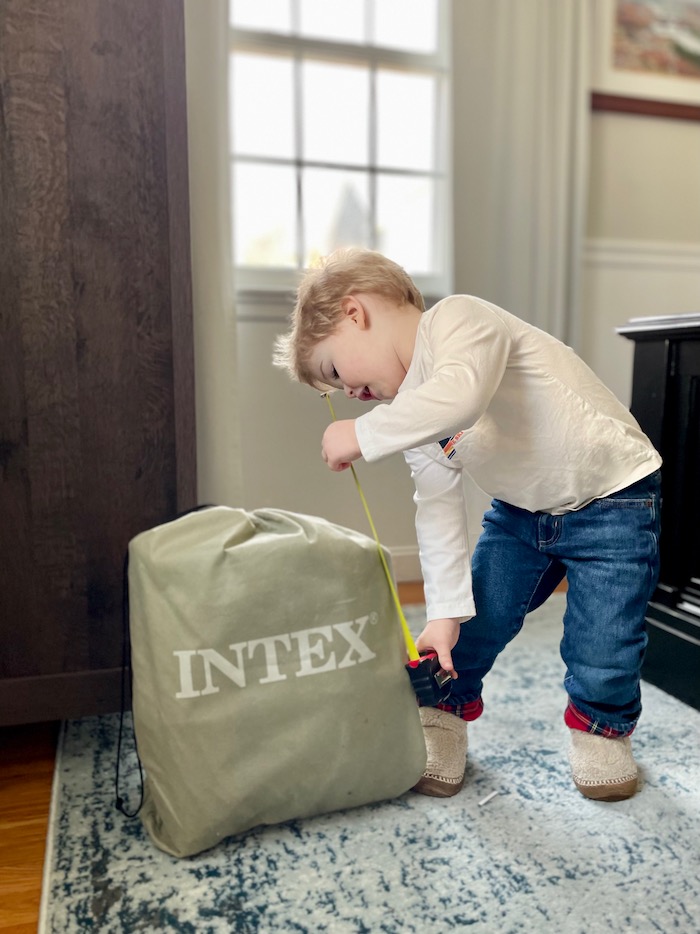 Customers receive an included storage bag when purchasing the Intex kids bed. The bag is thin (and feels like it could easily tear), but it has a drawstring on top that cinches shut to keep everything in place.
When we fully deflate the mattress and bumper, we can fit them inside the bag, along with the pump. We're able to get the whole bag down to 12″ long by 10″ wide by 14″ high.
Altogether, the bed's components weigh 9.27 pounds. That means it isn't difficult to carry from room to room or bring to the car. However, it does add significant weight to our suitcases when flying, so we have to be careful how much we pack along with it.
Pump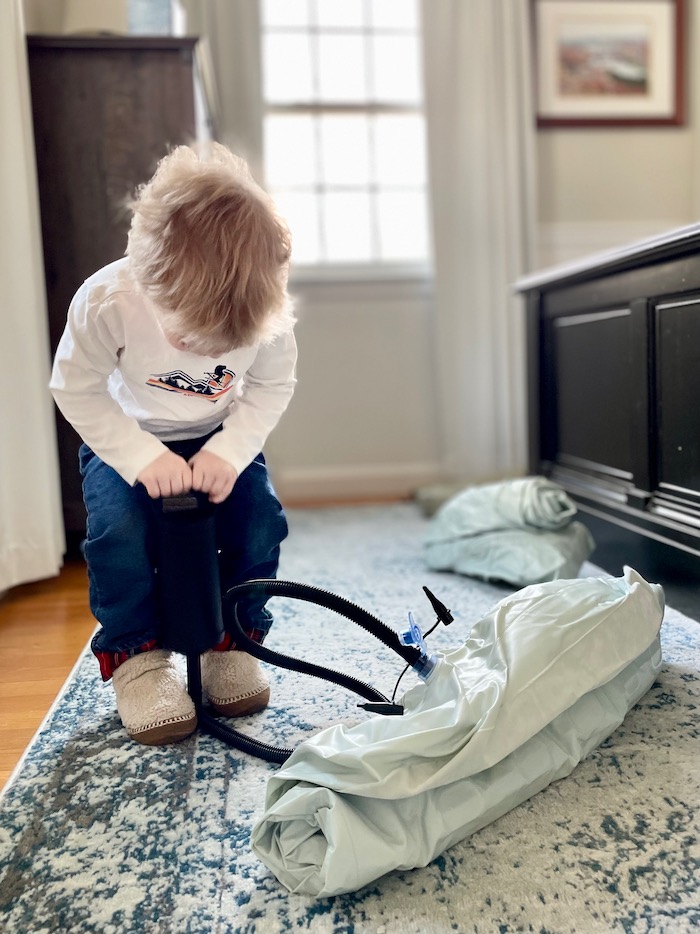 Intex includes a small hand pump for inflating the air mattress and protective bumper. The pump fits securely into the bed's plastic valves without letting air escape.
Although it's easy to use, it takes a long time to inflate the entire contraption with the simple hand pump. When we inflated the bed to take some pictures for this review, my son and I lasted about 10 minutes with the hand pump before we got tired and busted out an electric one.
Fortunately, any electric pump you might have from other air mattresses will likely fit the Intex kids bed.
Comfort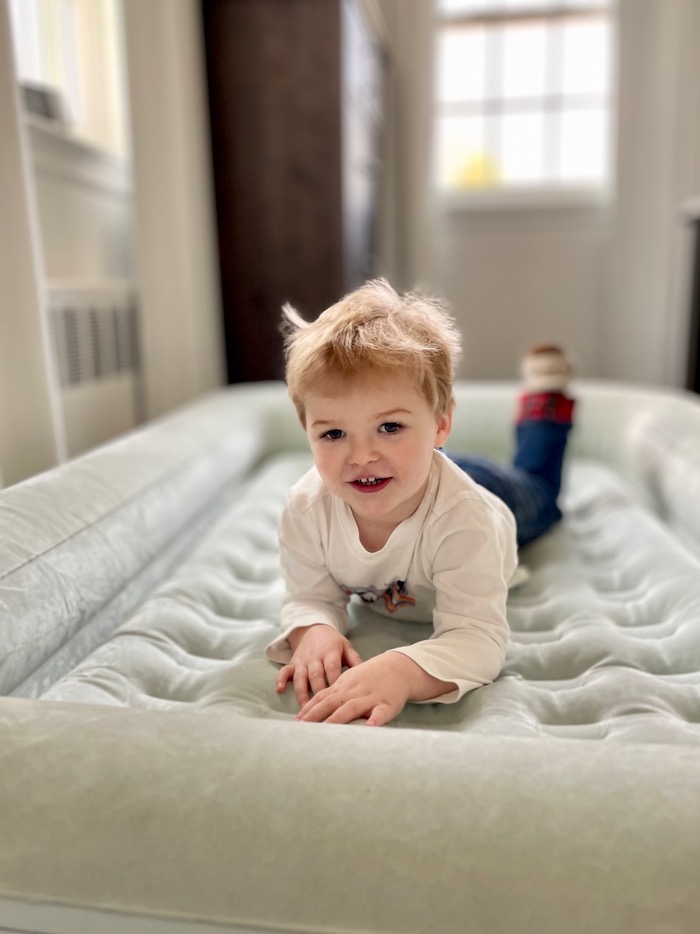 When I was expecting our second child, I went through a phase where I would inevitably fall asleep every time I put our son down for a nap. This also applied when we were traveling, so needless to say, I've taken many beautiful, unplanned naps in the Intex travel bed. Even for someone who was very pregnant at the time, I can say from experience that this thing is comfortable.
Like most air mattresses, the Intex allows you to inflate the bed to your desired level of softness. We usually add a crib size mattress pad for some extra cushion and warmth. Alternatively, the inflatable mattress can be swapped out for any regular crib mattress instead.
Safety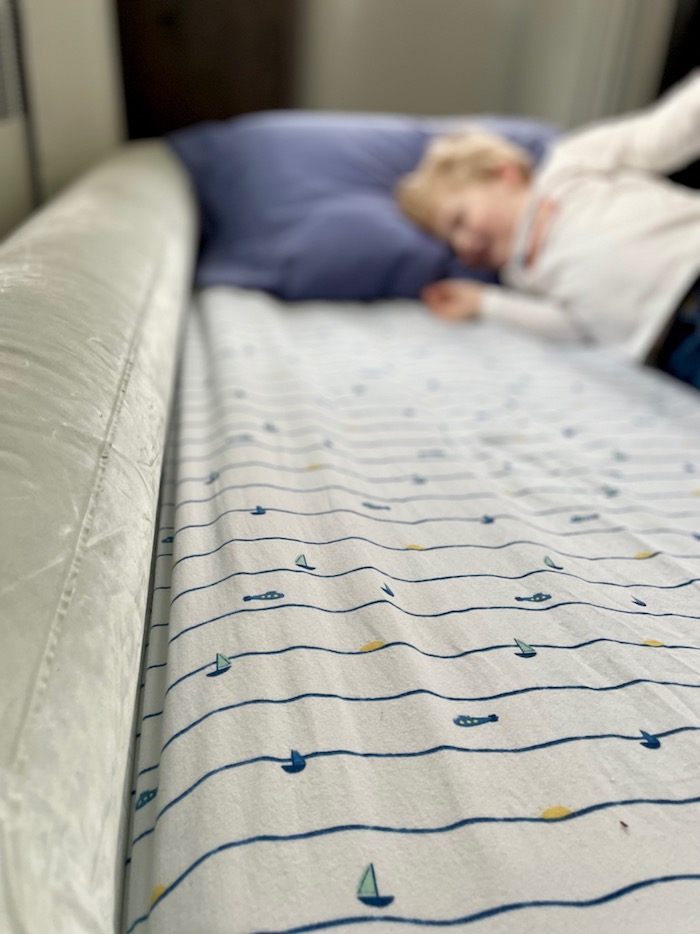 If your little ones are anything like ours, you know that young children can move and rotate all through the night, waking up with their head in any direction. Fortunately, the Intex kids bed has a protective frame that wraps all the way around the mattress to prevent them from rolling off.
This sets the Intex apart from other kids air beds, most of which have bumpers only on the sides. Even with the wrap-around bumper, we always position the air mattress so that it isn't close to furniture with sharp edges to reduce the risk of injury.
The Intex mattress fits snugly in the frame, without visible gaps, but there is a risk that little limbs could get caught between the two. Some parents have chosen to address this by placing a fitted sheet over the entire setup, including both the mattress and frame.
Materials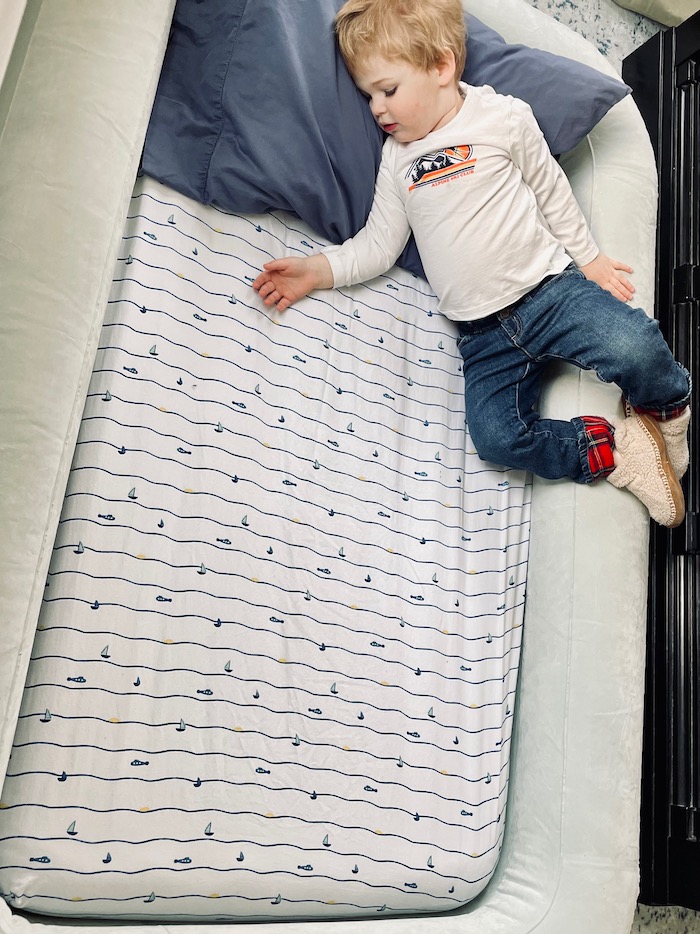 The mattress and frame of this travel bed are made of water-resistant vinyl. The bed is easy to spot-clean, and most spills wipe off without trouble. Although the material has a suede-like finish, it doesn't have the softest feel if used without a sheet.
The design of this bed, along with the vinyl, make it very loud when shifting around. When we travel, we often stay with our toddler son a little longer at bedtime to make sure he's sleeping soundly. If we lay down with him for a bit and need to get up after he's asleep, it can be difficult to leave without the noise waking him up. Adding a fitted sheet and a mattress pad doesn't seem to alleviate the noise.
Intex currently sells its kids travel bed in a light aqua color decorated with stars. A solid gray color is available from other retailers.
Compatible bedding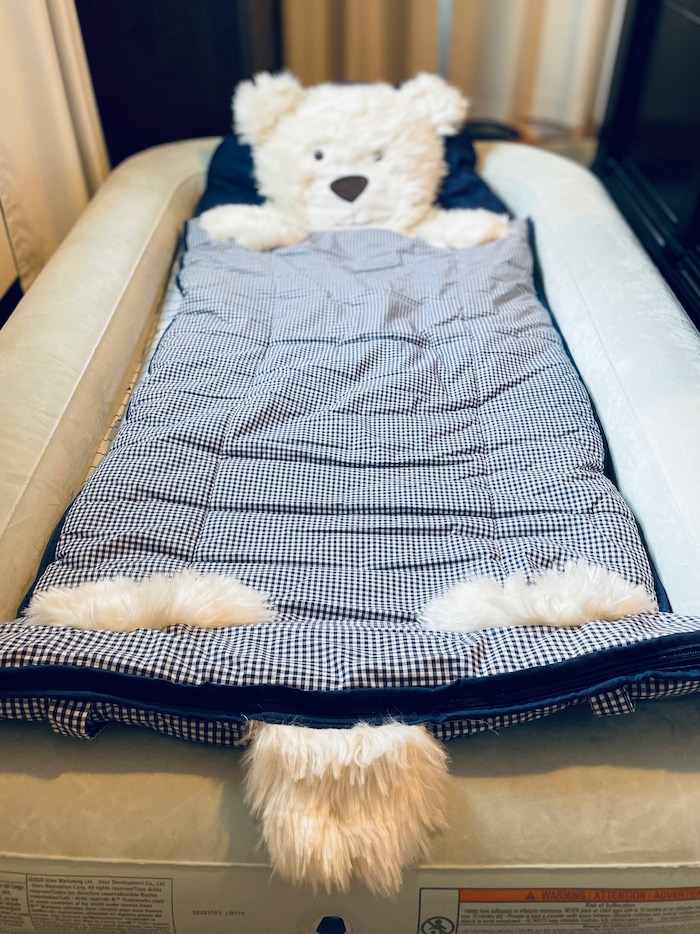 A fitted crib sheet and a standard pillow fit in the Intex travel bed. We usually add a toddler-size blanket or quilt to keep things cozy. Although it's a little long for the mattress, our son also loves to use his adorable bear sleeping bag.
The Upshot: Intex Kids Travel Bed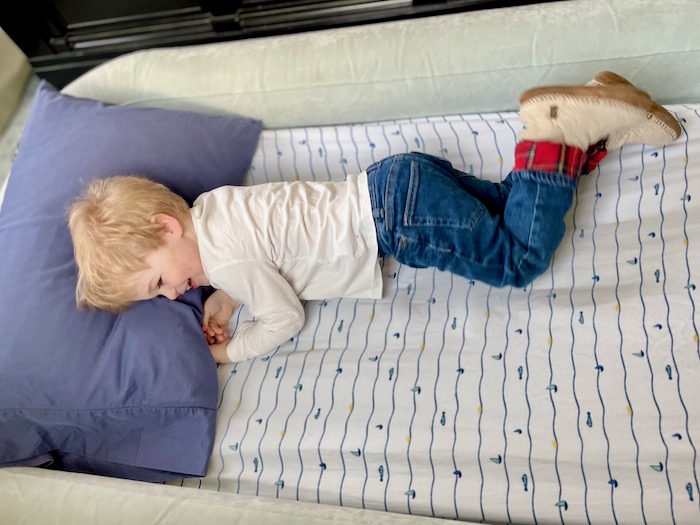 Our son couldn't be happier that we bought this Intex kids travel bed. His excitement is unparalleled each time we inflate it, and he snoozes well on it all night long. I'm sure he'll be asking me if he can sleep on it tonight after having brought it out to take pictures for this review.
The Intex Kids Travel Bed is a budget-friendly purchase that I'd recommend without hesitation to any toddler parent. It's portable enough to travel with, easy to set up, and durable enough to withstand significant wear and tear. It takes the question marks away from finding a good spot for younger children to sleep on family trips, and it gives them the good night's rest they need to be ready for adventures ahead!
Pin me for later: