Thule Urban Glide 2 Jogging Stroller Review
A consistent challenge for new parents everywhere is staying active while their babies are stealing away their hearts, their sleep, and their free time. Jogging strollers are a clutch solution that let active moms and dads keep up their exercise and bond with their children on the trail.
A consistent winner in the field of jogging and all-terrain strollers for years, the Thule Urban Glide 2 is a high quality, ultra-smooth jogging stroller that has helped me push my pace—while pushing my little one—on those refreshing outdoor runs.
Thule Urban Glide 2: Weighing the Pros and Cons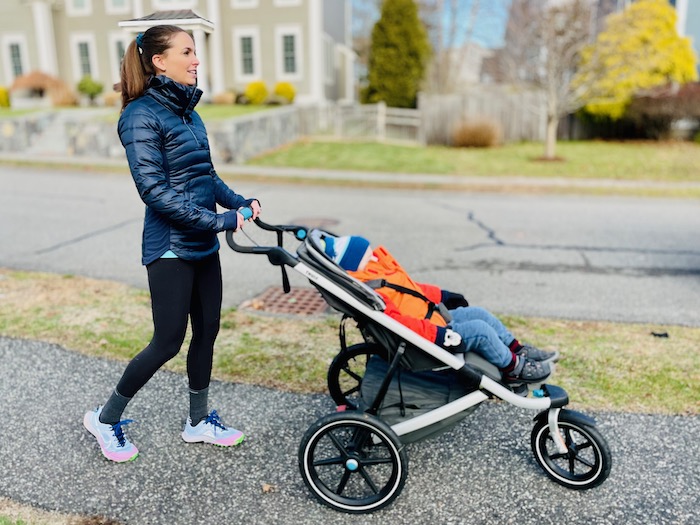 Pros
Large rear wheels and premium suspension keep the stroller steady over bumpy paths and at high speeds.
A twist hand brake allows parents to keep the stroller in control on hilly terrain.
Accessories like a snack tray let you adapt the stroller to your family's needs.
Optional adapters for an infant car seat or bassinet (sold separately) make the Urban Glide 2 compatible from birth.
Cons
Compared to the full range of jogging strollers, the Urban Glide 2 is on the pricey side.
Consistent with others in its class, this jogging stroller is large (over 27 inches wide and 41 inches long) and heavy (25 pounds).
Even in its most upright position, the child seat is still rather reclined, making sitting up or snacking difficult.
The Thule Brand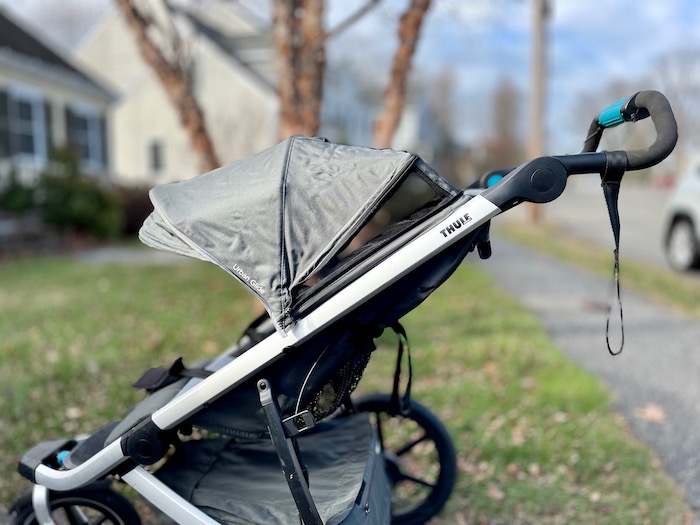 Thule got its start in a forest in Sweden in 1942. Branded as a company for families who are active and passionate about the outdoors, Thule's focus is to create functional solutions that allow families to carry gear with them on outdoor adventures. They help people transport everything from skis, snowboards, and bikes to kayaks, surfboards, and tents.
In 2011, Thule started producing bike trailers to transport little ones, quickly followed by jogging strollers and child bike seats in 2014. The brand now makes bike trailers (some of which convert to joggers), three different jogging strollers, and multiple city strollers.
The Skinny on the Thule Urban Glide 2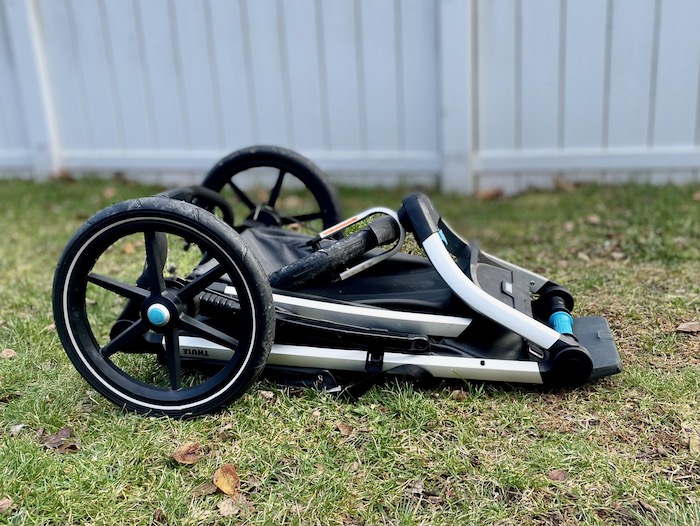 The Thule Urban Glide 2 is a quality jogging stroller with premium features to keep your little one comfortable on strolls and runs. Jogging with your child is a great bonding activity for both of you, but it's important to make sure they're comfortable on the ride, especially if navigating varied terrain. The Thule stroller's shock absorption is first class, making the ride smooth even on uneven trails.
The stroller's supportive, reclining seat lets your little one sit up to see the sights or lay back to nap while you get your workout in. Its large rear tires and three-point wheel system give it unparalleled maneuverability. The front wheel also has a swivel-locking mechanism to keep the stroller steady, whether you're taking a walk or tackling intervals.
To see the Urban Glide 2 in action, check out Thule's overview video of the stroller's features:
Detailed Features and Specifications
Cost
The Thule Urban Glide 2 costs $650. Compared to the entire field of jogging strollers, that's at the more expensive end of the spectrum, but it's not the highest. Compared to chariots designed to tackle multiple sports with children in tow, the Urban Glide 2 costs considerably less.
Portability
Jogging strollers tend to be large and heavy, and the Thule is no exception, but it is more portable than others on the market. The stroller weighs 25 pounds and requires doorways to be 27.2 inches wide in order to pass through.
When unfolded, its dimensions are 40 inches by 41.1 inches by 27.2 inches. Those reduce to 34.2 inches by 27.2 inches by 13.3 inches when collapsed. The stroller feels a bit large to navigate shopping aisles or smaller spaces, but it's perfect for the outdoors.
We've flown with our Urban Glide 2 in the past, and to be honest, it felt monstrous walking through the airport (although my son was very comfortable). The ticketing agents were nice enough to let me walk through the terminal with it to gate check, but they informed me that I wouldn't be able to do so in the future because of its size. If you're hoping to fly with this stroller because you need a jogger at your destination, plan on saying goodbye to it at check-in and picking it up at baggage claim when you arrive.
Size and Weight Range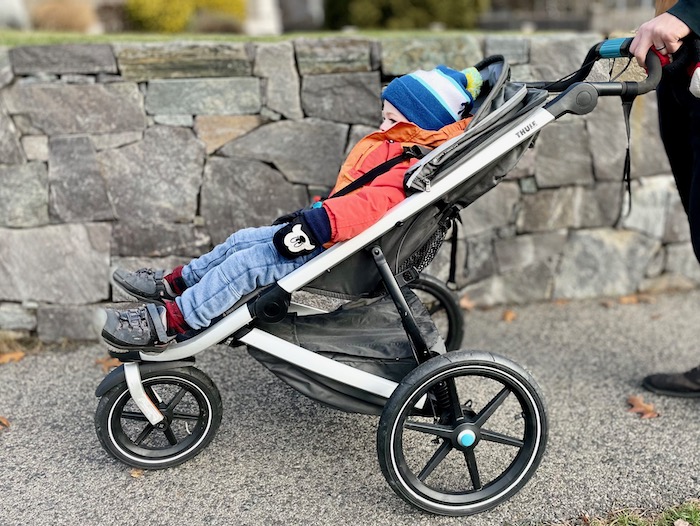 This stroller supports children up to 49 pounds or up to 4 years old, making it an enduring purchase for families. Parents can start putting their little ones in the Urban Glide 2 at age 6 months, or as early as day one with the purchase of adapters for an infant car seat or bassinet.
Children can fit in the stroller's seat until their sitting height surpasses 21 inches or their standing height surpasses 44 inches. My son is almost 3 and is tall for his age, but he still fits in the Urban Glide 2 with no trouble. Convincing him to sit for an entire jog instead of wanting to push the stroller himself is another issue!
Maneuverability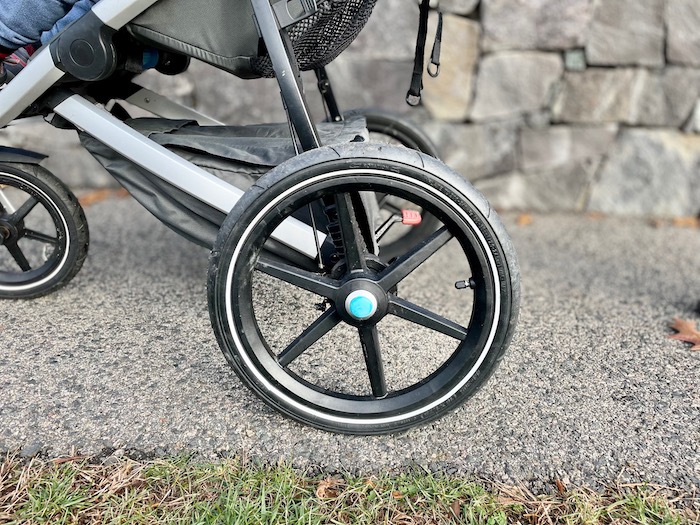 The stroller has a front wheel that swivels freely for walking and locks in a straight position for running. This keeps it from shaking from side to side at higher paces.
Although its huge 16 inch rear wheels make the stroller larger for transporting, they set the Urban Glide 2 apart and make a significant difference for navigating all terrain types. The Urban Glide 2's shock absorption system also delivers a smooth ride on bumpy terrain and keeps parent and child comfortable at walking and running paces.
We've taken this stroller on rocky trails, through the snow, and to the beach, and I've felt it creates a comfy ride for my little ones no matter the terrain.
Accessories
Thule's multitude of accessories for this jogging stroller allow parents to adapt it to their daily needs and tackle everything from errands in the city to walks with the dog. A separately available infant bassinet, totaling about $280 (not including adapters), makes the stroller compatible with infants from birth. Although not safe for jogging, the bassinet gives babies a flat place to rest on slow strolls from months 0 to 6.
Other accessories like a cozy footmuff for the cold, a clear cover for rain, and a mesh cover for sun, bugs, and wind allow you to use the stroller in all types of weather. A separately available snack tray is also a huge win for keeping a hungry toddler happy.
Storage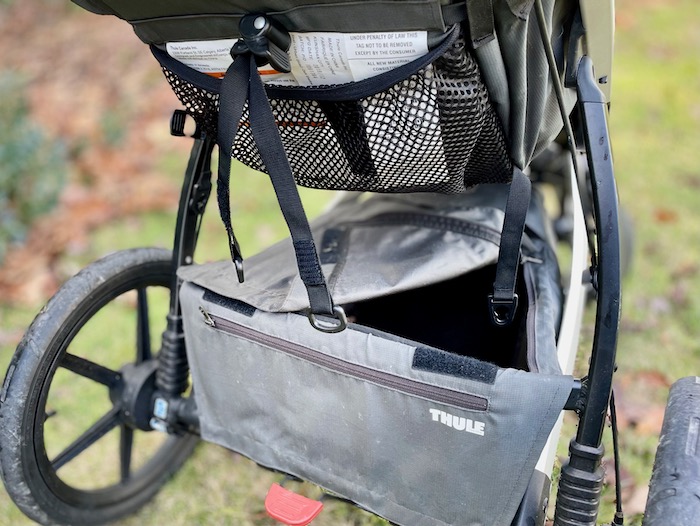 This Thule stroller has a roomy cargo basket under the seat with a zip cover to keep your goods protected. It also contains two mesh pockets that are accessible to your child on either side of their seat—ideal for keeping snacks, drinks, and toys within reach. An additional mesh pocket behind the seat back is perfect for mom or dad's phone, wallet, and water bottle.
The stroller supports a total weight of 75 pounds including the weight of your child and any gear you bring along the way. With the Urban Glide 2's ample storage space, we've been able to load up drinks, snacks, toys, and a packed diaper bag. I've even taken our full size toddler potty with me on jogs when I forgot to pack our travel one—there's nothing like potty training on the go!
Aesthetics
The Urban Glide 2 is a beautiful jogging stroller with a sleek, aerodynamic design. It comes in five attractive colorways featuring modern, neutral shades: black, gray melange, deep green, navy blue, and dark gray. The stroller also comes in either a slick black or shiny aluminum frame finish.
Folding Mechanism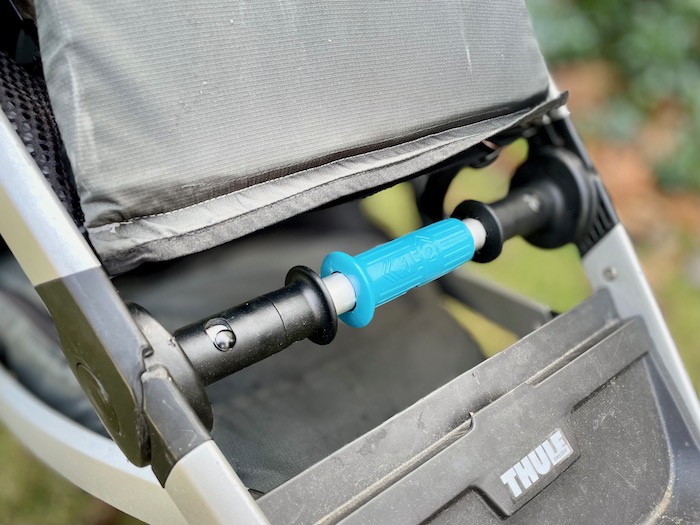 The Thule Urban Glide 2 has a simple folding system that allows parents to collapse it with one hand. I can speak from experience that a one-handed folding mechanism is clutch for stowing the stroller away while you've got lots of gear (or a baby) in the other hand.
To fold the stroller, all you need to do is lift a flap under the footrest, twist and slide a well-marked trigger, and pull the stroller upward to collapse and carry it in one step. Although it folds rather compactly for its size, the stroller does not stand when folded.
Car Seat Compatibility
The Thule Urban Glide 2 is compatible with car seats by BOB, Britax, Chicco, Combi, Evenflo, Graco, Maxi-Cosi, Nuna, Peg Perego, Safety 1st, Safe-n-Sound, and UPPAbaby. See the full list of appropriate car seats here.
Adapters are needed for car seat attachment, and most car seats fit with the stroller's universal adapter. Although the stroller's car seat compatibility creates a convenient travel system for daily outings with an infant, parents should not jog with their baby in the car seat. We haven't used our car seat with the Urban Glide 2, but this feature does make it feasible to use this as your primary stroller.
Safety Features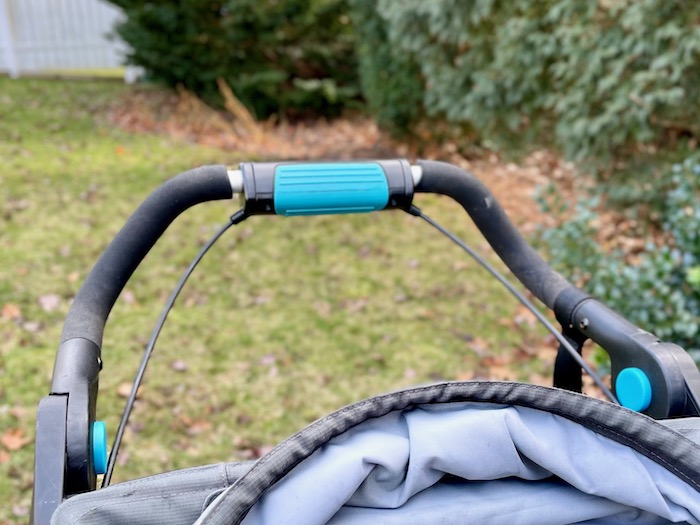 The Urban Glide 2 has a 5-point safety harness that's padded to improve comfort and prevent pinch points. The stroller also has a wrist strap for parents to wear while running so that the stroller can't escape on steep downhills and busy streets.
One of the stroller's most valuable features is its built-in hand brake located right on the stroller's push bar. If running downhill, it's easy for parents to engage the brake to their desired degree and prevent the stroller from gaining too much momentum. I use this feature every time I run with my son to maintain control and keep the stroller's speed in check
The Urban Glide 2's sun canopy and wheels also have reflective elements. These give you and your precious workout buddy great visibility if jogging as the sun sets or before it rises (go, you!).
Adjustable Features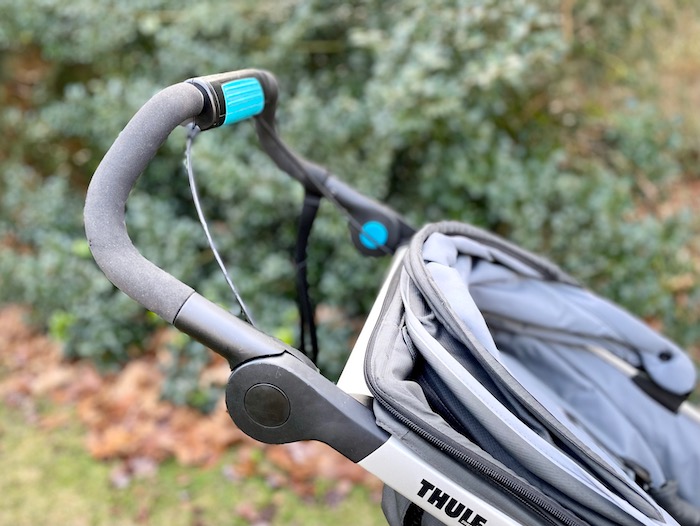 The stroller's padded, supportive seat reclines way back to create a cozy spot for snoozing on the go, but it doesn't sit up quite as straight as a regular city stroller. The seat back reclines with one hand, although both hands are needed to return it to its upright position.
The stroller's ergonomic handlebar rotates upward and downward at multiple intervals, so it's comfortable for parents of varying heights. The no-rethread child straps also adjust easily to adapt to growing passengers.
Sun Protection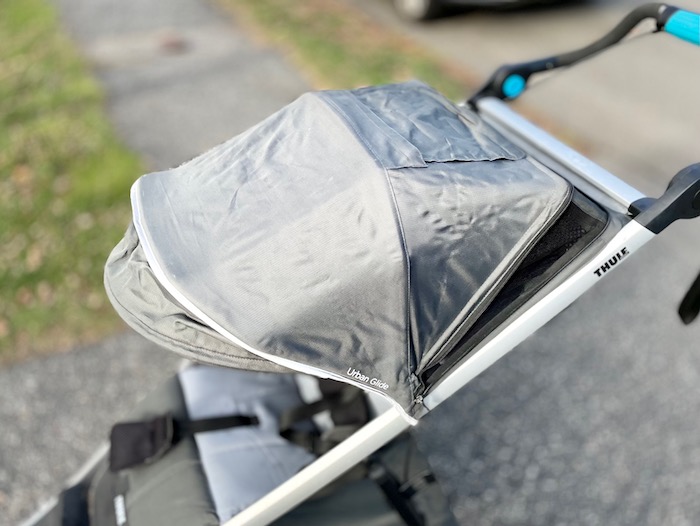 The Thule Urban Glide 2 features a large, zip-out extendable sun canopy that covers your little one almost completely. This element is great for keeping the sun off your child's skin and out of their eyes for naps. Mesh ventilation windows in the canopy keep air flowing around them when fully extended.
The stroller's canopy also has a clear peekaboo window with a magnetic closing mechanism to let you check on them while you jog. For additional sun protection, parents can purchase a separately available mesh cover.
Comparing the Urban Glide 2 to Others in the Field
The Baby Jogger Summit x3
The Baby Jogger Summit x3 Jogging Stroller is a consistent competitor to the Thule Urban Glide 2. The Summit x3 is slightly more affordable for parents, totaling about $500. Although narrower at 25.8 inches wide, this stroller is heavier than the Thule, weighing over 28 pounds.
The Summit x3 is compatible with accessories not available for the Urban Glide 2, including a parent console, a glider board to accommodate a second child, and a carry bag. It holds children up to an impressive 75 pounds and has similar features like a swivel-locking wheel and deceleration brake for safety.
Thule Urban Glide 2 Double Jogging Stroller
If you have twins or two children who you'd like to run with together, it's worth checking out the Thule Urban Glide 2 Double Jogging Stroller. This double stroller has the same large 16-inch rear wheels, one-handed fold, and twist hand brake as its single stroller counterpart.
As expected, the double stroller is heavier (33 pounds), wider (31.5 inches), and more expensive (about $850) than the Thule Urban Glide 2 single stroller. It supports two children weighing up to 49 pounds each and has a total weight capacity of 100 pounds including cargo and passengers. This double stroller has great reviews and will likely be my family's next stroller purchase to carry both my son and his younger sister on outdoor runs.
Thule Chariot Sport Multisport Bike Trailer
If you're looking for a stroller that can do it all, the Thule Chariot Sport Multisport Bike Trailer is your answer. Families use this stroller and trailer for biking, running, strolling, and skiing.
The Thule Multisport Chariot is in a different cost scale, costing about $1,500 for the base trailer. Parents need to spend an additional $150 to use it as a jogging stroller and an additional $350 to use it as a skiing trailer.
The chariot has two seats that recline independently, keeping your children's heads from slumping forward when they (inevitably) fall asleep during a run or bike ride. It has super padded and supportive seats, removable windows, and adjustable suspension. This trailer is meant for parents to use in all four seasons, and it has newborn accessories available to accommodate new additions to the family.
The Upshot: Thule Urban Glide 2 Jogging Stroller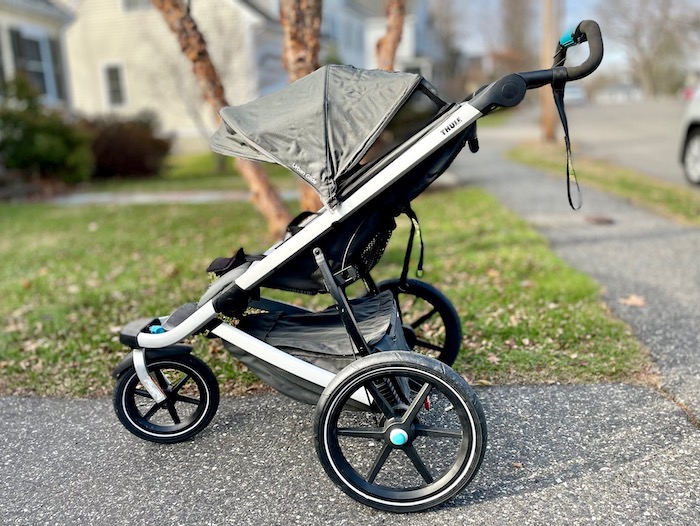 The Thule Urban Glide 2 is an excellent option for staying active while bringing your little one with you. Its safety features are unparalleled, with a secure 5-point harness, safety wrist strap, twist hand brake, and eye-catching reflective elements. Whether you're navigating dirt trails or city cobblestones, your child is sure to have a comfortable ride on all sorts of terrain in this versatile stroller. If you have an infant and are excited to get out on the road with them, remember that experts generally recommend waiting until baby is 6 to 8 months old before running. Once you receive clearance from your pediatrician, know that you are giving your child valuable experiences by introducing them to the beautiful outdoors and showing them how great it is to be active.
Pin me for later: