I Tried Who Gives a Crap Toilet Paper For a Year – My Honest Thoughts
Once upon a time I came to the end of a roll of toilet paper while at an Airbnb and printed on the cardboard insert was 'Who Gives a Crap?'
I suppose at that moment that I did, because it piqued my curiosity and I read more about this ethical toilet paper.
I didn't bite at that moment, though. I still loved my Charmin Ultra, after all. But a year or so later I saw it on TikTok when a green blogger mentioned that although it seems more expensive, there are more sheets per roll and it ends up cheaper. Cheaper and greener? I subscribed and we've been using it for a year. Here's what I think:
What is Ethical Toilet Paper?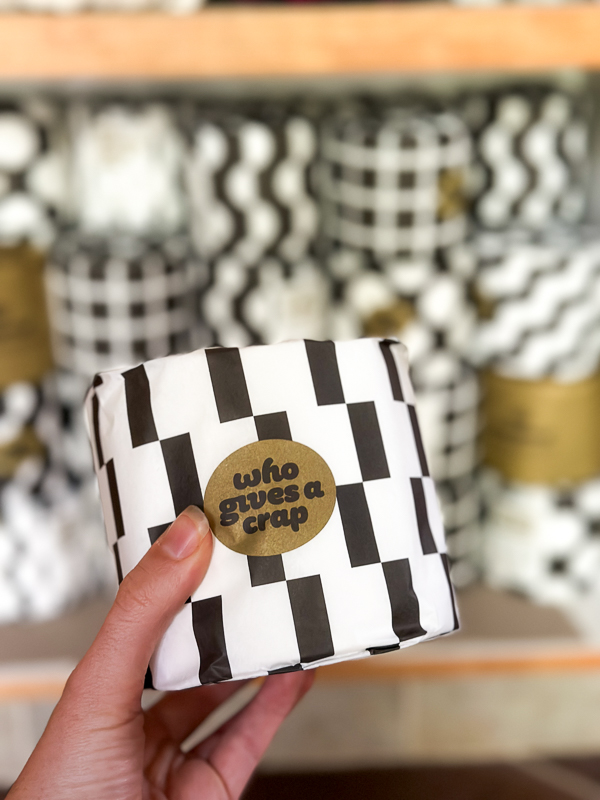 What if you could do something good by doing the things you normally do? Like going to the bathroom.
Everyone goes. As Trevor Noah noted in his book, Born a Crime, even "the Queen of England shits."
I firmly believe in voting with my dollars whenever possible. As a new mom, it's even more evident to me how important it is to do the right thing by the Earth since my son will inherit it, and all of its problems.
Who Gives a Crap? was founded in 2012 by three friends who crowdfunded their company on Indiegogo. One of the founders sat on a toilet for 50 hours until the money was raised. Their main goal is to provide toilets to the 2 billion people worldwide who don't have access to a toilet. They specifically mention the 800 children per minute who die of diarrhea-related illness since they lack access to proper sanitation. They donate 50% of their profits to help build toilets and improve sanitation in the developing world.
I love their call to action. It's much more than any usual conglomerate slinging toilet paper can say. But is it really better for the environment or your bum?
Is Who Gives a Crap Actually Better for the Environment?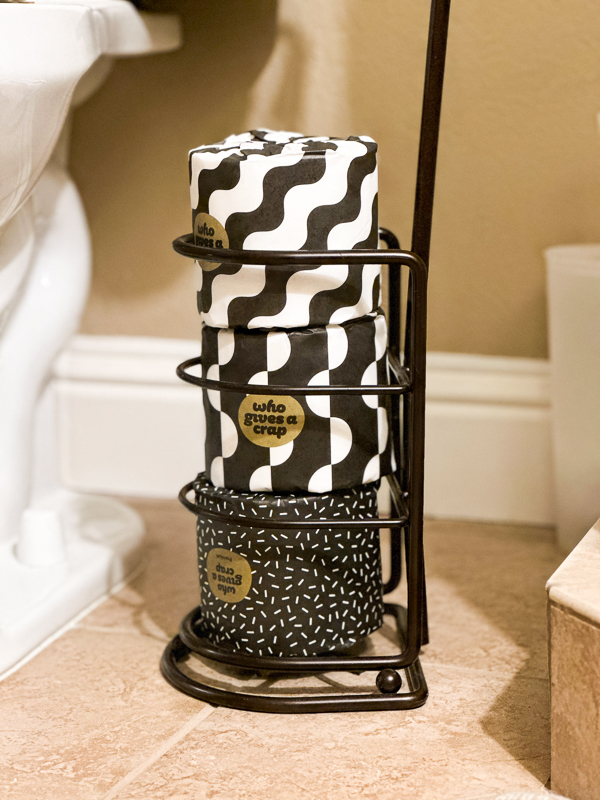 Who Gives a Crap has two kinds of toilet paper – recycled paper and bamboo. The only place plastic is present in the product is the shipping tape used to send it. Their products are free from PFAS and and chlorine that is typically used in bleached white toilet paper.
Their recycled paper is the most environmentally friendly, and the bamboo is the softest. I opt for the bamboo since I just prefer a softer experience. It's biodegradable and there's no cutting down trees to make it.
The product does ship to you, so there are emissions there, but so does the toilet paper that one would buy at a store. It has to get there somehow. Previously Who Gives a Crap did all of their manufacturing in China, as it was closer to materials, but have began moving some of their production to the US and UK.
The rolls are also individually wrapped in a paper that is thinner than they'd use to wrap 6 together, and more eco friendly than plastic used to wrap most TP. They also look nice and come in several patterns from a tasteful black and white that can match anything to colorful options.
Is Who Gives a Crap Nice to Use?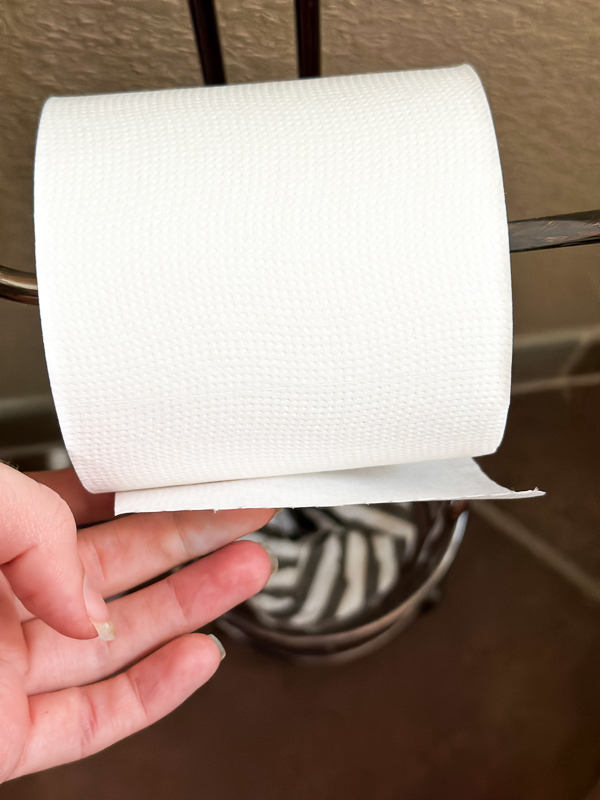 None of this matters if the toilet paper chafes, am I right?
I figured I would give it a try just to see if it really could replace the softness of Charmin Ultra, or if it would feel more like single ply sand paper.
I wouldn't still be using it a year later if it wasn't nice to use, it's a simple as that. I care about the planet, but I care about my bum, too. I use the bamboo at home, but in that Airbnb, I used the recycled and it was good, too.
Is Who Gives a Crap Actually Cheaper?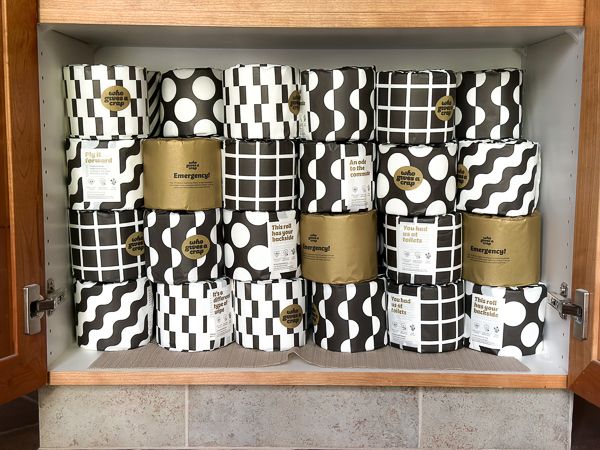 At first it may seem like the more expensive toilet paper, but the rolls are quite long, with the recycled TP rolls at 385 sheets and the bamboo at 370. I can vouch, they last way, way longer than the toilet paper we used to buy. Charmin Ultra, by comparison, has 286 sheets per roll.
One 18 count of Charmin Ultra mega rolls costs $42 for a total of 5,148 sheets. The bamboo toilet paper from Who Gives a Crap costs $68 for 48 rolls with 17,760 sheets. Their recycled toilet paper costs $62 for 48 rolls with 18,480 sheets. I'd have to spend more than $126 dollars on Charmin Ultra to still not have as many sheets as I get from Who Gives a Crap.
Each year for our household with two adults and frequent visitors (my little one is still in Coteries), I buy TWO BOXES of Who Gives a Crap. That's it. They always email me first before sending out a new shipment, and I can delay it for as many weeks as I need to.
I have also invested in a bidet and it's the best thing ever. I'm never going back.
And I will never go back to Charmin Ultra, either.
Should You Buy Who Gives a Crap?
If you want to save money, help the planet, support a company that donates half of their profits, and is committed to helping children have better access to sanitation, I'd say it's a no-brainer.
I also like that they tell me before they ship, so that I don't have a box and credit card charge just show up. Nobody likes that.
The rolls also look really nice in our bathrooms, especially when guests come.
They're also quirky and fun. I can't imagine I'd write a toilet paper article about any other company, but I want more people to know about them. I think they're doing a good thing, and making a good product, and companies like this deserve to be celebrated.
*Some links in this post are affiliate links that support us at no extra cost to you. Everybody wins!