Babyzen Yoyo vs. Joolz Aer – Which is the Better Travel Stroller?
In my quest to find the best travel stroller, I've ended up testing quite a few to see which one could be our go-to. Most recently, that's been the Babyzen Yoyo2 and the Joolz Aer, both of which we've taken on international trips.
After testing quite a few, I can confidently say these are two of the best on the market. Is one better than the other? Honestly they both have their pros and cons. Here's everything to know before you buy one over the other:
First, the Specs of the Babyzen Yoyo vs. the Joolz Aer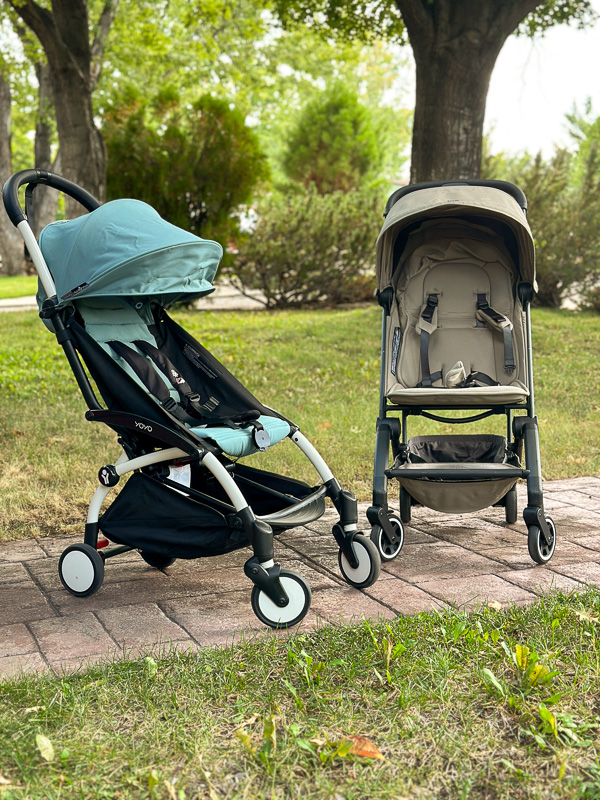 The two strollers are pretty similar in terms of size and weight. The great thing about both strollers is that they are certified to fit in an overhead bin and can be compatible with bassinets and car seats if needed. The Joolz Aer is a relative newcomer on the scene compared to the Babyzen Yoyo2, which seems to be universally known by international cabin crews, which is helpful.
These are the specs of each: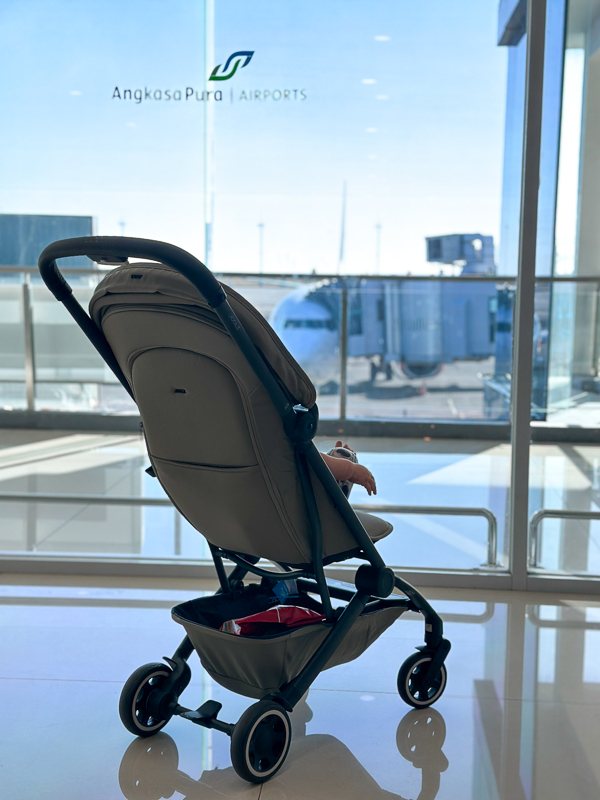 Joolz Aer Specs:
Folded dimensions: 21 x 17.7 x 8.5 in
Unfolded dimensions: 32.7 x 41.5 in
Stroller weight: 13.4 lbs
Max baby weight: 50 lbs
Storage capacity: 11 lbs
Folding ease: 10/10
Comes with rain cover: Yes
Color variety: Limited
Warranty: 10 year transferable
Made from recycled bottles
Cost: $499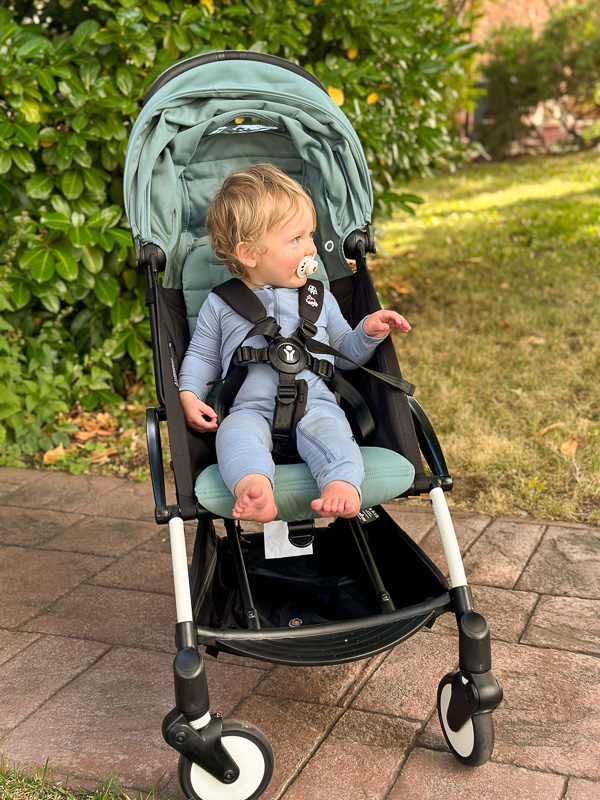 Babyzen Yoyo2 Specs:
Folded dimensions: 20.5 x 17.5 x 7.25 in
Unfolded dimensions: 34 x 41 in
Stroller weight: 13.8 lbs
Max baby weight: 45 lbs
Storage capacity: 11 lbs
Folding ease: 6/10
Comes with rain cover: No
Color variety: Decent
Warranty: 2 years
Polyester fabric
Cost: $499
Both have a 5-point suspension harness and similar-sized wheels and maneuverability. As with any travel stroller, don't expect it to do great on anything but the smoothest surfaces. It's no match for an all-terrain jogging stroller (we love our Guava Roam, but it's definitely not cabin-approved).
Babyzen Yoyo vs. the Joolz Aer Canopy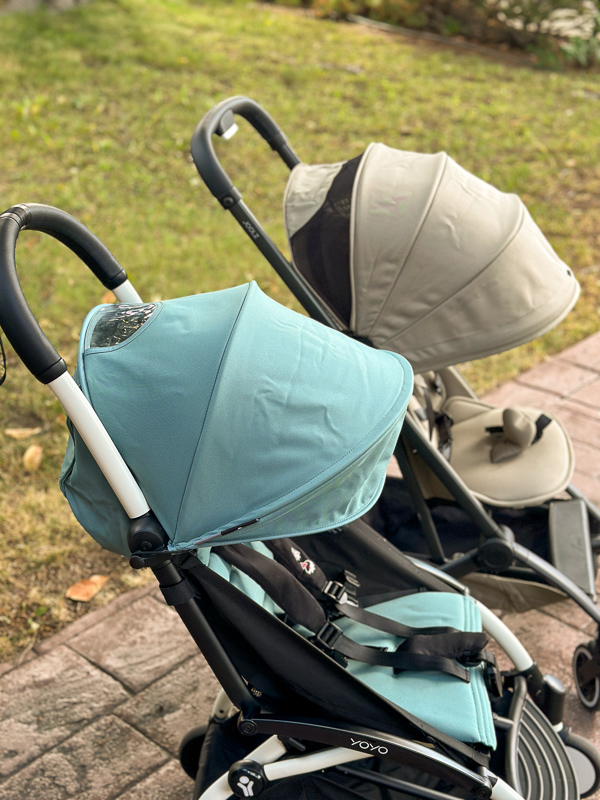 It's hard to beat the Joolz Aer canopy, which is nice and wide, providing amazing coverage. Lack of canopy coverage is the biggest qualm I have with the Ergobaby Metro+, which would otherwise be a strong contender for my favorite travel stroller.
Not only is it wide, but you can unzip yet another mesh panel to make it even longer. This is especially helpful when the seat is reclined. The canopy is one of the best features of the Joolz Aer, IMHO.
The Babyzen Yoyo2 still has a canopy that provides nice coverage. It's also waterproof and provides SPF 50+ sun protection. It doesn't have a mesh window, but it does have a clear plastic peek a boo window. This is feature I like in any stroller. The downside is the way that it curves in at the bottom. My son keeps leaning forward to try to see when the canopy is fully out, causing us to pull it back. But if it's sunny, we need it fully out. This is a ding for me.
Winner: Joolz Aer
Babyzen Yoyo vs. the Joolz Aer Fold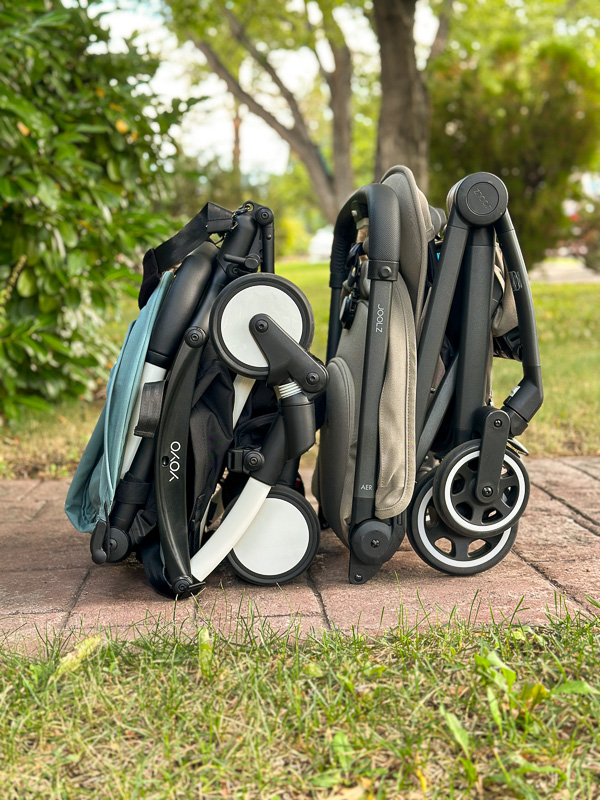 Before testing them both out, I'd thought that the easy fold was one of the biggest selling points of the Babyzen Yoyo2. While not difficult, it's not a one-handed fold. First you'll need two hands to press in the buttons on the side of the canopy to fold that down, then a button on the bottom of the seat collapses the rest within half a second.
However both Garrett and I have flown solo with Felix and it's very difficult to handle a stroller and a baby at the same time when it's not a true one-handed fold and unfold. You basically have to put the baby down somewhere and that's not ideal in a TSA line or while boarding.
The Joolz Aer is a true one-handed fold. This isn't something I want to compromise on when traveling solo with my baby.
Plus, the Yoyo wheels end up by your armpit if you're carrying the stroller with the strap, while the wheels of the Joolz Aer are both downward.
Winner: Joolz Aer
Babyzen Yoyo vs. the Joolz Aer Comfort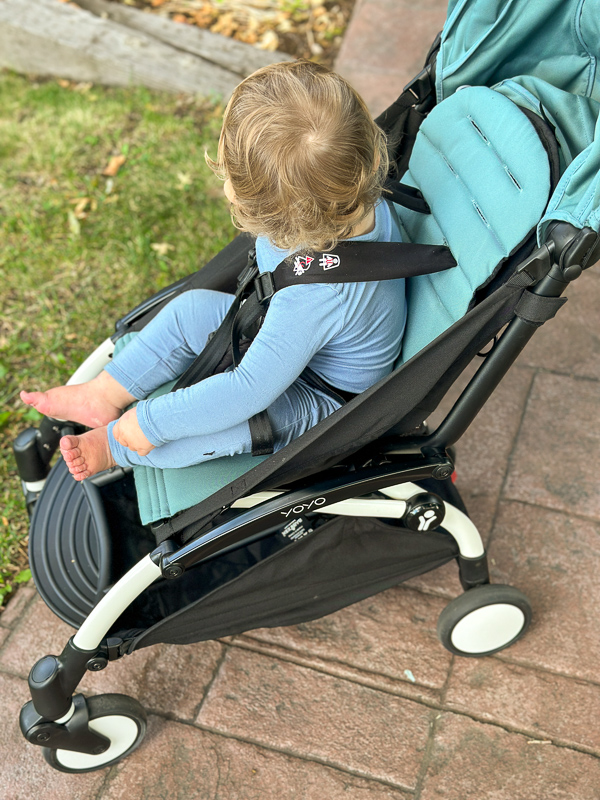 When we're talking comfort, both the comfort of the baby and the parents matters.
I find both strollers easy to push and maneuver. The handlebar on the Babyzen is slightly higher, and is curved. It's also the only compact travel stroller I know of that has a handlebar strap for extra safety. The handlebars on both are padded and comfortable, however the handlebar is curved on the Babyzen, making it less ideal for strapping anything to it (though it's important not to go too heavy with the Joolz if you do strap anything to it, as it's still a lightweight stroller that could topple over). This does make it easier to push with one hand, though.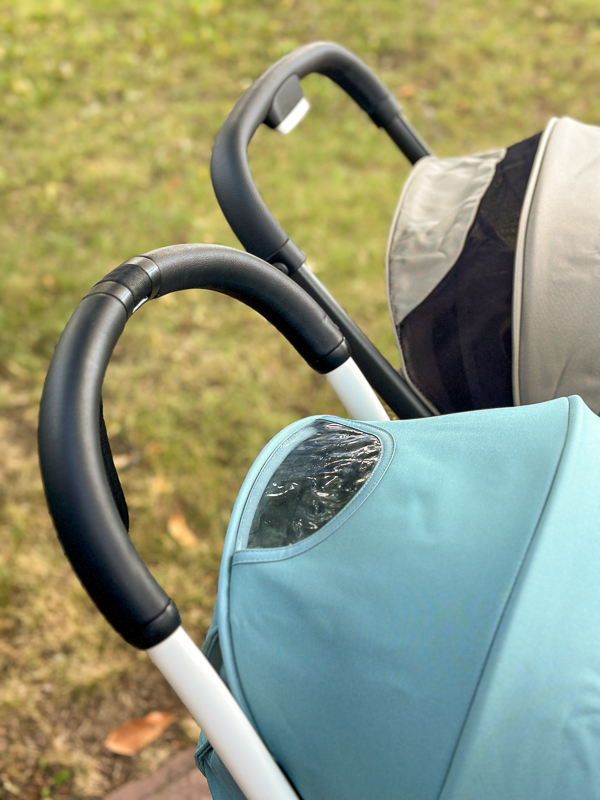 The seats on both feel plush to me as well. I think for my baby, they're equally comfy, though I wish I could ask him!
The Babyzen has a lower foot plate, which might be better for older/taller kids. Neither comes standard with a bumper bar nor foot rest, which I wish both had (the Ergobaby and Qbit do!). However you can purchase one for the Babyzen or the Joolz Aer for around $40.
Winner: Tie
Babyzen Yoyo vs. the Joolz Aer Recline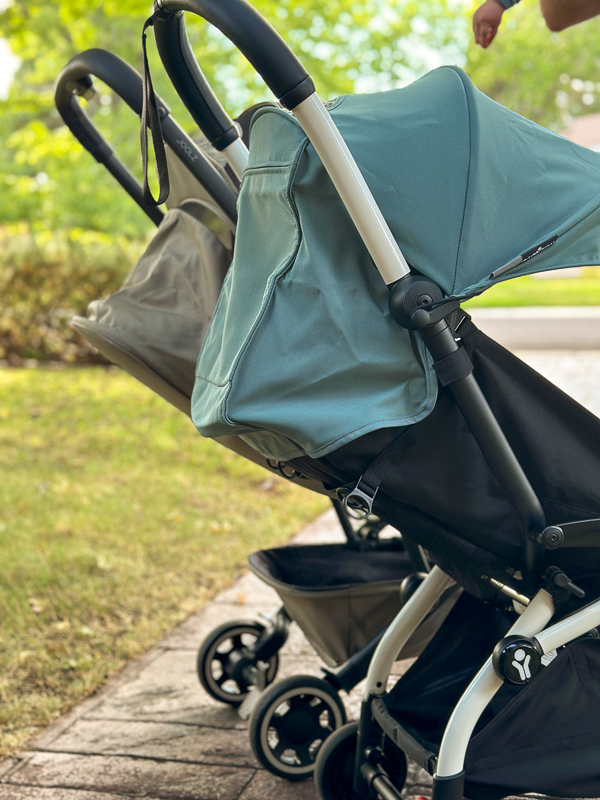 It seems like when it comes to a compact travel stroller, there is always some give and take, and none of them really have it all. This rings true for the recline on both the Babyzen Yoyo2 and the Joolz Aer.
The Joolz Aer recline is activated by unzipping the back panel, then there are adjustment toggle straps on the sides. It creates a full cocoon, which is nice. The Babyzen also creates a cocoon, and is activated the more standard way of pulling the back straps to the desired recline. Neither one creates the kind of impressive recline that the Ergobaby Metro+ creates, which is even newborn-appropriate.
My son was still able to nap just fine in both, but I could see him wanting the footrest to complete the lay-flat experience (I'd want it, too!).
My baby also really prefers to sit very upright, and the Babyzen is a bit reclined, even when fully upright. I run into this issue with most strollers.
Winner: Tie
Babyzen Yoyo vs. the Joolz Aer Storage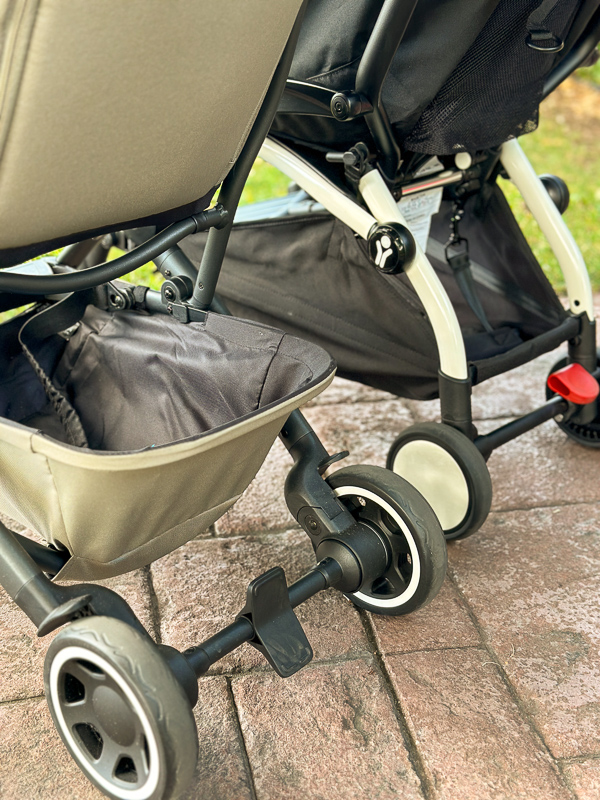 The strollers each have fairly similar storage capacity at 11lbs under the seat. This is enough for a smaller diaper bag, but for most diaper bag backpacks, it'll be too small. We tend to put our snack bags, extra hoodies, and a purse there.
Don't expect too much out of the smaller, more compact strollers in terms of storage. It's not generally a realistic ask that a stroller be super compact and have tons of storage space. However the Joolz Aer has a flat enough handlebar that it's possible to hang a backpack from the back, provided it's not so heavy it would cause the stroller to topple. Proceed with caution.
Winner: Tie
Babyzen Yoyo vs. the Joolz Aer Extras and Accessories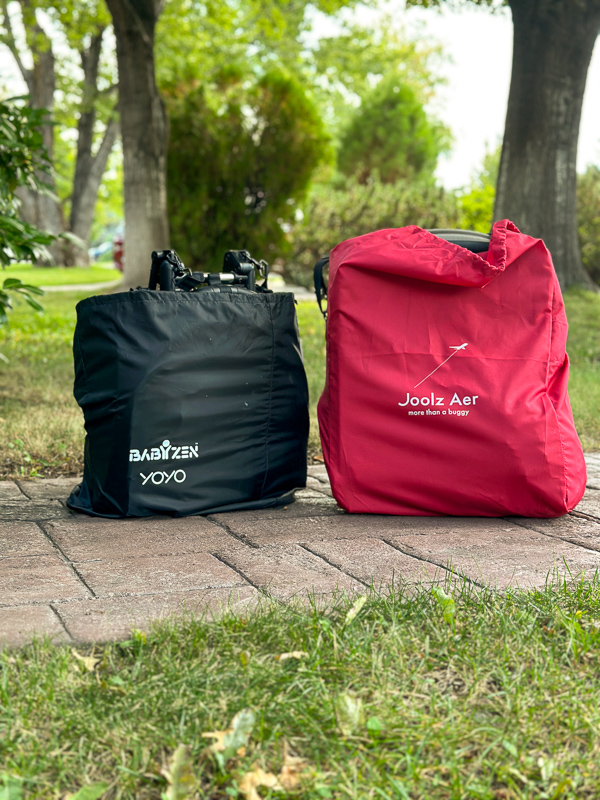 The Babyzen Yoyo2 doesn't come with accessories, though you can buy plenty to make it your go-to stroller. They have:
The Babyzen can also be made into a double stroller with the Babyzen Connect.
Read our detailed review of Babyzen Yoyo2 here.
The Joolz Aer includes a rain cover and carrying bag. Here are the extras:
The Joolz Aer comes with the rain cover, which makes it a slightly better value. Otherwise, they have similar extras at similar price points. However the Babyzen is the only one that can be turned into a double stroller if you have more kiddos, and I can't get over the better colors.
Winner: Babyzen Yoyo
Babyzen Yoyo vs. the Joolz Aer – Who wins?
So between the two, which is the better stroller? They're honestly pretty similar in what they offer, are almost the same weight, and have a similar storage capacity. The recline is similar, and the comfort is similar, too.
For practicality, I really like that the Joolz Aer can fold with one hand and that the handlebar is flat across and easier to strap a backpack to. The canopy is also much better. Those are big benefits to me, though it might not matter as much to all families. It also has a 10 year vs. the 2 year warranty of the Babyzen.
I also am confused as to why I had to assemble the Babyzen Yoyo myself when every other stroller I've used came fully assembled, but that's mostly just an annoyance.
There are two big benefits of the Babyzen – it is certainly more stylish, and comes in more colors (it may seem silly, but if you really want a pink stroller, and I can't blame you as I'll go above and beyond for better patterns and colors, too). It's also a more established brand and better known stroller, which does matter.
When flying with the Joolz Aer on Singapore Airlines, when we said we wanted to carry on the stroller, they replied, "is it the Babyzen?" – the fact that it is slightly smaller than the Joolz and is so well known makes it less of a question as to whether it can be carried on. When flying domestically, with United for example, I haven't really been questioned, so I'm less worried about flying with the Joolz Aer within the US.
With the leg rest, I think the Joolz Aer can be the perfect travel stroller. If it was more well known, I'd say go for it. However, the fact that Babyzen is so well known makes it a somewhat better choice when flying simply to be questioned less about the fit in the overhead bin. I won't travel solo with it since I need the one-handed fold, but otherwise, depending on your needs, it might be the better choice, particularly with European airlines.
I honestly think they're both good. Ask yourself if the one handed fold convenience is more important than the convenience of traveling with a more well known stroller, as that's really the difference.
*Some links in this post are affiliate links that support us at no extra cost to you – everybody wins! We only recommend products we've tried and love.