Is it Worth Getting Your Baby a Piano? Here's Why We Love Ours!
Once upon a scroll I saw an Instagram story of a baby playing a miniature piano and thought it was so cute, I had to ask where they'd gotten it from.
It was near Christmastime, and a family member asked what they could get our baby. I knew exactly the thing – a baby piano.
Here's why we're happy we got it:
Pianos Align With Montessori Ideals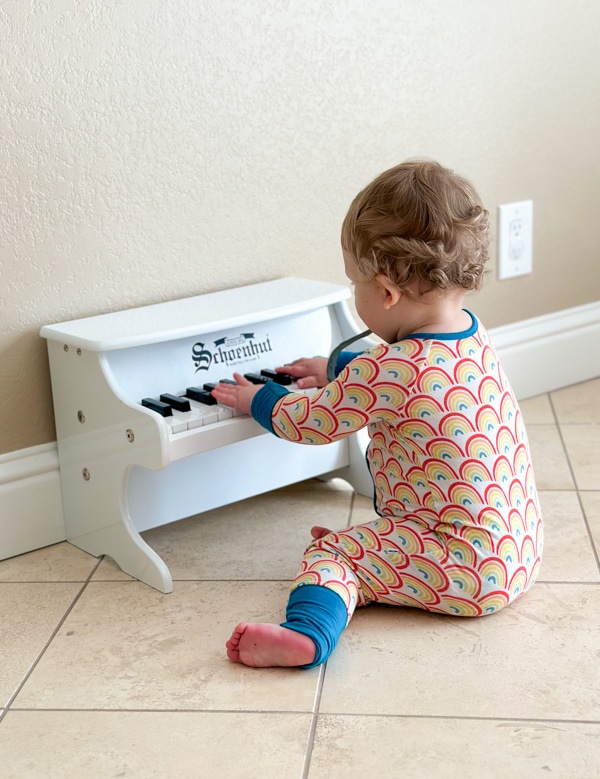 Ever since I started researching the Montessori method and understanding the child-first approach, I came to love the idea of letting kids express themselves fully, even from babyhood. Music allows nonverbal expression, and can enhance learning capabilities, promotes motor functions, and can improve academic performance. I didn't even realize this at the time that I asked for the piano for him, but it makes sense to me learning in hindsight.
I also love that he can get used to an instrument from such a young age. He can learn that different keys make different sounds, and that HE is the one creating the sounds (rather than a machine repeating the same thing over and over). Perhaps he'll eventually want to learn how to play songs on the piano, but if not, that's ok too.
It's one of several Montessori-inspired toys I recommend for babies, in addition to the Playkit subscription we have.
Pianos Can Be Loud, But Not Repetitive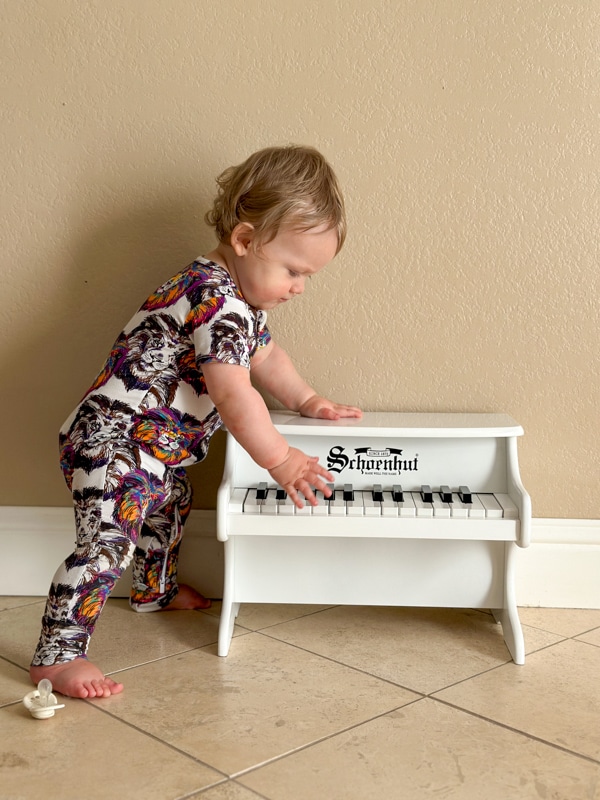 I knew decades before getting pregnant that I was not a fan of loud baby toys with repetitive music. We've largely avoided that in our household because not only do the jingles get stuck in my head, but all they really do is teach a kid to push a button. When they explore making combinations of sounds themselves, and eventually associating certain keys with certain sounds, THEY are the ones creating the music, not the machine. It's much more empowering.
We have a white Schoenhut piano, which also comes in pink and red, that is an actual symphonic grand piano with tuned baby keys. I like that it's the real thing, made of wood and made to last. However, it is LOUD when our son bangs on the keys, which he loves to do. It's not my favorite, but I can understand it's how he's able to explore this instrument right now, and it's so much better than the same song over, and over, and over (and over).
Electronic pianos are probably not nearly as loud, and are likely adjustable. This doesn't have any of the bells and whistles and recording capabilities of some kids' pianos, but I like that it's simple and straightforward for him to use.
I also find the insane color palette of so many kids' toys to be overwhelming. If I'm feeling that way as an adult, I can't imagine what a tiny human must feel, so we've generally gone with neutral toys, and this piano fits that perfectly.
(By the way, this is where I get the outfits he's wearing in this post).
Our Baby LOVES It
Ever since he first discovered it, our son has truly loved playing this piano. He sees it in the corner of the room and gets all excited to crawl over to it and play. It has also been sturdy enough for him to push on to stand up, and now he loves touching the keys while standing, too.
Piano keys are easy to operate, it's the perfect size and height for him, and when he outgrows it, it'll still be in good enough shape to resell on the secondhand market.
Which Piano to Get
I really like the piano we have. It's adorable, but if I could have tested all of the little baby pianos together, I would have probably chosen one that's a little quieter. It's also not really portable. It's easy to move around a room, but I wouldn't travel with it. Most pianos will have this limitation, but a keyboard or xylophone would at least be a bit more portable. Here's what else to consider:
Melissa & Doug Learn-to-Play Piano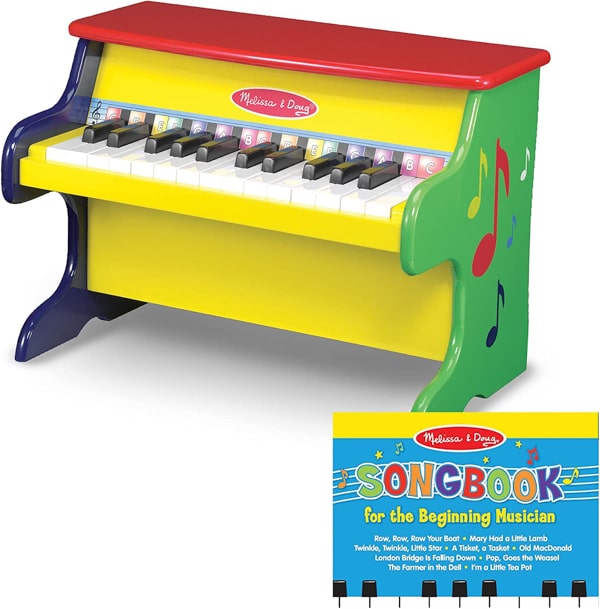 Although this goes directly against my aversion to super bright colors, I can see the utility in having color coded keys. It would be a great way to associate more visual learning with the motor learning, and I think it's really clever.
The reviews on this one mention sound quality, which is my qualm with the Schoenhut as well.
ZIPPY Kids Piano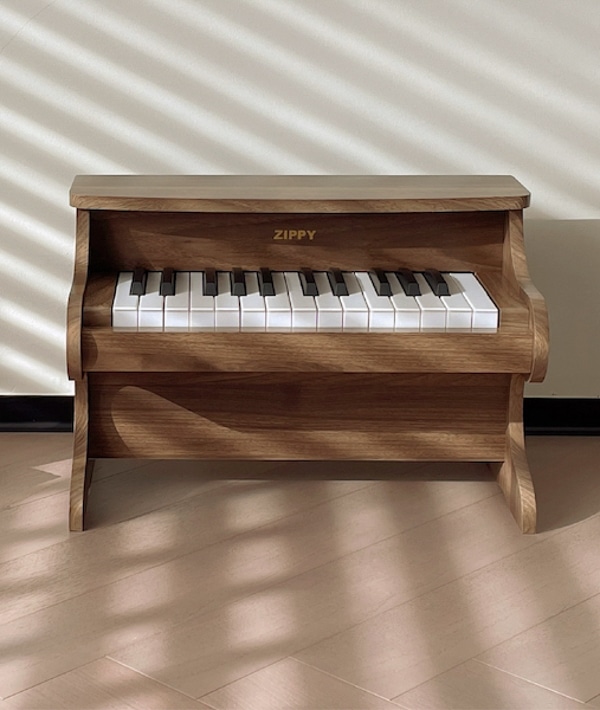 Similar to the Schoenhut, this keeps neutral, natural tones to the product and it honestly looks even sleeker. Reviews also praise the sound quality.
It also comes with color coded keyboard stickers, which I love. If I could turn back time, I would probably have asked for this piano. It has a retro feel and I'd love to compare the sound quality to the one we have.
ZIPPY Kids Piano Keyboard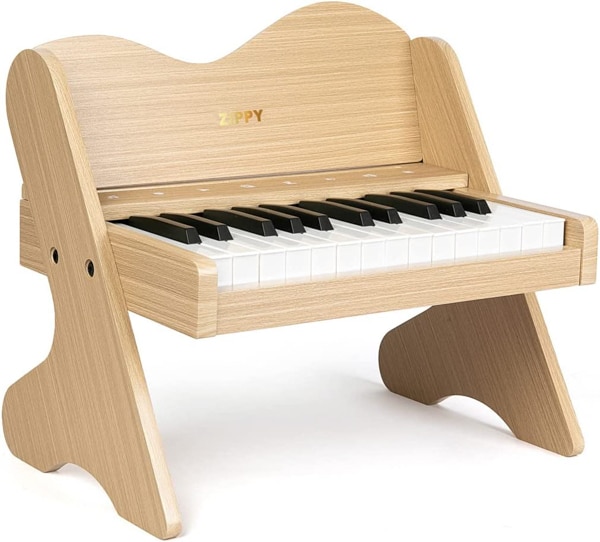 Made by the same company, this one is a piano and the keyboard in one. It's possible to turn the volume up or down, record, and to change the instrument sounds. For a baby, it's obviously a bit beyond what they're able to make use of. However if it would make it more fun for YOU as the playmate, it might be worth the splurge.
I'm unsure at what point a toddler would have fun with the keyboard function, but hopefully it will happen before they're too tall to use the piano. It's quite a sleek design as well, using natural wood colors.
TOQIBO Kids Piano and Keyboard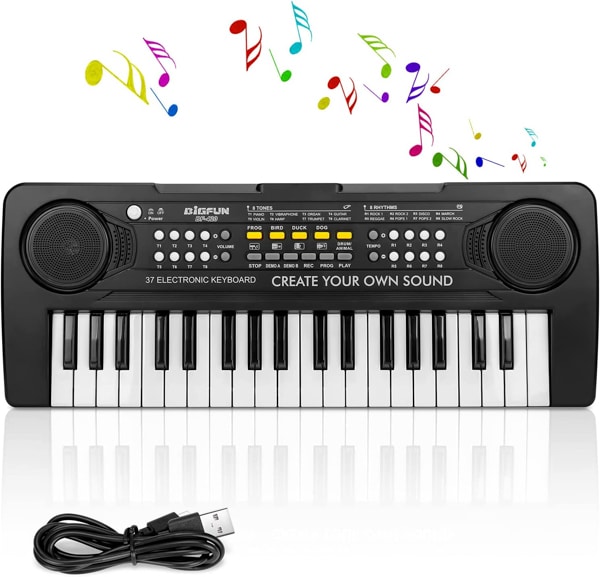 As soon as I saw an image of this keyboard, it brought back a core memory of playing with one of these when I was a kid. I used to love playing the keys and some of the recorded music that was already on the keyboard. It definitely required less skill and ability from me to use since I could once again, just push a button to make songs play, but it was still fun to alter the sounds.
Although it's probably not as ideal as a sturdy wooden piano for a baby, I see this as a great option to grow with the kid. This can just rest on a table, so height is less of an issue. This would also be much more portable, and is by far the most affordable on this list.
Before you get a toy like this that makes noise, ask yourself if you're open to listening to it over and over. For me, the answer is no if it is repetitive, but for something like the piano, I find it much less annoying. The only downside for me has been the loudness and the sound, but it sounds like the ZIPPY brand is a great option. If you're considering getting a piano for your baby, I'd say go for it. Seeing his joy in playing it lets me know that we made the right choice.
*Some links in this post are affiliate links that support our site at no extra cost to you. Thanks so much for keeping us going!