Is the Dreamland Baby Weighted Sleep Sack Worth It? A Mom's Honest Review
When you're parenting an infant, you'll do almost anything for sound slumber. The baby gear market is brimming with innovative products and smart sleep solutions that deliver new moms and dads the promise of that beautiful, wonderful, elusive full night of sleep.
According to Dreamland Baby, its weighted sleep sack is one of those magic products that will help babies fall asleep faster and keep them asleep for longer stretches.
We started using a Dreamland weighted wearable blanket several months ago, when our second child was struggling with sleep as she transitioned out of the swaddle. Although it has a few key drawbacks (including a high price tag), the Dreamland sleep sack has helped our daughter settle more quickly and doze off more smoothly for nights and naps alike.
The Dreamland Baby Brand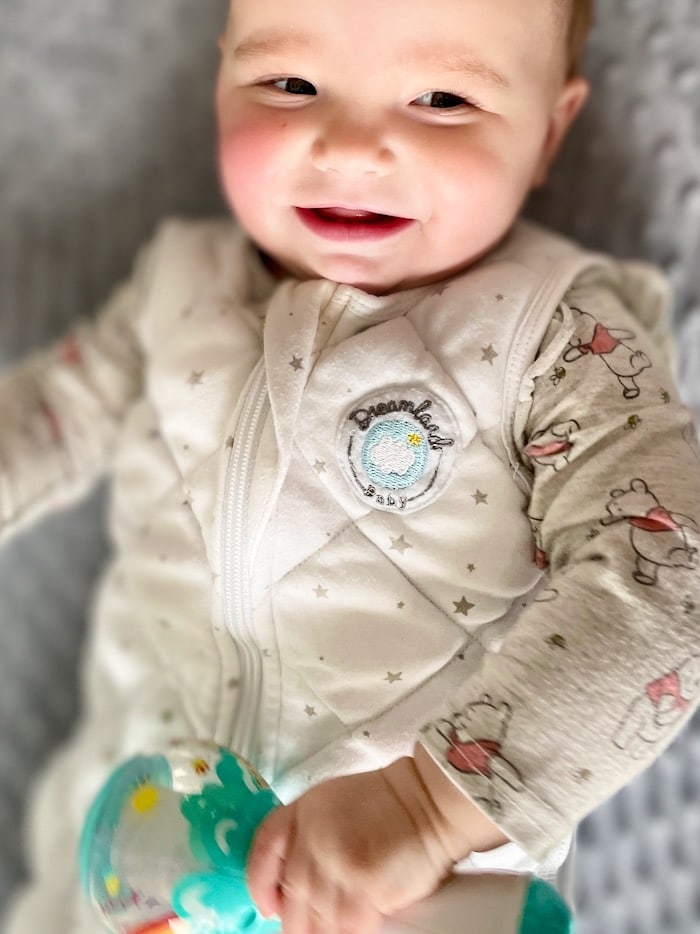 When her youngest child was struggling to sleep at six months old, mother of four Tara Williams found that a heavy throw blanket helped soothe him. With her family, she developed an evenly weighted wearable blanket for babies, and her son immediately slept better.
Less than a year later, in 2019, the Dreamland founder was shaking hands with Shark Tank's Lori Greiner, sealing a career-changing deal on the popular television show. Her weighted sleep sack was soon in Pottery Barn Kids, Nordstrom, and Target. She's since expanded the brand to sell weighted swaddles, weighted blankets, pajamas, and crib sheets.
As a company committed to giving back, Dreamland Baby now donates weighted swaddles to neonatal intensive care units across the United States. The goal is to provide nonpharmacological treatment options for newborns affected by opioid exposure before birth. Remarkably, these babies have been shown to have a reduction in heart rate and an improvement in withdrawal severity with weighted blanket use.
The Skinny on the Dreamland Baby Weighted Sleep Sack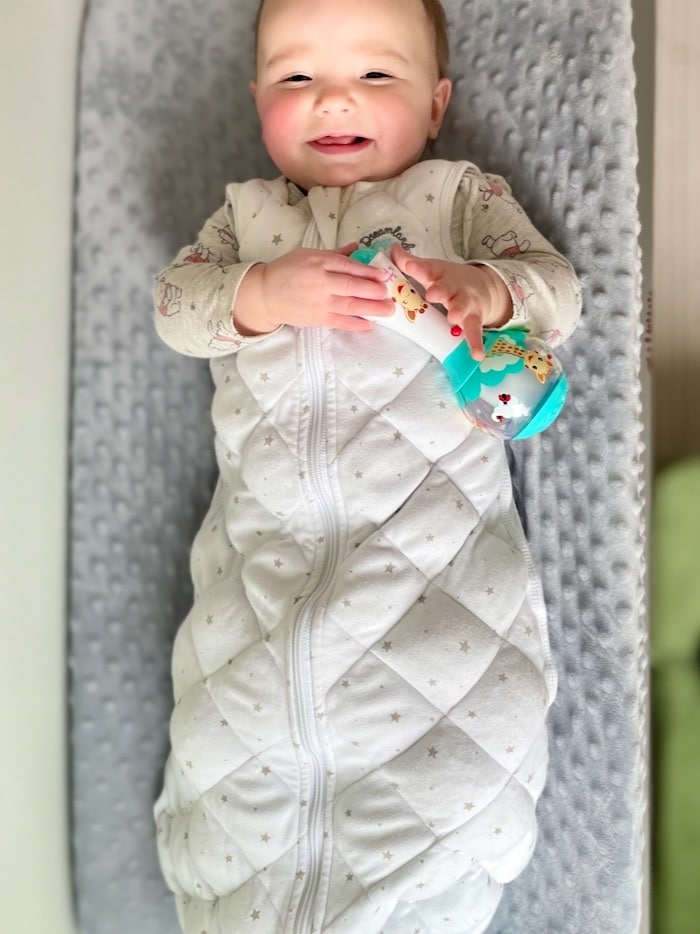 The Dreamland Baby sleep sack is evenly weighted across its front to provide a calming, soothing presence to babies. It comes in six-month incremental sizes for youngsters up to two years old.
The idea behind the sleep sack is to provide little ones with the feeling of a warm hug or a gentle caregiver's touch by delivering a light weight on top of them. The product is based on research into weighted blankets, which — in addition to treating NICU babies — can help adults improve symptoms of anxiety, ADHD, autism, and sleep disorders. Weighted blankets can also help regulate sleep patterns in toddlers.
Our experience with the Dreamland sleep sack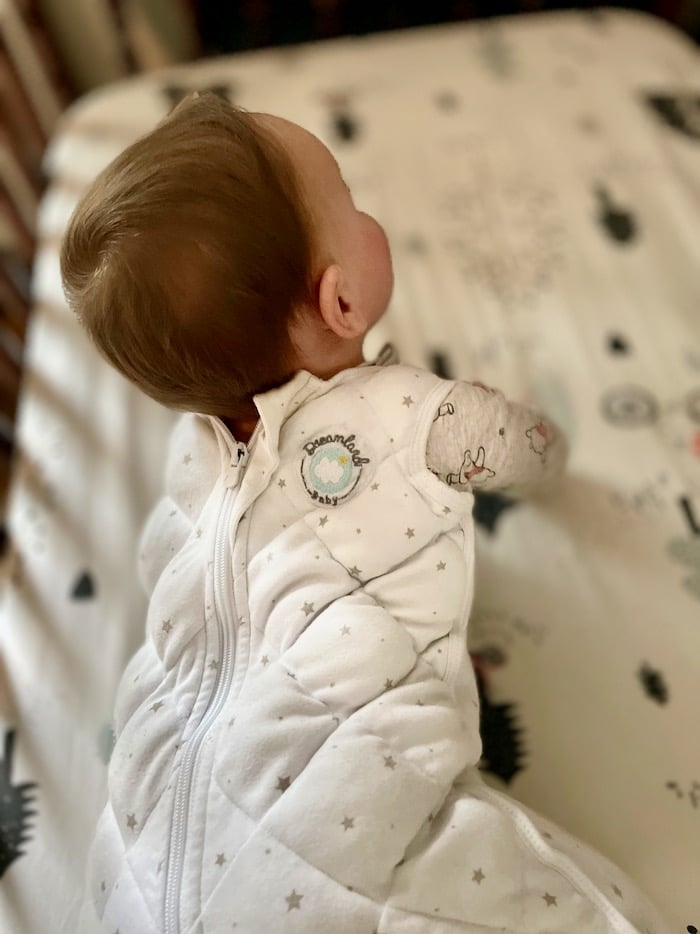 My husband and I first saw Dreamland Baby on Shark Tank before becoming parents (which explains why we had time to watch Shark Tank). After forgetting about the product for a few years, we received it as a gift from my mom to help our daughter sleep better, since her sleep consistency was declining as she struggled to transition out of the swaddle: her startle reflex was intense, and she jumped at every quiet sound or small movement of her arms.
When she was settling for sleep, we would often place a hand on her chest or back to help her nod off. We'd then attempt that classic, sneaky, and painfully slow parent move of taking as long as possible to remove our hand from her body, so as to keep her snoozing peacefully.
Once we started using our Dreamland, it became easier to place her down to sleep in the crib. We no longer had to creep away at a sloth's pace, and she fell asleep more quickly on her own. Calming the startle reflex is one of the purposes of Dreamland's sleep sack, and it's the benefit we noticed most for our baby girl.
I will admit that we didn't experience a major difference in the length of her sleep stretches or overall consistency of her nights. Our wonderful daughter's preference was to feed every three hours, day or night, and her new blanket didn't seem to change that.
The most significant drawback we found is the positioning of the weighted beads that flank the blanket's zipper. Our daughter primarily sleeps on her stomach, so when we position the sleep sack with the weighted side on her back, as instructed on the brand's website, the zipper closure occasionally irritates the back of her neck.
Summing up the pros and cons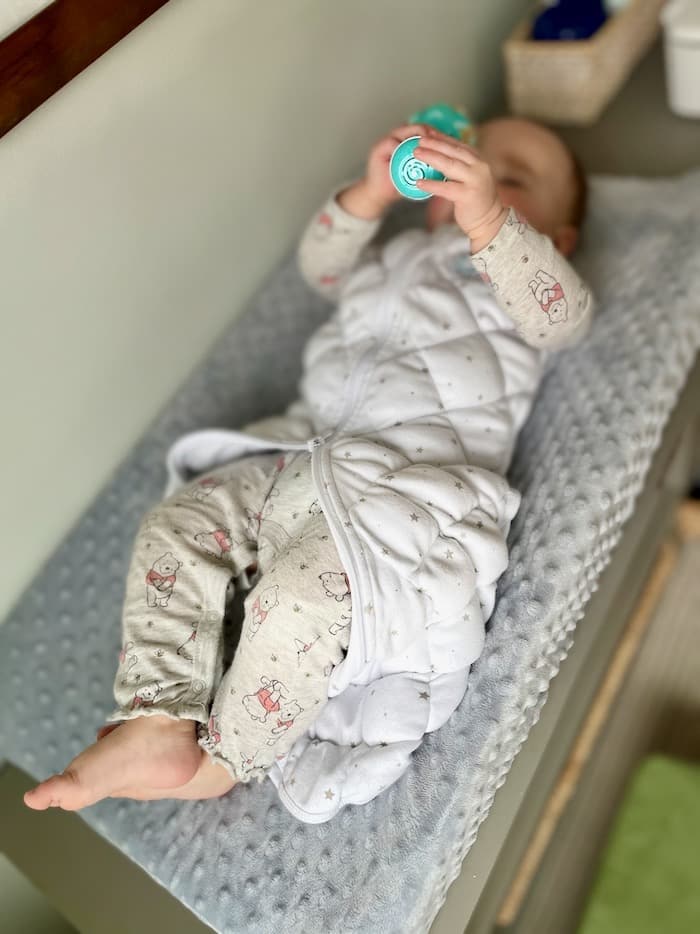 Here are the major advantages and drawbacks we've come across when using this innovative wearable baby blanket:
Pros
Dreamland's website describes rigorous safety checks to make sure its products aren't harmful or hazardous for infants.
The weighted sleep sack is based on multiple medical research studies relating weighted blanket use to comfort, relaxation, and stress reduction.
In our experience, this product has helped our baby fall asleep more easily.
A double-ended zipper means there's no need to remove the entire sleep sack for middle-of-the-night diaper changes.
The wearable blanket is okay to machine-wash and tumble-dry. (That's a slam dunk in our house!)
Cons
The Dreamland sleep sack is expensive — almost $90!
It's technically reversible for tummy sleepers, but it's difficult to zip up the back.
The top of the zipper can irritate the back of baby's neck when placing the weighted side of the blanket in the back.
Detailed Features and Specifications
Let's take a closer look at some of the factors that might help you decide if this high-end sleep sack is worth the investment:
Cost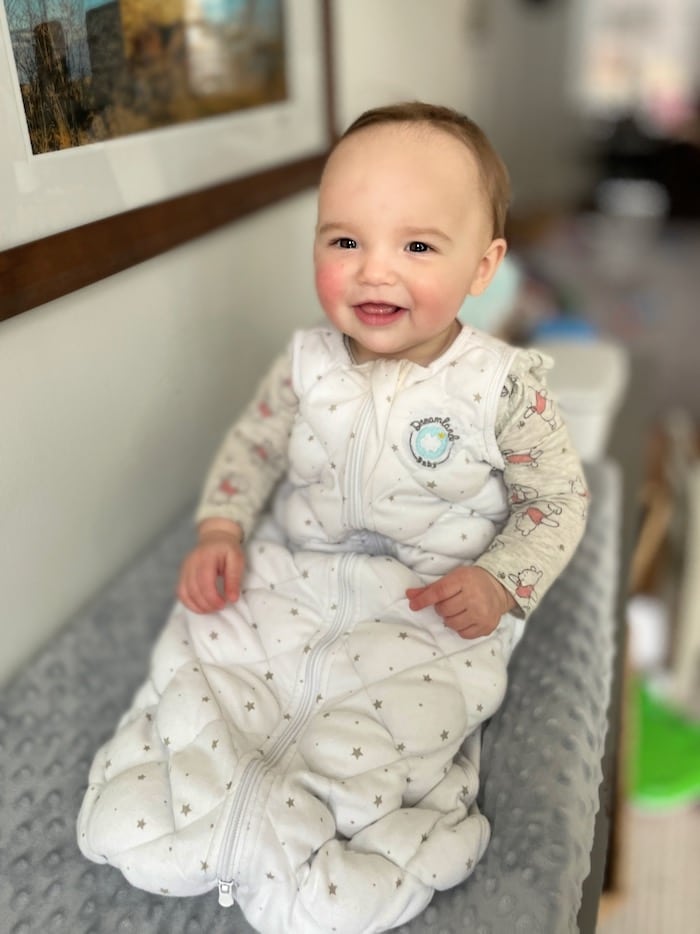 The Dreamland Baby weighted wearable blanket currently costs $89. That's above the higher end of the price range for sleep sacks, which mostly span from about $10 to $50. Baby gear adds up, and most parents aren't jumping at the opportunity to pay $90 for a blanket. This is especially true for an item that their baby will soon grow out of, requiring mom and dad to buy a new one in a larger size a few months later.
That being said, when you're in the trenches of raising an infant, you really can't put a price on sound sleep. When we were struggling with our firstborn's sleep patterns, we tried out many swaddles and sleep sacks, looking for that one magic solution. I'm sure we quickly exceeded $90 in total. In hindsight, purchasing a Dreamland Baby sleep solution for our first baby would have been a smarter investment.
Safety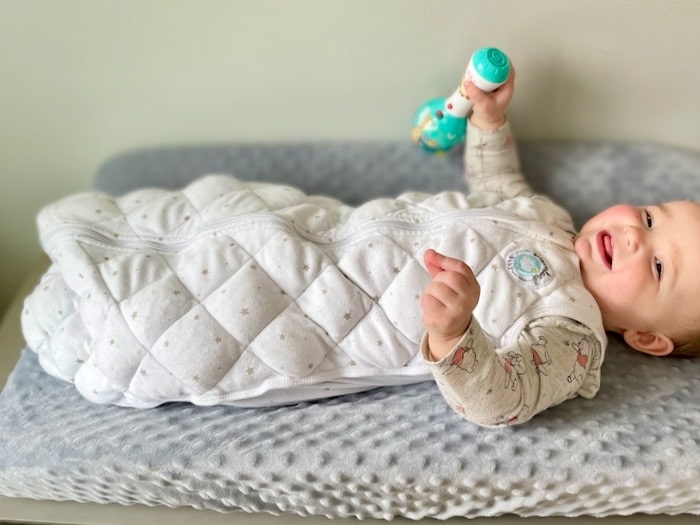 Dreamland Baby has a medical board of pediatric health professionals, therapists, and sleep consultants to ensure the safety of its products, and it's had a team of pulmonologists review its weighted sleep solutions. The brand has had no adverse events associated with its sleepwear.
The Dreamland wearable blanket has passed all standards of the United States Consumer Product Safety Commission, and the International Hip Dysplasia Institute has designated it as hip-healthy.
Soothing effect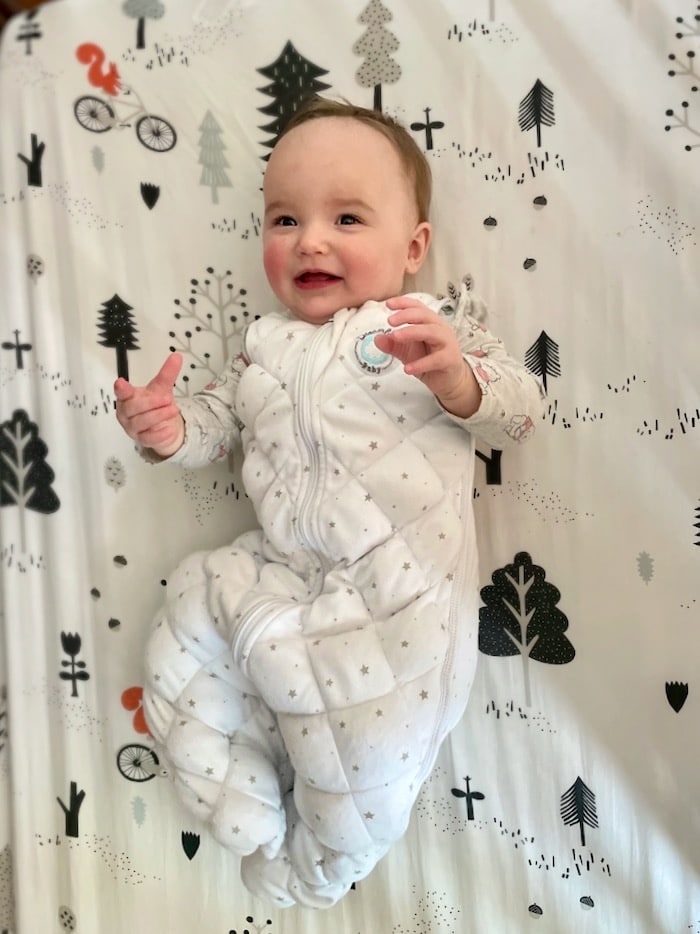 The purpose of the weighted sleep sack is to provide deep pressure stimulation, which is meant to reduce stress and makes babies more relaxed. The contact between the weighted blanket and the infant is supposed to recreate the feeling of receiving a parent's hug or being held in someone's arms. The result is a sleep sack that is cozy, calming, and soothing.
Dreamland Baby claims that its product can help babies fall asleep faster and stay asleep longer. It's impossible to know how this product will work for your little one without giving it a try, but we know there's significant research behind the benefits of weighted blankets for children and adults alike.
Weight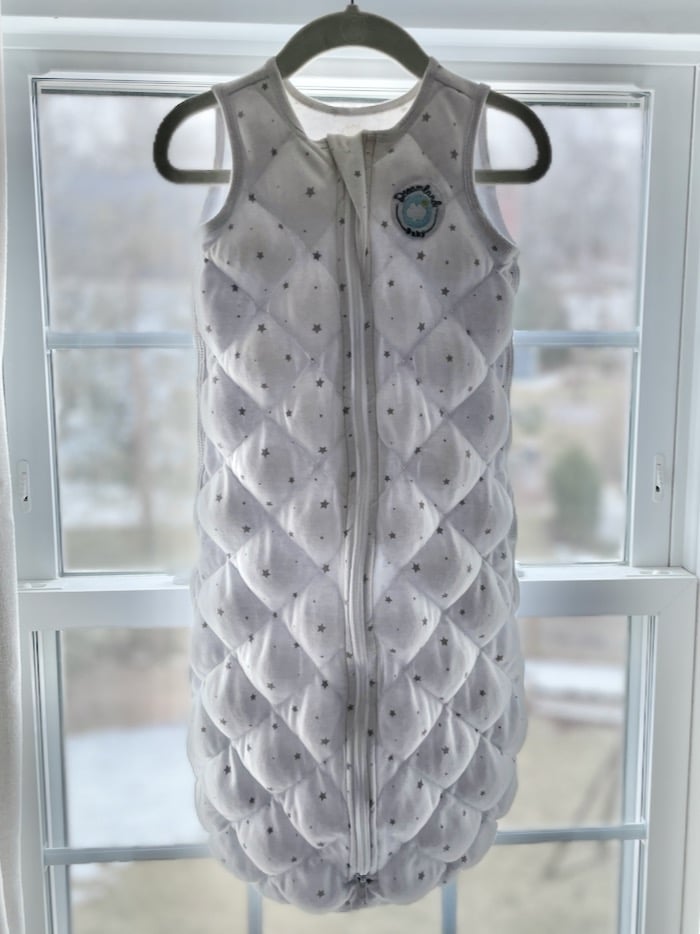 If you've used a weighted throw or bed blanket, you know that they can be alarmingly heavy to pick up. Although a baby blanket is on a different scale, this sleep sack is no exception. I remember seeing the cast of Shark Tank acting surprised at the weight of the product when they first held it, and I had the same reaction when we received ours. When our daughter is wearing it, she's noticeably heavier to carry.
Although the sleep sack can feel heavy to pick up, the weight is distributed evenly all across the baby's body, mitigating the impact on any one area. Small weighted beads fill quilted pockets that spread from the shoulders to the toes. This differs from lightly weighted infant sleep solutions by the popular brand Nested Bean, which incorporates beads in a small area on the middle of baby's chest or back to mimic the feeling of mom or dad's hand.
The weight of the beads in the Dreamland sleep sack totals 10% or less of the baby's body weight. Depending on their size, the sleep sacks range in weight from 0.8 pounds (for babies who weigh at least 8 pounds) to 2.5 pounds (for babies who weigh at least 25 pounds).
Since the proportion of sleep sack weight to baby weight is low, Dreamland claims that infants should have no trouble rolling while wearing one. When our daughter wears hers, she doesn't appear to have any difficulty rolling or rotating throughout the night.
Reversibility and zipper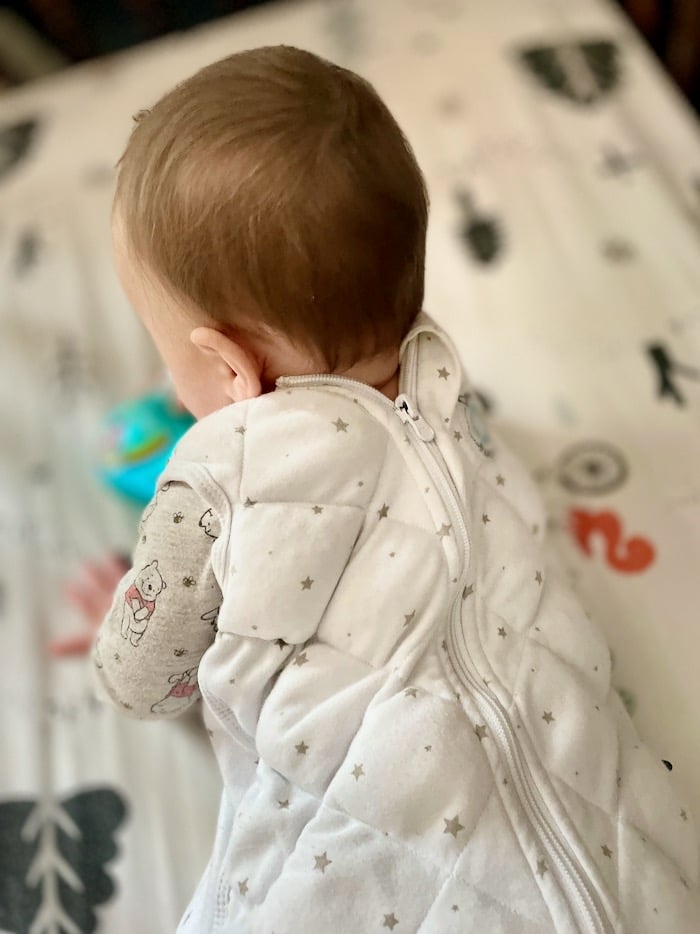 The Dreamland Baby website boasts a reversible neckline to make its sleep sack suitable for both stomach and back sleepers. The weighted panel of the blanket is on the same side as the Dreamland's zipper. That means that putting the weighted side on baby's back requires zipping the sleep sack in the back, which is difficult to do on a squirmy baby without help.
Our daughter usually sleeps on her stomach, so we've tried zipping the sleep sack up her back. When we do so, I sometimes notice a mild red irritation where the top of the zipper meets the back of her neck. There is a fabric flap that's designed to cover the zipper closure, but it seems to shift as she moves through the night, exposing the zipper ends. This has made me less inclined to put the weighted side of the blanket on her back.
The Dreamland zipper is double-ended, so it can unfasten from the top or the bottom. The two-way opening makes it easy to free up baby's legs for a quick nighttime diaper change, as long as the zipper is in the front. If the zipper is in the back, you'll probably need to remove the whole sleep sack to freshen that diaper.
Materials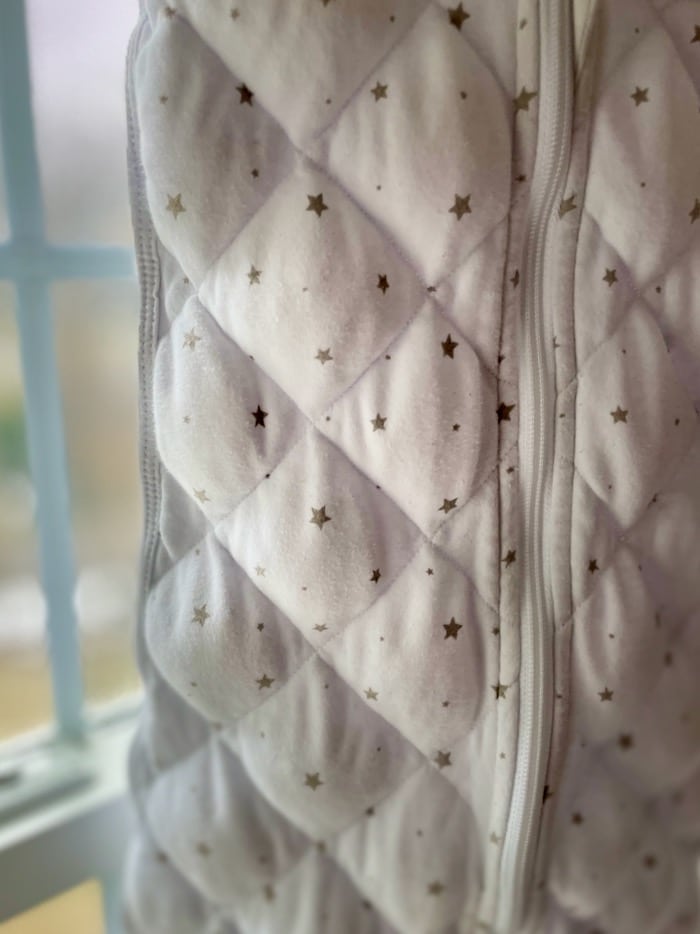 The wearable blanket fabric is 100% cotton and doesn't include any flame-retardant chemicals. The quilted compartments contain nontoxic poly-pellet beads.
This product comes in seven different solid colors and four cute, kid-friendly patterns.
Size and fit
In our experience, the sleep sack fits true to size. Sizing up might be tempting — especially since it's expensive and babies seem to outgrow their clothes weekly — but Dreamland recommends against that. Because of the blanket's weight, it's important to stick to the baby's current size, or they could end up with a sleep sack that's too heavy. The Dreamland also won't be as effective if a large proportion of the beads sit below the baby's feet.
Insulation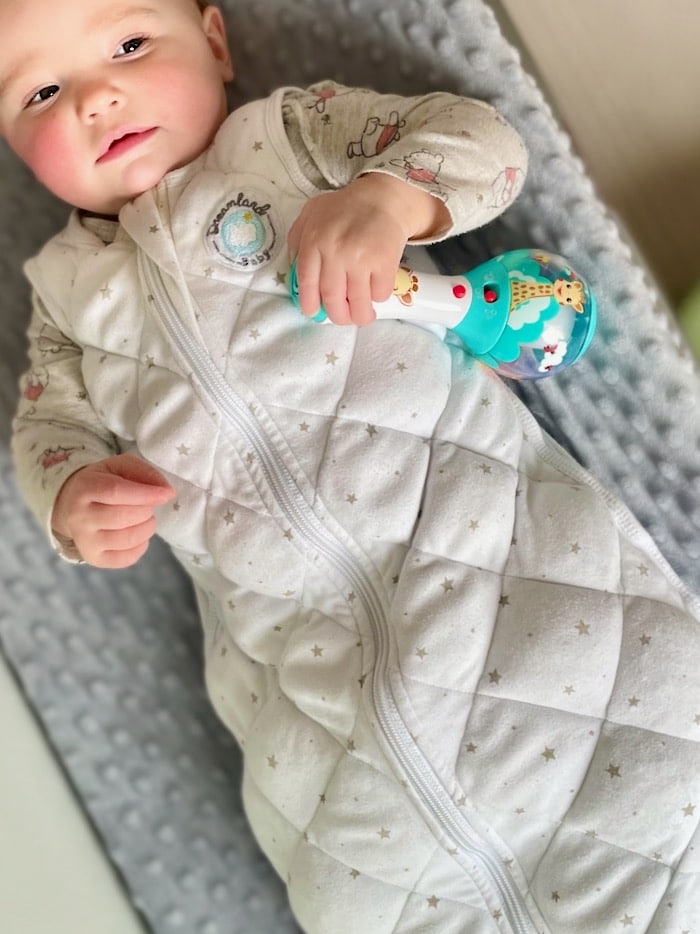 The purpose of the weighted blanket is not to keep babies warmer but to give them a gentle, peaceful squeeze. The product's thermal overall grade (TOG), which is a standard rating system for sleepwear insulation, is 1.0. That means it's light and comfortable for year-round use.
Cleaning
Because this sleep sack is expensive, it's unlikely that most parents would have extras lying around for when one gets dirty. Fortunately, moms and dads (yes, even dads!) can machine-wash the Dreamland in cold water and toss it in the dryer for a quick turnaround. We wash ours as soon as it's hit with a spill or a spit-up (read: a lot), and it's held up well after many rounds of cleaning.
Final Thoughts: Is the Dreamland Sleep Sack Worth It?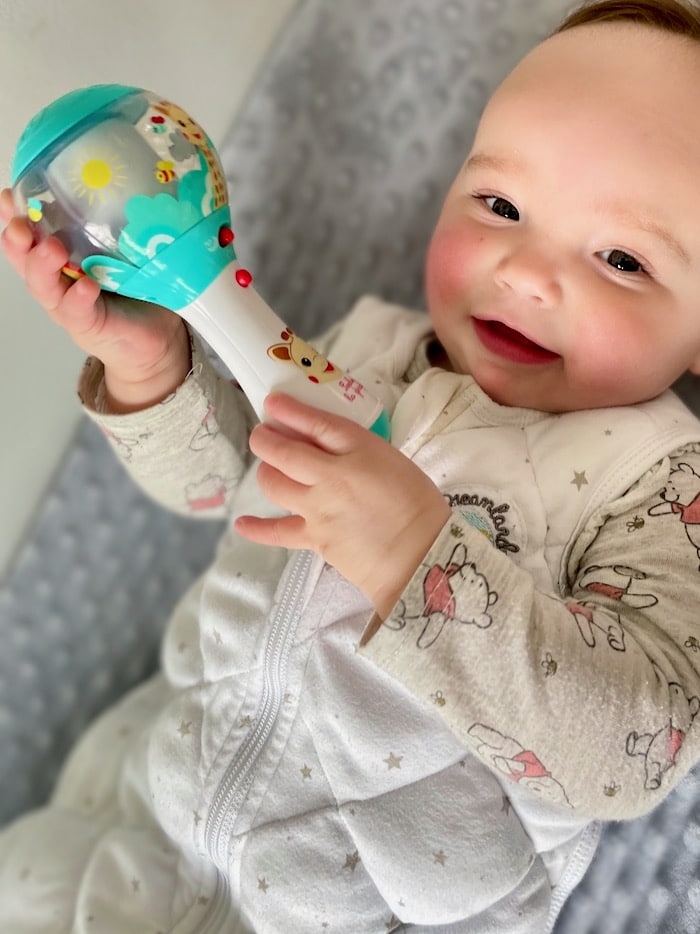 If your child is a back-sleeper and is struggling to fall asleep and stay asleep, I do believe this is worth the investment. If you're able to soothe your child with a gentle hand on the chest or a light hug, I think it's more likely that you'll have success with this weighted sleep solution. This product helped us significantly when our daughter was dealing with a strong startle reflex and trying to adjust to sleeping without a swaddle, and I would recommend it for parents in similar situations.
If you're looking into other innovative sleep solutions for your little one, check out our reviews of the SNOO Smart Sleeper, the Hatch Rest Sound Machine, or the Slumberpod.
In the meantime, grab yourself another cup of coffee, give that adorable baby an extra squeeze, and remember that — like all stages of babyhood — this sleepless phase will pass.