Is the Slumberpod Worth It? (NOT Sponsored Review)
Is the Slumberpod worth it? You've likely seen it on social media, thought it looked like overkill, then came back to it and wondered, is this actually the godsend they say it is?
Or was that just my progression?
After some deliberation, I bought one and tested it so that we an answer the question once and for all: Is this really worth $200?!
Here's what you need to know before buying a Slumberpod:
First, the Specs: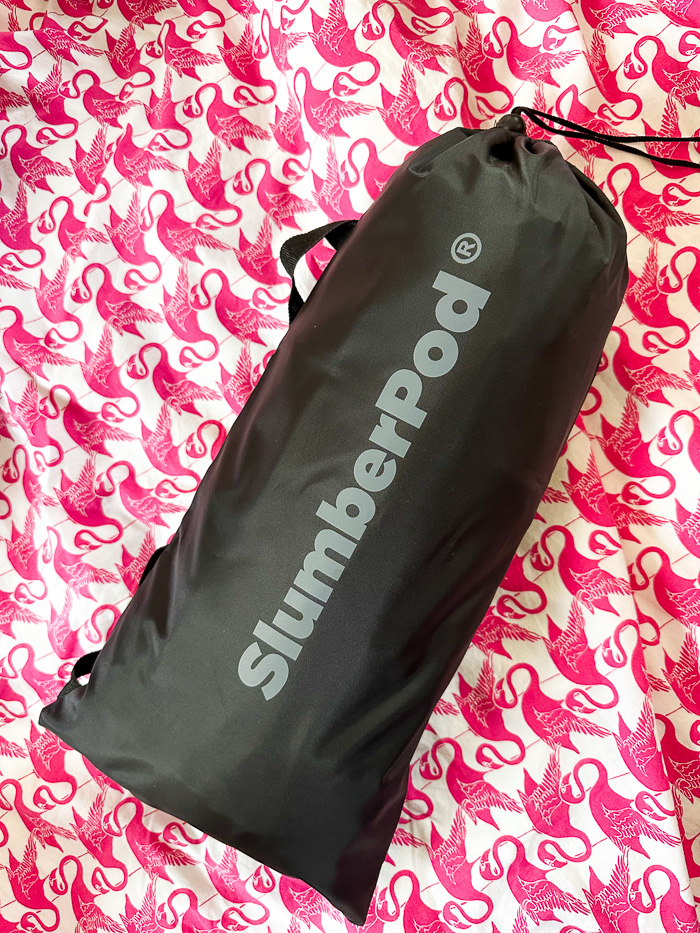 Weighs 5lbs
Assembled: 50 inches long, 36 inches wide, 56 inches tall.
Disassembled: 17 inches long, 5 inches wide, 6 inches tall bag.
SlumberPod fits playards 39-40 inches long, 28-30 inches wide and 28-34 inches tall.
Safe to use for ages 4 months to 5 years old.
Approved for indoor use only.
Can use with or without fan (which Slumberpod makes).
The Idea Behind the Slumberpod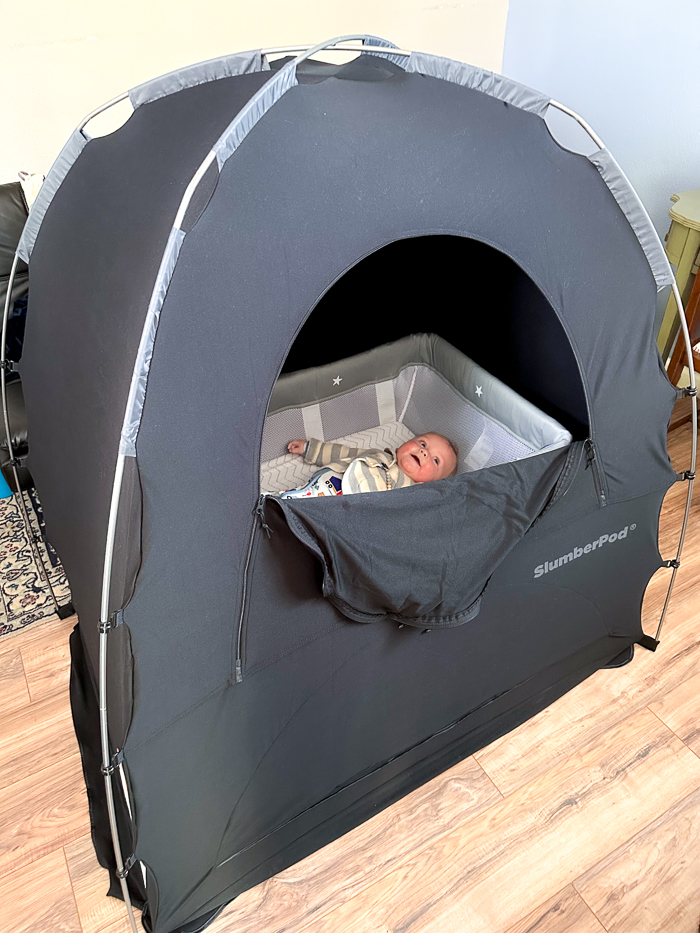 If you've ever been on the road and needed to share a room with your baby or toddler, chances are good you have sat in the dark, trying to be silent while they go to sleep a good hour or two before it's your bedtime.
Or maybe the room is too bright, making nap time difficult.
Gone are the days of taping trash bags over the windows and praying they stick, friends!
The Slumberpod is basically a tent made out of blackout curtains. It's a quick assembly situation with soft fabric, a pocket for a baby monitor, and two areas you can unzip for ventilation. Also key is it doesn't unzip all the way to the bottom or have zippers inside like a standard tent, so it's safe from toddler fingers unzipping for fun.
It's quite lightweight, and once assembled, you can easily lift it up and pop it over a pack and play, toddler bed, or in our case, the Guava Lotus Bassinet.
I bought it when we had a little cottage in a shared Airbnb with friends a few weekends ago. Up until that point, we had typically stayed in places that had a separate sleeping space, but this time we just had one room to work with. I knew that one of the nights, my partner would be coming in somewhat late, and it would help to be able to keep at least some light on without keeping the baby up. So I bought the Slumberpod with this trip in mind.
Does the Slumberpod Work?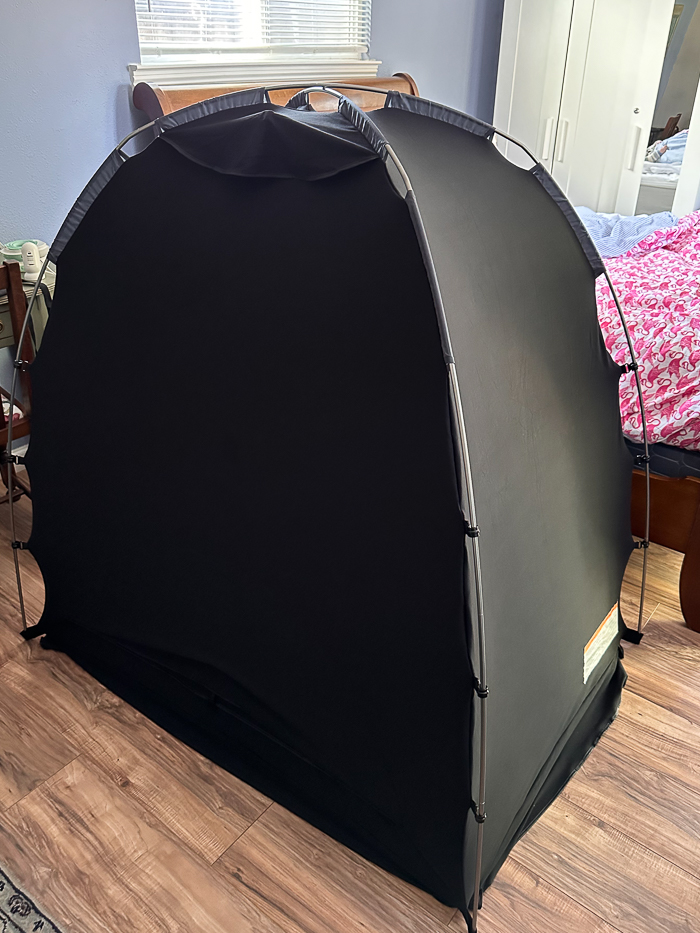 I admit, I was skeptical, and obviously every baby is different, but my son slept for almost 8 hours in the bassinet under the Slumberpod in the middle of a sleep regression.
The room was a very comfortable temperature – I could see it getting very stuffy in there if it were the summer, so be sure to use the fan in these conditions. I also used his usual white noise machine and had him in a sleep sack he loves. All of the other sleep cues we have at home remained the same.
There are a few things that make it a little tricky. If your baby needs frequent help from you, like putting a binky back in or if he wants to be fed in the middle of the night, bending over to give him a bottle can be quite a pain. If you have finally gotten your little one to sleep in the bassinet or crib, you'd better very careful and quiet zipping the Slumberpod closed.
Be sure that you also get the baby monitor in there before putting the baby down because moving it around just gives them something fun to look at when they should be sleeping, as I learned the hard way.
I'm also not sure if a baby or toddler might find it a bit disorienting to be put in a blackout tent if they are still awake, without some parental soothing, so it just depends on how you usually handle bedtime.
The Material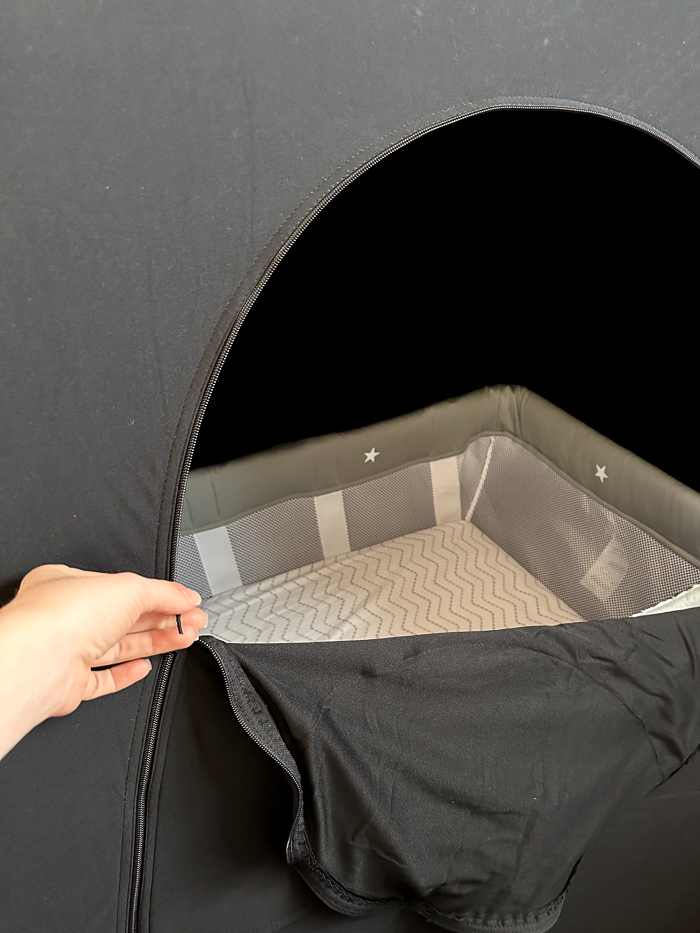 As someone who spends a lot of time outdoors, particularly in tents, I had to wonder if this was really going to be better than a standard camping tent.
The material is completely different. It's stretchy, quiet (anyone who camps knows the sound of your campmate wrestling with a tent flap in the middle of the night), and soft. Also, unlike a tent, it's meant to block out light.
It's kind of a genius idea, to be honest.
Does it Travel Well?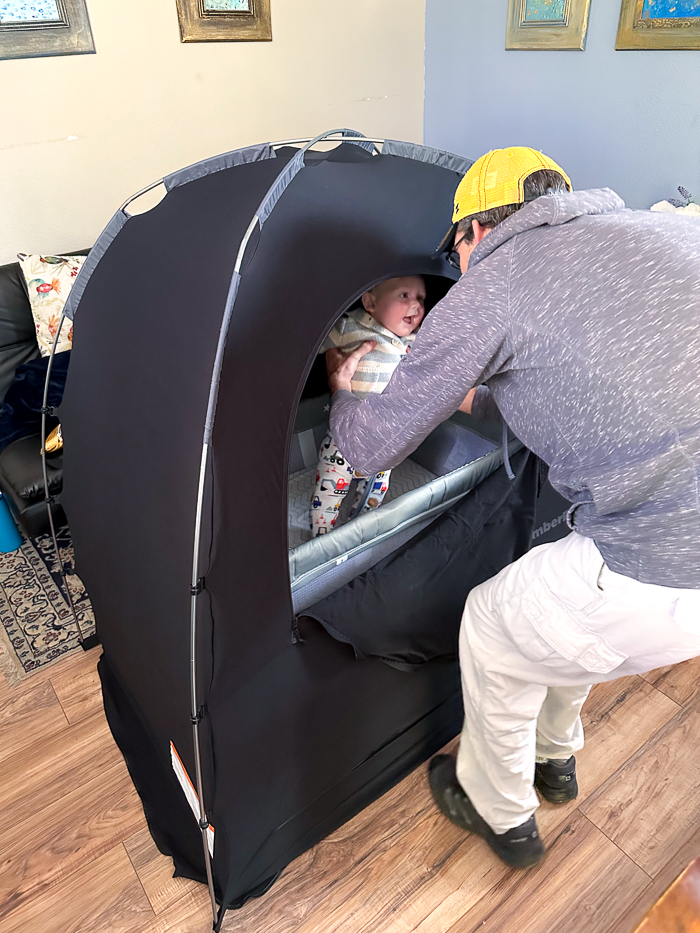 I initially bought the Slumberpod only intending to use it on road trips. The trip that we planned to bring it on was initially meant to be a road trip, but some weather moved in and snowed on our route, so we had to fly instead. I still wanted to try out both the Guava Lotus and the Slumberpod, so we flew with both.
In a large suitcase, it only took up a small portion, and it's pretty lightweight. But as you know, the younger the child is, the more things they seem to need, so I wouldn't bring it on trips where packing light is essential.
Is it Safe?
Is the Slumberpod really safe to use?
According to Slumberpod's FAQs, "SlumberPod passes all applicable juvenile product safety tests in the United States, Canada and Europe.
We submitted SlumberPod for an additional, voluntary assessment and expert opinion using advanced test methods. The evaluating doctor (selected by the independent, third-party lab – and not by the SlumberPod team) independently concluded that the product "presents a low hazard" for CO2 rebreathing."
I wasn't overly concerned, but even though I could have the vents open, I still didn't completely, 100% zip the Slumberpod closed. It just felt to me like it could get stuffy in there, though I didn't have the fan going and surely that would help. I also wanted the option to peek in periodically, too.
What Age is it For?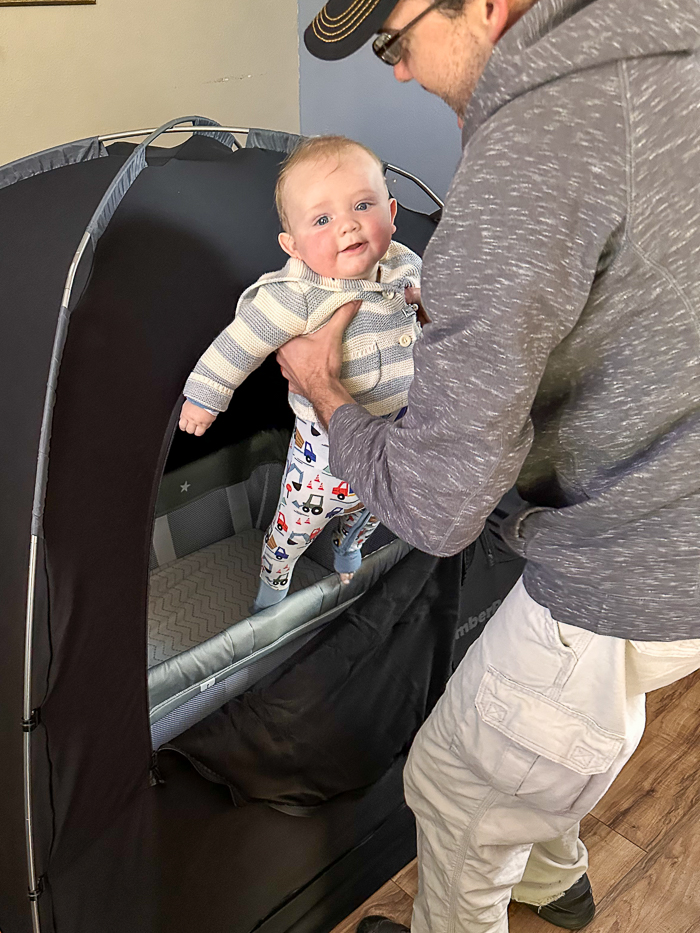 Slumberpod states that it can be used for infants four months and up, and with toddler beds all the way up to five years.
We tested it on our six month old, and I will be using it in the future with him as well since we had a good run the first time.
Which Cribs and Beds is it Compatible With?
We used the slumber pod with my guava lotus bassinet, and it fit perfectly. It is compatible with most pack and plays and mini cribs as well as toddler cots. You can check their website here for full compatibility.
If you're unsure if it will work with a hotel crib, you can call the hotel to ask for the crib type or measurements and compare with the Slumberpod measurements, noted above in this post.
Is it Worth Bringing on a Flight?
Although it felt like overkill to bring both the Slumberpod and our portable bassinet on our most recent flight, both were very nice to have once at our destination.
That said, it was a quick trip, and we didn't need a whole bunch of stuff for ourselves.
I'd evaluate how much you're going to be moving around, how difficult it's going to be to cart everything, particularly if you encounter stairs, and what other gear is absolutely essential. Obviously good sleep is important for everyone, but since we are going to have to carry our own gear all through train stations and stairs on an upcoming trip to Japan, we are probably leaving both the Guava Lotus and the Slumberpod at home for that trip. Pray for us.
What I Don't Like About the Slumberpod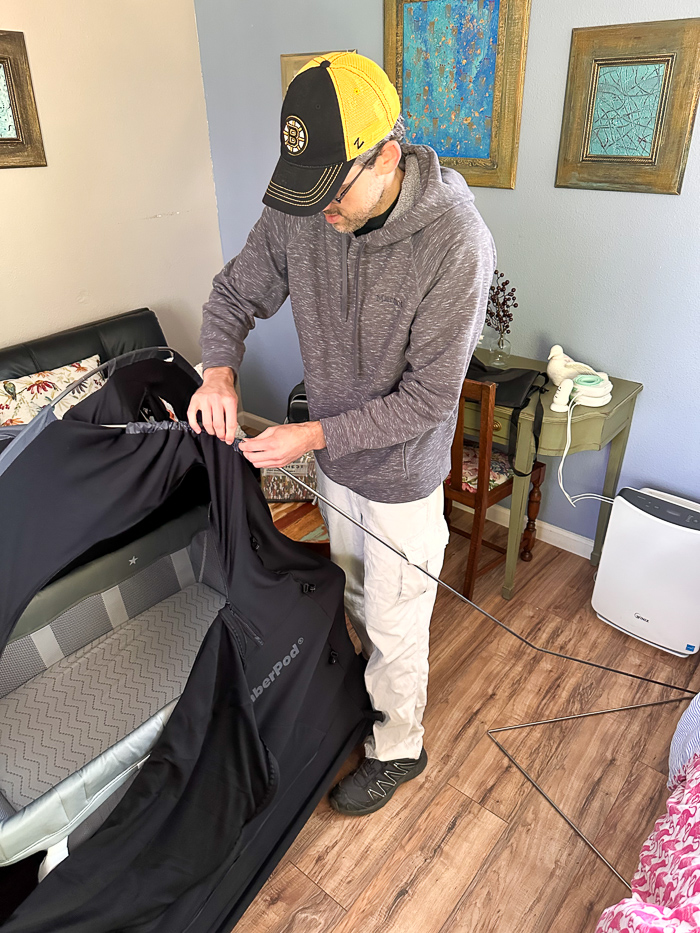 Since this isn't a sponsored post and I bought the Slumberpod myself, I can say whatever I want about the pros and cons, and there are definitely cons.
When you're putting the tent together, the two poles are incredibly long. Although it's easy to put up with two people, be careful you don't poke someone's eye out. The first time we set it up, there were three adults and one toddler, plus one baby in a tiny room trying to figure it out, and it probably it looked like a sitcom sketch if only someone had been filming.
On the other hand, it helps simplify things because there's only two poles that cross like an X across the top.
I also wish there was an additional pocket to stick a sound machine into. I guess it doesn't matter since you can always have one outside the tent, but I just like the idea of making it a little cocoon with sound inside so you don't have to whisper.
Finally, the clear plastic pocket meant for a baby monitor is stupid. Our baby monitor kept focusing on the folds in the plastic, and it was impossible to get a clear picture even after much maneuvering. It's due to the autofocus on our monitor, which is the Owlet (sidenote: if you're looking for a baby monitor, I don't recommend the Owlet). Here's a list of compatible monitors.
We could still hear if there were any issues, but I like being able to look at my baby as well.
Is the Slumberpod Worth $200?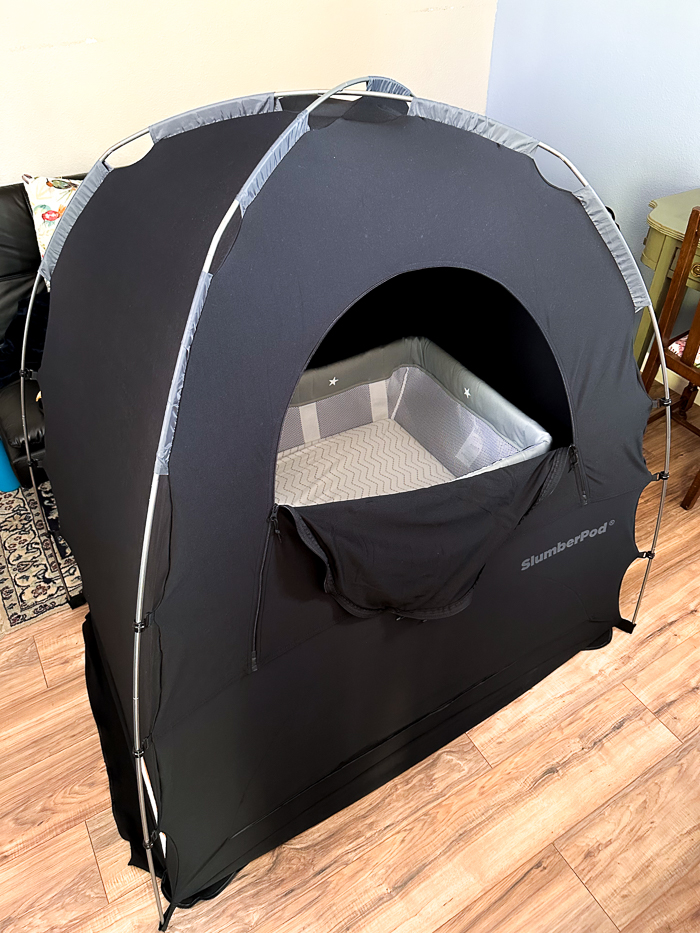 The answer to this question is going to come down to how easily your little one sleeps with noise or light. It also matters if they're going to have their own room and how dark it is. But if you're going to be sharing a bedroom, you might want to seriously consider how you're going to keep it dark enough if you don't want to go to sleep at 7:30.
Still, I have yet to see how long the Slumberpod will last, and $200 feels like a lot.
This is why I love buying secondhand gear and then reselling it when I'm done.
I bought this one for $99 off of Facebook marketplace from a woman who had never used it after receiving it as a baby shower gift, but I also saw options on Goodbuy Gear, Mercari, and Poshmark.
If you don't like the idea of buying things secondhand, you can certainly get a new one directly from Slumberpod (use code bemytravelmuse$20 for 5% off!) and then resell it when you're done. That might be the best call if what you're finding is pricey when you add in shipping. Always add that up first before buying secondhand since that can eat up your savings and most companies offer free shipping on new items.
Considering we also have the Guava Lotus bassinet, if we had paid full price for everything, we're looking at a sleep setup of almost $600.
Baby stuff can get crazy expensive FAST.
Overall, I'm glad I had a chance to try the Slumberpod and Guava Lotus bassinet together. I genuinely don't think I would've bought either one if it weren't to test it so that I could write this review. But each item has turned out to be quite useful. I'd even consider using the Slumberpod for naps at home in the summertime when it's bright.
Is it worth it? I don't know how it would feel if I spent $200 on it brand new and only used it once or twice, but since we travel a lot, I'm glad that I got one.
Pin me for later: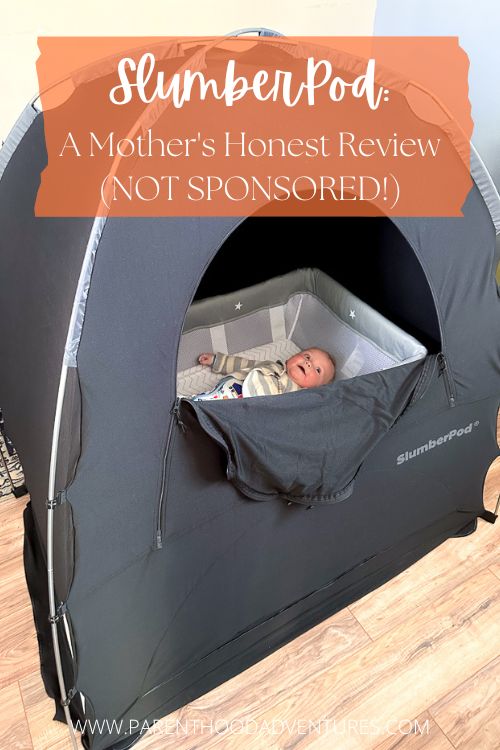 *This is not a sponsored review, but some posts in this link are affiliate links that help me out at no extra cost whatsoever to you. Thanks for keeping our site going!