Chicco LullaGo Nest Portable Bassinet: Honest Review for Home and Travel
In my experience, shopping for baby gear is mostly deciding what's worth splurging for and what you can buy at a reasonable price.
The Chicco LullaGo Nest Portable Bassinet is one of those items that's enduring and easy to use, without a staggering price tag. It's a great compromise between a full-size bassinet for the home and a portable one for traveling.
In this comprehensive review of the LullaGo Nest, we'll discuss what features we've loved most while using this bassinet for our two kids.
The Chicco Brand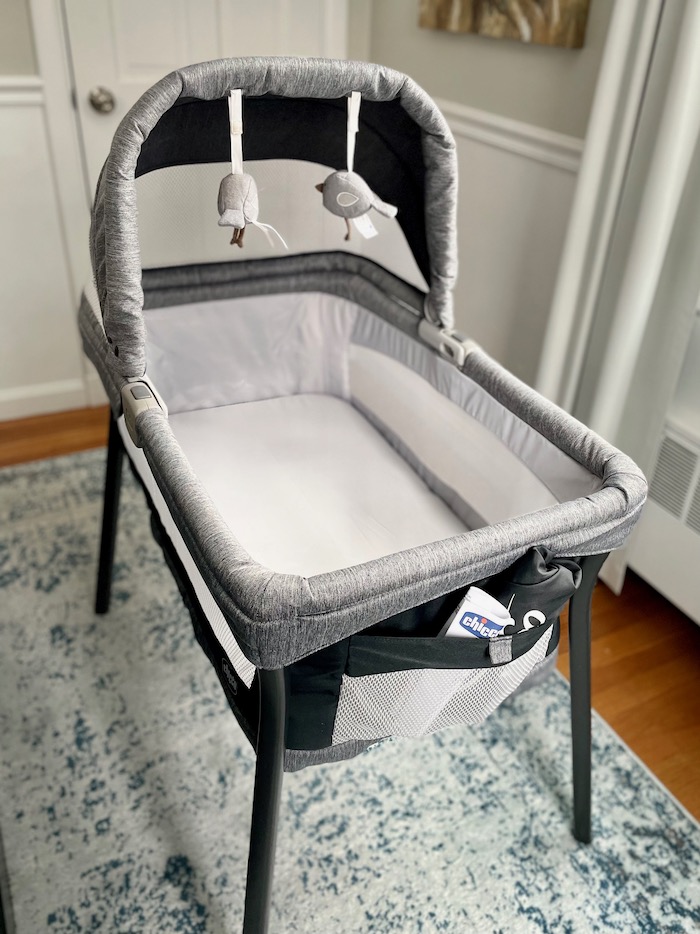 Chicco is a global brand with Italian roots and over 60 years of experience making baby gear. It's now become one of the biggest players in the field, with a wide range of products. Parents shop Chicco for car seats, strollers, high chairs, baby-feeding equipment, carriers, and sleep solutions.
Chicco has reliable gear with middle-of-the-road pricing, making it a solid choice for parents looking for long-lasting products. In addition to pack-and-plays, Chicco sells two types of bassinets for infant sleep: Close to You and LullaGo.
Chicco Close to You Bassinets
The Close to You models are bedside sleepers and mobile bassinets in one. They stand on four wheels for mobility, and their heights are adjustable. There are two options:
The Close to You SE bassinet is Chicco's standard bedside sleeper. It's appropriate for use up to 20 pounds. It costs about $250.
The Close to You 3-in-1 is a mobile bassinet, bedside sleeper, and changing station. It accommodates babies up to 35 pounds, and it also has electronic features, like lights, vibration, and music. Priced at roughly $330, it's Chicco's most expensive bassinet option.
Chicco LullaGo Bassinets
Chicco's LullaGo line includes lightweight bassinets that stand on four legs instead of on wheels. They are sleek and modern in appearance, and they fold flat for portability. Chicco sells three kinds:
The LullaGo Anywhere has a travel-sized mattress for ultimate portability. This is Chicco's most budget-friendly bassinet, costing about $100.
The LullaGo Anywhere LE is similar to the Anywhere. The major differences are that the LE model sports a wood-grain finish on the bassinet's legs and includes a canopy attachment. The Anywhere LE is currently priced at about $140.
The LullaGo Nest is suitable for in the home and on the road. It contains a full-size mattress, folds flat for transport, and includes a canopy with two hanging toys. It costs around $160.
The Skinny on the Chicco LullaGo Nest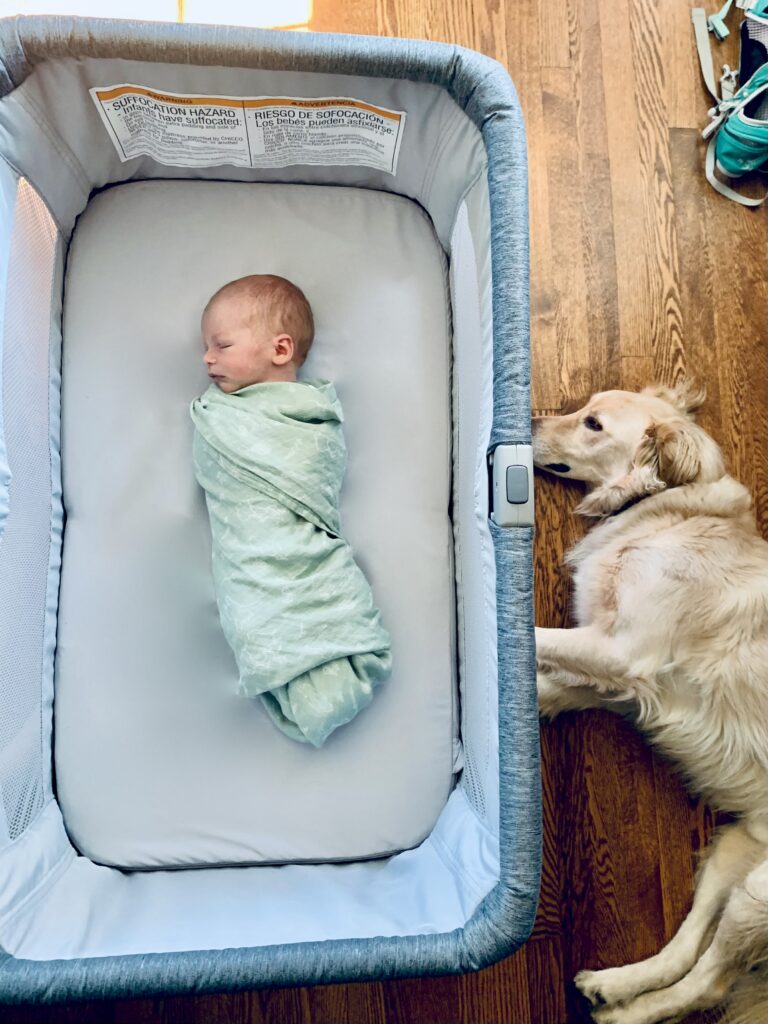 The LullaGo Nest is Chicco's full-size bassinet that folds flat for travel. It doesn't have fancy bells and whistles or smart technology, but it's a safe, modern, and comfortable place for your new baby to sleep.
The Nest has a canopy that helps block sunlight and lamplight to keep your little one snoozing soundly. Both the mattress and the frame fold in half, so they're easy to carry from room to room or throw in the car. All fabrics are machine washable (this is a must for me!).
When we were expecting our son three years ago and shopping for a bassinet, we had a few key criteria. We wanted something simple, safe, and easy to assemble. We were looking for a solution that would work well both in our home and on weekend trips to grandparents' or siblings' houses.
The LullaGo Nest checked off all the boxes, and I'm glad we chose it. It has worked seemlessly for our family and held up well through the newborn months of our two kids.
Chicco LullaGo Nest: Weighing the Pros and Cons
I've had no major disappointments with the LullaGo Nest bassinet. Here are some of the features that have been most helpful for our family, and a couple with room for improvement.
Pros
The bassinet is sturdy and safe for sleep.
It is simple for any parent or grandparent to set up.
Mesh sides improve ventilation and keep baby visible from anywhere in the room.
All bassinet materials are easy to clean.
Cons
It is a little heavy if you're carrying it long distances (but compared to most bassinets, still lightweight!).
The included carry bag has no zipper or closure at the top, so bassinet parts often spill out during travel. The carry bag isn't practical for flying.
No wheels means it's more difficult to slide to different spots in the room.
Detailed Features and Specifications
We looked at all sorts of factors when choosing the Chicco LullaGo Nest for our family. Here are the nitty-gritty details you'll want to know before buying one:
Cost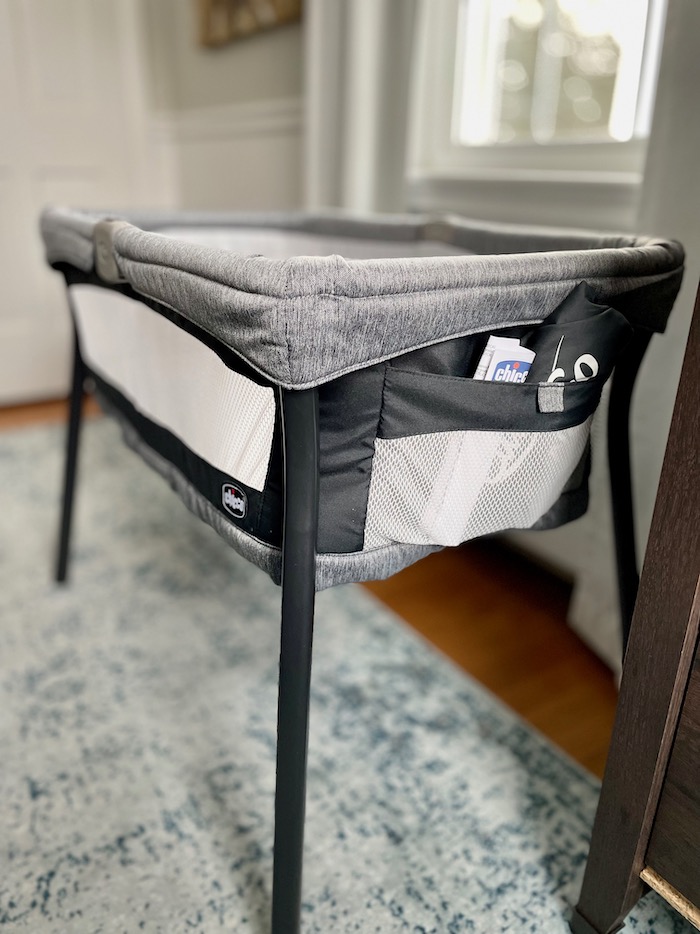 A bassinet is one piece of baby gear that comes in a massive range of prices. Most run from $100 to $500, with some smart models, like the popular SNOO bassinet, sporting a price tag over $1,500. The cost of the LullaGo Nest (currently around $160) is low to moderate compared similar options.
Portability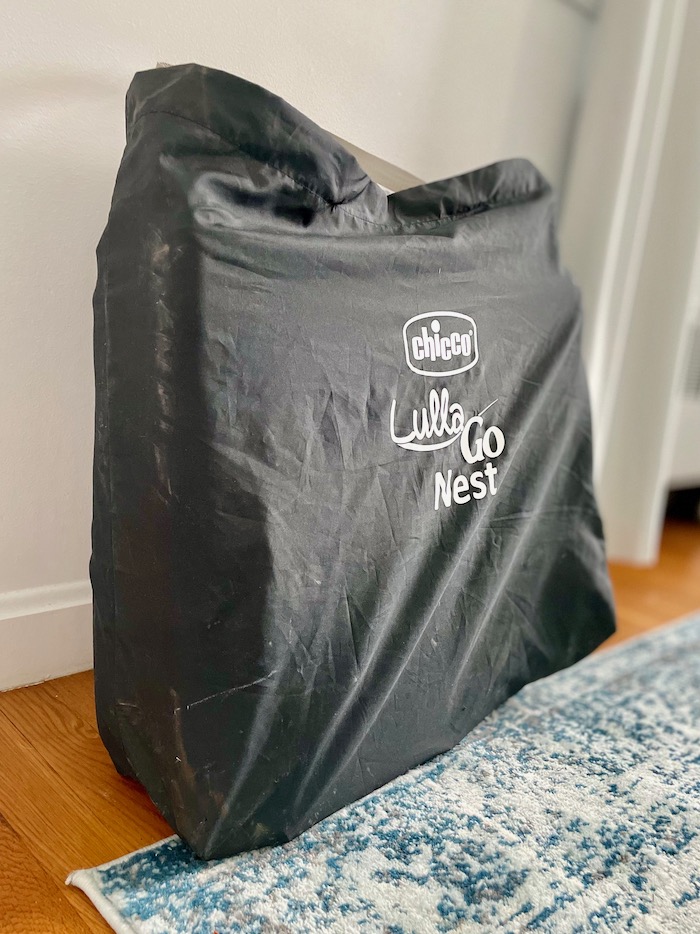 The LullaGo Nest has a full-sized infant mattress. When assembled, the entire bassinet measures 35″ long by 21.5″ wide by 44.25″ high. Those dimensions drop down to 22″ long by 20″ wide by 8″ high when disassembled and folded.
The Nest has a light weight of 17 pounds, but even that can feel heavy, especially when carrying other gear at the same time. The entire bassinet folds flat (with the legs detached) for traveling. It fits in an included tote bag for carrying.
Chicco's carry bag for the LullaGo Nest is shapeless and does not zip at the top. When rested on the floor, the legs of the bassinet often roll out. Although the carry bag is impractical for flying, it's okay for road trips with the family, where we don't risk losing parts. Sometimes we even tape it shut to make sure everything stays inside.
Age and Weight Range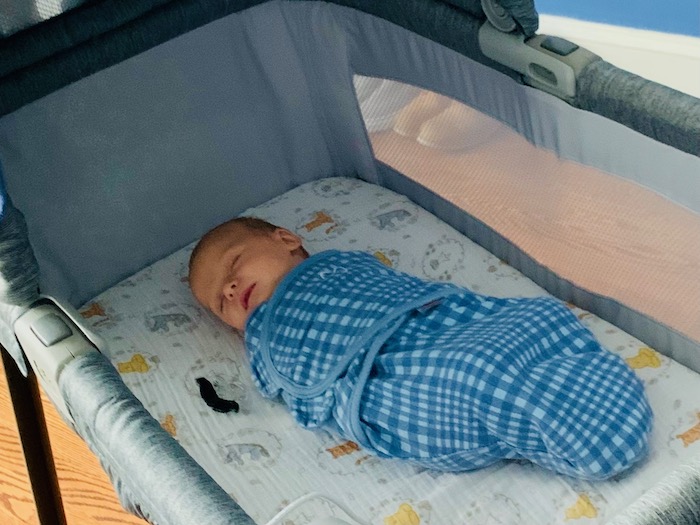 The LullaGo Nest is one of the first pieces of baby gear your newborn will use. I remember bringing our son home from the hospital and being so excited to put him in his little bed. (The excitement died down a bit after picking him up and putting him back in it 30 times in a row.)
The Nest can support babies until they weigh 20 pounds or can push up on their hands and knees. That means most babies could last until at least six months in the LullaGo Nest.
However, in our experience, any bassinet starts to feel a little small once babies start rolling over in the night. Once both of our kids hit that milestone, we transferred them to a crib to give them more space. So we used the LullaGo Nest for both of them until they were about three months old.
Even though it might seem like a short-lived item, I appreciated having a bassinet instead of a crib for the early months. It allowed me to have our babies sleep closer to me in their newborn days, when frequent awakenings and feedings were a nightly occurrence.
Comfort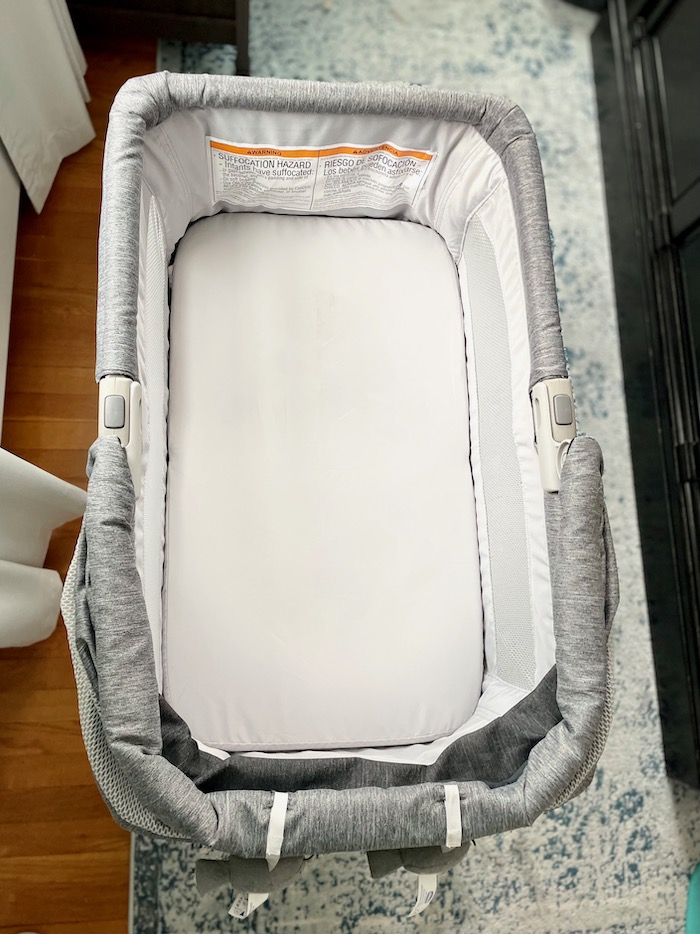 The LullaGo Nest has a thin mattress with ample padding to keep baby comfortable. As with all newborn bedding, the cushion is not too compressible, to help keep baby safe. The fabric of the Nest's mattress cover is soft and flexible, so I don't have to worry about any scratchy materials against our children's faces.
Safety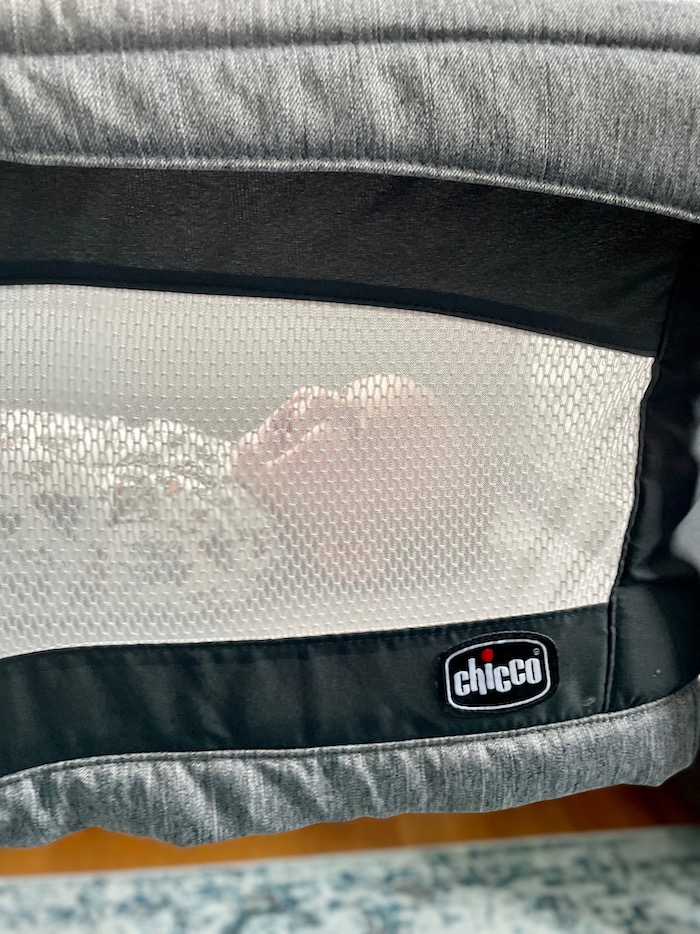 There are about a thousand things to worry about as a new parent, and sudden infant death syndrome (SIDS) is probably the scariest of them all. When you have a new baby, every nurse and doctor in the hospital reminds you nine times to put baby down on their back in an empty crib or bassinet.
Fortunately, the Chicco LullaGo Nest is a safe spot for infants to sleep. It has been tested and certified by the Juvenile Product Manufacturer's Association, which means that it meets the goverment's requirements for overnight sleep.
To improve ventilation and prevent overheating, the LullaGo Nest has mesh panels on the bassinet's sides and canopy. It has a sturdy, flat mattress without cushy pillows, bumpers, or other dangerous items that a newborn could get trapped in.
Care and Cleaning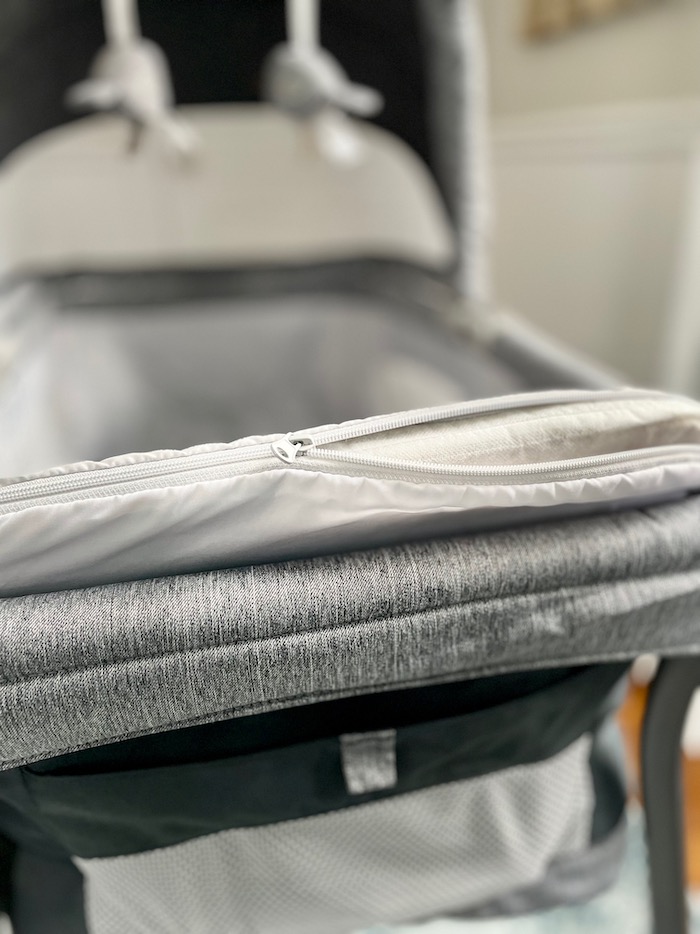 Both the mattress liner and crib side walls unzip for machine washing. This is a lifesaver. The washing instructions for all the bassinet's fabric recommend hanging to dry (which, to be honest, I didn't see until writing this review). The ability to clean your bassinet fabrics quickly is a serious win, especially in those early nights, when leaky diapers and midnight spit-ups are frequent.
Parts and Setup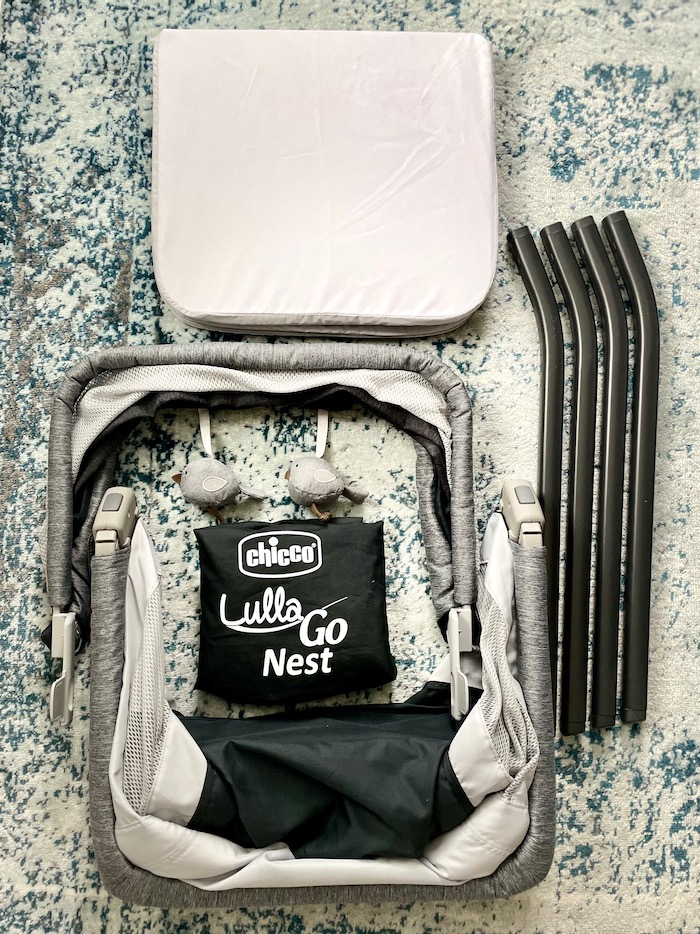 I can say from experience that the Chicco LullaGo Nest could not be simpler to set up. This is huge, especially when you're traveling and you have the monitor, sound machine, and somehow 30 other things to set up for baby to go to sleep.
I can easily put the bassinet together (in about a minute) if I'm by myself. The parts include a frame, mattress, canopy, four legs, and carry bag. The frame and mattress unfold quickly to their full shape, and the four legs secure into the bottom of the frame with a snap.
Aesthetics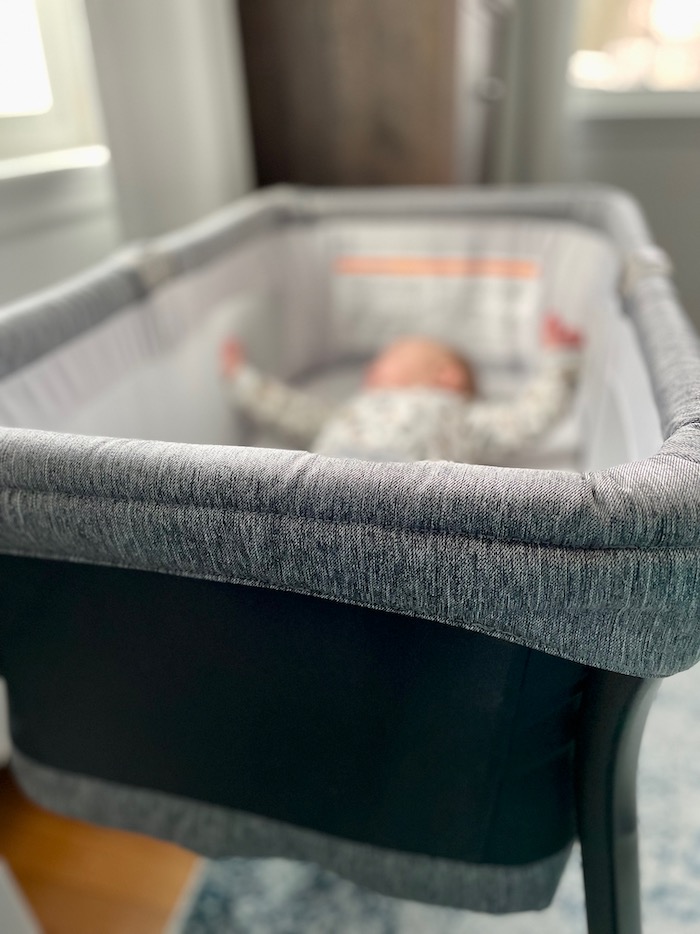 The Chicco LullaGo Nest sports a simple, modern design with clean lines. Chicco has made this bassinet in a variety of neutral tones in the past, but it's currently only available in a cream color called Dove.
The fabrics on the bassinet are thick and high quality, with textured accents. Since it's understated and neutral, the LullaGo Nest works well with the aesthetic of any home interior style.
Canopy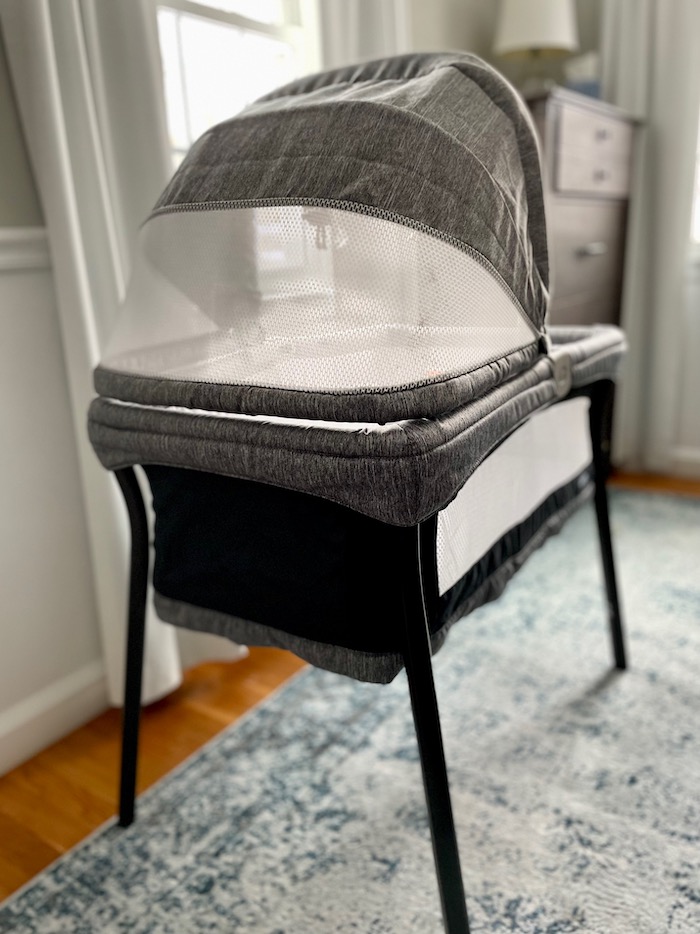 The LullaGo Nest has an attractive canopy that parents can unfold completely or halfway to help shield the baby from light in the room. While the mesh part of the canopy increases ventilation, it does allow a considerable amount of light through when completely extended.
If parents would rather not use it, they can remove the entire canopy from the bassinet by pulling it upward off of the frame. We often leave the canopy at home when we travel, in order to reduce the overall size and weight of the bassinet.
Accessories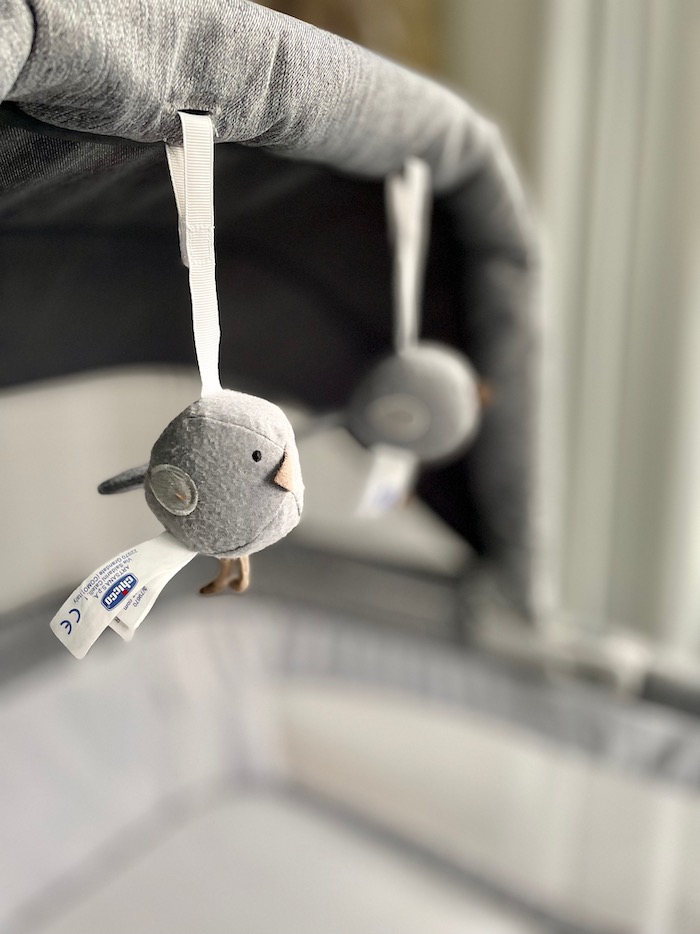 The LullaGo Nest canopy has two toy attachments to keep the baby entertained when awake. If parents would rather not use these, they can detach the toys' velcro or flip them up over the canopy.
Chicco sells extra mattress covers and sheets, which are roughly the size of a standard pillowcase, to accompany its bassinets. It has been a major help for us to have extra linens on hand when our baby is tired and we need to do a quick change of the sheets.
Storage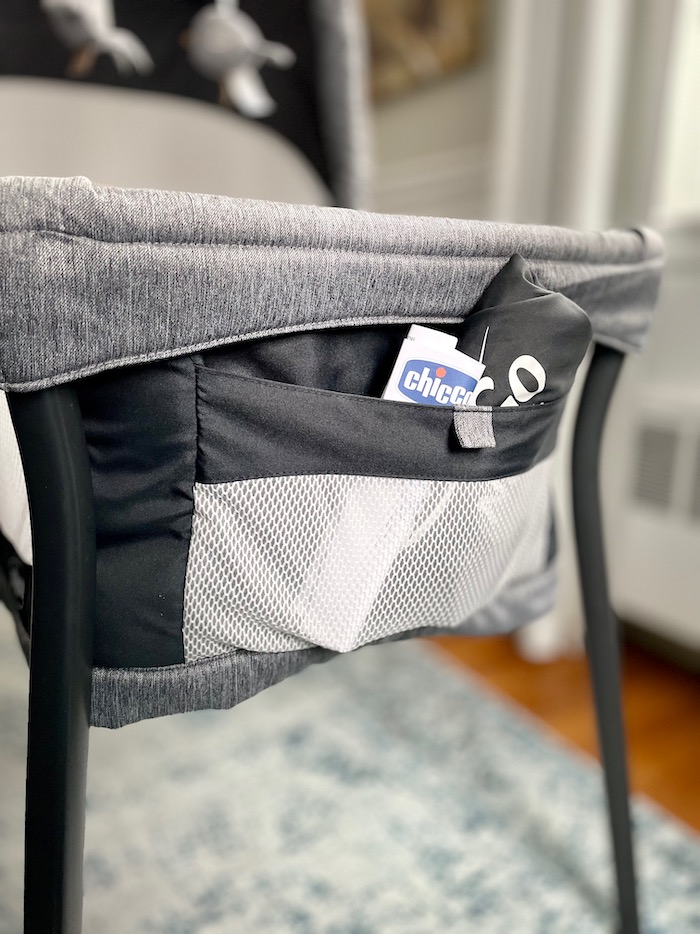 When it comes to baby gear, it's amazing how clutch a storage pocket can be. The Nest has an ample pouch on the side. We often use it for pacifiers and extra sheets at home. When we travel, it's the perfect spot for diapers, wipes, and a clean set of pajamas.
Technology
The Lullago Nest is a simple, tech-free bassinet. It doesn't rock or bounce, and there's no smart technology features to quiet baby's cries. Although smart sleepers can be really helpful for newborns, we opted for a simple model when shopping for our son, because we didn't want any trouble weaning him out of the bassinet.
The Upshot: The Chicco LullaGo Nest Portable Bassinet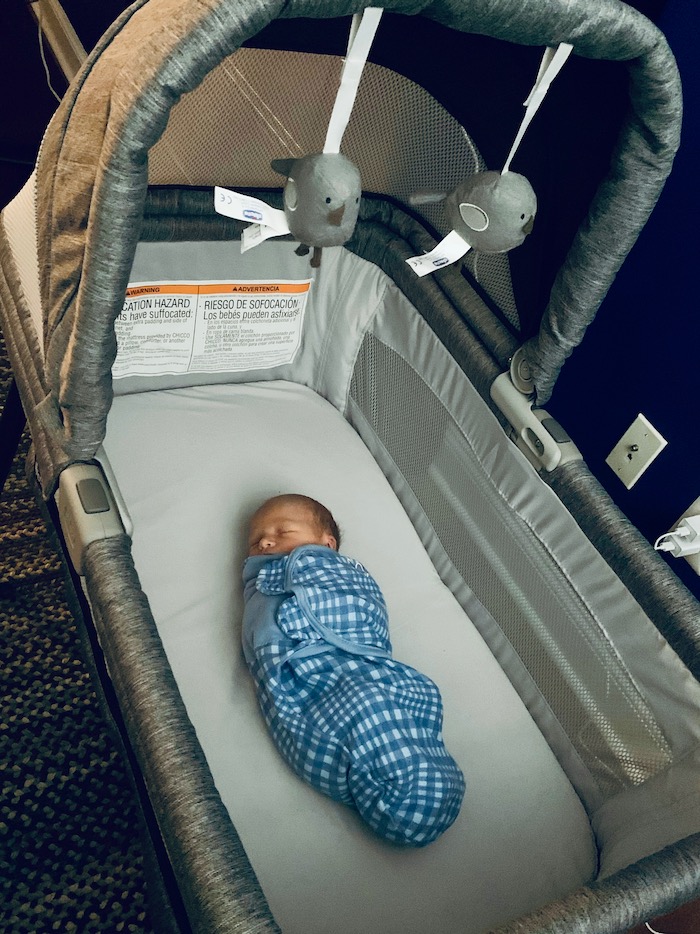 The Chicco LullaGo Nest is a straightforward, high-quality, reliable bassinet for your newborn. It's roomy for at least the first 3–5 months of life, and it's designed to fit babies even older. Although the legs aren't adjustable, we found the LullaGo Nest to be at a fine height to place our infants in (repeatedly), or to sit down next to them if need be.
This bassinet might not have crazy features to run and tell your friends about, but it looks good and it gets the job done. We've been really happy with it for our two children.
To compare the Chicco LullaGo Nest against a more high-tech option, check out our detailed review of Happiest Baby's SNOO Smart Sleeper.
Pin me for later: