What to Look for in a Glider or Rocking Chair for Your Baby Nursery
As you get closer to the birth of a new baby, those nesting tendencies get real. From wall hangings and mobiles to cribs and changing tables, decorating your nursery is one of the most exciting parts of welcoming a child into your home. Choosing a cozy glider or rocking chair is also part of that.
Gliders are clutch for keeping parents comfortable while soothing or feeding the baby, but shopping for one can be overwhelming. As a mom of an infant and a toddler, I've used our glider chair on countless sleepless nights — with lots of time to think about what I'd change if I were to buy one again.
In this glider and rocker guide, we'll discuss all the features to navigate when choosing a nursery chair, and what I wish we had considered when purchasing our glider.
Types of Rockers and Gliders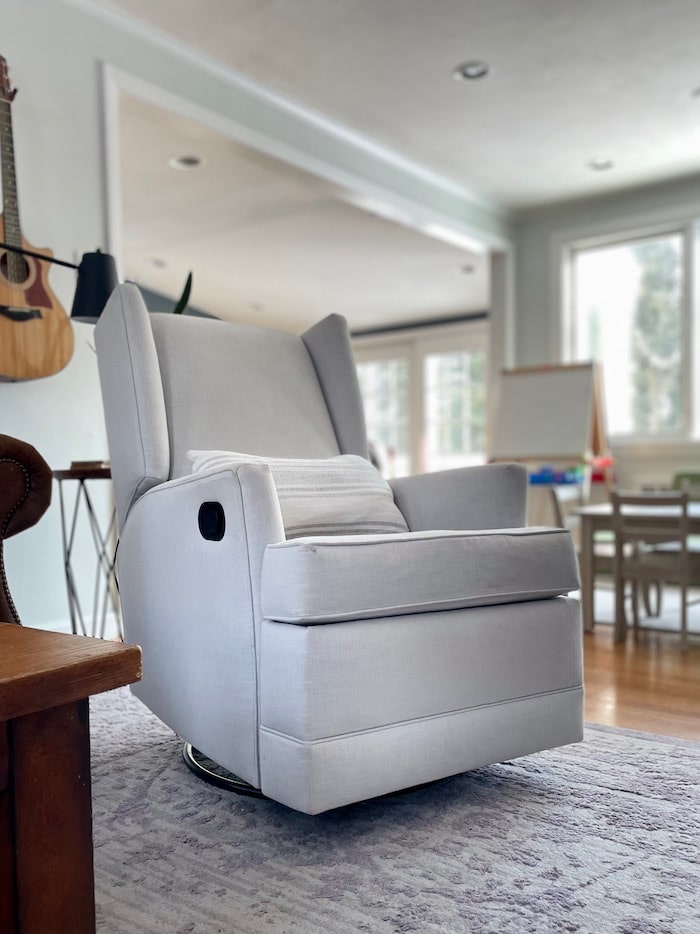 There are five overarching nursery chair types on the market. Here are the primary differences among them, and the major pros and cons of each:
Rocking chair
A rocking chair is a timeless, classic piece of nursery furniture. It sits on arched legs, allowing the parent to use momentum to move the chair forward and backward. Shoppers can often purchase a coordinating ottoman to provide leg support.
Greatest advantage: The arched legs are often removable, so as to transition the seat into a stationary chair for your home after the child's infancy.
Greatest drawback: Back-and-forth movements can become rather strong on rockers, making it feel like they might tip over backward. Without careful attention, little fingers and toes can get trapped underneath and pinched.
Glider chair
A glider chair moves forward and backward on a fixed track instead of pivoting over its legs like a traditional rocker. As with rockers, shoppers can typically purchase a coordinating footstool to make the chair more comfortable for longer stints.
Greatest advantage: Gliders often have a smaller footprint than rockers, making them ideal for smaller spaces.
Greatest drawback: Glider chairs don't have that timeless and cozy rocking-chair look that parents often associate with a warm and homey nursery.
Swivel glider chair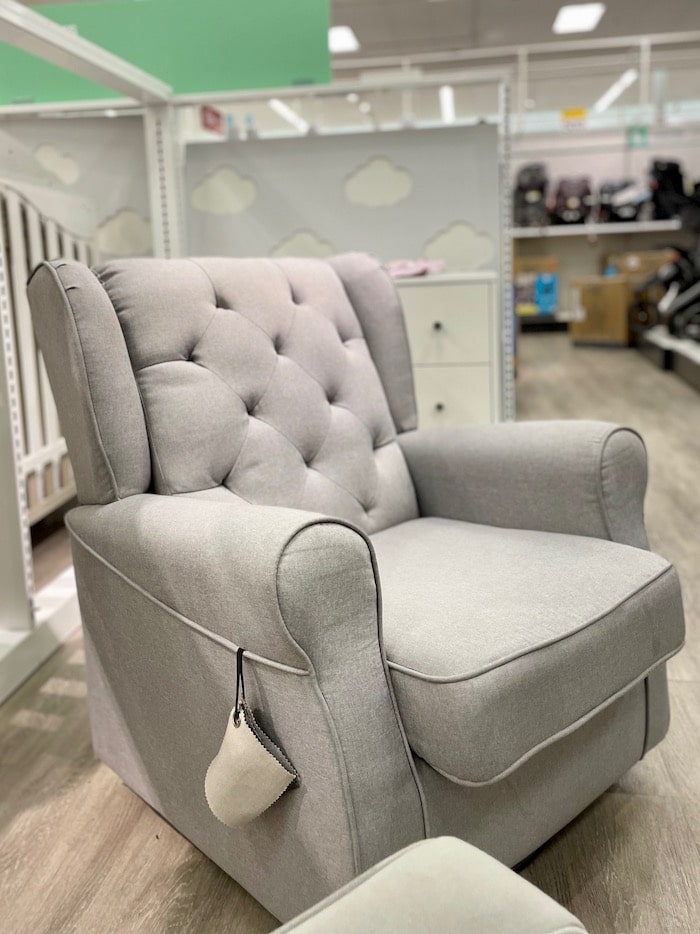 Swivel gliders operate on the same gliding mechanism as regular gliders, but they have the ability to spin. Although some don't turn a full 360 degrees, they allow Mom or Dad to pivot toward different areas without disturbing a sleeping baby.
Greatest advantage: The swivel feature makes this type of chair suitable for larger nurseries or more central locations, like family rooms, where parents might want to face in different directions.
Greatest drawback: A swivel glider can be more tempting for a rambunctious toddler who wants to swing like Tarzan in the living room. (Trust me, we know from experience!)
Recliner chairs
The seat back of a recliner tips backward, usually via a lever or arm on the side of the seat. This makes the chair more comfortable for lounging on through the night, and it helps distribute the baby's weight onto Mom or Dad's body when laying back. When in the upright position, recliners often have a gliding mechanism incorporated within them.
Greatest advantage: Reclining chairs are typically more comfortable for sleeping, especially with built-in footrests that pop forward from the chair to provide leg support.
Greatest drawback: Recliners take up much more room than simple rockers or gliders, and they require extra space for transitioning from upright to reclining mode.
Power recliners
Power recliners operate via an electronic remote rather than a manual lever. These chairs allow parents to fine-tune the degree of recline, without needing to provide weight against the back of the chair to keep it open.
Greatest advantage: These chairs switch from upright to recline mode and back again with smooth, quiet movements, which can be a stark contrast to relatively loud manual recliners.
Greatest drawback: In addition to a high price tag, these fancy recliners usually come with a power cord, which creates a safety hazard for babies who like to chew on everything and for young toddlers learning to walk.
Our Nursery Glider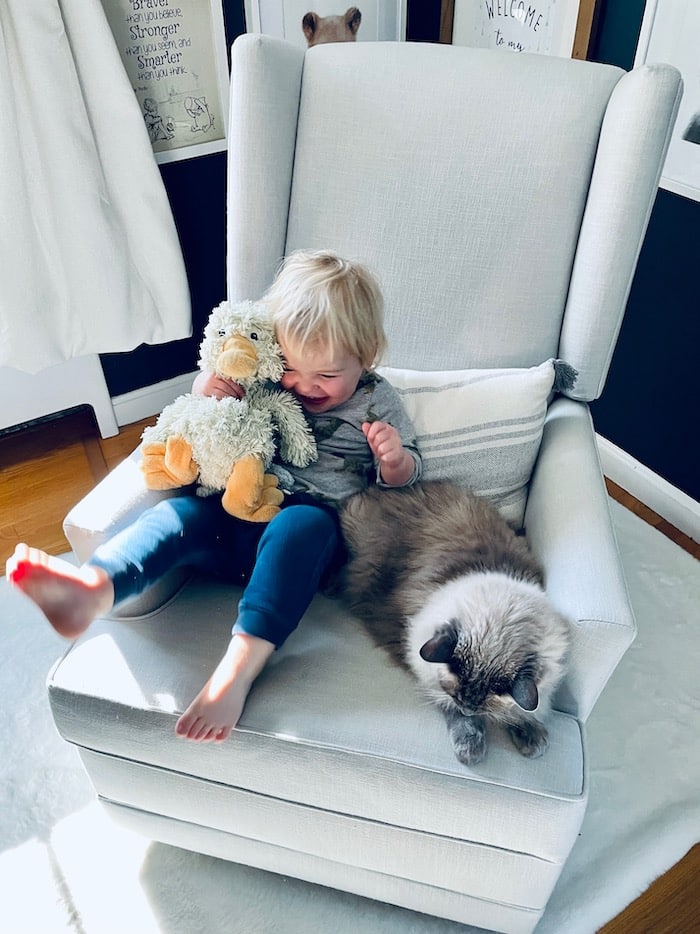 We shopped around extensively before welcoming our firstborn, and we settled on the Modern Wingback Manual Recliner from Pottery Barn Kids. It's an attractive swiveling glider chair with modern styling and durable fabrics; it now comes in a power recliner version, too.
When we use it
Our nursery glider makes for a great spot for breastfeeding and bottle-feeding during the infant months. It's also been an easy place to rock our babies to sleep when needed.
Our son was a difficult sleeper as an infant, so we ended up rocking him many evenings, both at bedtime and throughout the night. Standing and rocking a baby is tough on the back, so it was important to have a comfortable spot for us to sit and soothe him to sleep.
Anyone who has had a baby knows that parenting comes with the occasional all-nighter. My husband and I have each spent entire nights on our glider, holding our son when it was especially difficult for him to sleep (and telling ourselves there was a new sleep regression or growth spurt every week!).
Our son is now a toddler (and a great sleeper), and we welcomed our daughter last year. Once she started sleeping soundly, we moved our glider from the kids' bedroom to our living room downstairs. We now love having a comfortable spot to feed our infant or hold her for impromptu naps while staying close to our toddler to watch him play.
Pros and cons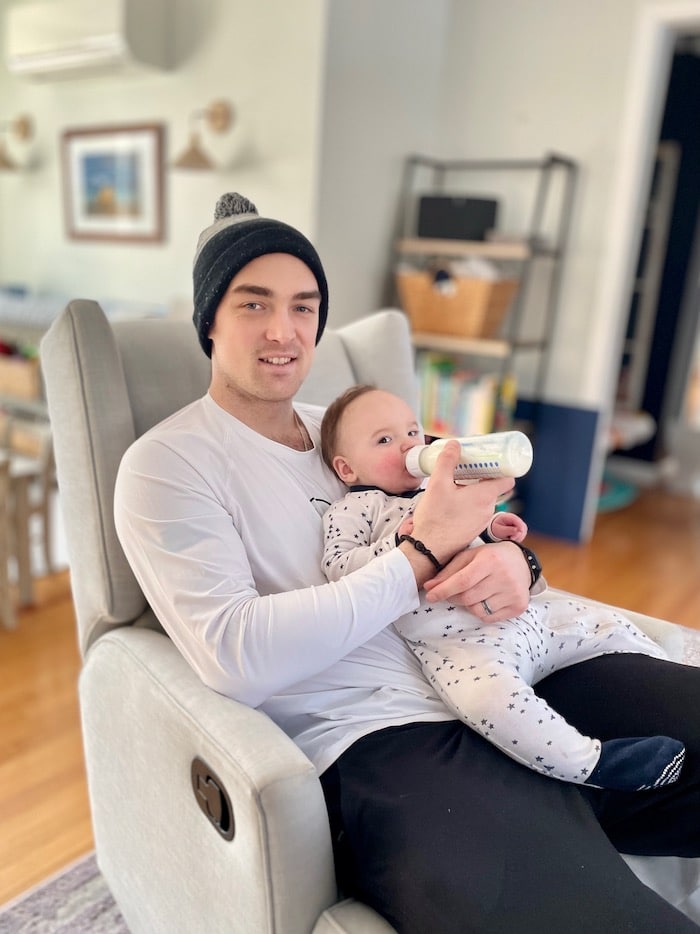 After using our chair regularly for about three years, these are some of my favorite features, and those with room for improvement:
What I like
Our glider is extremely comfortable, especially in recline position, for awake time and for sleeping.
A high seat back accommodates taller parents — one of the main reasons we chose this chair.
The chair's swivel feature makes it convenient to use in our living space, where we can rotate it to switch between focusing on our family room and monitoring our play area.
The gliding mechanism is smooth, and it feels natural for rocking babies to sleep.
This chair is stylish and neutral, fitting well with modern interiors and kid-friendly decor alike.
Our wingback glider has proved to be durable and sturdy. It has held up well after years of repeated use!
What I don't like
The recliner is loud when manually collapsing. The noise can quickly wake that snoozing baby we've worked so hard to rock to sleep!
Although it's comfortable when reclined, I always use a lumbar bolster when sitting upright in this glider.
This chair doesn't include a head rest, so it can result in a stiff neck if sleeping on it without a pillow.
We didn't splurge for performance fabric, so although most spills are easy to clean, a couple spots have proved to be persistent.
The spring-loaded reclining mechanism makes me worry about our kids pinching their fingers (so we've designated this chair as off-limits for play).
Other Features to Consider When Choosing a Nursery Glider or Rocker
Now that we've reviewed the major types of nursery chairs and how helpful a glider has been for our family, let's talk about some other features that might come into play when shopping for a nursery chair.
Price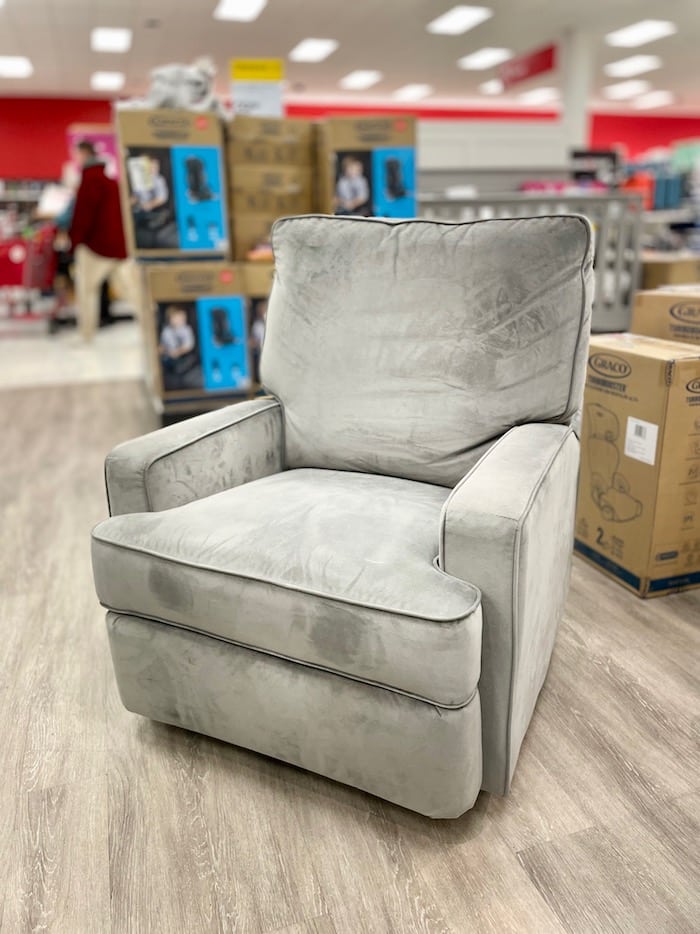 Baby gear is pricey, and outfitting a nursery gets expensive. Buying a glider or recliner is no exception. They range from about $180 to $2,500 (although I'm sure that high-end furniture outfitters carry some with even higher price tags).
When we shopped for a glider, we ended up choosing a chair in the middle of the price spectrum. In hindsight, we're happy with our purchase. It turned out that investing in a high-quality glider was especially beneficial for us, because we relied on it heavily to help our baby sleep.
If you have a magic baby who sleeps through the night at three months old, you might not need the nicest nursery chair out there. Unfortunately, there's no way to know how much you'll rely on this piece of furniture until you're in the thick of it. If you can swing it, it's likely worth investing in a chair that will last, so you don't have to replace it after a couple years of use.
Size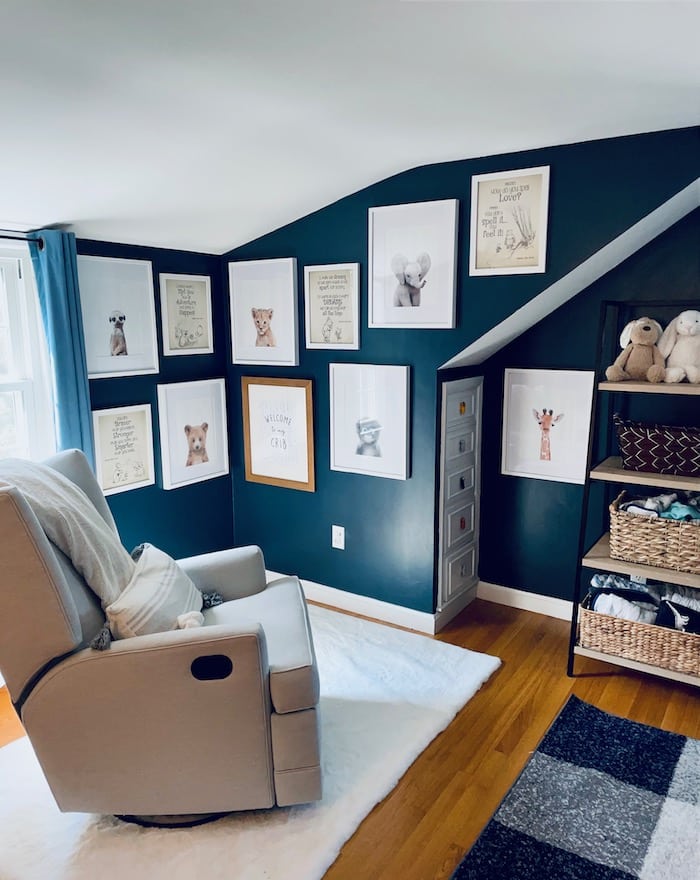 Gliders and rockers are generally bulky pieces of furniture. Some are designed specifically for smaller areas, while others have need more rooml. Recliners in particular occupy extra length in front and back, and therefore they can't be positioned too close to surrounding walls.
If you have space for it, it can be nice to have a larger chair with ample room for toddler snuggles as your baby grows. The Paxton Swivel Glider from West Elm comes in a slim version for tighter spots, and a wider chair-and-a-half version for larger nurseries.
Safety
Babies and toddlers can get hurt on any type of furniture, even when safety precautions are in place. No matter which type of chair you choose, be aware of potential safety hazards, like power cords that can trip new walkers, spring-loaded reclining mechanisms that can pinch fingers, rocking legs that can roll over tiny toes, swiveling chairs that tempt youngsters to swing around, and gaps in the footrest that can trap little legs.
Comfort and cushioning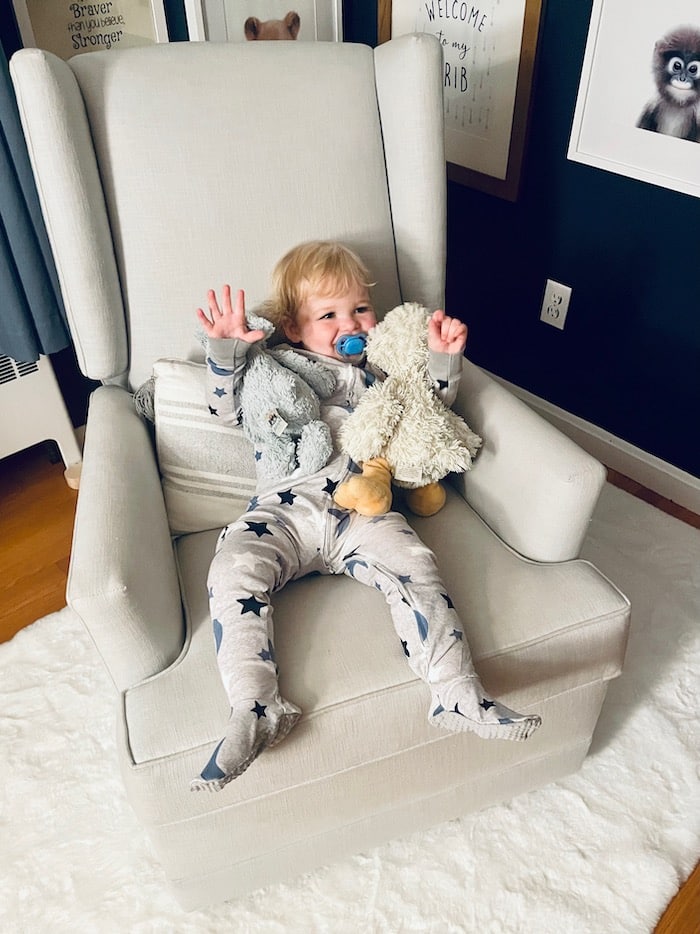 This is a big one. If you're going to invest in a rocking or gliding chair for your nursery, you'll want it to be comfortable. After all, you don't know how many evenings (or nights) you might be spending in it.
When we were shopping for our glider, we tried lots of chairs in many stores. Although you don't truly know the comfort of a chair until sitting in it with a baby on your chest from 8 pm to 6 am, you can get a pretty good idea by taking a few minutes to lounge in it at the store.
When you're shopping for a glider or rocker, try to find one with cushioning that's supportive without being too stiff. At the same time, extra-soft cushions can sag over time and result in achy backs and necks. This Nursery Works rocker from Target has a robust, padded square back cushion with an included pillow.
Unfortunately, in today's online retail world, it can be difficult to find gliders and rockers to try in person. I stopped by Target as I was prepping this article to see what they had available, and even though they carry dozens of nursery chairs online, they only had two in stock in the store.
Lumbar support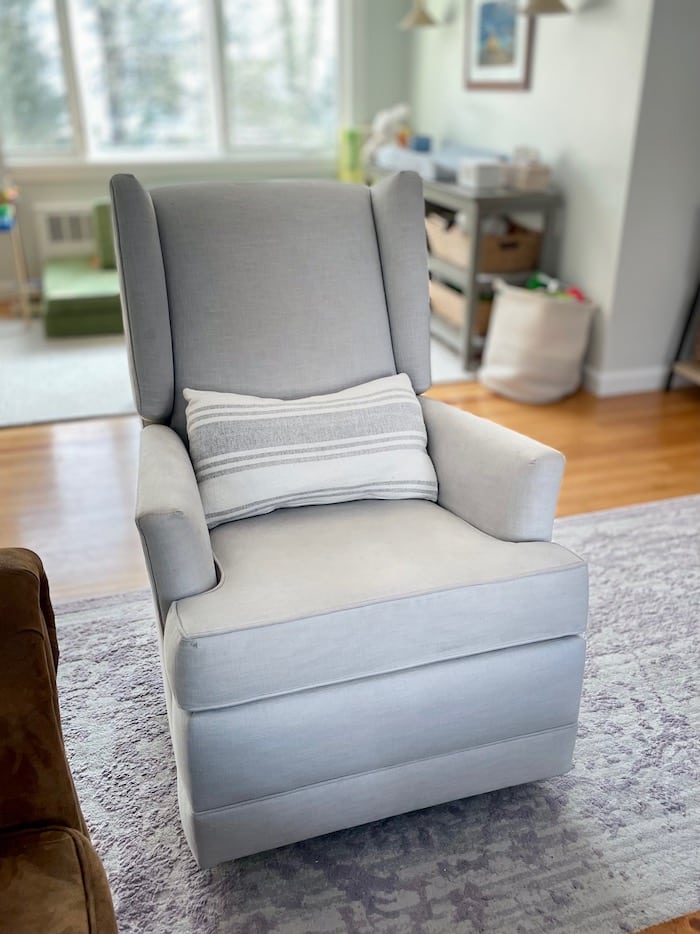 Few things are tougher on the lower back than caring for an infant. Walking, bending, and prepping bottles with a babe in arms are tricky tasks. It's important to find gear that helps relieve strain on the back when possible.
When we were researching gliders in stores, we tried them with and without lumbar pillows to make sure we could get the support we needed. Some chairs even come with a lumbar bolster, like this Babyletto Kiwi Nursery Glider.
Headrest
If you're going to be dozing off in a rocking chair or a glider, it's a good idea to have a pillow nearby to offer some support to your head and neck. Some higher-end recliners even come with built-in, adjustable headrests.
This Dream Deluxe Recliner from Pottery Barn Kids has an electronic-controlled headrest that moves forward with the touch of a button. It might seem silly, but it's way easier than trying to silently signal to your partner to slide a pillow under your head — without waking a snoozing baby!
Armrests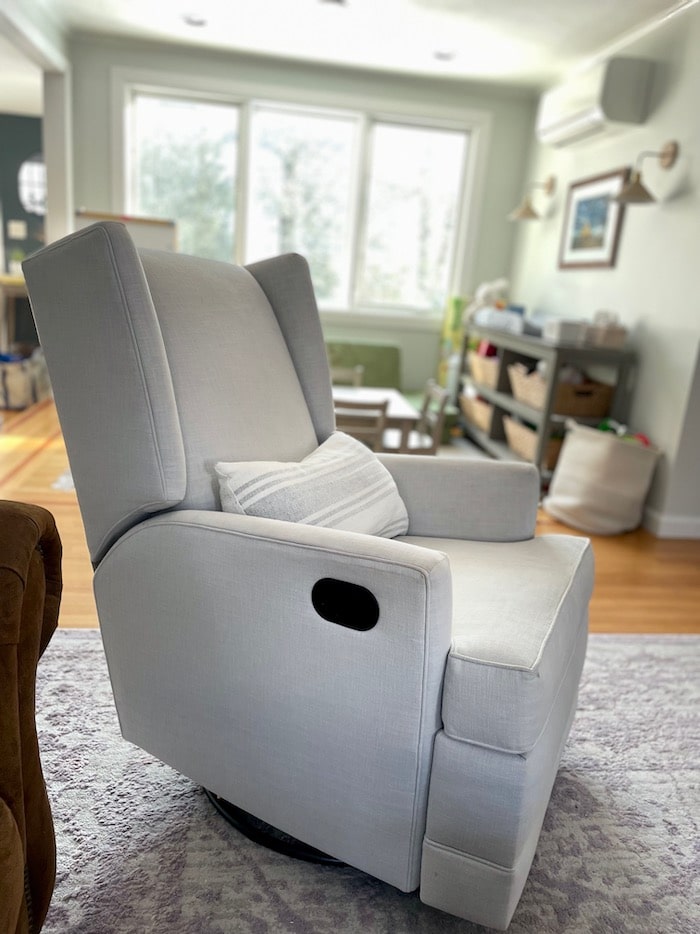 You'll be relying heavily on the arms of your new chair when holding a sleeping baby. Your little one's head or feet might even be resting on the arms, so it's important to find one with soft and cushy support. Although rockers with wooden arms might look stylish, those with a little cushioning over the armrests — like this Baby Relax Robyn Rocker from Walmart — will make you and your baby more comfortable.
Ottoman
Having the ability to put your legs up to help support the baby on your lap can be a lifesaver during long nights. Unless you're opting for recliner with a built-in leg rest, look for a chair with a coordinating ottoman to help keep yourself comfortable. Some ottomans and poufs are included with purchase, while others are available separately if you have the space.
Noise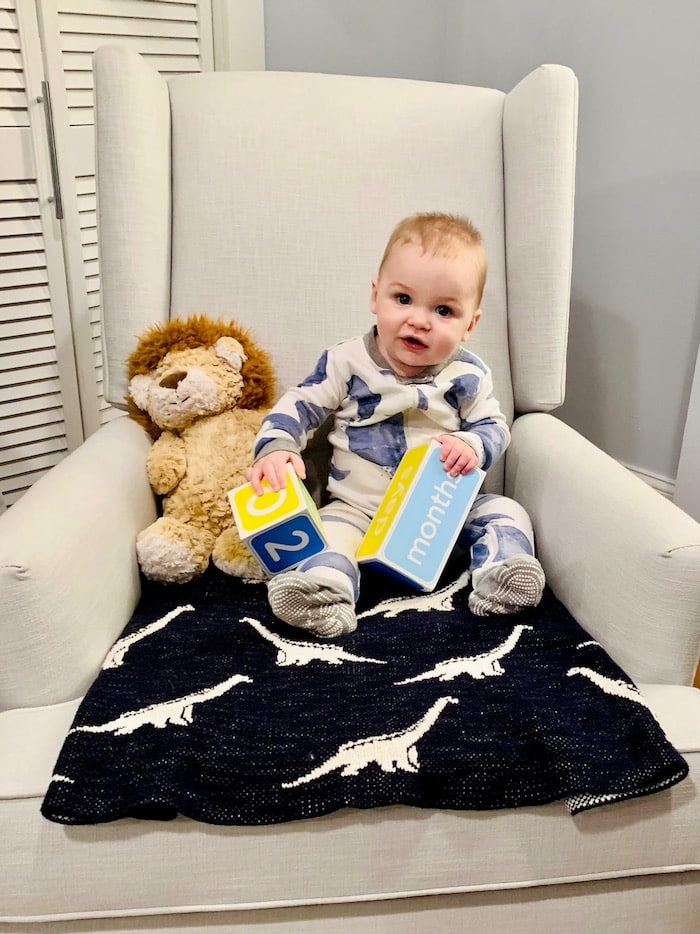 Before becoming a parent, I didn't even know that needing quiet furniture was a thing. I quickly learned the importance of avoiding loud furniture. When you've finally rocked that baby to sleep in your arms and need to transfer them to the crib, the last thing you want is to wake them up with a squeaky chair.
Avoiding noisy chairs is one of the reasons it's pivotal to test them out in the store. Manual recliners can be very loud when returning them to their upright position. One of the greatest drawbacks of our wingback recliner is the loud noise it makes when the footrest snaps back into place.
Material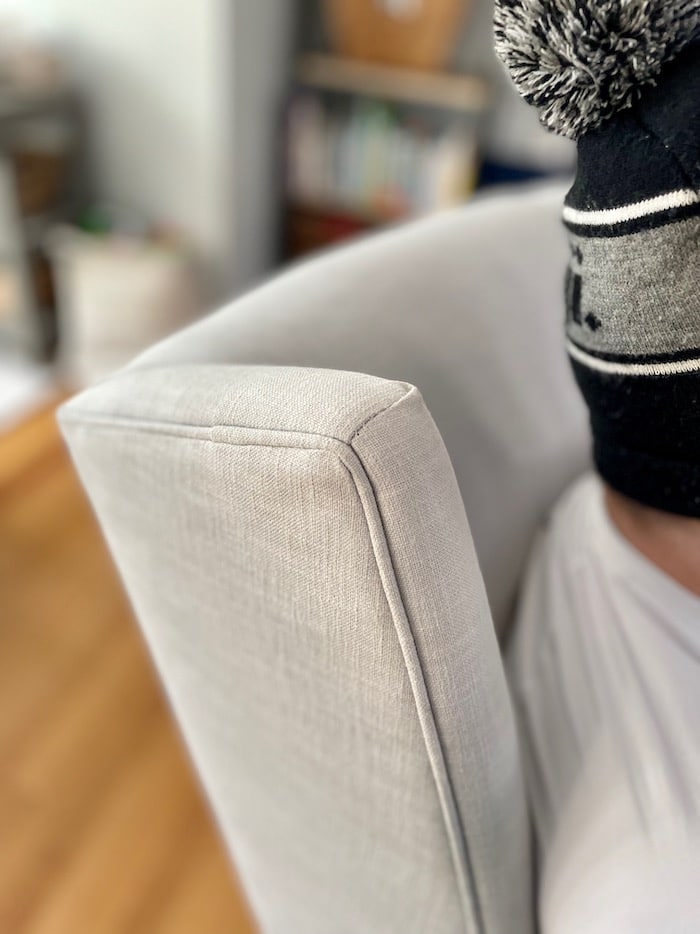 When shopping for a nursery chair, it's a good idea to find a color that coordinates well with the nursery while also blending with other rooms of the house. This is because, as your baby grows, you might choose to prioritize other furniture in their room and shift the rocker to another area.
Some chairs offer performance or stain-resistant fabrics. Your nursery chair is one of those pieces of furniture that will definitely suffer its share of spills, so it's probably worth it to splurge for durable, easy-to-clean material!
Storage
If your baby is sleeping on your lap, it can be difficult to bend down to the floor to grab your book or water bottle to keep yourself occupied. Fortunately, some rocking chairs include built-in storage pockets next to the armrest to keep the essentials nearby and avoid interrupting that precious newborn nap.
Charging ports
Yes, they really have thought of everything. Reading or browsing on your phone might be one of the best ways to keep yourself awake through sleepless nights. Some chairs, like this Paxton Power Recliner from Pottery Barn Kids, come with built-in USB charging ports to keep your electronics powered up through the night and ready for the day ahead.
Choosing a Glider or Rocker: Final Thoughts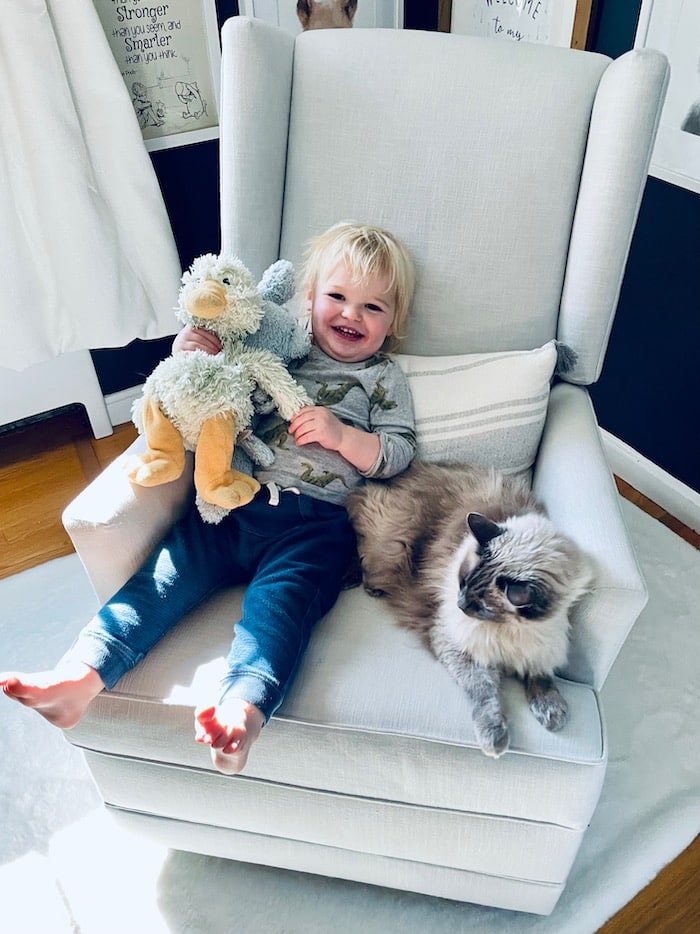 A rocking chair might not be the first thing that comes to mind when you think of essential new-baby gear, but it could be one of your most important purchases as you welcome your son or daughter. Trying out various chairs in the store and prioritizing which features matter most to you can help narrow down the choices to a chair that fits your family's needs.
In the end, the goal is to end up with a comfortable, enduring chair that stands the test of time and helps you make beautiful memories snuggling with your precious little one.