How to Travel While Exclusively Pumping
When I started to have issues breast-feeding my baby, I worried that my mobility was going to be gone. I loved traveling and had wanted to do so as a family, especially in the early days when babies can be easier to travel with.
But if I had to exclusively pump while traveling, would it even be possible? Would it be enjoyable?
We ended up traveling five times with our son while I was pumping (and once on my own for a conference). It's totally doable. Here's everything to know about exclusively pumping while traveling:
Get a Portable Pump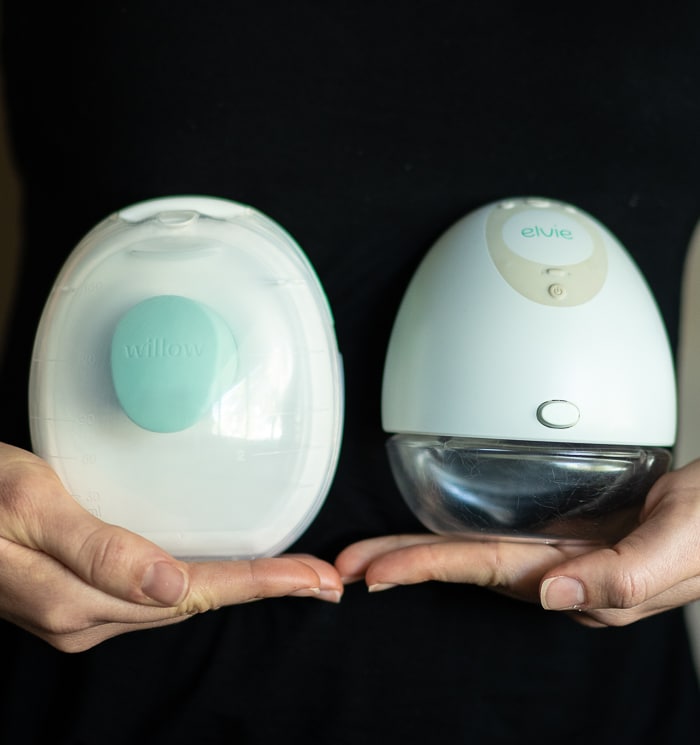 First and foremost, bring a pump that does not need to be plugged in. It would be infinitely harder to pump if I had to find an outlet and privacy every time.
I ended up getting both the Elvie and the Willow Go and ended up mostly using the Willow Go (read my review for more on why). They gave me so much freedom back. I have pumped while driving, riding in the back seat, while flying, while on a layover in the terminal, and even while operating a drone.
Since they are easy enough to just stick in a bra, I didn't have any problem pumping with them in public. I just wore a scarf or a big loose sweatshirt and it hid things well enough.
These can be pricey, but there's also the option of getting a hand pump and pumping in a lactation pod or nursery or under a scarf.
Get a Portable Bottle Washing Station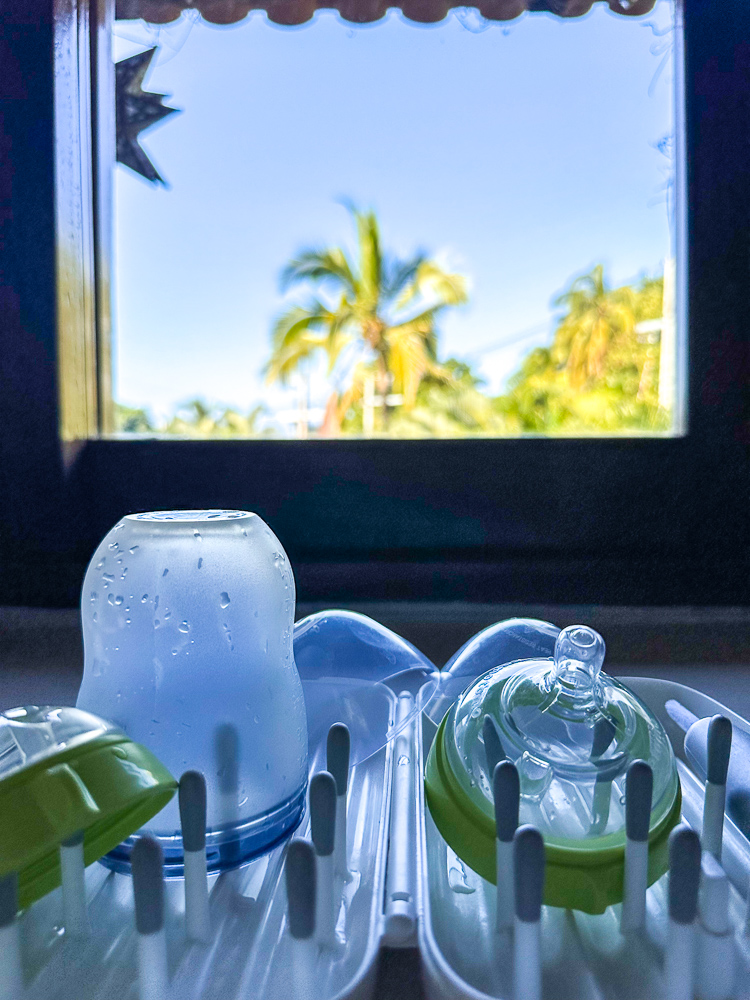 This is the other must have for exclusively pumping while traveling. It folds up small and easily fits in a diaper bag. It makes it possible to keep a sanitary space while cleaning pump parts and bottles on the go. It is so useful, we actually use it at home for my son's dedicated bottle washing station.
I recommend bringing your own unscented dish soap in a carry-on sized container if you're flying, since you never know what kind of soap you might find in an airport bathroom.
If pumping and washing on a flight, I recommend bringing some water with you in a refillable container to do your washing with since sometimes the water on flights isn't potable. If you need to ask a flight attendant for a bottle of water for washing, I have never had them not oblige.
Leave Time for Pumping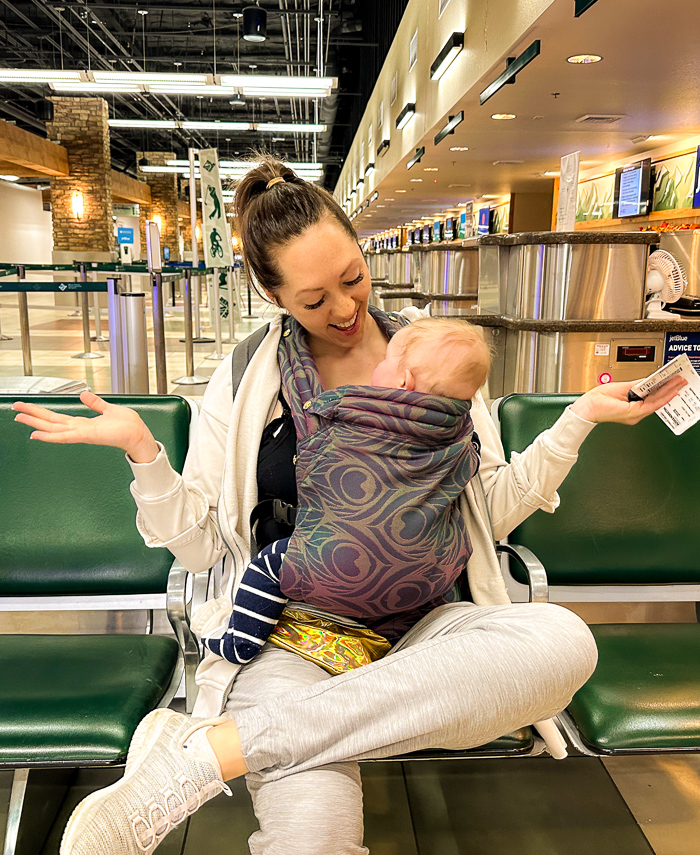 Traveling while pumping means allowing that extra time to get your pump in. Work in more time at the airport than you are probably used to, and given that there will be extra checks at TSA with your baby (more on that below), leave extra, extra time.
Although I used to book pretty tight connections, now I give myself extra time so that I can find a place to put the pumps in, empty the milk, and wash everything. I have pumped plenty on a moving plane, but it's much easier when I have access to a normal bathroom and sink.
When on the actual trip, just know that you are going to need to press pause every now and then to do your pump. I try to do as much as I can in the back seat of a car, while having lunch, or at a time when it's not going to be super disruptive. But still, you've got to do what you've gotta do when you've gotta do it! Sometimes that means delaying certain activities on your trip so you can pump.
I find minimizing the logistics to be very helpful with this. If you can manage to just stay in one place or have a more relaxed trip while you are still pumping, it will be much easier.
Find Lactation Pods
I have seen lactation pods at almost every US airport. Many places around the world have a similar option as well. The Mamava lactation pods are opened with an app, and give you a private place to feed or pump. Even if you haven't downloaded the app by the time you're standing in front of one, they still give you access codes to unlock them.
Unfortunately, though understandably, they do not have sinks or washing areas, and I have not seen an outlet to plug in. But if you have the wearable pumps or a manual pump, it's a great place to pump in privacy.
I personally think family restrooms should be left for actual bathroom situation, but if you're in an airport that has absolutely nowhere private to pump, it could also be option.
Bring Ice if Needed
The CDC recommends leaving milk out for only four hours without refrigeration. When traveling with my son, this is usually not an issue because he just drinks whatever I pump, but I have traveled without him before and needed to pump and keep my milk cold.
If you pump more than baby can drink, you are allowed to bring frozen ice packs and a small cooler or bag with you. Pumps also do not count against carry on allowance.
Know Your TSA Rights
It's important to know that you are allowed to travel with milk over 100 ml limit. This is true even if you are traveling without your baby and still need to pump.
TSA agents may perform a vapor test and will most certainly put the milk through an extra machine, but this does not harm the milk and they are not allowed to insert anything into the liquid.
There should be no reason why you are told to dump any milk, although I have been told to dump water before that we were using for formula. I politely and firmly held my ground that we were allowed to have it and the supervisor thankfully agreed with me.
Use Steam Clean Bags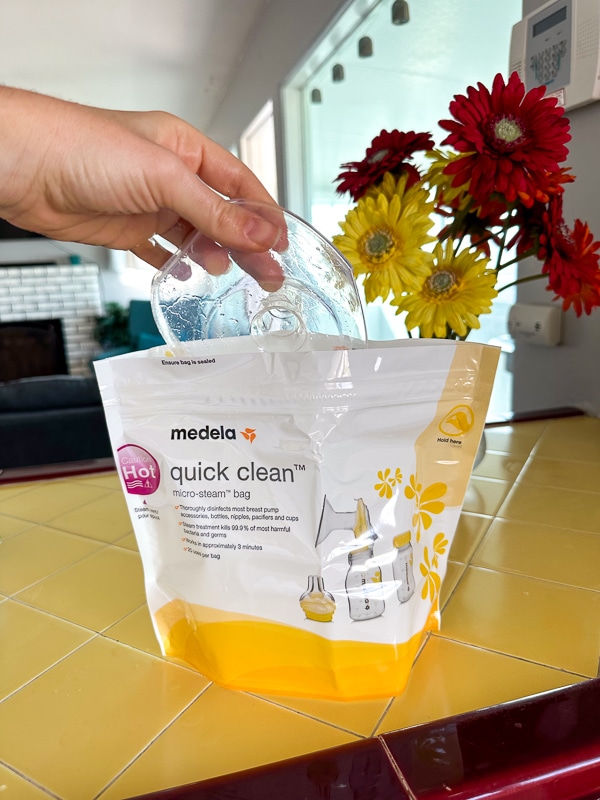 Steam cleaning just makes everything so much easier! I use a Baby Brezza steamer at home, but if you are staying at a place that has a microwave, you can bring these cheap and easy steam clean bags with you to create a steamer on the go!
Throw everything from bottle parts to pump parts two pacifiers inside. All they need is 90 seconds in the microwave and 60 mls of water to sanitize – and you don't even need soap! I love these things for the convenience.
Exclusively pumping while traveling certainly adds another element of planning and time, but it doesn't have to be such a limiting factor that you don't get to travel while pumping. I hope this helps you to keep having adventures!