Is the Owlet Dream Sock and Cam Worth it in 2023? Maybe Not. Here's Why
When deciding what to get for our newborn, the Owlet Dream Sock and Cam was high on my list. The selling point was the smart sock could measure our baby's oxygen levels, heartbeat, and sleep patterns. It seemed like a great way to put my worried mind at ease.
I should have known it wouldn't be ideal when a friend of ours gave us his, because it could never connect to his Wi-Fi. As soon as I began trying to use the sock, I also encountered problems. This is why I might not suggest the Owlet in 2023, and what I would get instead:
It Can No Longer Alert Based On Vitals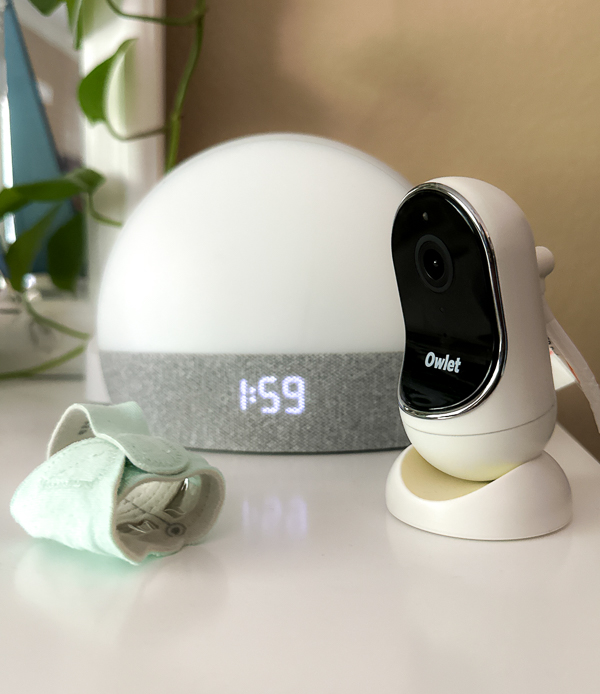 I was so excited to use the Owlet, but when I went to activate it I noticed the associated app didn't exist anymore, and it would not work with the dream app at all. I spoke with Owlet support and learned that the Smart Sock that we had was no longer supported by any app. None of the products were allowed to alert based on blood oxygen levels or heartbeat anymore.
Apparently the FDA took issue with Owlet operating as a medical device without approval. Now the Owlet Smart Sock has been replaced by the Dream Sock, which measures a baby's sleep quality and will still send an alert if "Sleep Quality Indicators are different than their expected baseline." It will still show oxygen levels and heartbeat, but is no longer allowed to notify if those are outside of parameters.
I was told that our Smart Sock would not function with the Dream app, but I could still put it on my baby and it would alarm if it detected an issue. I never ended up using it since the functionality I wanted was gone, but I did use the Owlet Cam.
The SNOO we were using for the first six months of my son's life also measured sleep. It kept tabs on our son's daily sleep patterns, kept them stored for us to refer back to, and would send me an alert if its soothing functions could not get my baby back to sleep and he needed my attention.
That said, it was much less robust than the dream sock and for those not using the SNOO, it could still provide peace of mind in many situations, like if your baby is transitioning to their own room, you're bringing home a baby from the NICU who was monitored 24/7 and would like more peace of mind, or you're just a concerned parent who wants all the available tools at your disposal.
In these cases, I think that the sock would be worth it, but unfortunately, the Owlet Cam totally sucks.
Connectivity of the Owlet Cam is a Constant Issue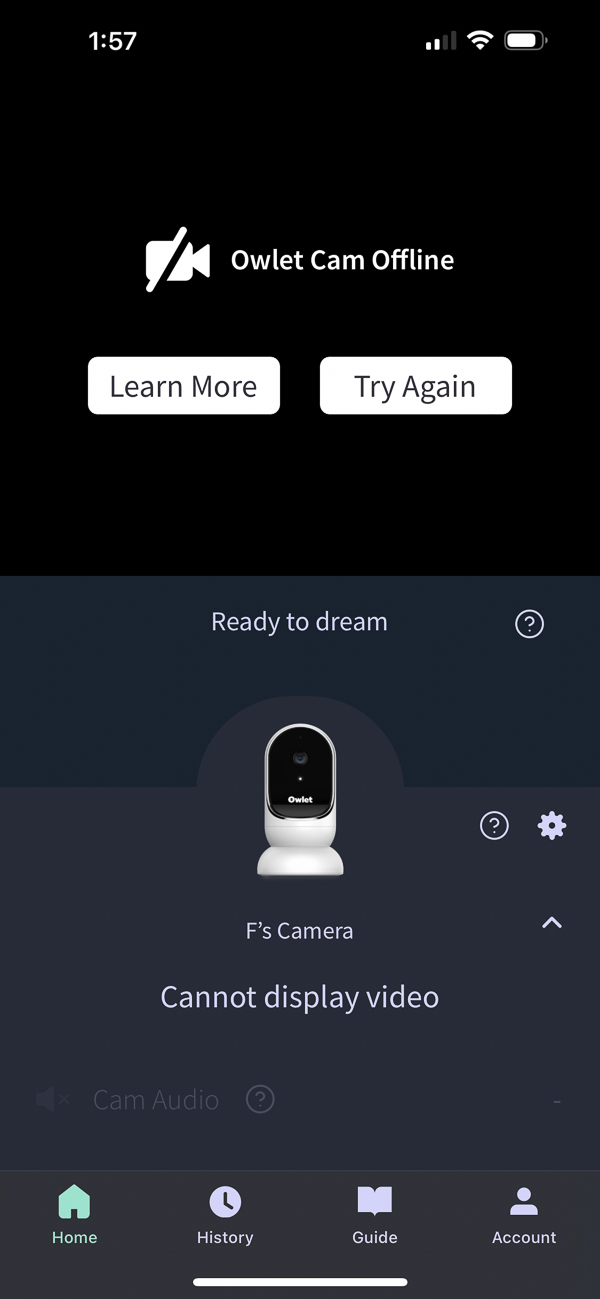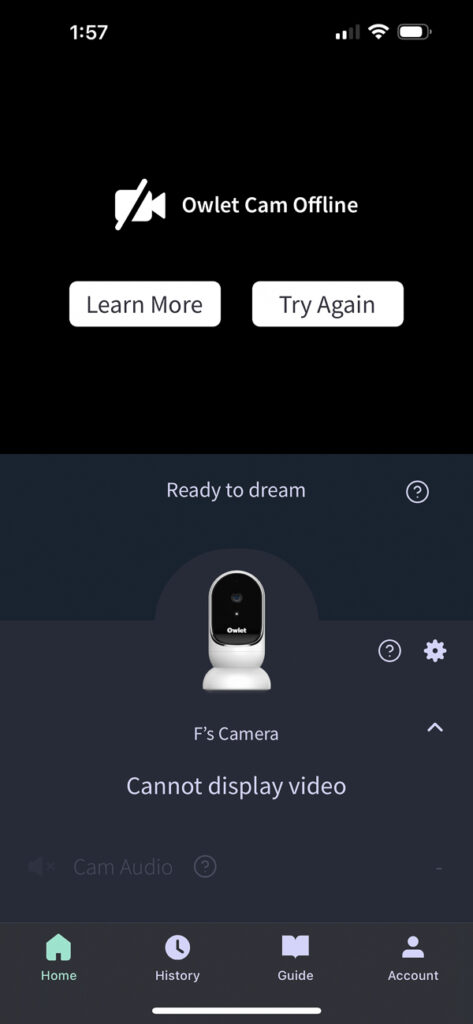 I find it confusing that product reviews of the Owlet look mostly positive. However if you look at app reviews, they paint a much different picture. Parents are angry the sock doesn't have the same functionality as it once did, and especially that the camera drops signal constantly.
Our experience has been the same. I should have known when our friend couldn't use it that we would have an issue too, but he lives in a more rural area, so I assumed his Internet connection was not as good as ours. In reading the reviews, I can see that plenty of other people with fast connections are having the same problem – the cam seems to think that Wi-Fi is weak, even when it is not. It goes offline constantly.
The cam also is meant to detect humidity levels and temperature, but it's often incorrect.
The whole point of a baby camera is that it works, but the Owlet frequently disconnects, leaving me hanging. I never know when this is about to happen, so sometimes I have to make the difficult decision to go disturb potential sleep or just be OK with not seeing the monitor. It's not a fun debate to have at 3am.
Some Positives of the Owlet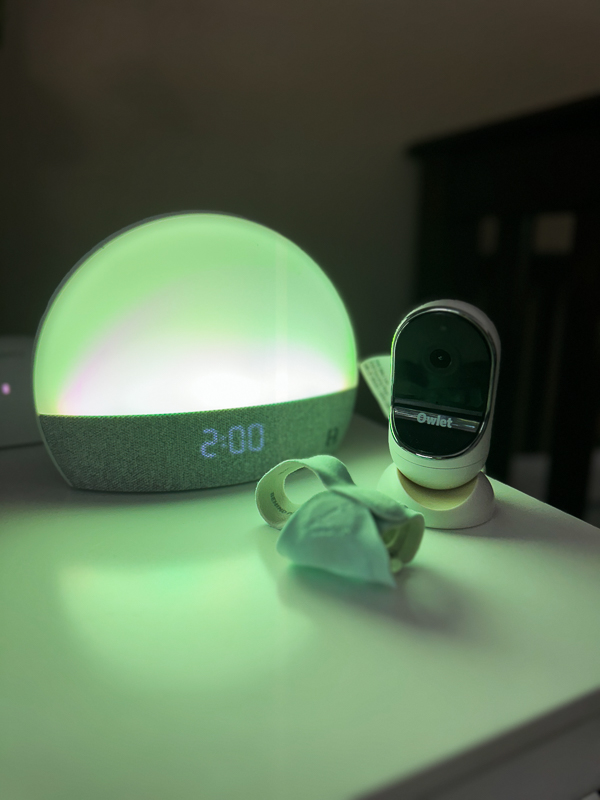 Although the sock no longer alarms if vitals fall, it does still notify if sleep is outside of normal parameters. This is still helpful since falling vitals would likely impact sleep quality. It will also track sleep and will let you know if your baby needs attention.
The Owlet Cam functions like a normal camera without any fancy features, but it does work in conjunction with the Dream Sock to create a full picture of the night's rest – when it works.
I do like that the camera can be viewed from an app that multiple people can log into. This gives my partner, who works nights, the opportunity to check in on our baby throughout the night. This is nice with a babysitter as well. The picture is also nice and clear and the wide angle of the camera gives a nice, full picture. Unfortunately due to the connectivity, we've also opted to use an analog monitor as backup.
What I'd Get Instead of the Owlet Cam
Although the idea of the Owlet is great, the camera is awful. Here's what I'd get Instead.
Nanit Pro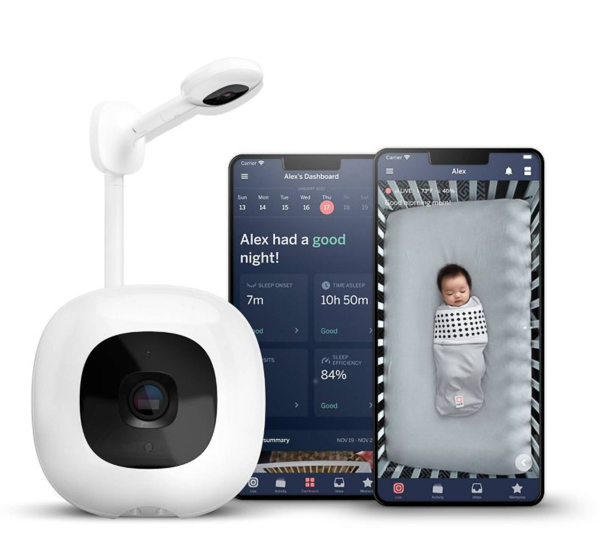 The Nanit Pro Baby Monitor is the most popular one out there. It uses computer vision technology to provide an HD view of your baby's crib. The Nanit Pro also tracks your baby's sleep patterns and provides insights into their sleep quality, including breathing.
One of the standout features of the Nanit Plus is its ability to provide personalized sleep guidance. With the Nanit Insights subscription, you receive daily sleep summaries and tips to improve your baby's sleep. That said, after a year you'll have to pay for the subscription, and to add any additional people to the account, which gets pricey.
When comparing the Nanit Plus with the Owlet, the Nanit offers a higher resolution camera, better sleep tracking capabilities, and personalized sleep guidance, however reviewers note that both tend to drop the signal or buffer.
2. Infant Optics DXR-8 Pro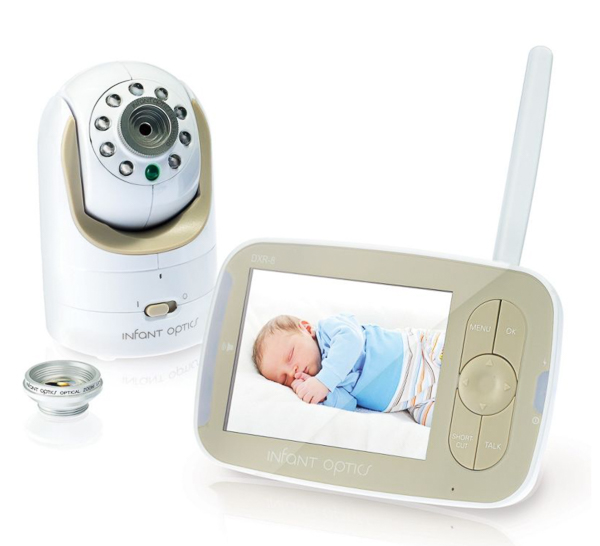 The Infant Optics DXR-8 Video Baby Monitor features an interchangeable lens system, allowing you to customize the viewing angle and zoom level based on your preferences. You can also control the tilt remotely. The DXR-8's 3.5-inch color screen offers clear real-time video footage that doesn't rely on a WiFi connection, rather operating as an analog monitor.
This baby monitor prioritizes security with its FHSS (Frequency-Hopping Spread Spectrum) technology, which prevents unauthorized access to the video feed, which can be an issue for WiFi connected cameras. The DXR-8 also provides two-way audio communication, temperature monitoring, and sound-activated LED indicators.
Compared to the Owlet, the DXR-8 offers a portable parent unit with a larger display, interchangeable lenses, and secure transmission technology. That said, since it's not on WiFi, it doesn't give anyone but the person with the monitor the ability to check in and will only work at close range.
3. Google Nest (or Similar Home Security)
Although you're going to sacrifice some functionality by using a home security system like Google Nest as a baby monitor, it is much more likely to stay connected and give you a clear picture. It can be accessed by anyone with access to your home security system, so it can still be viewed remotely, and can simplify things if you already have a home security system.
Final Thoughts
Although the Owlet is not everything I hoped it would be, and that it used to be, it is still useful for peace of mind. I just really wish that the monitor had better connectivity, but it seems like this can be a common problem with baby monitors.
I am still searching for the perfect solution. For us, it will probably be a Google nest eventually. That said, in the early days, knowing as much as I could about baby's vitals was important and if I had the Owlet Dream I would have used it. The Smart Sock, however, is useless now, and the cam isn't great, either.
*Some links in this post are affiliate links that support this site at no extra cost to you. Thanks for keeping us going!