The Chicco QuickSeat Hook-on Chair: Complete Review and Comparison to the Inglesina Fast Chair
Chicco's QuickSeat Hook-on Chair is one of those baby products that doesn't get the attention it deserves. At a reasonable cost, this chair is sturdy, portable, and incredibly easy to use. In this honest and complete review of the Chicco QuickSeat Hook-on Chair, we'll discuss all the pros, cons, and detailed features about this clip-on style baby seat — as well as how it matches up against the competing Fast Table Chair from Inglesina.
The Chicco QuickSeat Hook-on Chair: A Review of Our Experience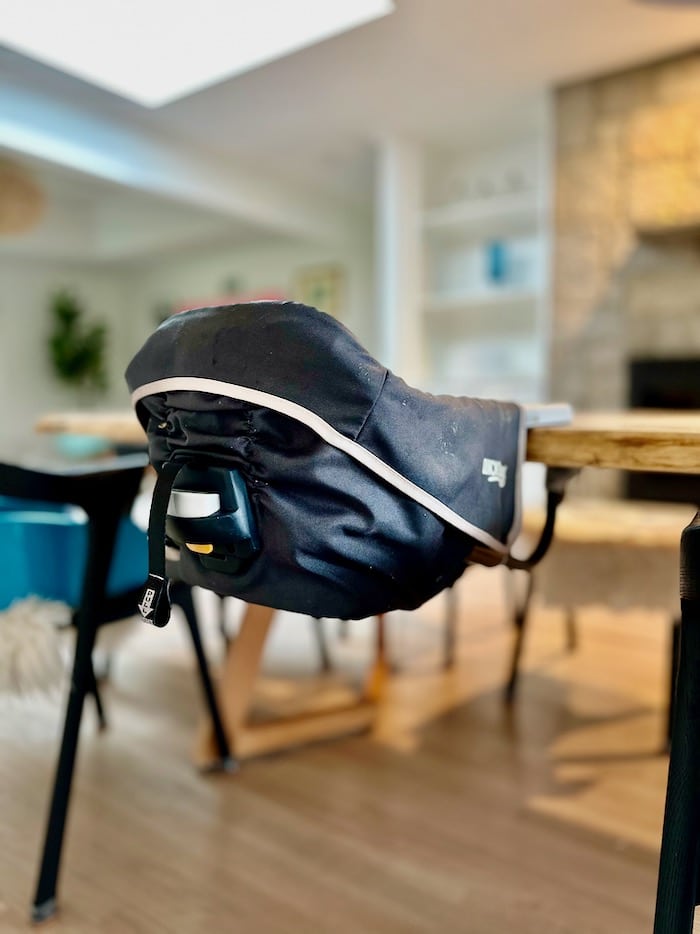 The Chicco QuickSeat isn't a product I had heard of or read about when searching for baby gear. We were fortunate to receive it as a gift for our firstborn when he was a baby. Since then, we've used it consistently for the past three years for our two young children.
Watch Chicco's product video below to see the QuickSeat in action:
Out of all the portable high-chair options out there, Chicco's QuickSeat is one of our favorites. In addition to a couple booster-style seats, we also own the very popular Inglesina Fast Table Chair, which was on our baby registry when we had our first. While the Inglesina is our preferred chair to use in the home, due to its slimmer profile and larger tray, we opt for the Chicco for restaurant nights and car travel due to its easy setup and broader table compatibility.
Chicco QuickSeat Hook-on Chair review: Weighing the pros and cons
Here's a shakedown of what we've found to be the greatest advantages and disadvantages of the QuickSeat:
Pros
Setting up the Chicco hook-on chair truly couldn't be easier, with a one-pull strap that parents can use to secure it to any compatible tabletop.
Costing about $80 currently, the Chicco has a reasonable price tag compared to other clip-on chairs on the market.
A reusable dining tray is included with purchase of the QuickSeat.
An easily buckled three-point harness keeps little ones securely seated.
The fabric seat cover is removable, replaceable, and machine-washable.
The Chicco QuickSeat supports kids up to 37 pounds, which is well beyond the weight of most children when parents stop placing them in a secured high chair for meals.
The QuickSeat folds flat for travel with an attached carrying strap, making it easy to bring in the car or carry into a restaurant.
This chair's arms have soft grips underneath that prevent it from slipping or scratching the table.
Cons
Weighing almost 10 pounds, the Chicco hook-on chair is heavier than most other portable high chair and booster seats.
The Chicco's seat area is rather large, making it difficult for young babies to sit upright without leaning back too far from the table.
The included tray is not dishwasher-safe.
As with any clip-on style high chair, the QuickSeat is not compatible with all tabletops. That means families might show up to a vacation destination or restaurant and not be able to attach it to the table.
Comparing the Chicco QuickSeat to the Inglesina Fast Table Chair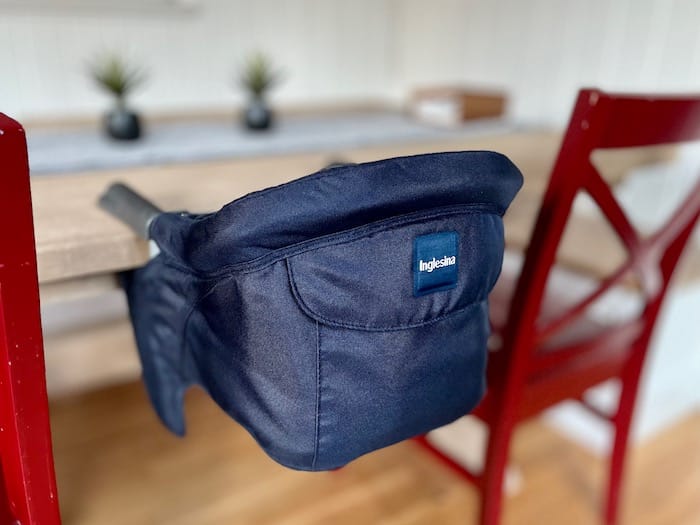 Read on for where we've found the Chicco QuickSeat to win out over the Inglesina Fast Chair, and where we've found it to be less favorable:
Advantages of the Chicco over the Inglesina
The Chicco has an attached carrying trap; the Inglesina does not.
Parents receive a compatible tray with purchase of the Chicco. The Inglesina tray costs extra.
Parents can unsnap the fabric cover of the Chicco QuickSeat and throw it in the washing machine. The Inglesina Fast Chair's fabric is more difficult to remove and is not machine-washable.
Parents can attach the Chicco to the table in seconds. Securing the Inglesina to the table requires tedious, time-consuming twisting of the arms.
The QuickSeat is compatible with a greater variety of tabletops than the Fast Table Chair.
The Chicco tray lays flat on the table or counter, whereas the Inglesina tray often tilts upward, away from the tabletop.
Advantages of the Inglesina over the Chicco
An attached travel bag is included with purchase of the Inglesina.
The Inglesina Fast Chair has a smaller seating area than the Chicco QuickSeat, which allows younger babies to sit upright closer to the table without needing an extra towel or blanket behind them for support.
The Inglesina Fast Chair weighs less than half of the Chicco QuickSeat, which makes it easier to bring along for travel (especially by plane!).
The fabric of the Inglesina Fast Chair is thicker and more durable than that of the Chicco QuickSeat.
Chicco QuickSeat Hook-on Chair Review: Detailed Features and Specifications
Cost
Hook-on baby chairs tend to cost more than most parents would expect. The Chicco QuickSeat has a price tag of about $80. This is comparable to the Inglesina Fast Table Chair, which has similar features and costs roughly $79.
Booster seats, which rely on an adult dining chair underneath for stability, are typically less expensive than hook-on chairs. A couple of our favorites are the Hiccapop Omniboost Travel Booster Seat and the Ingenuity Baby Base 2-in-1 Booster, which cost about $40 and $43, respectively.
Compared to booster seats and clip-on chairs, standalone high chairs tend to cost the most. The modern and convertible Stokke Clikk High Chair costs roughly $199.
Age range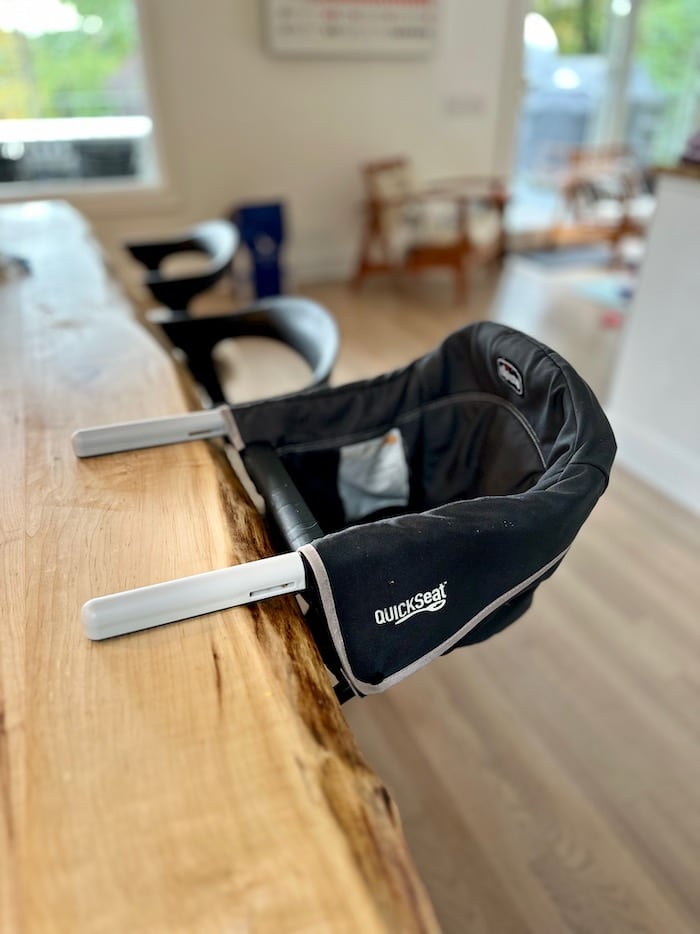 The Chicco's weight limit is 37 pounds. This means that most kids will be safe to use this chair until around age 3, even if they're on the higher end of their growth chart. Many parents will choose to switch their children to a regular chair or a booster seat before this age, so the upper weight limit of the QuickSeat shouldn't be a problem for most families.
Chicco specifies that children must be able to sit upright without assistance before using the QuickSeat. The seating area of this chair is roomy and ample, so younger babies can have a tough time staying up without slumping to the side. The suggested age minimum is six months old, but this will vary with each baby's development.
When we first started using this chair for our children, we chose to fold a towel and place it behind them for added support. Since they've grown larger, we no longer need the extra padding, and our one-year-old now sits comfortably in this chair for meals.
Portability
The Chicco QuickSeat is more portable than a standard high chair or booster seat. When assembled and open, its dimensions are 24" by 14.5" by 11". Once removed from the table, it's easy to fold the chair flat for transport. When folded, its dimensions are 17" by 13.5" by 8".
Because most booster seats don't fold, the Chicco definitely has an advantage over other high chairs on the market. Folding it flat has made it easy for us to throw in the car for a road trip or carry into a restaurant, where access to high chairs might be limited. Although the QuickSeat doesn't come with a travel bag, it has an attached carrying strap for convenience.
If you're thinking of flying with the Chicco, you'll need to pack lightly to make sure your suitcase doesn't surpass your airline's weight limit. The QuickSeat weighs 9.5 pounds. Although this doesn't make it too cumbersome for carrying and setting up, it's more than twice as heavy as the competing Inglesina Fast Chair.
Setup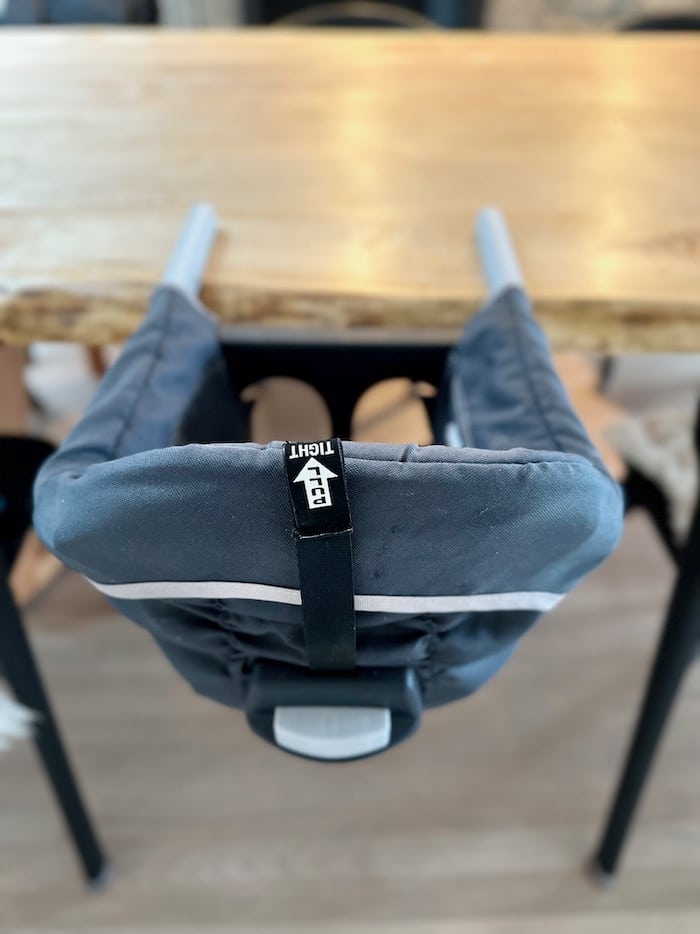 Our favorite feature about the Chicco is its easy setup. True to its name, it is a breeze for us to attach and detach the QuickSeat from the table.
To secure the QuickSeat to the table, all we have to do is clamp the arms over the tabletop and tug on Chicco's one-pull tightening strap on the back of the chair. To release the chair when we're finished our meal, we press the lever on the chair's back to loosen it. No tedious fitting or twisting motions are required.
The QuickSeat's simple setup is the most significant reason that we regularly like to use this chair. See Chicco's quick instructional video below for details on how to assemble it:
Table compatibility
Like any hook-on-style chair, the QuickSeat is not compatible with every table. Chicco warns parents against using this chair on glass tables, card tables, single-pedestal tables, and those with loose tabletops or leaves. Round tables are compatible with the QuickSeat, as long as they stand on four legs for support instead of a central pedestal.
The tabletop needs to be between 0.75" and 1.5" thick in order to accommodate the QuickSeat. With the way that this chair's arms fold, parents can attach it to tables with skirts up to 5.25". That's much more flexible than other hook-on chairs.
The QuickSeat has been easy for us to attach to a variety of tables and countertops, especially when we're traveling and unsure of what eating accommodations to expect. So far, we haven't encountered a dining table that isn't compatible with the QuickSeat.
Safety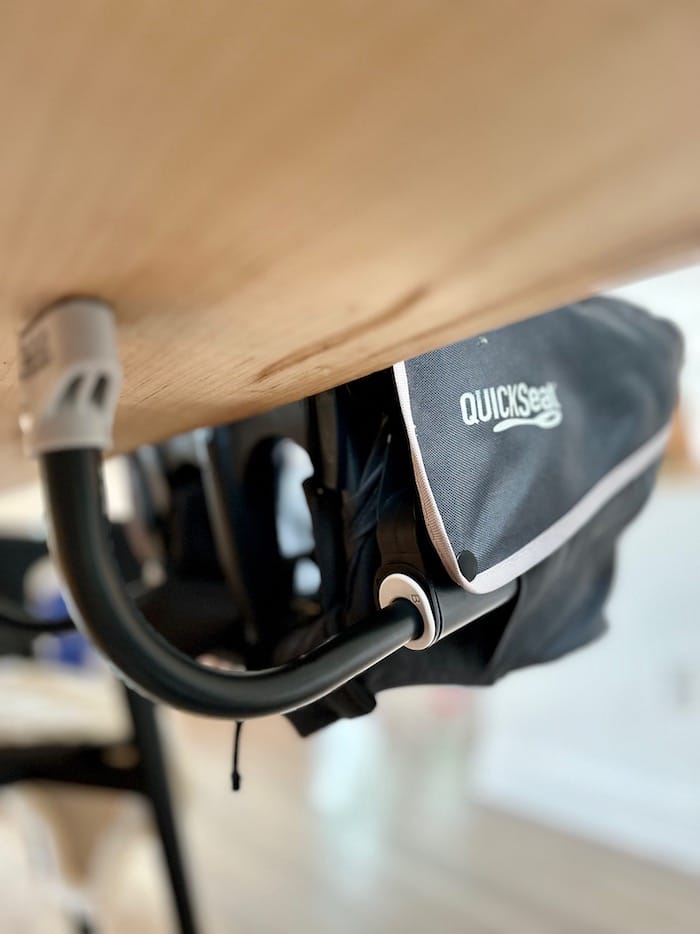 The Chicco QuickSeat has a built-in three-point harness that parents should use every time their child sits in this chair to eat. The brand also advises that the table and arms of the chair be completely dry before use to prevent any slippage.
Parents should not use this clip-on chair with a tablecloth or placemat underneath, since these fabrics can make the connection between the chair's arms and the tabletop less secure.
In our experience, we've found one major safety advantage of clip-on chairs over booster seats. When booster seats are attached to adult dining chairs, children can theoretically push back with their feet against the countertop or table, and tip the entire booster-and-dining-chair unit backward onto the floor.
Since clip-on chairs are secured to the tabletop or countertop alone without relying on the sturdiness of an adult chair underneath, parents don't need to worry about this happening. Still, a responsible adult should always be supervising a baby or toddler who is seated in a hook-on chair like the QuickSeat.
Tray
A major bonus for parents is that the QuickSeat tray is included with purchase, instead of costing extra. The compatible tray snaps on and off smoothly over the chair's arms. We've found that it lays flat on the table we're using, and it's secure enough that our little ones aren't able to pull it off by themselves.
The tray has a roomy eating space and an included cup holder. Its area is large enough to fit most plates, but we've found it easiest to wash the tray after each use and have our kids eat directly from the tray's surface. The tray is not dishwasher safe.
Care and cleaning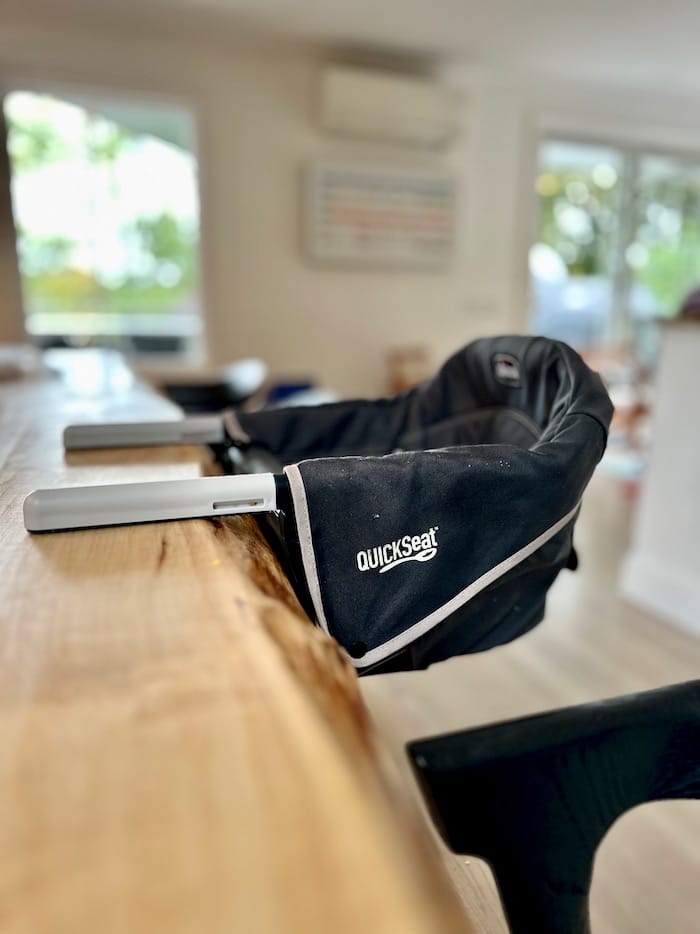 One feature we love about this chair is that we can unsnap and remove the fabric seat cover without even detaching the QuickSeat from the table. The graphite-colored fabric seat cover is machine-washable, which is a huge win in our household. Chicco sells extra seat covers for about $25 each.
The anti-slip, soft-grip arms of the tray prevent it from damaging the tabletop underneath, but they definitely require some cleanup after a messy meal. The brand recommends periodically cleaning between the plastic seat parts with a toothbrush to clear out food residue. Adults should also dry the chair's metal parts to prevent rust.
Final Thoughts: Chicco QuickSeat Hook-on Chair Review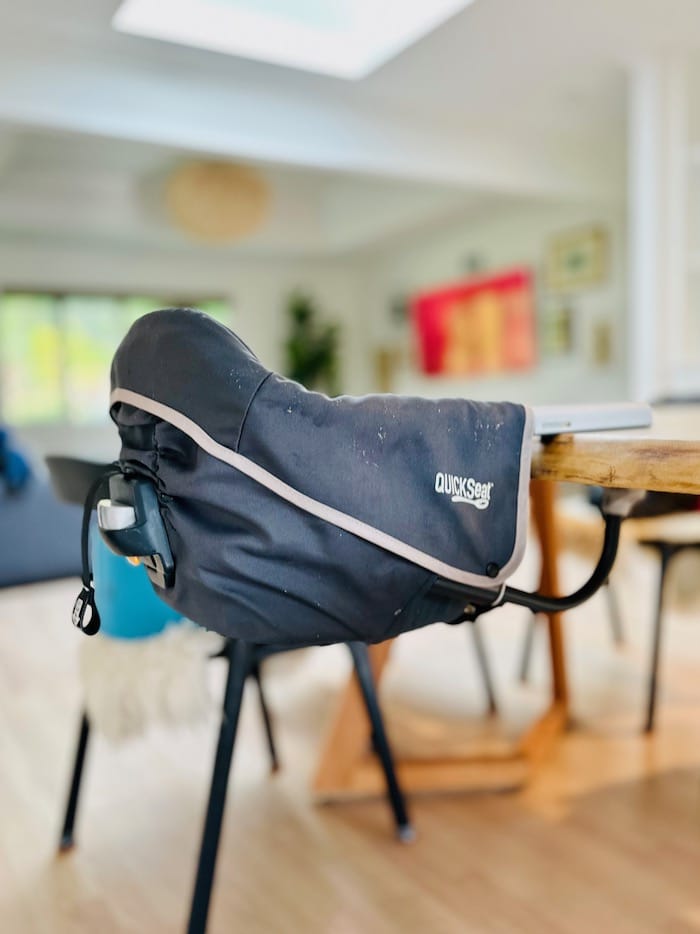 If you're looking for a great clip-on chair to use both for at home and for travel, we'd highly recommend Chicco's QuickSeat. From our experience with two young kids, the greatest advantage of the QuickSeat is its easy setup, which requires almost no time and no tedious fastening. Its most significant drawback is its heavy weight compared to other high chairs and boosters, but we've still found it to be easy to travel with thanks to its carrying strap and flat fold.
To compare the QuickSeat against similar products, check out our post on the 12 Best Portable High Chairs. For more baby gear recommendations for home and travel, take a look at our guides on the Best Travel Baby Beds, Best Diaper Bags for Two Kids, Best Baby Travel Toys, and Best Lightweight Strollers with Trays.