A Complete Ingenuity Baby Base Booster Seat Review
When you're shopping for a booster seat or portable high chair, you'll see that the market is flooded with appealing options. Parents can choose from traditional booster seats, floor seats, clip-on chairs, or standalone high chairs to keep their little ones safe and give them a spot at the table during meals.
We've used the Ingenuity 2-in-1 Baby Base Booster Seat for more than three years with our two children, and it's one of those products that checks off multiple boxes for parents. It's lightweight, safe, and versatile. It's a durable, sturdy baby chair that serves as a booster seat and as a floor seat, and it has held up well after years of rigorous use.
Ingenuity Booster Seat Booster Seat: A Review of Our Experience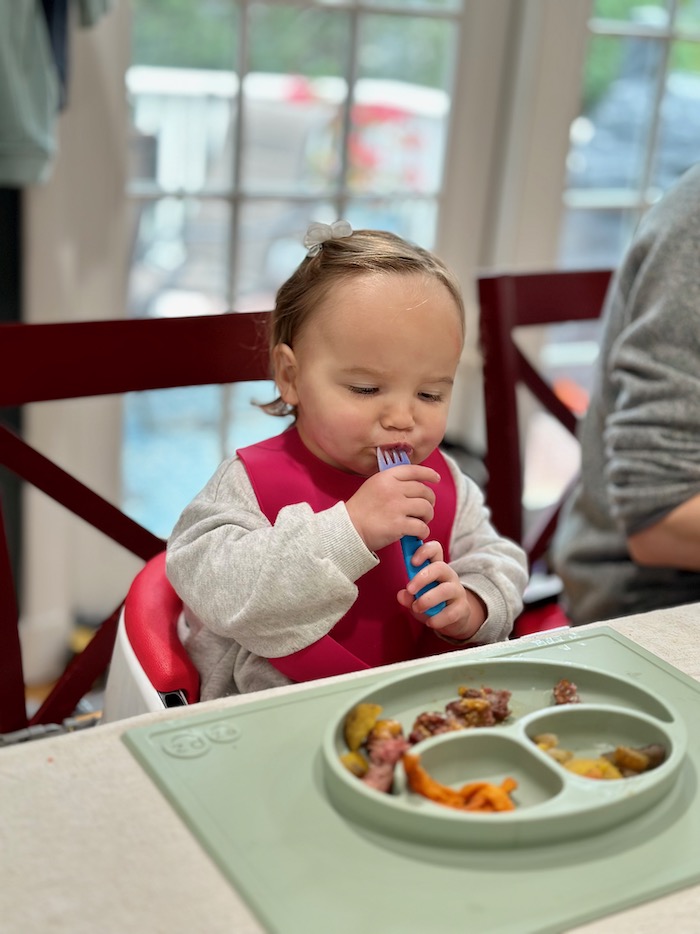 Our family has two young children, ages 1 and 3. Mealtime is always crazy with young kids around, but it's a time of day when I appreciate sitting down with our two youngsters and sharing food with them. Whether we're gathered at the dining table, outside on the ground, or on the floor at a friend's house, the Ingenuity has been a reliable chair for us to use throughout babyhood and toddlerhood.
Because the Ingenuity fits onto most adult dining chairs and stands alone as a floor seat, it's a great option for us when we travel or visit with family and friends. If we're at a restaurant or in someone's home, we can bring it right up to the table and set our little one's plate within reach on the tabletop. If we're having a snack or a meal outside or on the floor, we can slide the compatible tray into place to hold our baby's food and drink.
Now that our one-year-old is getting older, she's been wanting to sit in a booster seat like her older brother instead of in her Inglesina clip-on chair. The Ingenuity has become the perfect solution for making her feel like a big kid while still keeping her safe and giving us that (sometimes short) window of time to sit at the table together. We secure to the booster to one of our dining chairs, fasten the three-point harness, and position her seat right next to her brother's.
Ingenuity Baby Base Booster Seat: Weighing the Pros and Cons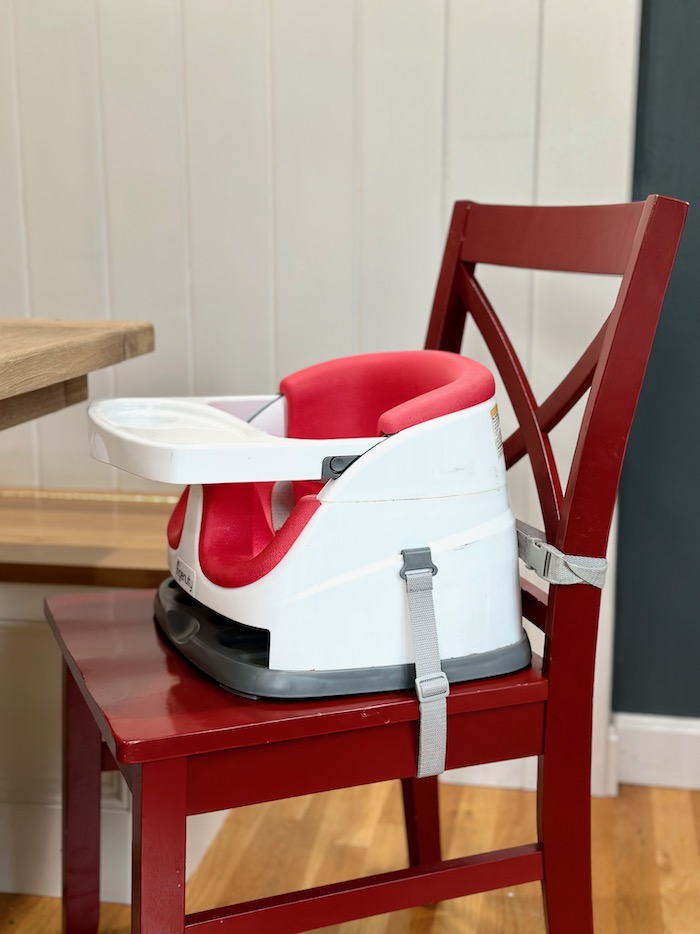 From our experience using this booster for the past few years, here are some of the things we love best about it — and areas with room for improvement:
Pros
The 2-in-1 Baby Base serves as a traditional booster seat (strapped onto an adult dining chair) and as a sturdy floor seat.
Families can use it inside or outside.
The BPA-free tray is dishwasher-safe.
The tray stores right into the base of the seat, without taking up extra space or creating loose parts.
At around $40, the cost is reasonable compared to similar products.
With a weight limit of 33 pounds, the Baby Base will last most families through toddlerhood until a booster with a harness is no longer needed.
This Ingenuity booster only weighs 4.5 pounds, making it easy to carry into a restaurant or load into the trunk of the car.
Families can choose from seven attractive hues to fit their aesthetic or their little one's favorite colors.
A secure three-point harness keeps baby safely seated in the Ingenuity booster.
Cons
The Baby Base does not fold or break down for storage or transport.
The chair is a bit bulky and not ideal for air travel.
This booster is not compatible with dining benches, and does not fit all dining chairs.
Unlike a clip-on style chair that attaches directly to the tabletop, an adult dining chair is needed to use the 2-in-1 Baby Base at the table.
It can be difficult to clean out spills and crumbs from the creases of the chair.
Ingenuity does not include a carrying strap or travel bag with purchase.
As with any booster seat that attaches to a dining chair, there is always a risk of children pushing off the table or counter with their feet and tipping the entire chair-and-booster setup over backward.
The attached tray is too small for most plates.
Ingenuity Baby Base Booster Seat: Detailed Features and Specifications
Before adding the Ingenuity 2-in-1 Baby Base Booster Seat to your cart, read on for all the nitty-gritty details you'll want to know about this chair.
Cost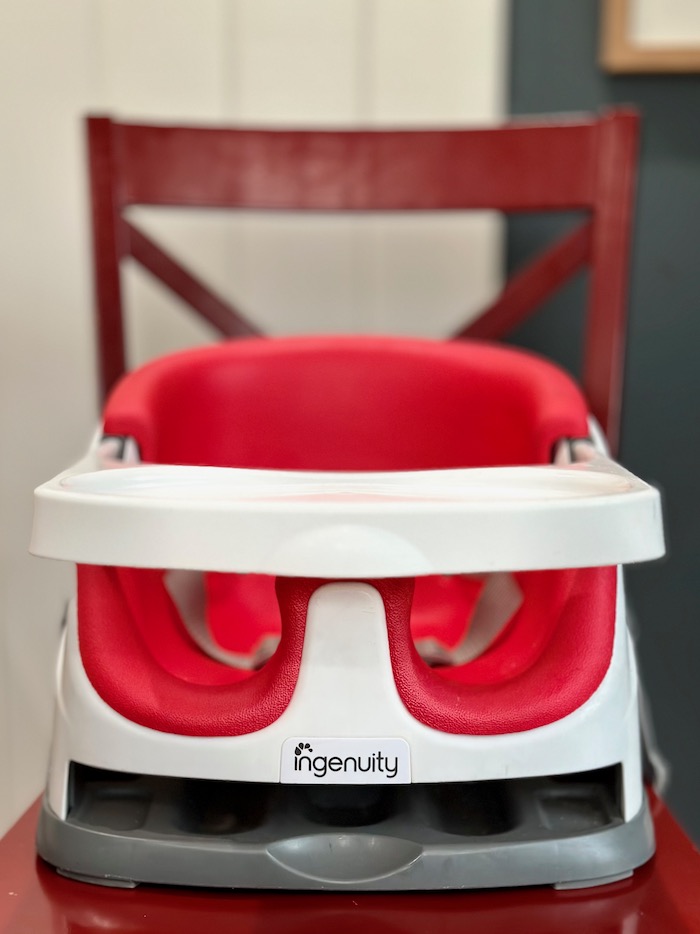 At approximately $40 (with the exact price depending on color choice), the Ingenuity sits at the mid-to-low end of the price range for booster seats and portable high chairs. Some of its tightest competitors with similar prices are the Hiccapop Omniboost Travel Booster Seat and the Chicco Pocket Snack Booster Seat.
For more affordable options, parents can shop the Dreambaby Grab 'N Go Travel Booster Seat or the CozyBaby Easy Seat Portable High Chair. Both of these options lack sturdiness, support, and versatility when compared to Ingenuity's product.
At the pricier end of the scale are the Inglesina Fast Table Chair and the innovative Bombol Pop-Up Booster Seat. Although they don't double as floor seats, both of these products are more portable than the Ingenuity Baby Base.
Size and weight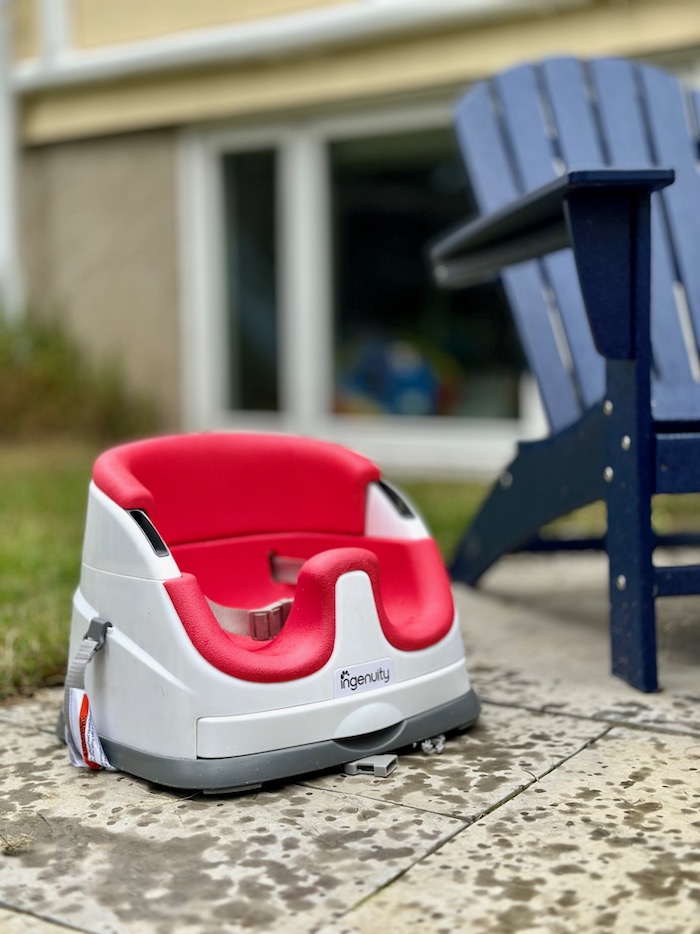 The Ingenuity Baby Base measures 15.25″ long by 17.25″ wide by 11.75″ high. Although its size is compact, one of the greatest drawbacks of this chair is that it does not fold down for travel.
We have found the Ingenuity to be a great seat to keep in the car for use at friends' and grandparents' houses. It's the ideal chair to have on hand for impromptu snacks outside at the park.
Weighing only 4.5 pounds, the Ingenuity 2-in-1 isn't cumbersome to carry short distances. Although it's not a great travel booster seat for flying, it's usually our seat of choice for road trips and doesn't occupy too much space in the trunk.
Age and weight range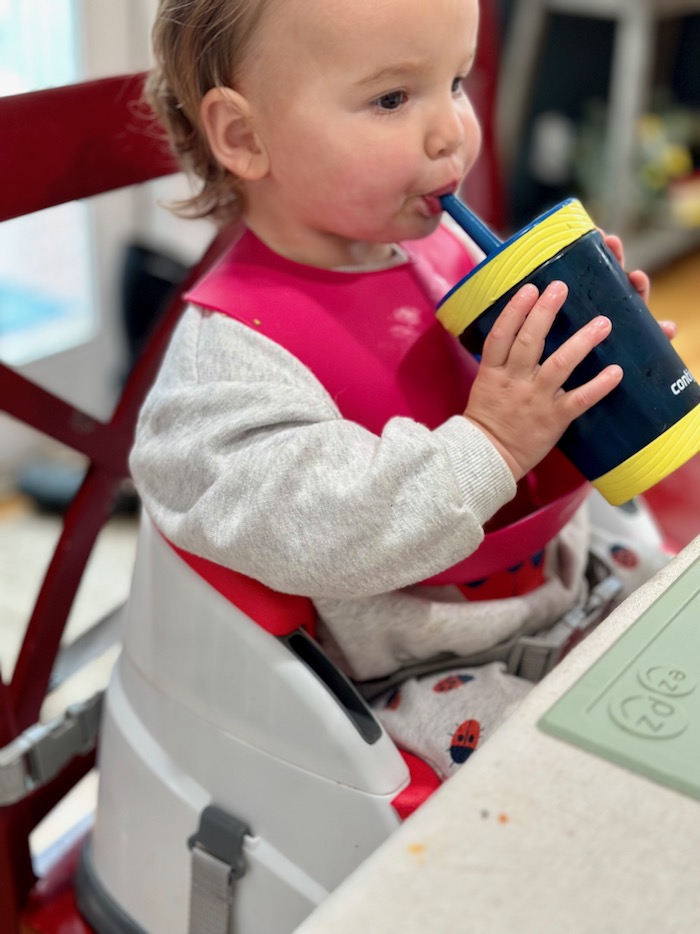 The suggested age range for the Baby Base is 6–36 months. Babies should be able to sit upright unassisted before using the Ingenuity, although the seat and backrest themselves do offer some support to unsteady sitters.
The chair's space for baby thighs and belly are ample, so larger babies fit well in the chair as long as they are under the weight limit. As little ones grow older, parents have the option of using the chair without the foam insert to create more space and convert it into a toddler seat.
With a weight limit of 33 pounds, taller toddlers may outgrow the Ingenuity before age 3, which was our experience with our toddler son. We started using this chair when our kids reached about 6 months until around age 2. Our daughter, who is currently 15 months old, fits comfortably in this chair and uses it for most meals at our kitchen table.
Safety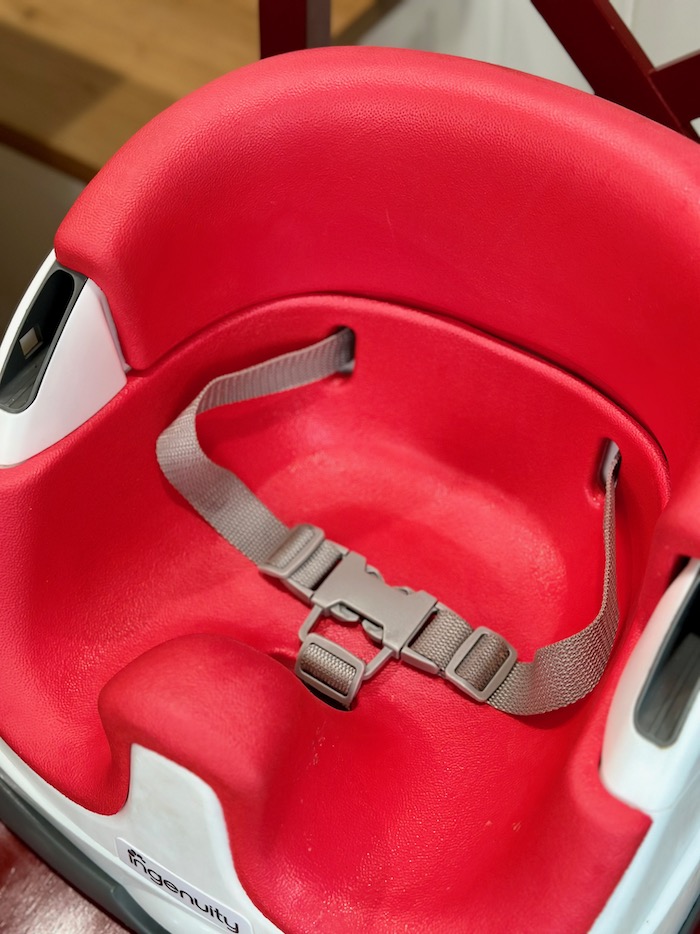 The Baby Base has two straps that parents can tighten and secure around the back and bottom of adult chairs. Whenever a child is seated in the Ingenuity, adults should secure the three-point harness, which fastens between the thighs and around baby's belly.
Although some families might decide to do so, the Baby Base shouldn't be used on any elevated surface like a countertop or tabletop. The floor or a properly sized adult chair are the only safe places for youngsters to sit in this sturdy booster seat.
I've consistently felt that our kids are safe and secure in the Ingenuity Baby Base, especially when used on the floor. There's always a risk with boosters that attach to adult dining chairs, because children can use their feet to push off the table or countertop and tip the entire chair over backward. We've learned from experience how scary that can be. This chair should only be used under close adult supervision, just like any other booster or high chair.
Chair compatibility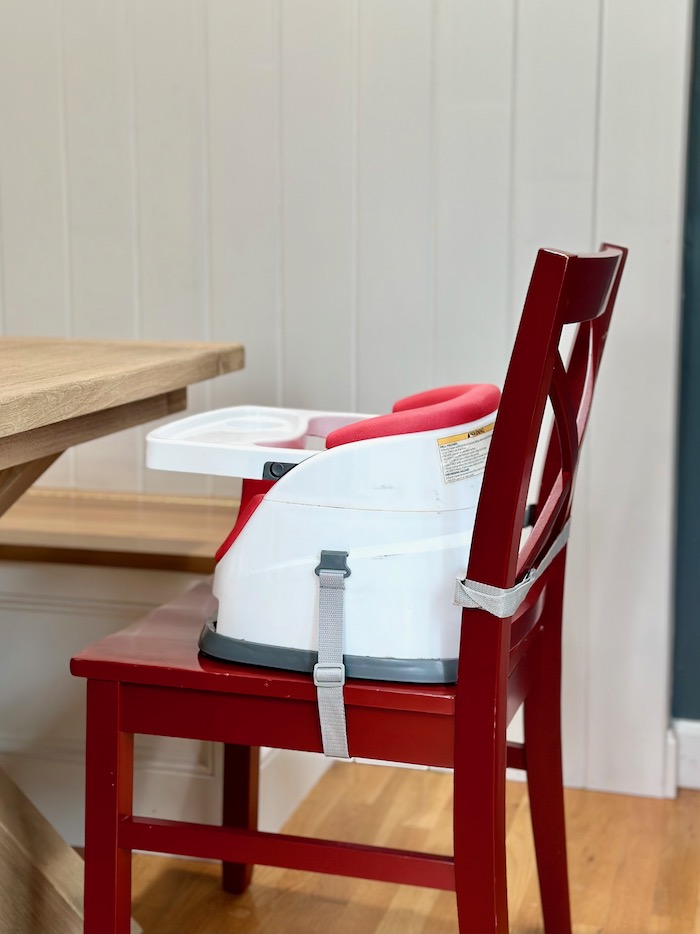 The Ingenuity 2-in-1 Baby Base is more versatile than most booster seats. Families can choose to use it as a floor seat or fasten it to an adult chair. The brand claims that it's compatible with most dining chairs, which is consistent with our experience.
Specifically, the bottom of the adult chair it's strapped to needs to be at least 17″ wide and 15.5″ deep. The seat back of the adult chair should be at least 10″ tall. These dimensions will give the Baby Base a sturdy platform, reducing the risk that the booster might fall or shift during meals. In general, the Ingenuity is not compatible with dining benches or barstools.
We've found that the Baby Base is a great booster option to bring to friends' houses and gatherings when we don't know if we'll be dining indoors or out. We can use it on the floor in the living room, at the kitchen table, or on the ground out in the yard, depending on where meals are happening.
Tray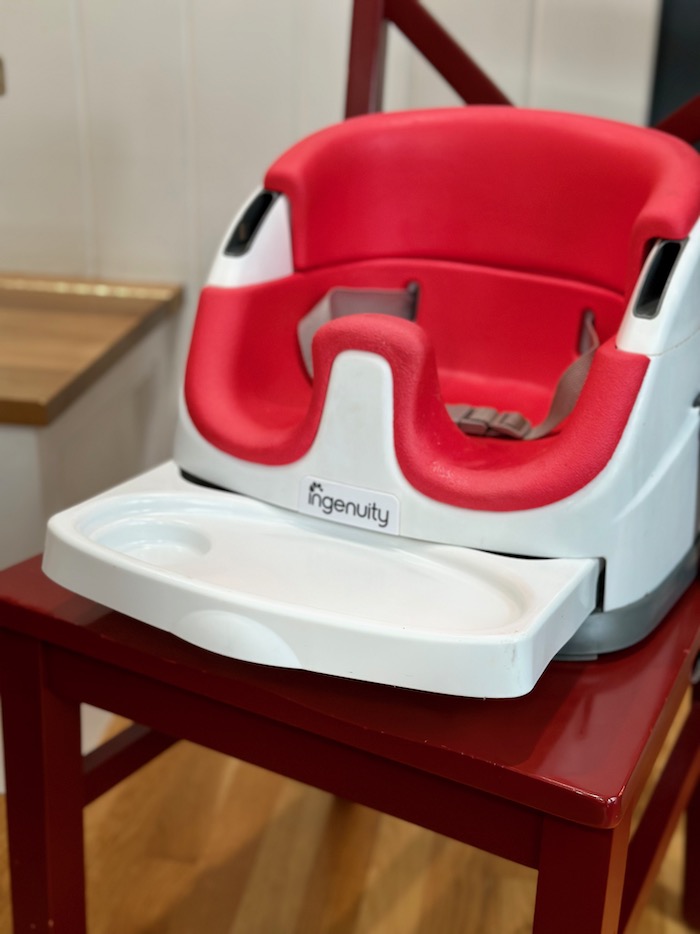 The Ingenuity tray isn't large enough to use most plates on top of it, but we've found it to be ample enough to hold the food we need it to. It measures 11″ by 5″. It contains a convenient cup holder to keep a milk or water cup in place.
Our favorite feature about the Ingenuity tray is that it is stored right in the base of the seat. This makes it easy to bring with us wherever we're going. It also helps ensure that we won't leave it behind when we head home.
To use the tray, we simply slide it out and attach in front of our baby once she's seated. Parents do need to remove the tray in order for little ones to get into and out of the chair.
The tray is easy to hand-wash. It's also dishwasher safe to make cleaning a breeze.
Care and cleaning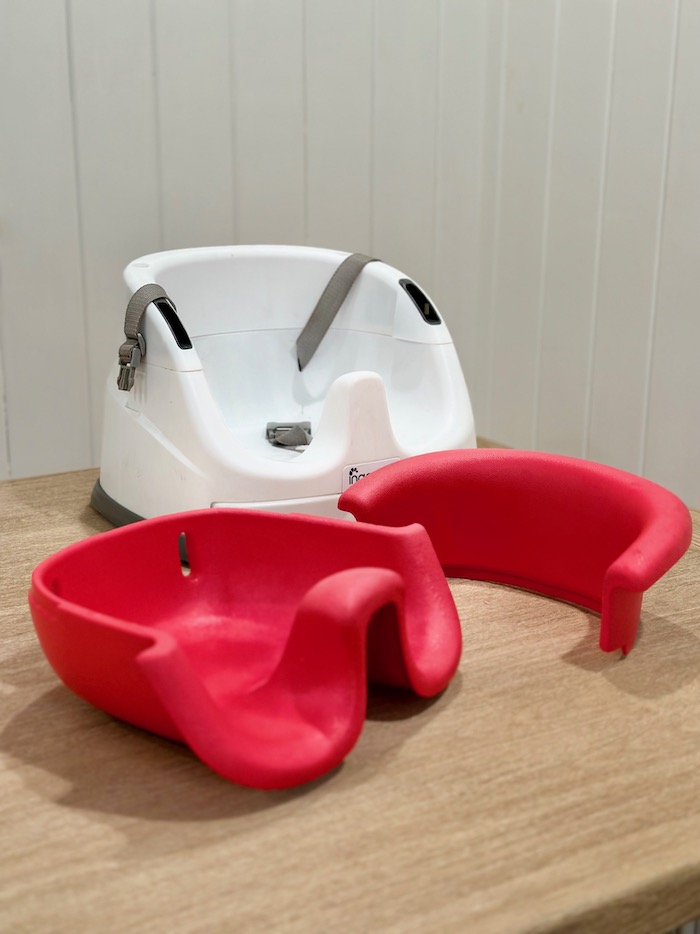 Every parent knows that babies are messy eaters. As with any booster or high chair, sticky food and crumbs can be lodged into the nooks and crannies of the Ingenuity booster.
As noted above, the Baby Base's tray is dishwasher safe. To clean out the rest of the seat, the brand recommends using a damp cloth and mild soap.
In order to remove all the crumbs and food spillage, the seat's foam inserts are removable. They are easy to pop off of the seat. We often remove them after eating and wash them in the sink. This gives us better access to food that might have become stuck underneath the inserts during meals.
Aesthetics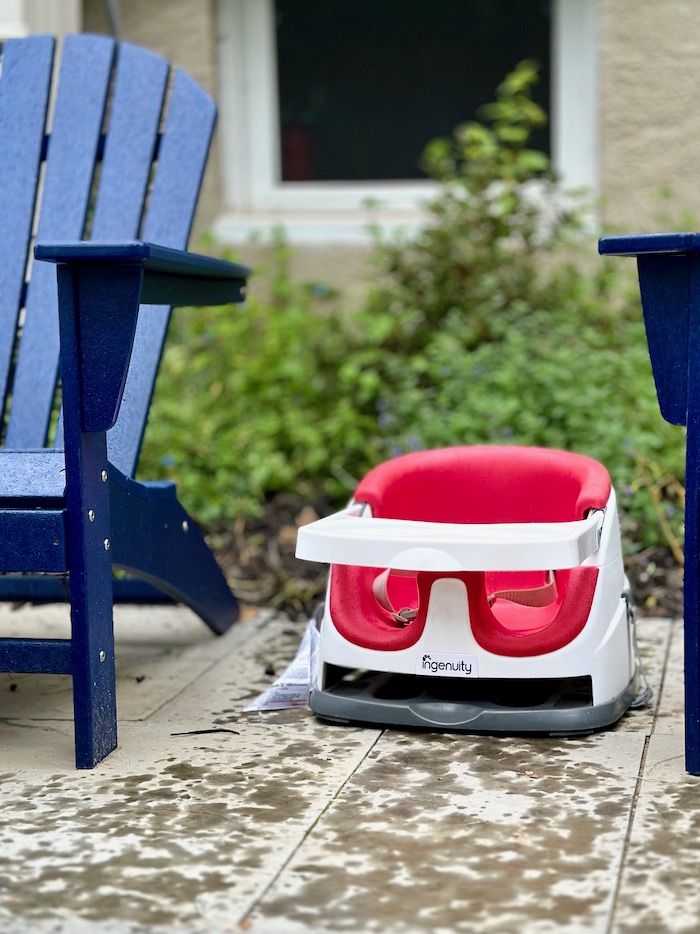 The Ingenuity Baby Base 2-in-1 is a simple booster seat with a white base and solid color foam inserts. Parents can choose from seven colors for the cushions, including two neutral tones, two shades of blue, two shades of pink, and a muted mint green. The chair's tray is white, BPA-free plastic.
The chair doesn't have gimmicky logos or busy patterns, so it blends nicely with most aesthetics. Unlike larger high chairs or clip-on chairs, it isn't immediately visible if it's sitting on a dining chair and a child isn't using it.
Final Thoughts: Ingenuity Baby Base 2-in-1 Booster Seat Review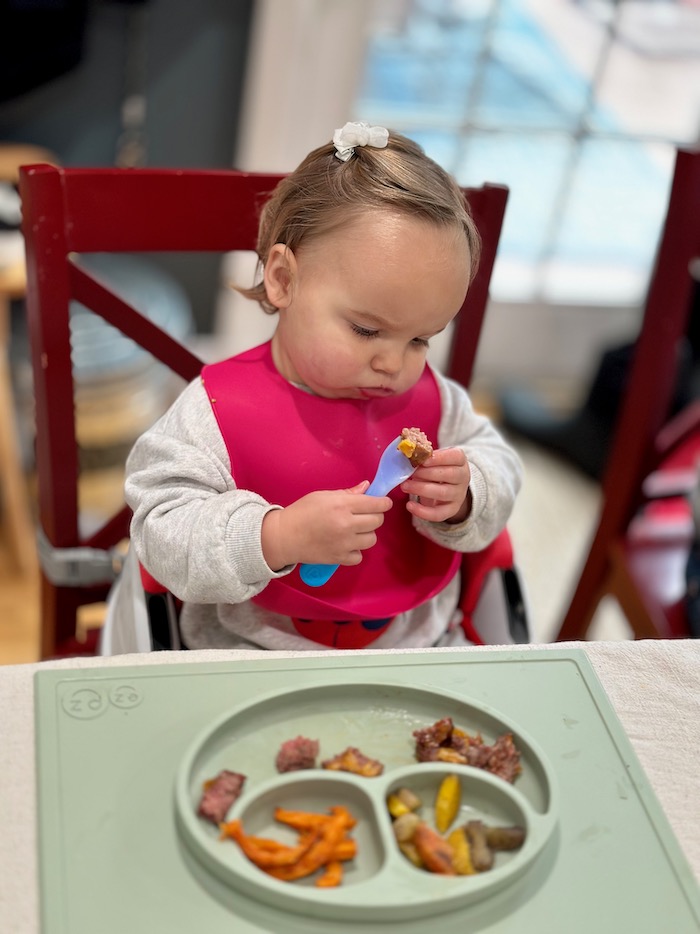 The Ingenuity Booster is one of those products that I'm so glad we have in our house. I would definitely buy it again if given the chance. We use this chair so much that I often give or recommend it to other parents, especially since it doesn't seem to be on many baby registries. It's sturdy, portable, and versatile.
To read up on how the Ingenuity compares against similar products, check out our guide on the best portable high chairs on the market. For more detailed reviews on other high chair products we've tried and tested with our families, read our articles on the Inglesina Fast Table Chair, the Hiccapop Omniboost Travel Booster Seat, and the Stokke Clikk High Chair.