A Complete Review of the Hiccapop Omniboost Travel Booster Seat
New parents quickly learn that traveling with a baby can involve bringing way more gear than you have room for in your car or on the plane. Whether you're figuring out where your baby is going to sleep, play, or eat, it's important to find travel equipment that's both safe and space-saving.
The Hiccapop Omniboost Travel Booster Seat has been a great purchase for our family. It's sturdy, compact, and easy to use. We've used this chair for almost three years for our two children, and it's become a staple for outdoor adventures and for travel.
The Hiccapop Travel Booster Seat
Let's start with an introduction to Hiccapop and an overview of its innovative booster seat:
The Hiccapop Brand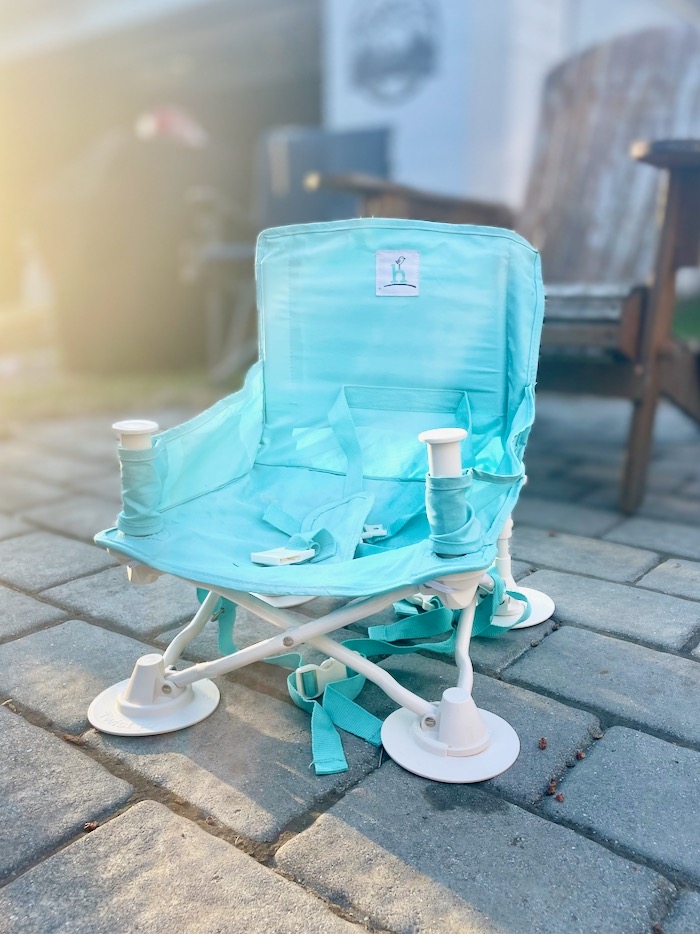 Hiccapop is relatively new to the baby-gear scene, debuting seven years ago with a range of products designed to make life easier for parents. It makes practical and compact equipment for families to use both at home and on trips.
The brand's travel products include sleeping, playing, and feeding solutions for babies and toddlers, in addition to a few maternity items. Hiccapop also makes standard gear, such as wipes dispensers and bed rails for little ones.
The Skinny on the Hiccapop Omniboost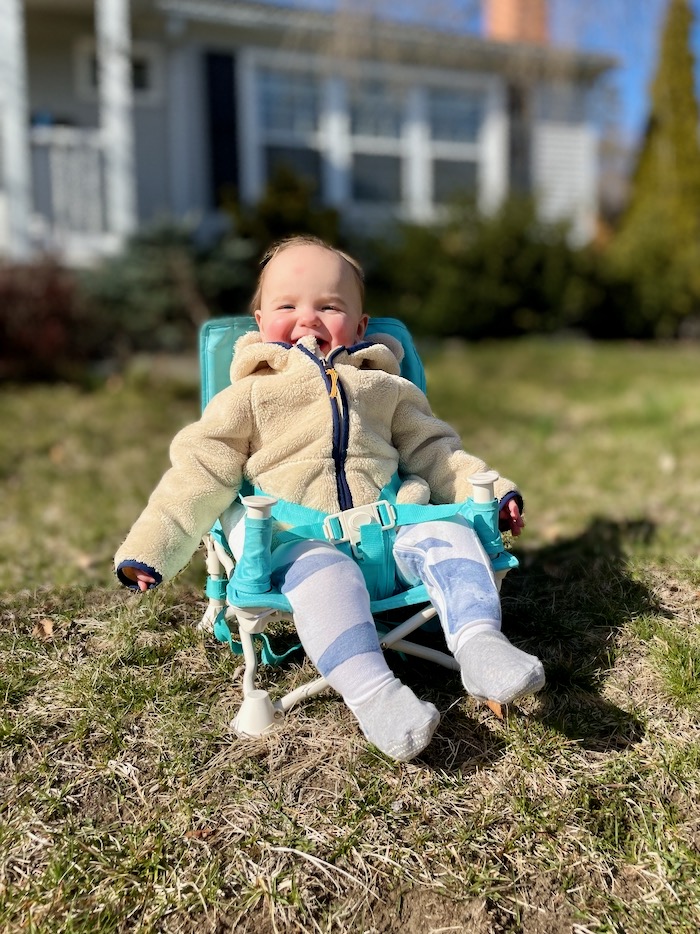 The Omniboost looks like a mini beach chair or camping chair for your baby or toddler. It sits on the floor or ground or on an adult dining chair, and it includes a removable, dishwasher-safe tray to give your youngster a place to eat or play.
We use our Omniboost for fires on the patio, meals on the deck, camping trips, beach days, and visits to relatives' houses or restaurants. It folds down and packs into its over-the-shoulder carry bag, and it has a convenient seat-back pocket to store goodies during meals.
Parents seem to love this chair for their kids as much as we do. The Omniboost currently has a 4.9 rating with over 5,000 reviews on the Hiccapop website, and a 4.8 rating with over 22,000 reviews on Amazon. It comes with an impressive lifetime warranty.
Watch Hiccapop's video below to see how this booster operates in everyday settings:
Hiccapop seat: Weighing the pros and cons
Here are some of my favorite aspects about this baby and toddler seat, and some areas that I wish were different:
Pros
The Omniboost has a whopping 250-pound weight capacity.
It folds down into a compact size and slides into its included shoulder-strap carrying bag.
It has a three-point harness to keep babies and toddlers secure.
Families can use it on the floor or ground or on an adult chair with safety straps.
Hiccapop includes wide duck-feet attachments for the chair's legs, which are helpful for uneven ground.
The Omniboost is reasonably priced.
The seat fabric is machine-washable, and the tray is dishwasher-safe.
Cons
The seat has no padding and lacks support compared to other booster seats.
The legs seem to stick a bit in the open position, making it difficult for us to collapse the chair at times.
As with any booster that attaches to a dining chair (as opposed to clipping onto a table), children can push off the table with their feet and potentially tip their entire chair over backward.
Detailed Features and Specification
Read on for a closer look at all the nitty gritty details about the Omniboost:
Cost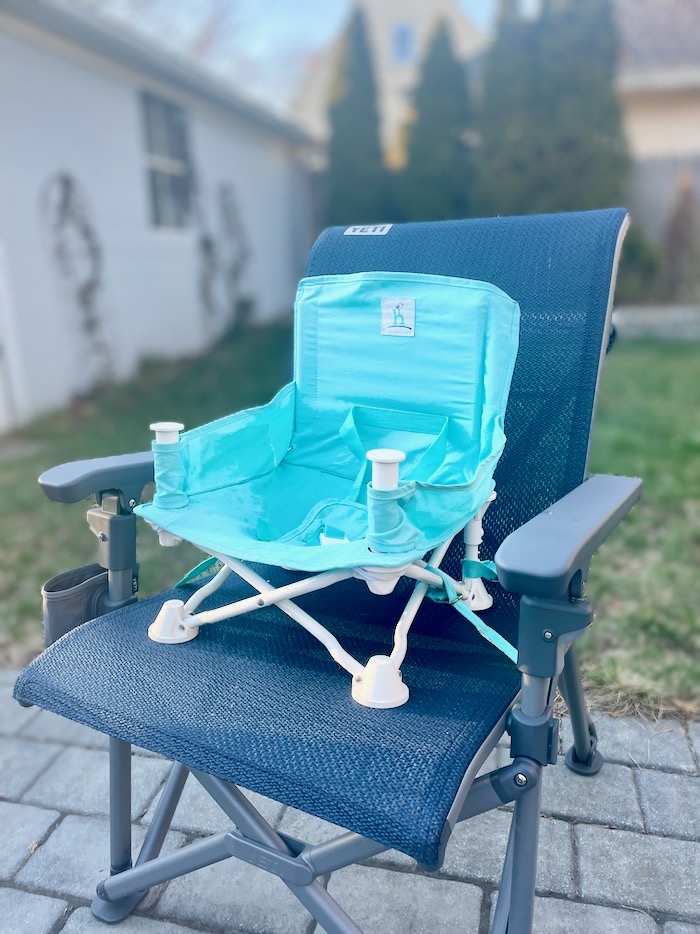 The Hiccapop travel booster costs just under $40. If you plan on using it for your baby at home, it costs less than most high chairs. The cost is on par with other floor seats and travel booster seats that collapse.
When we decided to buy the Omniboost for our son, we saw it as a worthwhile investment to primarily use for travel, backyard lounging, and beach seating.
Size and portability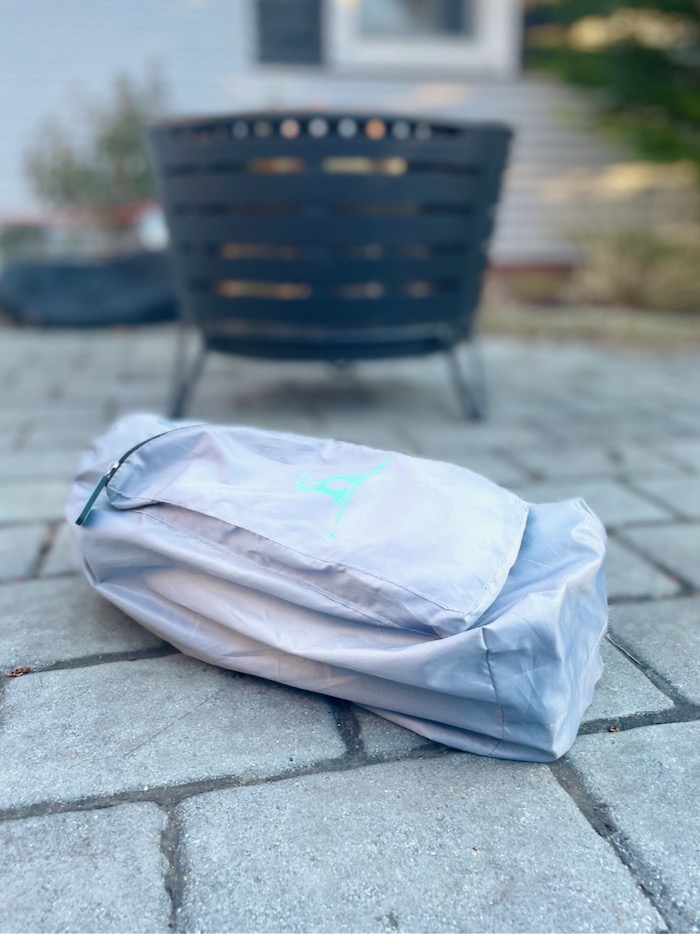 One of the most valuable features about this booster is its portability. The entire seat collapses like a camping chair, from 14" long by 14" wide by 16" high to 7" long by 7" wide by 16" high. It weighs only four pounds and fits into an included carrying pack.
The carry bag has a shoulder strap, so it's easy to tote with us across sandy dunes or into a restaurant. The bag fits both the chair and tray inside, and it has a zipper pocket to store extras like a bib, a spoon, or snacks.
The Hiccapop is perfect for road trips. It's also so lightweight and compact that we pack it in our checked luggage as a must-have item for cross-country flights.
Seat style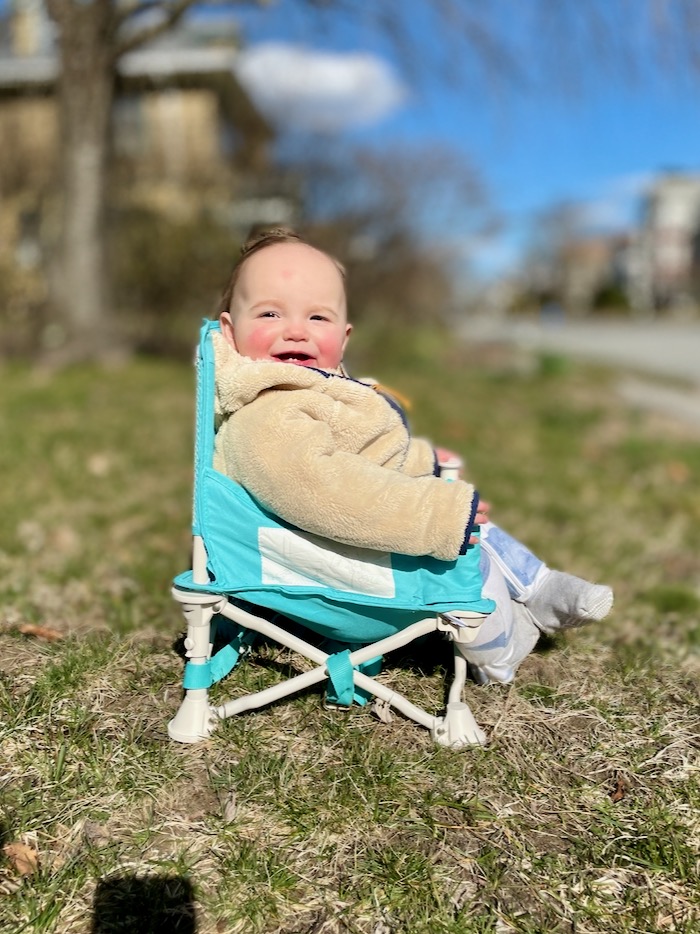 The Omniboost has a soft fabric seat slung over its sturdy metal legs and seat back. The hammock-style seat is similar to a standard camping chair and doesn't include any padding.
This booster seat doesn't feel the most structured or supportive, but it does seem comfortable enough for either of our children to sit in for meals and short stints.
Because it doesn't have significant support, you'll want your baby to be confident in sitting independently before using this chair.
Safety and security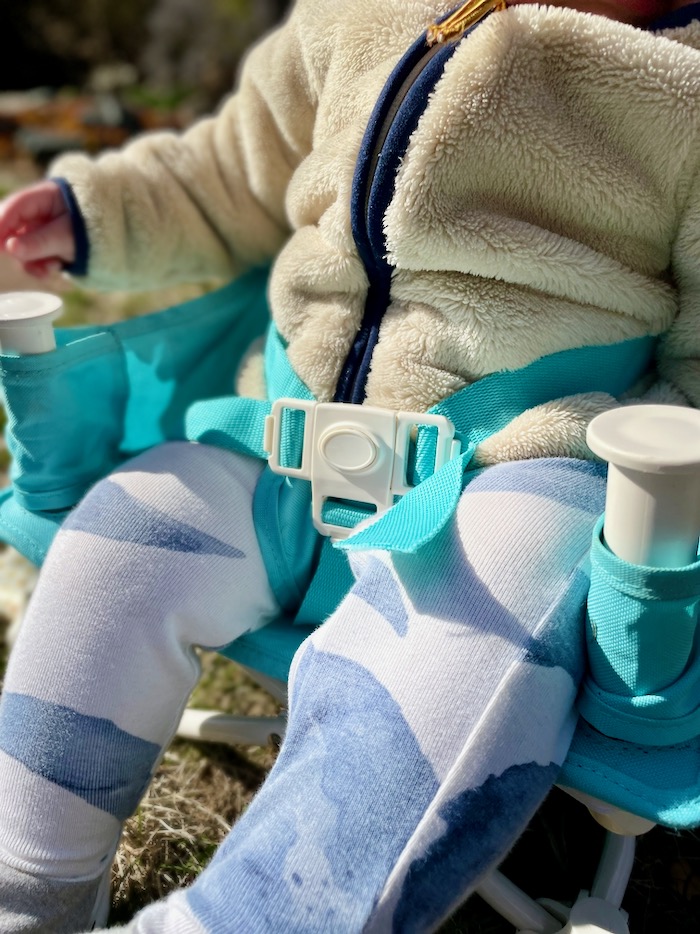 Hiccapop's travel booster incorporates a three-point harness with a snappy one-handed release that keeps kids secure and prevents them from crawling out of the chair. The Omniboost has a wide, sturdy base to prevent it from tipping over when used on its own, with a locking mechanism that keeps the legs fully expanded when baby is seated.
Parents can attach the booster seat to a regular dining chair at the family table. This adds to the Omniboost's versatility and makes it a viable substitution for a high chair at home or away.
To attach the seat to a dining chair, the Omniboost has one set of straps to wrap around the seat back, and another set to clip onto the seat's base. The straps are adjustable and fully removable when not in use.
We feel comfortable enough with the security of the Hiccapop to use it on dining chairs and bar stools for our two children, but I always take extra precautions when we use a kids' chair that attaches to a dining chair. Depending on the stability of the chair underneath, these types of child seats always come with the danger of younger toddlers pushing off the table with their feet and tipping the entire seating arrangement over backwards.
Age range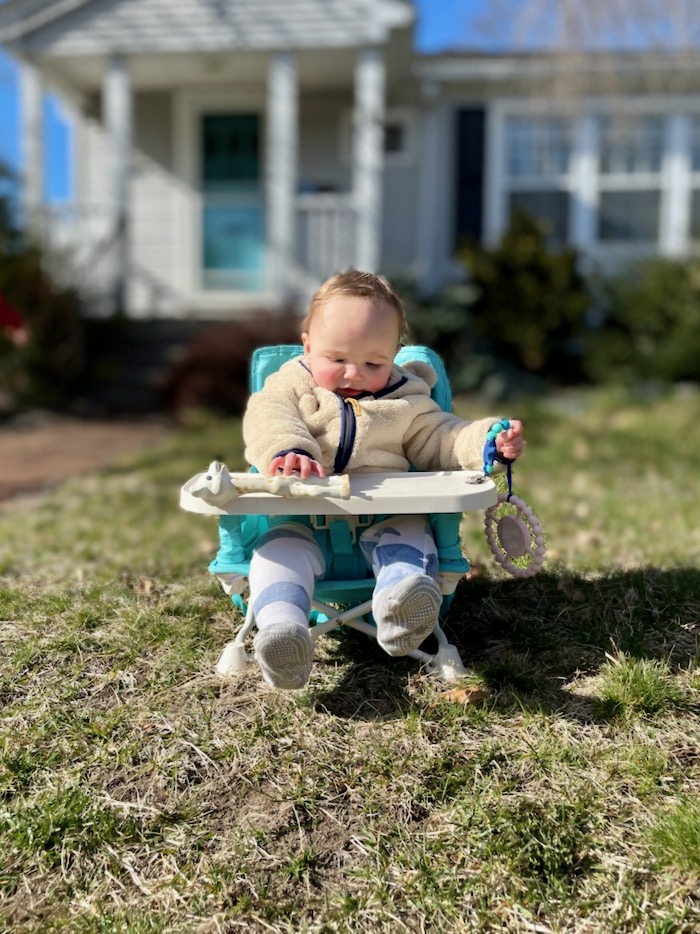 The age range for the Hiccapop booster is six months to three years. Due to the unstructured style of the seat, babies should really be confident sitting unassisted before using the Omniboost, so they don't become too wobbly.
Our children are nine months old and three years old. Thanks to the wide base, they both fit in the Omniboost comfortably. When it's on the floor or on the ground outside, it's a little too low to the ground for the length of our son's legs at this age, but he does fit nicely if the booster is on a dining chair or bench.
One great feature about the Hiccapop is that the weight limit is 250 pounds. Yes, 250 pounds! While most chairs have a limit around 30 to 40 pounds, you won't have to worry about your son or daughter growing too heavy for the Omniboost!
Care and cleaning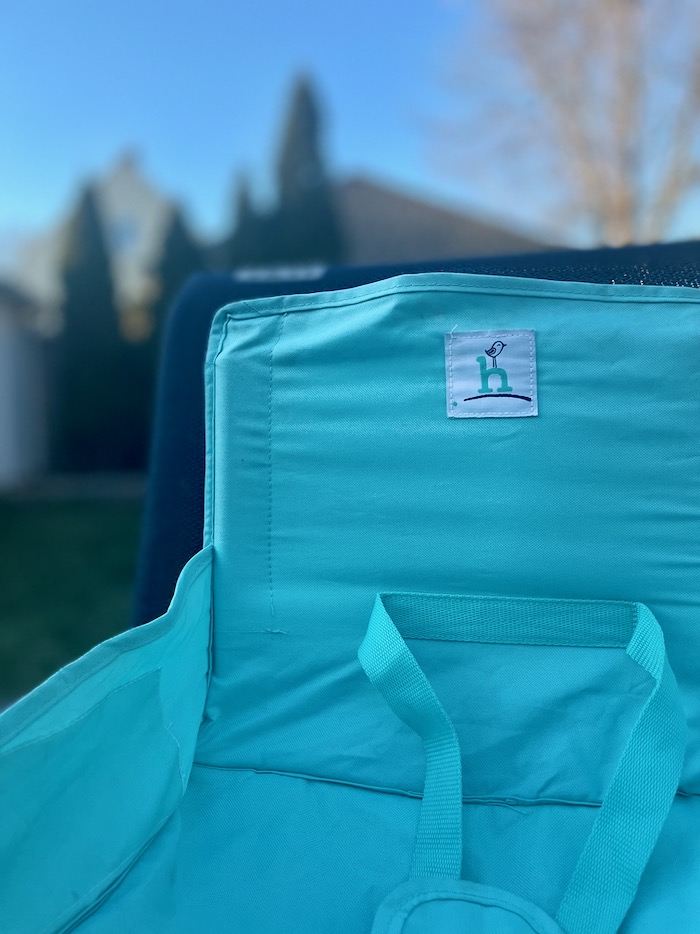 The Omniboost has a canvas-like seat cover that easily wipes clean of most spills. To clean up larger messes, the entire cover comes off of the metal legs for machine-washing.
Tray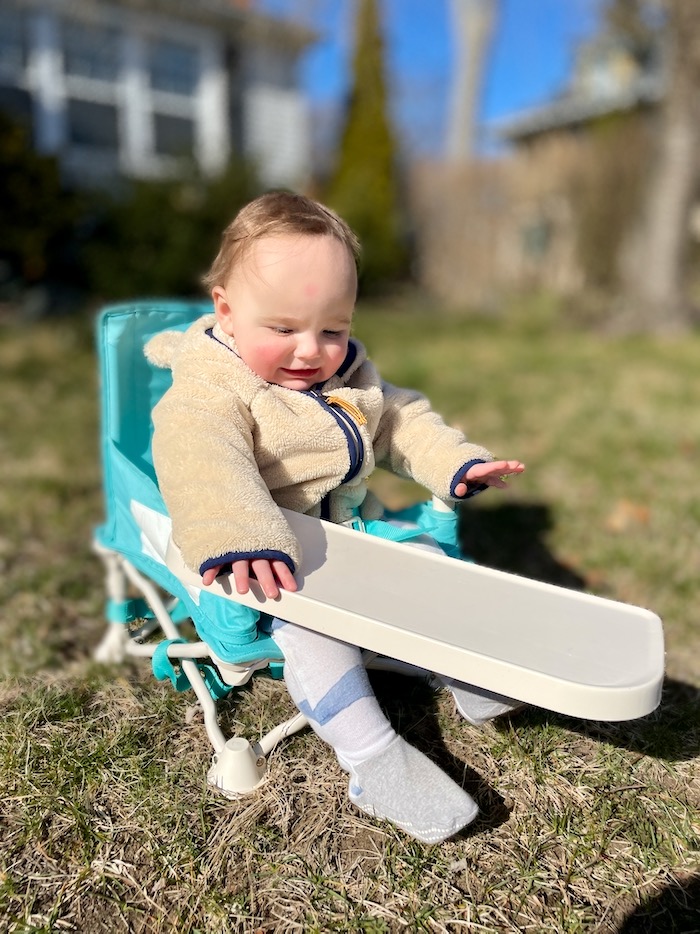 The wide tray is one of the best features of the Hiccapop. It is made of BPA-free plastic, and it swivels open to let baby in and out of the chair with ease. I love that we can hand-wash the tray in the sink, or throw it in the dishwasher when we have extra room.
Although it's smaller than a typical high-chair tray, the Hiccapop tray is large enough for us to spread out snacks and a drink, or to set up a few small toys for our baby or toddler to play with.
Leg style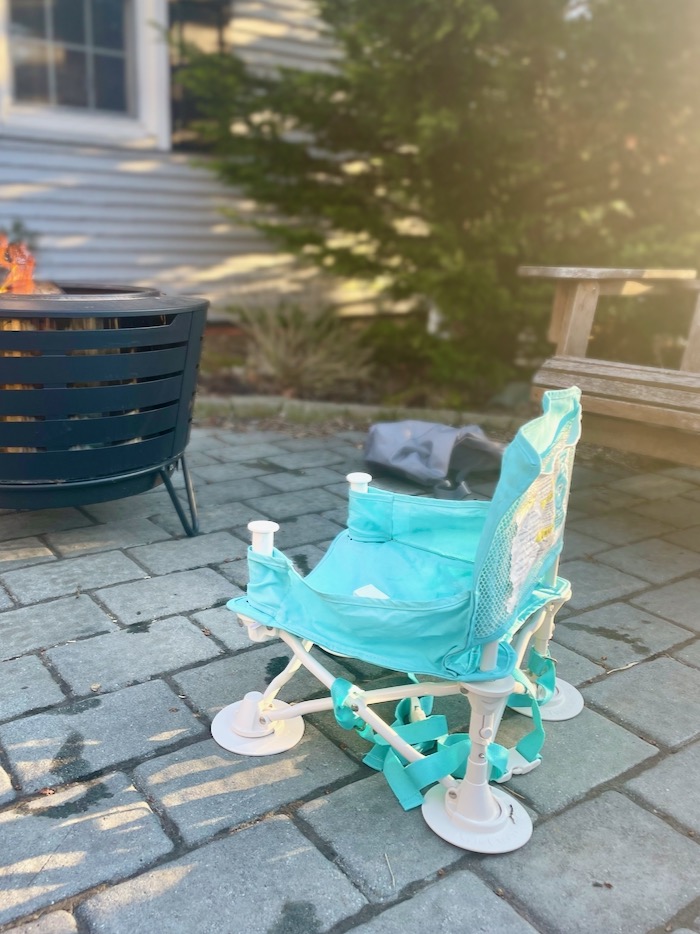 The Omniboost sits with a wide stance, with legs in a criss-cross configuration, reminiscent of a camping or beach chair.
Hiccapop includes removable duck-feet attachments, which are flat discs that slide onto the chair's legs, for extra stability. They distribute weight across a wider area and lend more security to the booster. We love to use them when setting the chair up on uneven surfaces, like sand or grass.
Storage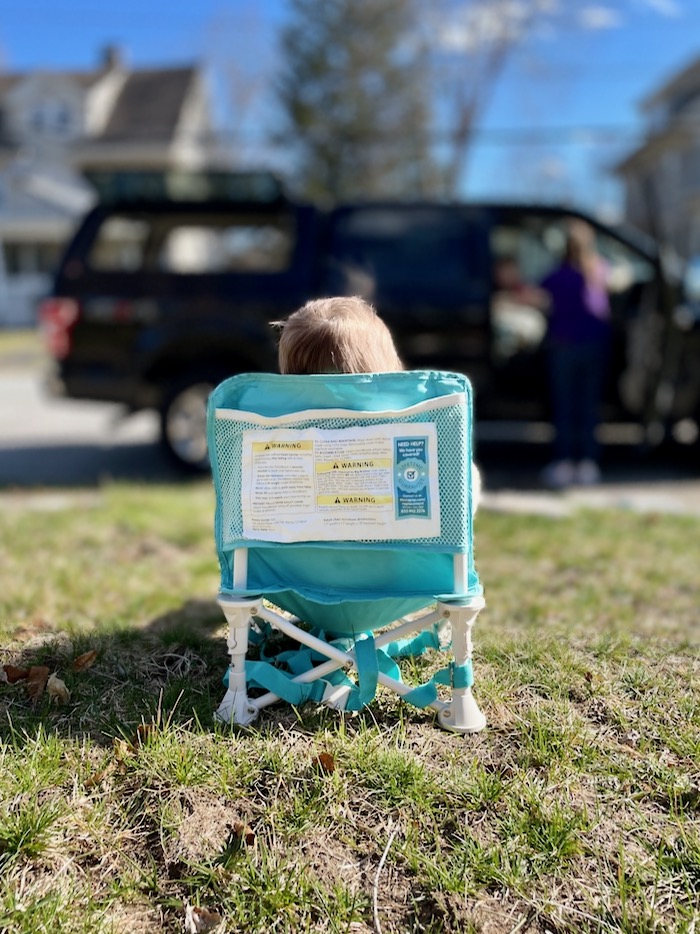 A small added feature that turns out to be invaluable is a storage pocket behind the Hiccapop's seat back. The pouch is perfect for stashing spoons, bibs, snacks, or trash from meals.
Comparing the Hiccapop Omniboost Against Others in the Field
Let's see how the Hiccapop matches up against competing travel and floor boosters you might considering purchasing for your family:
Tightest competitor: Summer Infant Pop 'N Sit Portable Booster Seat
Summer Infant's foldable booster is has a similar appearance and comparable features to the Omniboost. The Pop 'N Sit costs around $30–40, depending on the color and retailer. Like the Omniboost, it boasts a seat back pouch, a carrying case with a shoulder strap and zip pocket, a dishwasher-safe tray, and straps that secure it to an adult chair.
There are three primary differences between Summer Infant's popular seat and the Hiccapop. The Summer Infant Pop 'N Sit only supports children from six months to 37 pounds (which is more limiting than Hiccapop's impressive 250-pound weight limit). The Pop 'N Sit does not have machine washable fabric, and Summer Infant doesn't offer compatible duck-feet attachments to improve stability on uneven surfaces.
Clip-on seat: Inglesina Fast Table Chair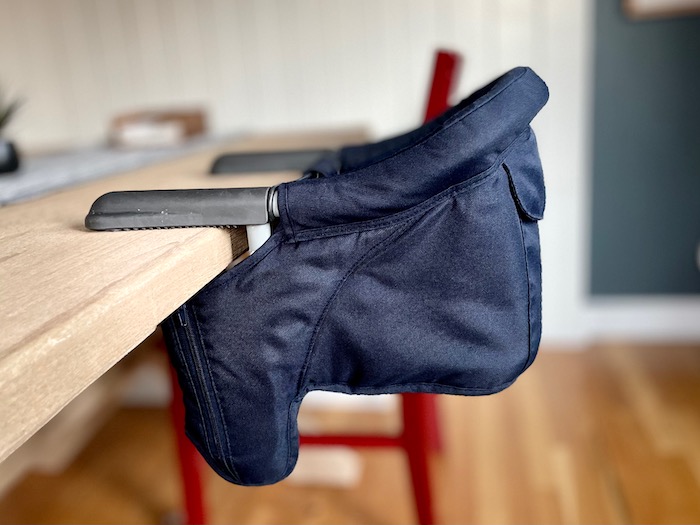 The Fast Table Chair costs about $80 and clamps onto a dining table. The Inglesina has a machine-washable seat cover, a clutch seat-back pocket, and an included carrying case, similar to the Hiccapop. It also folds flat for travel, but it isn't as compact as the Omniboost. A large, compatible tray is sold separately.
The Fast Chair supports children from 6 months to 37 pounds, similar to the Summer Infant Pop 'N Sit. Although the Inglesina creates a more secure spot for children to sit up close to the table, it can't sit on its own on the floor or on the ground outside.
We use the Inglesina instead of a high chair at home, and we frequently bring it with us for car and air travel. It works well with outdoor picnic tables, so we've brought it on camping trips, too. (To read more about how much I love the Fast Chair, read my complete review here.)
Nonfolding booster seat: Ingenuity Baby Base 2-in-1 Booster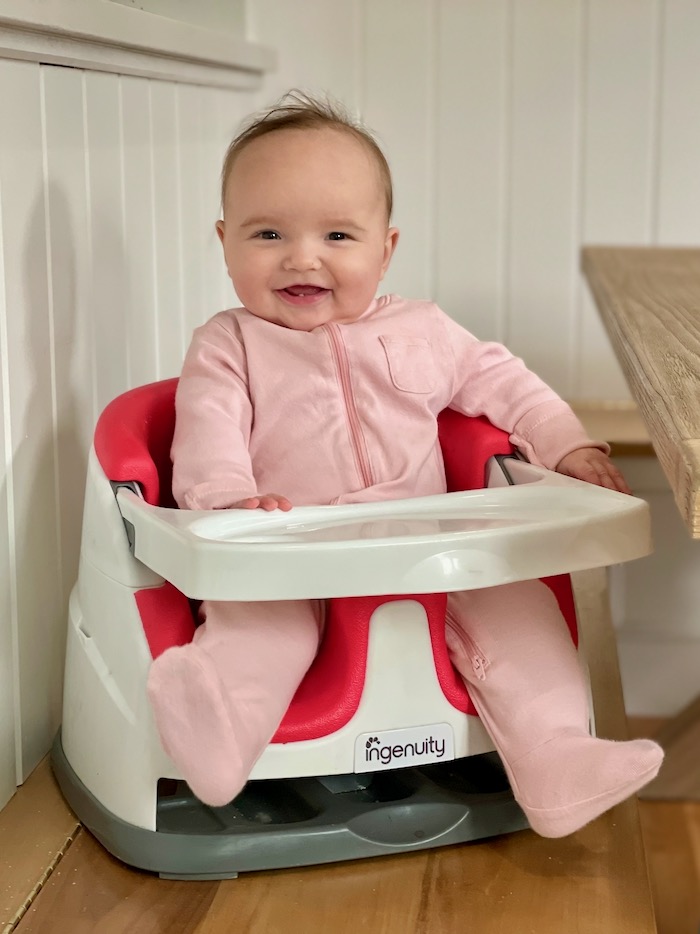 If you've got room in the car and aren't pinched for space, Ingenuity's Baby Base 2-in-1 is an excellent option. It offers more support and stability than the Hiccapop and costs around $40. The flexible, easy-to-clean foam seat nests within a sturdy plastic frame to provide a comfortable spot for baby to sit. It also includes a hidden, dishwasher-safe tray that slides in and out of the base.
The Ingenuity does not collapse flat or include a carry bag, but it is lightweight, only 2.5 pounds. Babies can likely sit in this chair a bit earlier than in the Hiccapop, but they will also grow out of it sooner given its weight limit of 33 pounds.
We use the Baby Base 2-in-1 often for car travel. We love it for snacks in the family room and picnics in the truck bed. Due to its size, it's not practical for flying.
The Upshot: Hiccapop Omniboost Travel Booster Seat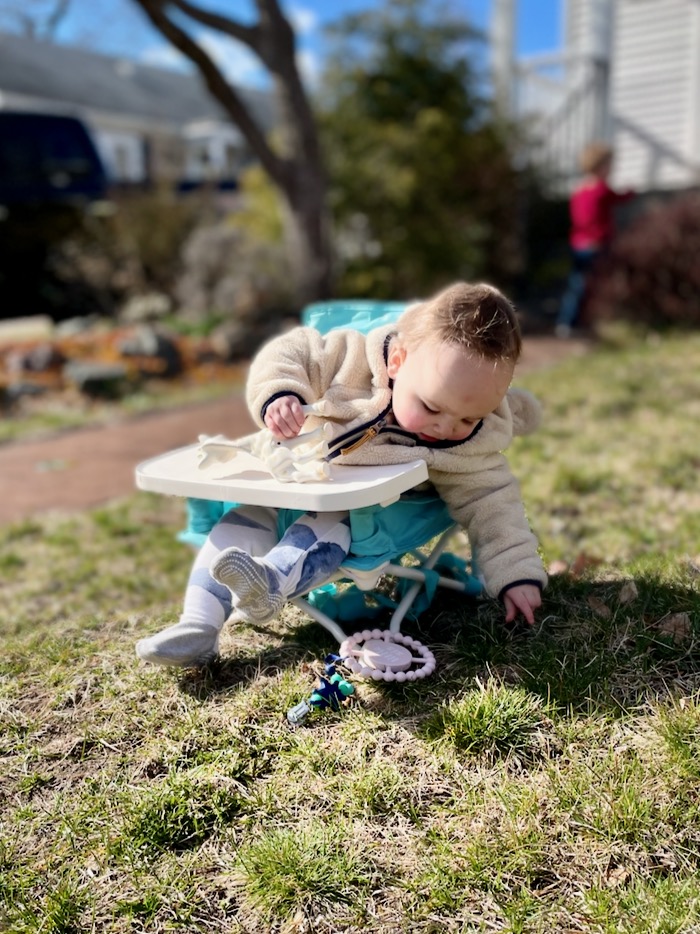 The Hiccapop is a versatile, budget-friendly chair for use indoors and outside. Whether we're going for a hike, lighting up the fire pit in the backyard, or heading to uncle's house, we often bring the Hiccapop with us. Although the seat isn't the most supportive or padded, the Omniboost is compact, durable, and easy to clean. I'd recommend this chair as a gift to any parent hoping to bring their youngster along for travel and outdoor adventures.