Convenient, Supportive, and Simple: Inglesina Fast Table Chair Review
As your little one gets older, they're starting to sit on their own and pick up finger food to nosh on and enjoy. In addition to capturing those adorable pictures of avocado and banana mashes all over their face, it's time to choose a chair for them to join family meals at the table.
With a streamlined design and functional features, the Inglesina Fast Table Chair is a great baby and toddler seat option that has provided convenience to our family at home and on the go.
The Inglesina Brand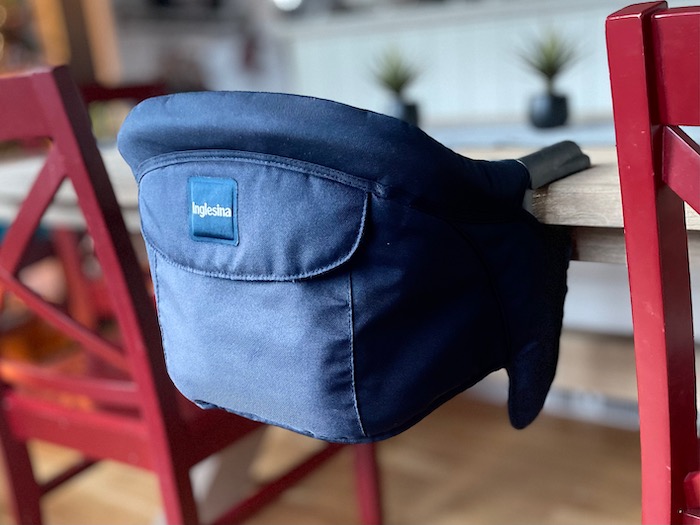 The Italian baby gear brand Inglesina has been creating high quality baby products since 1963. Inspired by traditional English carriages, they entered the stroller market aiming for high class clientele and using intricate fabrics to mimic current fashions.
In 2007, they widened their brand by including baby seating and home baby products, capitalizing on clean, minimalistic designs. Their gear became so popular that it was featured in pop culture phenomena like a Madonna music video in 2012 and the Sochi Olympics opening ceremonies in 2014. Inglesina now produces a variety of mid-range priced baby strollers and chairs, including the popular Fast Table Chair.
The Skinny on the Fast Table Chair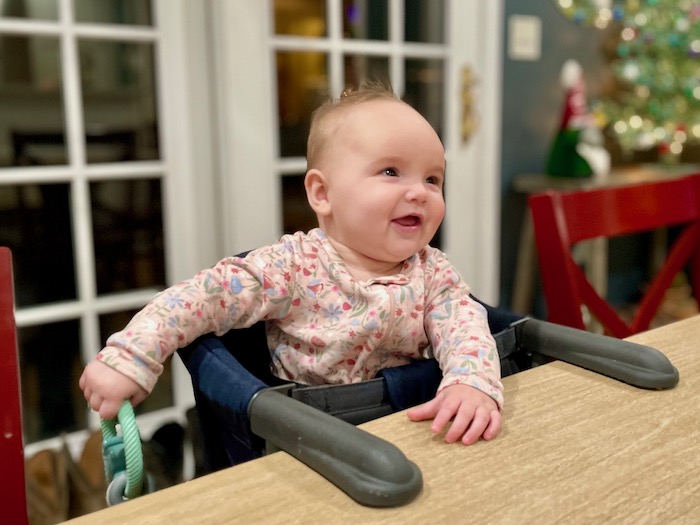 When looking for a spot for your baby to join mealtime, there are stand-alone high-chairs, like the Skip Hop 4-in-1 Convertable High Chair, chairs that clip onto regular dining chairs, like the Fisher-Price SpaceSaver Simple Clean High Chair, and chairs that clip onto the table, like the Inglesina Fast Table Chair. The Fast Table Chair is a hook-on table baby seat that quickly attaches to your table or countertop. It is lightweight and portable with an attached carry bag perfect for traveling.
We have flown and taken road trips with Inglesina Fast Chair, and weighing only slightly more than 4 pounds, it adds little to our luggage. This baby and toddler chair has sturdy support with thick, durable fabric in many attractive colors. An optional tray converts any surface to an eating and play spot for baby, making this product versatile and easy to clean.
As a family of four with two little ones, we have never needed a high chair because we use our Inglesina chair on a daily basis at home and for travel. This high quality clip-on chair is available for purchase from Inglesina, Amazon, and other baby gear sites, as well as high end retailers including Pottery Barn Kids and Dillards. For a comprehensive snapshot of the product, check out Inglesina's video of the Fast Table Chair in action.
Inglesina Fast Table Chair: Weighing the Pros and Cons
Pros
Lightweight, compact, and portable (perfect for travel!)
Stays clean and beautiful with regular washing
Easy to use and long-lasting thanks to simple design and durable materials
Reasonable in price compared to stand-alone high chairs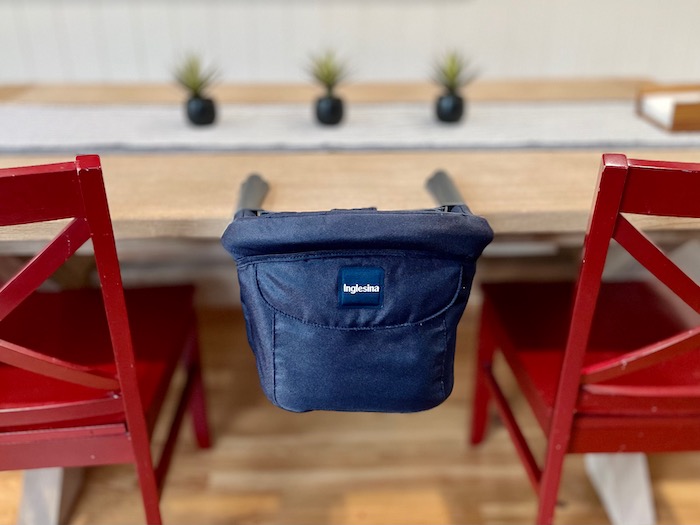 Cons
Doesn't fit on all tables (see company's FAQ for table requirements)
Stability of the chair is dependent on solidity of the table or countertop
Harness can be difficult to reach and unclip when child is seated
On the smaller side for children toward the top of the weight range
Detailed Features and Specifications
Let's take a closer look at the components you care about when deciding whether to purchase the Fast Table Chair.
Cost
The Inglesina Fast Table Chair costs $80, with some exclusive colorways coming in closer to $90. If buying the chair with the optional tray included, you can expect to add about $20 to the cost.
Compared to other clip-on baby chairs, its top-notch features place this chair toward the top of the price spectrum. When matched up against the broader category of stand-alone high chairs, it's at the more reasonable end of the price range.
Size and Weight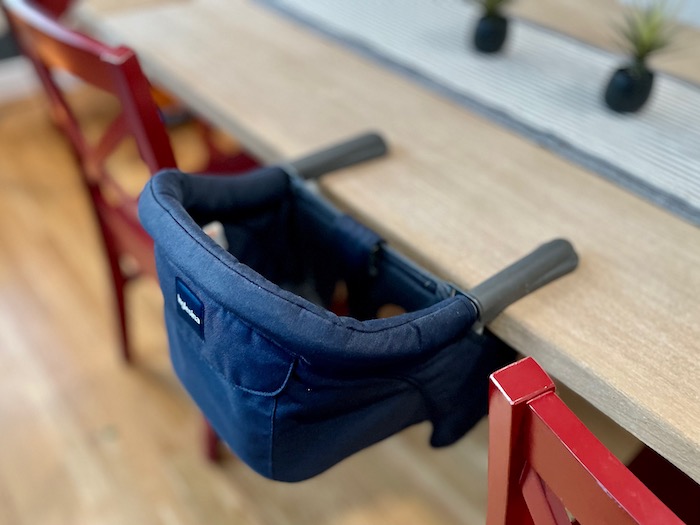 As indicated on the Inglesina website, the Fast Table Chair only weighs 4.2 pounds. When unfolded, it measures 11" by 14" by 17". Those dimensions drop down to only 4" by 14" by 17" when collapsed, making this product super portable.
Its ability to fold down flat means it's easy for us to throw in our suitcase for a flight, or add to our luggage for a road trip. It's also small enough to comfortably bring into a restaurant or quickly store in our diaper bag for visits to a friend's house.
Age and Weight Range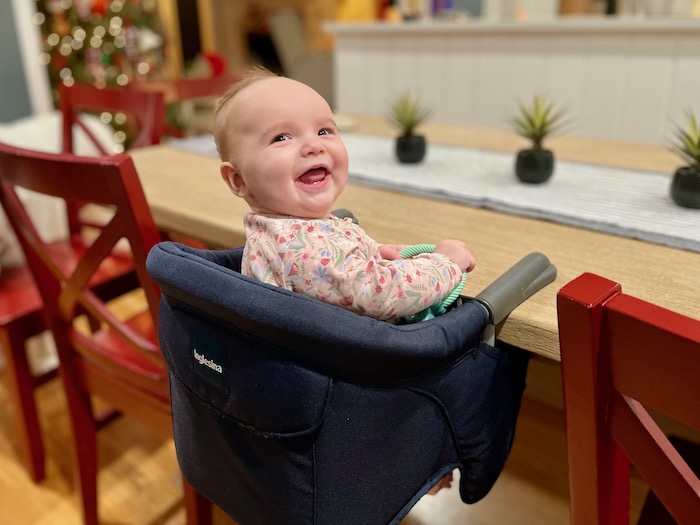 The Fast Table Chair is designed for children up to 37 pounds. Even though the product manual interestingly states that the seat shouldn't be used for children who can stand on their own, the specifications declare it appropriate for little ones from 6 to 36 months of age.
This makes it an enduring product for families, especially if they plan on having multiple children use the chair as they grow. Although the chair can hold children up to 37 pounds, the frame might be a bit tight for kids who reach this weight limit by age 3.
Once little ones reach age 2, they may give parents a hard time about sitting in a confined chair like this one (hooray for toddlerhood!), but the Fast Table Chair is nevertheless a long-lasting purchase. For younger babies who are less confident in their independent sitting skills, some parents find it helpful to insert a rolled up towel to support their little one. However, according to the product label, parents should wait to use the chair until babies can sit unsupported on a flat surface.
Fabric Care
Inglesina recommends cleaning the metal and fabric parts of their Fast chair with a wet cloth and drying them afterward to avoid rust. The manufacturer also states that owners should hand wash the seat fabric separately in cold water and hang to dry.
True confessions: I always put mine in the wash. And in the dryer, too. I've washed it with full loads of clothing for many cycles now (this thing gets dirty!), and it has resulted in a vibrant and satisfying clean every time.
Aesthetics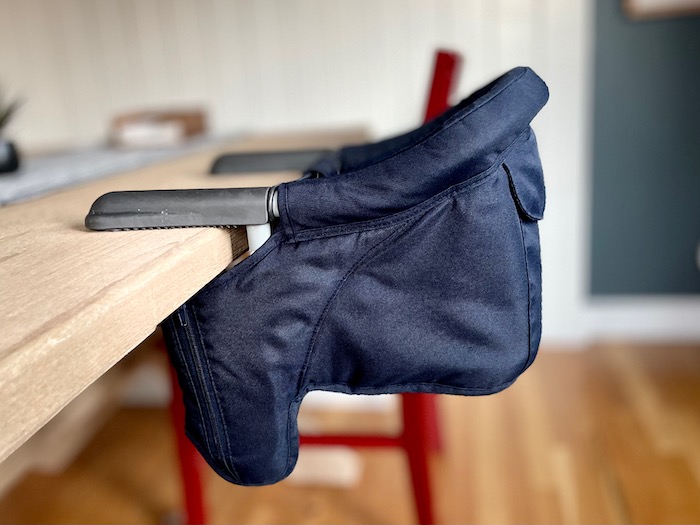 Inglesina built this clip-on chair with sleek aesthetics in mind. Featuring a minimalistic design without bulky parts or flashy logos, the Fast Table Chair blends well with home interiors. The thick fabric of the chair even has clever zips to hide its metal support bars.
You can choose among nine solid colors, including kid-friendly brights and adult-friendly neutrals. For a slightly higher price, the brand also makes two patterned choices for the chair. These include a Mineral Gray Melange with leatherette accents, available from Inglesina, and a Broken Arrow Gray pattern, available from Pottery Barn Kids.
Assembly and Setup
This hook-on counter chair is easy to put together. It comes with five separate parts: the seat fabric, a plastic seat insert, a metal seat-back support bar, and two arms that attach to the counter or table. The parts can stay assembled for storage and travel, but it's useful to remove them for washing.
The arms of the chair slide over the tabletop and clamp in place by twisting the underside of the arms to tighten them. Although setup is simple, it can take a long time to fasten and loosen the arms enough to remove the seat if you'd like to change it out for a regular chair.
Stability & Compatible Surfaces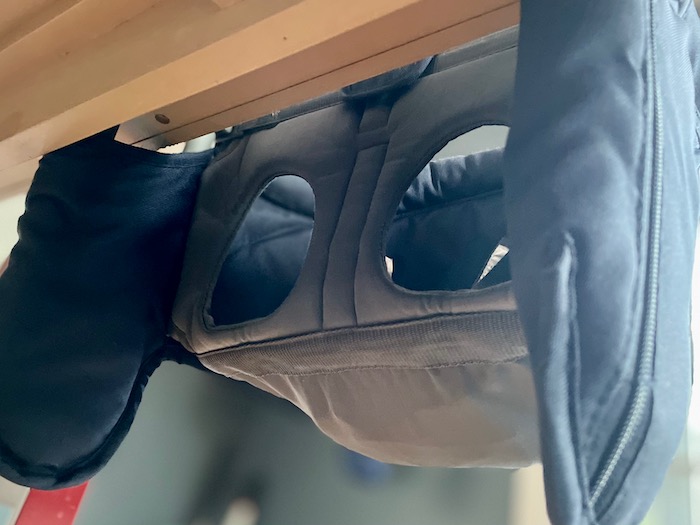 If attached to a stable surface, the Inglesina Fast Stable Chair is an extremely stable chair to seat your child in. In addition to dining tables and picnic tables, it's a great chair for bars and countertops in the home.
This chair works well with standard dinner tables that match the required dimensions and do not stand on a single pedestal. It's also not appropriate for table cloths, place mats, card tables, glass tables, and table leaf extensions. See the product's instruction manual for more safety guidelines.
This high quality clip-on chair is compatible with tables from 0.8" to 3.5" thick, which matches most tables' specifications. A table with a skirt underneath becomes more tricky to attach to, but works out well if the dimensions are correct. The manufacturer requires that the table skirt be at least 3.25" from the edge of the table so that the entire length of the chair's arms are in contact with the table's surface.
In our experience, even if a table does have a skirt close to the edge, the Fast Table Chair can still be attached if the skirt is shallow enough that the entire chair's arms can reach beyond it. Just be careful that there's enough room for your little one's legs to slide comfortably into the chair without pinching.
Harness
This table chair contains a secure, adjustable waist belt that should fit snugly around your child to keep them safe. A fabric strap folds overtop the buckle. Although this can make it a bit difficult for you to unlatch them from the seat, it also makes it more difficult for your child to release the buckle themselves and create a safety hazard.
Accessories
The Inglesina hook-on chair comes with an attached travel carry bag that fits into a hidden pocket underneath the seat. The bag is actually sewn onto the tray to prevent you from misplacing it. The chair also has a sleek storage pocket behind the seat-back to store bibs and other mealtime essentials.
The Fast table chair is compatible with an optional Fast Dining Tray Plus for approximately $20. The tray lays on top of the chair's arms to prevent mess from creeping underneath, and it's slightly larger than the chair itself to prevent crumbs from landing on your baby's lap. The tray, which also fits inside the attached carry bag, is compatible with old and new versions of the chair.
Seat Support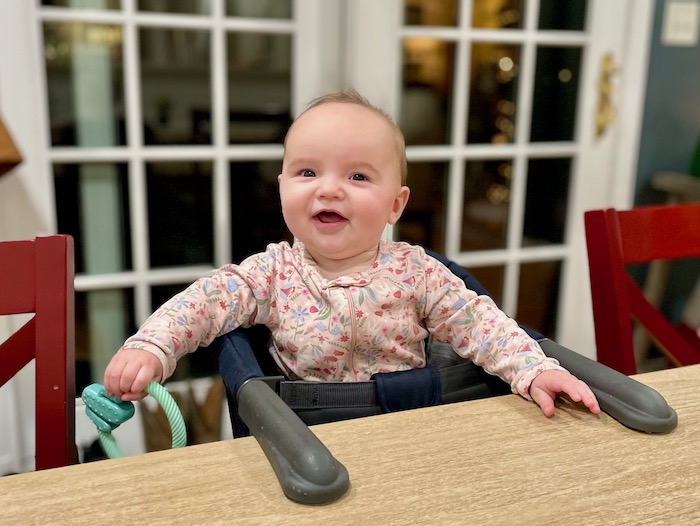 From a mom's perspective, one of the most favorable features about this chair is its ultra padded fabric and supportive high-back seat for your little one. Meals can represent significant chunks of time in your child's day, and it's important to know that they are comfortable.
Comparing the Fast Chair to Others in the Field
When deciding whether the Inglesina Fast Table Chair is a smart purchase for your family, it's a good idea to see how it measures up against other baby seat options.
The Chicco QuickSeat Hook-On Chair
A popular contender in the market of clip-on baby seats is the Chicco QuickSeat Hook-On Chair. This chair includes a practical tray and also folds to a compact size for travel. Although at a similar price point to the Inglesina Fast Chair, it weighs almost twice as much, making it less portable.
The Chicco chair is only compatible with countertops and tables between 0.75 to 1.5 inches thick. Similar to the Inglesina, it is appropriate for children who weigh up to 37 pounds.
From personal experience, although its larger seat is more wobbly for younger babies, the Chicco QuickSeat was easier to fit my son into as he grew. The fastening and loosening mechanisms to attach the Chicco seat to a table are also much quicker than the Inglesina Fast Chair.
High Chairs
There are tons of high chairs to choose from in a wide range of prices—everything from the Ikea Antilop Chair to the Stokke Tripp Trapp High Chair. The main advantage of high chairs over hook-on chairs is that they are stable on their own and do not rely on the specifications of the table.
On the other hand, a clip-on chair like the Inglesina allows your child to sit up close to the table as opposed to sitting a foot back in a stand-alone high chair. The clip-on chair is a better choice for travel (especially air travel!), as it collapses flat and fits into the included carry bag. It's also an ideal choice for smaller spaces and for restaurants where bulky high chairs occupy valuable territory.
Seats that Clip onto Dining Chairs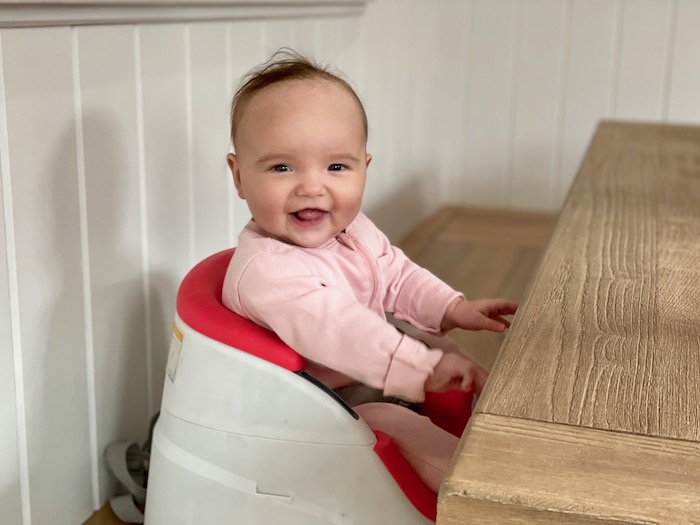 Baby seats that clip onto dining chairs can also be appealing for home and for travel. Some popular examples are the Hiccapop Omniboost Travel Booster Seat and the Ingenuity Baby Base 2-in-1 Booster Feeding and Floor Seat.
The major advantages of these seats are their included removable tray, their lower price point, and their ability to be used on the floor or outside on the ground. My family owns both these chairs and uses them often. I love them for eating outdoors (there's nothing like lunch on the truck bed in the sun!), for camping, and for the beach. That being said, the Inglesina Fast Chair is perfect for picnic tables and collapses much smaller for travel.
One risk about seats that attach to dining chairs is that your child can push off the table or counter with their feet and fall backward on the chair—not a fun experience for anyone. It's best to use these chairs on the floor or on flat surfaces that cannot tip over.
Before the Inglesina: Fisher-Price Sit-Me-Up Floor Seat
If your baby is not ready for the Inglesina Fast Table Chair, check out the Fisher-Price Premium Sit-Me-Up Floor Seat. Although it has a larger footprint, it's designed for little babies up to 25 pounds who can hold their head up but can not yet climb out or walk.
This chair has been a perfect option to offer support to our baby as she learns to sit up and crushes those purées. It also includes an awesome toy that keeps her entertained for longer than you'd expect.
The Upshot: Inglesina Fast Table Chair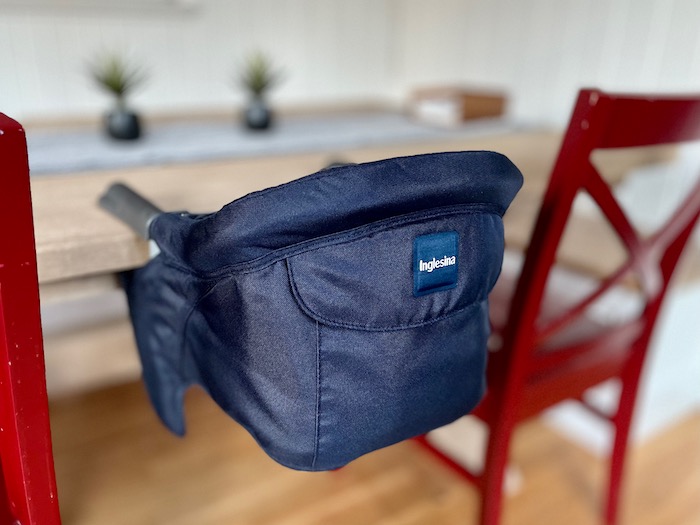 If you're looking for a seat for your baby at the table that's convenient for traveling and sleek for at home, the Inglesina Fast Table Chair is an excellent choice. It's a beautiful, simple chair with easy-to-use features and many fabric choices to blend with your aesthetic.
As long as parents follow guidelines for safe use and compatible tables, the Fast Table Chair is a safe spot for your growing little one to join the family for a delicious meal. Now all that's left is to show them how to put as much food in their mouths as they do on their adorable faces.
Pin me for later: