The 50 Best Baby Travel Toys — All Tested from Experience!
Whenever we travel with our two young kids, toys are always at the top of our packing list. We've even traveled cross-country with a suitcase designated for toys alone — so we've learned which ones are winners, and which ones aren't worth the extra space.
Read on for our complete list of the 50 best baby travel toys, all tested from experience. We've included must-haves to keep on hand during travel day and essentials to pack in the suitcase for play away from home.
On Travel Day
If you're looking for the perfect toys to keep your baby entertained in the stroller, on the plane, or in the car, read on for details about these tried-and-true travel-day winners that double as great playtime toys once you reach your destination.
1. Fat Brain Toys' Squigz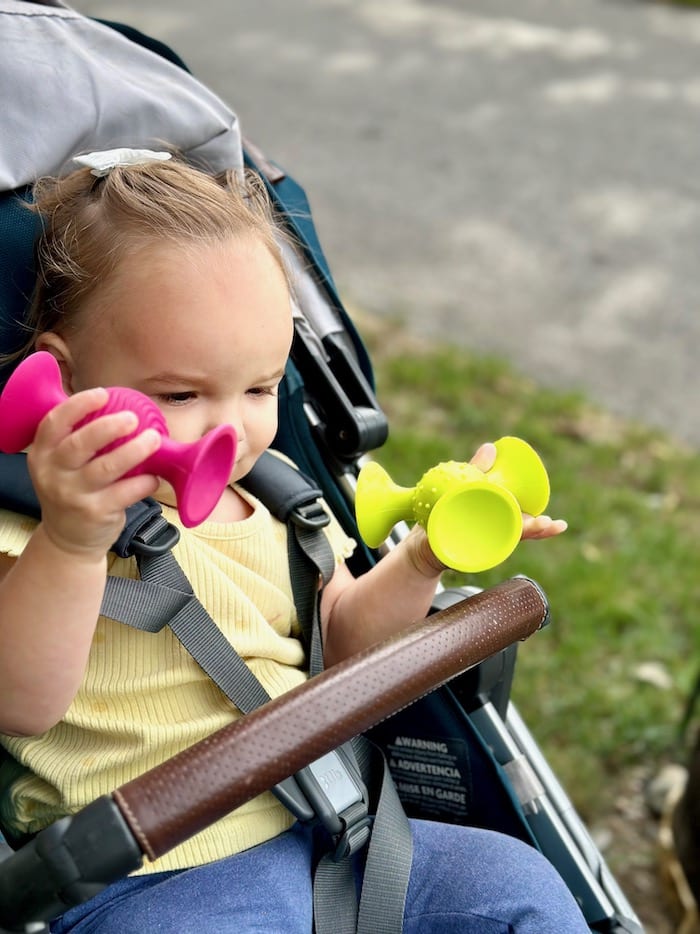 These high-grade silicone Squigz from Fat Brain Toys serve as great airplane-window toys, teethers, and rattles.
2. Suction cup spinners
Stick these flower-shaped or critter-themed spinners on airplane windows, or set them up on flat surfaces like the bath or food tray once you reach your destination.
3. Baby keys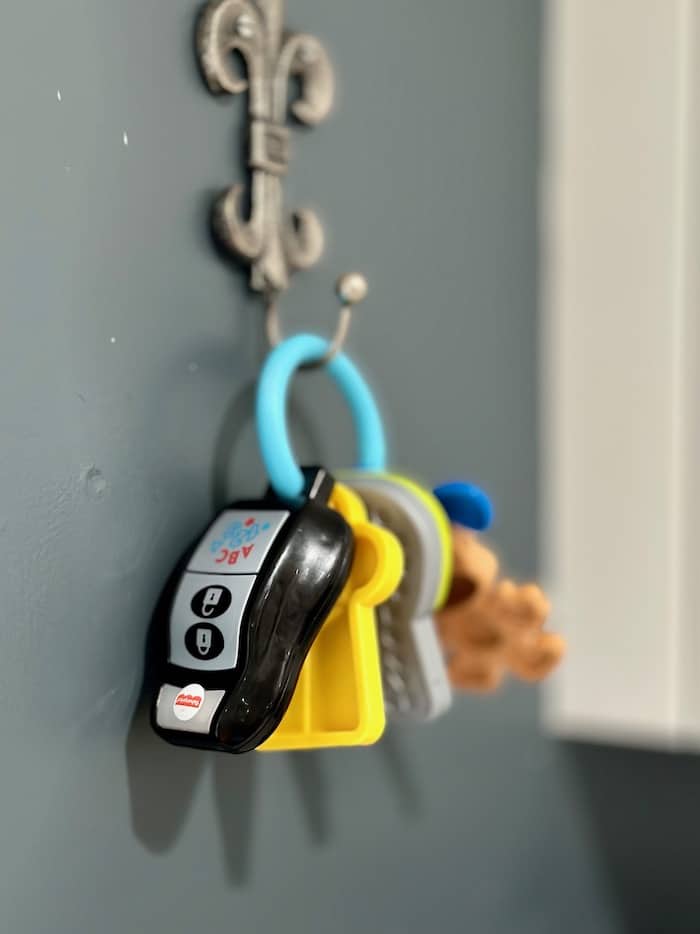 There's something about car keys that always keeps babies coming back for more. Look for noisy or chunky options that are easy to hold.
4. Electronic phone toy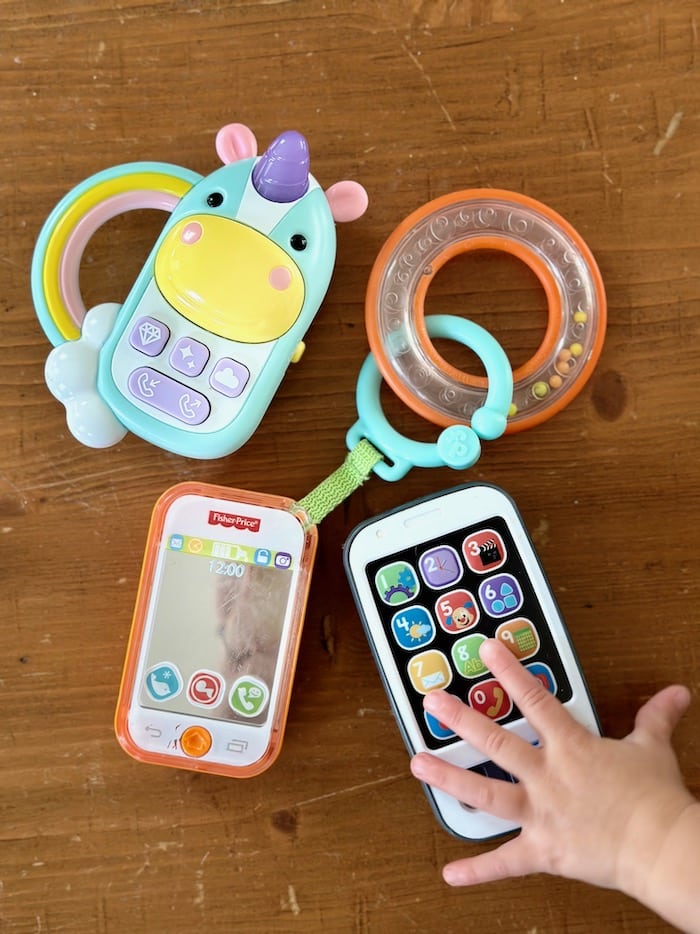 Help your baby fit right in with their parents with a cell phone of their very own. Skip Hop and Fisher-Price make baby phones with simple mirrors, lots of buttons and sounds, and fun animal faces.
5. Teethers
Soft toys to chew on are a must for adventures with your baby, both on travel day and throughout the trip. Some of our favorites are Razbaby's berry-themed teethers, Nuby's set of three soothers, and Itzy Ritzy's rattle ring or teething tube.
6. Cardboard cube books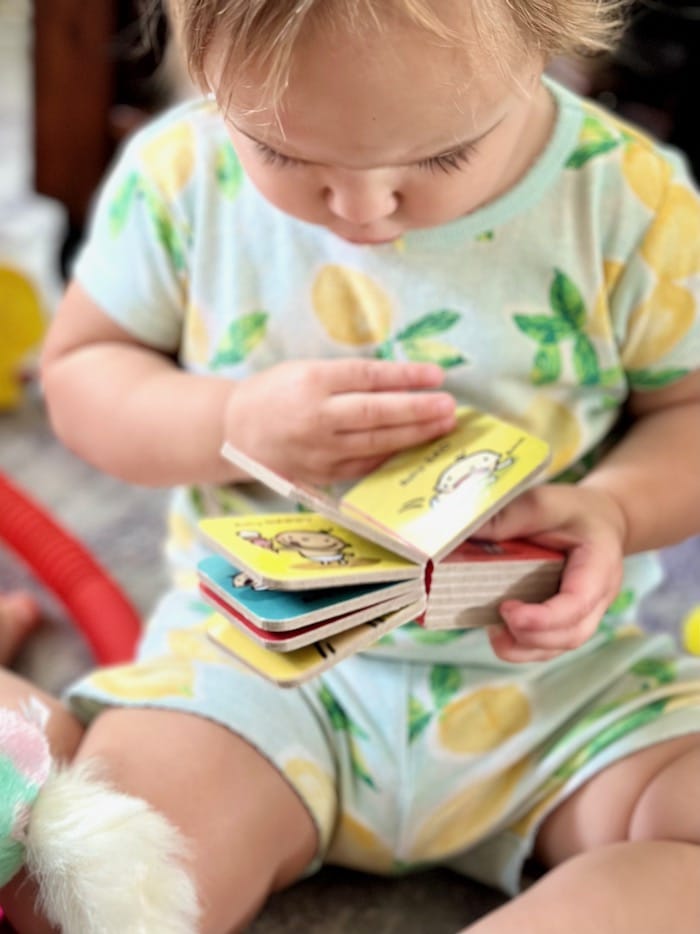 Our daughter has loved flipping through and chewing on these hilarious cardboard books throughout infancy, and our toddler enjoys the silly stories, too. Bonus: they double as stacking blocks.
7. Crinkle books
Fabric books are easy for little hands to hold and squeeze. Opt for this fun Farm Tails book from Jellycat, or invest in a set of soft books to attach to the stroller, car seat, or pacifier clip.
8. Rattles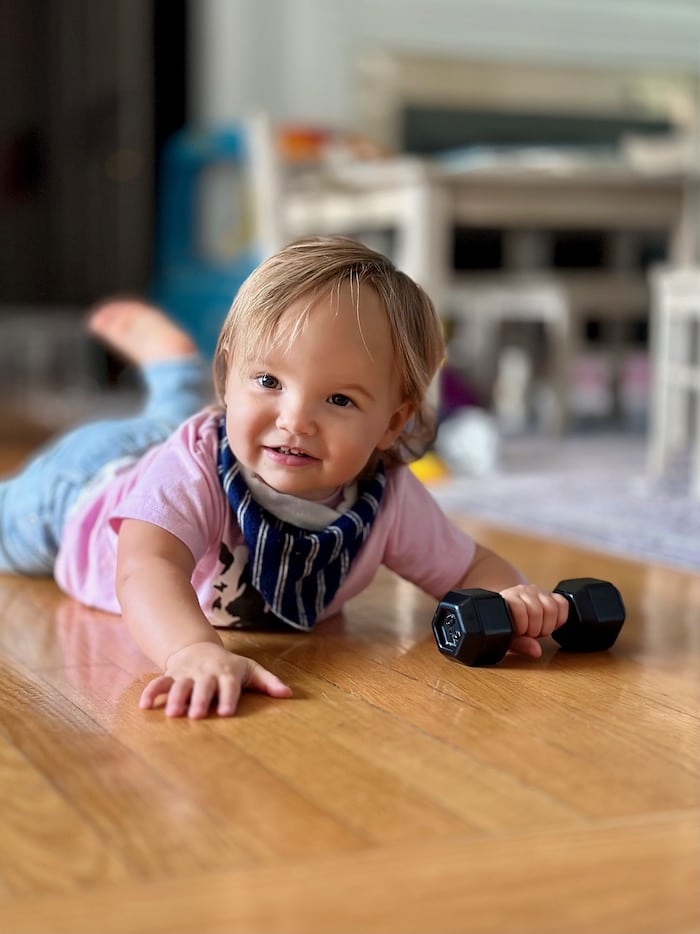 Rattles are small and ideal for travel. Fred's Buff Baby Dumbbell is always a crowd pleaser, and an accidental bump with Jellycat's plush rattle won't hurt little foreheads.
9. Fat Brain Toys' MiniSpinny
Flip the MiniSpinny, watch the gears turn, and be amazed.
10. Pop-up toys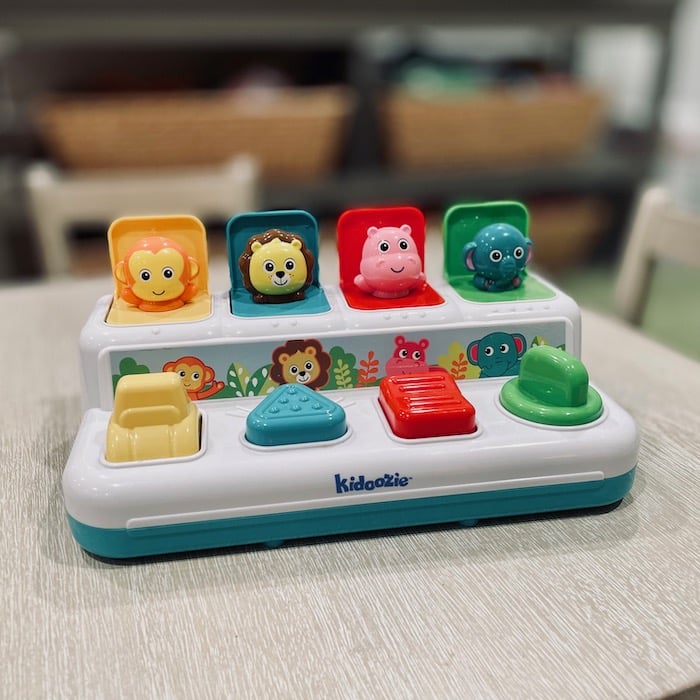 Pop-up toys from Kidoozie, Skip Hop, and VTech are entertaining for babies on road trips and throughout your stay away from home.
11. Fisher-Price's Kick & Play Piano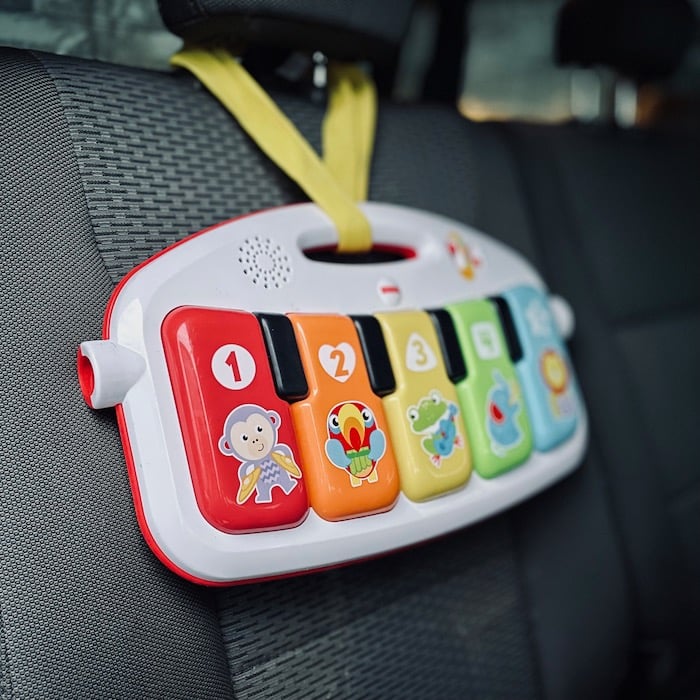 Repurpose the piano from your Fisher-Price Kick & Play Gym by hanging it from the headrest and letting those little toes play some tunes in the car.
12. Vulli's Sophie the Giraffe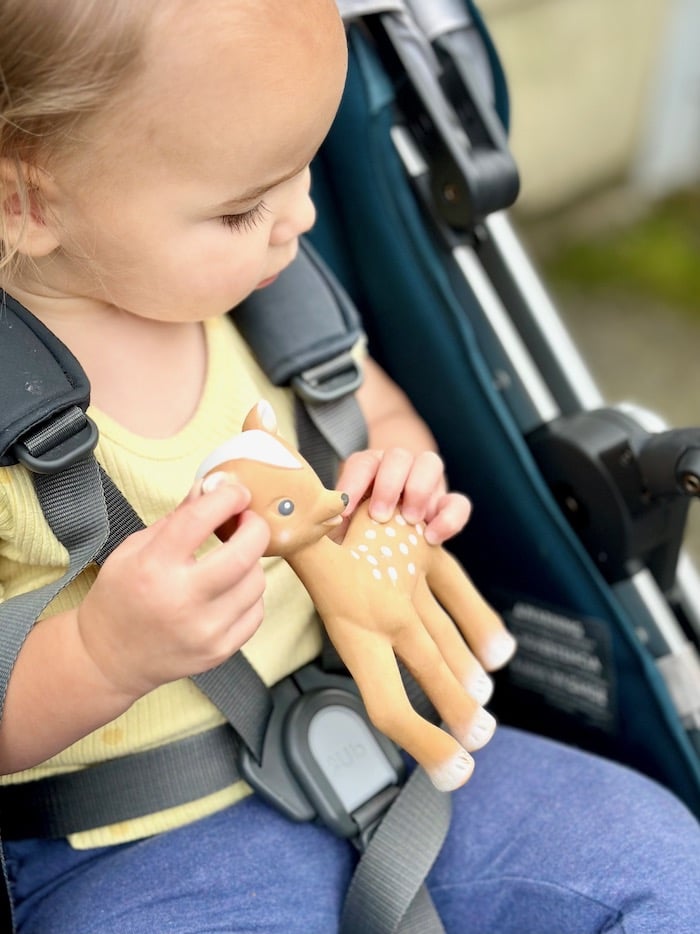 Sophie the Giraffe, which is also available as a teething ring or as an adorable fawn, is a popular multipurpose toy for babies. Little ones can chew its soft ears or nose to soothe sore gums, squeeze it to hear a satisfying squeaking sound, or hold it close for cuddles.
13. Vulli's Shake Shake Electronic Rattle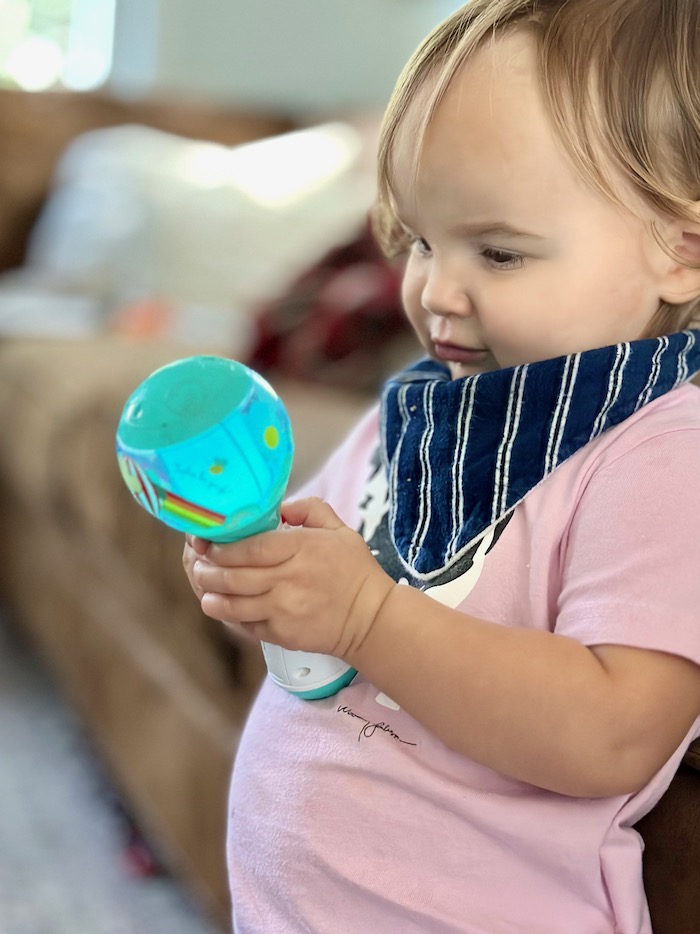 Our baby girl loves her musical rattle by the makers of Sophie the Giraffe. This maraca-shaped toy is easy to grasp and small enough to keep in a purse. The rattle displays eye-catching lights, plays soothing lullabies, and makes fun sounds with movement.
14. Fisher-Price's Linkimal Panda
We keep this road trip essential in our car for our kids to play with on long and short drives. Fisher-Price's cuddly panda plays adorable songs about sharing and kindness, and even sings in sync with other Linkimal products nearby. (For a similar plush toy that sings and laughs, try Fisher-Price's Laugh & Learn Puppy.)
15. Modern Baby's Lovey Blanket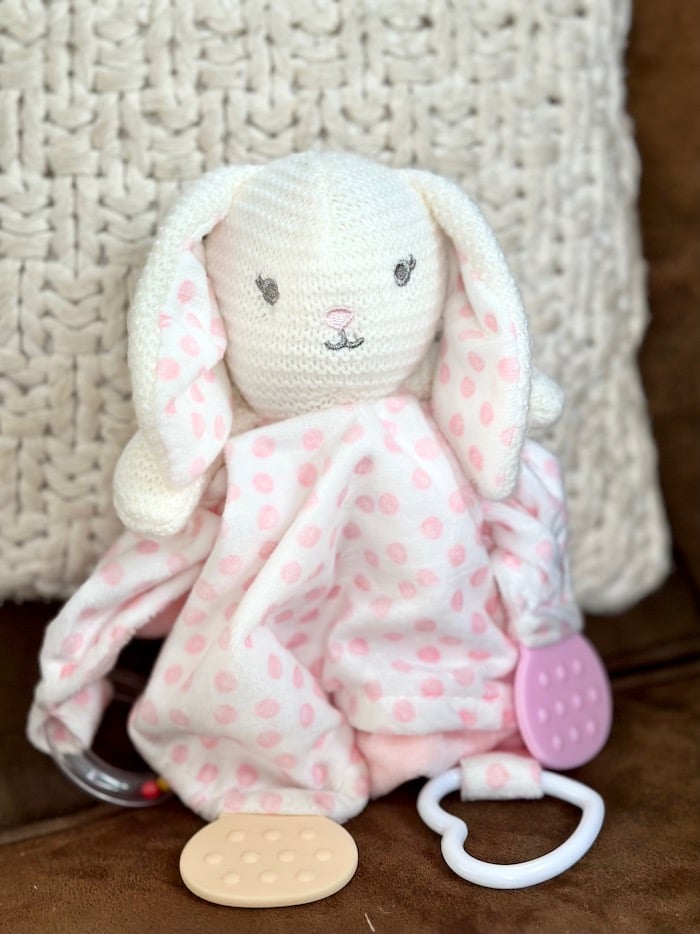 These tiny lovey blankets double as cuddly animals, with built-in teethers and rattles attached for entertainment.
16. Fisher-Price's Sooth 'N Snuggle Otter
Parents can set this Fisher-Price otter soother to play white noise, a heartbeat sound, or a calm lullaby. It even has a warm light on its heart and a moving chest to simulate breathing. Another soother option that hangs on the stroller, car seat, or crib is this huggable giraffe music-player.
17. Bubble poppers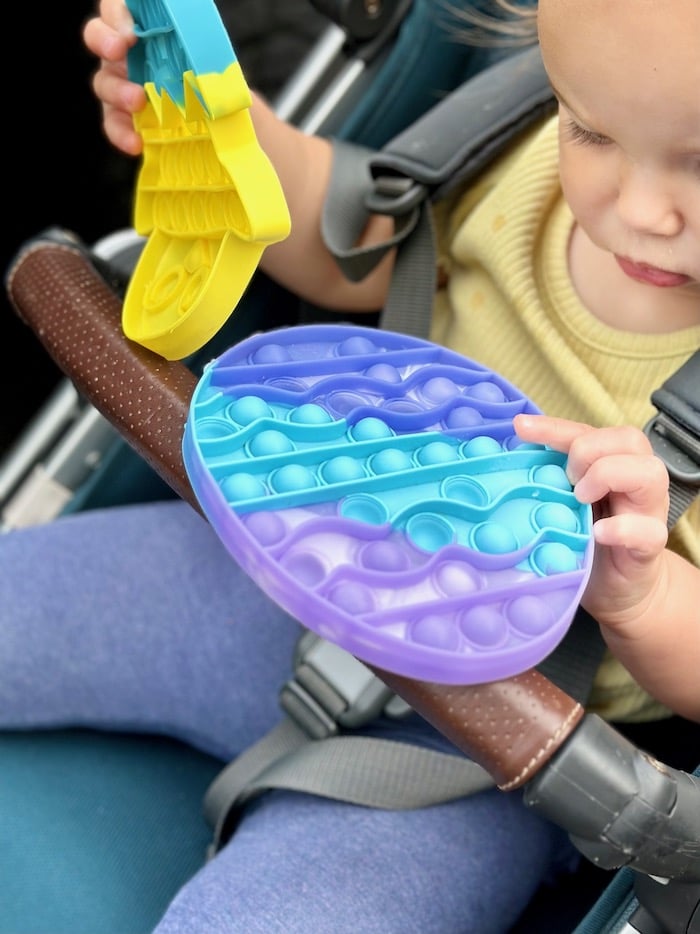 Bubble poppers are a must for car rides, plane trips, sports games, and restaurants.
18. Slider books
Board books with sliders are the perfect, quiet activity for babies on airplanes. A couple of our favorites are Potty Time and this fun version of Twinkle, Twinkle, Little Star.
19. Melissa & Doug's Poke-a-Dot Series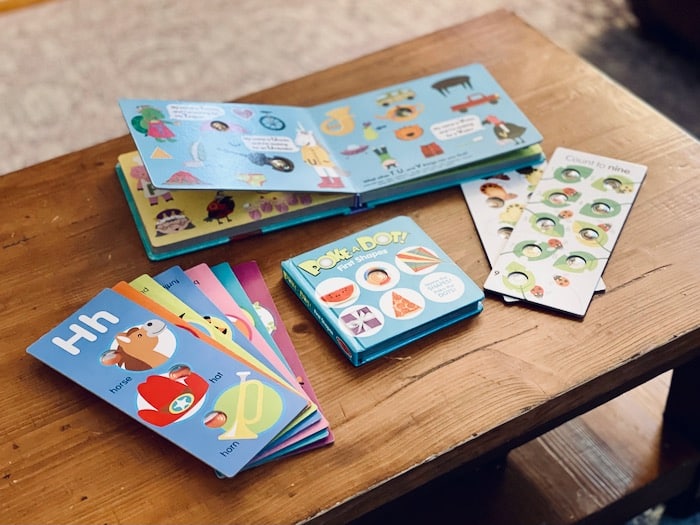 Melissa & Doug's Poke-a-Dot books come in a variety of themes, like animals, holidays, shapes, and colors. These sturdy board books hold up well over time, and their satisfying pop doesn't lose its novelty with babies and young toddlers.
20. Lift-the-flap books
Lift-the-Flap books are another plane-ride favorite that babies love to read on repeat. Try Baby's First Bedtime, Where's Spot?, or Dear Zoo.
21. Busy board toy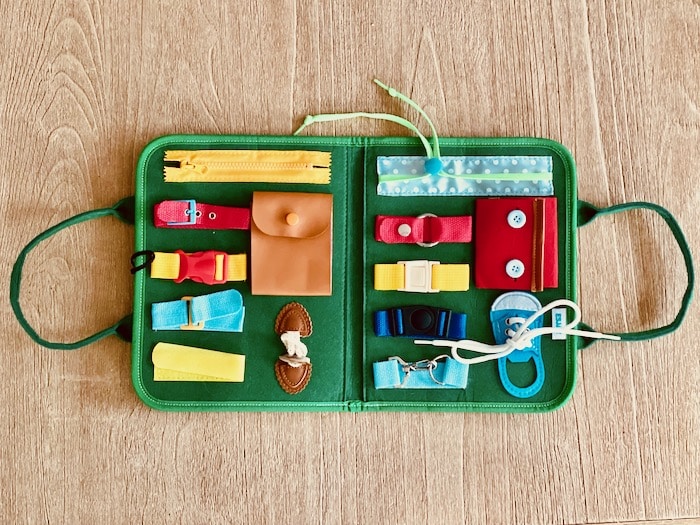 Busy boards are typically considered toddler toys, so we were surprised by how much our infant loved playing with this buckle version.
22. Baby Einstein's Take Along Tunes
With a simple large button for playing music, an easy-to-hold handle, and dazzling lights, you'll know these Baby Einstein tunes by heart in no time.
23. Hanging stroller toy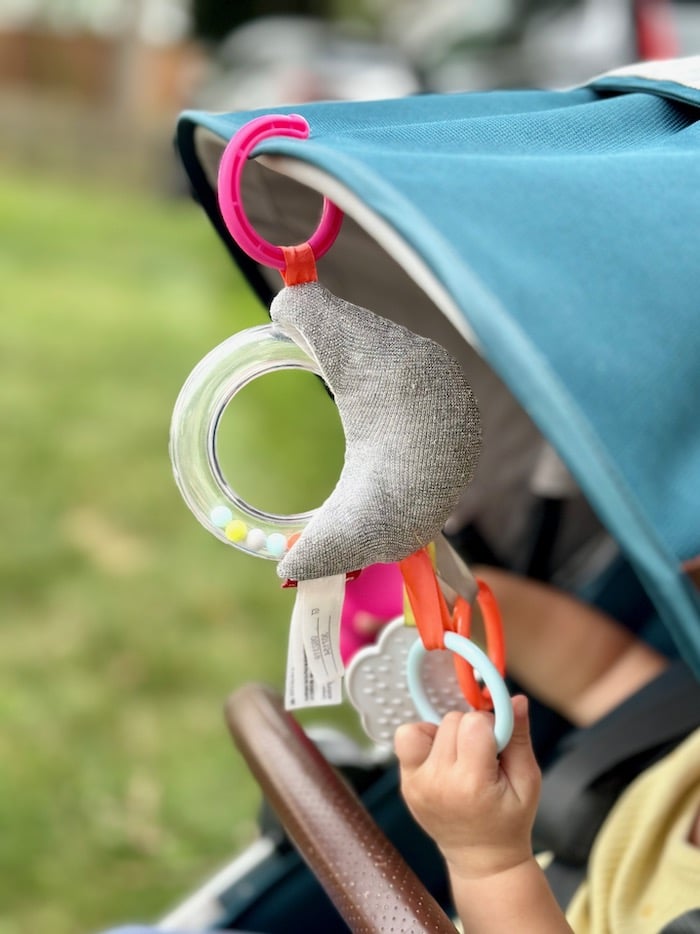 Keep your baby entertained in the stroller through the airport or in the car seat with Skip Hop's hanging rattle or music player.
24. Buttons-and-lights board
We always keep a buttons-and-lights activity board in the back seat of the car, like this music-themed version from LeapFrog.
25. Learning Journey's Wheels on the Bus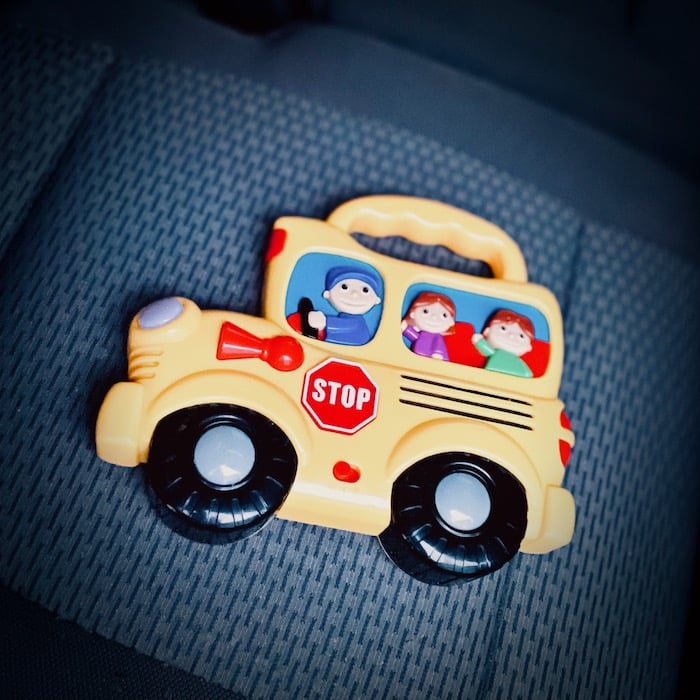 If you don't mind hearing the same lines to the same song over and over again, this toy is for you. We've found from experience that the joy our babies find in this Learning Journey music player makes the repetitive tunes well worth it.
26. Baby Einstein's Light Bar Activity Station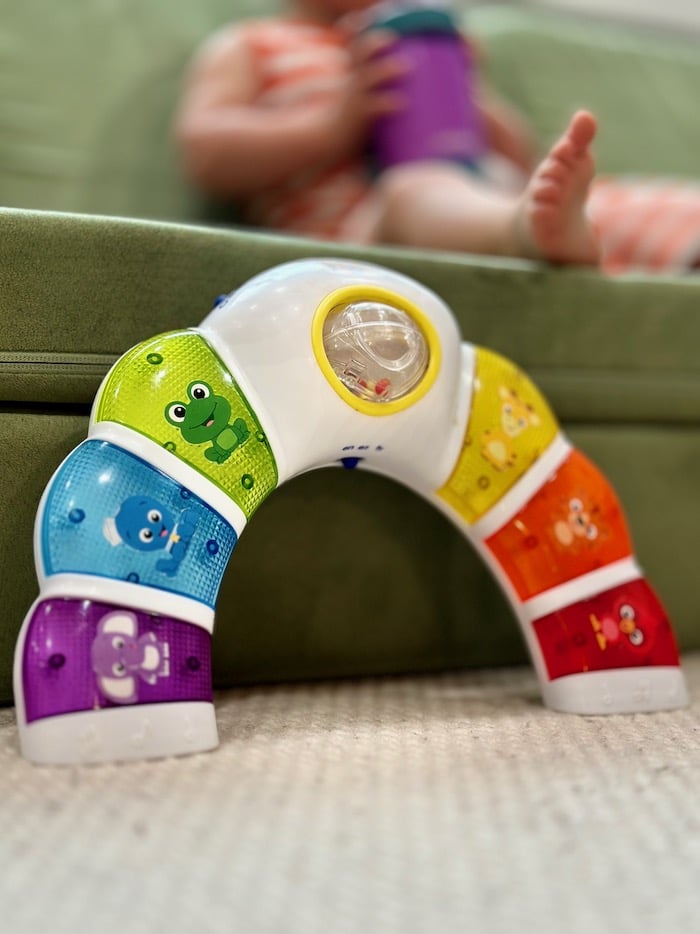 This Glow & Discover Light Bar from Baby Einstein is shaped in an arch that fits perfectly over babies' bellies and on their laps in the car. A folding kickstand makes this activity station double as a tummy-time toy once you reach your destination.
27. Fisher-Price's Storybook Rhymes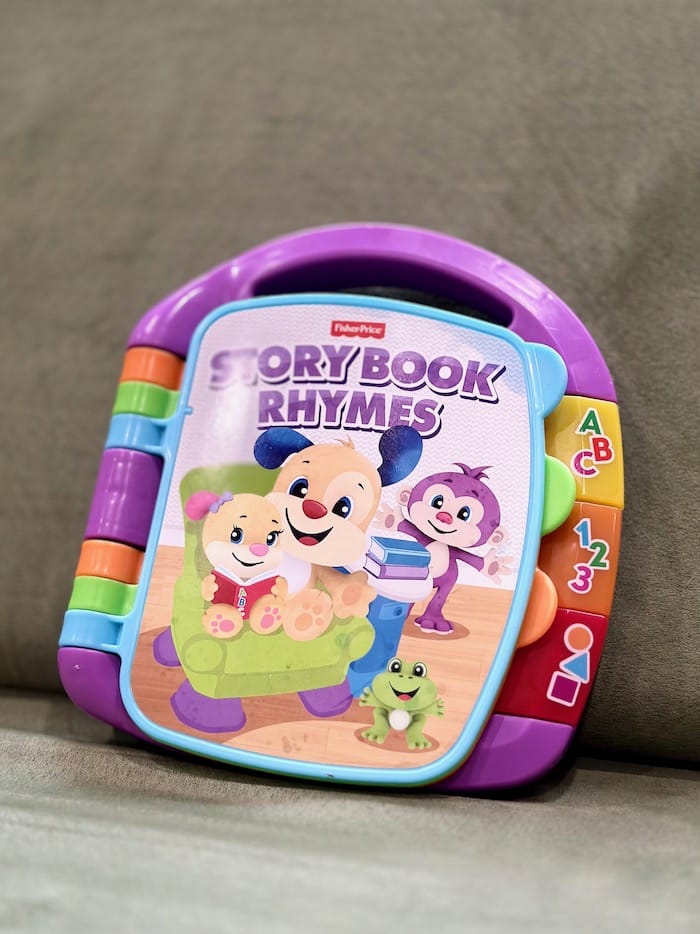 With chunky pages that are easy for babies to turn and large, light-up buttons, this musical book lets babies listen to their favorite nursery rhymes on the go.
28. VTech's Busy Learners Activity Cube
VTech's Activity Cube is a staple for car travel, with 14 interactive features and 25 catchy songs.
At Your Destination
Wondering what toys are worth stuffing in your suitcase without taking up too much space or weighing down your luggage? Here are our favorite compact toys to pack for babies on family adventures:
29. Stacking cups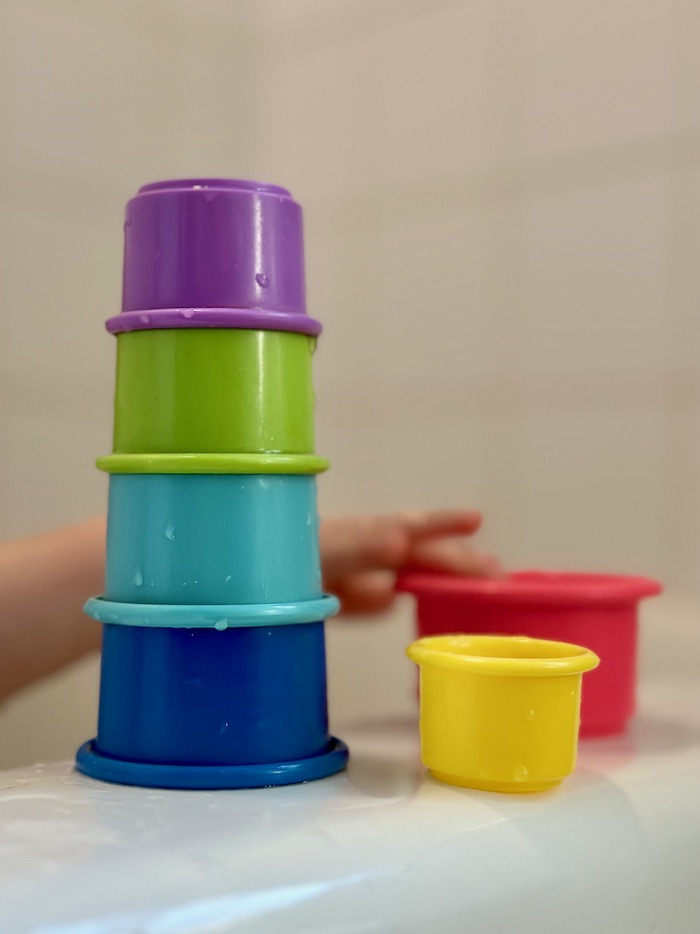 Simple stacking cups have always been a lightweight family favorite for travel. They nest into each other for a compact fit and even double as bath toys.
30. Kidoozie's Press 'N Go Inchworm
The Press 'N Go Inchworm is lightweight and zooms far across a smooth floor, with various rattles and sound-makers incorporated throughout.
For more toys on wheels that babies find mesmerizing, try these back-and-forth animal cars.
31. Baby Einstein's Sticky Spinner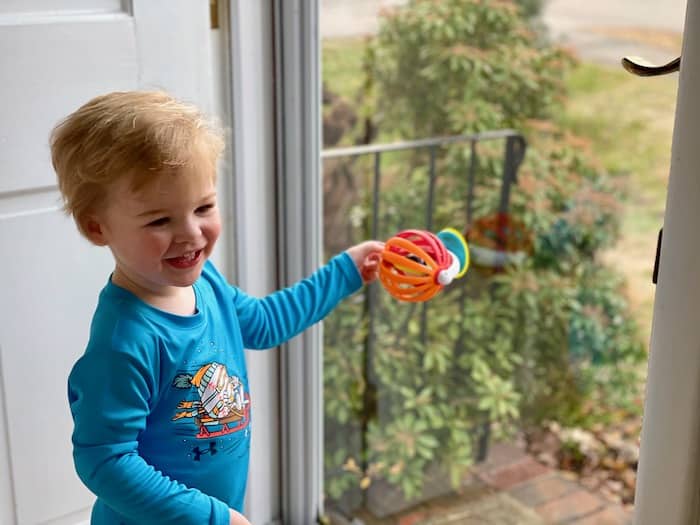 Stick this spinner on the dishwasher at your rental or on your hotel window to keep your baby entertained on stays away from home.
32. Fisher-Price's Stacking Action Blocks
We received these Fisher-Price blocks years ago when we had our firstborn, and we still take them with us for every trip or visit to a restaurant. For a more compact option, try this set of five nesting blocks.
33. Bunmo's Poppin' Pipes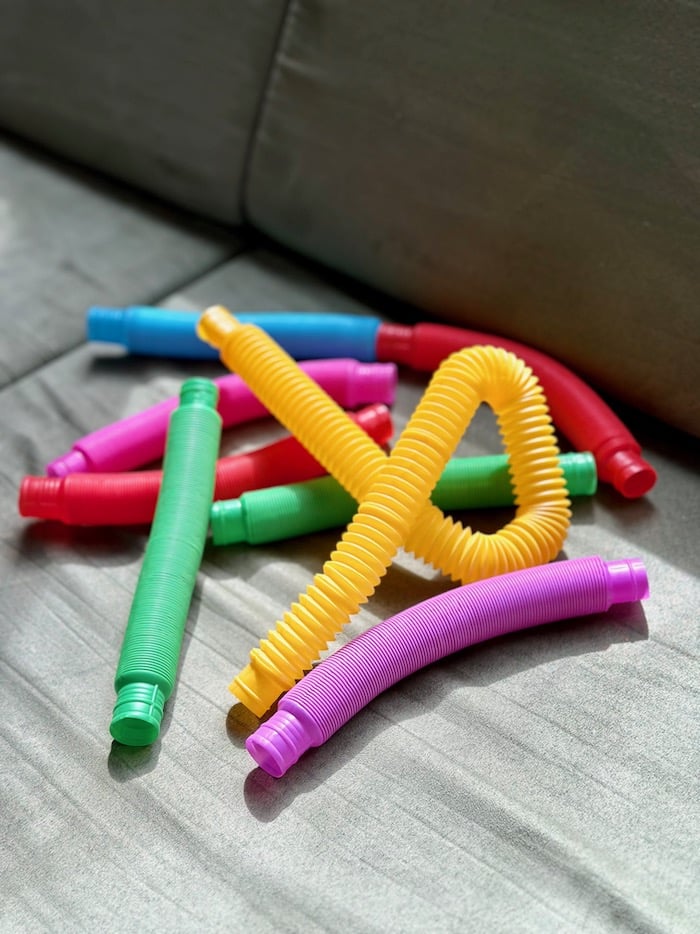 These incredibly clever Poppin' Pipes are one of our favorite simple toys of all time, so they're definitely worth packing in our bags for travel. Babies love to stretch them out and hear that satisfying popping sound, while older toddlers will have fun putting them together or connecting them into loops.
34. Infantino's Textured Ball Set
We always bring along a set of baby ball toys when we travel. While toys that roll aren't good ideas for cars, planes, and trains, they're perfect for having some fun when you get to your accommodation.
35. Skip Hop's Baby Bath Buckets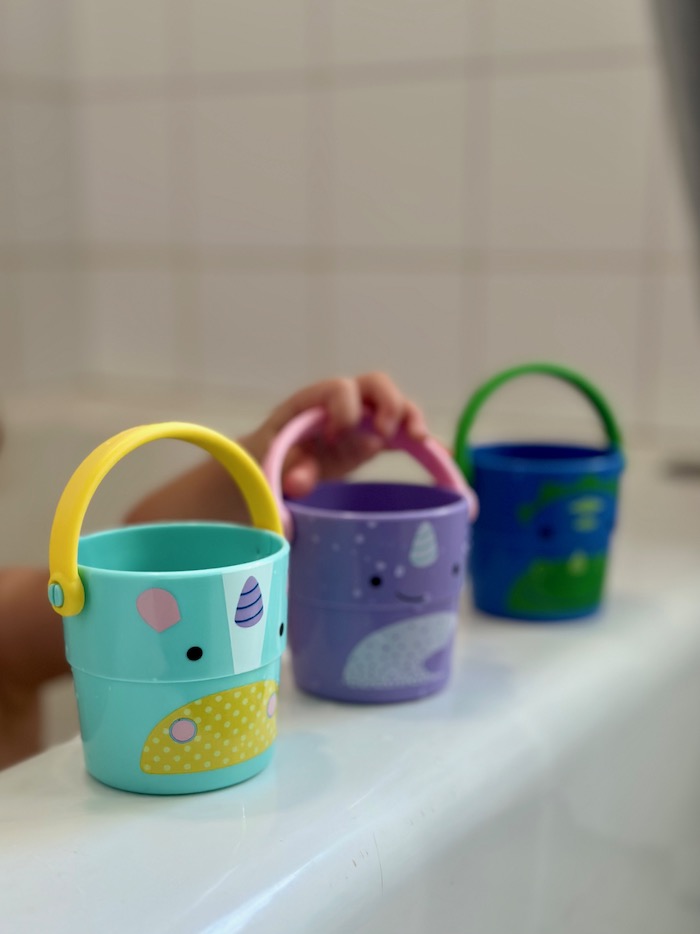 These lightweight bath buckets nest within each other to save space. Babies love their animal-themed designs and handles that are easy for tiny hands to grab.
36. Adora's Baby Bath Doll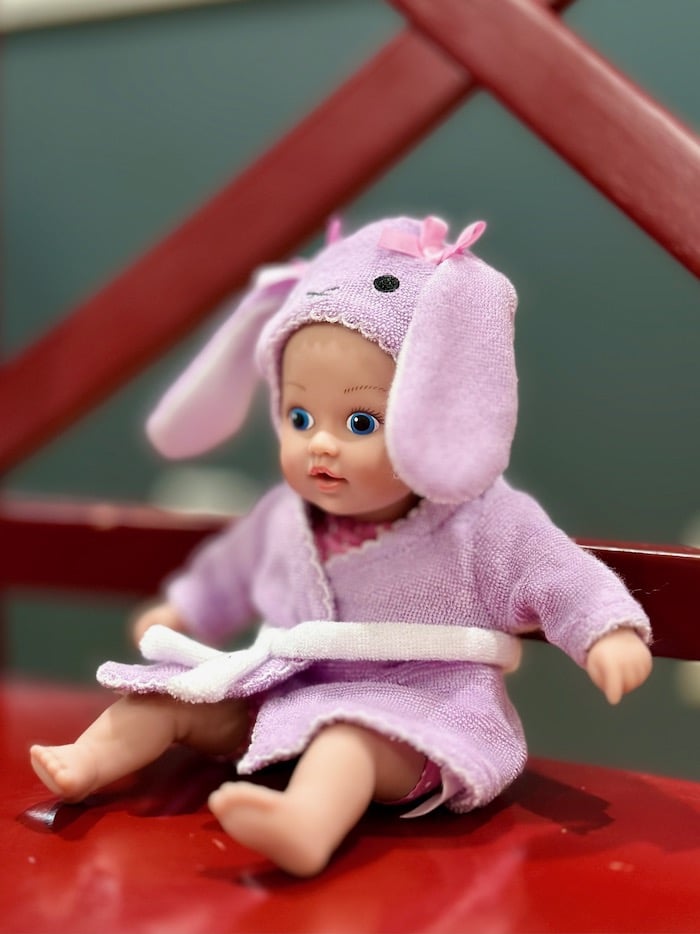 This 8.5-inch, quick-dry bath doll is one of our daughter's favorite toys. It's the perfect size for babies to hold, with an adorable bunny bathrobe and refreshing baby-powder-scented skin.
37. Freezer teethers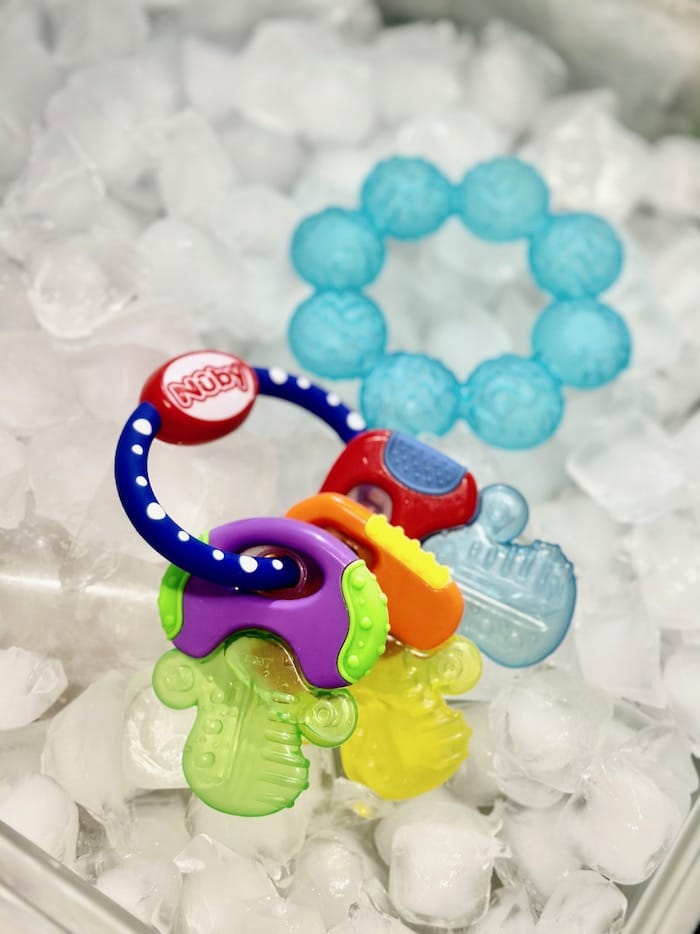 You never know when those achy gums will strike. If we're staying somewhere with a freezer, we always try to bring some teethers to keep cold when we arrive, like a teething ring or set of keys. One note we've learned from experience: set a reminder to take them out of the freezer before heading home!
38. Fisher-Price's Rock-a-Stack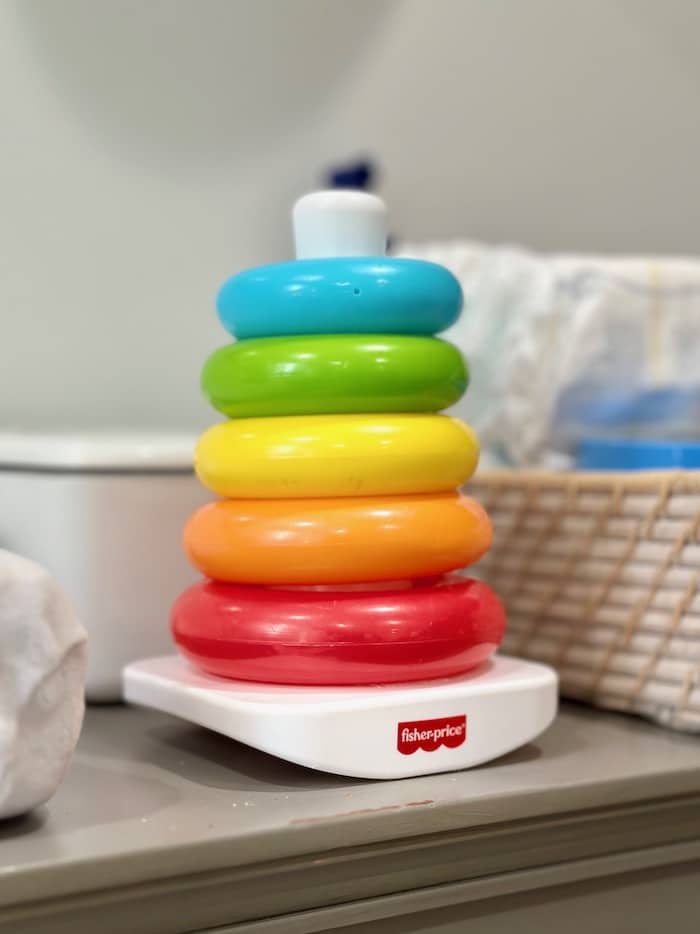 The popular Rock-a-Stack might not be the smallest toy, but we always find it worth bringing for trips with baby. Although not ideal for travel, we also love the brand's hilarious giant-sized version for home.
39. Fisher-Price's Laugh & Learn Mixing Bowl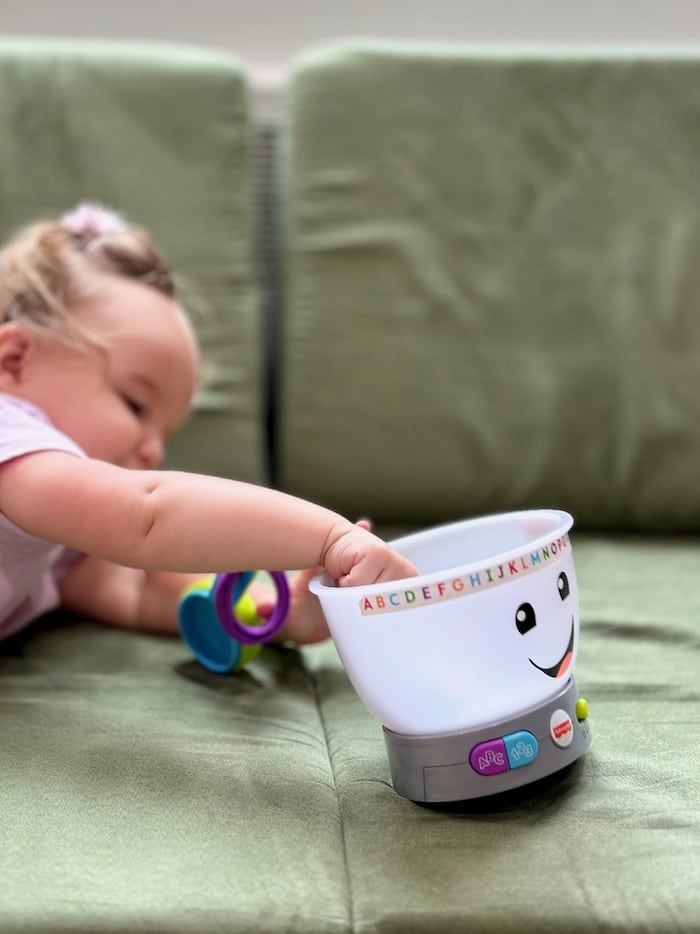 This clever mixing bowl, which comes with various toy food items, measuring cups, and a mixing spoon, lights up and sings when items are placed inside.
40. Fisher-Price's Cat on a Vacuum Toy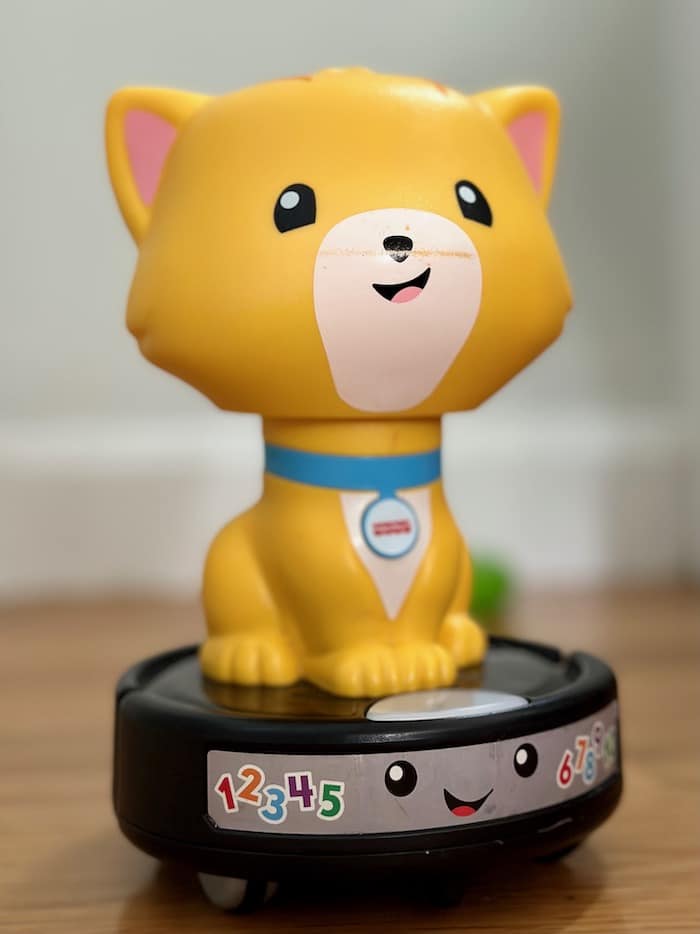 This clever version of a cat riding a robot vacuum slides forward when pressed from the top, to encourage crawling. Even better, it plays catchy R&B tunes about pets and cleaning that parents actually won't mind hearing on repeat.
41. Sound books for babies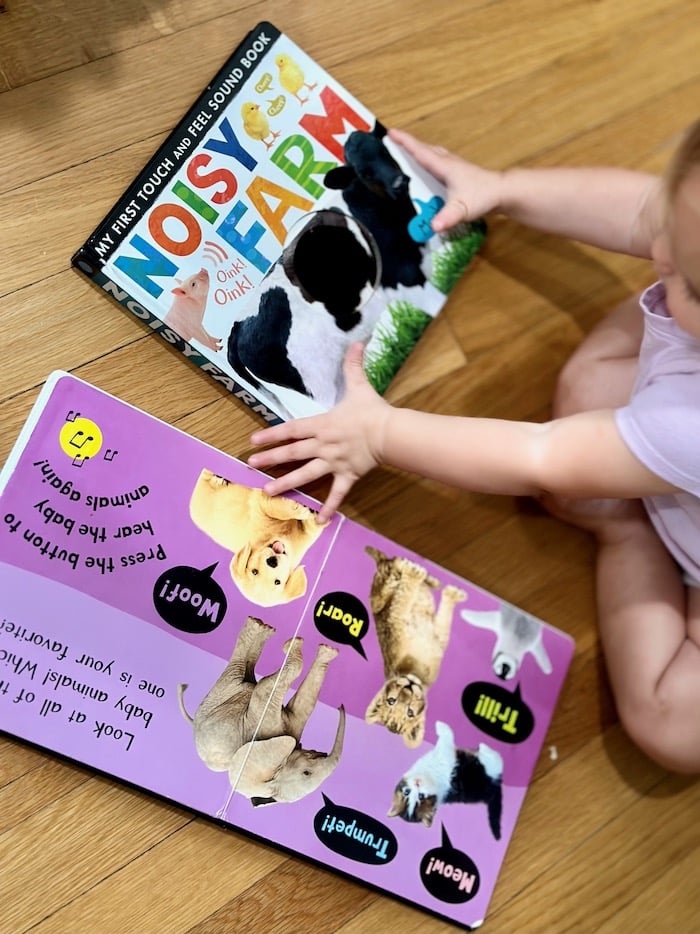 We travel with children's books on every trip we take, and we always make sure to throw a few sound-making books in the suitcase. Some of our current favorites are Busy Noisy Construction, Potty Time with Elmo, and Noisy Baby Animals.
42. VTech's Smart Wheels Cars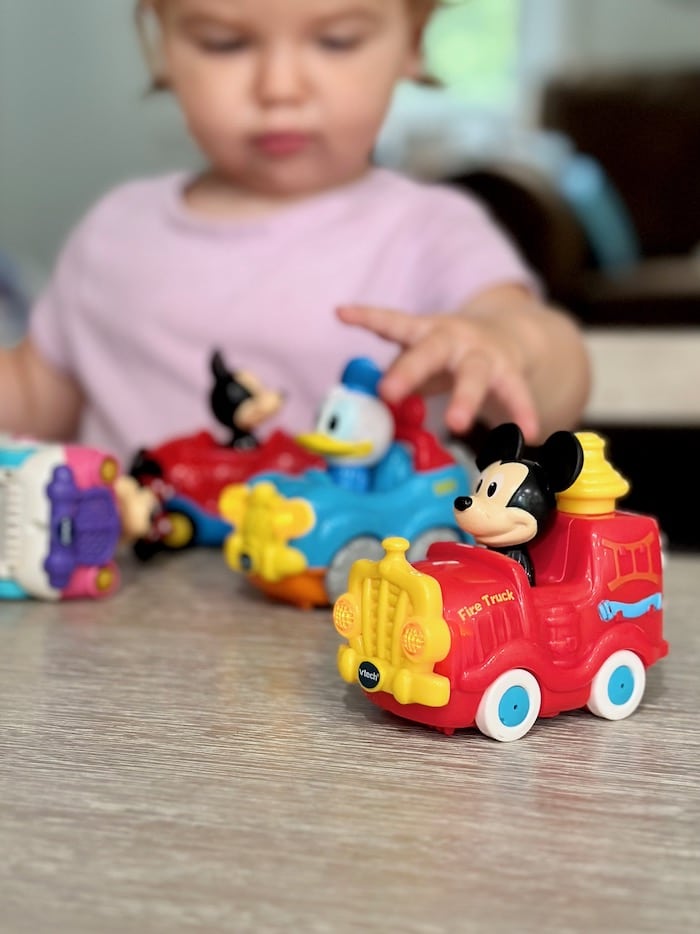 Whether your baby knows who Mickey Mouse is or not, packing these Disney-themed cars with lights and songs will provide some serious entertainment on your trip. Bonus: these cars work with various VTech Smart Wheels Tracks to build and play with at home.
43. Fisher-Price's Crawl with Me Puppy
This Fisher-Price puppy that actually walks forward and backward across the floor is one of our favorite baby toys for crawling.
44. Fisher-Price's Smart Stages Piggy Bank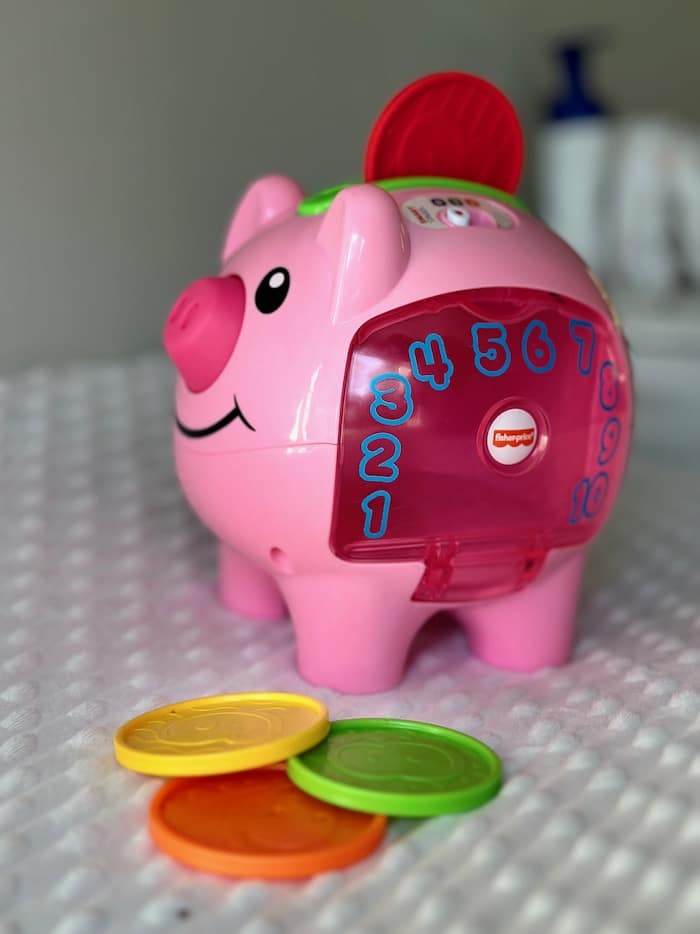 This singing piggy bank with coins encourages babies to sit and play for extended periods of time, promotes fine motor development, and introduces counting concepts.
45. Bright Starts' O-Ball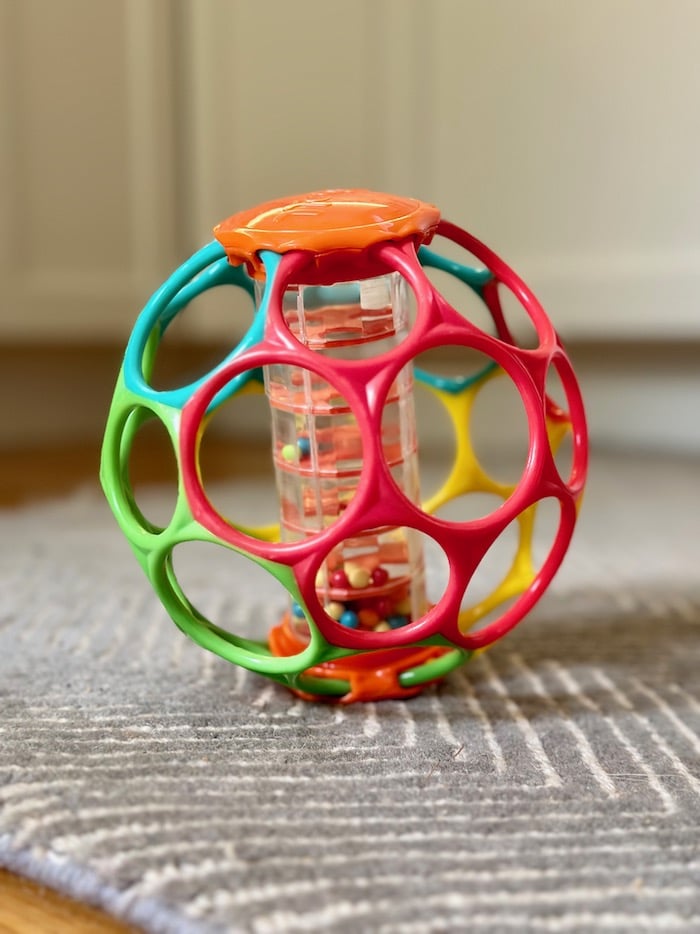 This multicolored ball features a built-in rattle and wide webbing that's easy to grasp. For an alternative, try Sassy's Developmental Bumpy Ball or Bright Starts' smaller, classic baby o-ball.
46. Soft blocks
With these lightweight blocks that double as bath toys, build those towers and let baby knock them down without getting hurt on sharp corners.
47. Fisher-Price's Little People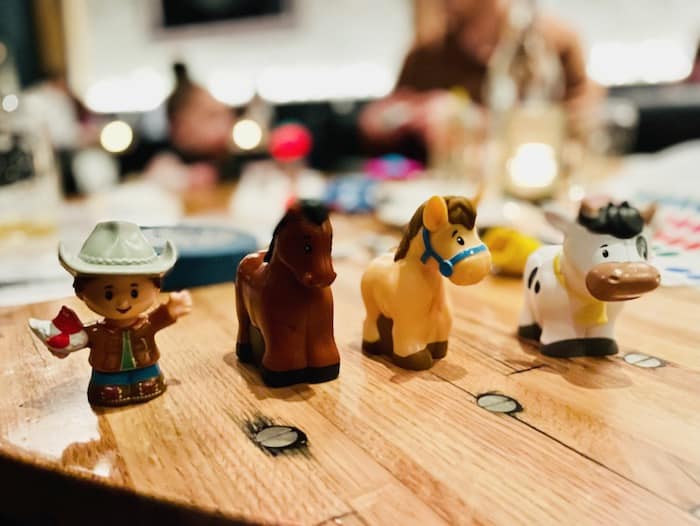 Little People figurines, which are sized for little hands, are small enough to stuff in the suitcase and perfect for interactive play between parent and baby. For engaging play at home, we love the Little People Farm.
48. Haba's On the Farm Stacking Cubes
These farm-themed, sturdy stacking cubes weigh less than a pound and nest within each other to conserve space.
49. VTech's Baby Busy Ball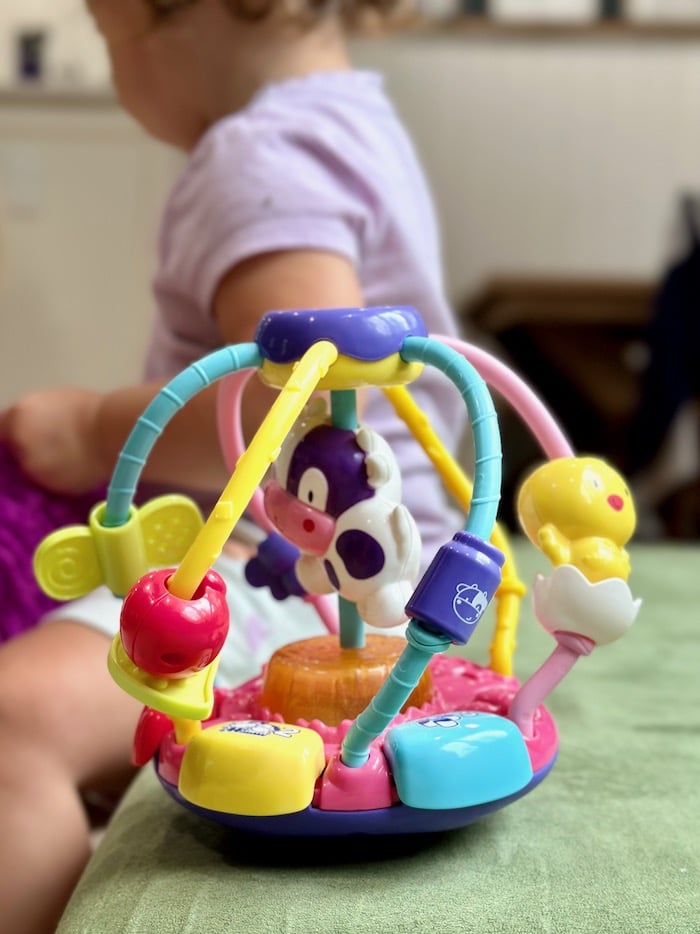 This spinning, singing ball is ideal for little ones who are lying on their tummies, sitting upright, or crawling.
50. Instrument shakers
We love to bring along the instruments and have a baby jam session when we're visiting with family.
The Upshot: The Best Baby Travel Toys
Traveling with a baby can be difficult. From our experience, toys help ease their travel troubles, because they keep babies engaged and happy on the go, and they provide entertainment and distraction when little ones are away from their normal home environment.
We hope our comprehensive list helped inspire your packing list for your next family adventure. For other must-have baby travel gear, check out our guides on the best baby travel beds, portable high chairs, baby and toddler sun hats, car seat travel bags, travel strollers, and baby carriers.