A Mom's Honest Review of the Strider Balance Bike
A balance bike can be a scary purchase for parents. I distinctly remember thinking, "We're really going to buy our two-year-old a bicycle with no pedals, no brakes, and no training wheels?" Despite my fears, our son picked up the balance bike technique over time, and now he wants to ride it every time we leave the house. In this complete review, I'll fill you in on our family's experience with the Strider Balance Bike, some of its greatest pros and cons, and all the detailed features that'll help you decide if it's right for your youngster.
The Strider Bike: A Review of Our Experience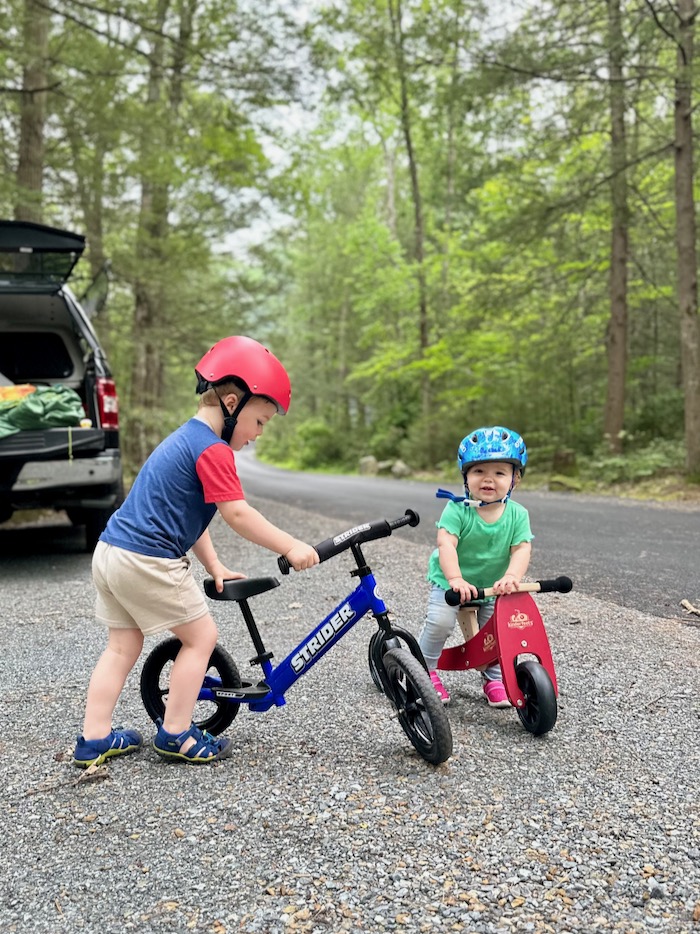 Through the years of raising our young son and daughter, there have been several quality toys and pieces of baby gear that I've loved immediately. Some top picks that come to mind are our Nugget Play Couch, Melissa & Doug Easel, Fisher-Price Piano, BabyBjörn Bouncer, and even a couple favorite strollers like the Thule Chariot Sport and the UPPAbaby Minu. The Strider bike we bought for our toddler didn't start out as my favorite (I was too nervous about him falling!), but over time it has become one of our most-loved items.
Deciding to purchase a balance bike
My husband has always been the big cyclist in our family, so he automatically took the lead in searching for a balance bike for our son. If you haven't used one, a balance bike is a bicycle with no pedals, no training wheels, and typically, no brakes. The idea is that young children learn the concept of balancing first, before learning how to pedal. When they get older, many kids can move from a balance bike to a regular two-wheeled bike with pedals, skipping the training wheels altogether.
Before the Strider, our toddler had enjoyed riding a few bicycle and tricycle products indoors and out. At age 1, he started using the Radio Flyer Scoot 2 Ride on Pedal Bike and Kinderfeets TinyTot 2-in-1 Wooden Balance Bike and Tricycle, and at age 2, he began to ride the Radio Flyer 10″ Classic Tricycle.
We had talked about getting him an outdoor balance bike as he neared age 2, but I worried about injuries without pedals or training wheels to keep things in control. However, a growing body of research supports that children who use balance bikes learn to master the bicycle earlier than children who don't. On top of that, we were starting to see balance bikes more frequently around our neighborhood, and we spoke with several parents who had a great experience with them.
Taking to the Strider 12 Sport
We decided to take the balance bike plunge several months after our son's second birthday. We settled on the Strider 12 Sport, because it consistently tops the charts as the best-value balance bike — and it's essentially maintenance free.
Our son immediately enjoyed taking the Strider with us when we went out for walks in the neighborhood. He liked to alternate between his balance bike and his Radio Flyer tricycle (which he has since outgrown), but he was better able to keep up with our normal walking pace on the balance bike.
When he first started to "ride," our toddler was really just walking with the bike underneath him for support. It wasn't until several months after using it that he began to let himself glide on flat stretches of sidewalk, and (to my relief!) he was always extremely careful.
After a year of using the balance bike throughout the neighborhood, he finally started to feel more confident and let himself cruise down gradual downhills. He naturally learned to stop himself using his feet on the ground, and now he's happy to ride at a normal walking pace alongside his younger sister in the stroller.
Although he doesn't do any crazy moves or tricks on the bike, he's never had a fall or injury while riding it — which is largely in part to his cautious temperament. I'm sure it will be a different story with our second-born!
Strider Bike Review: Weighing the Pros and Cons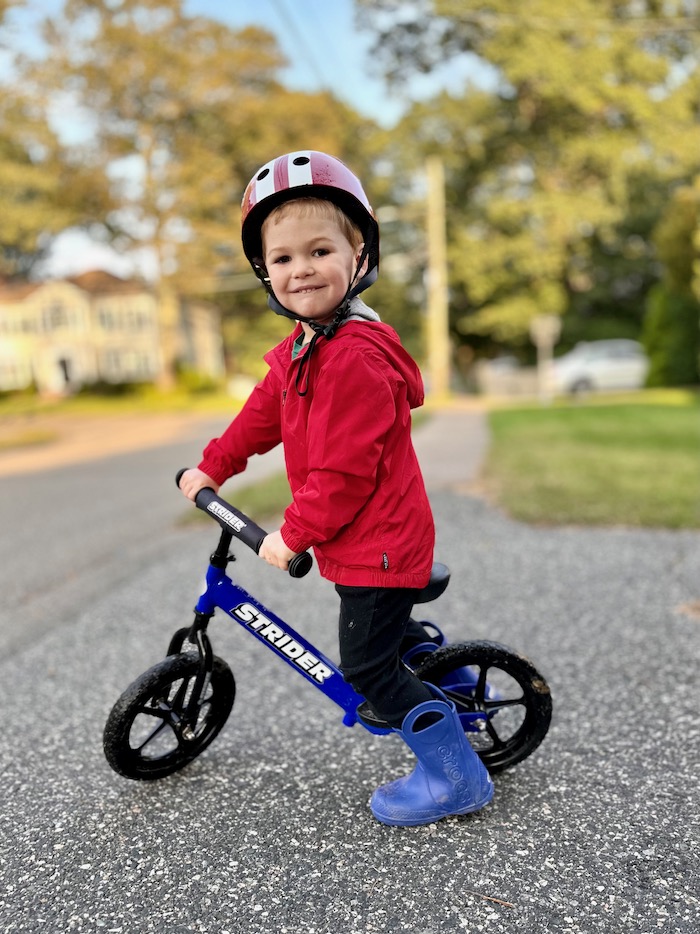 After using it for over a year, here's a rundown of our favorite (and least favorite) features of the Strider 12 Sport, which is the brand's specific balance bike model reviewed in this post:
Pros
The Strider 12 Sport has a wide range of size adjustments for its seat post and handlebar height, accommodating children from ages 18 months to 5 years.
This bike is small, lightweight, and compact, making it easy to pack for road trips or carry around when little legs get tired.
Parents need no tools to assemble the Strider or adjust the fit.
The Strider's foam rubber tires will never go flat and require no regular maintenance.
This bike's frame design is easy for small children to climb on and off of.
Mini grips on the handlebars are narrow enough for tiny hands to grasp securely.
The Strider bike has an overall cool look, and the brand sells multiple add-on accessories for customization.
Cons
Although it's far from the most expensive option on the market, the Strider is an investment for parents, with a price tag of about $130.
Compared to air-filled tires, the Strider's foam tires aren't as well equipped for off-road terrain.
Unlike some higher-end balance bike options, the Strider does not have a built-in hand brake.
Strider Bike Review: Detailed Features and Specifications
Let's take a closer look at the need-to-know details about the Strider balance bike:
Cost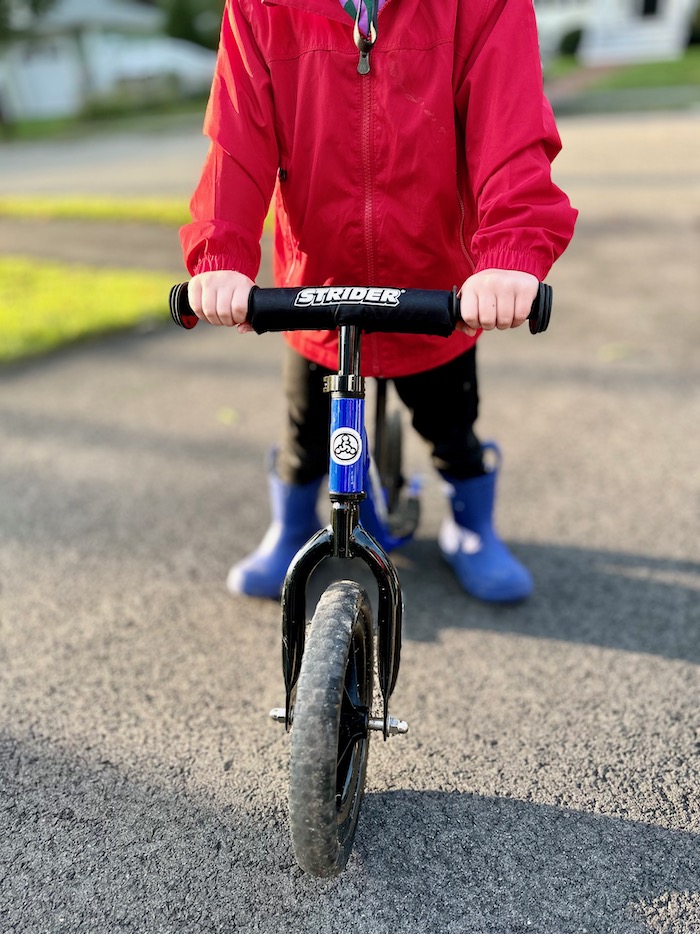 The Strider 12 Sport Balance Bike costs about $130. For comparison, the similarly styled REI Co-op Cycles REV 12 Kids' Balance Bike is currently $139.
Parents looking for a more full-featured balance bike can pay close $250 for the Woom 1 12-inch Balance Bike, which features a built-in hand brake. For parents looking to keep the bike budget more limited, the $70 Banana LT Balance Bike is a lower-cost option.
Size and weight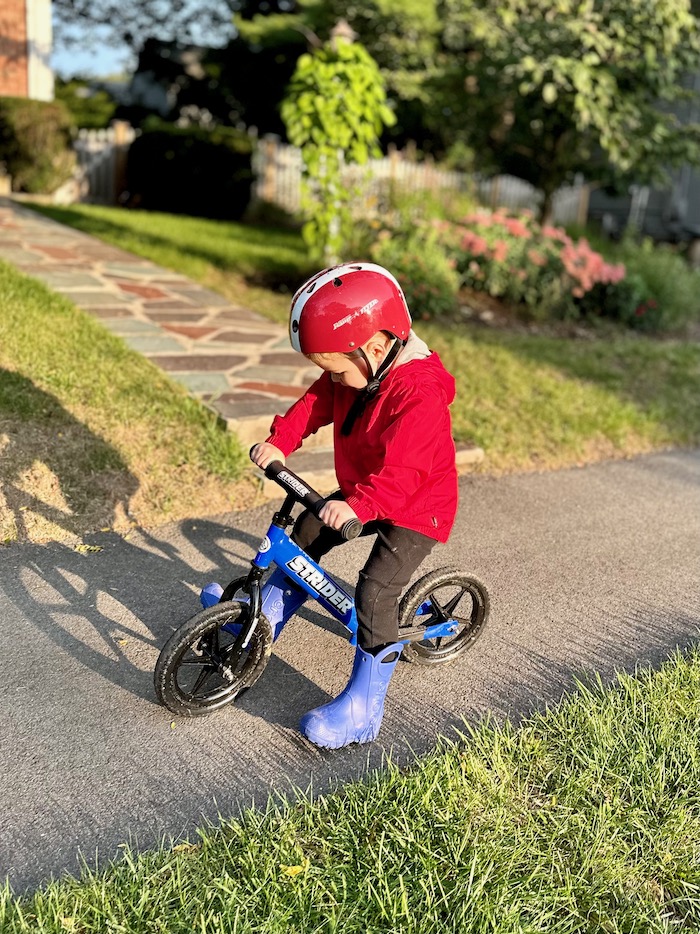 The Strider 12 Sport gets its name from its 12″ wheels. Overall, the dimensions of the Strider are 33″ long by 15″ wide by 22″ high (with the handlebar at the tallest setting). The bike features a sturdy steel frame and weighs only 6.7 pounds.
Overall, this balance bike feels compact and easy for me to carry around. We love our son's Radio Flyer Classic Tricycle, but its 12.4-pound weight and bulkier size are difficult for me to transport when his legs are too tired to ride and we're still a block from home. The Strider is small enough that I can slide it into our UPPAbaby Vista stroller basket and push our son home on his ride-along board while his sister rides in the stroller seat.
Age range and size adjustments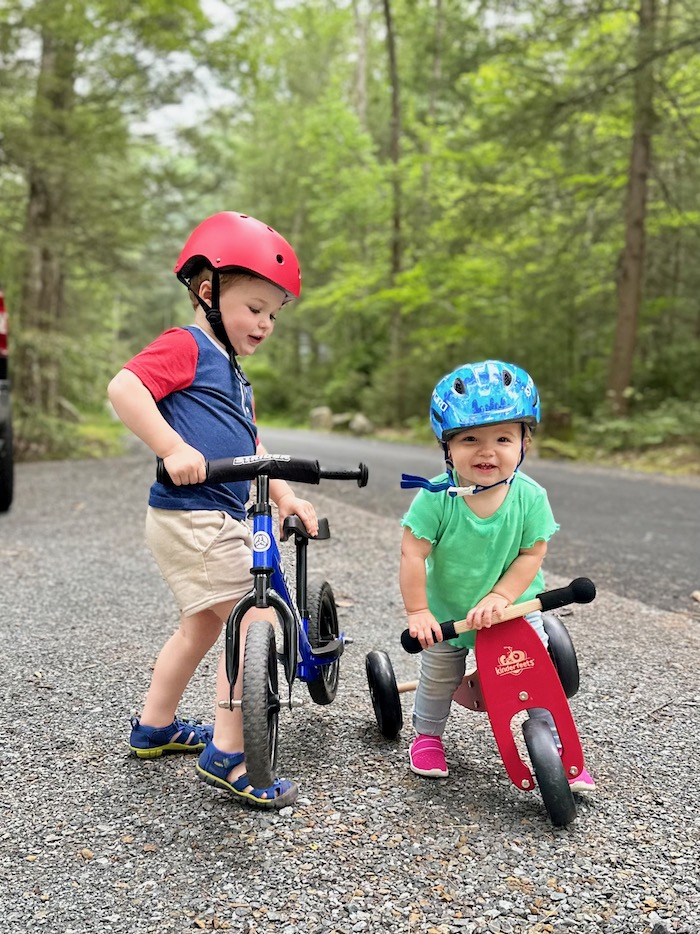 One of the reasons that the Strider is consistently more popular than its competitors is its wide age and fit range. The brand boasts that children fit on the Strider 12 from ages 18 months to 5 years. That means toddlers could be hopping on their Strider and cruising around while still in diapers! We started our son on the Strider when he was a little over 2, and a year and a half later, he still has ample room to grow.
The Strider has a maximum weight capacity of 60 pounds. Specifically, the handlebar height of this balance bike ranges from 18 to 22 inches, and the seat height spans from 11 to 19 inches. That makes the bike compatible with inseams from 12 to 20 inches. This was a huge selling point for us; with kids that grow faster than weeds, investing in gear that will grow with them is critical.
One of the features we love most about the Strider 12 Sport is that adjusting its size requires no tools. The bike has easy-adjust clamps that let us extend the handlebar or the seat post on the go.
Tires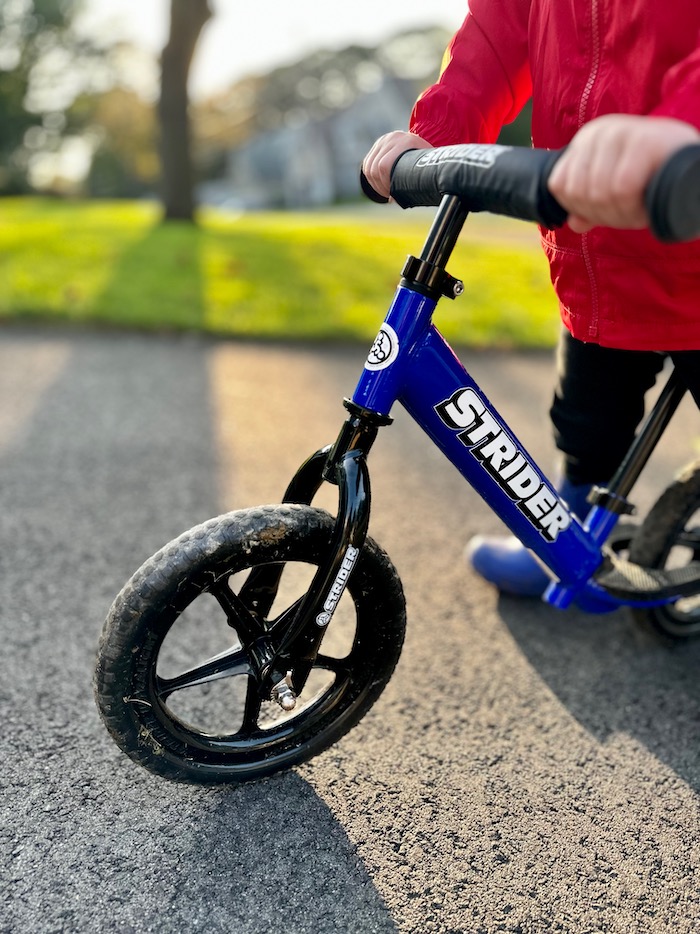 Gear-heads who love to cycle don't mind performing regular maintenance on their bikes, but most toddler parents are looking for maintenance-free gear. Strider equips its Sport balance bike with 12″ foam rubber tires and maintenance-free sealed cartridge bearings in the wheels. That means the tires never need air pumped into them, and they will never go flat.
Parents who expect their kids to do intense off-road riding may prefer a balance bike with air-filled tires, which tend to absorb more impact and handle better on surfaces like gravel and dirt. When we were shopping for a balance bike for our son, we felt the foam tires were more than ample for most children at this young age. We also preferred the reassurance that we'd never have to fix a flat when out on the road.
Maneuverability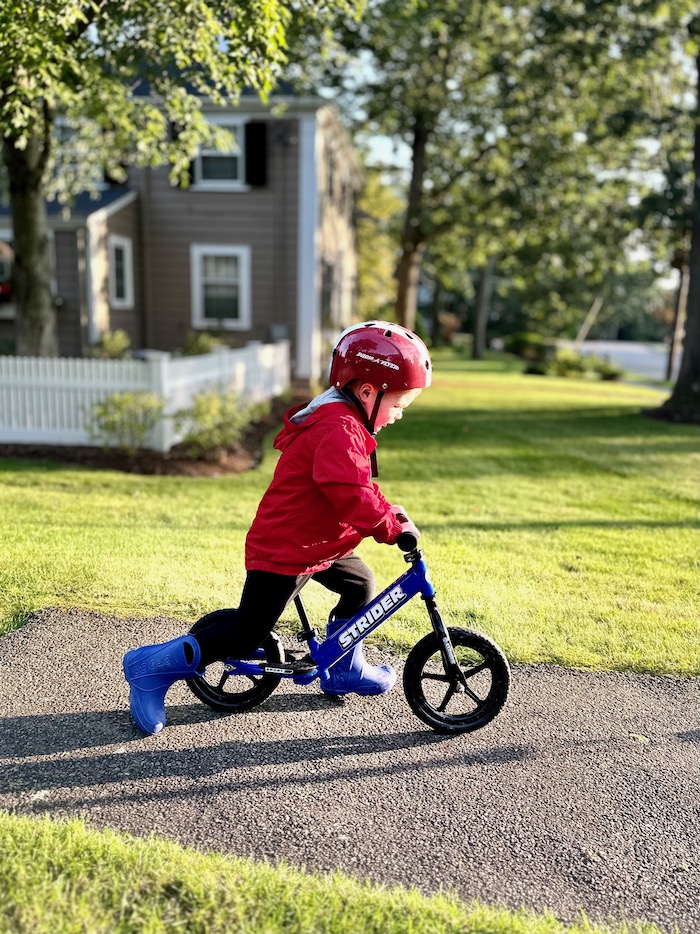 The Strider 12 Sport seems comfortable and easy for our son to ride and steer. Compared to some other toddler bike options, the Strider has considerable space between the seat post and the handlebars. This gives our son enough room to lean forward and get his balance while he rides. It also allows him to get on and off the bike without trouble.
The Strider's steel frame is narrow, so small bodies can fit on it comfortably. It has an ergonomic, padded seat with a soft cushion that our son sits on happily. The bike's textured mini grips are narrow enough for small hands to get a good grasp, and the handlebar turns smoothly to the left and right.
Footrest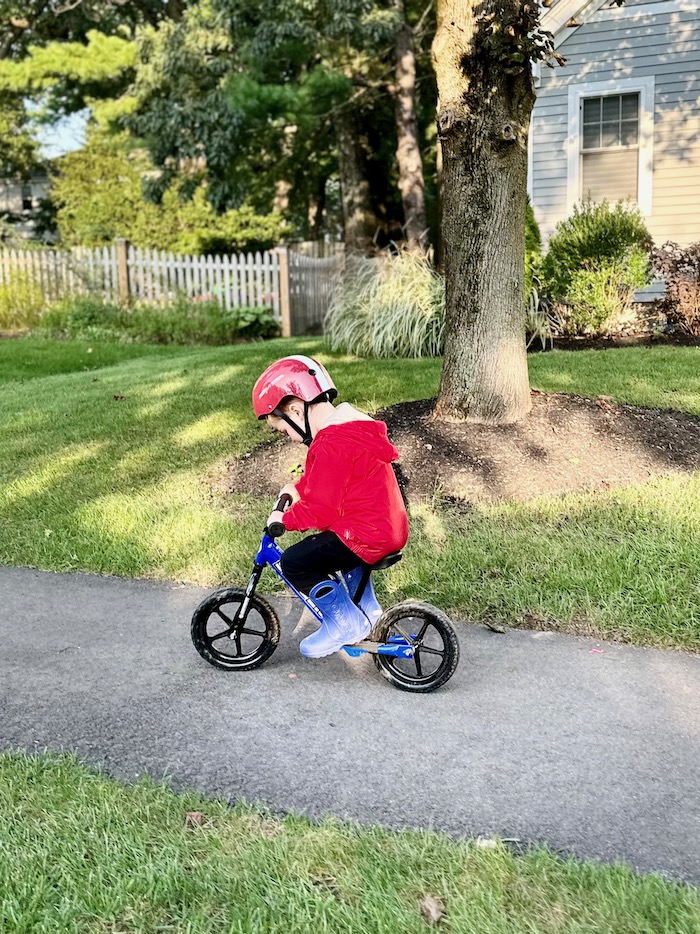 The unique feature on the 12 Sport that our toddler loves most is the footrest. The Strider has a narrow footrest that's tucked out of the way under the bike's seat, just in front of the rear wheel. It's small enough that it doesn't get in the way of little feet or legs while riding, and just large enough for youngsters to rest their heels on while gliding on flats or gradual downhills.
Safety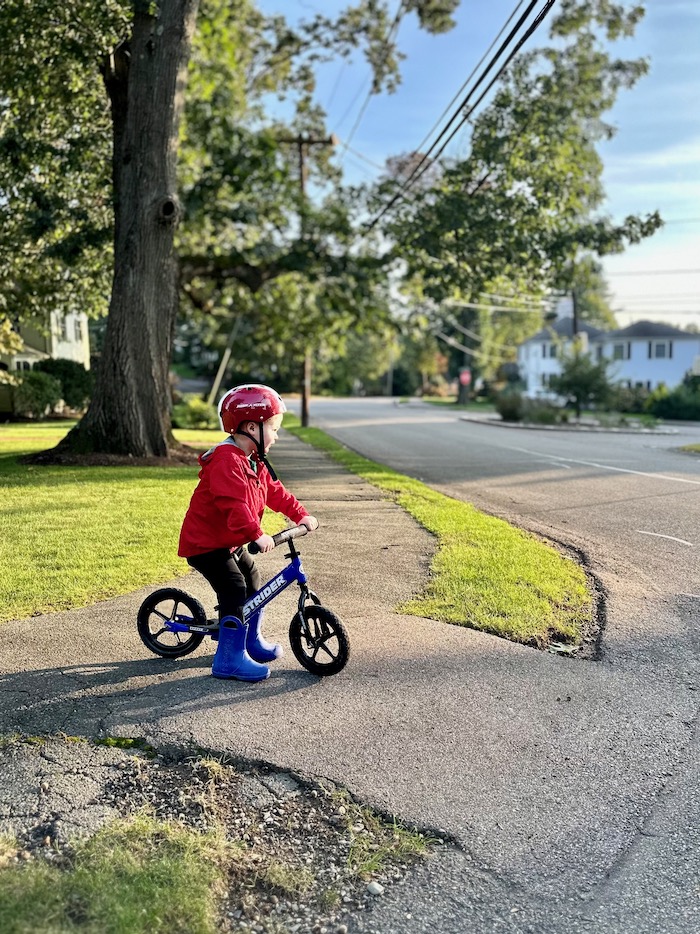 Although the Strider 12 Sport is thoughtfully engineered, safety should always be a major concern for parents teaching little ones to ride a bike. Children should wear a helmet while riding, and adults need to be aware of people in automobiles who might not see a small tyke on a bicycle.
When we bought the Strider for our son to use, I was nervous about him riding downhill and not having the ability to stop himself effectively. Although toddlers tend to pick up their balancing and braking skills quickly when riding, parents should be careful not to take them down steep downhills where speed can escalate out of control.
The 12 Sport has a cushioned safety pad wrapped around the entire length of the handlebar, which helps avoid injury when children encounter bumps in the road. Adults should be sure to assemble the bike according to package directions, and only let a child ride a Strider that has been fitted for them individually. The bike becomes unsafe if the seat post and handlebars are too short or too tall, preventing the child from braking correctly.
Accessories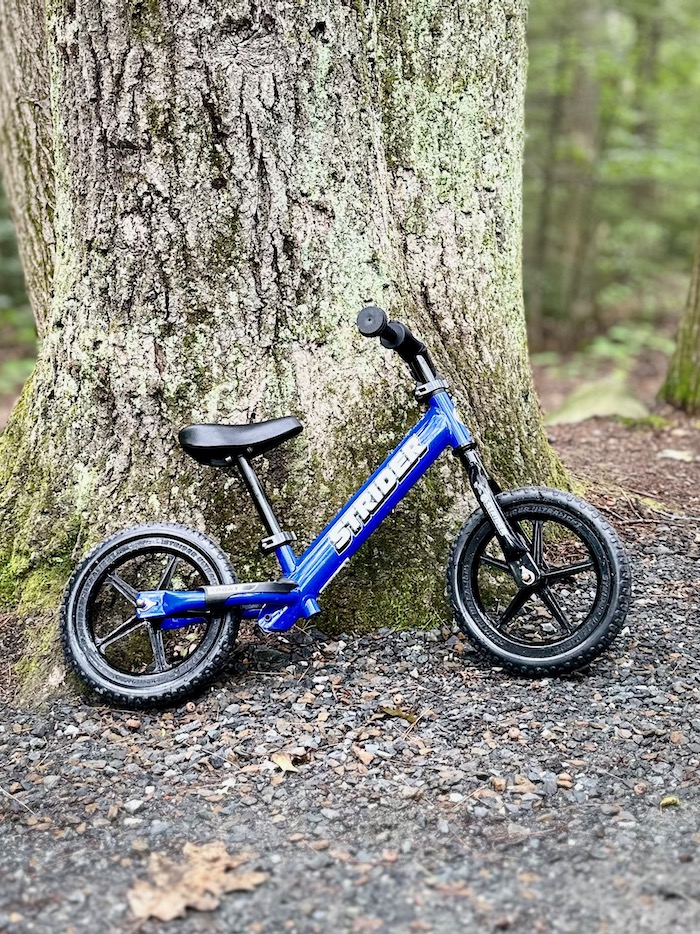 Strider makes several safety-focused accessories for its bikes, including a standard helmet, a full-face helmet, and a set of elbow and knee pads. The brand also makes a few add-ons that cyclist parents will love, like a bike mount, bike stand, and disc wheel covers. Cyclist enthusiasts can even invest in a (nearly $500!) set of carbon wheels for a serious upgrade.
For a customized look, parents can purchase Strider's Ultralight Wheels, which come in seven bright hues. The wheels, which cost about $20 each, are sold individually to let families mix and match colors. For approximately $10, parents can also order replacement Strider 12 Mini Grips to add another pop of color to the bike.
Babies who are too young to ride their older sibling's Strider can still have fun on the bike, thanks to the brand's rocking stand accessory. The Strider 12 Rocking Base, which has a price tag of about $110, lets tykes as young as six months climb aboard the balance bike and ride it like a rocking horse.
For parents who want their kids to enjoy the bike year round, the brand even makes a pair of snow skis (for less than $40!) that latch on right underneath the wheels. This lets children continue to learn their balance-bike skills while gliding over fresh powder.
Aesthetics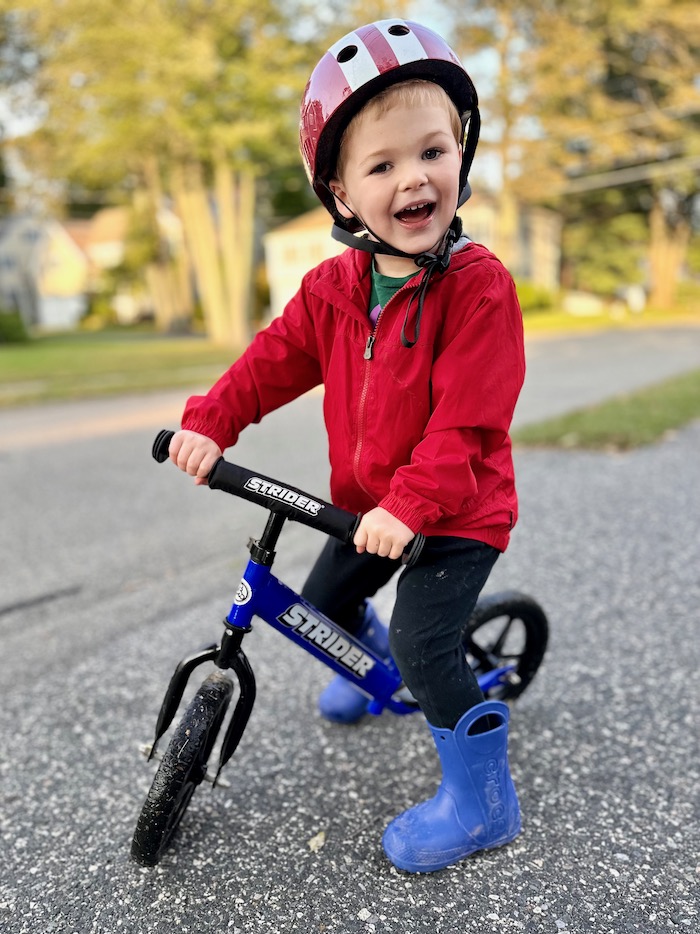 One feature cyclist parents will love about this balance bike is that, other than its size, its design doesn't shout that it's a children's bicycle or a toy. Overall, the Strider has a very cool look, and it's a bike that even older children would be happy to be seen riding.
In addition to adding customized colors through some of the available accessories, parents can choose from seven vivid color tones when they purchase the Strider. These include blue, green, matte gray, orange, pink, red, and yellow.
Strider Bike Review: Final Thoughts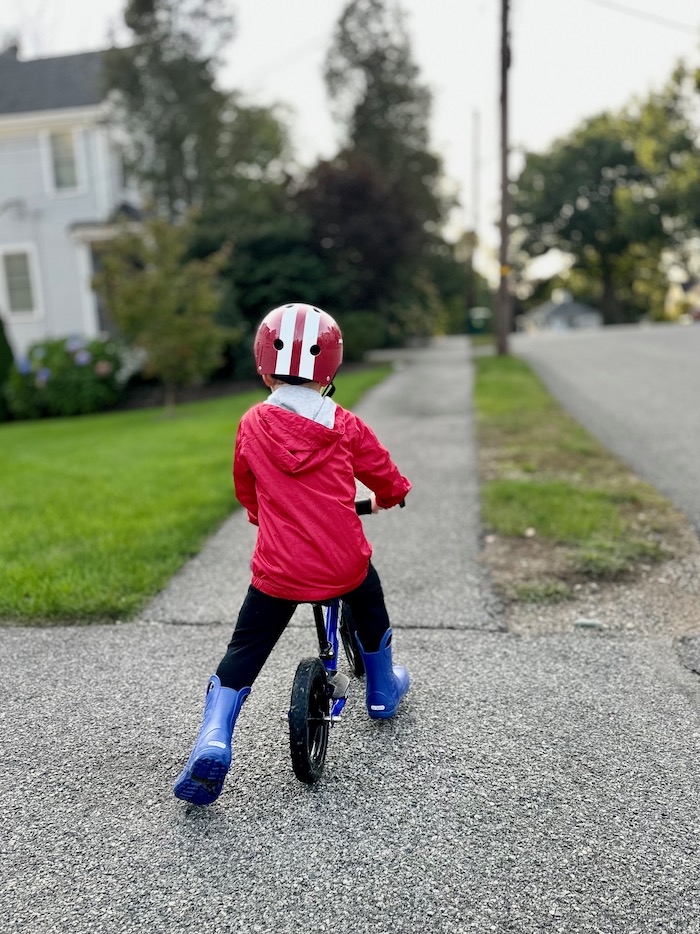 Our family is very happy with our Strider bike purchase, and if given the chance we'd choose the same balance bike for our son again. Although we didn't start out with a balance bike right when our son turned 18 months old, he picked up on the technique over time, and he enjoys using it on a regular basis.
Our hope is that our toddler's experience with the Strider will ease his transition to balancing on a standard bicycle with pedals when the time is right. For now, the Strider is an awesome way for us to enjoy the outdoors together as a family, and it's given our son lots of confidence and smiles as he rides alongside us.