How to Create a Kids' Art Studio at Home: Melissa & Doug Standing Easel Review
There's nothing more exciting than watching your little one's mind grow and blossom, especially when they start to engage in creative play. Whether your child is a tiny tot who's exploring their senses or a school-aged child who loves to sit and make art from scratch, it's natural to want to give them the space and materials to pursue their creative sides at home.
When our son started to participate in crafts as a toddler, we purchased the Melissa & Doug Deluxe Wooden Standing Art Easel. If you decide to add this to your play supplies, you'll receive a sturdy product with ample art activities and room for creating, but you'll need to purchase additional accessories and sacrifice some significant space in your home to use it.
The Melissa & Doug Brand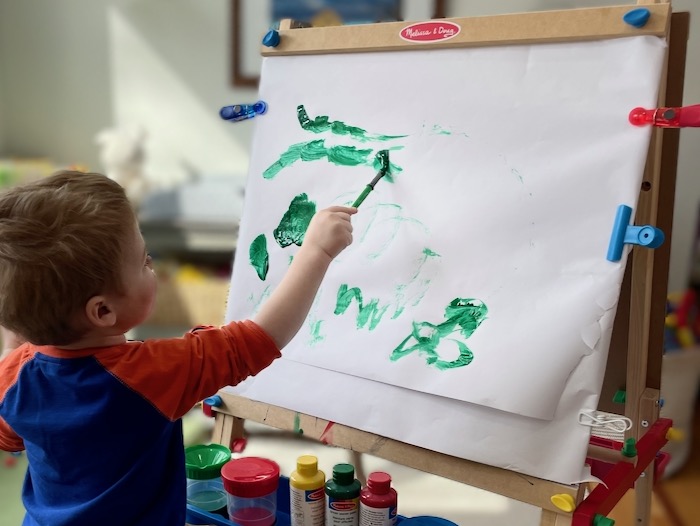 Melissa & Doug, a popular household toy manufacturer, has been making high-quality toys for over 30 years. The brand consistently produces durable products that give children materials to learn new concepts and build their imagination through play.
Husband-and-wife duo Melissa and Doug started the company in 1988. As parents of six, they have serious firsthand experience in which toys are most engaging for children, and they're all about providing screen-free opportunities for kids to play.
Melissa & Doug's first hits were puzzles, but the toy giant now makes everything from classic wooden toys to full pretend play sets. Popular products include play kitchens with food accessories, dress-up clothes, and toddler learning toys. The brand's interactive Poke-a-Dot books and Water Wow reusable coloring books are parent-approved winners for restaurants and airplanes.
Among the many toy companies out there, Melissa & Doug is consistently one of my favorites. If we're buying a new toy for our son and daughter, I always know we'll get a high-quality product if it has the Melissa & Doug label. So when we decided we wanted to buy a children's standing art easel for our home, we didn't have to do much debating before settling on this one.
The Skinny on the Melissa & Doug Deluxe Standing Wooden Art Easel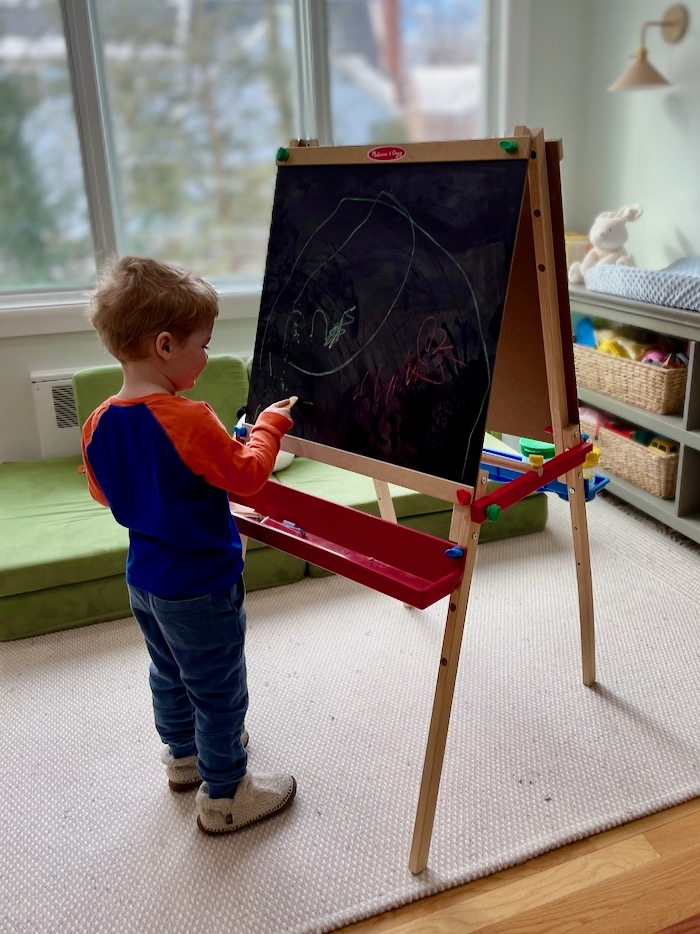 With a whiteboard on one side and a chalkboard on the other, the Melissa & Doug standing easel has ample room for kids to create. Its main purposes are for drawing and painting, but parents can also use included clips to attach sheets for other crafty activities, like sticker play or pom-poms and glue.
This easel is great for older toddlers and young children who love arts and crafts activities. Drawing or painting on the easel keeps our three-year-old son occupied for prolonged chunks of time, and he loves trying to write the letters of his name or mixing colors to make a paint masterpiece. We love that the easel keeps messy craft activities like painting contained in a tidy art center rather than sprawled out in the living room or on the kitchen table.
The standing art easel has many learning opportunities, including drawing and tracing, practicing letters, developing creative imagination, understanding color, and perfecting pencil grip. When our son spends time working at his easel, we know his little brain is growing and mastering new lessons.
What's included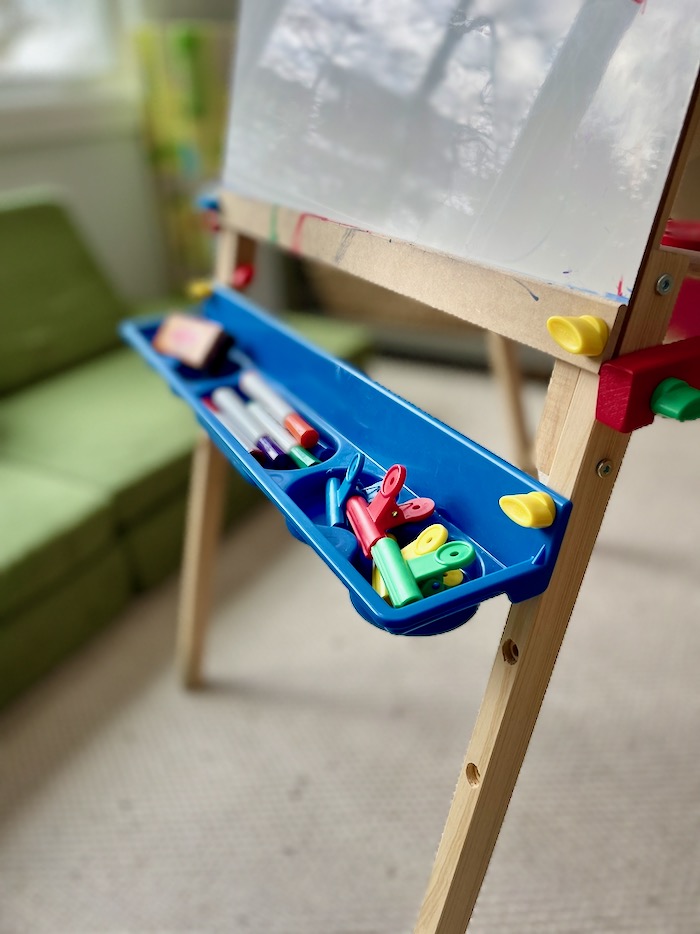 The Melissa & Doug easel comes with a dry-erase board on one side and a chalkboard on the other. A hidden paper roll holder sits between the two surfaces to store fresh paper for the next painting or drawing session. Also included are a child-safe paper cutter, four clips for attaching sheets, and a plastic tray on each side of the easel for holding supplies.
If you're thinking of buying this easel, you'll need to also purchase some craft materials to use with it. Paint, paint brushes, paint cups, chalk, dry-erase markers, erasers, and paper are not included.
Weighing the pros and cons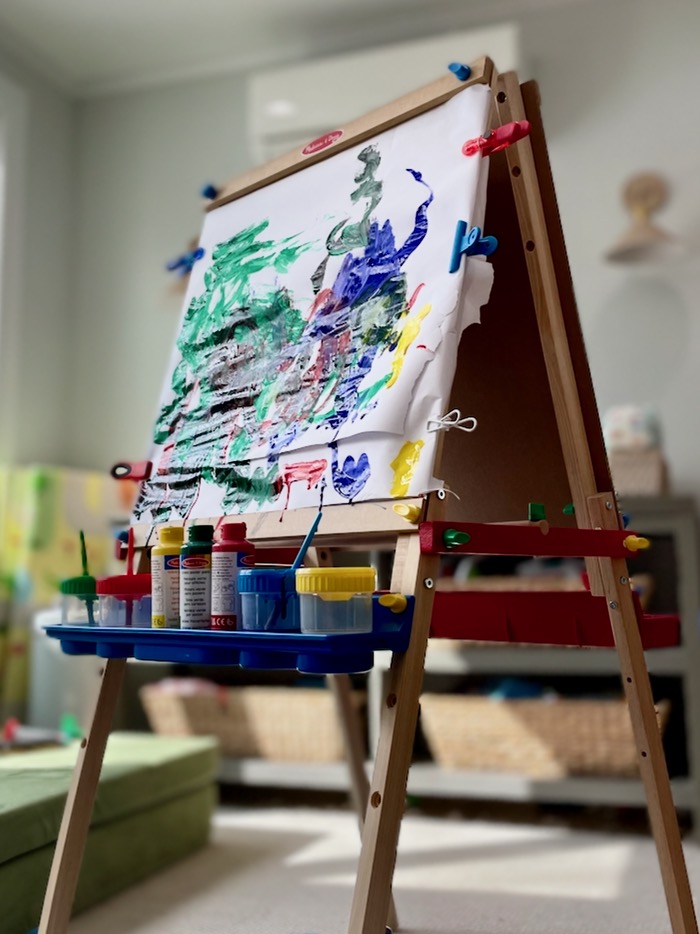 We've had a great experience with our Melissa & Doug easel. Here are some of the things we love most, and some areas with room for improvement:
Pros
The easel boasts a sturdy wood construction. Our infant daughter even uses it as leverage to pull herself up to a standing position (under close supervision!), and it doesn't wobble under her weight.
Rather than just offering one or two activities, it creates lots of opportunities for crafts and learning exercises for youngsters.
Kids can take ownership of the easel, like it's a spot all to themselves to play and create without boundaries.
The easel's height is adjustable to accommodate children of various sizes.
Cons
This easel is on the more expensive side when compared with competing options.
It is large and takes up serious space in the house.
The easel does not come with any art supplies, so families must use those they have on hand or purchase relevant accessories.
Detailed Features and Specifications
Cost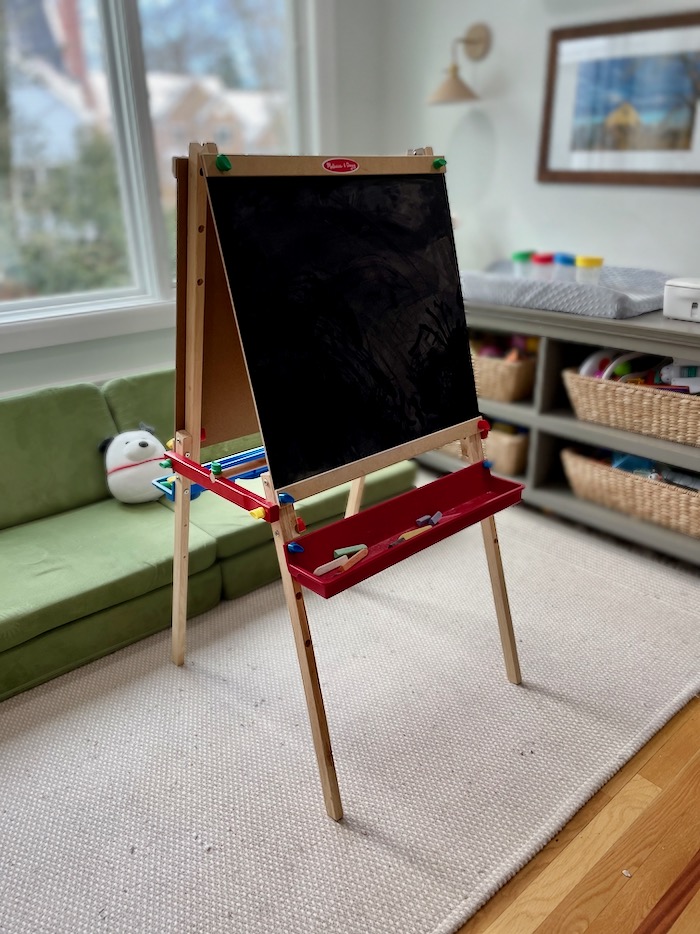 The easel is toward the upper end of the price spectrum for kids' standing easels, especially given that no art supplies are included. At full price, parents can expect to pay about $115. Fortunately, the easel can frequently be found on sale from various retailers, so it's worth browsing around for a discount or for a bundle option that includes accessories.
Size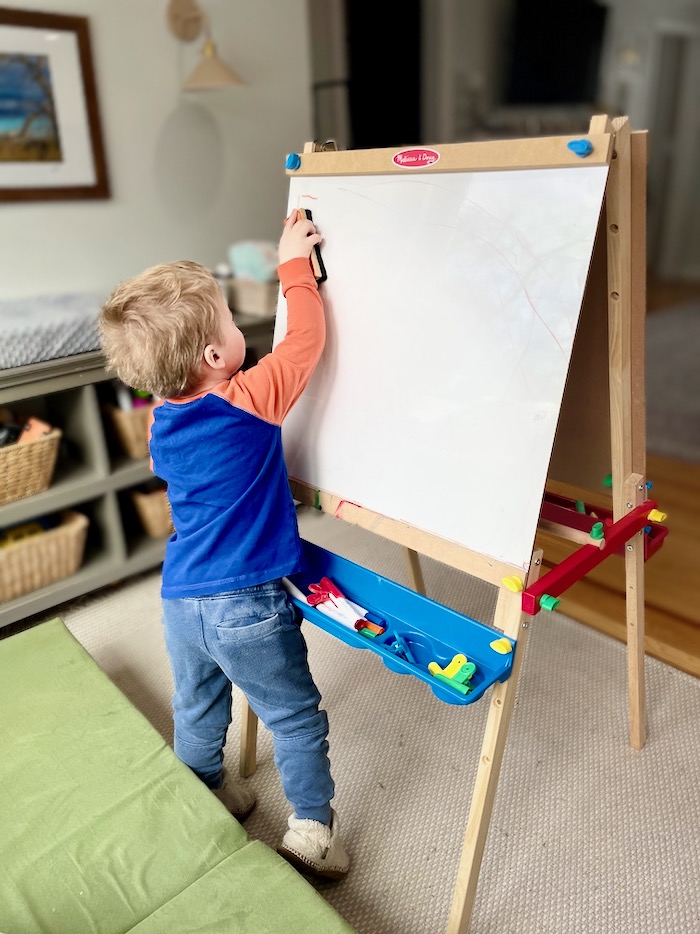 We currently have the easel in our play area near the family room, and it is large! We've had to rearrange some other items to allow space to walk around it. It weighs almost 15 pounds, and it measures 27" long by 26" wide by 47" high. It folds flat for storage.
Assembly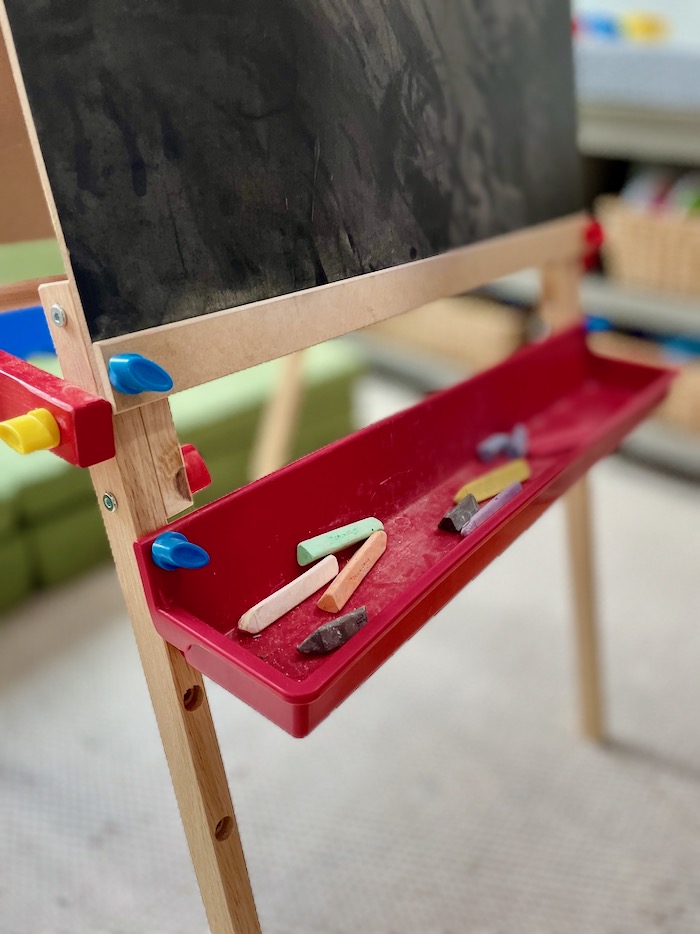 The easel comes completely unassembled and requires an adult to set it up. We didn't find the assembly to be too difficult, and with two very tired parents on Christmas Eve, it took us about 20–30 minutes. Although it didn't take long, it might not be the best as the last item on Santa's to-do list.
The easel's parts have a colorful and fun appearance. The nuts used to screw its parts together come in bright primary colors, and in a chunky size that's easy for little hands to grab. Sometimes I think the nuts and bolts are a little too appealing to children, because our toddler loves to bring his toy tool set over and unscrew each one, jeopardizing the integrity and sturdiness of the easel.
Age range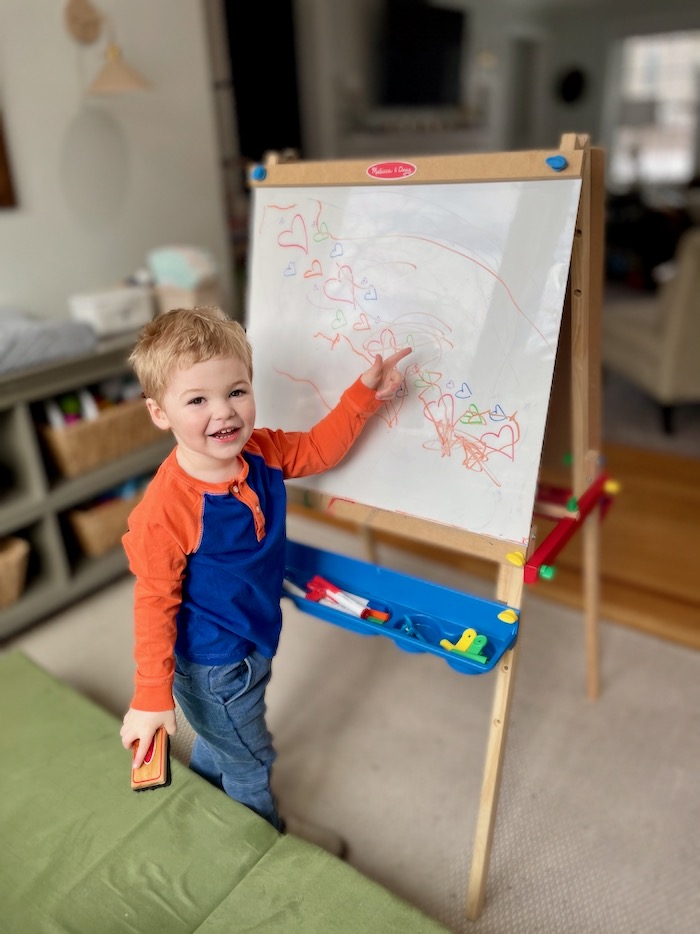 Melissa & Doug targets this product to children from three to eight years old. We started using the easel when our son was two, but there are small parts that can pose a choking hazard, so adults should pay close attention if little ones are around.
The easel is designed to grow with kids as they become taller. Parents can adjust the height of both creative surfaces, as well as the height of the art supplies trays, to keep everything within reach.
Activities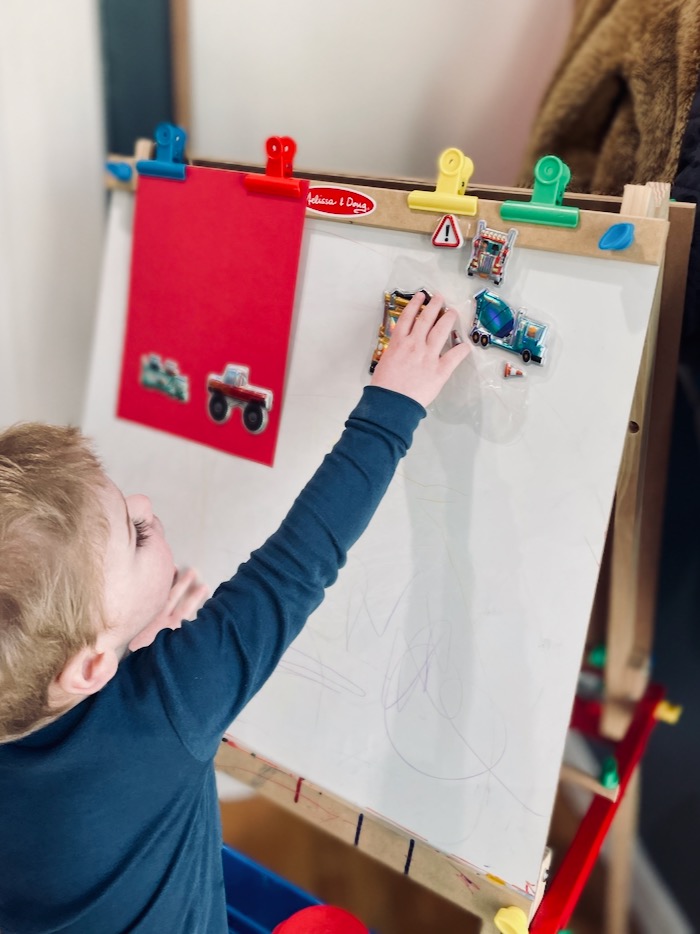 The primary purposes of the easel are painting and drawing, although supplies for all activities are sold separately. The whiteboard and chalkboard are great surfaces for doodling and writing. When parents attach a 12" or 18" paper roll to the built-in holder, either side of the easel becomes a canvas for painting works of art.
Parents can get creative and set the easel up for all sorts of activities for kids. Use the clips to attach a piece of construction paper and sheet of stickers, and let your child design a greeting card for an upcoming birthday. Or put some buttons, pom-poms, and glue in the built-in craft tray, and clip a blank paper plate onto one of the easel's surfaces so your youngster can create a smiling snowman for winter.
Accessories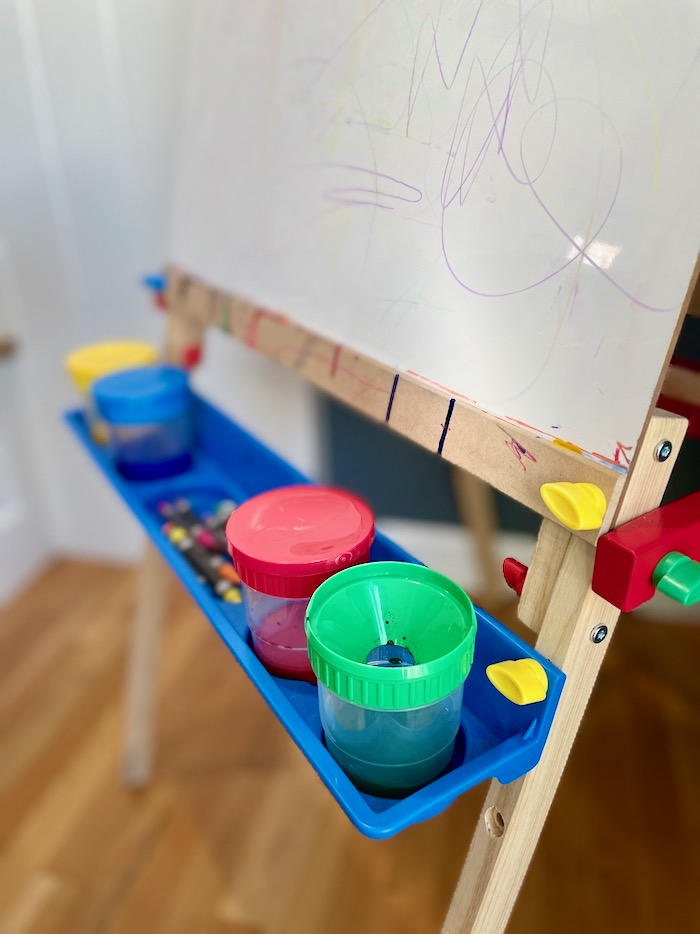 If you're buying this easel as an addition to your play room or as a gift for a child in your life, you'll likely want to purchase some accessories to go with it.
Melissa & Doug sells a convenient accessory set specifically designed to go with its standing easel. The kit includes a dry-erase marker, a set of chalk, an eraser that works for the chalkboard and the whiteboard, and an 18" paper roll, as well as four paint tubes, paint brushes, and paint cups.
Although parents can buy most components of the set at any craft store and from other brands, the most valuable item in the Melissa & Doug accessory kit is the set of four spill-proof paint cups. They have colored caps to coordinate with the paint hues parents can pour into them. Each cap has a small hole on top just large enough to insert a brush, thus preventing paint from pouring out if the cup is knocked over. A tight-sealing lid goes on top to keep the paints fresh when they aren't in use.
Other accessories parents can use with the easel include any brand of chalk, construction paper (to attach with clips), paint, crayons, markers, and pens, among other various craft supplies. After giving the easel to our son with the Melissa & Doug accessory set, we ended up buying a set of dry-erase markers to give him some more color choices. We also just purchased these Crayola dry-erase crayons that don't dry out and don't require recapping.
Finally, Melissa & Doug sells additional paper rolls to attach to the easel and create canvases for endless imaginative play.
An Alternative to the Standing Easel: Melissa & Doug Deluxe Double-Sided Tabletop Easel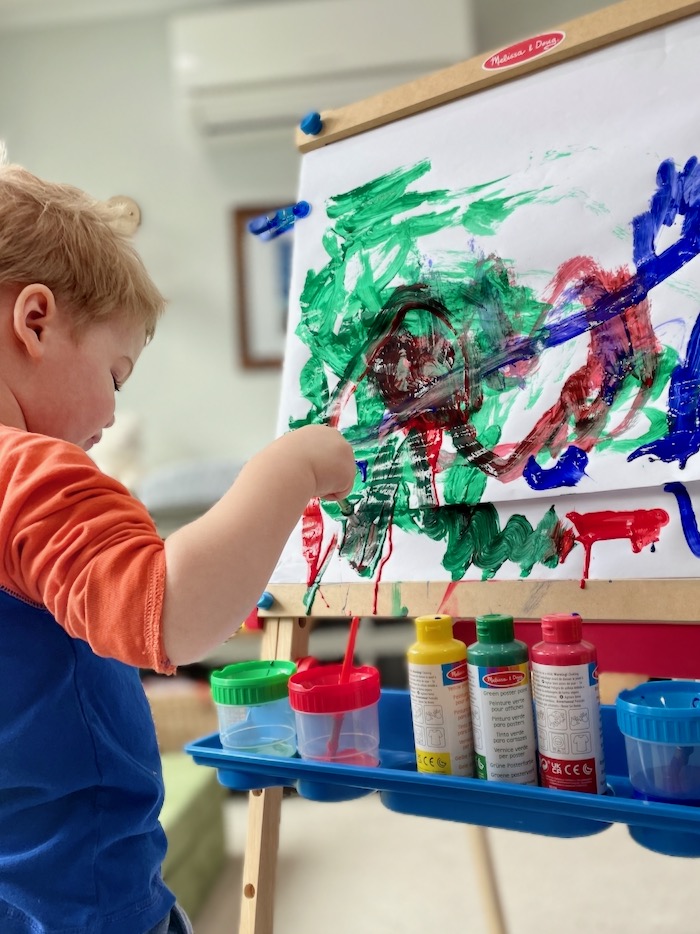 If you love the idea of a children's art easel but aren't crazy about the investment and real estate required for a large standing one, Melissa & Doug's tabletop easel is a compact alternative. Although smaller in crafting area, the tabletop version offers many of the same activities as the standing one — and at about $53, it costs less than half the price.
The tabletop art center has a chalkboard on one side and a magnetic whiteboard on the other. A roll on top holds 12" paper for endless creative possibilities. The entire easel folds flat for easy storage when not in use.
Unlike the standing easel, this one actually comes with several accessories, so it's ready to play with right out of the box. A paper roll, a dry-erase marker, a small set of chalk, an eraser, and a kit of number and letter magnets are included with purchase.
The Upshot: Melissa & Doug Deluxe Wooden Standing Art Easel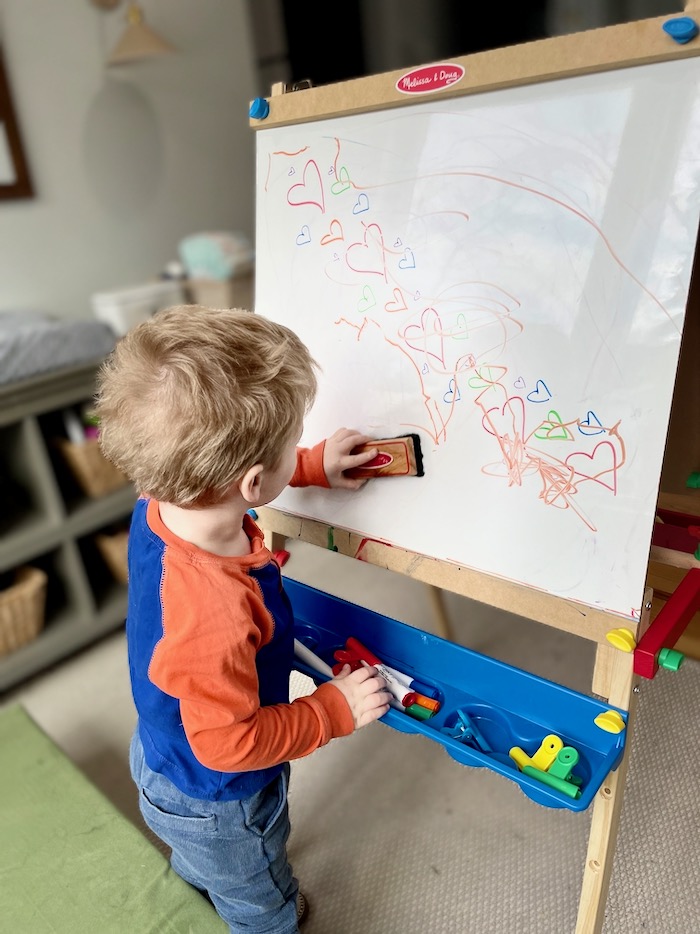 Melissa & Doug's standing art easel was one of the major Christmas gifts I was excited for our son to unwrap, and it has not disappointed. We often play games together or trace out letters and shapes on the whiteboard and chalkboard. He loves to stand and paint while he calls out colors, mixes them together, and watches the results unfold on the canvas.
As our children grow, the activities they do on this easel will grow with them. I'm excited for it to be a part of our collection from years to come, and if given the choice, I would buy the same easel for our family again.
With so many art mediums enveloped into one item, the Melissa & Doug standing easel gives little ones an art studio all of their own. All parents have to do is lay out the supplies, let the young artists take the wheel, and watch those creative masterpieces unfold.