The Ultimate Baby Travel Packing List
It's been over a year of travels with over 100 flights to 10 countries for my baby, and over the course of all of that, we've got the packing list down to a science.
Traveling with a baby can mean packing more than you ever have in your life, but by being tactical about what you bring, you can ensure smooth sailing on your trip. Here is everything we've learned about how and what to pack for your baby into one ultimate packing list:
1. Do You Need a Car Seat?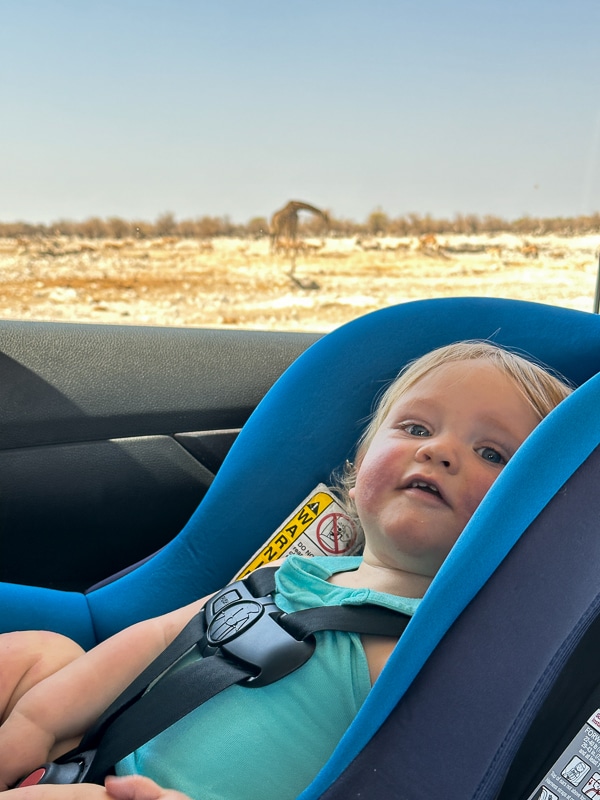 One of the first things I research when planning a trip with our baby is how we are going to get around. Are we renting a car? Are we taking Uber? What are the rules around Uber in that country? Are we going to take public transportation?
If you are renting a car, the car rental company may have car seats available, often for an extra charge. I have been pretty disappointed in the car seats that we have come across so far, even in US-based companies. They've seemed really cheap and dirty, so we have been traveling with our own car seat. You can check it as hold luggage in a car seat travel bag for free, or if you get your baby their own seat on the plane, you can bring it onboard to strap them in.
However if you're mostly taking public transport, like our trip to Japan or in Europe, you can probably travel without a car seat. It's even more important to leave it at home in this case, because you'll have to carry everything through train stations and city streets. By the way, for public transportation where you are likely to encounter stairs at some point, we really like this wheeled duffel that can also be worn as a backpack.
Take Uber or taxis into consideration, too. We ultimately did end up bringing our car seat to Bali even though legally, you don't need to have one in Indonesia. If we had just been driving short distances, I might have left it at home, but I was ultimately glad to have it when we had two hour drives. Some countries will require you have your own in order to give you a ride.
2. Do You Need a Travel Crib?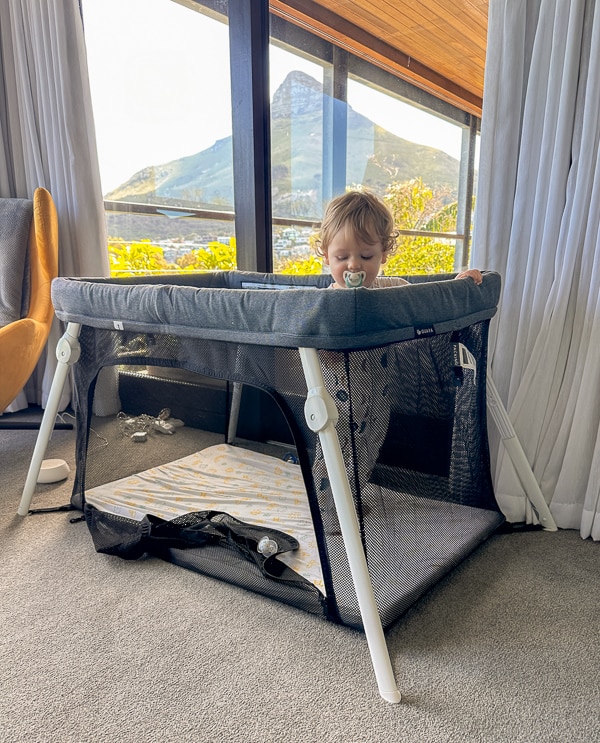 Travel cribs can take up almost an entire piece of luggage on their own, but baby sleep on vacation is also super important, so what should you do?
We have done a mix of relying on hotel cribs and bringing the Guava Lotus. If I know that we have to carry everything ourselves and are mostly using public transportation, or we will have a really small rental car like in Europe, I generally rely on hotel cribs – just make sure ahead of time that your hotel is going to provide one. Booking.com is pretty good about including that possibility in their interface.
However if I possibly can bring our Guava, I do. I love it, and he sleeps much better in it since it's familiar. His pacifiers don't fall out the side since it's mesh, we have our own fitted sheet that is washed in detergent that doesn't make him break out, and it's super easy to set up.
3. Do You Need a High Chair?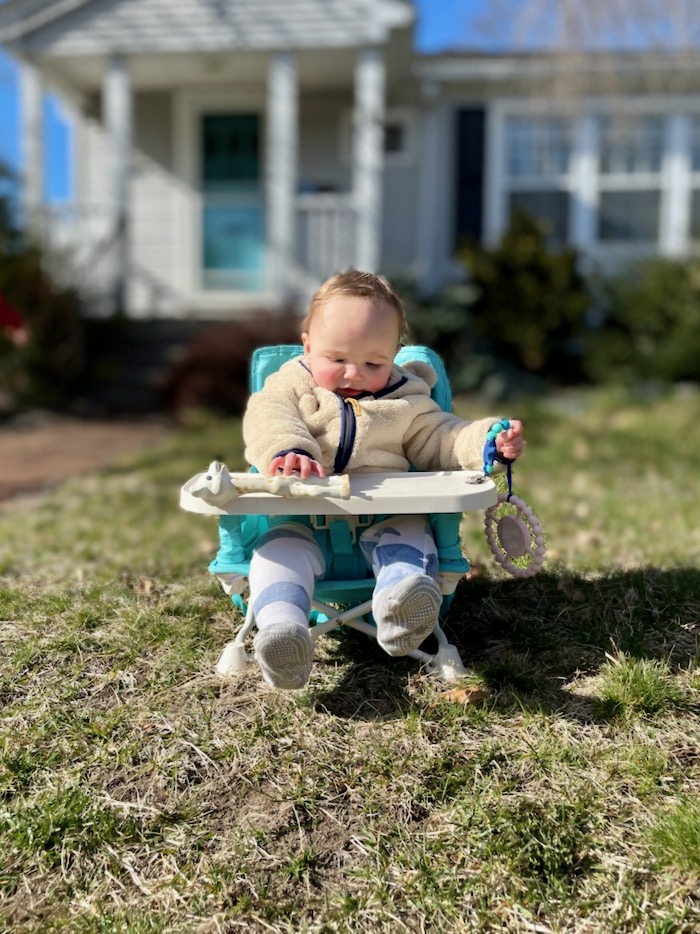 This is one of those things that can be really annoying if you don't have it. I've been surprised that 80% of the restaurants we have eaten at abroad did actually have high chairs, even on remote islands, but the 20% that didn't would have made things a little difficult had we not had our own. If you bring a travel stroller, you can always feed in the stroller. It's not our son's favorite, but it's at least an option.
The other option, which we usually go for, is bringing the Hiccapop booster seat, which packs up small and is lightweight, or the Inglesina claw chair.
4. Do You Need to Bring Formula or Food?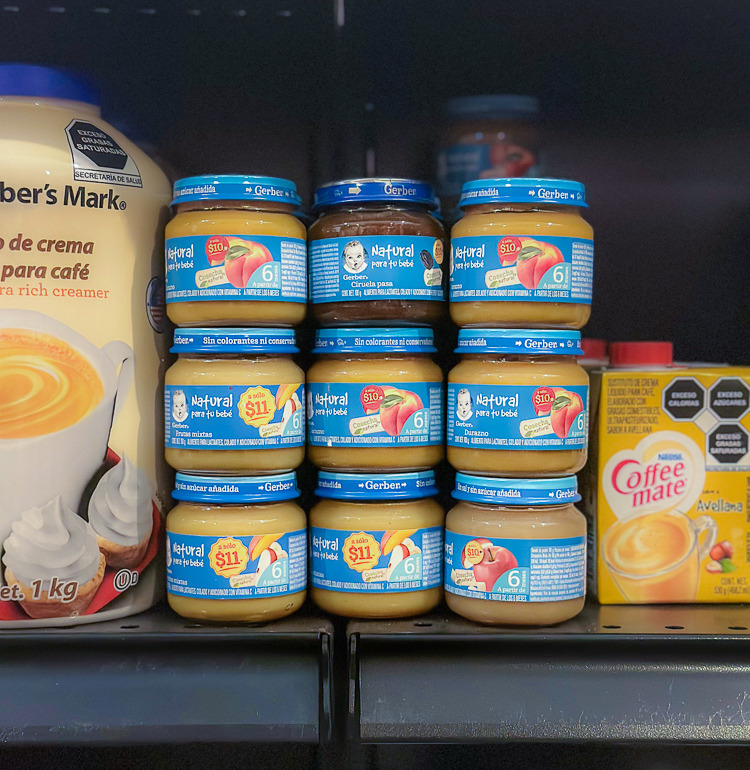 Depending on the age of your baby, you may need to travel with baby food. If you are formula feeding, you may also need to travel with formula. We have done both, particularly since my son did not drink cow's formula (and doesn't drink cow's milk now).
However, if your baby doesn't have any special dietary restrictions, I have found that every country has baby food and formula available. Where exactly you need to buy it, whether it's a grocery store or pharmacy, will just depend on your destination. If it's quite remote, research to be sure ahead of time you can get what you need.
I tend to bring a lot of food from home since we have allergies to consider. A friend who traveled to Thailand with his baby shared with me that he wished he had brought more snacks for him since what they were able to find often had sugar in it. Thankfully fruit, toast, and veggies are ubiquitous.
5. To Stroller or Not to Stroller?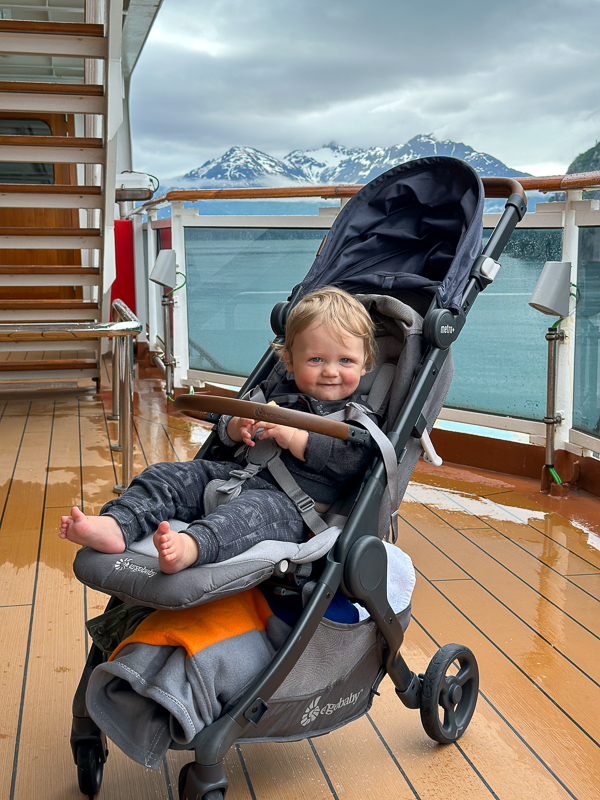 That is the question! To simplify things for our Japan trip, we only used our Artipoppe carrier the whole trip, babywearing the whole time. We were traveling with a six month old, but he was a BIG six month old, and we were aching by the halfway point.
Now, even if the stroller is only useful in the airport, we bring it. I only use strollers that are small enough to fit into the overhead bin of an airplane, so they're lightweight and easy to carry and pack into a trunk. I'm still on my quest to find the perfect one, but I'm liking the Ergobaby Metro+ and Joolz Aer the most right now.
6. Bring Some Diapers From Home
After 10 countries and all of their associated diapers, I've got to say, nothing is as good as Coterie. They're expensive, but they also almost never leak. I would NOT fly long distances without them, nor do we do overnights without them.
Since they are pricey, we usually bring enough just for the nighttime and get something local for the daytime. You can get a bit of a discount if you sign up for their subscription, which is easy to customize the timing of in their interface.
7. The Ultimate Baby Packing List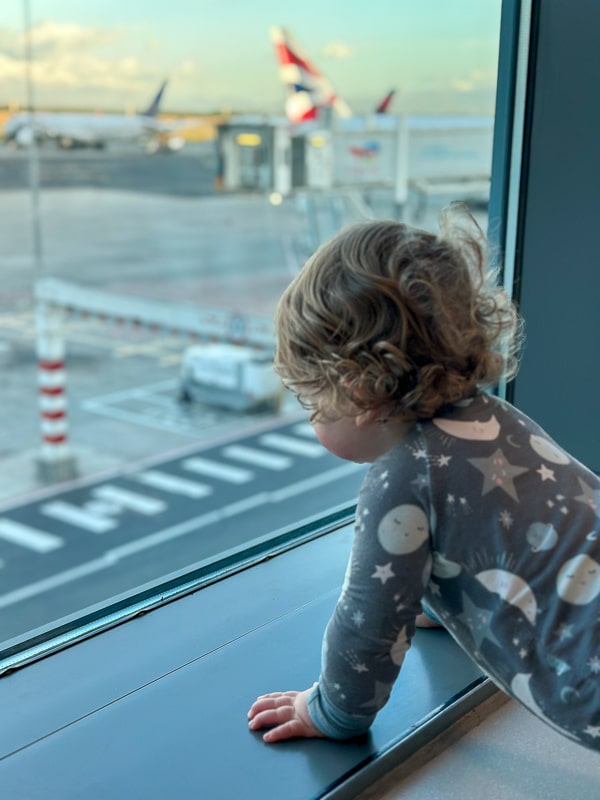 With all of that considered, this is what we bring on our trips:
If your baby is eating solids and you are road tripping and have more space, or if you know for sure you want to be in total control of the food they're eating, you can bring along a baby food steamer and puree machine like the Beaba Babycook. I did this for a family road trip with our son was eight months old and it was really nice to be able to make him food in the hotel room even though it didn't have a kitchenette. All I needed was a plug!
All of this may seem like a lot, and it is. Usually when we travel, a good 3/4 of our luggage is devoted to our baby. But the great thing is, as they get older and move towards a more packable toddler bed, can eat whatever you're eating, and no longer need a high chair, your volume will go down.
Over the past year and a half of travels with our a little guy, and making sure we always had what we needed, I stand by this packing list as the ultimate baby packing list, give or take a few things depending on your situation. Happy travels!
*Some links in this post are affiliate links that support us at no extra cost whatsoever to you when you purchase through them. Everybody wins!