Beco Gemini Baby Carrier: Honest Review from a Mom of Two
If you're a new parent, "babywearing" is now a staple in your everyday vocabulary. You've probably been reading about dozens of baby carriers, trying to figure out the difference among them. My family went through the same process when we were expecting my son three years ago, and I'm happy we settled on the Beco Gemini carrier.
In this comprehensive review, we'll discuss all the pros and cons of this simple, versatile baby carrier that's lasted us through our son's and daughter's infancy and toddlerhood.
The Beco Brand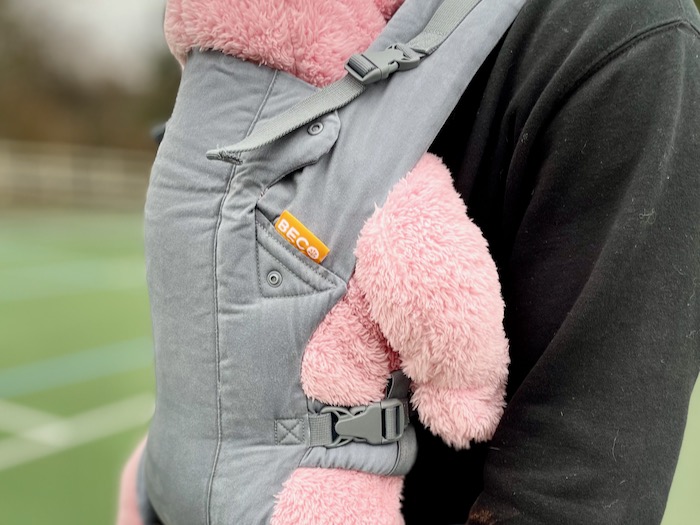 After moving from the Czech Republic to the United States and delivering a newborn son, Gabby Caperon started making baby carriers by hand. Soon she was selling them in person and online. In 2002, she officially founded the Beco brand.
The business has grown, but it has remained consistent on its focus on babywearing. Beco makes three baby carrier models:
The heavy duty Beco Toddler supports kids over 18 months who weigh between 20 and 60 pounds.
The Beco Gemini is a streamlined infant-to-toddler carrier with four carrying positions and a reasonable price tag.
The Beco 8 baby carrier has eight different carry positions. It includes adjustable features, like an infant insert and a zippable, ventilated front panel.
The Skinny on the Beco Gemini Baby Carrier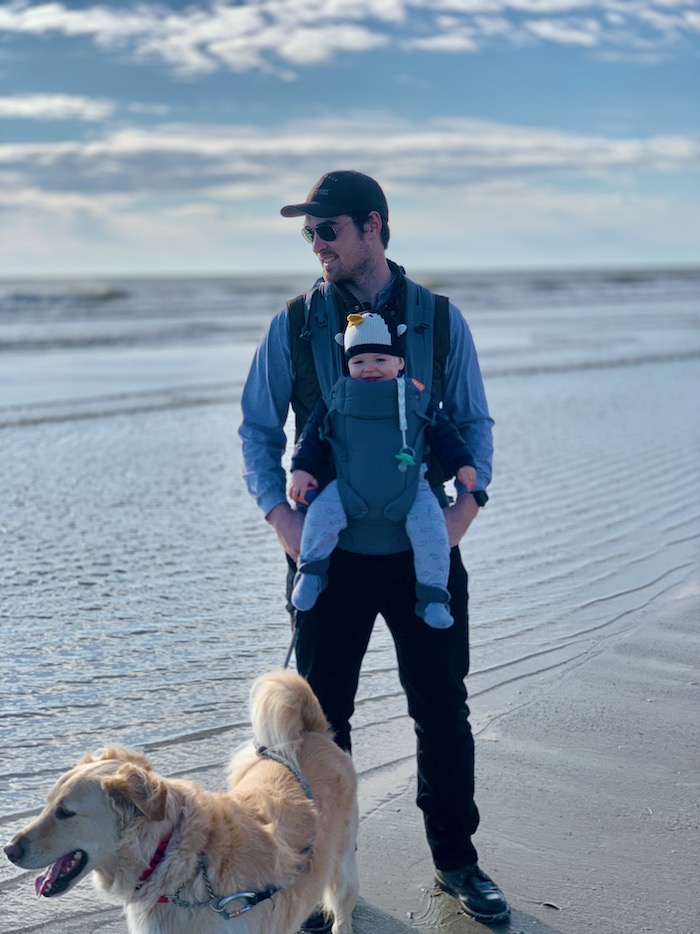 The Beco Gemini is an ergonomic baby carrier with adjustable sizing and four configuration options. Parents can carry their little one on their back, on their hip, in front facing in, and in front facing out.
It boasts high-quality, soft materials throughout. The fabric that comes in contact with baby has extra padding to provide comfort. The shoulder and waist straps for parents are structured and sturdy, to reduce pinch points. The carrier itself is light and flexible, so it's easy to fold it and slip it into a diaper bag.
Baby carriers like the Gemini are a great way to calm fussy babies or get things done while holding an infant. They're also perfect for tight spaces and urban settings, when strollers and other baby gear can feel bulky and intrusive.
See Beco's video below for an overview of the Gemini's top features:
Our Experience with the Gemini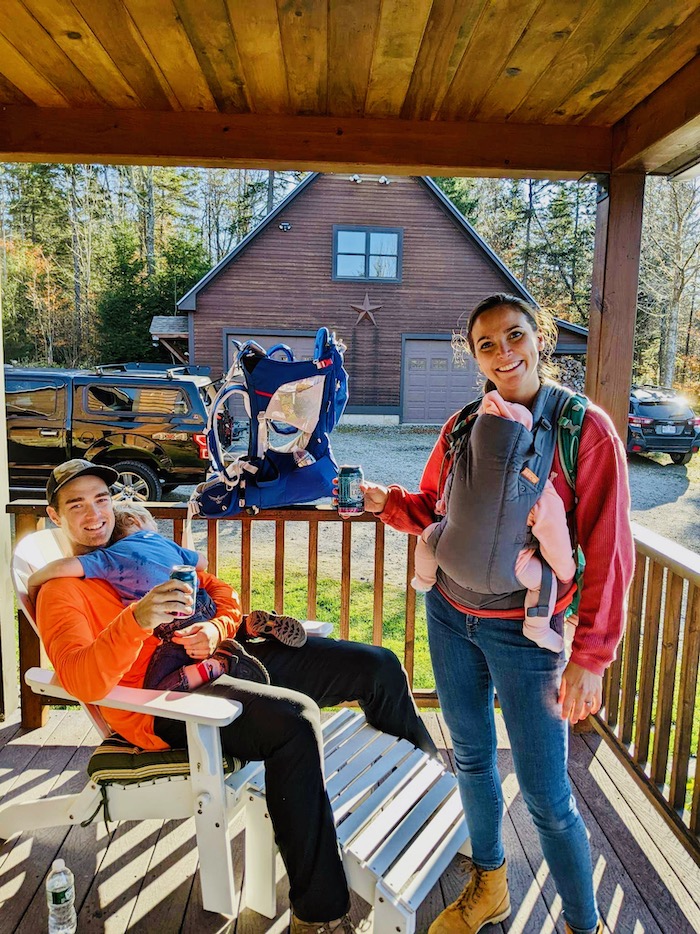 As a mom of a toddler son and an infant daughter, I use the Beco Gemini baby carrier almost daily. I love using it for everyday errands, for hiking and traveling, and for taking care of tasks around the house.
In my son's newborn months, we often wore him facing inward, for naps. He would only sleep for 20 to 30 minutes in his bassinet, but we could count on a two-hour nap in the Gemini. We lived downtown at the time, and facing him outward was perfect taking the dog out or walking to the store.
Since becoming a mom of two, it's been a huge help to hold my daughter in the Gemini while going to activities like music class and story time with both kids. The Gemini is also my go-to for grocery trips with two kids: my son sits in the shopping cart while my daughter sits in the carrier, facing outward and taking in the bustling scene around her.
The Gemini allows me to continue forward with our busy life while holding my kids close to me. I love that using a baby carrier can also aid in their healthy development. By nestling babies right into Mom or Dad, baby carriers help create that close contact with parents that infants crave. The American Academy of Pediatrics even recommends baby carriers to prevent crying, promote healthy attachment, and make babies feel safe.
The Beco Gemini Baby Carrier: Weighing the Pros and Cons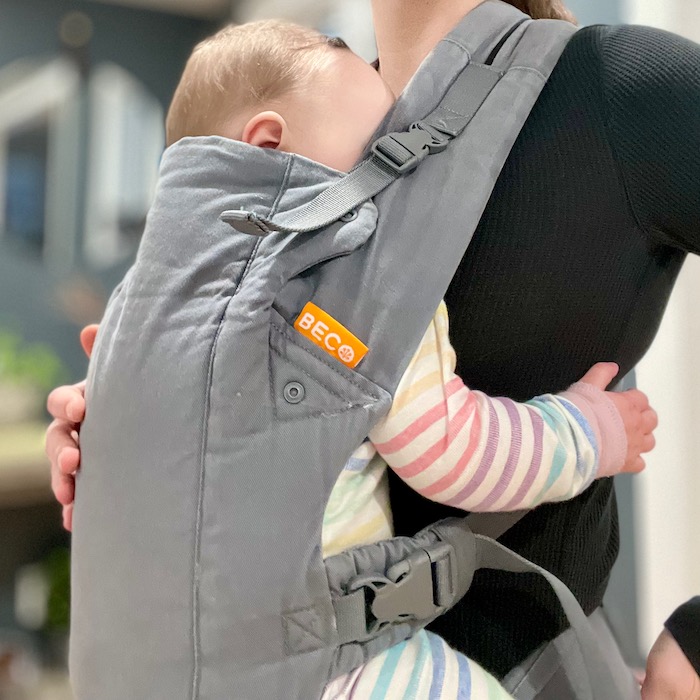 Here are the things I love most about the Beco Gemini model, and some factors that leave room for improvement:
Pros
The Gemini adapts to parents of varying sizes and heights.
Compared to most baby carriers, the cost is reasonable.
The Gemini is simple, easy to use, and adjustable as the baby grows (with no infant insert needed).
Cons
Baby carriers get dirty, and the Gemini cleaning instructions are to line-dry only.
Depending on the size setting, the Gemini can have considerable hanging straps dangling from the carrier.
Detailed Features and Specifications
Let's dive in to all those nitty gritty details you care about when shopping for a baby carrier.
Cost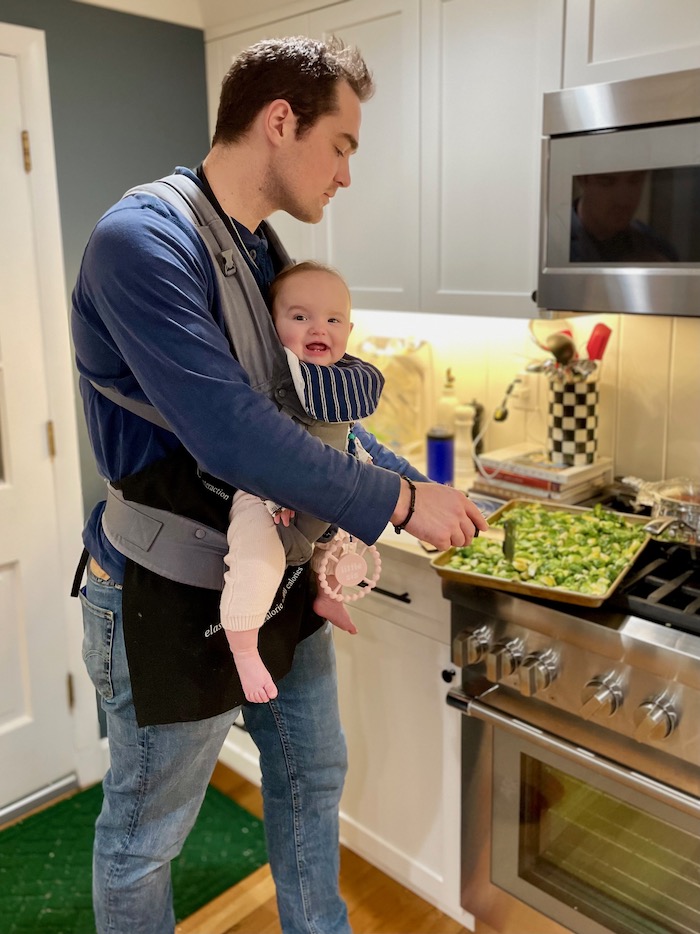 Baby carriers come with a huge range of price tags, from $40 to $400 and beyond. The Beco Gemini sits at a reasonable cost of about $80 to $100, depending on the fabric choice.
While it isn't cheap, the Gemini is low in price compared to similar products. It's one of those baby gear items that has great value without demanding a massive investment.
Age and Weight Range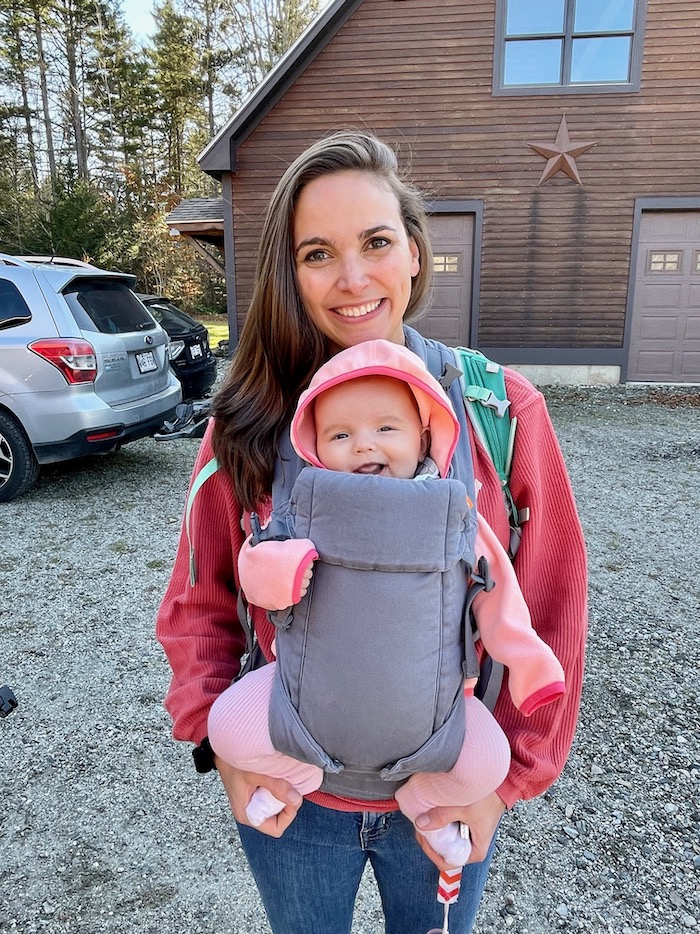 Beco advertises the Gemini carrier as accommodating little ones from their newborn days to toddlerhood. The carrier supports kids from 7 to 35 pounds. We used it for our son until about 12 months, and it's been perfect for our daughter, who is still an infant.
Beco specifies that parents should wait until age four months to use the hip-carry position. The front-facing-out and back-carry positions are safe after age six months. (If you aren't sure what age to start using a baby carrier, check with your pediatrician. Babies with a history of premature delivery or NICU stays may need to wait longer.)
The Gemini fits parents from sizes XS to XXL. This flexibility was one of our top reasons for choosing this carrier, as there is a considerable size difference between my husband and me. Fortunately, this baby carrier is comfortable for both of us to wear for prolonged periods of time.
Baby Positions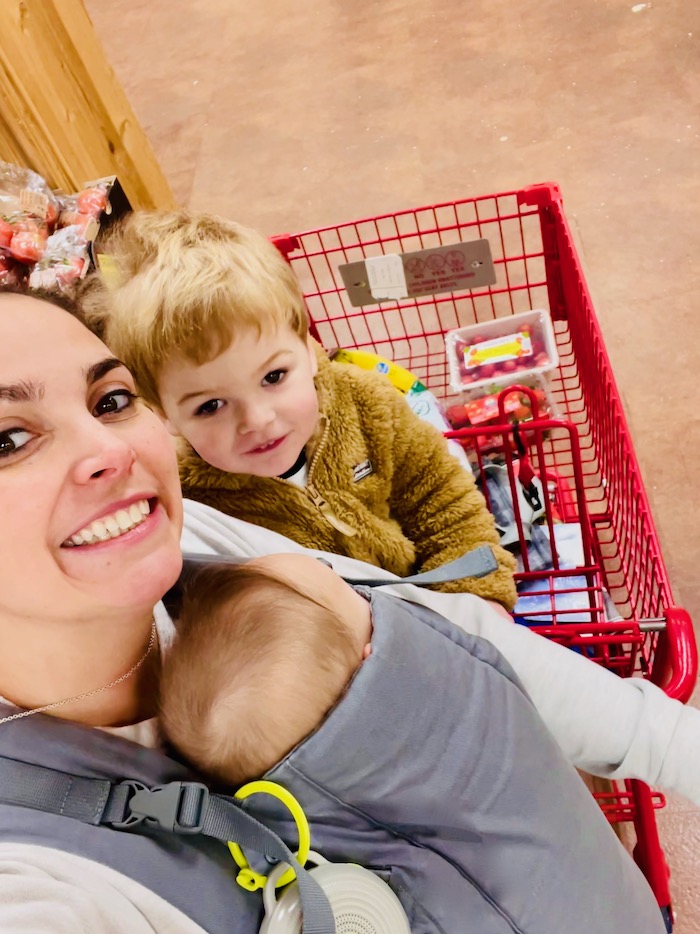 The Beco Gemini baby carrier adapts to four convenient configurations: front facing in, front facing out, hip carry, and back carry. Beco has a helpful playlist of videos that demonstrate how to set your carrier up in each orientation.
I typically only use the Gemini in the front-facing-in position (for naps) or front-facing-out position (for awake time). I prefer the ability to check my baby's face more easily in these orientations. After practicing a couple times at the beginning, I've had no trouble putting my son or daughter in the carrier by myself.
No matter which position you're using with your Beco Gemini (or any babywearing gear), your little one's face should always be visible. Your child's neck should also be straight to keep their airway clear.
Fabric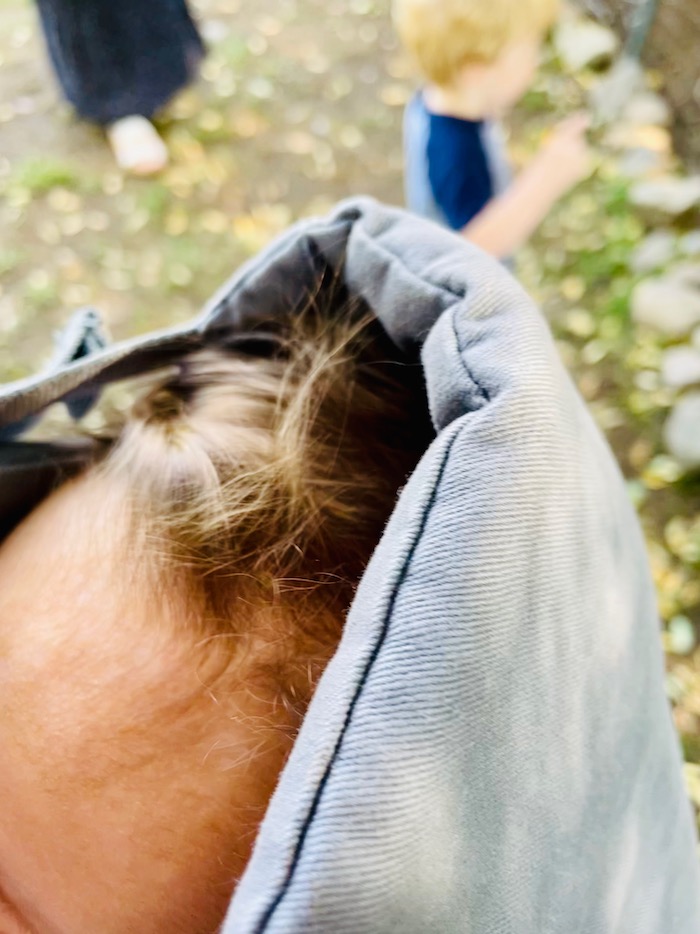 Parents can choose from cotton canvas, organic cotton, linen, and moisture-wicking microfiber when purchasing a Beco Gemini carrier. It also comes in a warm-weather option, with a mesh panel to improve airflow.
The fabric of the Beco Gemini is super thick and soft, so I don't have to worry about scratchy or flimsy material sitting against my baby's head or face when using it.
Aesthetics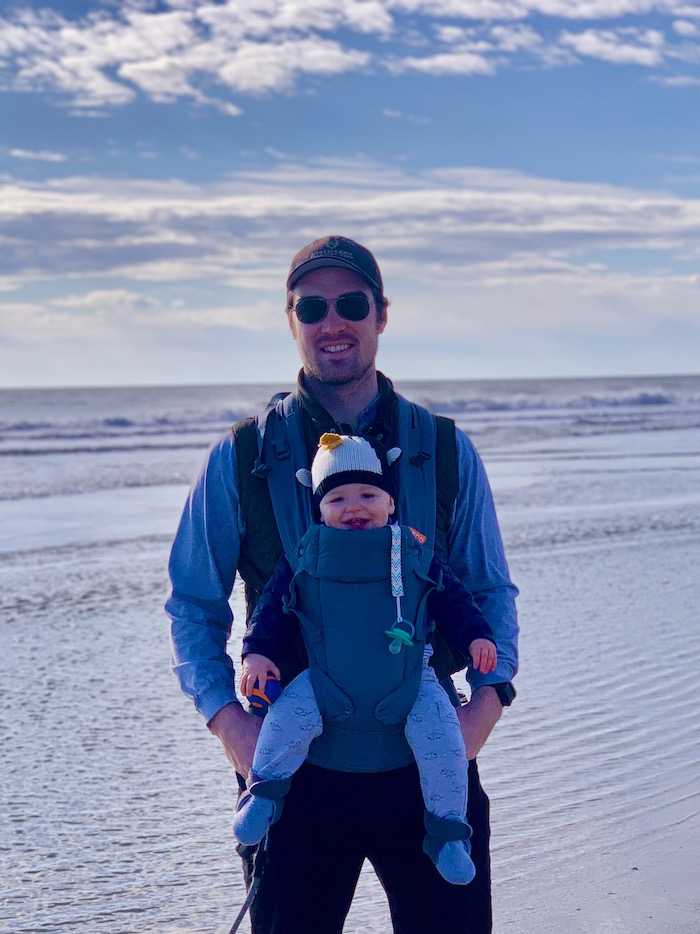 While babywearing is unlikely to win you any fashion awards, the Gemini looks natural on parents and supportive for babies. Parents can choose from twelve color options that vary considerably in appearance. The Gemini comes in everything from kid-friendly clouds and raindrops, to neutral gray, to a nebulous planet design.
Size Adjustments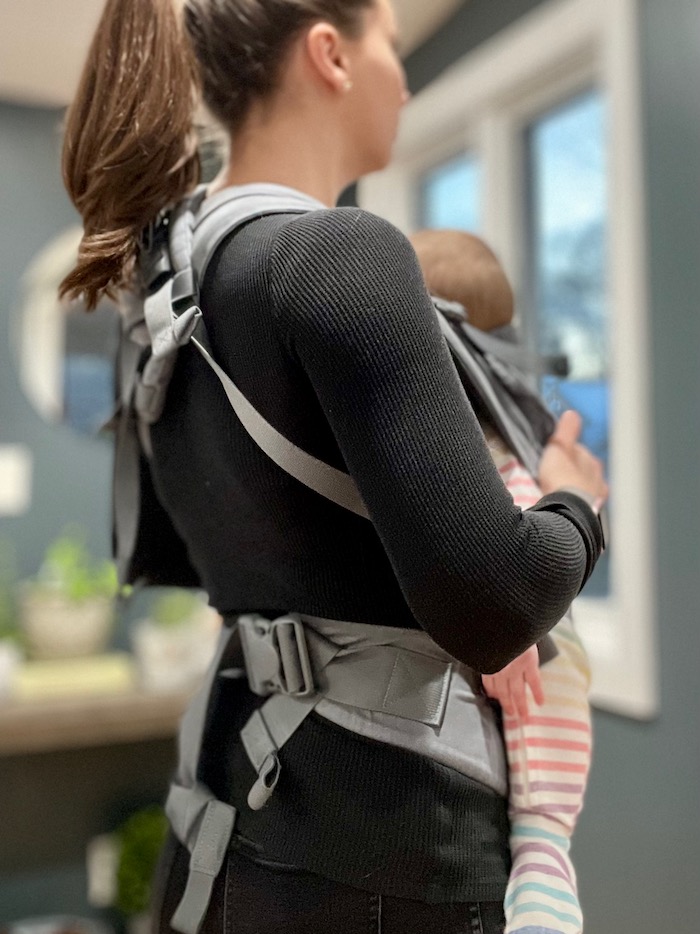 In addition to straps that adjust the carrier's snugness around your baby, the Gemini has two leg width positions. Parents can change between the narrow and wide sizing, depending on the carry position they're using. Doing so is easy and only requires fastening or undoing two snaps.
The Gemini has an adjustable waist strap and shoulder straps for parents. In the front-carry position, the shoulder straps can cross in the back or connect via a chest strap. I find the crossed strap option to be the most comfortable and supportive.
An optional headrest flips up behind the baby's head to provide more support, especially if your little one is snoozing in the front-facing-in position. No infant insert is needed to use the Gemini for a newborn.
Portability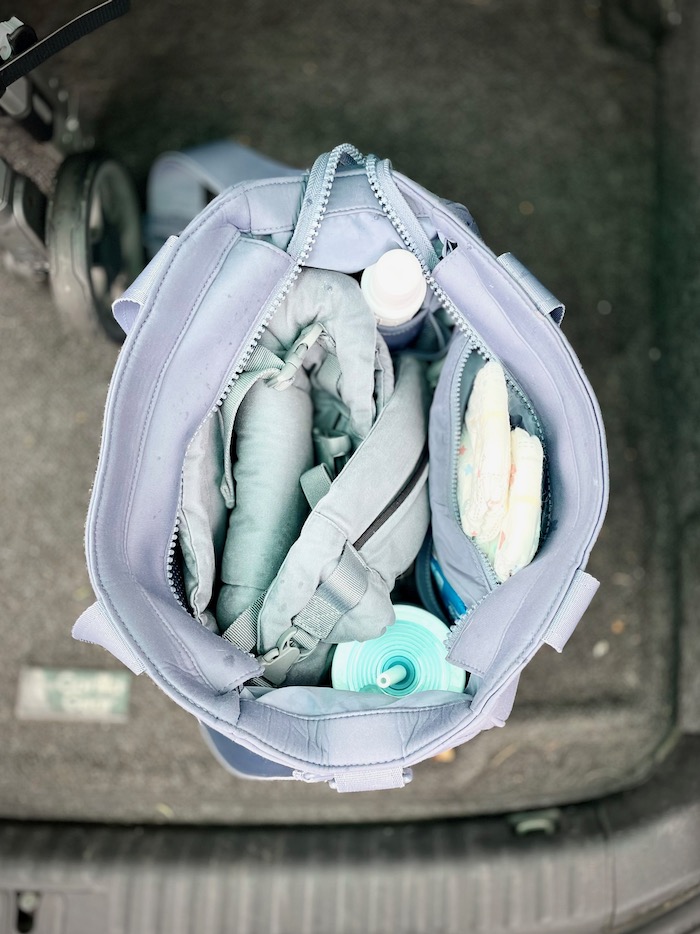 One of the reasons baby carriers are so popular is that they're easy to roll up and stuff into a backpack or under the stroller. Weighing only 1.2 pounds and made of flexible canvas, the Gemini is no exception.
I bring the Beco Gemini almost everywhere I go with my kids, just in case I'll need it while we're out. It's small enough for me to put in my diaper bag, even alongside other essentials like formula, snacks, diapers, and wipes. It's also been helpful for us to use for holding our infant on flights and packing into our carry-on luggage.
Care and Cleaning
When you've had two babies keen to spit up on every surface around them, this thing gets dirty fast. Beco recommends spot-cleaning first and machine washing on the gentle cycle when you really need to. Cleaning instructions advise hanging the baby carrier to dry.
For some parents, the line-dry process can be a major disadvantage of the Gemini. Don't tell anyone, but I do sometimes put it in the dryer when I'm in a rush. After three years of use, our Gemini is still in great condition. I've noticed no deterioration or difference in quality of the fabric over time.
Accessories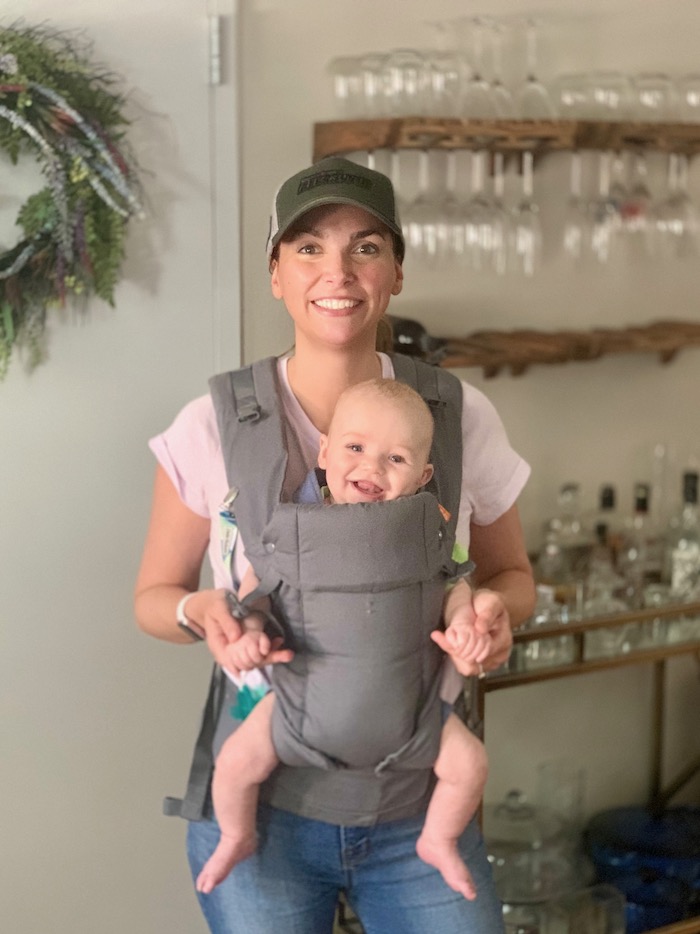 There are no accessories for the Beco Gemini baby carrier. Although some parents might miss the ability to change out a drool bib or attach a zip pouch for more cargo capacity, the lack of accessories keeps things simple.
The baby carrier has an included pocket on the waist belt that can hold keys and a small wallet. If needed, parents can contact the brand at [email protected] to inquire about a waist extender that adds 12 inches to the belt.
Comfort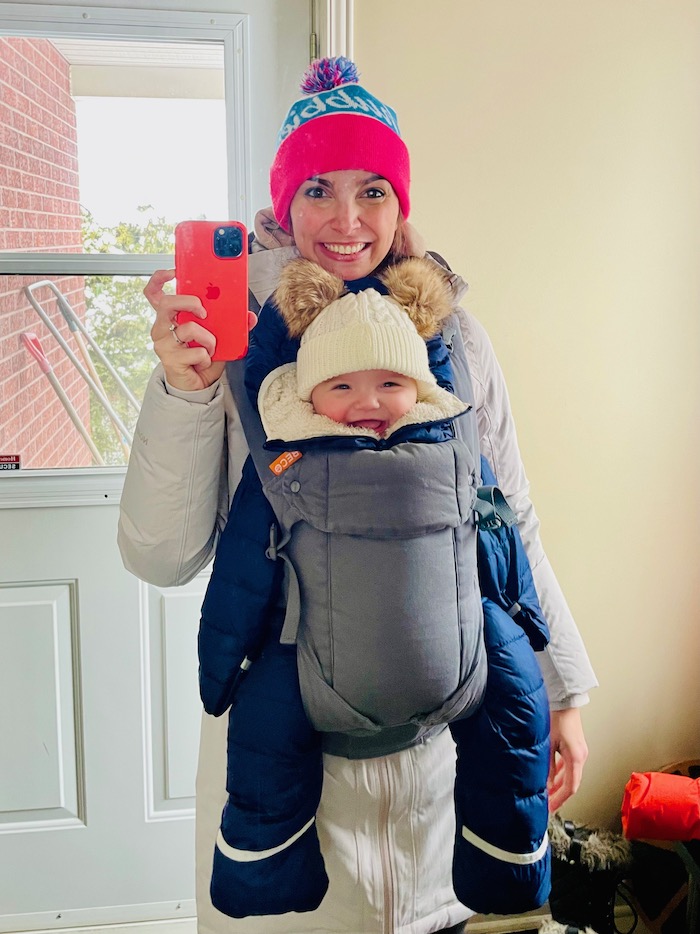 Beco has constructed the Gemini with significant padding for baby and for parents. The shoulder straps are thick and sturdy, and the waist belt is wide and stiff to provide support. Even with a history of lower back injuries, I find the Gemini (and the 20-pound baby inside it) to be comfortable to wear for long periods of time.
When it comes to comfort for babies, the Gemini's fabric is padded wherever it comes into contact with little ones. This includes the cozy headrest that parents can clip up behind baby's head. The Gemini also has extra padding at the leg openings where babies could experience more pinching.
Safety and Infant Joint Health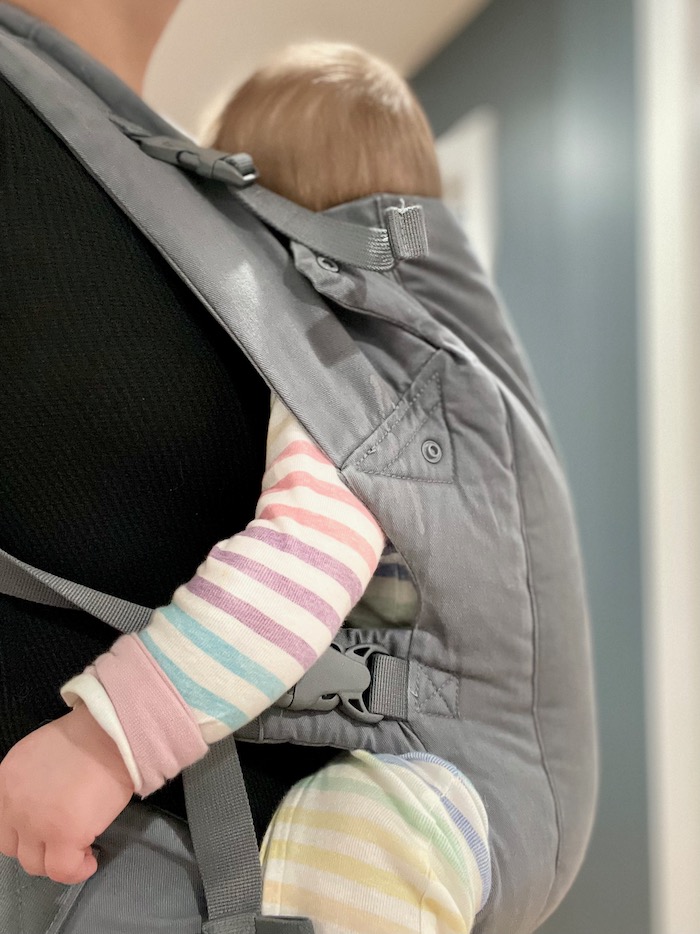 Parents should make sure that any baby-wearing products they use put their baby's hips in a healthy and comfortable position. Some gear can increase the risk of developmental dysplasia of the hip, a condition where the hip joint doesn't develop properly. This is a diagnosis that your pediatrician checks for frequently at early check-ups.
Fortunately, the International Hip Dysplasia Institute has designated the Beco Gemini carrier as hip friendly. It is ergonomic for baby because it offers support from one knee to the other, preventing the weight of the legs from putting stress on the hip joint.
The Upshot: The Beco Gemini Baby Carrier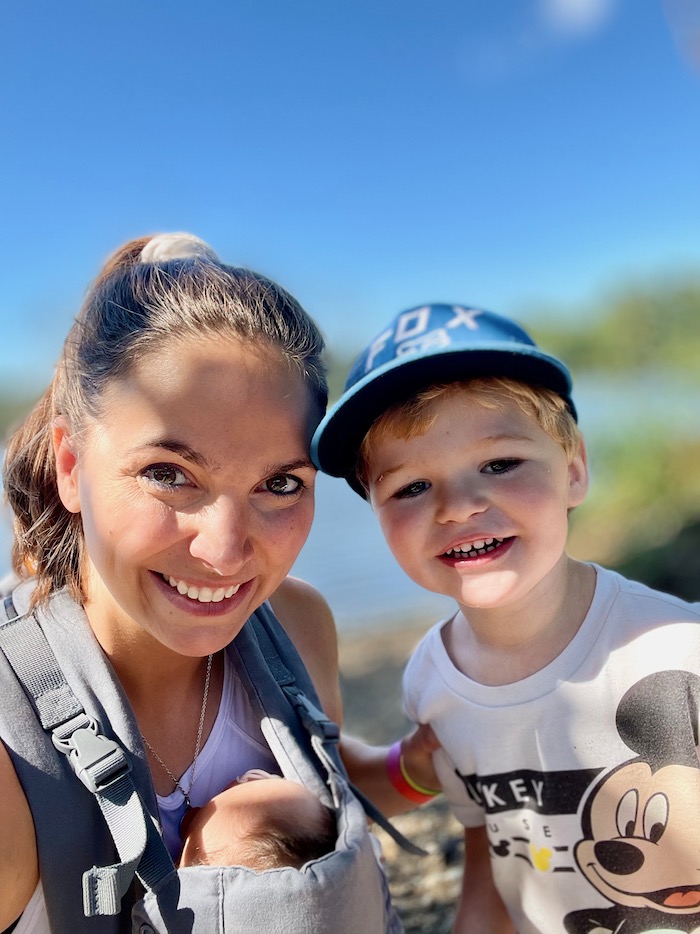 The Beco Gemini baby carrier model has been a vital piece of gear for our growing family. It's not uncomfortable, even for long stints, and it's easy to use when you're by yourself. It's a great carrier for parents of varying heights and sizes, and it offers the flexibility of four convenient carrying configurations.
To compare the Beco Gemini against other popular baby carriers our team has tested, read our comprehensive reviews of the Artipoppe Baby Carrier, the Ergobaby Omni 360, and the Solly Baby Wrap.
Pin me for later: