Is the Guava Lotus Travel Bassinet and Crib Worth It? (Not Sponsored Review!)
When I was building out my baby registry I came across all kinds of premium products with crazy price points.
Like the SNOO Smart Sleeper, Artipoppe baby carrier, anything by Nuna or UPPA Baby, Willow wearable breast pumps, and of course, the Guava Lotus Bassinet and Travel Crib.
I've ended up using and trying all of them, but when it comes to the Guava Lotus, I admit I bought it solely so that I could see if it was worth the hype. Would we bring it on every trip and would we truly love it? Is it that much better than a hotel crib? Let's dig in:
Why the Guava Lotus?
This was my first question. Why the Guava Lotus over any other travel bed?
On our first couple of trips with Felix, starting when he was two months old up until he was five months old we used a foldable portable bassinet. It was so easy. We could stuff diapers or clothes into it and easily fit it in the corner of a suitcase. But he has always been in the 97th percentile for height, so he outgrew it quickly.
So I found myself debating whether it was worth springing for the Guava Lotus, which runs over $300. I did it, also purchasing the bassinet conversion kit as well as the Slumberpod to see if the combination would get us amazing sleep on vacation.
Did it work? Here's everything you should know:
Specifications of the Guava Lotus Bassinet and Crib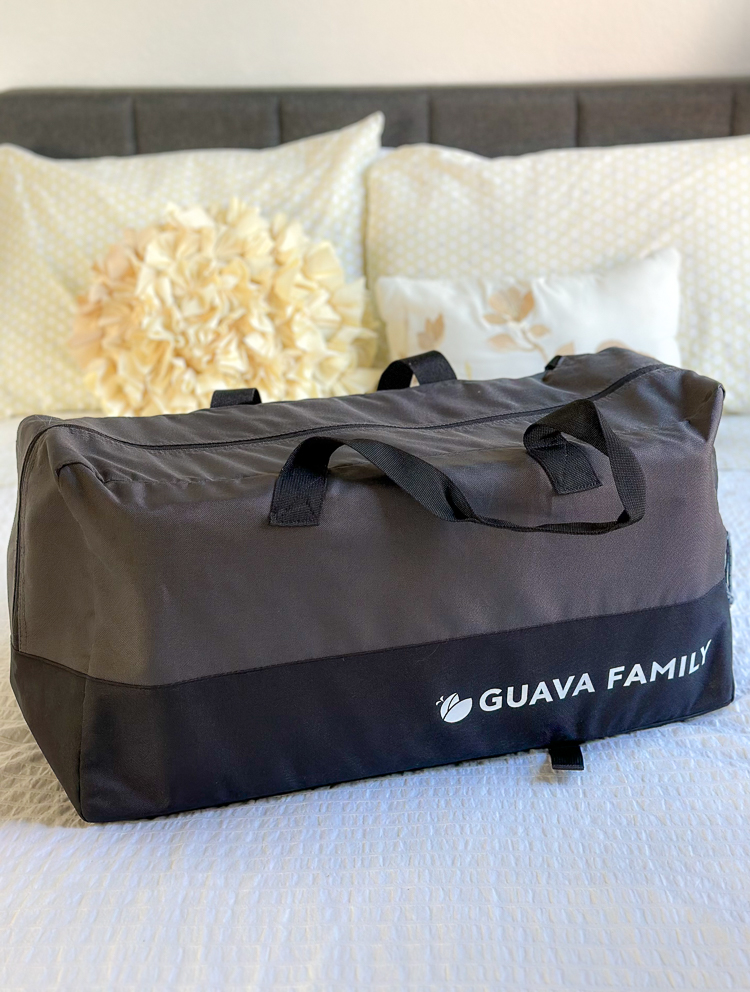 What I like about this product is how lightweight it is. Although it's hard to fit it into a suitcase or checked baggage, it comes with a backpack that is small enough to be a carry-on when flying. It doesn't take up much real estate in the back of the trunk for a road trips either. It's also light and easy to carry.
You could also check it as hold luggage, but I haven't had the guts to do so yet since I would hate to end up with a damaged bassinet.
Bassinet mode:
Interior dimensions: 32 inches x 21 inches (81 cm x 53 cm)
Mattress thickness: 1 inch (2.5 cm)
Weight: 11 lbs (5 kg)
Note that depending on how you orient the legs, you can have it in stationary or rocking mode.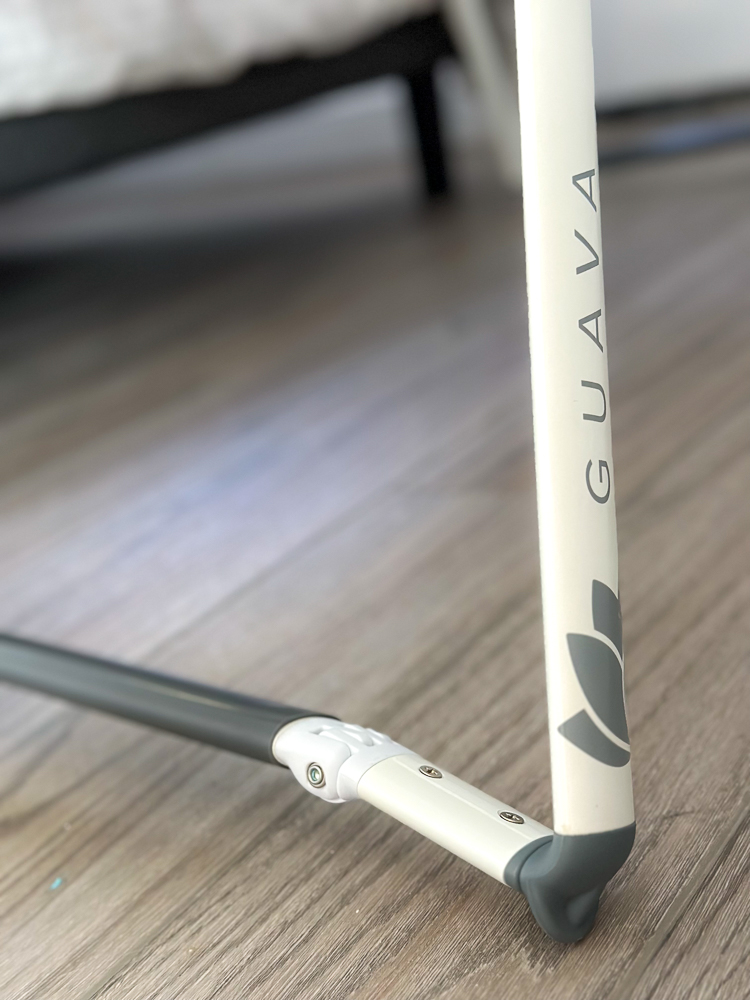 Crib mode:
Interior dimensions: 45 inches x 32 inches (114 cm x 81 cm)
Mattress thickness: 1 inch (2.5 cm)
Weight: 13 lbs (6 kg)
It also boasts being the only travel crib on the market that is GreenGuard Gold certified, which means the item is low in chemical emissions.
Ease of Setup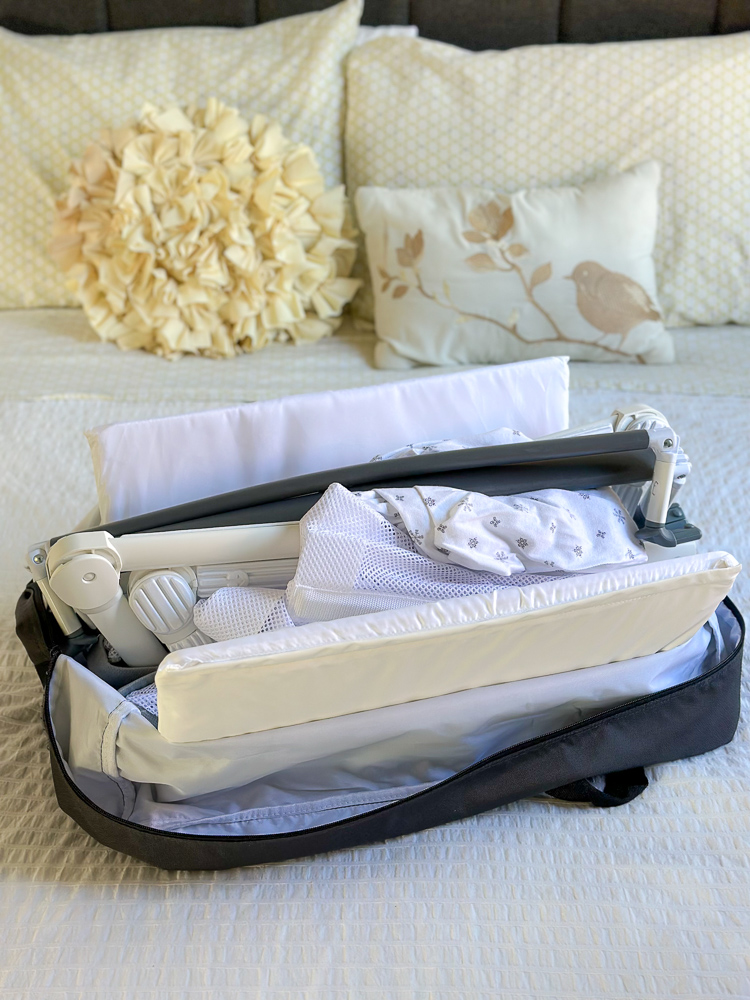 I admit that we had to actually read the directions when it came to assembling the Guava Lotus crib and then the bassinet, but once assembled, you can unfold and re-fold it in a matter of seconds.
It's also possible to assemble and break down as just one person, which I appreciate!
It's so quick and easy that I actually prefer it to asking for a hotel bed. I know that it's safe, I know that he is familiar with it, and I also know that I washed the crib sheet in detergent that won't make him break out.
Do We Love the Guava Lotus?
So far, I like it. Since I bought both the bassinet conversion kit and the crib, I know this is something we can continue to use for years, or until he hits the weight limit.
There are a lot of pros – it travels as well as something of its size can, it's so easy to use, and I feel good about using it as opposed to most hotel cribs, which can vary in quality.
I miss being able to use our much smaller, folding bassinet that could fit into a suitcase, but in terms of anything comparable, the Guava Lotus is the most lightweight option I've found and with the easiest setup.
I do feel like the mattress is very hard. Though I know babies are supposed to sleep on firm surfaces, I wouldn't want to sleep on the Guava Lotus mattress. Having not felt the other options listed below, I'm unsure if they're all similarly firm.
It is also pricey, especially with the bassinet conversion kit at $409 when not discounted, but goes on sale frequently. I bought mine during Black Friday.
You can also get one secondhand. I didn't see any options cheaper than the BF sale when I was looking, so I bought new, but I'll sell on the secondhand market when I'm done!
Other Options and How They Compare to the Guava Lotus
Do you have to buy the Guava Lotus if you want an easy travel crib? It depends on how important certain features are to you. Here are some alternatives:
BabyBjorn Travel Crib Light:
The BabyBjorn Travel Crib Light is another popular option coming in at $279. Like the Guava Lotus, it is easy to set up and take down, and comes with a carrying case for easy transport. The BabyBjorn crib is slightly heavier than the Guava Lotus, weighing in at 13.4 pounds.
It also has a slightly smaller sleeping area, measuring 32 x 44 inches compared to the Guava Lotus' 45 x 32 inches. However, the BabyBjorn crib has a lower weight limit of 30 pounds compared to the Guava Lotus' 35 pounds. Both cribs have similar safety features, including breathable mesh sides and a firm mattress, and are free from harmful chemicals and flame retardants.
The downside for me was not having a front zipper like the other options on this list. Not having to always bend over the side to pick up or lay down my child was important, since traveling without a changing table is already hard on the back.
Lumiere All-in-One Lightweight Travel Crib:
The Lumiere All-in-One Lightweight Travel Crib is another lightweight and compact option at 13 pounds – the same as the Guava Lotus.
The Lumiere also includes the bassinet conversion kit and a white noise machine, making it a more inclusive option for the price – $229. One downside is the shape and bulk make it not suitable as a carry-on, which was essential for me.
Nuna Sena Aire Travel Crib:
The Nuna Sena Aire Travel Crib is a high-end option at $350, or $450 with the changing table, for those who are looking for a luxurious travel crib. It has a sleek and modern design, and comes with a bassinet attachment for younger babies. The Sena Aire crib is larger than the other three options, measuring 41.3 x 29.5 inches. It has a weight limit of 30 pounds. It is also the heaviest option of the four, weighing in at 22 pounds. The Sena Aire crib has similar safety features to the other cribs, including breathable mesh sides and a firm mattress, and is also free from harmful chemicals and flame retardants.
Overall, each of these travel cribs looks great, but the Guava Lotus crib stood out to me out for its versatility, with the front zipper, shape, weight, and size making it a viable carry on.
Would I buy it again? I believe it's the best one on the market for our needs, so yes, I would. You can get yours here.
*This post contains affiliate links that support our site at no extra cost whatsoever to you when you purchase through them. We only promote products that we use and love ourselves. Thanks so much for your support!