Is Caden Lane Worth It? (Matching Family Bathing Suits Review)
If you've been searching for bamboo baby clothes or family matching swimwear, you've probably come across Caden Lane.
That's how I stumbled upon Caden Lane when I was searching for the perfect summer swimwear for my little one and my postpartum body. The matching swim line caught my attention because, let's be honest, who doesn't love twinning with their kiddo?
But would the quality be good? For the price, I certainly hoped so. Here are my thoughts after pressing the purchase button:
Caden Lane Quality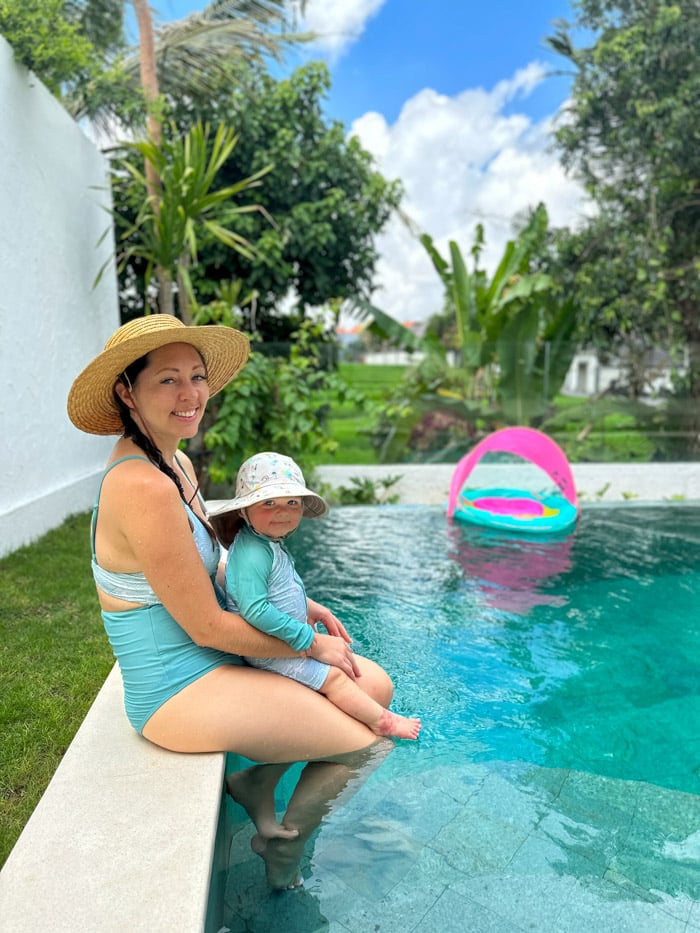 First thing's first, the quality of Caden Lane baby clothes is great. Like my favorite bamboo baby clothes (which is all my son wears), their blend is 95% bamboo viscose. It's the softest fabric on Earth.
I was also thrilled to find that their swimwear is made from a durable and quick-drying fabric. When kids outgrow everything so quickly, I like being able to use just one suit throughout the day. They're hard to get on when they're wet, so the quick dry is a must.
The material is also thick, comfortable, and doesn't irritate delicate baby skin, which is a huge plus. I have the mom version, and I'm happy to report it's comfortable.
Caden Lane Lineup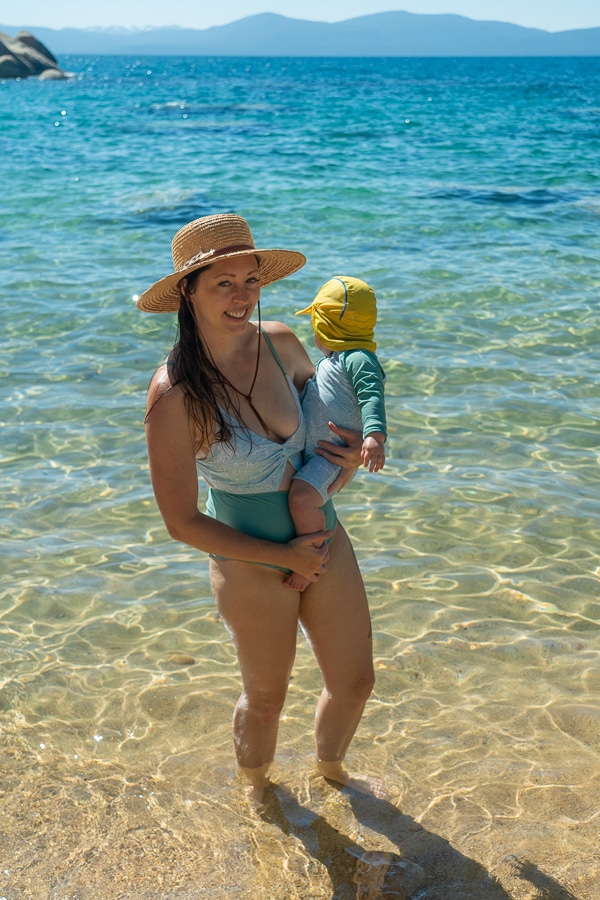 For babies, Caden Lane makes newborn gowns (also out of bamboo), personalized newborn gowns, zippered rompers and footies, and personalized graphic bodysuits.
Their personalized line is where I think they stand out. You can personalize just about anything from wooden name birth announcements to hair brushes, clothing, swaddles, name blankets, crib sheets, changing table covers, and toys.
They have a color-me collection as well, which lets older kids color in their own clothes. I love this idea for when my son is older!
However for my purposes, it was all about the mommy (or daddy)-and-me matching swimwear. Their matching swim line is filled with vibrant colors, adorable prints, and unique combinations that make for some seriously cute photo opportunities.
I love that there are so many options for babies, from ruffled bum suits for girls to boy's swim trunks, fully body suits, shorties, and one peices for mom.
The summer essentials bundles come with matching accessories like hats, silicone toys, sunglasses, headbands, or swim diapers, completing the look and adding an extra touch of cuteness. It's these little details that truly make their swim line stand out.
Caden Lane Swim – What I Like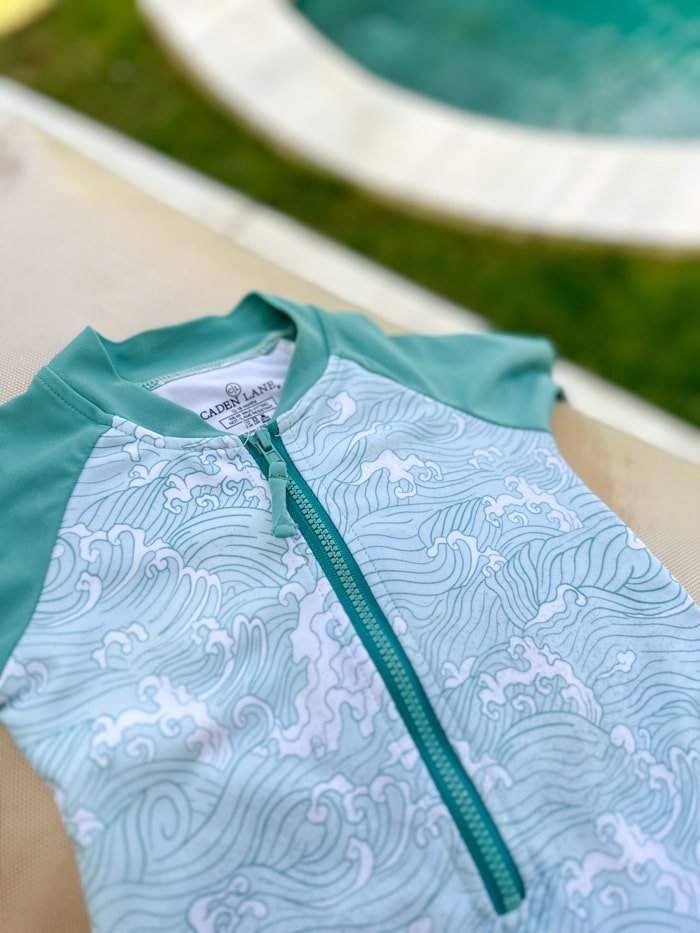 I loved having so many patterns to choose from for the swimwear. Being able to get matching hats, sunglasses, and even toys is great as well, and honestly really clever on Caden Lane's part.
Their suits are also detailed and made of quality material. Some bathing suits are thin and leave little to the imagination. These are well-lined and feel like they'll hold up well over time.
The girl suits are also adorable, with ruffles, rouched shoulders, and so many styles to choose from. There are fewer for boys, but that's always my experience when shopping for my son.
Plus, I love supporting a mom/woman owned company.
Caden Lane Swim – What I Don't Like
Now, as with any product, there are a few aspects that could be improved. While I adore the designs and quality, I did find the pricing of Caden Lane baby clothes to be on the higher side. However, I believe the price is justified considering the exceptional quality and unique designs they offer. Plus, it's worth investing in clothing that will last and can be passed down to siblings or friends' little ones.
Another minor drawback I experienced was the limited availability of sizes. It would be fantastic if their full-body zip suit was for more than just sizes up to 12 months. My son is only a year old, but he's big for his age, so we had to go with a larger size which meant the shorty, which has less sun coverage. However it fits him well with some room to grow, which I like.
There are also only two styles, at least at the time of this writing, for women's suits – a ruffled one-piece and a cut out style, which is what I bought.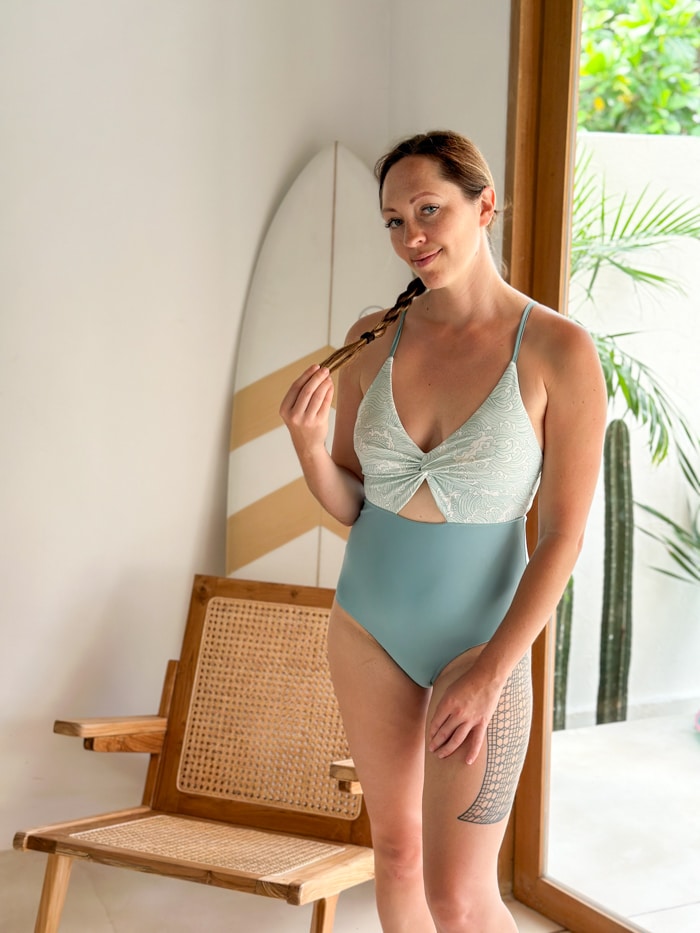 Now let's talk about the fit of my suit. Overall, I like it and think the style could be flattering for just about anyone. The shoulder straps are adjustable, which is helpful. That said, I have a long torso (I'm taller than average at 5'8), but if you are much taller, this might not be the best fit. I am wearing a size large, which is just barely the right fit for my current body (I'm around 150 lbs). I wondered how anyone larger would get a suit that fits, but saw that they do offer sizes XL and 2XL. I'd say these run on the slightly snugger side, but not overly so.
Would I Buy Caden Lane Again?
I like what we got. Would I buy a bunch more? Probably if there were additional styles or the suit was SO flattering I couldn't resist, but overall, for the opportunity to match and to feel comfortable and look pretty good doing it, it's a good choice.
To sum it up, my experience with Caden Lane's matching swim line was a positive one. The combination of exceptional quality, trendy designs, and cute details make it worth trying.
While the price point may be a bit higher, the ability to personalize so much and to match is a lot of fun. Happy splashing!
*Some links in this post are affiliate links that support this site at no extra cost to you. Thanks for keeping us going!