Is the Osprey Poco LT the Best Carrier? A Hiking Mom's Honest Review
For those of us who loved hiking prior to having a little one, or even just those of us who want a more convenient travel experience than a stroller can provide, finding the right baby/toddler carrier is essential. It's what gives us our freedom back, but only if it's comfortable, functional, and compact.
As avid hikers with a heavy baby, this is how I feel about the Osprey Poco LT after hiking over 10 miles with it on four different trails including in the snow, plus every day use: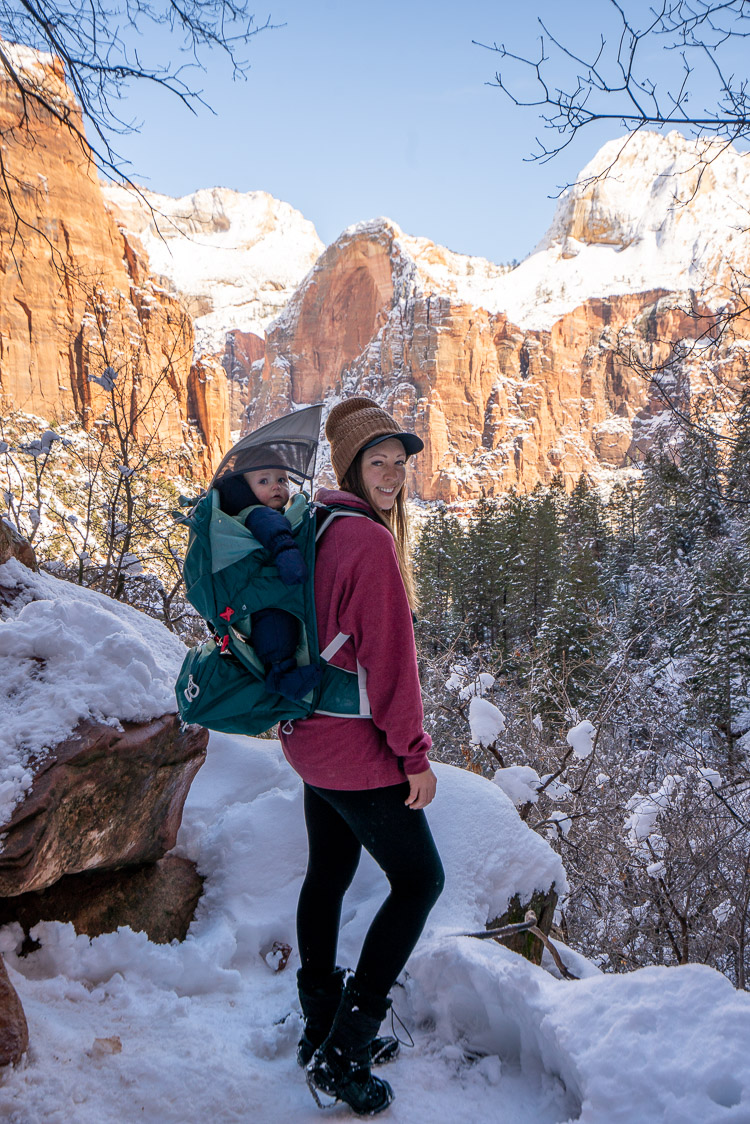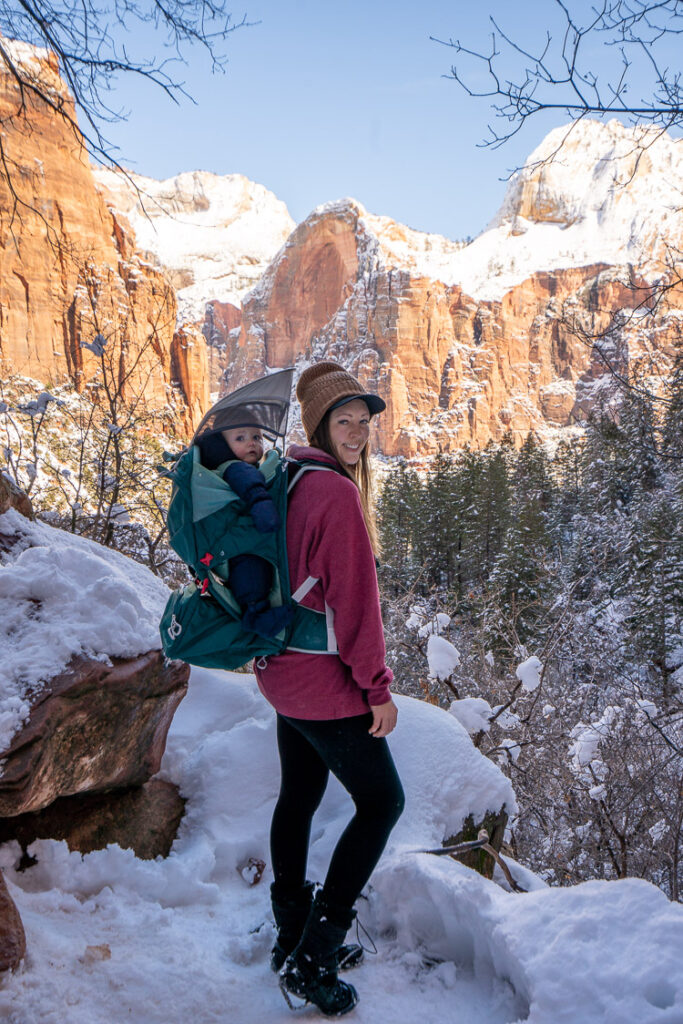 Osprey Poco LT Specs:
Osprey is a backpacking brand founded in Santa Cruz, California in the '70s. They're known for making quality camping and hiking gear as well as advocating for preservation of our natural areas.
The Poco LT is known for being slimmer and lighter than other carriers, which makes it easier to pack and travel with, plus it has an SPF 50+ sunshade and a storage compartment underneath your little one. In addition to the usual backpack straps with similar adjustability to a hiking backpack, there are shoulder straps for your baby as well, keeping them in place. There are small, open pockets on the front hip belt, as well as a pocket for a small camelbak.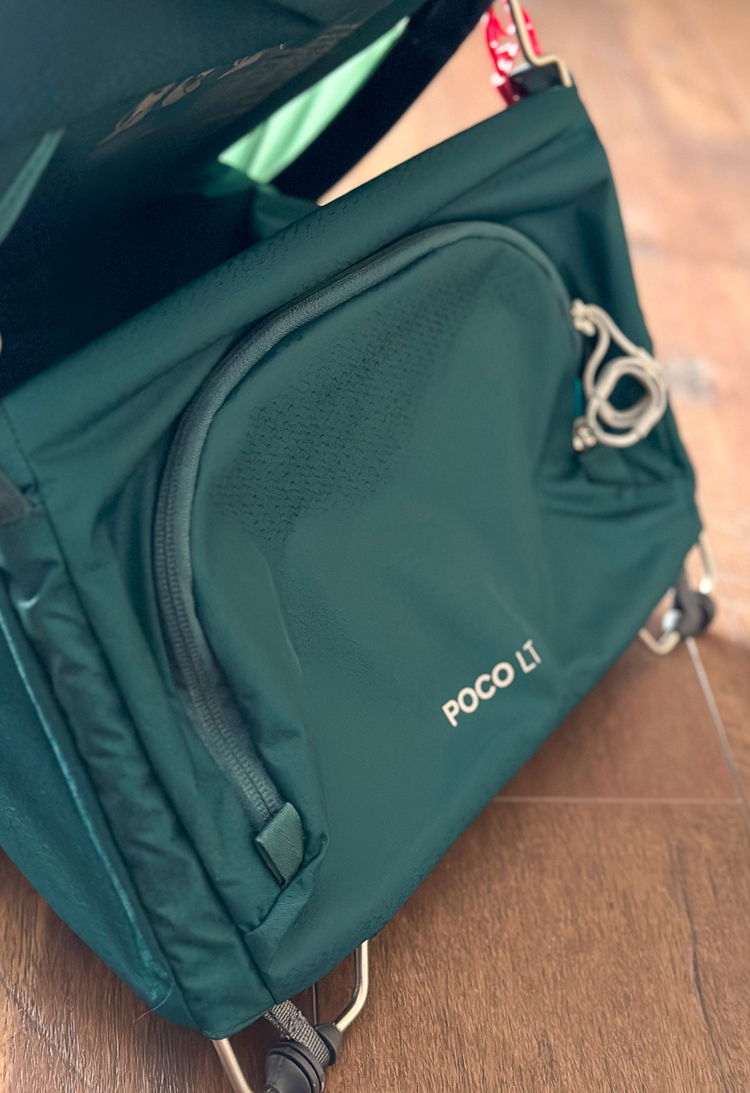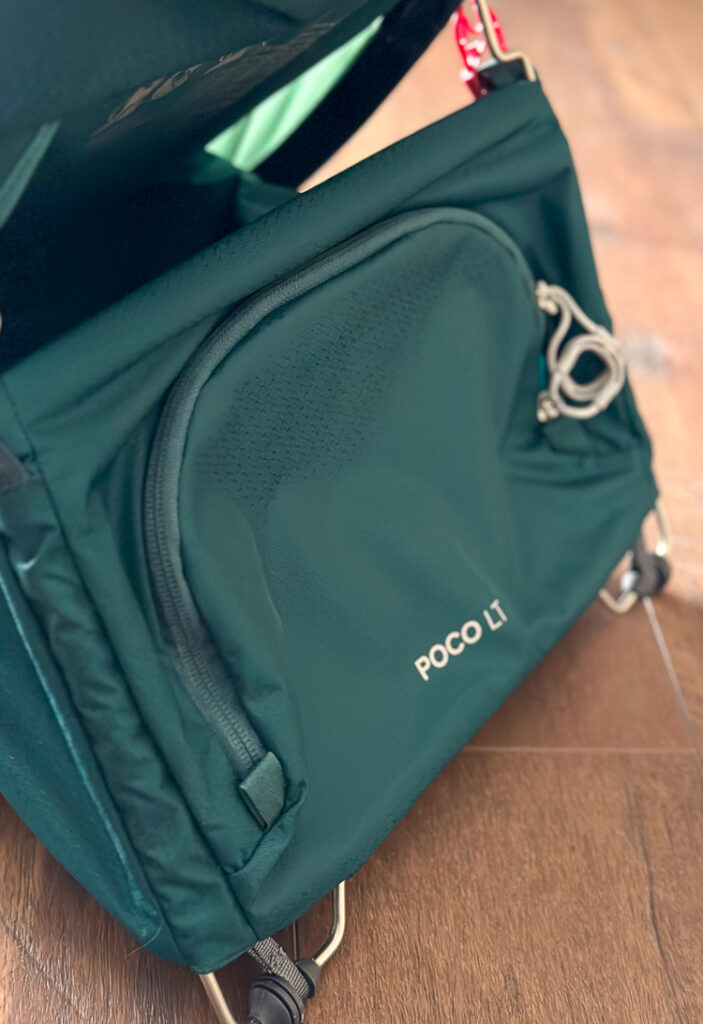 Here are the specs:
Weight: 5.1 lbs.
Dimensions: 24″ high x 13″ wide x 15.4″ deep
Collapsed dimensions: 30″ high x 13″ wide x 4.5″ deep
Storage capacity: 20 L
Minimum child weight limit: 16 lbs.
Maximum child weight limit: 48 lbs.
Minimum child age for use: 6 months (child must also weigh 16 lbs. and be able to sit up with head upright)
Fabric: 210D Bluesign-approved Mini Hex Nylon, PFC-free DWR
Bottom fabric: Fabric: 420D Bluesign-approved Mini Hex Nylon, PFC-free DWR
Putting the Osprey Poco LT to the Test
After absolutely killing our backs in Japan carrying my 20lb six-month-old everywhere we went with a standard carrier, we were excited to put the Osprey Poco LT (which Osprey gifted to me to try) to the test. On our recent trip to Zion and Bryce National Parks, we hit the trails wearing it for hours at a time.
I've backpacked six different eight-day routes through the mountains of Patagonia, Alaska, Peru, the US, and Kyrgyzstan, have traveled the world with a backpack, and have brought over 50 women on their first backpacking trips. I know what a well-fitting pack should look and feel like.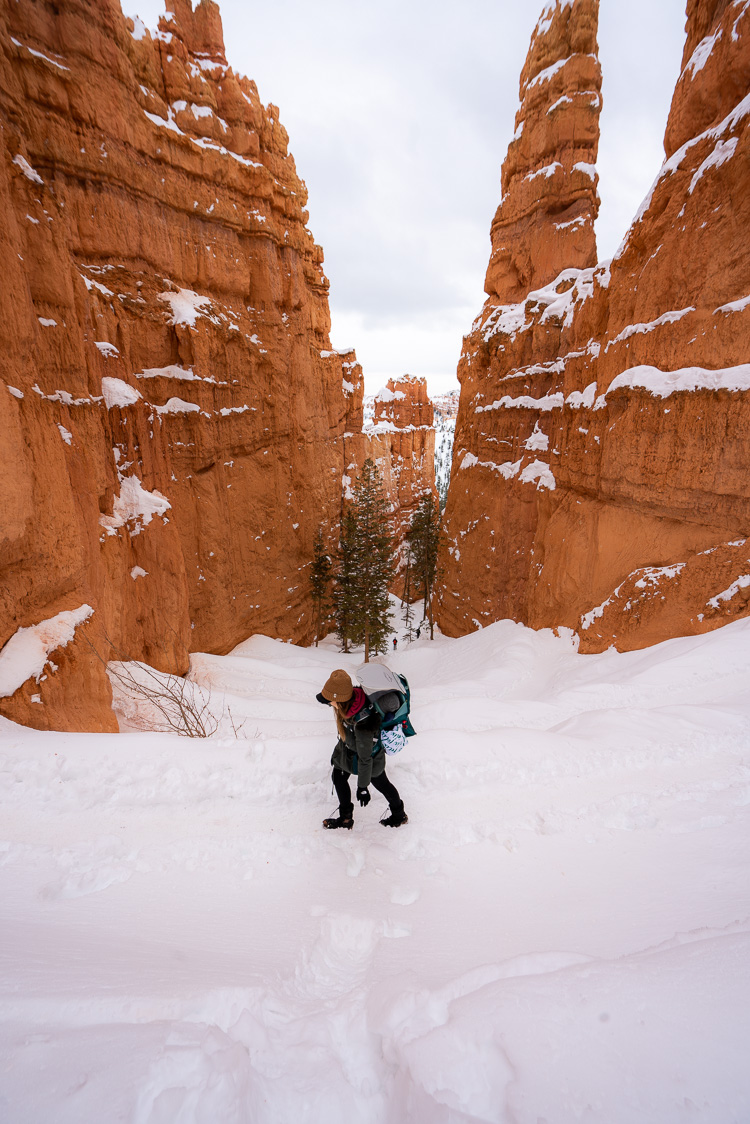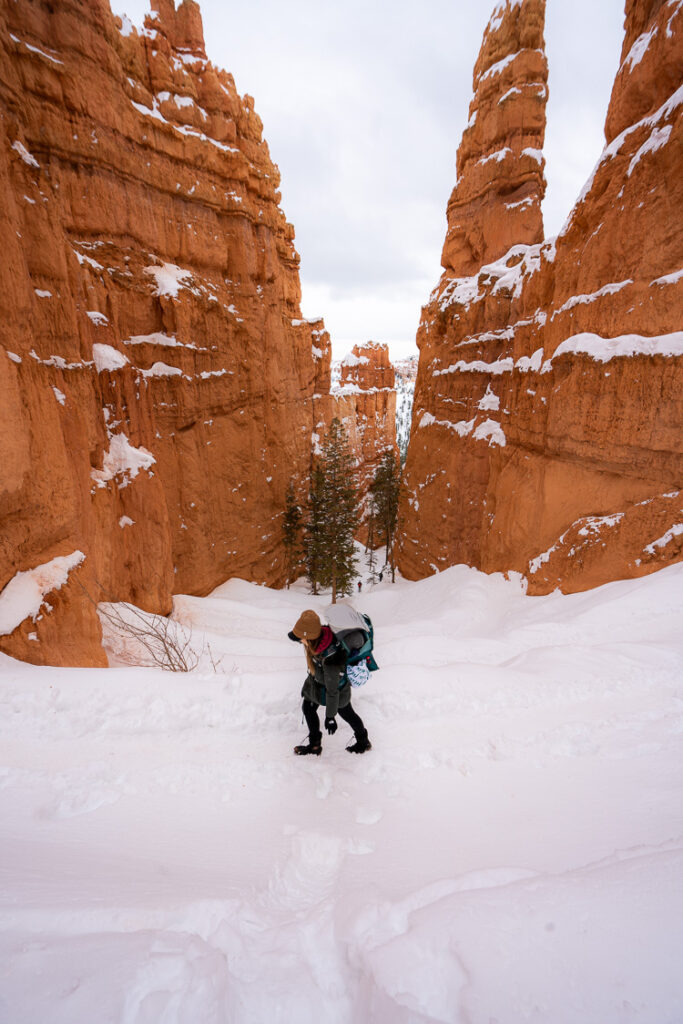 The difference between this specialized hiking carrier and our Artipoppe and Ergobaby carriers was immediately clear – although those are meant to distribute weight well and be comfortable, they can't come close to a hiking backpack with its extra adjustability, metal frame, and better weight distribution. I also think it's a more comfortable ride for our baby, who gets to see everything from where he sits.
Unlike a standard carrier, we can also take the Osprey Poco LT off and place it on the ground, and it'll still keep its shape. I wouldn't leave a squirmy baby in there for long, but it's nice that it can be put down for a second if needed.
The child seat can also be adjusted to grow with your child, and the pack can be adjusted as well for each parent. Garrett is 6'1 and I'm 5'8, and it fit both of us comfortably. Looking at reviews, parents who are closer to 5'1 also like the fit and feel. The velcro back panel makes it quick and easy to adjust for the wearer if there's a greater height discrepancy between parents.
We started with a few short hikes in Zion, each a couple of miles roundtrip in mud and snow. I liked the stability of the pack. It felt secure to my body and Felix didn't get jostled too much. He actually slept through a good portion of it.
Our next hike was four miles with significant descents and gains in Bryce National Park, again in the snow. Although I was starting to feel the weight by the end, it was comparable to how any 25lb pack would feel at altitude. Unlike with the other carriers, once I took him off, I wasn't left with any major back soreness. My hips, however, did feel a bit sore right at the hip point when I put the pack on the next day. This is in keeping with my experience with 25lb backpacking packs as well.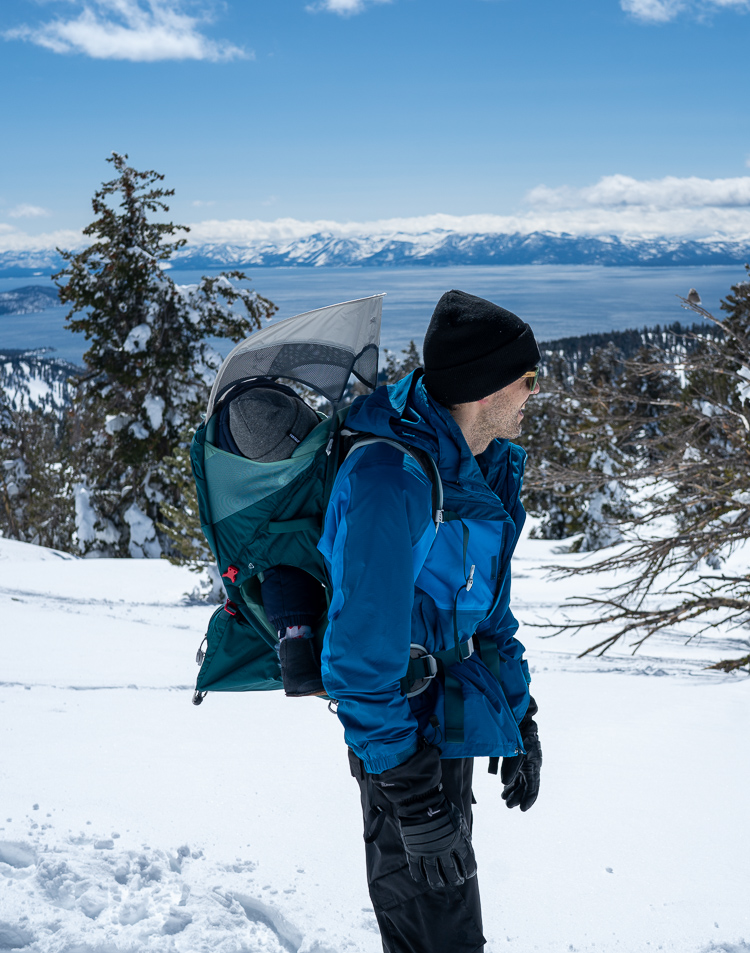 We've also worn it snowshoeing at home in Lake Tahoe, once again with Felix falling right to sleep. Given the fit and Felix's apparent approval of the pack, we're definitely keeping this one and using it until he outgrows it.
How Does it Compare to Other Carriers?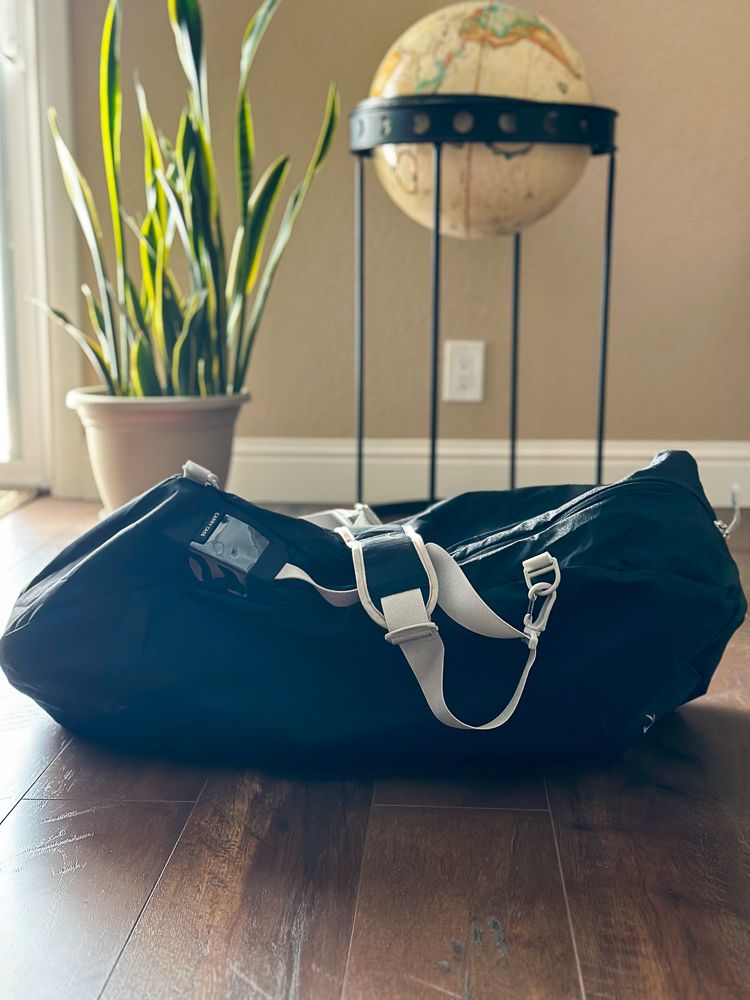 The Osprey Poco LT is meant to be lightweight, which means it prioritizes portability. As frequent travelers who want to be able to fit this into our suitcases, that's paramount to us, but it means it has fewer bells and whistles than some of the other backpacks. Here are the main competitors:
Osprey Poco Plus
Though similar and from the same company, the Osprey Poco Plus has a larger storage capacity of 26 liters, while the Osprey Poco LT has a storage capacity of 20 liters. It also has adjustable foot stirrups for additional support, while the Poco LT does not. The sunshade also comes down completely on the sides, providing added protection, which I would appreciate from the Poco LT. It weighs more than the LT, at 7lbs 14oz, and costs $95 more. Check it out here.
Deuter Kid Comfort Pro
This is the other pack we were seriously considering. It has a detachable day pack with a total capacity of 14 liters, weights 8lbs, 5oz, has a weight capacity of 48lbs, has a sunshade (though less coverage than the Poco Plus), and also has foot stirrups. What I don't love about it is the Aircomfort Sensic Vario back system, which uses mesh to push the pack slightly off one's back. This is also common with some backpacking packs. While some people like this feature as it increases airflow, I have never felt like it was a good way to distribute weight. It comes down to personal preference. This one also costs more at $385. Check it out here.
Kelty Journey Perfect Fit Plus
This is the cheapest pack of the bunch at $269.00. It also features foot stirrups and has a weight capacity up to 48lbs. The pack weighs 6 lbs. 6 oz and has a 14 liter storage capacity. The sunshade does not come with the pack and must be purchased separately. Since this is an essential feature, it makes the cheaper price a bit less 'cheap'. I also just think it looks a bit strange. Check it out here.
Out of everything out there, I preferred the Osprey Poco LT since it's the most lightweight and compact. When you're hiking, every single gram matters, and the fact that it's more than a pound lighter than everything on this list, and still has all of the features I wanted, particularly compact-ability and a decent capacity, as well as an included sunshade, it wins out for me. So far, I can't discern whether the foot straps are that big of a deal, though I will probably see if I can get a sunshade with more coverage since we have bright, sunny summers.
For the price and most importantly to me, the weight, I'm fairly confident this is the best baby and toddler hiking backpack out there, and highly recommend the Poco LT. Happy hiking!
*Some links in this post are affiliate links that support this site at no extra cost to you. I only recommend products I use and love. Thanks for your support!