My Carry Potty: Travel Potty Review from a Mom with Experience
If you've gone through the beautiful, unique, and life-changing journey that is potty training, you know that not all potties are the same. Some are sized better for little bottoms, some are easier to use, and some are cute and fun (yes, I just called a potty cute and fun).
After starting to train our son, we decided to buy a My Carry Potty for travel. Below I'll share my honest review of it, including what I love and what I wish were different.
The My Carry Potty Brand
My Carry Potty has been making products to facilitate the potty training process for families since 2009. Mom of three Amanda Jenner invented the My Carry Potty when training her oldest child. She is now an expert in the subject and author of the book Potty Training Magic.
Based in London, My Carry Potty sells a full suite of gear, including a travel potty, trainer seats, step stools, training underwear, and educational materials.
Why We Bought a My Carry Potty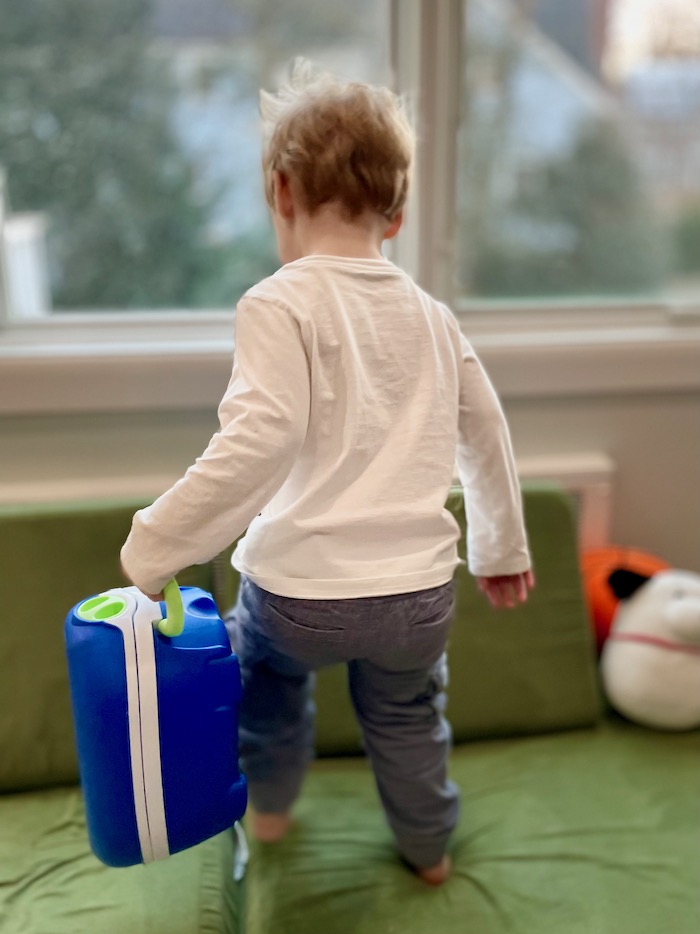 I never thought I'd be writing a review for a children's potty, but here we are.
A couple weeks after we started potty training our toddler son, we took him to the playground with our giant Summer Infant kids toilet in the stroller. Even though we didn't end up using it, a nearby mom saw the comically large children's potty we had brought with us, and kindly told us about the My Carry Potty. She claimed it was a lifesaver for on-the-go adventures.
Deep in the trenches of potty training and well aware that we needed a potty with us everywhere we went, we ordered a My Carry right away. The mom we spoke with was right — this thing is great. I am forever indebted to her for freeing us from lugging our huge kids potty around everywhere we go. Thank you, whoever you are!
My Carry Potty: Weighing the Pros and Cons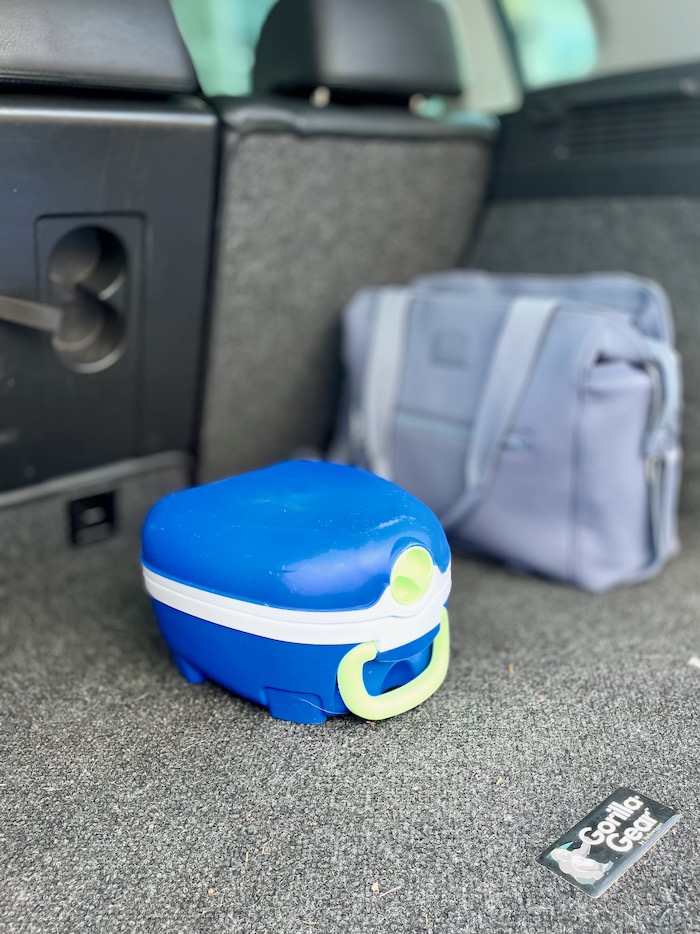 The My Carry Potty is a small children's toilet with a leakproof seal. I'm glad we bought one, but I wouldn't want it to be the only kids potty we have.
Here are some of its major advantages and disadvantages:
Pros
The My Carry Potty is small and lightweight.
The included carry handle makes it easy for even toddlers to hold.
It comes in tons of cute colors and patterns.
It seals completely shut, preventing any mess or smell from escaping.
When sealed, it's not obvious that it's a potty.
Cons
The seat is thin and potentially uncomfortable for toddlers to sit on for long periods of time.
The toilet bowl area is small and shallow, with a mediocre splash guard.
It contains no storage pouch or pocket for wipes or other essentials.
Cleaning it in public places can be awkward (compared to other travel potties that use disposable bag liners).
Detailed Features and Specifications
Let's look a little closer about all the features you'll appreciate in this travel potty:
Cost
The My Carry Potty costs about $35. Although it isn't expensive, toddler gear adds up, and it's more costly than most travel potties.
Portability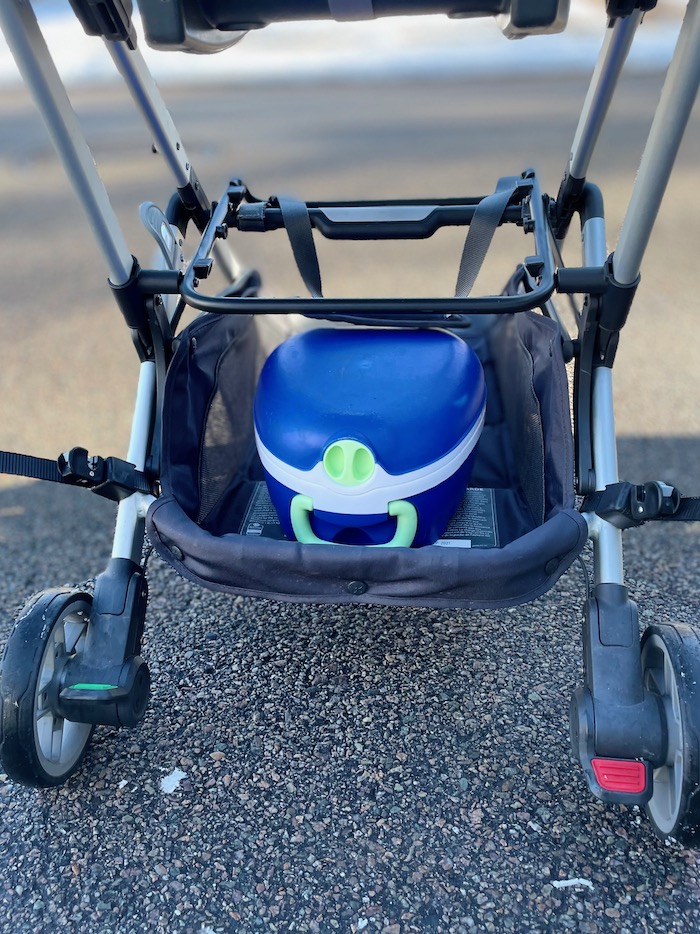 One of the best features about the My Carry Potty is its portability. Thanks to its light weight (less than two pounds) and chunky handle, it's easy for even toddler hands to carry. Toddlerhood is all about kids wanting to be independent, and having the ability to carry their own potty is no exception.
The My Carry is 10.2″ long by 9.3″ wide by 5.3″ tall. It's small enough to tuck under the seat of the car or fit into almost any stroller basket.
Age range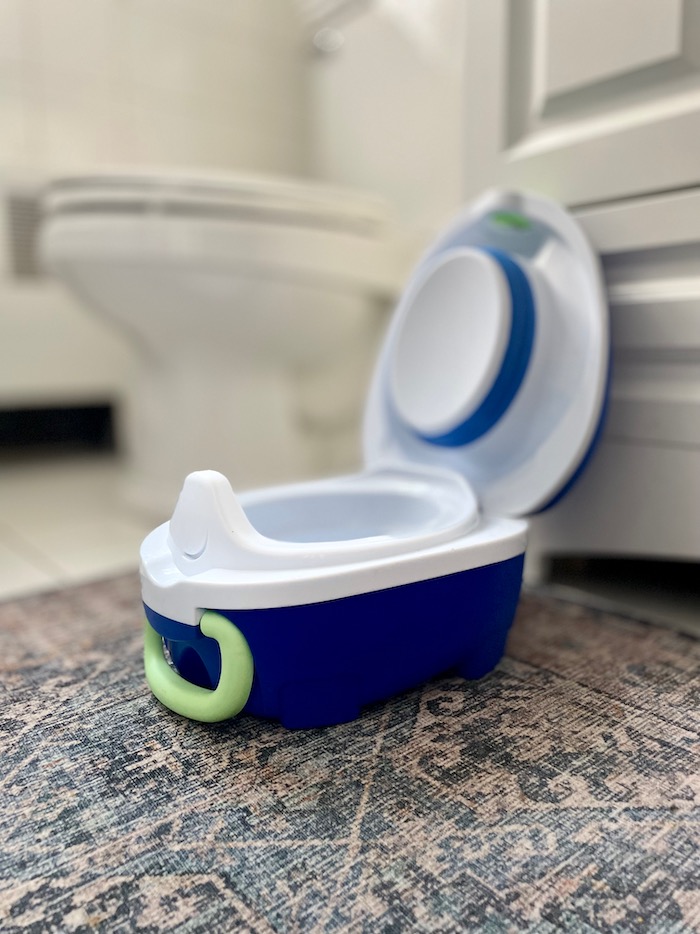 The My Carry Potty is appropriate for kids from age 15 months to over three years, with an impressive weight limit of 50 kilograms (110 pounds).
Even though its weight limit is high, the My Carry is small. It seems less comfortable for larger children to sit on, so it's likely that your child will grow too tall to use it before they're actually too heavy for the seat.
Aesthetics
If you've started potty training your child, you know that sometimes you have to make the toilet seem fun. The My Carry Potty team makes this easy. It's available in 14 different colors and patterns, from bright blue or pale pink to a penguin, a bumble bee, and even a cow. Seriously — who isn't excited to go to the bathroom on a pink dragon-themed toilet?
Leakproof seal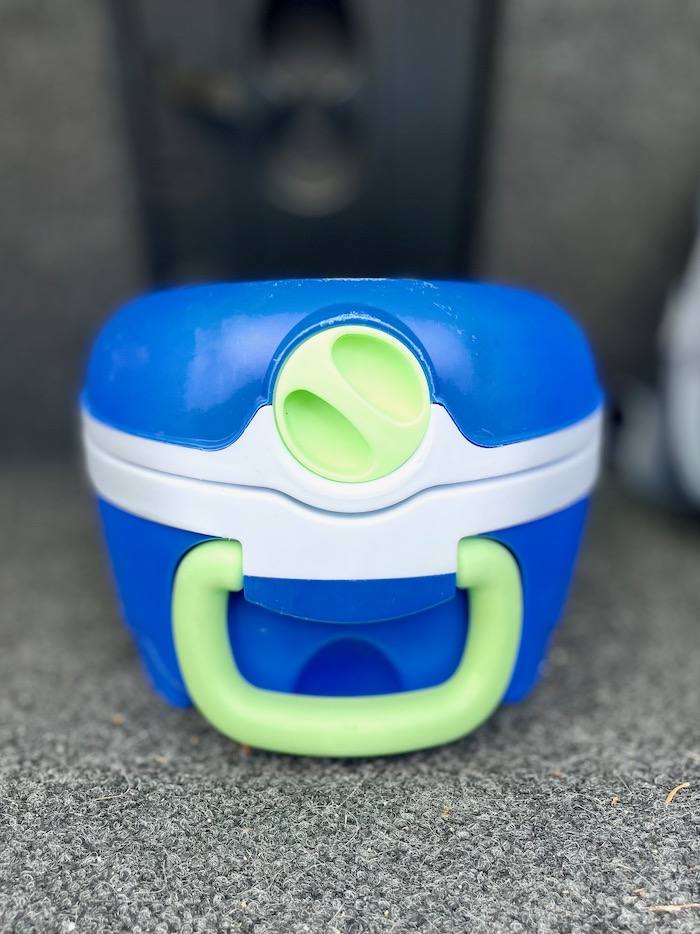 Sometimes it's easy to clean your child's potty right after they use it, but sometimes it's not. The last thing you want is to be stuck with a dirty one and nowhere to empty it. Fortunately, the My Carry Potty has a dial-controlled airtight seal. Parents can tightly close the toilet (and any accompanying smells) and bring it to a good spot to clean it.
Cleaning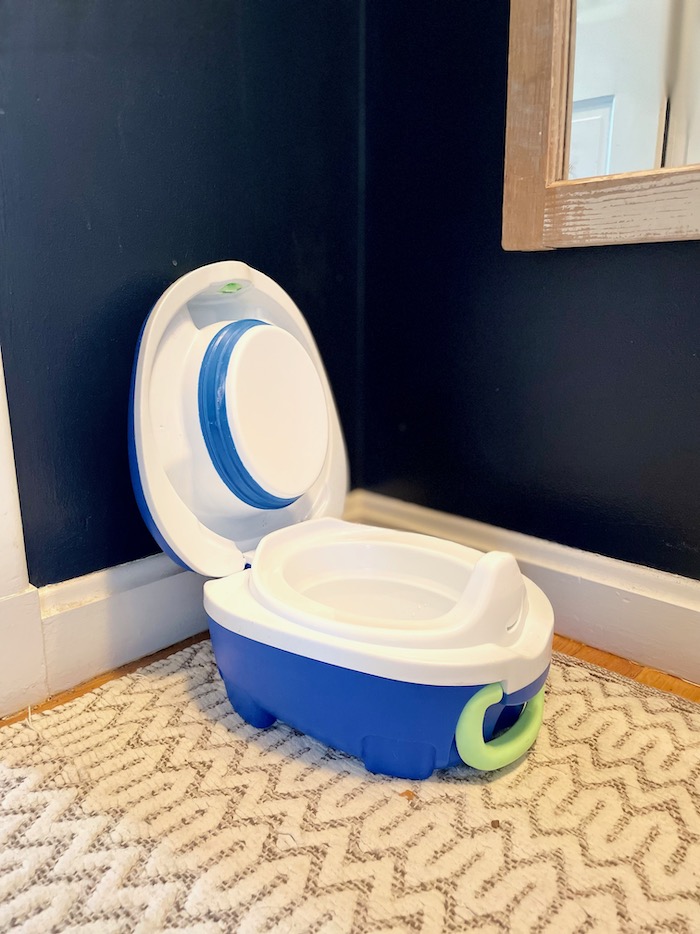 The My Carry Potty doesn't use disposable bags, making it friendlier for the environment. All parents have to do is open it up, dump out the mess, and use their cleaning product of choice on the plastic bowl.
Another note about cleanup: the bowl itself is small and shallow. The splashguard described by manufacturers as "extra tall" is not that tall, so aiming can be difficult. The upshot is that sometimes the outside of the potty and the floor around it require cleanup, as well as the bowl itself. Ultimately this is one of the reasons that I like having a separate option for inside the house, and only designating the My Carry for travel.
Comfort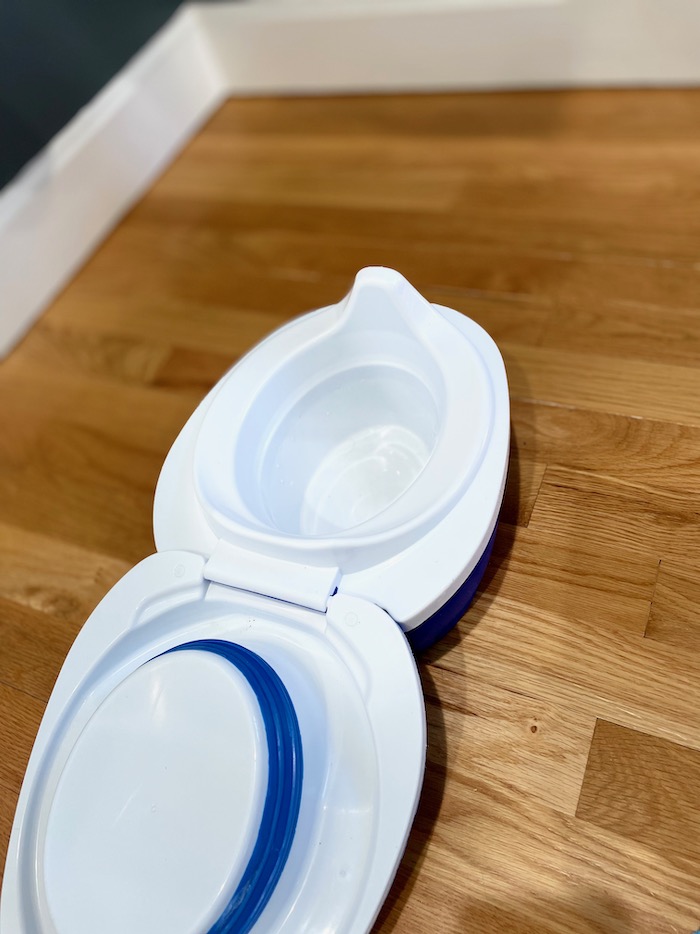 The My Carry Potty website describes a large, comfortable seat for toddlers to use. In reality, the seat is small. The toilet seat rim is thin and close to the ground, so it doesn't seem comfortable for little bottoms to sit on for prolonged periods of time.
As parents know, the process sometimes involves long stints on the potty. Toddlers spend seated time reading, singing songs, or just waiting for that magic to happen. The last thing any parent wants is for their toddler to become uncomfortable on the toilet and discouraged about using it.
While the My Carry Potty is great as a travel and on-the-go option, I do think it's better to have a more comfortable children's potty or toilet trainer seat in the home.
Storage
Some children's potties have storage compartments or pockets to keep wipes or reading materials nearby (they have truly thought of everything). The My Carry is a simple, round potty with no back and no extra space for storage.
How discreet is the My Carry Potty?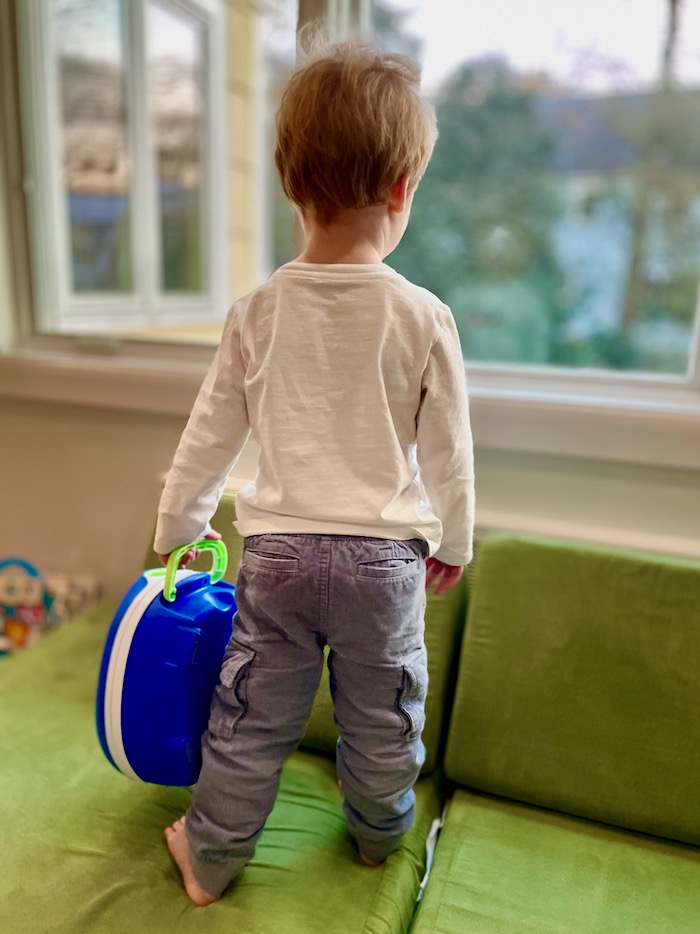 One of my favorite things about this travel potty is that it doesn't really look like a toilet. My son can carry it to the beach with us or pull it out of the stroller basket, and most people (other than my fellow toddler parents out there, who give me that knowing nod) don't suspect it's a toilet. It looks more like a hard-shell piece of children's luggage, making the situation a little more discreet.
Can the My Carry Potty double as a stool (so to speak)?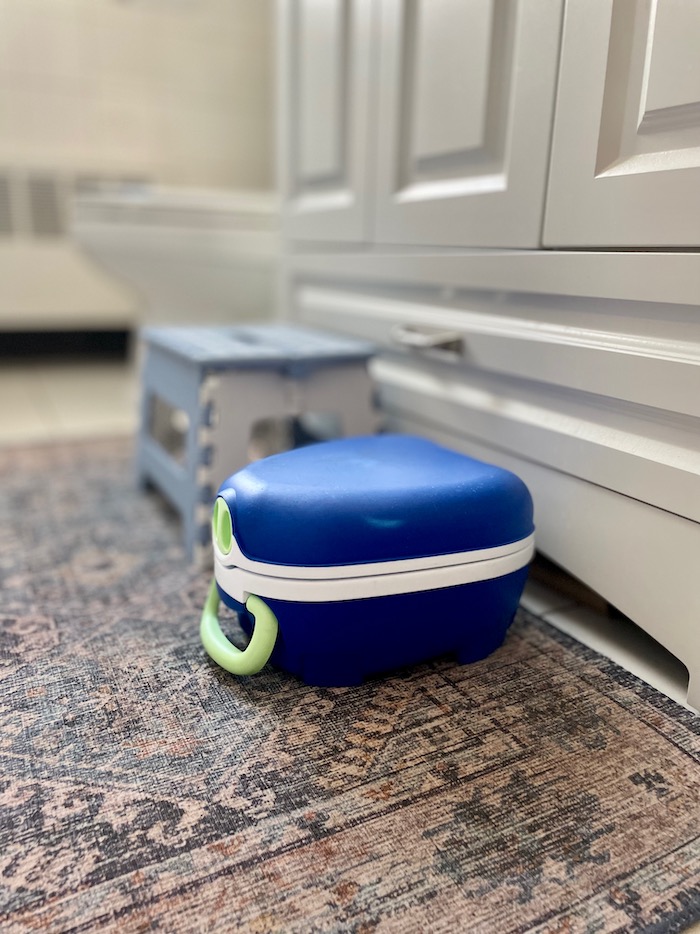 While some potties conveniently double as a bathroom stool, the My Carry Potty does not. Although the no-slip grip on the underside keeps it from sliding around, it's not safe or large enough to stand on.
If you're interested in a bathroom stool with the same styling as your kid's potty, check out My Carry's collection of step stools.
Comparing the My Carry Potty Against Others in the Field
Here's how the My Carry Potty matches up against its competitors and other training options:
Competing travel potty: OXO Tot 2-in-1 Go Potty
The OXO Tot 2-in-1 Go Potty is a folding potty system. The compact toilet seat can sit on top of a full-size public toilet to make children more comfortable and improve hygiene. Parents can also unfold the legs (which collapse completely flat!) to create a standalone potty for use outside or in the car trunk.
The OXO Tot 2-in-1 uses a disposable bag system to keep things clean. Priced at about $21, it's less expensive than the My Carry, but the price evens out pretty quickly once parents purchase the required replacement bags. The OXO Tot Go Potty also includes a travel bag.
Full-size children's potty: Summer Infant My Size Potty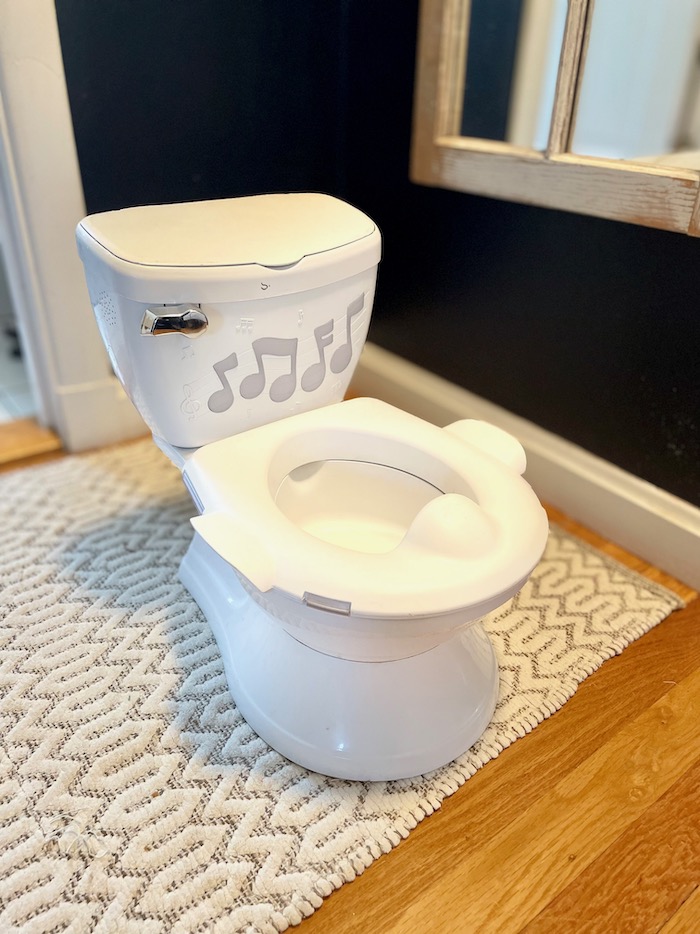 The Summer Infant My Size Potty is the children's potty we have in our home, and I love it. It has a large, roomy seat that's comfortable for our son to sit on, even for long periods of time. It's easy to remove the bowl for cleaning, and there's a convenient storage compartment to keep wipes nearby at all times.
The toilet seat completely comes off to double as a toilet trainer. Parents can even hang it on their in-home toilet with an included hook.
The lights and songs are a bonus that really never gets old. There's nothing better than hearing "Hallelujah" play as our son flushes the toilet and celebrates his victory.
The Summer Infant My Size Potty with lights and sounds costs about $45.
Budget children's potty: Fisher-Price Penguin Potty
This Fisher-Price Penguin Potty is an awesome bargain, costing only about $11. It doesn't have any lights, jingles, or special features, but it's got a cute penguin design and a simple, easy-to-clean bowl that parents can remove from its stand.
The Penguin Potty seat is contoured for comfort, with a splashguard in front. It doesn't fold down or seal, but it is small enough to stick in the stroller or keep in the car for when you need it.
Toilet trainer seat: BabyBjörn Toilet Training Seat
Some parents prefer to use a toilet training seat instead of — or as a transition from — the children's potty. Toilet trainer seats make cleanup easier and help kids feel comfortable sitting on full-size toilets. They are smaller and more portable than children's potties, but they don't allow children to use the potty outside or anywhere other than the bathroom.
I've heard great reviews about the neutral and unobtrusive BabyBjörn Toilet Training Seat, which costs about $35. It's ergonomic for children to sit on and includes a tall splashguard (a must for boys!).
The BabyBjörn toilet trainer has a rubber bottom and an adjustable dial to keep it sturdy on top of any toilet seat. It also has a convenient handle to allow kids to carry it around themselves.
The My Carry Potty: Final Thoughts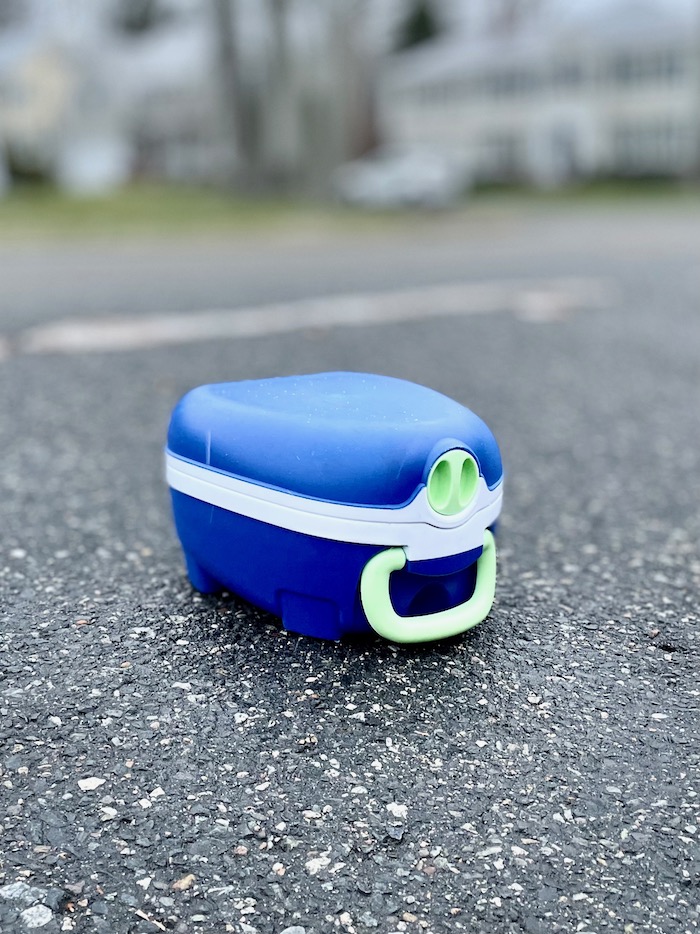 The My Carry Potty is excellent for travel. It's small and streamlined, and it's comfortable enough for toddlers to sit on for short periods of time. Its airtight seal is a lifesaver, and its carry handle makes it extremely portable. Although I'm glad we have an alternate for our children at home, the My Carry has been a major help for us on the go.
Potty training is one of the great adventures of parenthood, and the My Carry Potty can definitely make it a smoother one. Enjoy the journey and cherish those hilarious potty training memories with your precious toddler!