Traveling with a Baby in Bali – Everything You Need to Know
Bali loves babies, and our baby loved Bali. From the adoring locals who would often take him on little walks to look at the plants, to the abundant fruit for snacking on, our little guy was in a state of bliss during our recent trip.
But there are some special considerations when traveling in Bali regarding water safety, transport, what to bring, and how to prepare that are good to know beforehand so that it can be an awesome trip for everyone involved. Here's what we learned about traveling in Bali with a baby:
What to Bring to Bali for Your Baby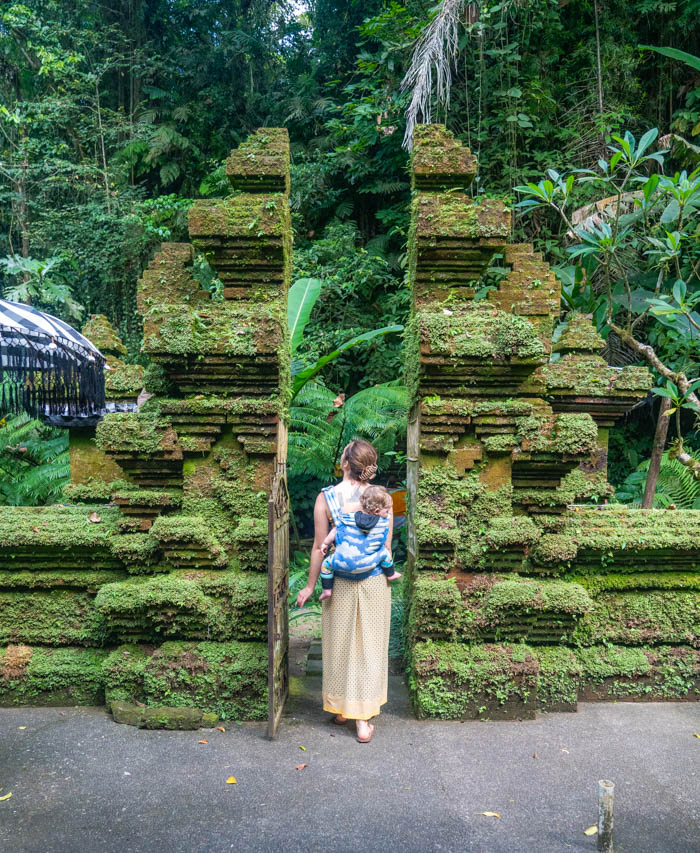 Packing efficiently for your little one can make all the difference during your Bali adventure. Here are some must-haves:
Clothing:
Light, breathable, and comfortable clothing suitable for Bali's tropical climate is a must-have. We brought all bamboo clothing for my son, including some Kyte Baby shorties and a few short-sleeved Bums N Roses zip rompers. This type of fabric helps with body temperature regulation, and it's super soft. Don't forget swimsuits, sun hats, and cover-ups for sun protection.
Diapers and Wipes:
While you can find diapers and baby supplies at the big stores in tourist areas, it's always better to carry enough for at least the first half of the trip's duration. We also brought enough ultra-absorbent Coteries for overnights and travel days for the whole trip.
Portable Crib: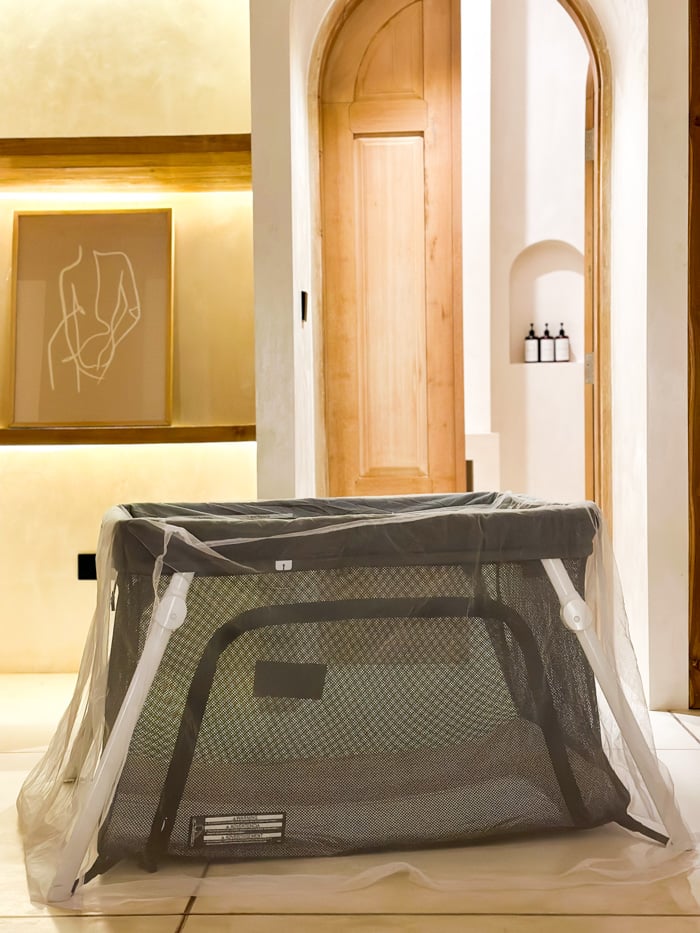 Some accommodations may provide cribs – I was actually surprised at how many did – but I have found over our many trips that having a portable travel crib with the features that we need (like the front-zip and for this trip, a mosquito net), is almost always the better option.
There are also baby rental services in Bali. I didn't personally try them, but Bali Baby Hire, Bali Bubs (which also rents out pool fances!), and Baby Service Bali all have options.
Baby Carrier, Stroller, and Car Seat: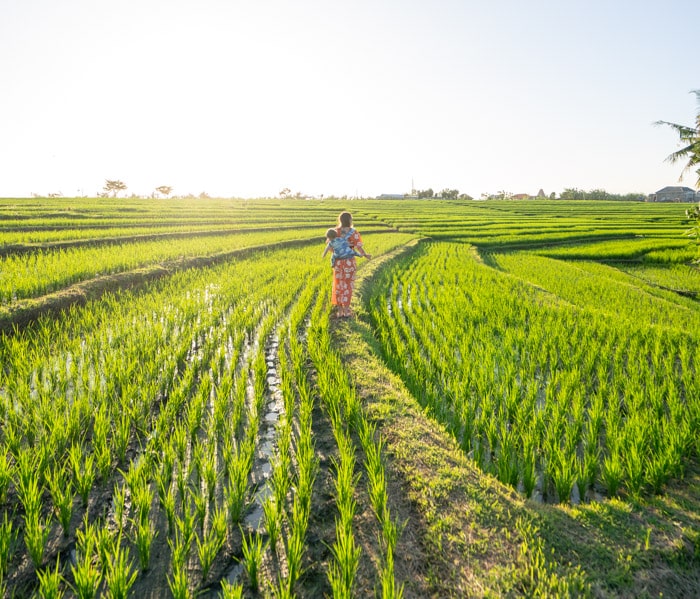 We brought a stroller (I always travel with strollers small enough to fit in the overhead bin of a plane) solely for ease during airport days, and that's about the only place we used it. Bali doesn't have many sidewalks and most of the terrain is uneven, so a baby carrier is really the only way to go. I brought our Artipoppe blue clouds one along.
We debated traveling with or without a car seat, but ultimately decided to bring it and I'm so glad that we did. Traffic in Bali can mean hours in the car getting from the airport to your accommodation, and having a crawling baby on my lap would not have been fun, nor safe. We found the local airlines didn't charge us to check it, which was great.
Many of the cars didn't have hook points for the base, but you can always travel without it and use the lap belt instead. At least, that was possible with our Uppababy Mesa, which is also FAA approved for airline use if you get your baby their own seat.
Snacks and Formula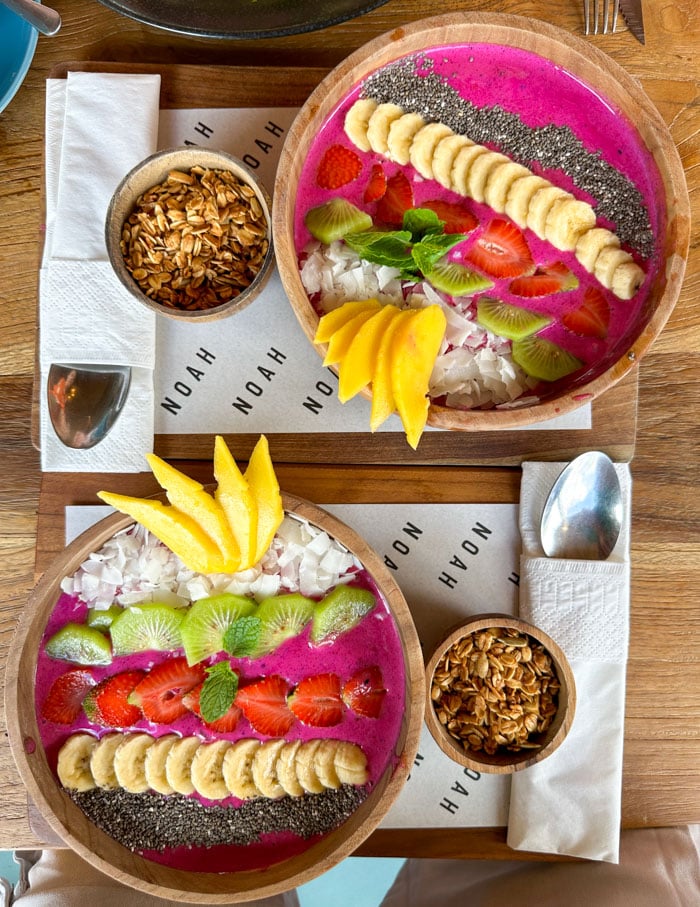 Getting formula may be simple or complicated depending on how specialized it needs to be and where on the island you'll be. We brought enough formula for the trip since we're using a specialized vegan formula. If you're staying in or can make a trip down to Kuta, Tuban, Seminyak, Legian, or Kerobokan, you'll be able to hit up the Bintang Supermarket for baby essentials. There's also an organic baby store in Kuta.
We also brought a bunch of his cereal bars from home as I wasn't sure how easy it would be to find food that was OK with his allergy needs, but we had no problem finding fruit, sharing our smoothie bowls with him, grilled veggies, and chickpeas.
Travel High Chair
I was impressed by how many places had high chairs for our son, but it's not always a guarantee that you'll come across them. In our villa for example, I was glad to have our own along. The Hiccapop is super lightweight and folds down well.
Bali Baby Friendliness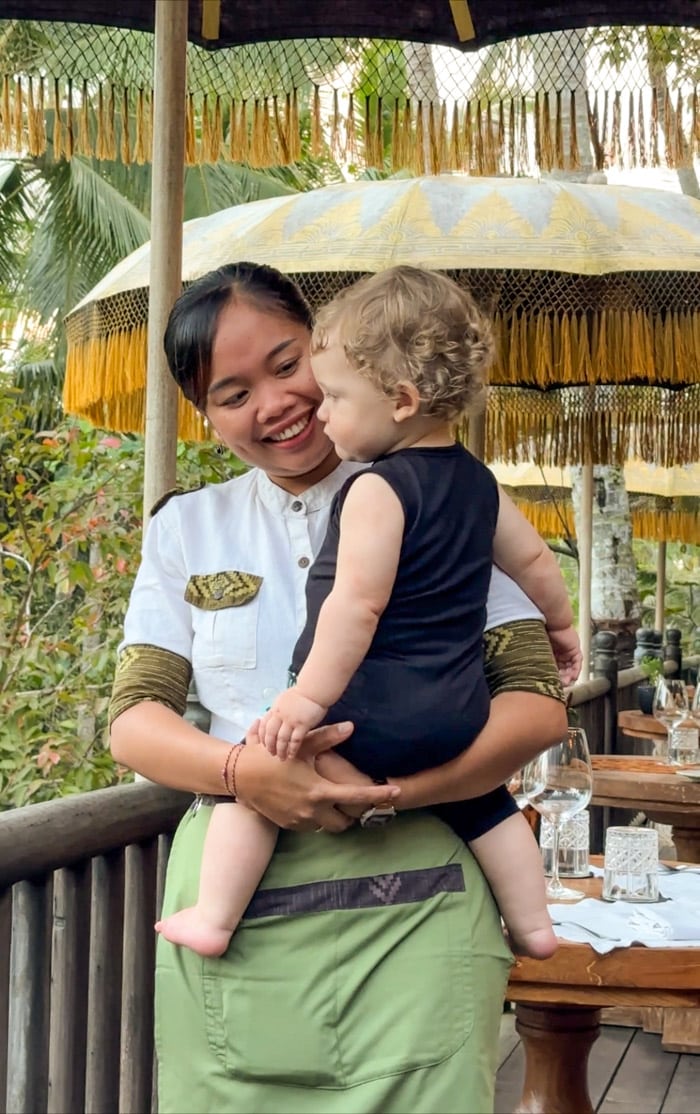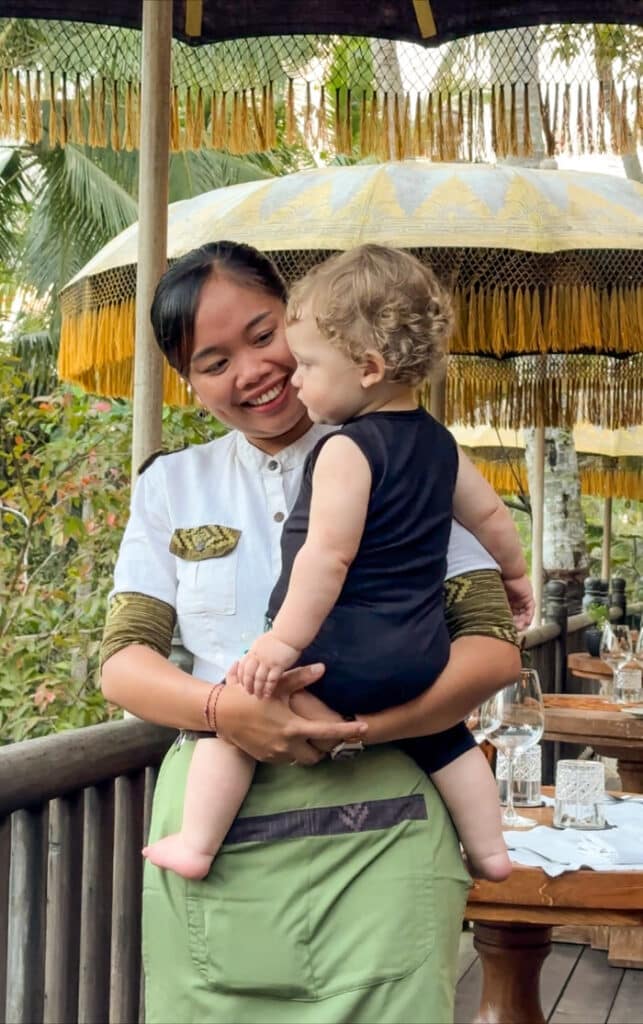 Bali is the first place we've traveled to where locals would just pick up our son and walk him around. Obviously, we could decline politely if we didn't feel comfortable with it, but we were more than happy to eat in peace for a bit while they would hum to him, show him the plants, and carry him around, which is no small task considering he weights 12kg (about 26 lbs).
So many people would tell us that they had small kids too, and we often paused while walking so that people could interact with him. It was so charming and sweet, and people genuinely seemed to love seeing him. This was one of my favorite things about traveling to Bali with him.
You'll also benefit from family lines at the airport, and I was surprised by how many restaurants had high chairs, too!
Healthcare and Immunizations
Before traveling to Bali, consult with your pediatrician and/or travel doctor to ensure your baby's immunizations are up-to-date. Recommended vaccinations may include Hepatitis A, Tetanus, and routine childhood vaccines.
Remember to pack a well-stocked first aid kit with essential items such as band-aids, antiseptic wipes, baby-safe insect repellent, and any prescribed medications your baby might need during your trip. The brands or medications you want could be hard to find in Bali.
As for mosquitoes, we brought a repellant, but traveling in the dry season meant we didn't come across too many. The opposite is true in the rainy season. Still, we brought along a citronella repellant and a mosquito net for naps and bedtime. I don't know that my baby ever did get a bite, though I got several. I'm also the person who people thank for being around in tropical areas since I am a mosquito attractor and they tend to just bite me instead. This was the first trip in my life where that felt like a blessing!
Where to Stay in Bali with a Baby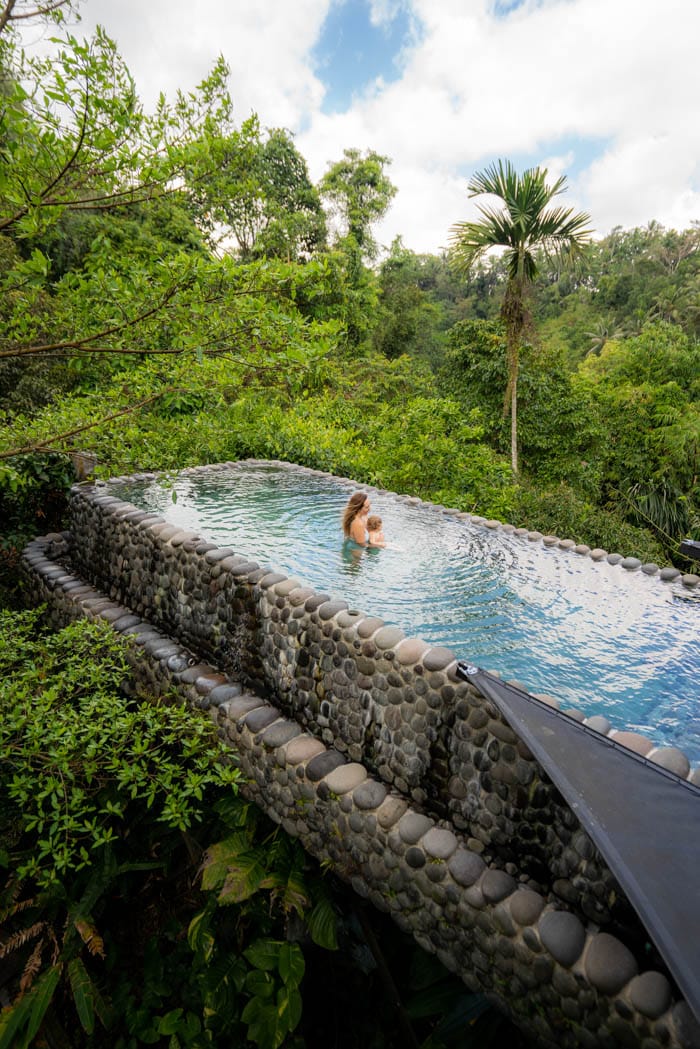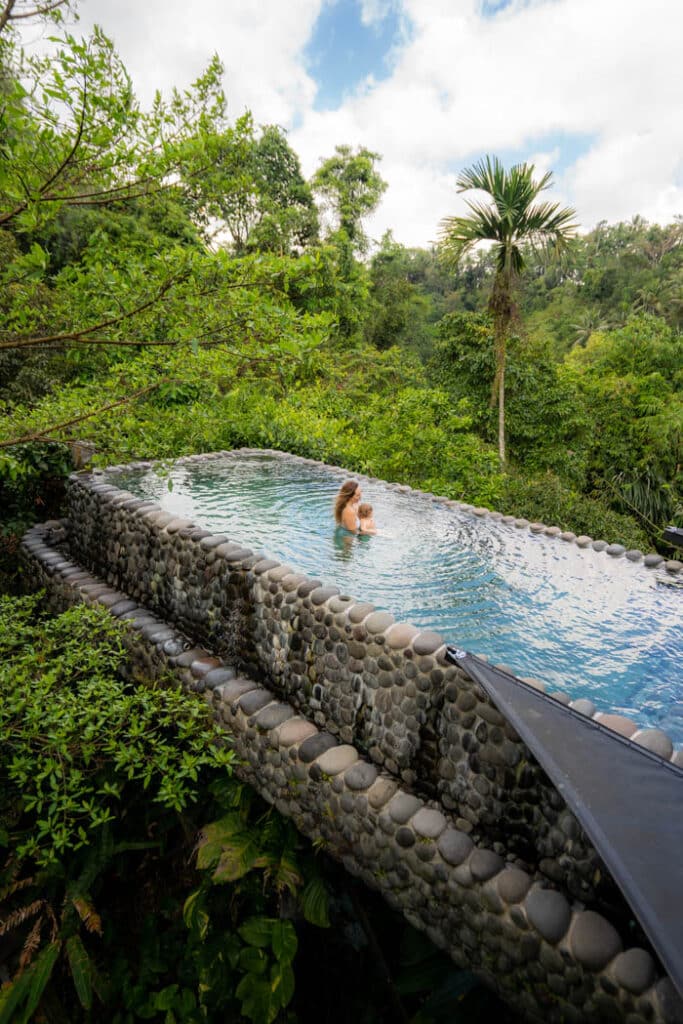 Choosing a part of the island to stay in and the type of accommodation will have a big impact on your experience. We found it much easier when we had access to refrigeration, A/C, and easily accessible food and water.
Some popular areas include Canggu on the west coast – a digital nomad and surfer area with lots of cafes, villas to rent, and beach clubs. We spent a week at a villa rental just north of this area in Pererenan and it was a great spot.
There's also Kuta and Seminyak, but candidly I'm not a fan of these areas as they've become overrun with the party crowd and don't feel much like Bali anymore.
We also spent a few amazing days in Ubud at Capella Ubud, which was a splurge but absolutely divine. It was quiet, peaceful, and we had our own private pool and 24/7 access to room service and even a butler.
If this is out of your range, there are many hotels with baby friendly options, though my favorite way to do Bali with a baby is at a villa rental, which almost always have their own pools as well (and kitchens with refrigerators), which you can book through VRBO or Airbnb.
Sanur is another nice area, and there are many resorts in Nusa Dua as well. The far north of Bali sees fewer tourists, and can be peaceful.
We considered the cool-looking treehouse types of accommodations that are famous in Bali, but most of them did not look safe for a mobile baby.
Nanny and Babysitting Services
Nannying and babysitting services are amazingly affordable in Bali. In other parts of Asia where hiring a 'helper' is common, nannies often come from this part of the world.
Though we didn't hire anyone to watch our son while in Bali, it would have been easy by asking at Capella for their service, or asking the concierge of our villa. Any hotel or resort should be able to either offer their own service for you, or can recommend someone. Bali's Best Babysitting is also an option that has great reviews.
Getting Around Bali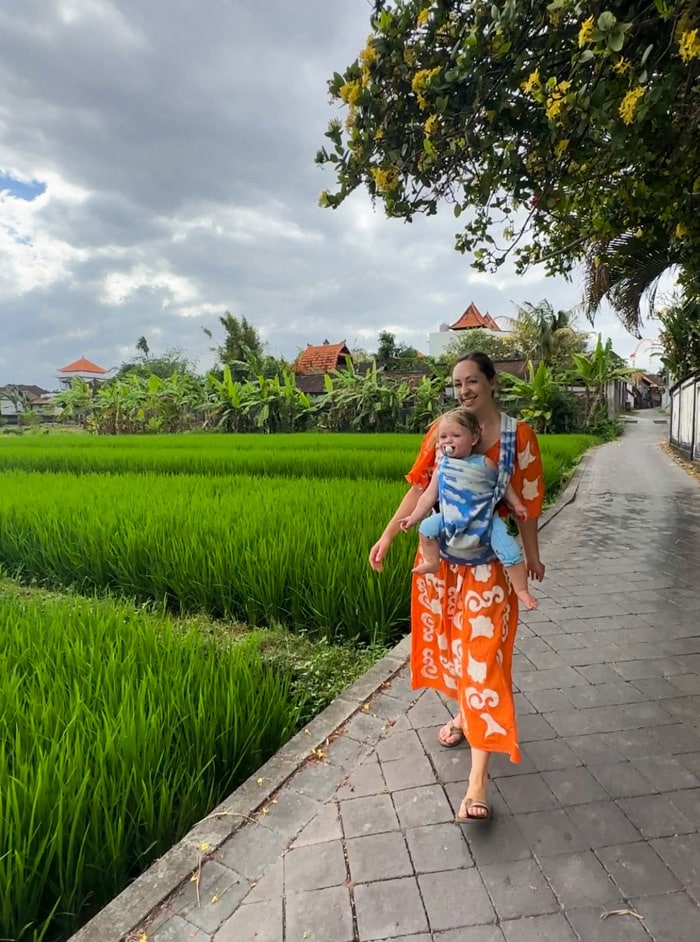 Getting around Bali can be an adventure in itself! Plan on long travel days if you're crossing the island or trying to get anywhere from the airport. Traffic in Bali is legendary.
For baby-friendly transport, hiring a private driver is a safe and convenient option, allowing you to customize your itinerary and accommodate your baby's schedule. Drivers only cost around $60 USD for a whole day of driving! Expect to pay around 450k IDR (about $30) to get from the airport to most accommodation around the southern part of Bali.
Ride-hailing apps like Grab, which is very similar to Uber, are available in Bali and can be a reliable and affordable way to get around. They can also be a great way to get food delivered in most of the major areas.
I, personally, would not ride a motorbike with a baby in Bali, but it's up to you what you feel comfortable with.
As I mentioned above, we were happy to have a car seat along, though it's not as common for locals to use them.
Water Safety
Bali's tap water is not safe to drink. We were also careful about only using the purified water provided by our accommodation to wash his bottles.
I was happy to see that a lot of resorts and villas are ditching plastic bottles and are providing safe water to guests. We only bought bottled water once the whole time we were there!
Final Thoughts
We loved traveling in Bali with our baby and I'd recommend it to any families considering a vacation with their little ones. That goes for all of Indonesia, though heading off the beaten path does mean fewer amenities.
The friendliness, the ease with which we could get around and get food, and the beautiful accommodation options made it simple to travel there. After spending a few cumulative months in Indonesia, I can confidently say it's the easiest island to navigate with a little one, and I loved how much the locals interacted with our son!