Cruise with Your Baby – A Mom's Ultimate Guide
During our most recent trip to Portugal with our then 10-month old, I said something to Garrett that I never thought I would say – wouldn't a cruise be kind of nice?
Although the trip was wonderful, since it was a road trip, we had many different stops, and each time we packed up to move on, it would take us all morning. Between feeding, cleaning, cooking, packing, and the extra time it took to stop and change diapers, every time we moved, it was a meaningful amount of time spent just on logistics.
I must have manifested it in that moment, because later that week I was invited to join a cruise to Alaska and though I normally wouldn't have jumped on it, in this season of my life, being able to travel around without having to pack, move, cook, clean, or organize sounded great. So I had my mom join Felix, who had just turned one, and me on a cruise to Alaska. Here's what to know if you're considering doing the same with your baby:
Book a Verandah/Balcony Room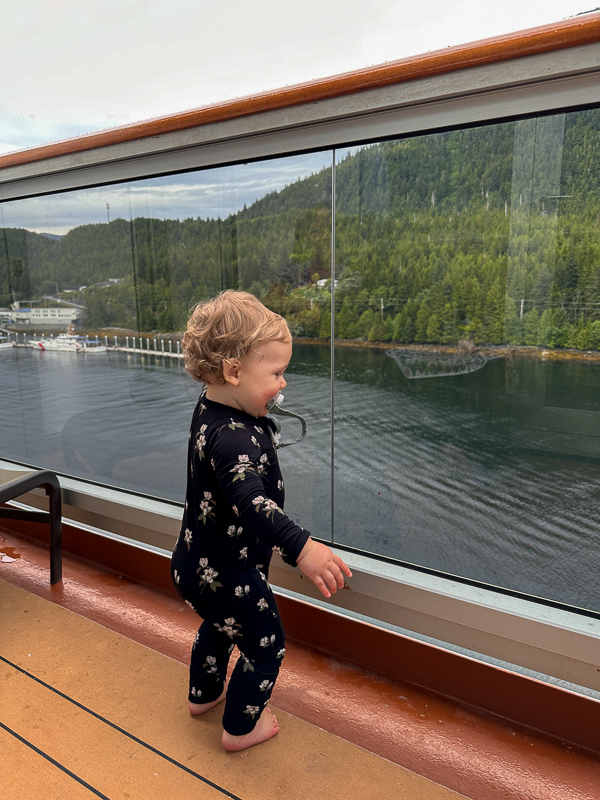 My biggest piece of advice is to book a room that has a veranda so that you have somewhere to hang out when your baby is sleeping. Apart from hanging out in the dark in the room, I didn't really feel comfortable leaving him in there alone, so the balcony gave me something to do during nap times.
For this reason, I recommend booking a cruise that is scenic. In our case, we visited Alaska and were seeing beautiful mountains, whales, otters, dolphins, and sunsets from the balcony while he slept. It was exactly where I wanted to be!
This type of room is more expensive than an inside room, but I really think it's worth it. I also didn't feel the need to go any bigger and book a suite because, at least in our Holland America room, there was more than enough space to bring his travel crib and still be able to get everything packed away into drawers and have some space for him to play. The balcony was also a favorite hangout, with floor to chest windows that were more than tall enough for him to be safe out there with us.
What to Bring
The type of clothes that you bring are going to depend on where you cruise to. Ours was to Alaska, but plenty are to warm places like the Caribbean or the Mediterranean. However a few key things will always be a good idea: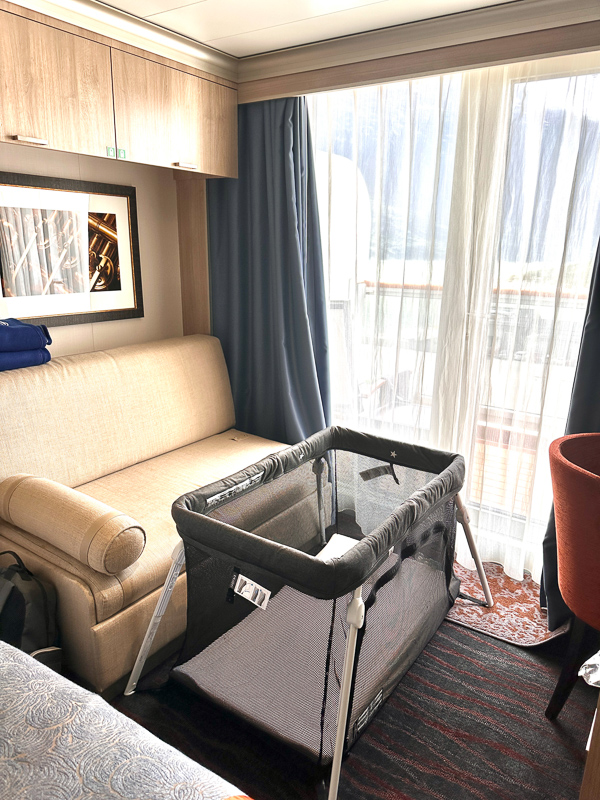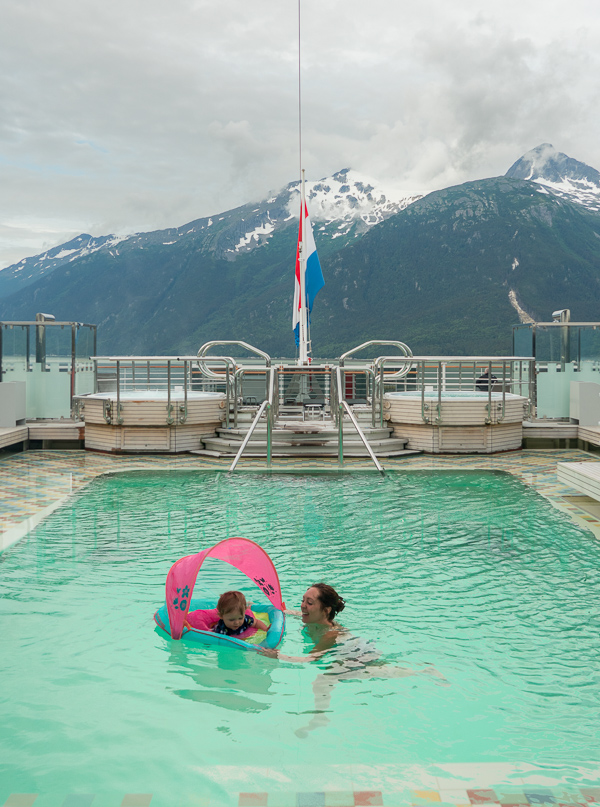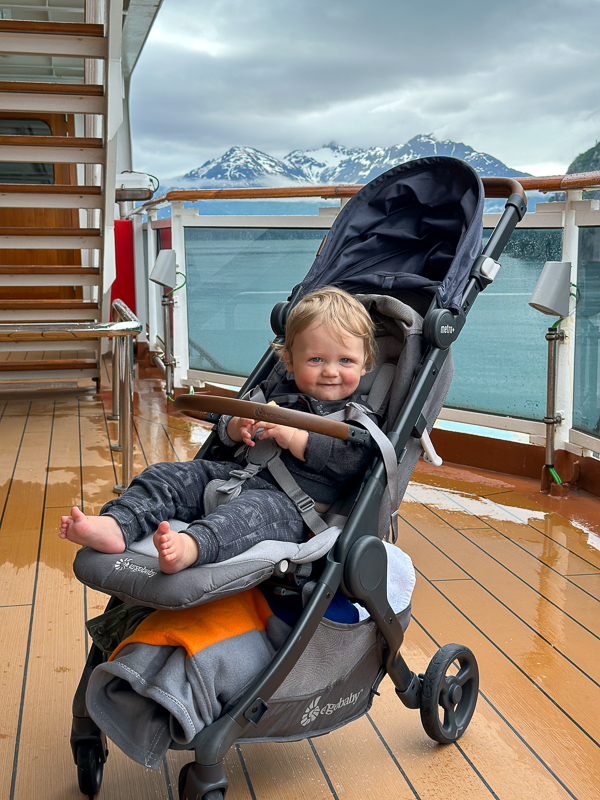 Food and Feeding Onboard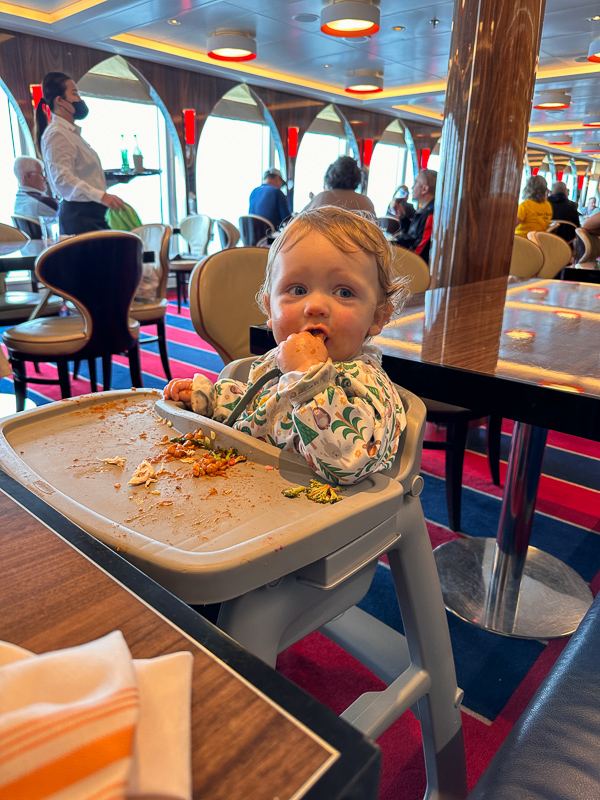 One of the best parts about being on the cruise was not having to cook or clean up after Felix! I did often pick up food off the floor if he was particularly messy, although the staff would sometimes rush over and tell me not to worry about it.
I can't speak to every cruise line and I believe the budget ones don't have as varied or healthy food options, but our cruise on Holland America had plenty of meals that I felt comfortable feeding my baby. Although there was always a kids menu available, I don't love what's usually on those, and thankfully it was no problem to get him salmon, broccoli, chana masala, toast, fruit, and roasted meats onboard instead. They always asked about allergies, too, which was important for us.
It's also nice that food is available 24/7 since you never really know when you might be waking up or having your meals with a baby around.
High chairs were always available in the dining areas, which was one less thing I had to worry about bringing.
Picking the Right Cruise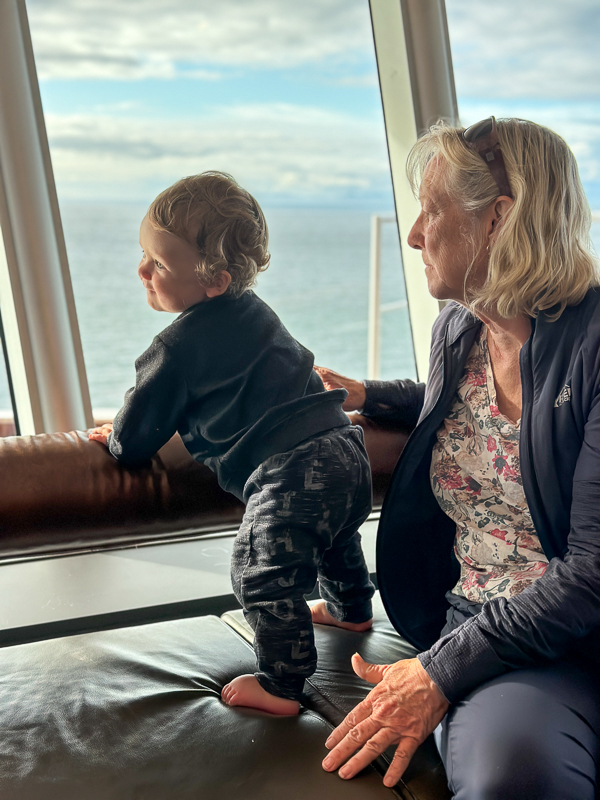 It can be overwhelming trying to pick the correct cruise line for your group and vibe. I did not think I liked cruises because I had only been on two shorter, lower budget cruises earlier in life to Mexico and the Caribbean, but for our Alaska cruise, we went a little higher end on Holland America, which tends to cater to an older crowd.
That said, there were at least 15 or so other babies on board, which I know isn't much when you consider that there were probably 2000 guests, but I was still surprised! I felt like the vibe was really nice, with super attentive staff, and generally friendly other guests who didn't mind having a baby around. Read my full Alaska Cruise with Holland America review.
My baby was too young for the kids club, but the heated pools were great, as were some of the inside areas like the crows nest on the 12th floor, which was wonderful for crawling around and looking out the window. We also made use of the jogging track on the 11th floor for his daily walks. It was great because the scenery kept changing as we moved!
They also changed the trash can in our room twice a day, which was definitely necessary! I really appreciated how attentive all of the staff were, and how wonderful they were with my son. They seem to genuinely be excited to see him.
The only thing that was missing were changing tables on the ship. Any time he needed a diaper change, we would need to head back to the room and change him on the bed.
Picking the Right Excursions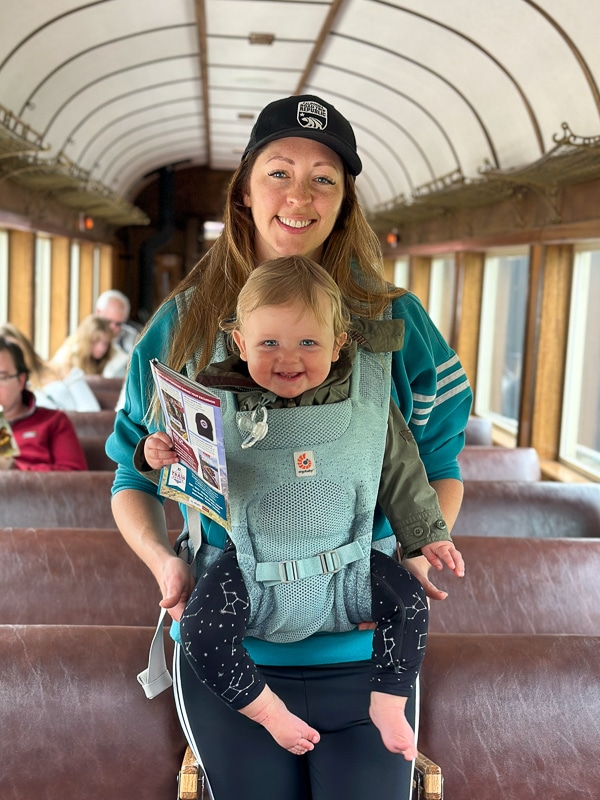 I was pleased to find out that Felix could be a lap infant on all of the excursions. We took a scenic train ride and a scenic flight that were pricey, and not having to pay the kids' fare for him was great.
Chances are good that whatever cruise you pick, that'll be the case. Just make sure that the excursions don't have age limitations.
There was a bucket list excursion that I really wanted to do that involved a helicopter and a glacier trek that I knew that that was not going to be baby friendly, so thankfully, my mom watched him while I had the chance to do that. There may be a bit of balancing and compromise when cruising with a baby if you want to do similarly adventurous things.
Final Thoughts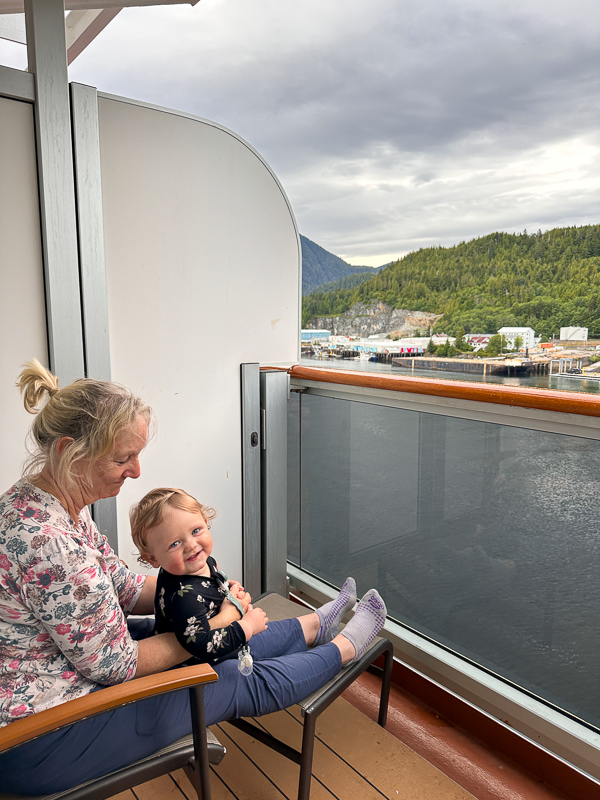 Although I am probably never going to be the type of person who takes cruises all the time (they're not the best for the environment, I know), I really enjoyed the week that we got to enjoy by taking a cruise with my baby. It took all of the logistics, planning, cleaning, and meal prepping off of the table for me, which made for such a relaxing vacation! Now that I know ships go to so many more interesting places like the arctic and Norway, we're thinking of doing one more before he turns two!
*Some links in this post to are affiliate links that support this site at no extra cost to you. Thanks for Holland America for inviting me on this cruise!