Is the Babyzen Yoyo2 Worth Buying? A Mom's Honest Thoughts
The Babyzen Yoyo2 might be the most well-known compact stroller on the market. A French brand that's now part of the Stokke umbrella of companies, they've been making high-quality strollers since 2006.
But is the Babyzen Yoyo2 worth the hype? I'm on a mission to find the best travel stroller, and this could easily be it. But like any travel stroller, there are both pros and cons to consider before you purchase. Here's my firsthand experience using the Babyzen Yoyo2:
First, the Specs of the Babyzen Yoyo2:
What I love most about the Babyzen Yoyo is the compact fold, making it within IATA specifications to fit in the overhead bin of an airplane. This may not seem like a big deal until you're waiting in line with a super tight connection to get your gate checked stroller, or the gate checked stroller comes out with damage.
As much as well love the Uppababy brand travel strollers, the overhead bin fit is a must for us!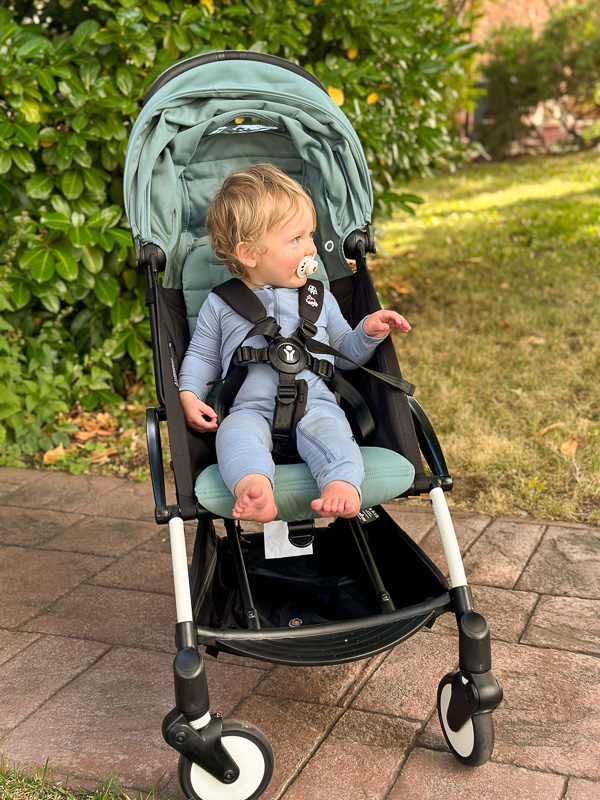 Folded dimensions: 20.5 x 17.5 x 7.25 in
Unfolded dimensions: 34 x 41 in
Stroller weight: 13.8 lbs
Max baby weight: 45 lbs
Storage capacity: 11 lbs
Folding ease: 6/10
Comes with rain cover: No
Color variety: Decent
Warranty: 2 years
Polyester fabric
Cost: $499
The stroller also has a 5-point suspension harness and smaller wheels and great maneuverability. As with any travel stroller, don't expect it to do great on anything but the smoothest surfaces. It's no match for an all-terrain jogging stroller (we love our Guava Roam, but it's definitely not cabin-approved).
Babyzen Yoyo2 Fold and Size: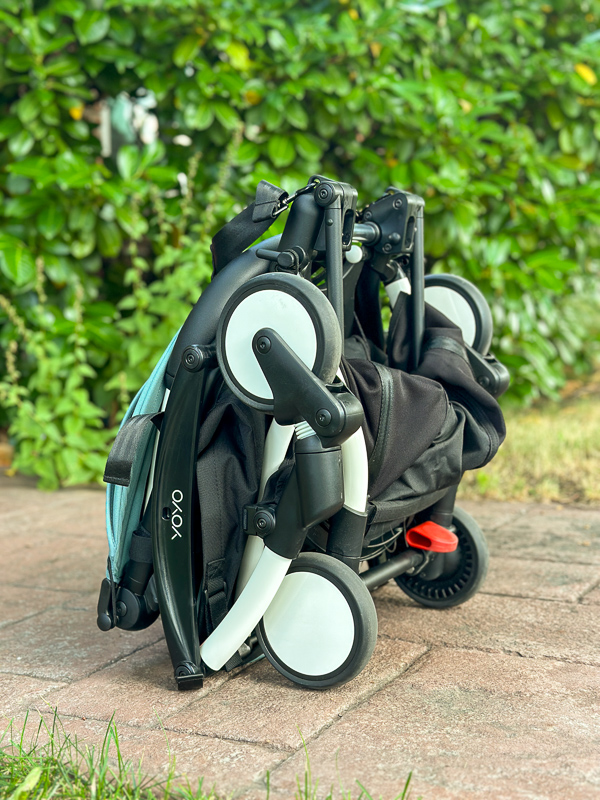 The Babyzen folds easily by pressing in on two white buttons on the handle and folding back the canopy, then fully collapsing by pulling a level under the seat. It all takes just a few seconds.
That said, this is my biggest qualm with the stroller, as I really, really prefer when it's a true one-handed fold. Never was this more apparent than when I was flying solo with my baby and had the Ergobaby Metro+, which is otherwise a great travel stroller, but it also requires both hands to collapse. This meant I had to put my baby on the ground or ask for help in the TSA security line which was obviously not ideal. I won't fly solo with a stroller that can't be folded with one hand again.
However once folded, it's nice that it has a shoulder strap and comes with a carrying dust cover. It's not as protective as the stroller backpack and doesn't have straps, but it satisfies airlines that require it, like Singapore Airlines.
It's also lightweight enough to be quite easy to carry. When we were evaluating strollers, we looked at the GB Pockit since it's the world's smallest folding stroller, however, there are so many compromises on things like the storage, canopy, and comfort, that we decided it's worth a couple extra pounds and inches.
Babyzen Yoyo2 Canopy and Colors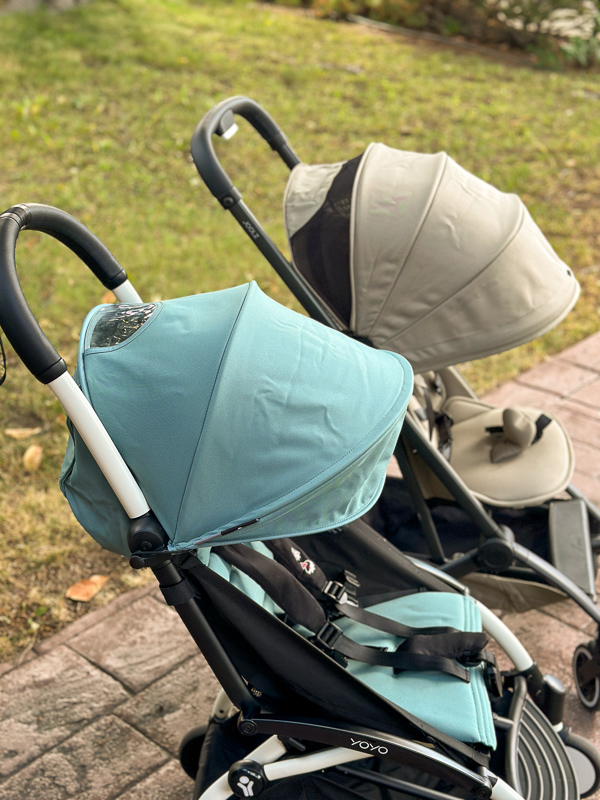 This is a stylish stroller – perhaps the most stylish out of the compact travel strollers.
The canopy on the Babyzen is nice. It provides great coverage with an SPF 50+, water-resistant canopy that comes in multiple colors from the usual grey and black to two shades of blue (Air France blue and aqua), olive green, taupe, toffee, and salmon pink (which they call 'ginger'). The frame also comes in either black or white, with bassinet options to match.
I have the white frame and aqua color pack, and though it may seem like it's not a big deal, I will go above and beyond for fun patterns and colors! So many other strollers are less exciting.
The canopy doesn't have the same mesh panel that other strollers, like the Joolz Aer (read my full Joolz Aer review and Joolz vs. Babyzen comparison) do, but it still has a clear plastic peek-a-boo window, which is important to us. However I don't like that it tucks in at the bottom. Or rather, my son really doesn't like it. He's constantly leaning forward to try to see.
Babyzen Yoyo2 Comfort and Recline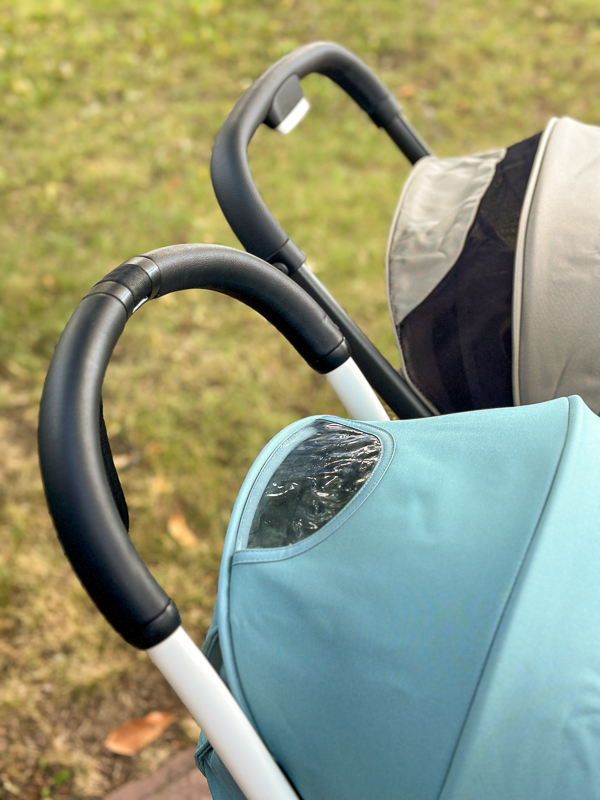 I love/hate the handlebar of the Babyzen Yoyo2. It's the only stroller we have with a curved handlebar, and while that makes it easier to steer with one hand, it eliminates the possibility of strapping the diaper bag to the handle. Since the under seat storage is rather small (which isn't uncommon for a small stroller), it's not a great place for the bag, either.
The seat itself seems cushy enough. My son, in particular, likes to sit up as straight as possible in strollers, and I saw him slouching more often in this one to peek under the canopy, as it's a bit narrower than other strollers we have.
I also wish it reclined more. It may be asking a lot from a travel stroller, but this is one of the bigger benefits of the Ergobaby Metro+. However that stroller has a woefully narrow canopy – you really can't have it all with the compact strollers!
I also lacks a bumper bar and foot rest, though those can be purchased separately (more on that later).
Babyzen Yoyo2 Storage
The Babyzen Yoyo2 has 11lbs of under-seat storage as well as a seat-back pocket. This is, in my experience, standard from a stroller of its size. It's enough for a small purse, snack bag, and/or rolled up hoodie. Don't expect a lot of under-seat storage from a travel stroller.
Babyzen Yoyo2 Extras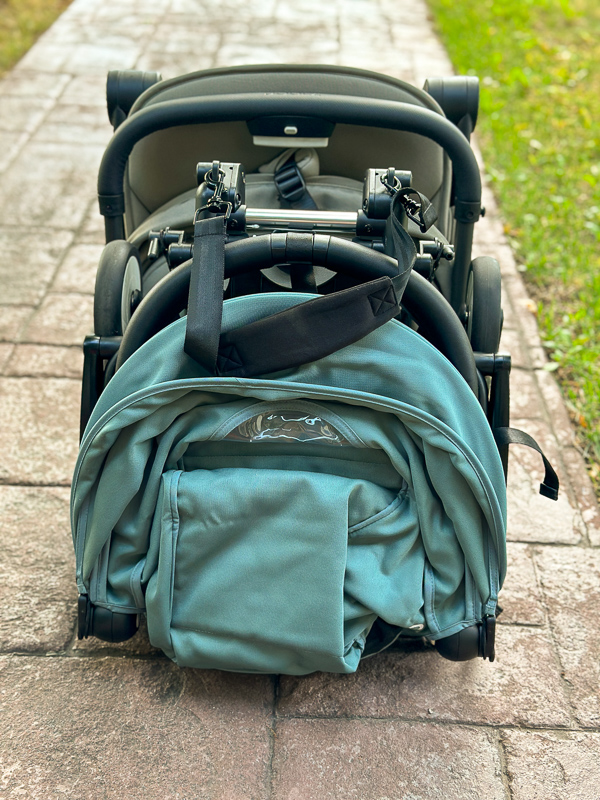 Where the Babyzen really shines is all the extras that you can add to make it newborn-ready, attach a car seat, or even attach another frame to make it a double stroller. Here's what they have:
The Babyzen can also be made into a double stroller with the Babyzen Connect.
All of this can add up quickly since none of these come standard with the stroller, but I'm a fan of buying secondhand whenever possible. You can also look at open box options on Goodbuy Gear or Rebelstork (though I didn't have the best experience with Rebelstork).
The Babyzen Yoyo2 also comes with a 2-year warranty.
Final Thoughts – Is the Babyzen Yoyo2 Worth Buying?
There are some big benefits when opting for the Babyzen Yoyo2, the biggest of which I haven't even mentioned yet – how well-known it is. When checking in for flights, especially the international airlines, I don't get questioned with the Babyzen since everyone seems to know it as cabin-approved. With some of the others, I have had to argue my case a bit more and you may have to collapse it to prove it fits – not the most ideal if you have to take your child out to do so.
It also folds down just a little bit smaller than some competitors. Read our full list of the best strollers that fit in an overhead bin to see the comparisons.
The Babyzen also has more potential added features than most of the other compact strollers I'm aware of, with the footboard and especially connect add-ons. Plus, you can't beat their range of colors.
Overall, the Babyzen Yoyo2 is a strong contender for the best travel stroller out there. The fact that the super compact fold doesn't compromise on things like the canopy and style is a big plus. The even bigger plus is how well known it is, and how many extras can go along with it to make it grow with you and your family.
*Some links in this post are affiliate links that support us at no extra cost to you – everybody wins! We only recommend products we've tried and love.