Flying Singapore Airlines with a Baby – My Experience
Is it worth flying Singapore Airlines with a baby? What are some of the most important policies to be aware of, and are there any downsides?
We just flew for 15 hours between San Francisco and Singapore with Singapore Airlines with our one-year-old. Here's everything to know about booking, policies, and our firsthand experience:
Booking with Singapore Airlines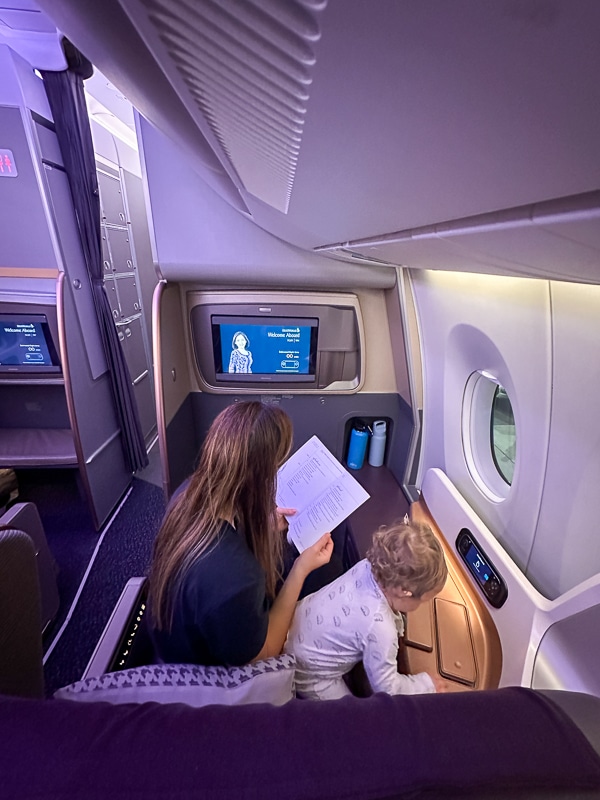 There are some pros and cons when it comes to booking the flight with Singapore Airlines. What I love about this airline is their priority given to families for their bulkhead seats that have the capacity for bassinets.
If you're traveling without a lap infant, if you attempt to book one of these seats, they'll actually let you know that there's a possibility you'll be moved if someone traveling with a lap infant needs that seat. I have never seen this on a US airline, including on United where I almost never get access to the bassinets since bulkhead seats are popular!
Just know that even if you don't book that seat, they may automatically you put you there. This means you might be separated from the rest of your party. My husband ended up behind me on our flight to Singapore, which wasn't a big deal since the business class configuration meant there weren't any seats next to me, but I was surprised when we checked in and I had been moved without asking for it. I'm not sure that they always do this, but they did for us.
One thing I didn't like was having to call to add the lap infant since their booking process didn't allow it while booking with miles. It may be that when booking with cash, you can do it all in one transaction. Either way, do NOT forget to do this step! It's essential that you pay 10% of the adult fare as well as the airport taxes and fees in order to add your baby for international flights, not just with Singapore Airlines, but with any airline.
Singapore Airlines Infant Policies
Singapore Airlines has some nice perks I haven't seen a lot of other airlines offer.
When you fly with young children, all passengers in the same booking can select standard seats in advance for free. Those with infants will also get priority boarding. They actually came and found us in the gate area, along with the other families, and escorted us onboard before anyone else.
Infant Carry Ons and Baggage
Amazingly, Singapore Airlines allows infants up to 10kg (22lbs) of checked baggage for free! You can also check in fully collapsible strollers and car seats for free.
If you're departing from Singapore, you're also allowed an additional 6kg of cabin baggage allowance for breast milk, infant food, and baby amenities. If you're departing from or transiting through other countries, their website says to 'get in touch with your local Singapore Airlines office for the country-specific restrictions.'
We were also able to carry on our stroller that fits in the overhead bin, the Joolz Aer, though they did question us a bit about it at check-in since it's not a brand they were familiar with. 'Is in the babyzen?' they asked, which seems to unanimously be acceptable as a carry-on. Be sure to bring some kind of carrying bag or case, which they required to carry the stroller on. If you don't have one, they'll give you a giant plastic bag. I felt bad about wasting that much plastic.
Like every airline I've flown thus far, collapsible strollers and car seats can either be checked as hold luggage or gate checked for free.
Nursing Onboard
Singapore Airlines supports every mother's right to breast feed. They also offer blankets for privacy upon request. Their website also states they can provide baby wipes if needed, though supplies are limited. Manual and electric breast pumps are also allowed onboard. I highly recommend wearable pumps!
Bassinets
As mentioned earlier, priority is given to families who may need bassinet access, which I love and haven't often seen from other airlines. Singapore Airlines bassinets also have a larger capacity than I've seen from other airlines, up to 14kg!
They also allow the use of some inflatable beds, which many US airlines do not. This is a great perk if you have a toddler who is getting their own seat.
Other Extras
Singapore Airlines also offers baby meals on board upon request. You'll have to book it ahead of time under 'manage booking' on their website. I wish I'd known to do this! You're also allowed to bring baby food on board, which we did.
They also have child-specific entertainment. I had cartoons running a few times during our flight!
Our Experience Flying with Our Baby with Singapore Airlines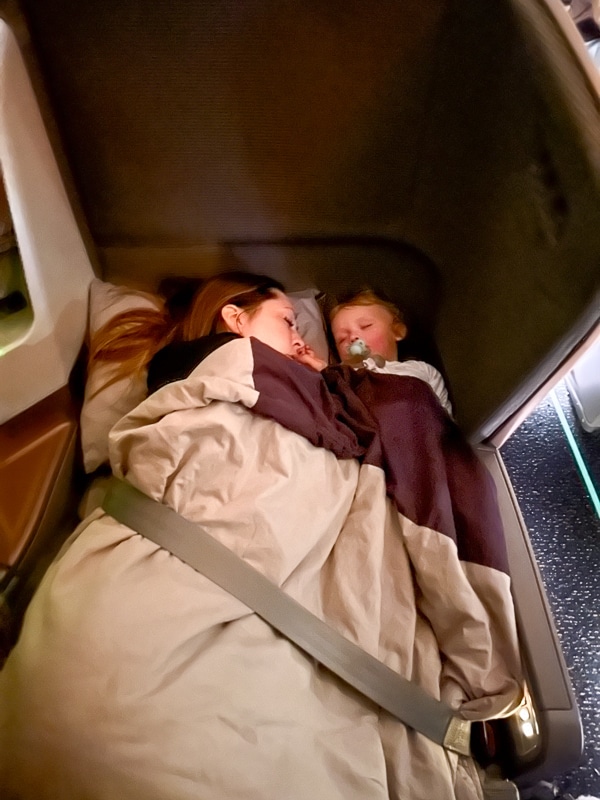 Singapore Airlines consistently wins awards for the best airline for a reason. Their service is excellent, and regardless of which class you fly with them, they go above and beyond with their offerings.
We've had the pleasure of flying a few different airlines business class with our baby, and so far Singapore Airlines has had the most amenities and space.
The seat was much wider than I'm used to in business class. It felt like most airlines' first class. I even saw an adult couple sleeping together in one seat (obviously they had to each book their own seat and chose to sleep together, but it was cute to see). For this reason, I didn't even need the bassinet and just had my son sleep next to me instead.
The experience was comfortable, and if we needed anything, we could always get service easily. They also offered to stagger mine and my husband's meal service since it's obviously tough to eat with a baby on your lap, which no other airline has done before.
Toward the end of the flight they also brought a plush toy over for my baby. Most airlines we've flown have offered some kind of toy at some point in the journey. I saw on their website this is offered in all classes of service, as well.
Final Thoughts on Singapore Airlines with a Baby
Singapore Airlines is one of the most baby-friendly airlines I'm aware of. From their policy of reserving bassinet seats for families to allowing infants checked baggage, they offer extras to families that I haven't seen from other airlines.
Their service is also legendary for a reason. Regardless of which class of service you fly, you'll be treated with a level of care I've only seen replicated by a few other airlines (Emirates, Etihad, Qatar, Japan Airlines, and Turkish are all pretty good, too!).
If you have a chance to fly Singapore Airlines, and especially if you can score a good mileage deal on their business class like we did, don't hesitate to book it!
*Some links in this post are affiliate links that support this site at no extra cost to you when you make a purchase. Everybody wins!