Is the Guava Roam Crossover Stroller Worth it? An Honest Review
Which stroller reigns supreme? With so many options, and so many different needs, it's hard to find one that is lightweight, compact, comfortable, that also can handle different terrain.
I was sent a Guava Roam Crossover stroller to test out and have been using it as my main stroller ever since. We had the Nuna Mixx already, which, while a nice stroller, struggles with uneven terrain, plus it takes up so much of the trunk of our sedan. I was excited to try out a jogging/all terrain stroller that would actually fit in our trunk. I have come to LOVE this stroller. Here's what you should know before buying a Guava Roam for your family:
Guava Roam Crossover Stroller Size and Fold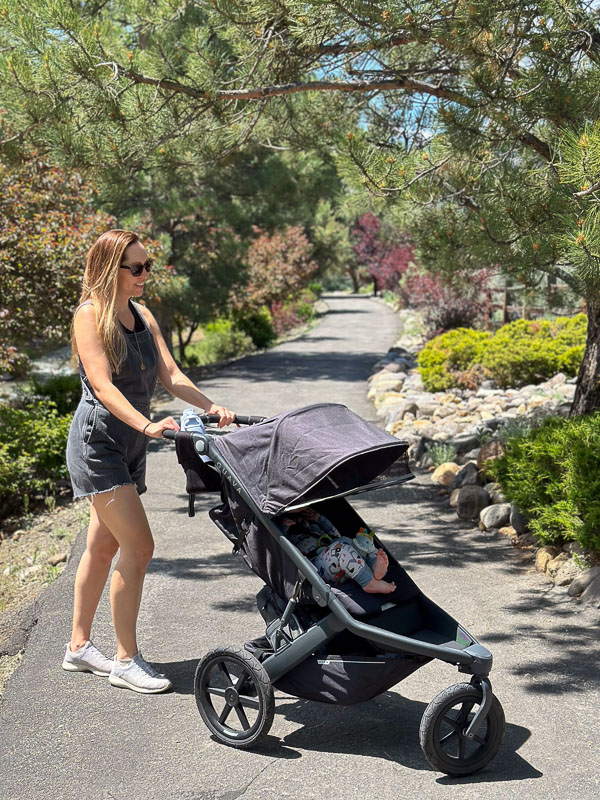 The Guava Roam is a relatively new stroller on the scene made by the creators of the beloved Guava Lotus travel bed (read my review here). Given we're big travelers, size, durability, and portability are important. I learned pretty quickly that our Nuna Mixx was just not meant to be a travel stroller. It took up almost our entire trunk and was difficult to get out and in. Guava Roam is in many ways the opposite.
When opened, 39" long X 25" wide X 43" tall.
When folded, 29" long X 15" wide X 17" tall.
Folds 50% smaller than traditional joggers.
Airless, rubber tires (no worries about punctures or pumping).
Weighs 28.5lbs
Adjustable handlebar to 34"(low) – 45" (high).
GreenGuard™ Gold Certified.
50lb weight capacity.
It's also easy to collapse. Though it took a couple times to get the hang of it, it can be collapsed with one maneuver, and easily unfolded within a few seconds. You will need both hands, though.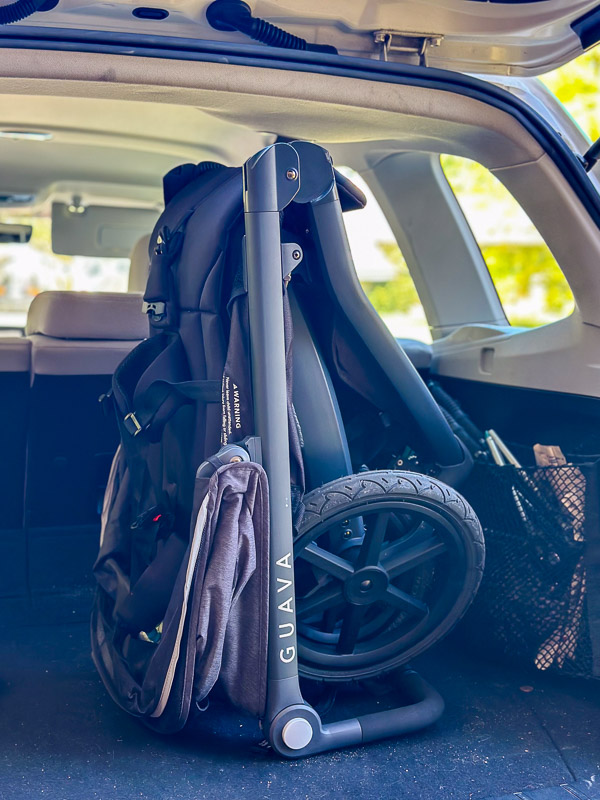 How does the Guava Roam handle?
This stroller navigates and rides like a dream. I've taken it on uneven pavement in my neighborhood, on a dirt and rock trails, and up and down curbs. The large wheels and all-terrain suspension make it easier than any other stroller I've tried. Though I haven't sat in it myself for obvious reasons, it seems comfortable with its padded seat and smooth ride.
It also feels the sturdiest out of all of our strollers. It's created with an aluminum frame and independent rear suspension, as well as airless rubber bike tires, which is great for avoiding flats.
I find it easy to push as well. I also appreciate that it's lighter than many other joggers, as our neighborhood has me pushing it up hills. If we were to fly with it, it's also helpful that it folds down well and isn't super heavy.
If you jog with it, you'll probably also appreciate the reasonable leash length, and that the front tire can switch from swivel to locked from the handle bar rather than having to bend down and manually flip the front tire break.
The handlebar is adjustable as well for taller parents.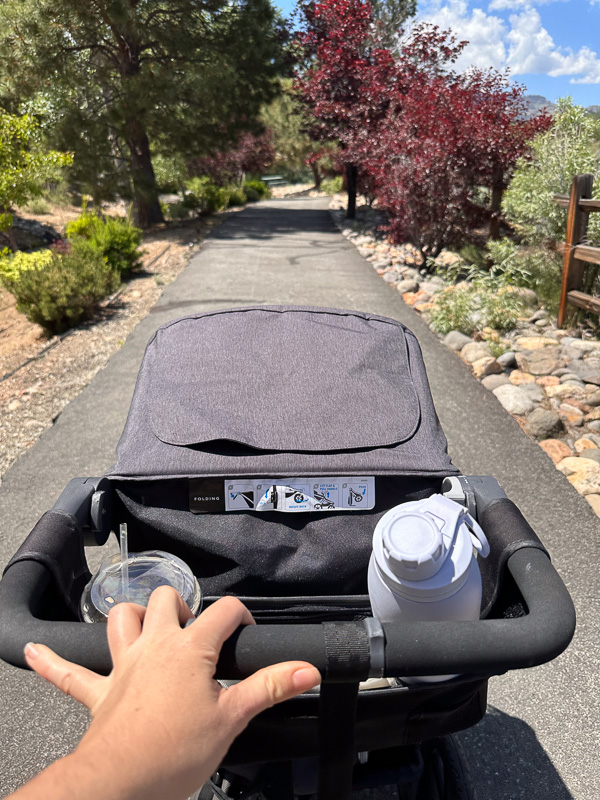 Seat and recline
The seat is well padded with removable covers that can be easily washed if needed. I also like that the stroller capacity is for kids up to 60lbs. Given our smaller travel stroller, the GB Qbit, can only do up to 55 lbs (and the popular Babyzen Yoyo2 only 48.5), this gives the stroller a longer life.
It can also recline, which is important to me in a stroller. While my little guy probably wouldn't sleep if I were jogging with him, he does nap in his stroller otherwise, and when we're traveling, he's sleeping in there often.
The seat seems comfortable, and the straps and buckle are padded. These are the seat dimensions:
Headroom: 22"
Seat Depth: 9.5"
Seat Width: 15"
Canopy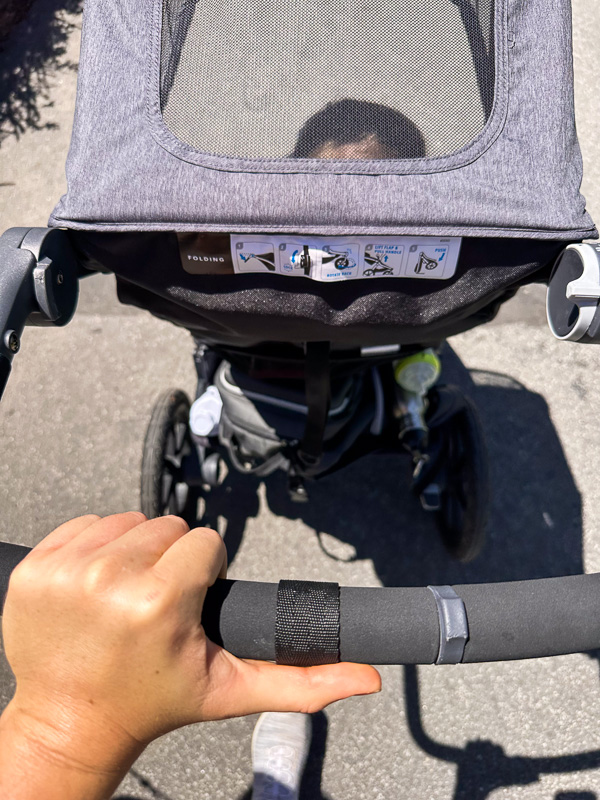 Canopy size and coverage is important to me. We live at elevation and need to be careful about sun exposure, plus our son is extremely fair-skinned. The Guava Roam has great coverage, and I also like that there's a flap at the top with mesh to allow for air flow, or to check on the little guy from time to time without having to pause and peek around.
The canopy is also reinforced with metal rods throughout, so when I have it in a certain position, it stays there. It's also GreenGuard™ Gold Certified.
If I had to nitpick, the Guava Roam doesn't come in any color other than black/dark grey. It's not a huge deal to me, but I do love being able to show personality with color choices as well.
Storage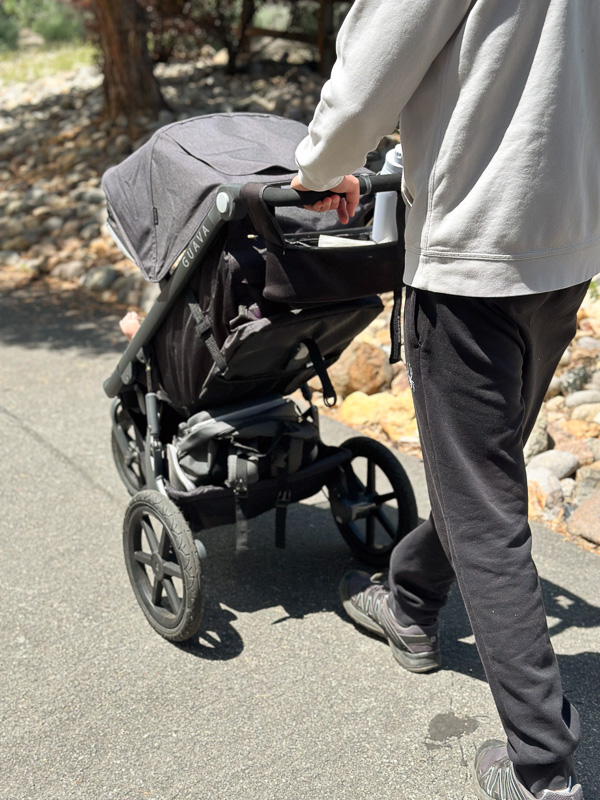 If you're going to be using a stroller all day, especially as your main stroller, you want to have some storage capacity. The Guava Roam has a back pocket that I like, and the parent organizer that comes with it provides an excellent space for carrying cups and other necessities. The under-seat basket has a 10-lb capacity and can fit our huge diaper bag backpack as well as a jacket and water bottle.
When purchasing, it's also possible to add on a snack and drink tray, rain and weather shield, and a padded stroller backpack.
My Overall Thoughts on the Guava Roam Crossover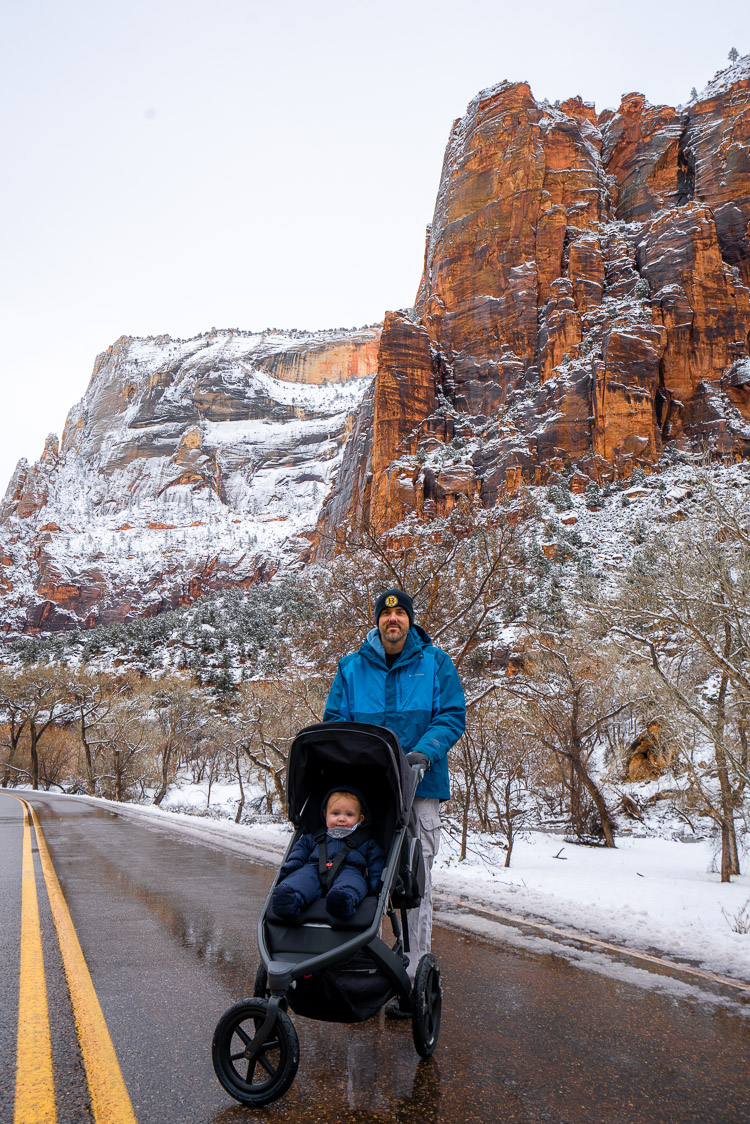 The Guava has mostly replaced the Nuna for me. It handles better, is easier to fit into our trunk, and if this were our only stroller, I think it would tick enough boxes to work. It's also possible to purchase a carseat adapter which makes it compatible with several Nuna, UPPABaby (Read our Mesa vs Pipa Lite car seat review), Britax, Cybex, and Chicco car seats and makes it appropriate for babies under 6 months old.
We're an outdoorsy family with a small car and live in a hilly neighborhood. We also travel often, whether it be road trips or international adventures, so a compact stroller is essential for us. For a jogging stroller, which does need at least some weight in order to be sturdy and safe, it's quite lightweight and much less bulky than the BOB. I also appreciate that it has a 2-year warranty rather than 1-year.
I prefer this stroller for road trips since it handles so well, though I have chosen not to fly with it and instead opt for a stroller that can fit in the overhead bin for ease. They don't handle cobblestone or any kind of terrain well, though, and I'm always missing them in those situations abroad.
In case you're curious, so far I'm using the GB Qbit (one step up from the Pockit), and am testing the ErgoBaby Metro+ as well for international trips.
What are some competitors?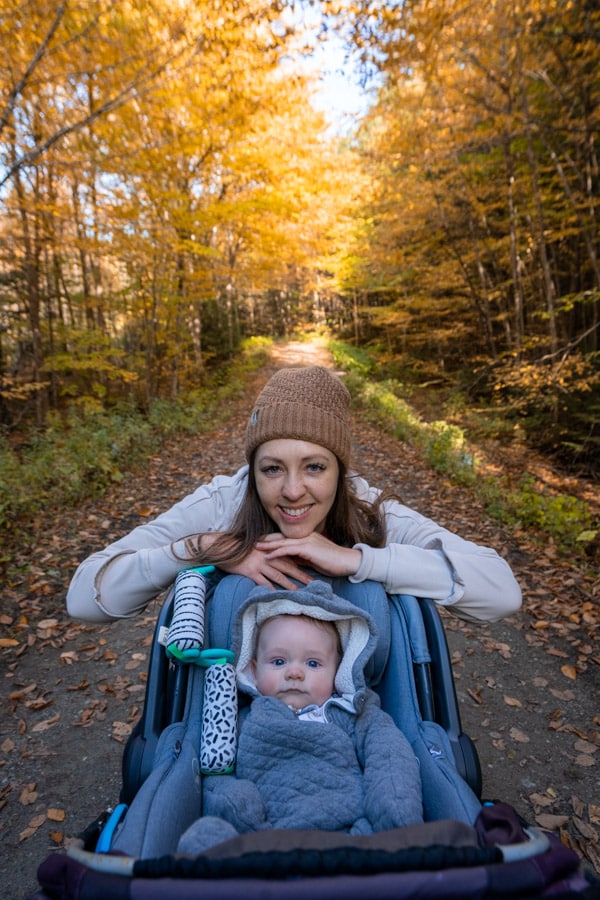 The biggest competitor is obviously the BOB – what I'd consider the OG all-terrain stroller. Both the Guava Roam Crossover Stroller and the BOB Stroller have all-terrain wheels, one-hand fold, adjustable handlebar, large canopy, and ample storage space. The weight capacity of the BOB Stroller is higher than that of the Guava Roam Crossover Stroller, but the Guava Roam Crossover Stroller has a MUCH more compact fold and lighter weight by over 10 lbs. The Guava Roam Crossover Stroller is more expensive than the BOB Stroller by $100, however it's frequently on sale for the same price.
Personally I'd much rather have a lighter and more compact stroller. After also testing the BOB when we visited a friend, I'm confident the Guava is the better choice for us.
There are a few others worth mentioning as well: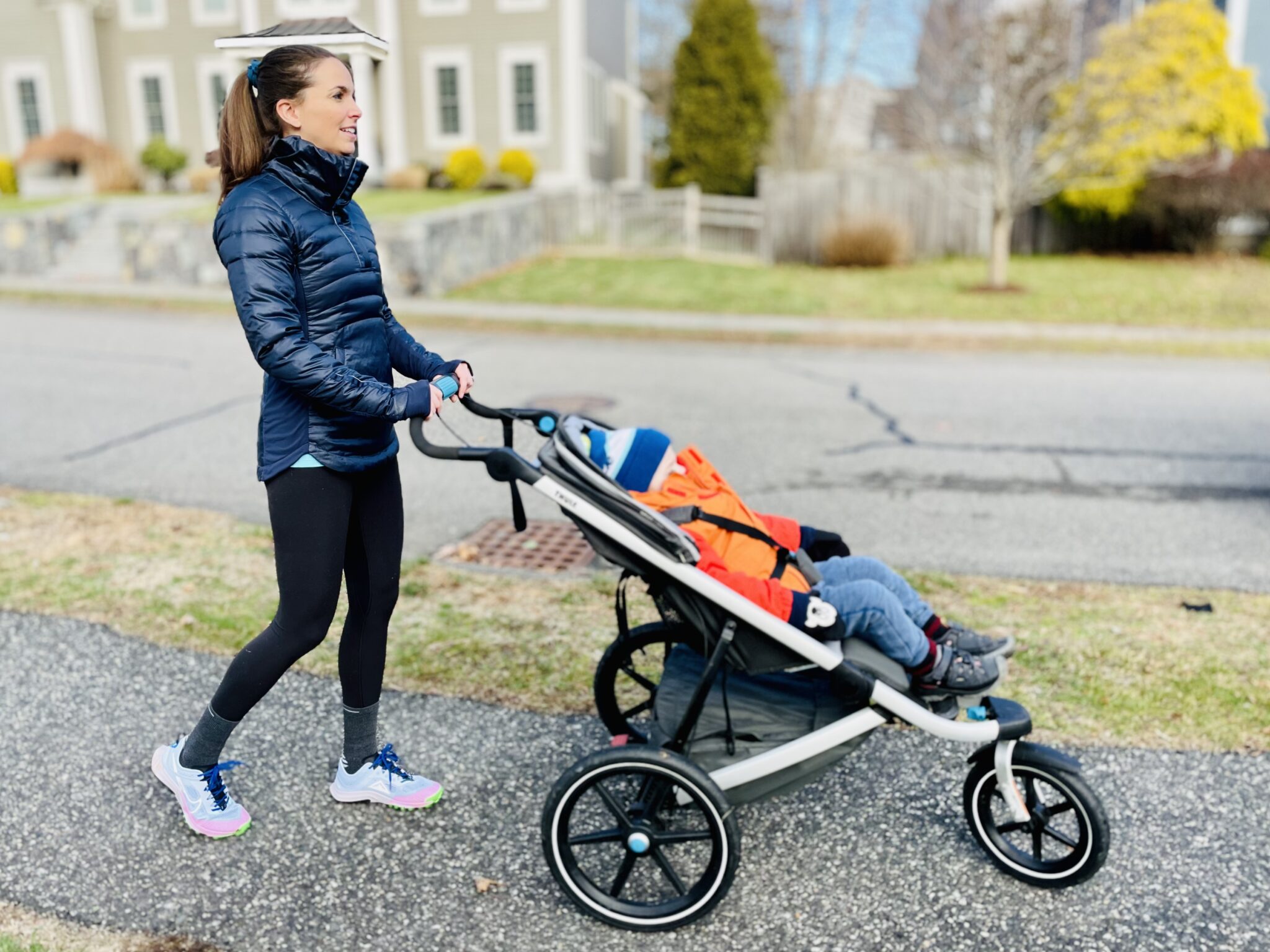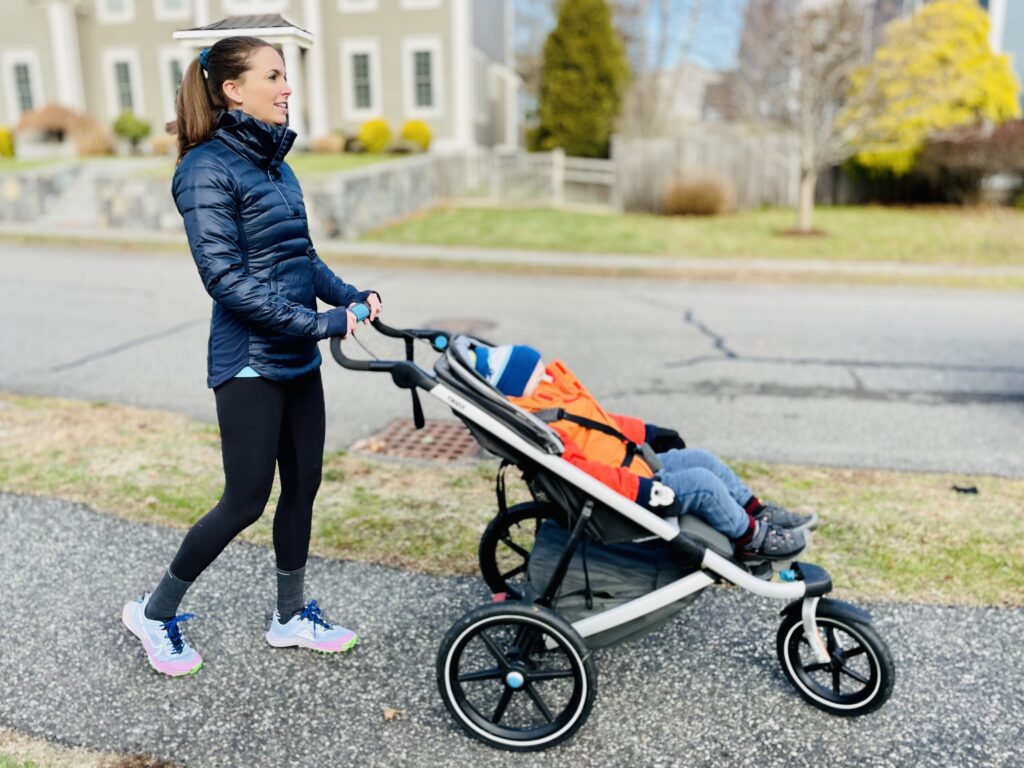 Baby Jogger City Mini GT2 – This stroller is a popular choice for parents and has all-terrain wheels, a one-hand fold, and a weight capacity of up to 65 pounds. The stroller weighs 21.4 pounds and is priced around $450.
Thule Urban Glide 2 – This is another jogging stroller that offers all-terrain wheels, but it can get flat tires and some parents complain it's wobbly. Parenthood Adventures writer Christy is a fan, though. Read her Thule Urban Glide 2 review here.
UPPAbaby Cruz V2 – This stroller is another popular choice with all-terrain wheels, a reversible seat, and a weight capacity of up to 50 pounds. It weighs 25.5 pounds and is priced around $650.
Overall, the Guava Roam Crossover Stroller has many great features that make it a versatile and convenient choice. It's certainly the one I'm reaching for the most often out of our strollers. The handling, versatility, and compact fold all make me a big fan!
*Some links in this post are affiliate links that support this site at no extra cost to you. Thanks for keeping us going!