Flying on United with a Baby – Our Experience and Review
Is United a good airline to fly with a baby? Over the course of my son's 60+ flights over the past 13 months, including one that was nearly 9 hours with United, we've had many chances to test this airline. It's the one that services our home airport the most, and the one we're the most loyal to.
Is it a good airline to travel with a baby or toddler? Here's everything to know about infant policies, and the experience of flying with a baby on United Airlines:
Booking a Lap Infant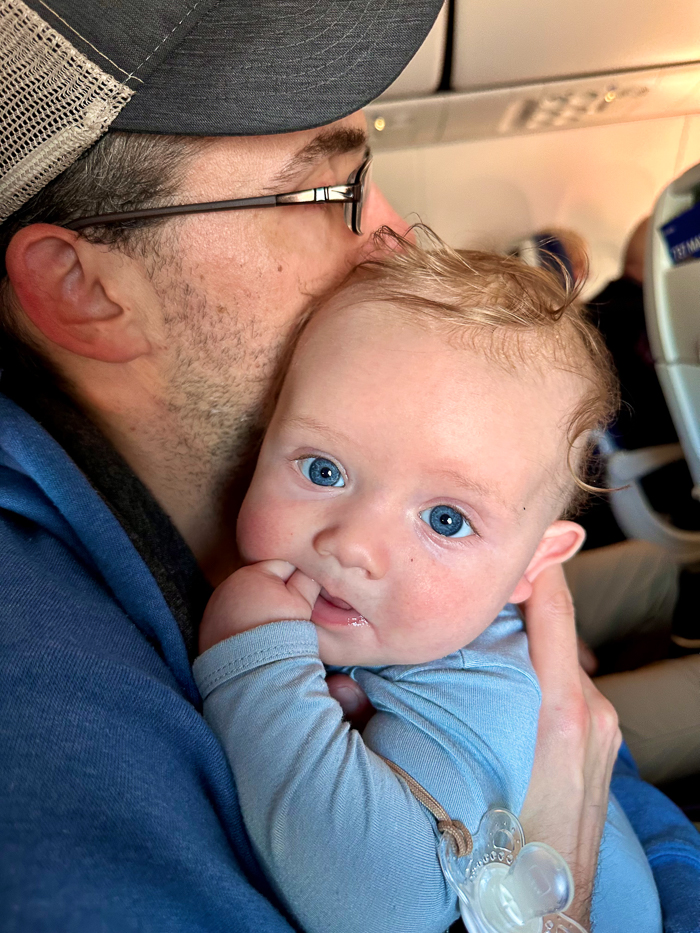 Booking a lap infant on United Airlines is simple and straightforward. You just add them to the lap of one of the parents during booking. If you have a mileage account with United, which you might as well do if you fly with them, you can add your baby's details and just check a box each time you want to add them to your lap.
I definitely recommend doing this during booking rather than trying to add them later. I have run into an issue previously where a client booked the ticket for me and didn't add my son as a lap infant. When I called and added him later, they said that everything was fine, but when I showed up at the airport, it was not fine. Whoever I had spoken with didn't properly add him, and we ended up missing our flight since the check-in agent couldn't do it manually at check-in and we ended up on hold for over an hour trying to sort it out. It's actually the only bad experience I have had with United, and almost made me decide not to keep flying with them.
But they're the airline we travel with the most, and that we have status with. It helped me learn an important lesson – just add the infant when you book.
Like every airline I'm aware of, infants can be on your lap until they're 2 years of age. This will be free for domestic flights and will cost 10% of the adult fare for international, or just the airport fees and taxes for Mexico and Canada. This fee will be added when you check out.
United Infant Policies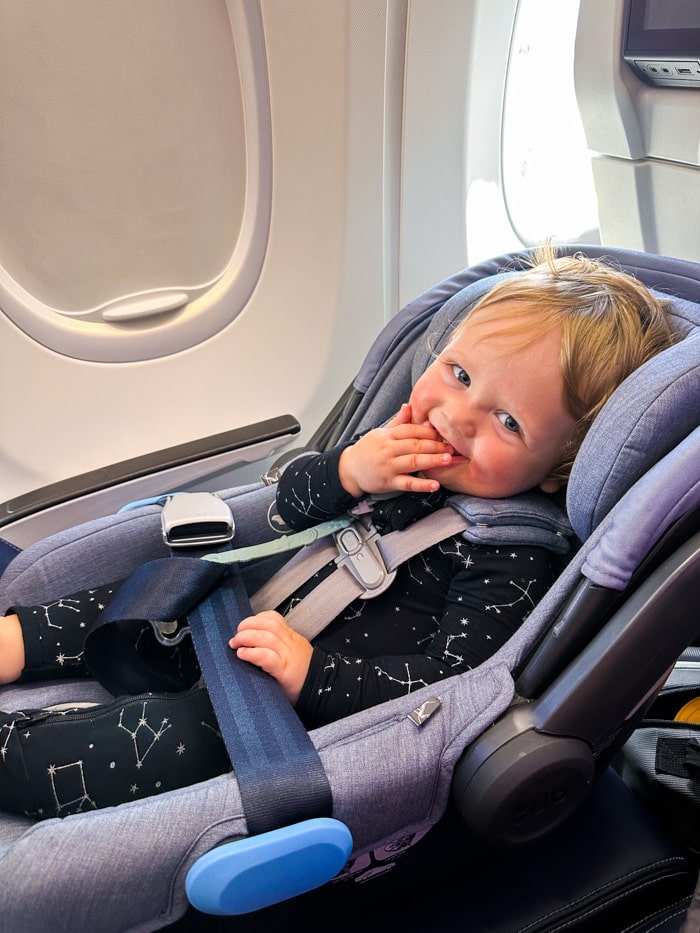 United provides free onboard bassinets in United Polaris business class and in Economy on some international flights. You'll have to request it at the gate and will only be able to use it if you're in one of the bulkhead seats.
If you're traveling with a child of any age, you can bring the following on your flight for free in addition to your carry-on and personal items:
Diaper bag (does not count against your carry-on allowance).
Breast pump, milk or formula.
FAA-approved car seat (only if your child has their own seat, or you can gate-check).
Compact folding stroller that meets carry-on bag size guidelines when collapsed, like the gb Pockit.
Unfortunately United does not allow blow-up toddler beds like the Flyaway bed. They do, however, allow the CARES harness if your child has their own seat and is over 1 year old.
I have also found changing tables in the lavatories on just about every United flight I've taken.
You can also gate check strollers and car seats for free, or you can check them as hold luggage for free. Large or non-collapsible strollers, and non-folding wagons must be checked at the ticket counter. However, they're also free.
The Experience of Flying United with a Baby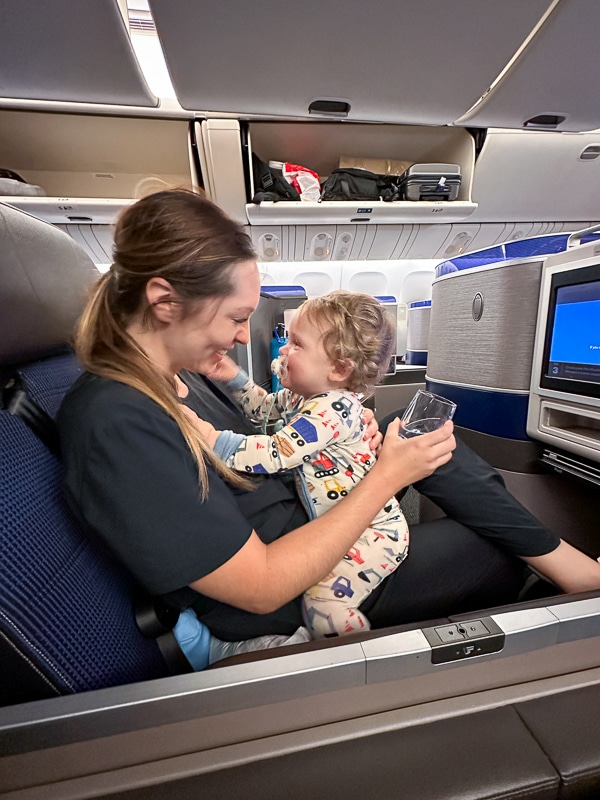 I've flown everything from the tiny 4-seat per aisle planes to the United Polaris Business Class with my baby. Overall, it's a good experience that has been mostly headache-free.
United allows early boarding for any families with children under 2. What I appreciate is that you truly board early with United, right after Global Service, US Military, and customers with disabilities, as opposed to Southwest which allows the A group to board first. When I've been traveling solo with my son, I really needed that extra time to set everything up without a bunch of people trying to board right behind me.
I also appreciate that I've never had an issue with United employees questioning if my stroller really fits in the overhead bin. I've traveled with the GB Qbit (which is actually slightly over the allowed dimensions, but always fits regardless), Ergobaby Metro+ (read my full Metro+ review), and Joolz Aer and they've all been allowed without issue.
Once on the plane, so far my experience with the service has ranged from fine to great. The service on US airlines has never compared to, say, Emirates or Singapore Airlines, but my expectations are managed on US airlines, and United is just fine.
Basic Economy
From time to time, I've booked the Basic Economy fare. Since United doesn't count the diaper bag against your carry-on allowance, you're good to bring it on. That said, booking seats together isn't possible with basic economy. We've always been able to ask whoever is next to us to switch without issue, though, and if you get to the gate early, they may be able to help there as well.
Economy
With the exception of the exit rows, which children under 13 aren't permitted to sit in, you can book any seat in Economy with a baby. I always recommend the window for some added entertainment and so that there's a spot without anyone next to or walking by you. If you book your little one their own seat, United recommends that it be the window seat.
Premium Economy
This is pretty much your only shot at getting a bassinet seat on a larger and especially international flight. These seats have more legroom and are more pleasant to fly with a baby when you can swing it.
Polaris Business Class
Most recently, we flew United Polaris business class from Tokyo to San Francisco and I appreciated the level of service on the flight. The cabin crew were always happy to be helpful, which has mostly been my experience on business class with any top airline.
However one thing I wish they did on United that, though rare, I've seen on Singapore airlines, is to give priority access to the seats that have capacity for bassinets to those traveling with infants. By the time I've booked, I've almost never have access to those seats on United since the bulkhead is popular.
Though these seats had about as much room as I'm used to on an international flight, they weren't as wide as the seats on our inbound Singapore Airlines flight. If you can possibly fly with them, DO IT.
Keep in mind that the exact seat configuration and features will depend on the aircraft. It's always worth searching the specific aircraft you'll be flying prior to booking to make sure you're happy with the business class before splurging for it. United is usually pretty good, though.
Would I Recommend United to Parents?
Overall, United Airlines is a good one to travel with babies and toddlers. Although I wouldn't say they've gone above and beyond like some international airlines I've flown with, they've still been accommodating and good to fly with a baby.
They allow priority boarding for families earlier than some airlines, make adding a lap infant easy during the booking process, and haven't given me any issues about bringing on a stroller as a carry-on. Overall, their policies are pretty generous to those traveling with a baby.
With the exception of my one bad experience when the lap infant wasn't added during booking, I've otherwise had good experiences flying with them with our baby.
*Some links in this post are affiliate links that support us at no extra cost to you when you make a purchase through them. Everybody wins!