Why I Love the Beaba Babycook
Is the Beaba Babycook worth buying? With the promise of making your own baby food quickly and easily, and with a stylish piece of equipment, does it live up to the hype?
I bought the Beaba Babycook duo for my son when he was about five months old. Now that he's nearing 10 months, I've been using it for everything from making purees to steaming veggies and utilizing it as a food processor for patties and baked goods. Here's what I love about it, and what I don't:
Beaba Babycook Features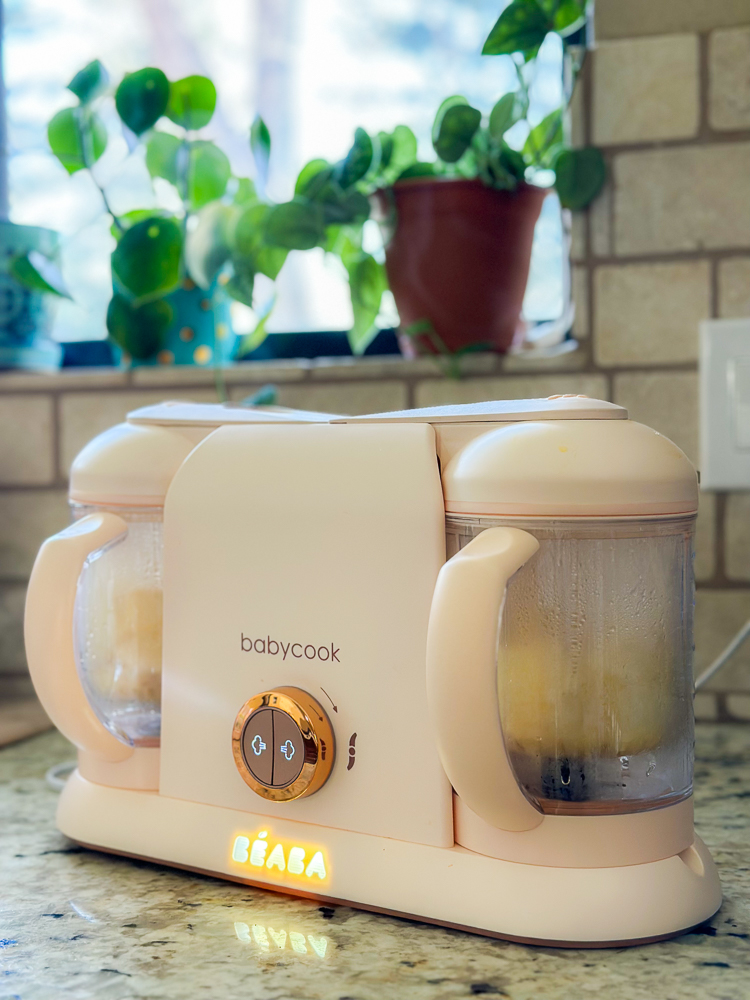 Let's start with what I love about the Beaba Babycook. From my research, it really seemed like this particular baby food maker could do it all. First you can easily steam your veggies and then easily blend when the steaming is done in the same container. It's essentially a steamer and food processor in one. I got the Beaba Babycook duo, which has two sides, so that I could make two dishes at once, and am very happy with that choice for the time savings. Here's what you get:
Includes 2 large capacity bowls (4.7 cups each), removable cord for easy storage, cooking basket, spatula, mixing lid/smoothie filter and recipe booklet.
weighs 6 lbs
Shuts off automatically when done steaming.
Can be used to reheat or defrost precooked foods.
One-handed operation for ease of use while holding baby.
Patented steam-heating system steam cooks raw meat, veggies, fish, or fruit in 20 minutes or less.
Stainless-steel water reservoir.
BPA-, lead- and phthalate-free. Bowl is Bisphenol-A free copolyester; cooking basket is polypropylene.
Top-rack dishwasher safe.
Double retails for $214.
Let's be real, it also looks better in the kitchen than any other baby food maker I could find. It comes in an array of colors from cloud, to Eucalyptus, white, clay, charcoal, navy blue, and the rose gold model I have.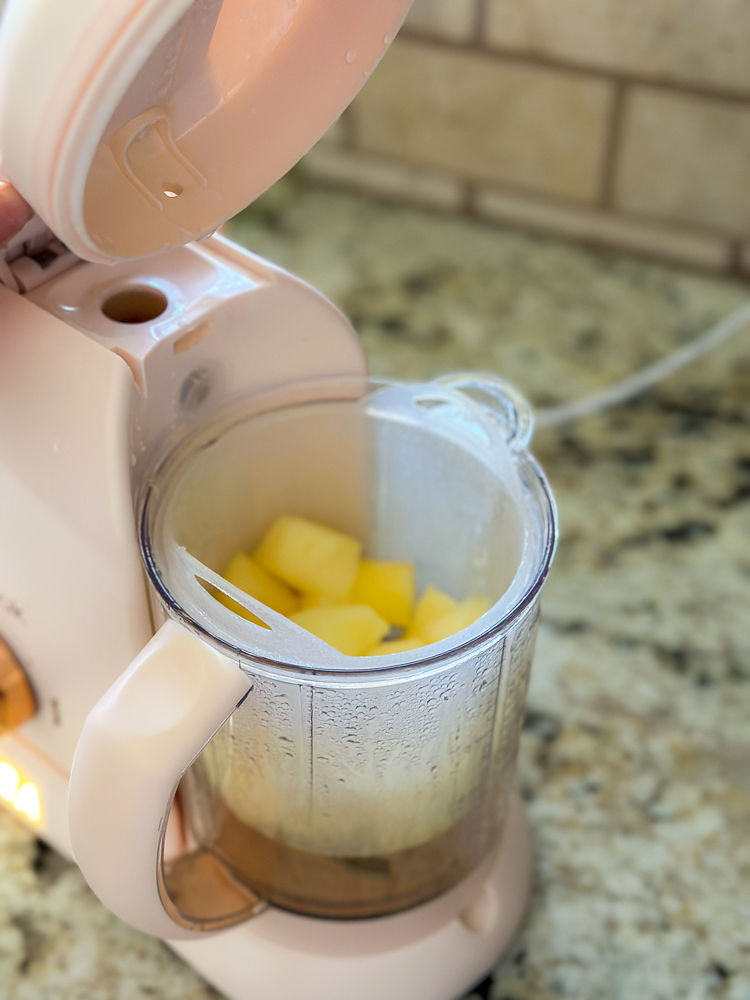 If you're looking for an option with less plastic, the Babycook Neo has a stainless steel steaming basket and a glass bowl with a 5.2 cup capacity. If this model came in a duo, it would have been my preference.
However if you're low on counter space or are looking to buy this as a travel item (which I think is a great idea, more on that below), it could be a great choice. The standard Babycook Food Maker with one steaming bowl is also a great option, and is the cheapest of the three.
Is the Beaba Babycook Useful?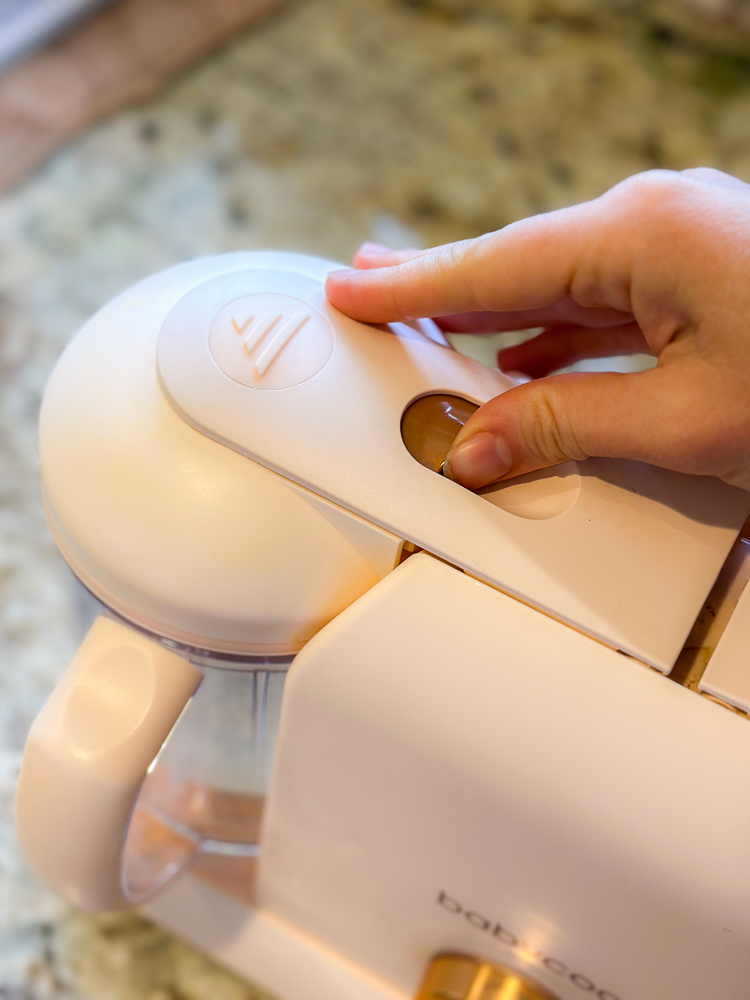 When deciding how and what to feed my baby, I figured having more tools at my disposal would be a good thing. I don't have a dedicated steamer and although I own a Vitamix, this seemed like a simpler solution to get a baby food maker.
Plus, it looked so much nicer and would make clean up easier than steaming on the stove top (which I'd have to supervise more closely), blending in a blender, and using multiple dishes for what, in the case of the Babycook, only uses one.
The first time I used it, I was impressed by how quickly everything cooked and how little it required of me to make it happen. The bowl has three marks on it for the level of water. Choose how much you think you'll need based on how hard the food is that you're cooking.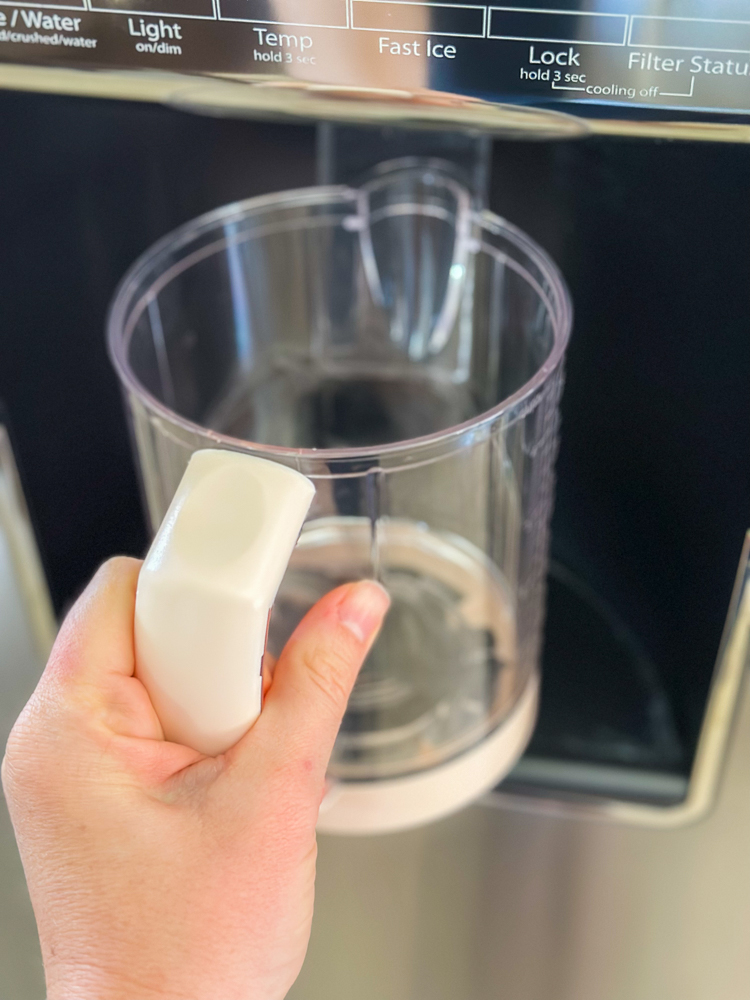 For carrots, raw meats, potato, and apple, a level three is great. For softer things like zucchini or broccoli, level one is fine. The amount of water you put into the machine dictates how long it steams for. Once the food is in the steamer and the lid is clicked closed, push the steam button and it does the rest on its own. It'll beep once finished steaming. Use the included tool to lift the steam basket out of the bowl, pour the steamed food into the bowl with or without the liquid, blend, and you're done! The blender is high quality, making it easy to make stage 1 baby purees.
The steaming basket and the bowl can both be washed in the dishwasher.
Is it still useful for baby led weaning?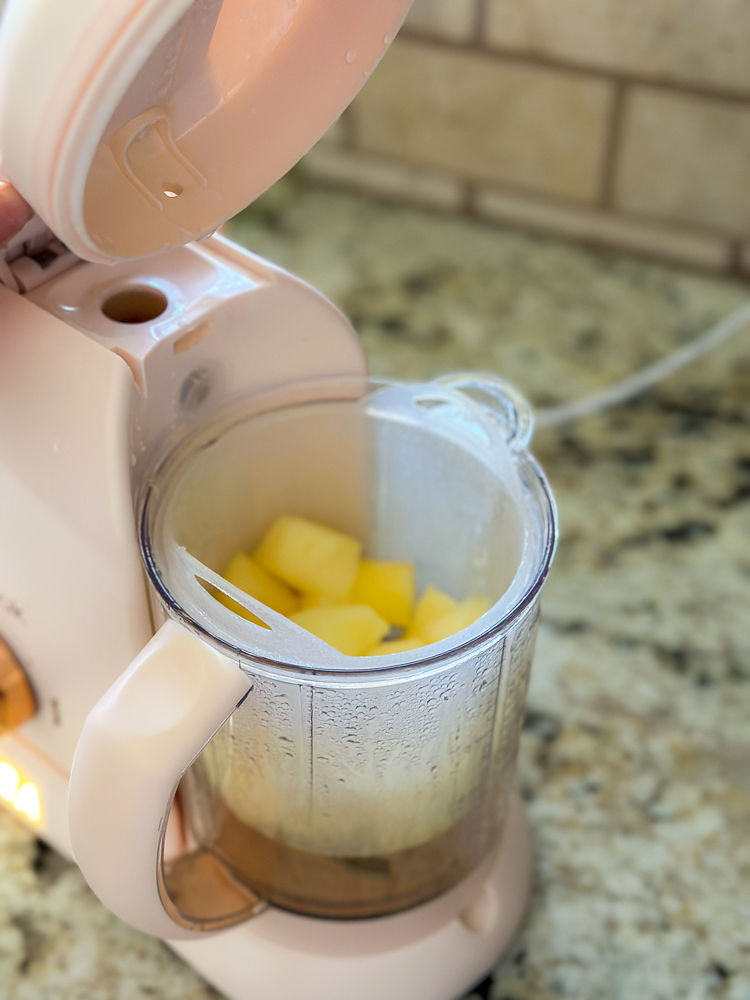 As a mom who does mostly baby led weaning, which entails giving babies whole pieces of food and letting them feed themselves rather than spoon feeding purees, yes I still feel that it's worth it.
I often use the steaming basket to steam veggies and harder fruits rather than having to heat up the oven and roast. It's much quicker and more efficient. I also use the food processor to blend hummus, apple sauce, homemade bean patties, veggie muffins, and any other dish that would be easier with a food processor.
I have also been very glad to have it on road trips with my baby where we had the space to bring it along. I was able to cook and steam food in the hotel room without needing a kitchenette, which greatly simplified feeding our baby.
Does it save money?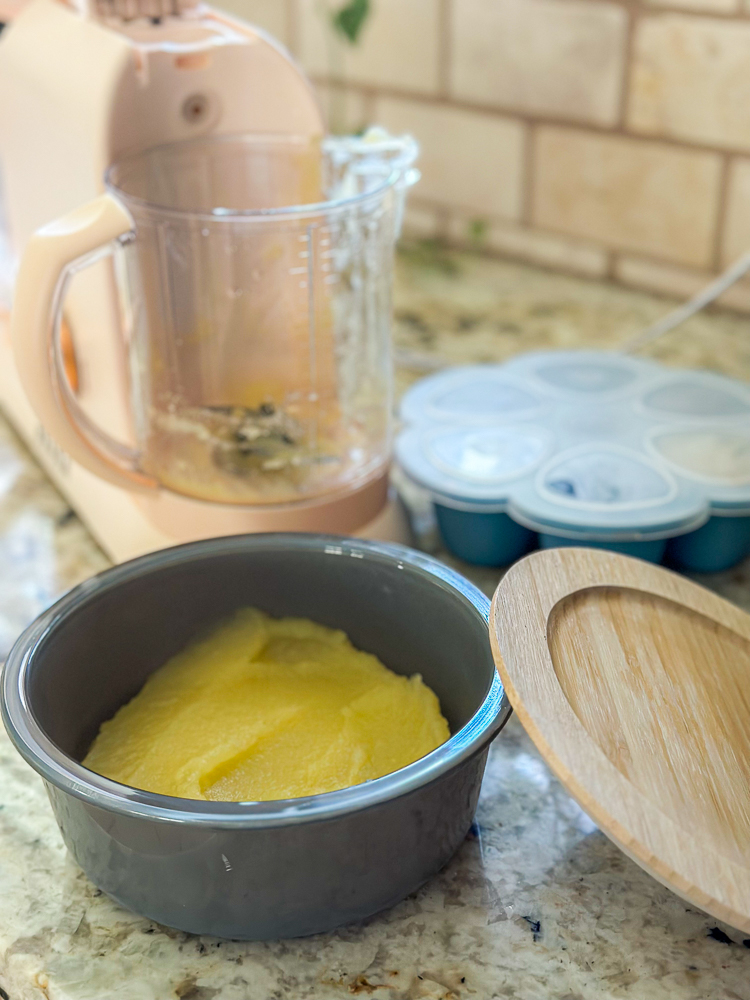 The Beaba Babycook isn't exactly cheap brand new, though I scored mine for $50 on Mercari (more on how I buy and sell most of my baby items secondhand here).
That said, buying baby food can add up quickly, and it often has additives I'm not a fan of. The food in baby pouches can be expensive, and creates a lot of trash and waste as well. Since making baby food can be so simple and quick with the babycook, I find it's much cheaper to just make my own organic food. That would go double for if our baby was exclusively eating purees.
From one organic pear and two zucchini, which cost me $4 total, I was able to fill an entire 6-serving freezer tray (I like the Beaba silicone one) with purees. The whole thing took me 15 minutes. Similar pre-made organic, non-GMO baby food costs about $2.50 per serving minimum.
What I Don't Love about the Beaba Babycook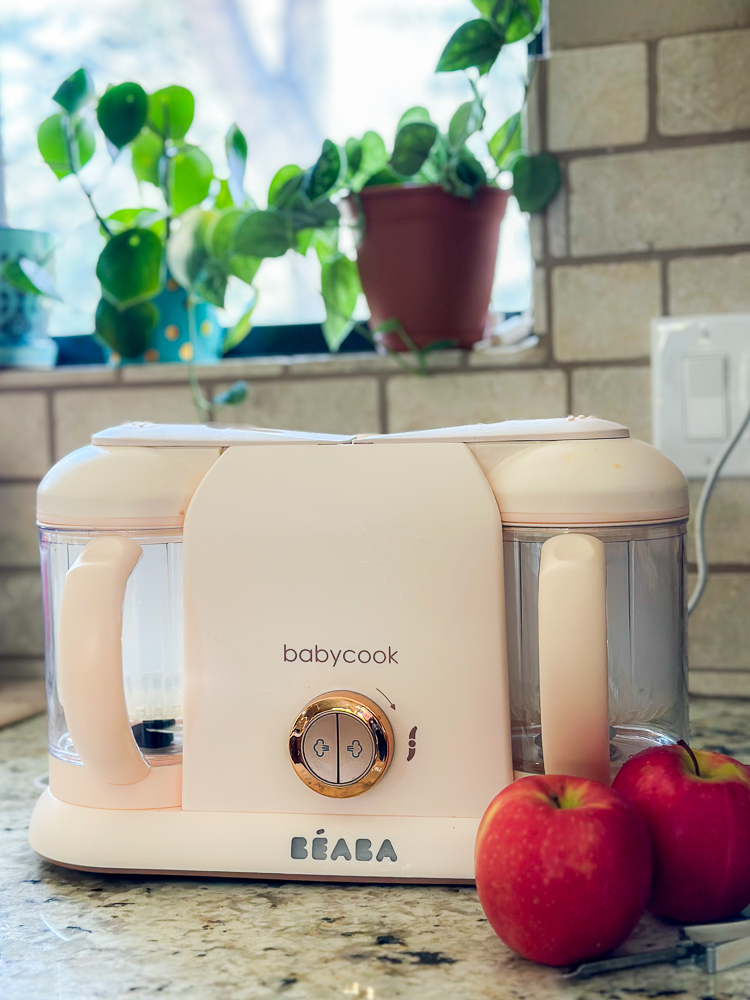 Although I mostly think the Babycook is great, there's one thing that I wish was done better – the latch that closes the lid so that the babycook can start steaming. It took me a while to learn that I had to push down right in the middle on the arrows at the top, and it didn't take long for the latch on the right side of the Babycook to have trouble latching.
Now I have to hold the latch in, close it completely, and let it go. It's not a huge deal, and it could be because I bought it secondhand and it had gotten lots of use, but when I looked at negative reviews, that was the one thing that I saw a few others complain about. If it were under warranty, it wouldn't be a huge deal, but since I'm the second owner, mine is not.
Beaba Babycook Alternatives
What else is out there if you want something cheaper or with different functionality? Here's what else I considered:
Babymoov Duo Meal XL Food Prep System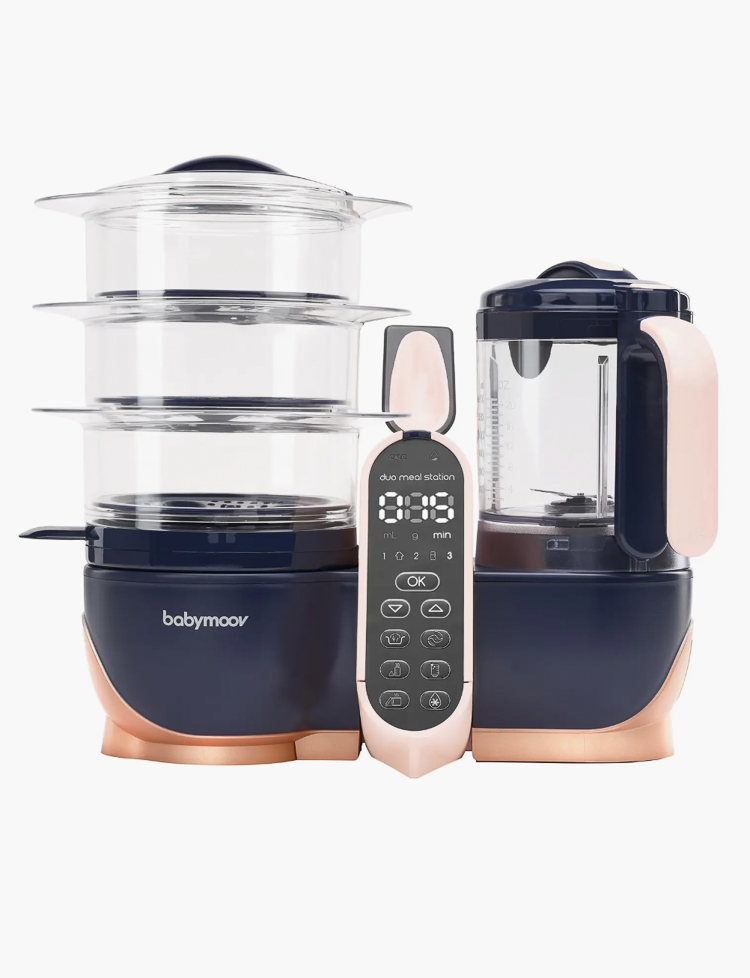 For an even more robust cooking system, the Babymoov Includes three steaming trays, nine steaming cups and three blending cups with multiple blending speeds. It can be used as a sanitizer and bottle warmer as well, though I'd probably still use the Baby Brezza for that since it steams so much more at once. It's also stylish, with rose gold and black colors, though it takes up more kitchen real estate than the Babycook. However the lite version is nice and small, and cheaper than the Babycook.
Baby Brezza One Step Glass Food Maker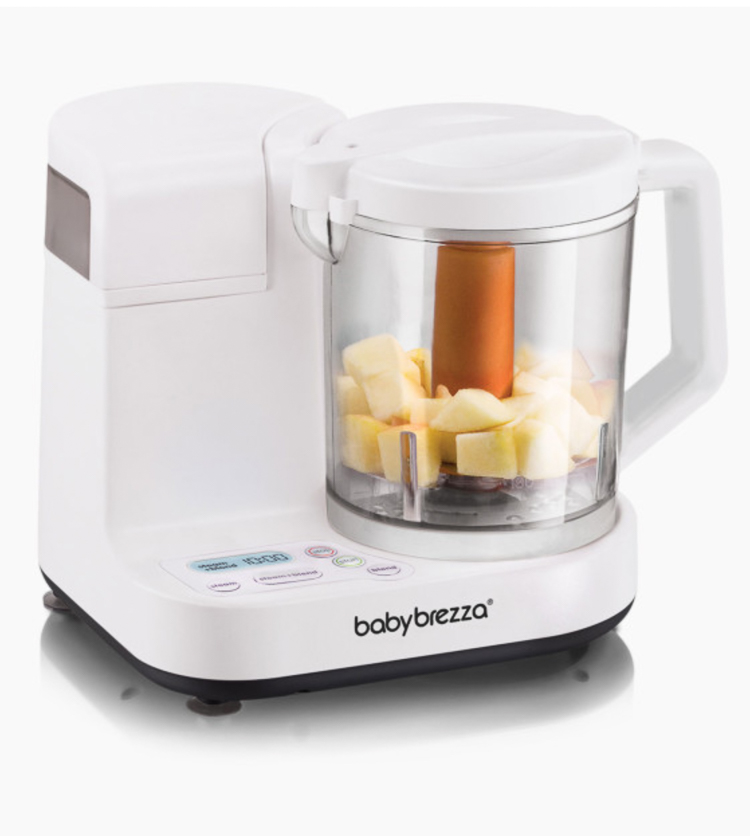 I like that this one utilizes glass instead of plastic, but the reviews for the Baby Brezza were not as good as the Babycook, with the most common issues being early breakage or the puree function not working as well as desired.
Nutribullet Baby Steam and Blend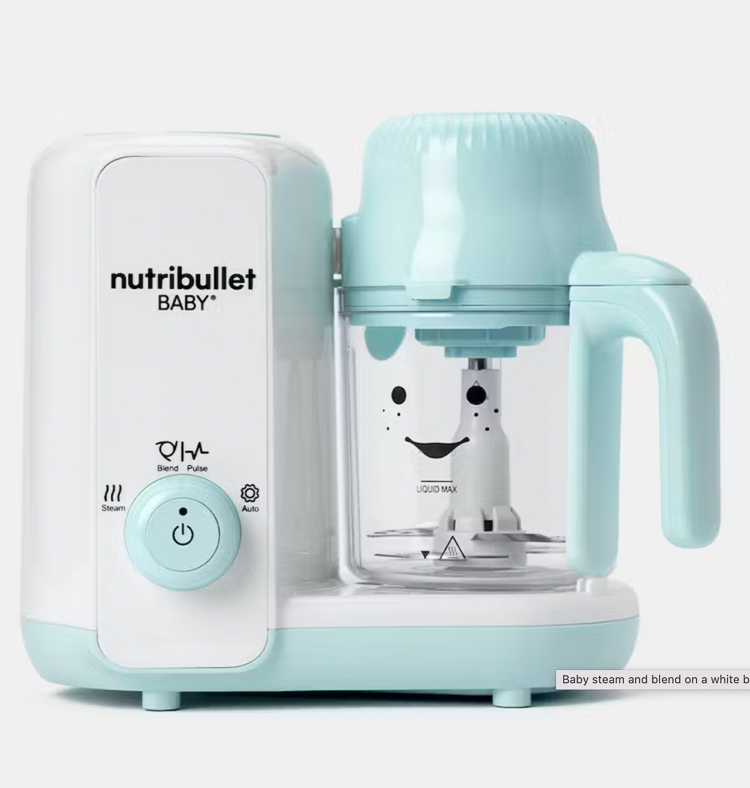 The cheapest option of the three, the Nutribullet steams and blends baby food. The only big difference is it utilizes plastic and doesn't appear to have a separate steaming basket. This would only be an issue if you plan to drain the liquid from the food before pureeing, which I usually do.
Out of the four, my reason for choosing the Babycook was how much I could cook for the amount of space it would take up. I loved the rose gold as well, and after using it, I would pick it again. It's simple to use and clean with minimal parts while looking chic on my counter top.
*Some links in this post are affiliate links that support this site at no extra cost whatsoever to you. I only recommend products I love and use myself. Thanks for your support!