24 Tips to Survive a ROAD TRIP with a Baby!
If you always loved road trips before baby, then you might be dreaming of taking one with your little one. I'm here to tell you it's possible, and can even be fun! But unlike a spontaneous road trip you might have taken before, you'll want to plan ahead when taking a road trip with a baby.
We have taken my now 10-month old on several road trips from 5-hour drives into nearby California, to 30+ hours to explore the Utah National Parks. We've just wrapped up two weeks driving around the Azores in Portugal as I write this.
We don't have one of those babies who just falls right to sleep in the car seat. It's not his favorite place to be, so we have had to work a little extra at having successful road trips. Here's everything we have learned:
1. Sit in Back if You Can
My son tends to dislike the car the most when he is in the back seat alone. If possible, try to have someone sitting back there with your baby so that they don't feel alone and have a friendly face to look at. It also helps you take care of any needs and notice more easily if your baby has gone to the bathroom and needs a change.
2. Bring Small Toys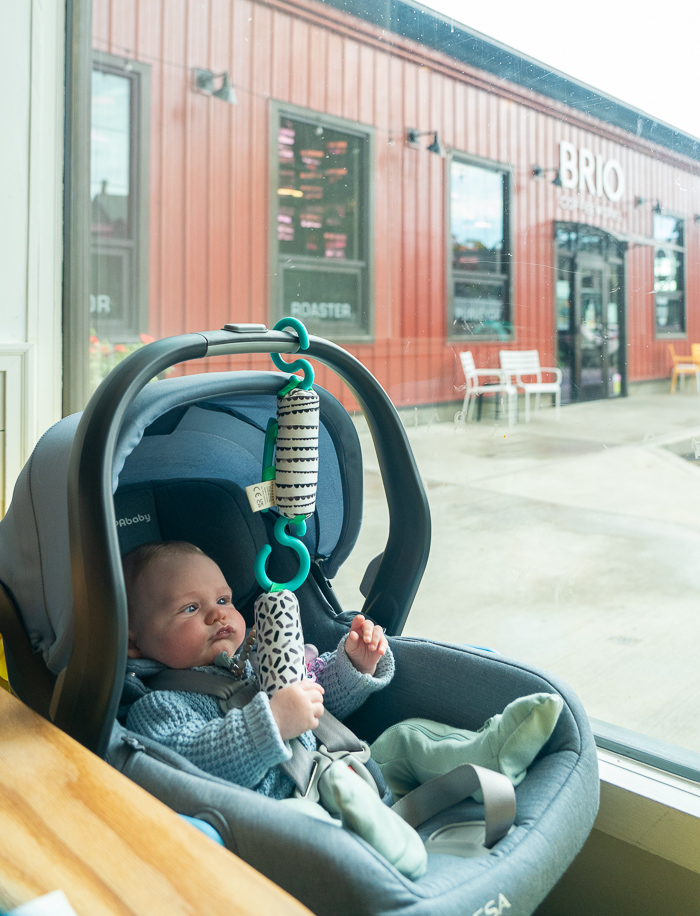 I always have some small toys for him to play with in his car seat. That might be stacking cups or early on he liked contrast a lot, so we had plush toys with rattles and contrasting patterns on them. We have pretty much always used Lovevery toys from the bi-monthly Montessori-inspired Play Kits. Read my full Lovevery review for an idea of what they send.
3. Bottle Feed if Possible
It may not be possible if your baby will only feed from the breast, but if you have expressed milk or if you formula feed, I find it's helpful to have a bottle on hand when we get in the car to start the journey. It helps him fall asleep, and it helps him make peace with the fact that we are now in the car seat. If you do formula feed, I recommend having the water pre-measured in the bottle before you go to make it an easier process if you need to make a bottle in a moving car.
4. Think about How You'll Change Diapers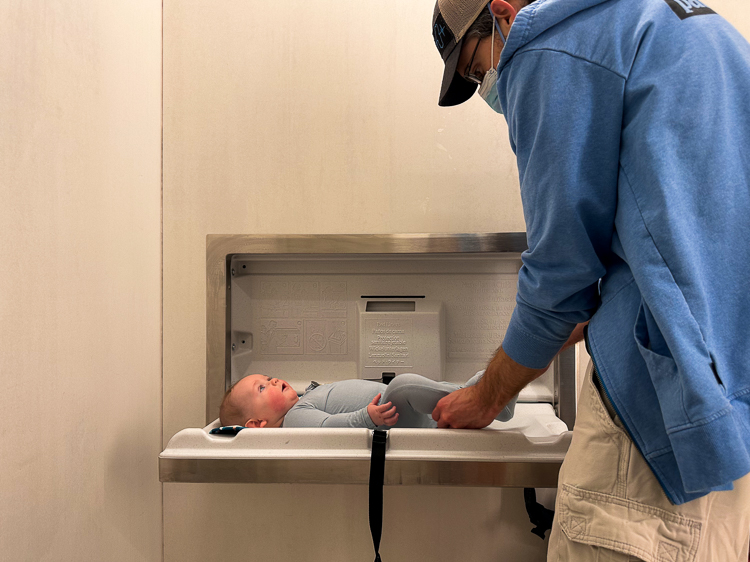 Now that we travel with our baby, I'm finding that there's often a dearth of baby changing tables. Sometimes you find them in the least likely places, and sometimes when you really need one, they are nowhere to be found. We have done a lot more backseat changes than we thought, and it's a back killer in our sedan.
In my mom's Subaru trunk, it's a lot easier. If you have a larger car, keep a space open in the trunk so that you can change more easily. Otherwise, I've utilized park tables (when nobody was around), blankets in grass, as well as the back seat. I use this portable changing pad on the go.
5. Use 'Travel' Diapers
The thing about the car seat is, the strap is meant to be tight, and that means it can sometimes force leaks from a full diaper. I have learned that we need different diapers for traveling and overnight and can use slightly cheaper ones during the day when we are changing more frequently. The best ones I have found for transit and overnights are Coterie. It's resulted in so much less laundry! Read my full Coterie review.
6. Bring Bags
I always have a few leftover grocery bags along so that we have somewhere to put dirty diapers if we've had to pull over in the middle of nowhere to change a diaper. Given we live in Nevada, it happens a lot. There won't always be a trash can nearby, so bring a bag for trash along until you can get to a trash can or dumpster.
7. Washing and Sanitizing on the Go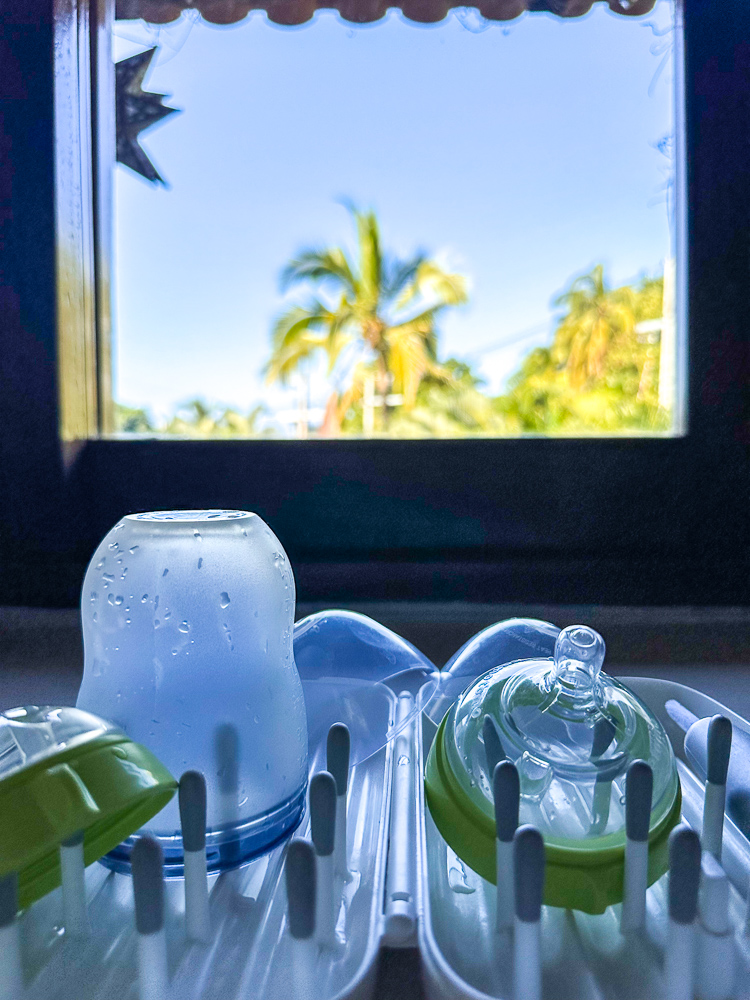 At home, I have a dishwasher or steam cleaner, but on the road, we often just have a hotel room that we're working with. Since most hotel rooms have microwaves, I love these steam clean bags for bottle parts, pump parts, or binkies. Even if you don't have microwave access, you'll at least have a sink. This portable bottle washing station, and a small bottle of our own non-scented soap from home, always join us on trips.
You can even wash in a parking lot with this! I've also done it in a moving car, but can't recommend it.
8. Bring a Baby Sleep Space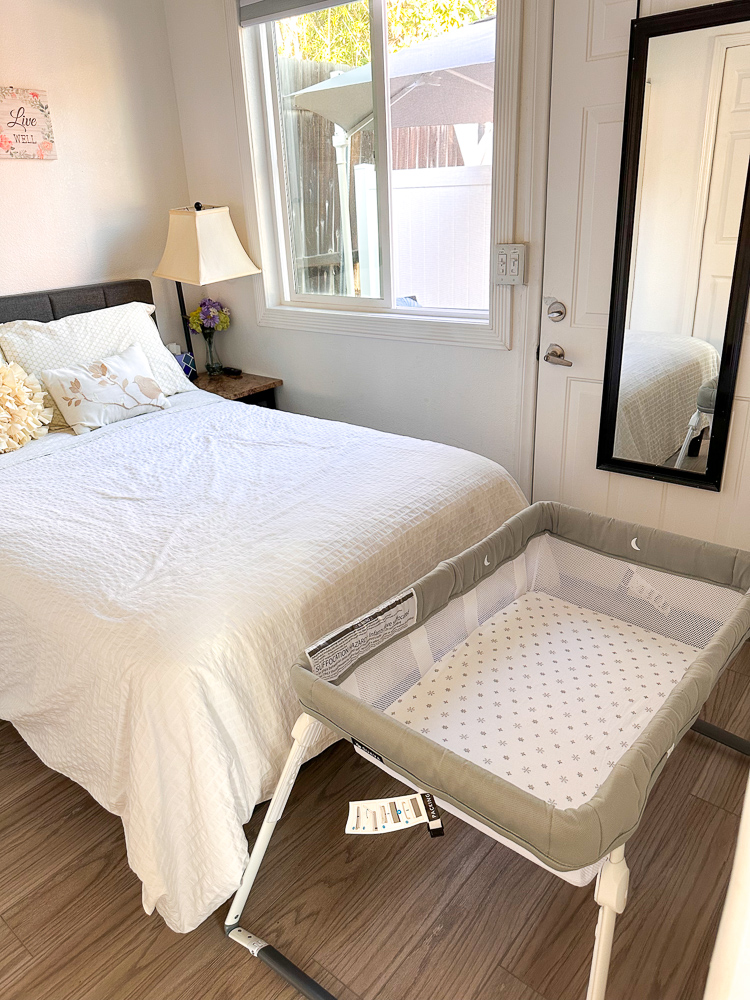 Make sure before you go that you know where your baby is going to sleep. Sometimes on a road trip, we don't have everything pre-booked and we're not sure exactly where we will stay. I like to have our travel bassinet/pack and play along with us so that he always has a safe, familiar sleep space. I tend to prefer this over hotel cribs since they can be so variable with quality, but it all depends on what might be available in your destination.
If you are staying in a hotel you have pre-booked, be sure to call ahead and ask about their crib. Some Airbnbs also have cribs.
9. And Potentially a Slumberpod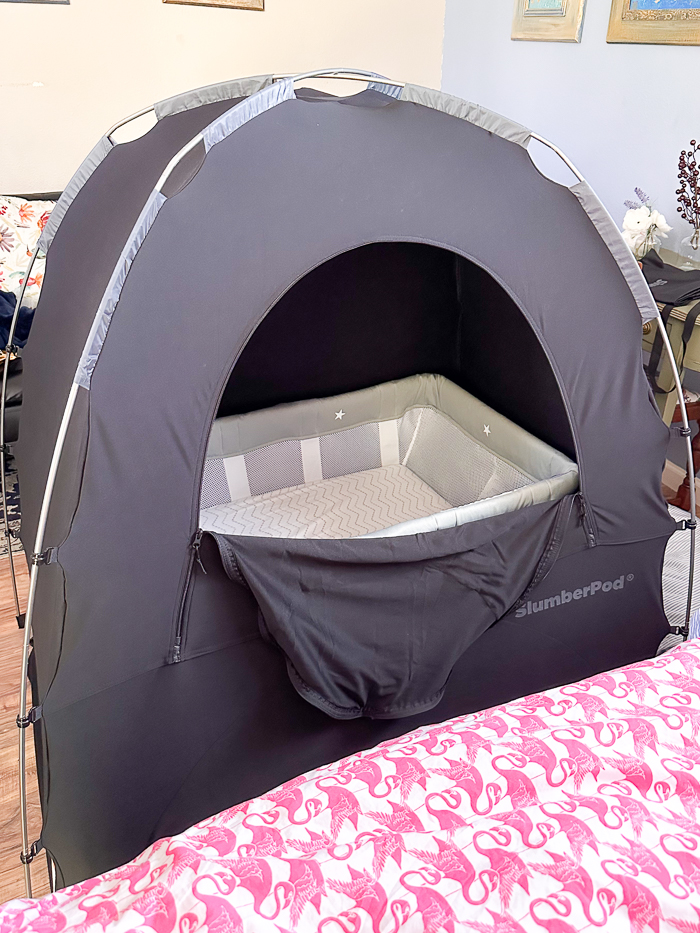 When on a road trip, I like to have as many of our tools on hand as possible. The slumberpod is a black out sheet tent essentially, which allows you to put the baby to sleep in their own dark sleep space while still being able to use the lights in the room if you don't fancy going to sleep at 7pm. It was so helpful on our Utah road trip where all of the hotels were just single rooms. Read my Slumberpod review here.
10. And a Portable Monitor
If you're all staying in one room a monitor might not be necessary, but if you're using the slumberpod, which has a monitor pouch, or you're staying somewhere with multiple rooms, you may want to have the monitor along. I have found that anything that relies on Wi-Fi to operate can be difficult to use with hotel logins. A lot of baby gear only works on the 2.4 GHz network as well, which isn't always available. After not being able to use our Owlet monitor on a trip, we got this $50 analog baby monitor that we bring on all of our trips now. Frankly it's better and more reliable than the Owlet.
11. And a Portable Sound Machine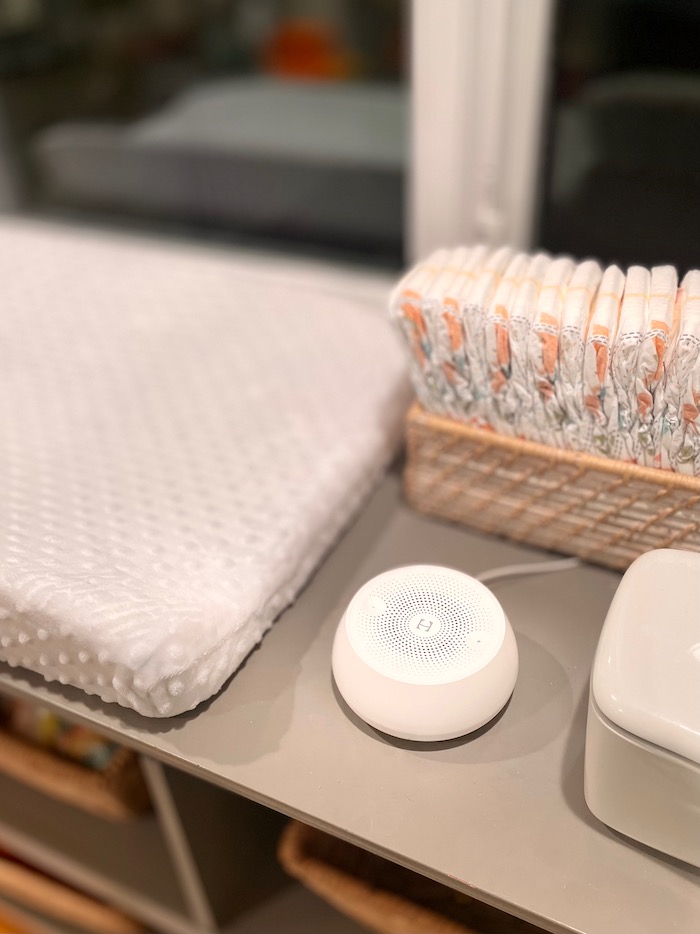 We use white noise at home for our baby. It was always part of the SNOO, which was his bassinet for the first five months, and it has ended up being great to have on the road as well. It's not only useful for the baby, but for us too when there's noise outside or from a neighboring hotel room.
For the same reason I have the analog monitor, we use the most basic Hatch mini on the road, which can operate without wifi and is nice and small as well. If you don't have one you can always download White Noise podcasts onto your phone and play them overnight. Make sure they're long enough!
12. Remember Tummy Time
One of our biggest mistakes on our most recent road trip was forgetting the importance of tummy time. When you are trying to drive, and then in our case hike, the baby can end up in a carrier, stroller, or car seat for much of the day. Make sure that they are still getting play time and you'll have a happier baby.
13. Bring a Small-Folding Stroller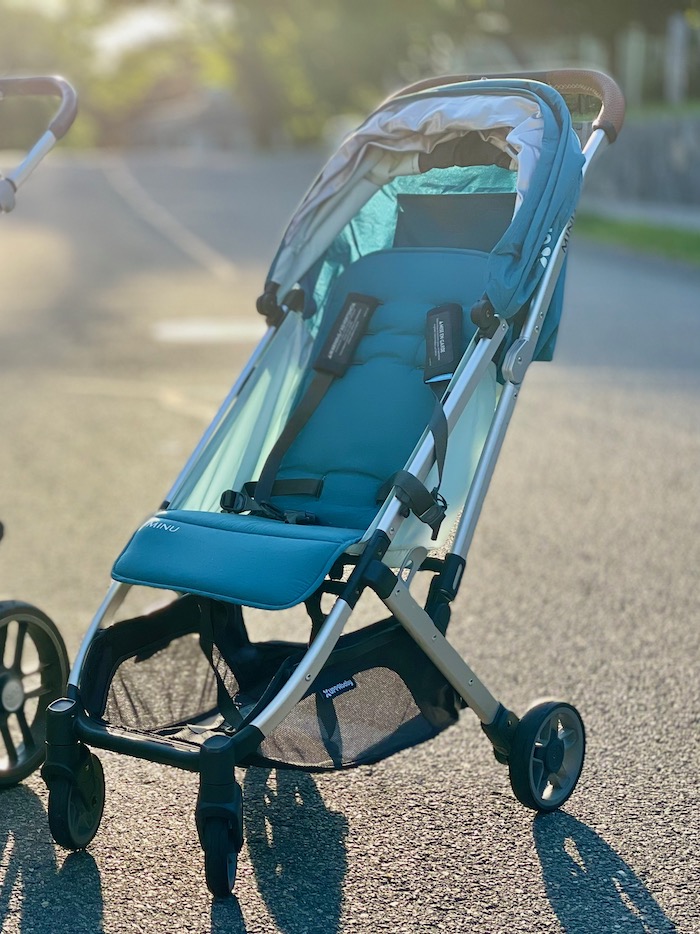 There are about 1 million strollers on the market. That's probably an exaggeration, but it feels like there are so many to choose from! I recommend bringing a smaller stroller that folds up small for your road trip so that you can fit all of your other gear. Here's a listing of our favorite travel strollers.
14. Or Carrier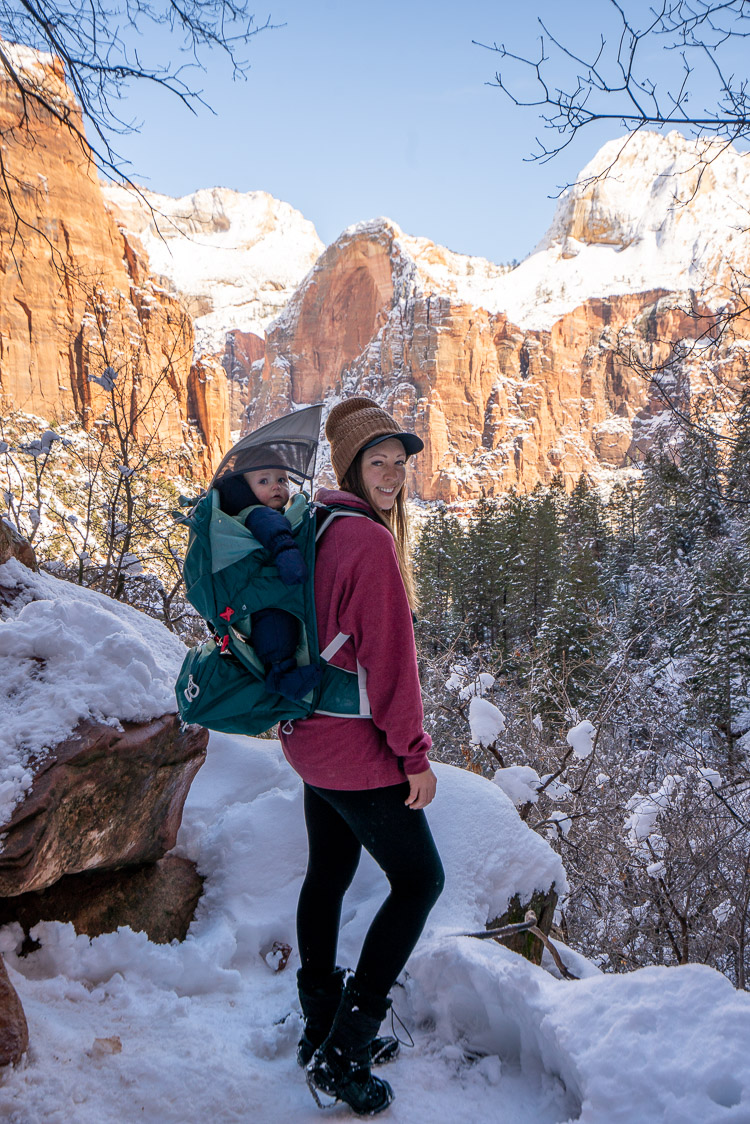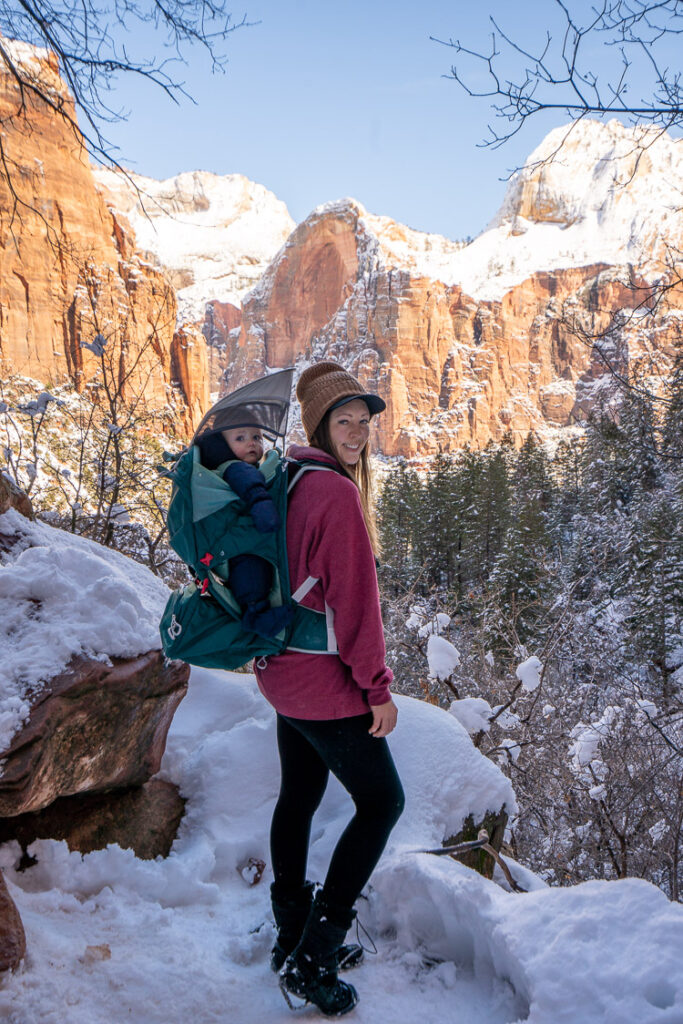 We ended up using a baby carrier for almost the first nine months of my son's life. It just ended up being easier for us than having to bring a stroller along, but now that he's so much heavier, we are using both!
Think about your destination and how much you will really use a stroller. A carrier might be better depending on your plans. In the case of our Utah trip, we were mostly on trails and used the Osprey Poco LT. I'm also a fan of Artipoppe and Ergobaby. Read more about our favorite carriers for multiple occasions here.
15. Feeding Baby Solids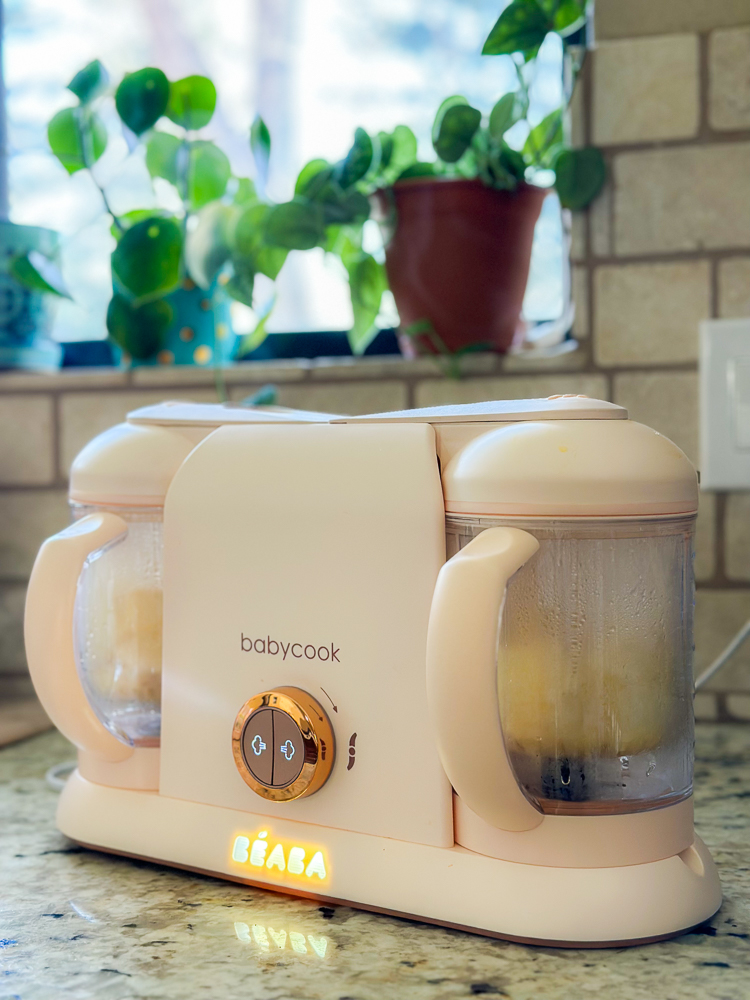 Is your little one eating solids? For some, pouches are the way to go. Since we do baby led weaning, our son prefers to hold his food and feed himself. This meant that I needed to bring a method of preparing his food along. I have found the Beaba Babycook to be excellent for this. I can steam (and purée, if you're doing purées) food on the go. All I need is a power outlet rather than a full kitchenette. Read my full Beaba Babycook review.
16. Babyled Weaning at Restaurants
How do you feed your baby on the go without making a huge mess? That's going to depend on what you're feeding and how, but personally, in restaurants I try to hand feed or switch to purées. I know hard-core baby led weaning people wouldn't do this, but it's what I find works best for us. Sometimes I will order a side of avocado and hand feed him pieces, or bring our own berries or something else that I can feed him easily without making a mess.
17. Bring a Portable High Chair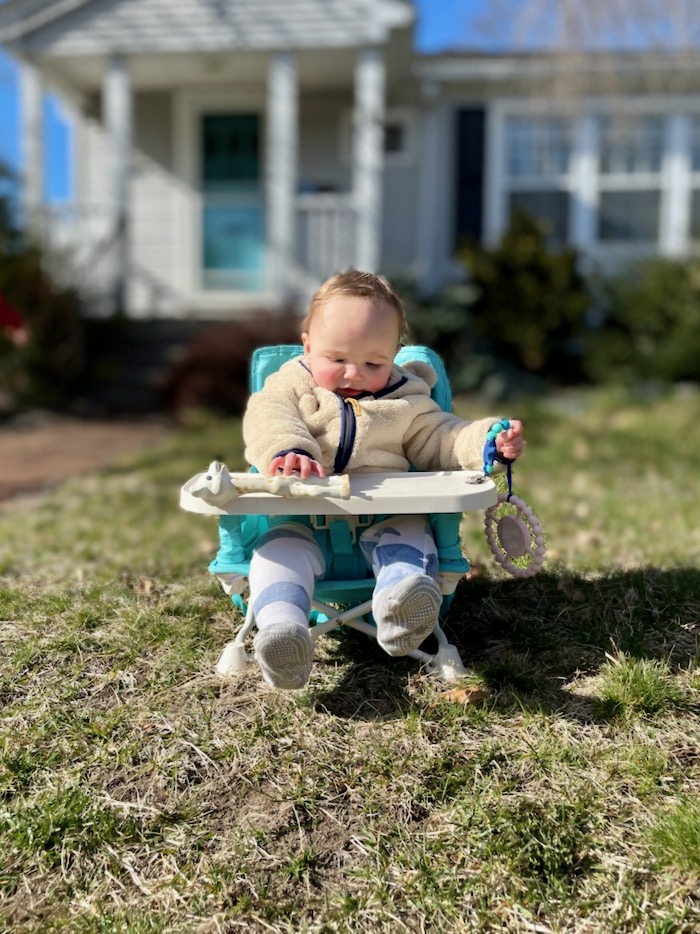 For the longest time, we were just feeding Felix on our laps or would try to sit him on the floor in the bathtub while he ate. It was kind of a back killer, and we always ended up pretty messy. Then we started using the Hiccapop portable high chair and now it always comes on the road with us. It's lightweight and foldable, and can easily fasten to a chair or be used on the floor. The Inglesina 'lobster claw' chair is also a great option.
18. How to Pump on the Go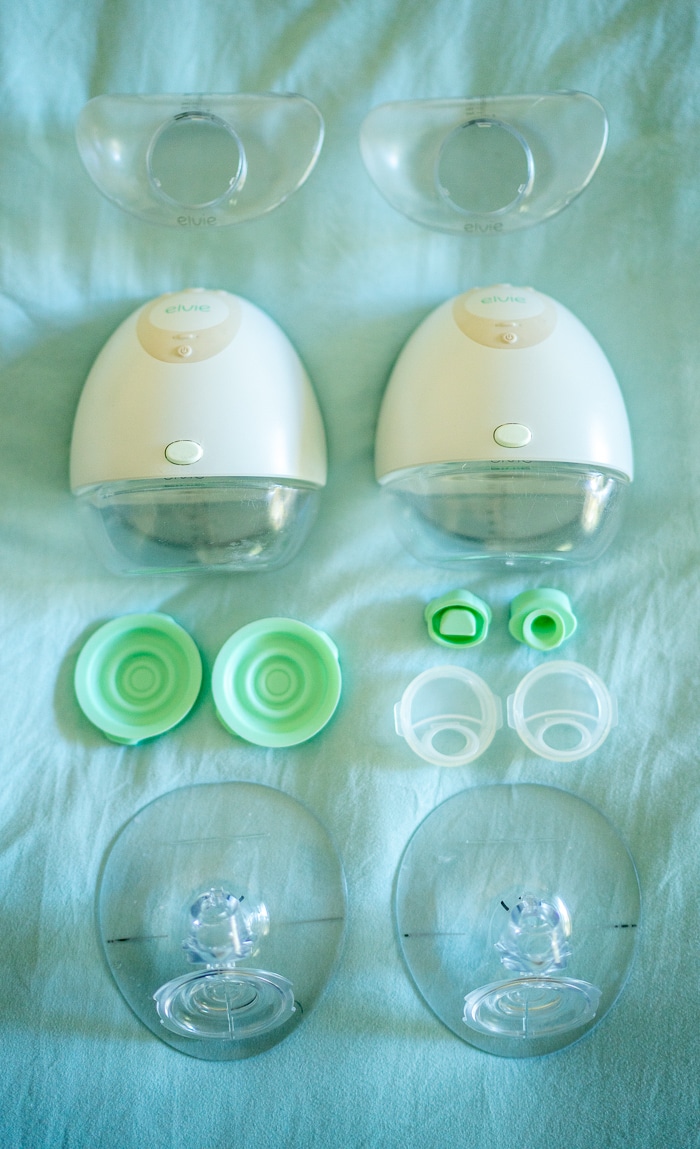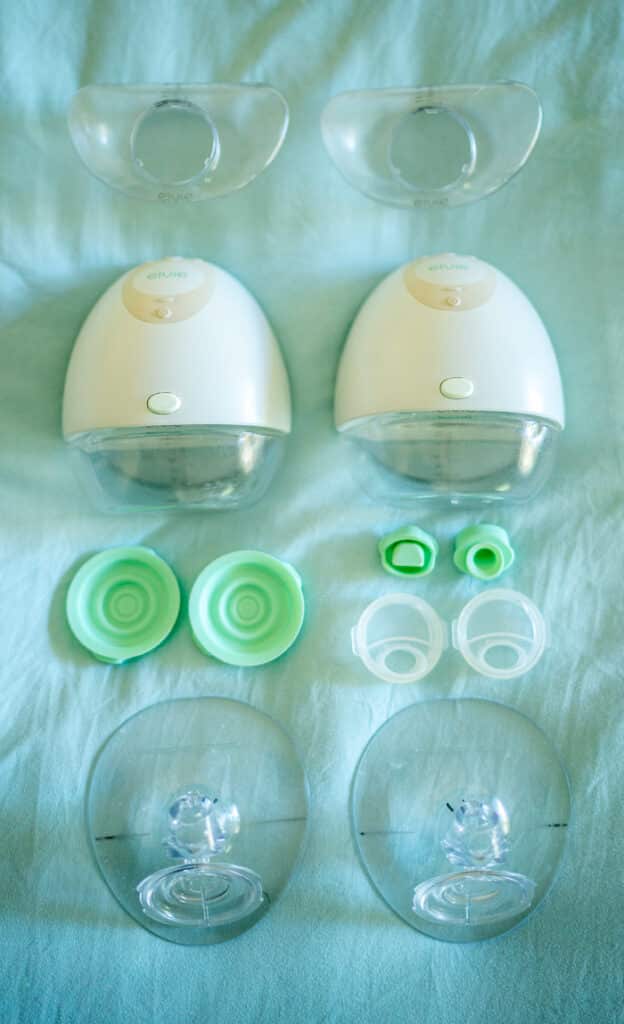 My fellow exclusive pumping mamas, I see you. Traveling can be daunting when you have a pumping schedule to keep up. I'm happy to say I've been able to do it on many trips. I have relied on the steam bags and portable washing station mentioned above, along with my portable breast pumps. If they're out of your budget, a hand pump can also work. This makes it possible for me to pump anywhere including the backseat of a moving car.
19. Play with Your Baby
Long road trips can feel monotonous, and that must go double for when you are forced to face backwards staring at the back of a seat. I try to remember to put my phone down and interact with my baby. Sometimes I read to him, or play peekaboo. It helps him to stay engaged and get less bored.
20. Try to Maintain Nap Time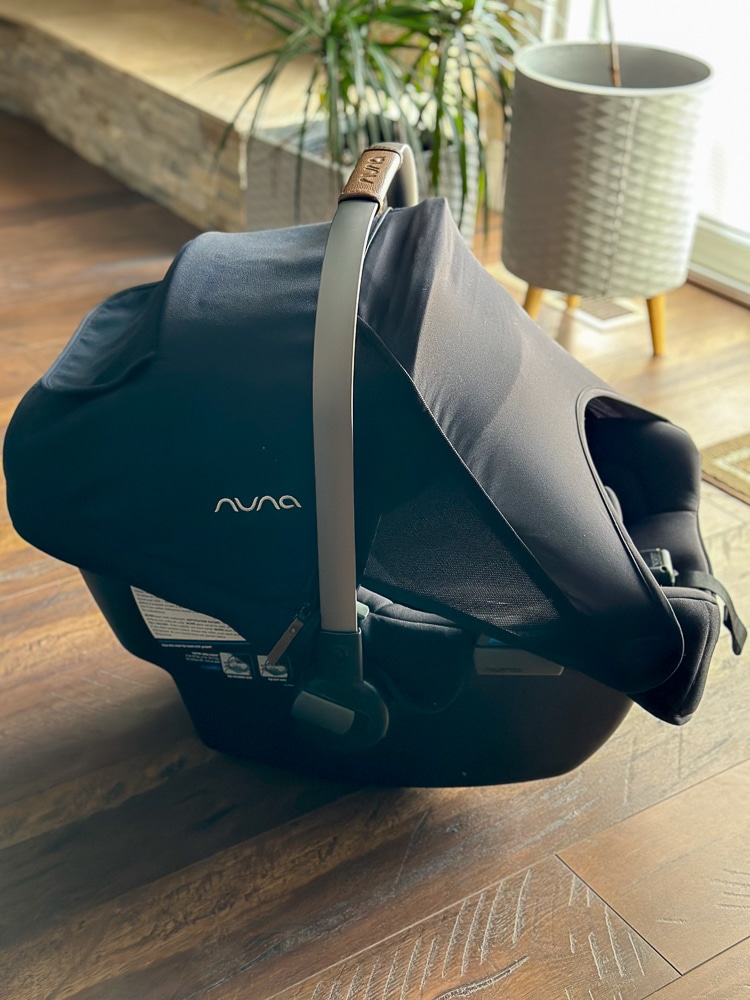 For some people, the car seat means automatic sleep. For my baby, sometimes it can be the opposite. I try to make use of the shade on our car seat as well as my typical bottle and third eye stroke tactics, but whatever works for you, try to make sure that you are keeping the same nap schedule and wake windows when you're in the car.
21. Budget Extra Time
You will be making more stops with your baby than you normally would. I find that we are often pulling off to change diapers, stretch our legs, and sometimes we just need a little break from the car for everyone's sanity. You may also need to stop to breast feed. Try not to keep to a strict schedule or if you have to, give yourself an extra hour or more for the trip just in case.
22. Try to Avoid Rush Hour
Sometimes it's inevitable, but if you can avoid being stuck in traffic, I find a moving car is much more acceptable to my baby than being stuck in one place and not moving. It's better for sleep and keeping him engaged if he's looking out the window as well.
23. Take Care of Yourself
I get car sick easily, and it gets much worse if I am focused on my baby instead of looking out the window. Since I am often the one in the back with him, sometimes I sit in the middle seat so that it's not as bad. Or sometimes I just have to switch and be the one driving. If this is you, remember to take care of yourself and look out the window as often as you need.
24. Play the Song
Is there a certain song your baby loves? If they're starting to fuss, have the song download it so that you can play it when the need arises.
Overall, as long as we have been able to make stops when needed, had our expectations managed in terms of how much extra time it might take, made sure to maintain nap times, and sat in the back with our baby, road trips have been doable and even enjoyable! Traveling with a baby in general means changing some of the ways that you used to do it, but that can lead to a different kind of adventure – one I'm enjoying.