How to do Baby-led Weaning While Traveling
When I was pregnant, Moon and Rue, the Tiktok sensation, was sharing her baby-led weaning journey and it convinced me to give it a try. Watching her baby explore food and self feed whole strawberries and even chicken legs as a six month old showed me that it's possible – but what if you're traveling?
We travel often with our baby and as you may know, babyled weaning is MESSY, especially at first. Not all foods are appropriate, too. So how do you handle it on the road?
Here's how we did, and still do, babyled weaning while traveling:
Babyled Weaning in Airports and Airplanes
One of the tricker ones is babyled weaning in an airport or while flying. You never really know what you're going to find, so it's best if you bring some food along with you. If it's a long flight, like so many flights we've taken with our baby, you'll want your own food on the plane as well. Though some airlines provide baby food, it's usually purees.
You're allowed to bring food for your baby through TSA, even if it's liquids in a pouch, water, and/or formula over the usual limit. You'll be subject to extra screening, so leave more time than you normally would for security.
These are some of my favorite low-to-no mess foods:
Squished blueberries
Pre-cooked carrot spears
Pre-cooked cauliflower florets
Banana
Pre-cooked pasta (no sauce)
Cerebelly bars (for older babies with teeth)
Cheerios (for babies with teeth)
Shredded cheese
Quartered grapes
Rice cakes
Home-made fruit-sweetened muffins
Boiled egg (make sure you've tested it before with baby and they're not allergic)
Puree pouches
I know the last suggestion on this list would go against the baby-led weaning purist advice to never serve purees, but if a baby doesn't get 'confused' by hummus, applesauce, and yogurt, purees should be fine, too, IMHO.
Some airlines will also have food for babies, but it's hard to know ahead of time what it will be. Be sure to reserve it ahead of time, but know that it's probably going to be purees. Here's an example from our flight to Portugal: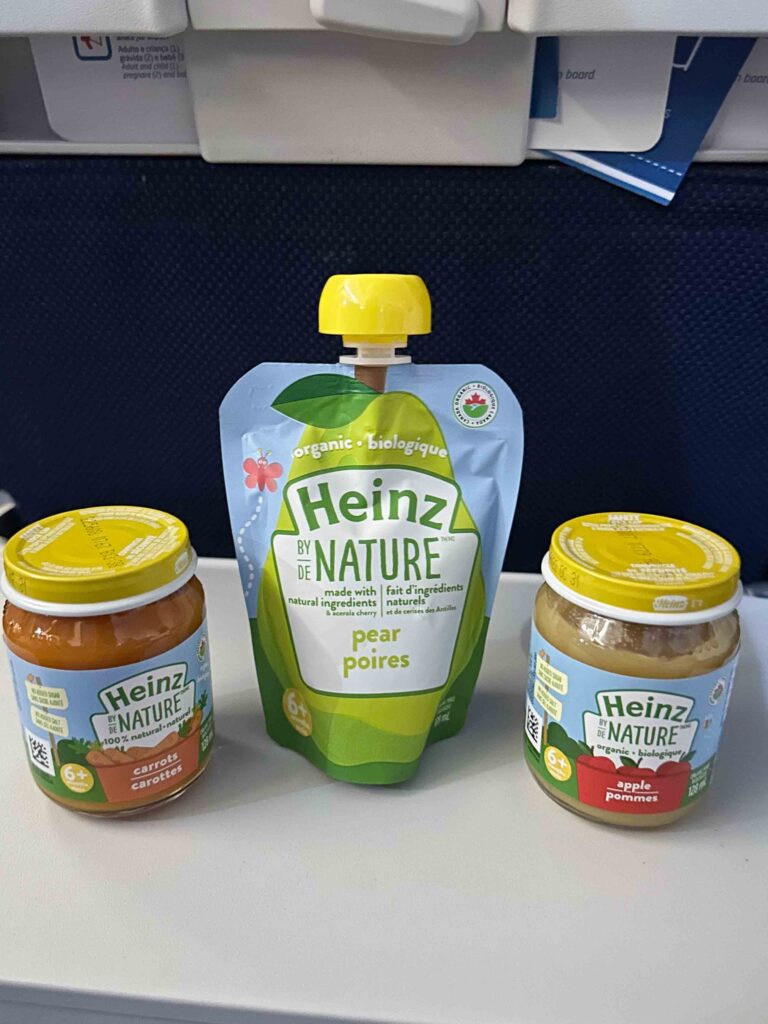 We don't do puree pouches at home, but when we travel they can be a great way to have no mess and get our little guy fed. At 15 months, he has no problem switching between solids and purees. We also fork feed him from time to time as well when we want to minimize the mess. This has not been a problem for him, either.
He still eats solid food 90% of the time when we travel, though.
We've also had luck finding food for him, or at least fruit, in airport lounges. The Centurion lounges are conveniently nut-free as well.
Babyled Weaning in Restaurants
My son was around six months old when we traveled with him to Japan, and though he was still mostly having milk, we would visit local grocery stores for fruit and soft veggies (like avocado) that he could eat without cooking and served in the hotel room in his portable high chair with full body bib. It worked well for us at the time.
From time to time, I would share my steamed fish with him as well. He got pretty excited about eating from chopsticks!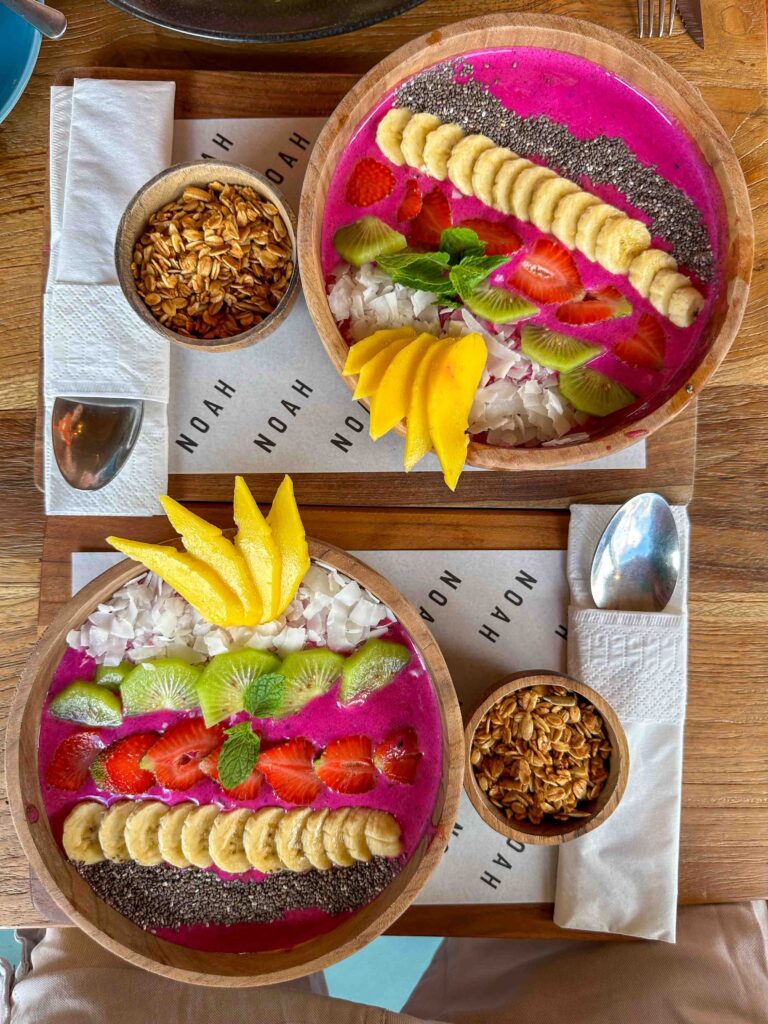 On our trip to Portugal when he was 9 months old, I'd grocery shop, cook the food in our vacation rental (it's common in the Azores that they come with kitchens), and bring whatever I'd cooked in a glass tupperware to the next place.
In restaurants, I'd put on his full body bib and just try to pick up after him a bit myself. If we ordered him his own meal, I asked for it without salt. The very messy aspects I would often feed him myself, but I still let him explore the rest of the food and mostly self-feed. We had the same approach in Bali.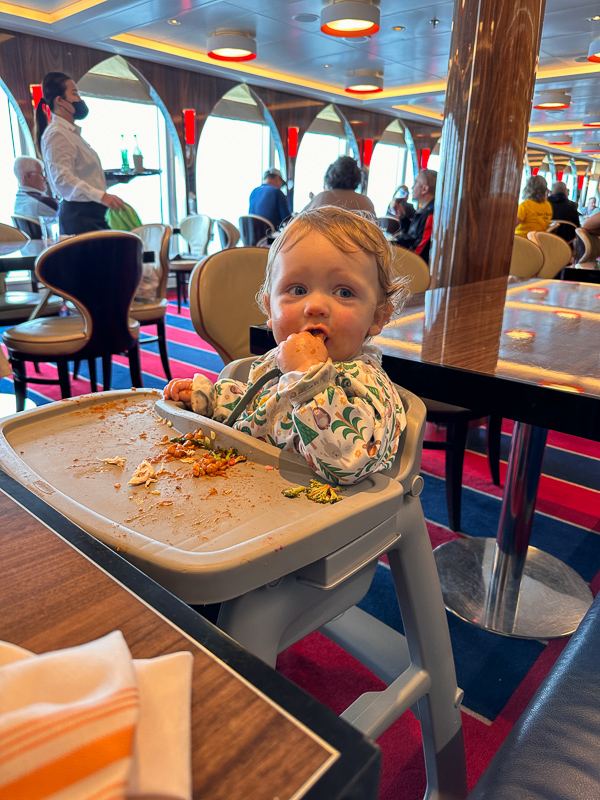 When we went on a cruise with my baby to Alaska after his first birthday, I was a bit less concerned with making sure none of the food had salt in it and started just giving him some of whatever I was eating. He had grilled chicken, salmon, roasted veggies, chana masala, and fruit each day. It was still messy, but the staff were so accommodating and happy to clean up after him, that it wasn't an issue.
Now that he's 15 months old, he's much neater when he eats and we don't have to bother with the full body bib anymore. We still sometimes do purees for the portability on trips, but I am still a big fan of the cerebelly bars, smoothie melts, cheerios, and blueberries.
Babyled Weaning in Hotel Rooms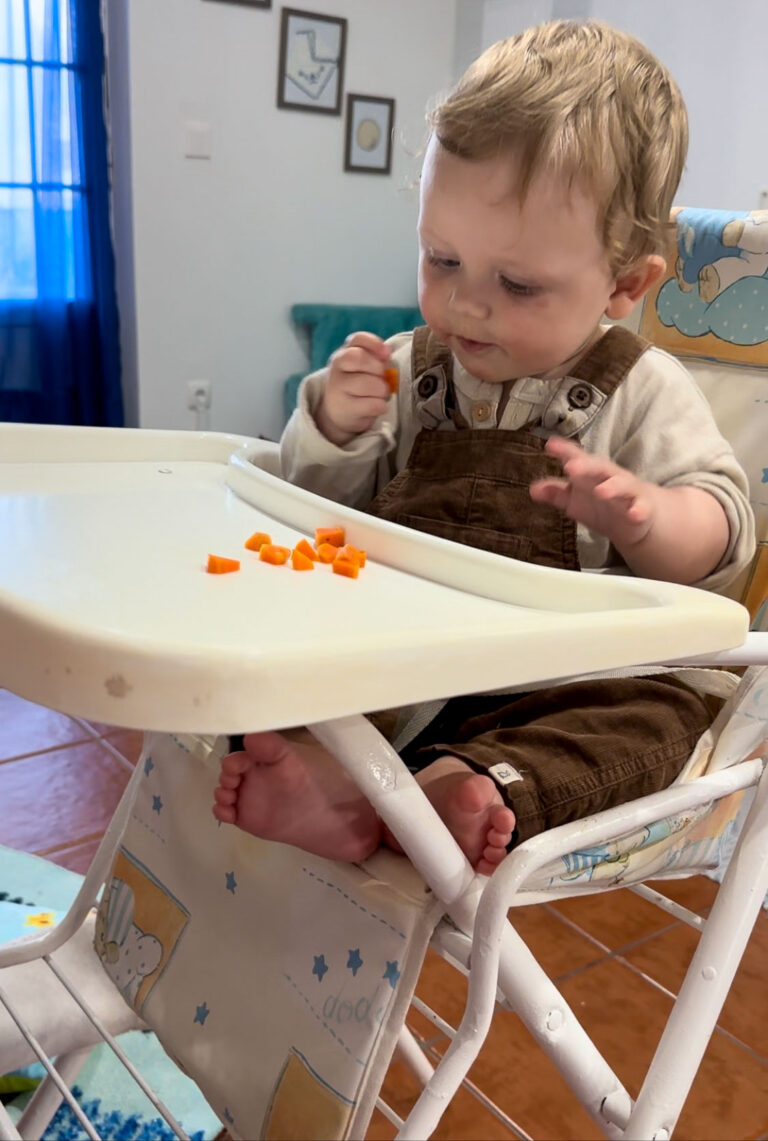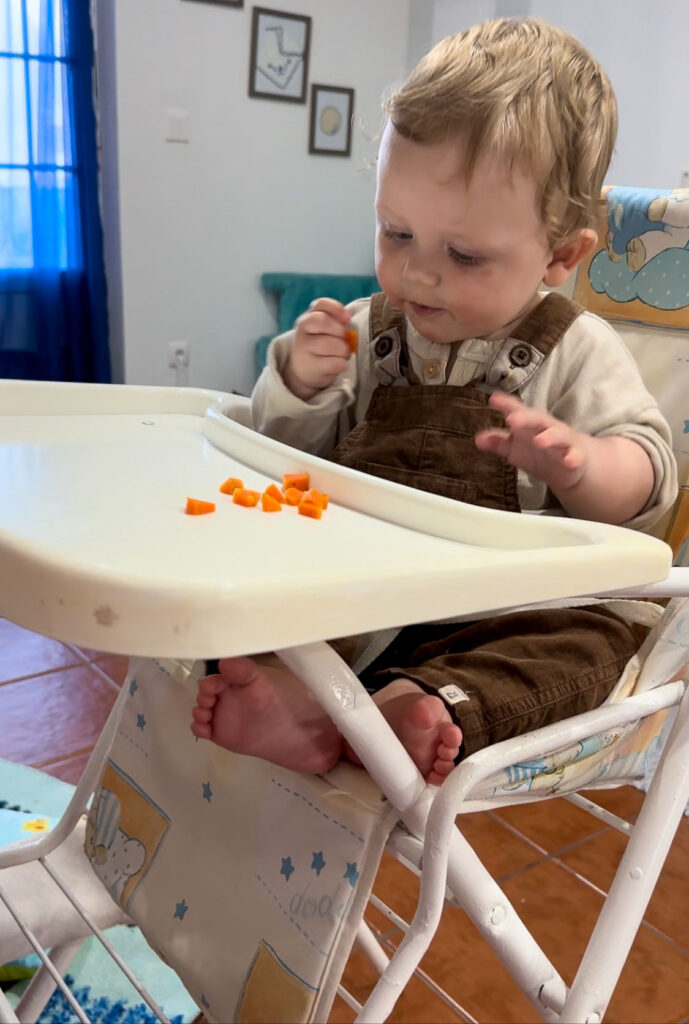 If our hotel room doesn't have a kitchenette and I'm worried about finding suitable food for our little guy on the road, I've toted our Beaba babycook along from time to time. Although he was never a puree-fed baby, I love using the babycook just as a portable steamer, especially on road trips with our baby.
I still stick to the usual things that work well for us – bars, cheerios, smoothie melts – in this case as well, and usually travel with enough snacks and food for at least one meal per day of our trip, then try to do the rest of the feeding from restaurants.
Babyled Weaning Travel Essentials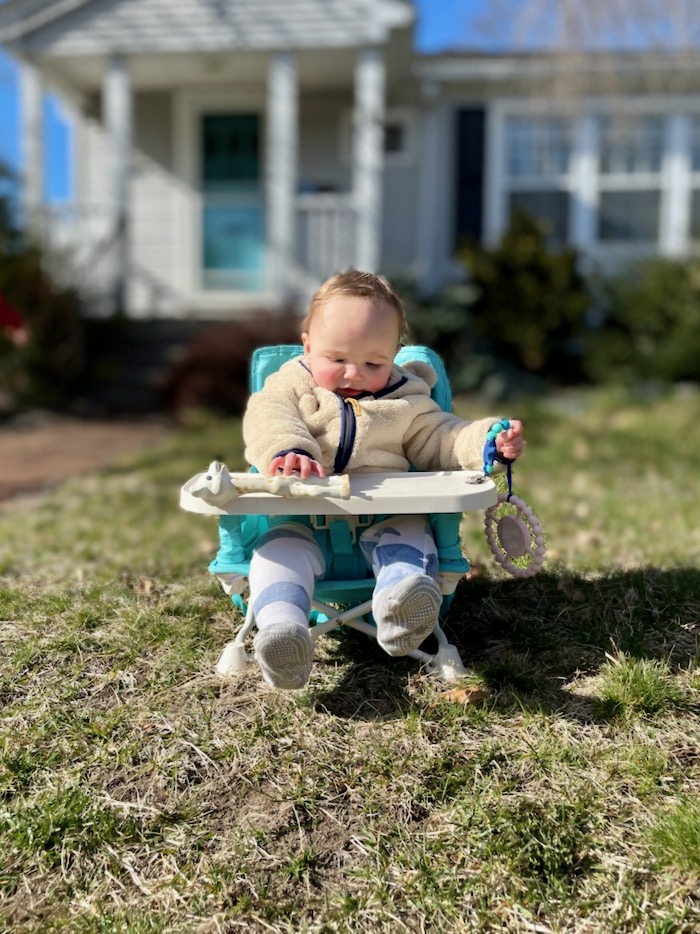 In order to be successful doing babyled weaning on the road, we usually only need a couple of things along with us. The best case scenario is that the restaurant we're eating at has a high chair, but when they don't we've been very glad to have either our Hiccapop foldable travel seat or Inglesina fast chair along. They're both super portable and lightweight.
We also traveled with the full body bibs until recently. He's become a much neater eater over time, and can now have much smaller bites (teeth help!), so it's even easier now.
However in the beginning, the bib will probably get super messy at each meal, so we needed at least 3 with us on each trip since it required a sink wash and drying time after each meal.
Although babyled weaning is indeed messy and possibly more labor intensive in the beginning, it's great being able to feed my son the same things that we eat, and for him to be able to self feed while we eat. I believe it's made our travels much easier. Self-feeding gives him something to do at restaurants, has improved his motor skills, and allows him to explore his food.
At 15 months, he's still happy and excited to try new foods (I know that can change, but let a girl enjoy herself for now!), and he's been exposed to all kinds of cuisines around the world. That just wouldn't be possible if we only could give him purees.
*Some links in this post are affiliate links that support us at no extra cost to you when you purchase through them. Everybody wins!