The Diono Radian 3QX: My Complete Review and Comparison to Other Radian Car Seats
Of all the baby gear you'll shop for, your child's car seat is one of the most high-stakes items you'll choose. It needs to keep your precious son or daughter safe on the road, last through years of relentless wear, and remain within a reasonable budget for your family.
Families who plan on having multiple children in car seats often look for slimmer models, like those of the Diono Radian series. We purchased our Diono Radian 3QX when our second child reached nine months old, and so far we've been satisfied with its sturdiness, safety features, ease of use, and overall look.
The Diono Brand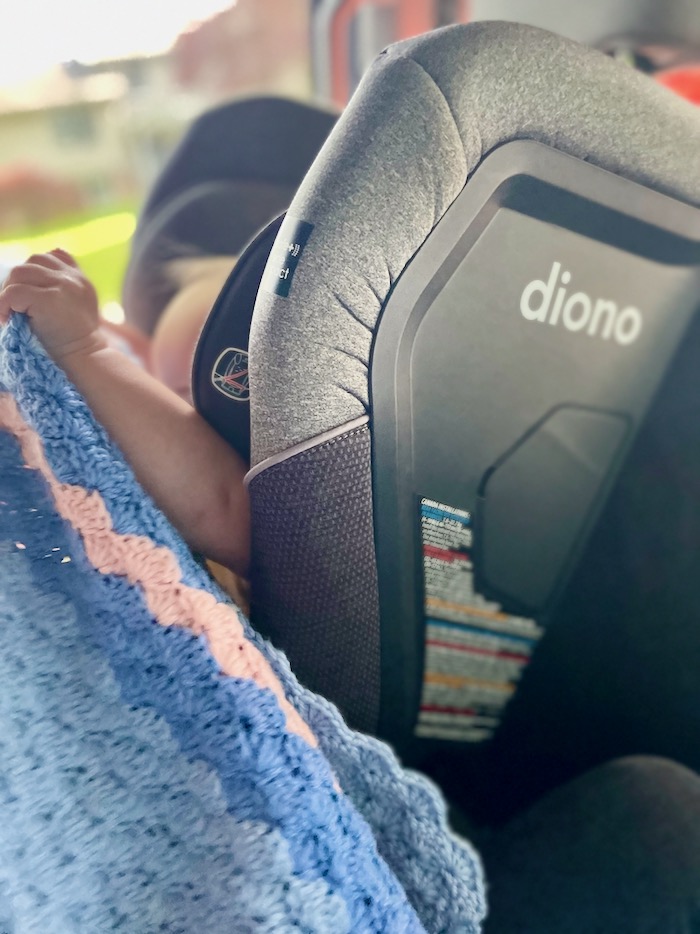 Diono's founders started the brand in Seattle in 1999. Diono makes a variety of kid gear, including strollers, baby carriers, booster seats, car seats, and car seat accessories. Its car seats have gained popularity over the past several years; the company boasts that over a million children ride in a Diono car seat every day.
The Radian car seat series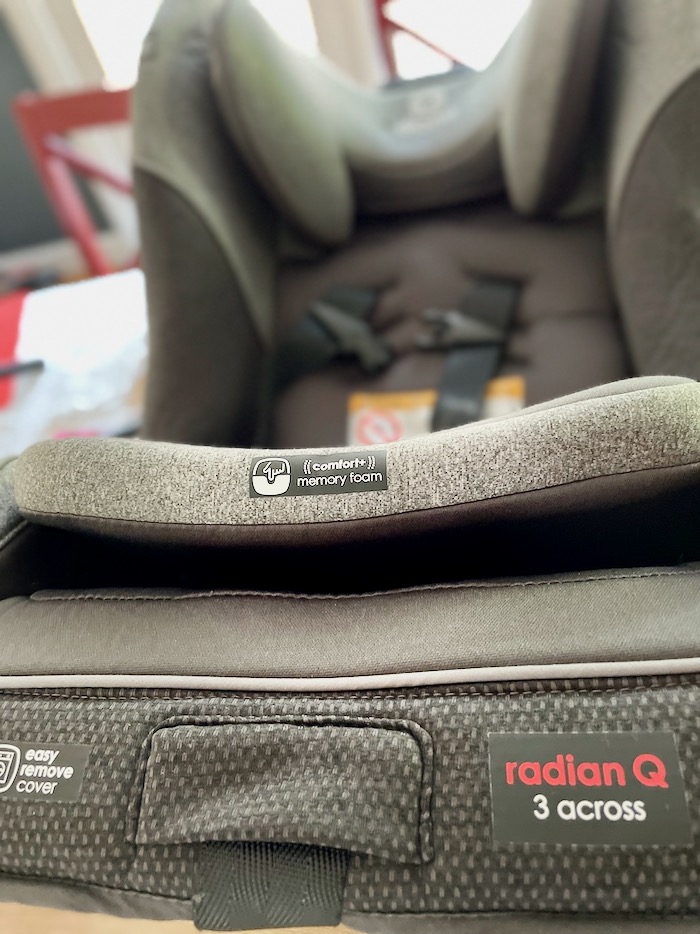 Diono engineered its series of Radian car seats with compact fit in mind. The goal was to come up with a high-quality, extra-safe car seat that parents could use for three children at once in the back of most mid-sized vehicles.
All Radian car seats measure just 17" across and come in a variety of fun colors. They come with a 12-month warranty that parents can extend to 36 months by registering their products.
When researching the Radian series, we found it confusing to figure out the differences among them. In the end, though, we settled on the 3QX because of its combination of first-class safety features and adjustability for infants (and because it was on sale at the time).
After digging through the Radian car seat user manuals and Diono's website, here's our breakdown of all the Radian car seats, from the most basic to the highest-end model. We've included the approximate costs, total weights (they are heavy!), and unique features of each.
Approximate cost: $200
Total weight: 25.9 pounds
Features to note: The Radian 3R is Diono's original three-across convertible car seat with a reinforced steel core. It's suitable from birth to 120 pounds and accommodates children rear-facing up to 50 pounds.
Approximate cost: $300
Total weight: 28.1 pounds
Features to note: Diono's Radian 3RX builds on the 3R by including an adjustable 12-position head rest, a removable infant head support liner, and a removable cup holder.
Approximate cost: $350
Total weight: 30.6 pounds
Features to note: The Radian 3RXT is a popular choice because of its more advanced safety testing and greater side-impact protection when compared to the 3RX. The 3RXT incorporates an anti-rebound bar that reduces car seat rotation by up to 50% in the case of a crash.
Approximate cost: $400
Total weight: 31.3 pounds
Features to note: The Radian 3QX incorporates all the same features as the 3R seats, in addition to several extras. The 3QX's headrest can be adjusted with just one hand. Its contour is different than that of the Radian R series, improving head security and fitting a greater range of child sizes. Parents receive a removable insert to increase stability for smaller infants and a newborn positioning wedge with purchase.
Approximate cost: $450
Total weight: 32 pounds
Features to note: Diono's Radian 3QXT seats are the most rigorously tested of the entire Radian series and have more plush cushioning than others in the Radian line. The 3QXT also has an innovative side-impact management pod, which provides better protection and stability in the case of a side collision. When parents buy a Radian 3QXT, they receive a newborn insert, an infant positioning liner, newborn harness pads, and a newborn wedge, making this car seat ideal for babies from day one.
Approximate cost: $530
Total weight: 34.2 pounds (yikes!)
Features to note: In addition to the standard 3QXT features, the FirstClass SafePlus boasts adjustable calf support, a toddler comfort liner to ease the transition to front-facing, two large cup holders, an included car seat protector, and more premium fabrics with breathable mesh panels.
Our Experience with the Radian 3QX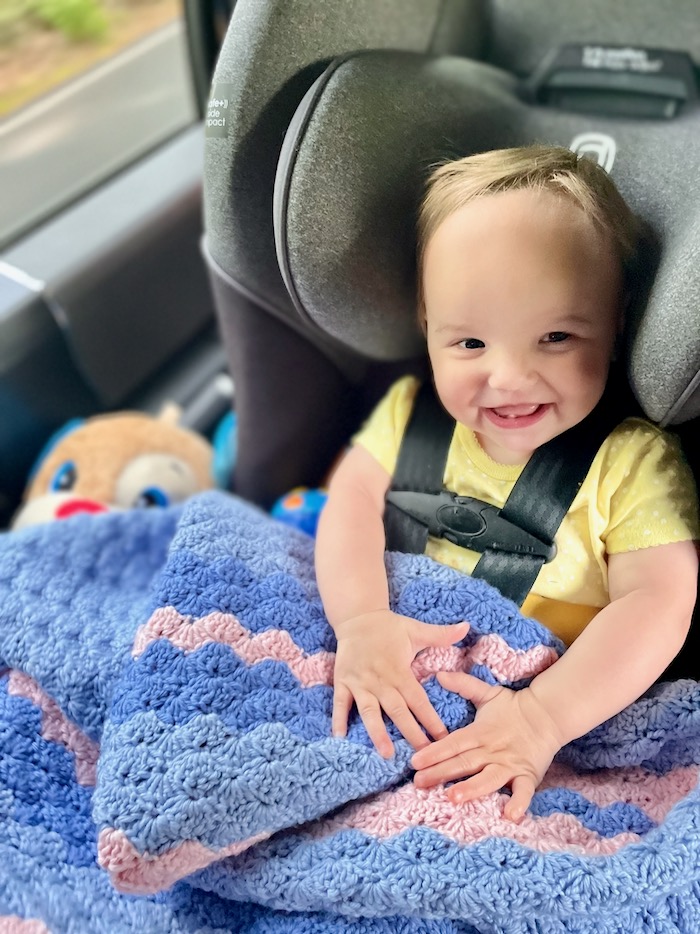 We began looking at Diono's Radian car seat line when our daughter started to outgrow her infant car seat. A couple years back, we had purchased Graco's Extend2Fit convertible car seat for our son. We were happy with the Graco, especially with the extra leg room and built-in double cup holders, but we wanted to find something with a slimmer profile.
We knew the Radian series had a great reputation. When we found the grey 3QX on sale on Amazon for over $100 off, we decided to go for it. Here are some of the things we love most (and least!) about this car seat so far:
Pros
The car seat's steel core makes it super sturdy and safe.
The 3QX has removable and adjustable features for newborns and smaller infants.
Families can use the 3QX until their kids weigh 120 pounds. It even converts to a booster seat in later years.
Kids can sit in the rear-facing position (the safest way to ride!) until they reach 50 pounds.
The car seat is simple to install.
The 3QX has a slim profile, which is great for fitting more car seats across the back seat.
The fabrics are machine washable.
Cons
This car seat is heavy, making it a bear to change from one vehicle to another or remove for cleaning.
It's extremely difficult to reattach the car seat's fabrics after they've been removed for washing.
The 3QX is expensive.
Although the profile is slim, the seat takes up significant space from front to back when in the rear-facing position.
There is no adjustable recline feature.
The removable cup holder is large but flimsy. It comes off easily when moving the car seat out of and into the car.
Detailed Features and Specifications
Diono has thought about every detail when engineering its Radian car seats. Here are some of the specifications that matter most when deciding whether the 3QX is the right car seat for your family:
Age range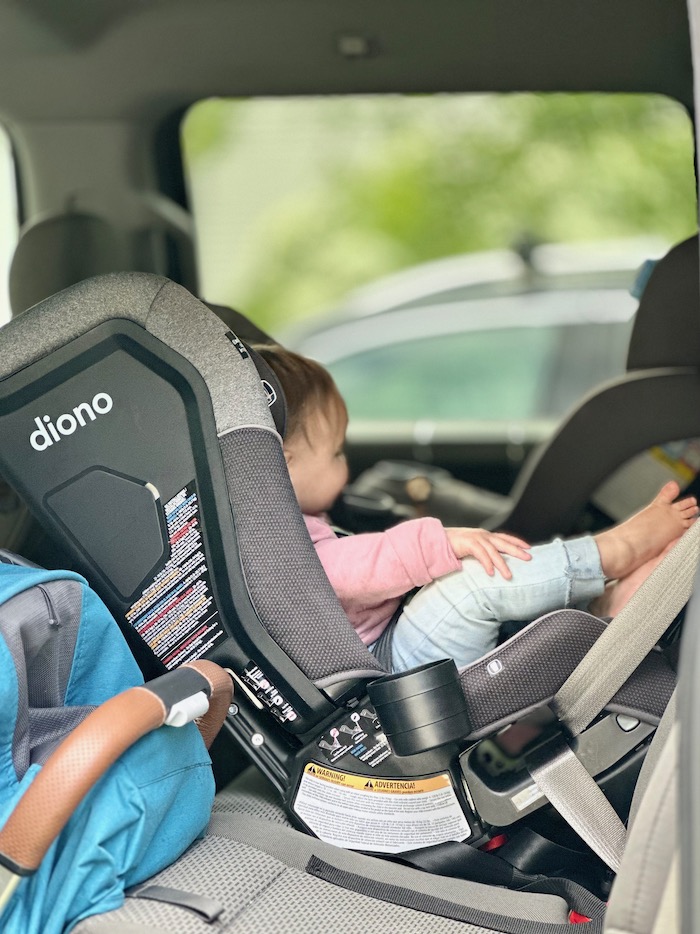 Modern convertible car seats last children many years — sometimes it feels like they'll never grow out of them! The 3QX accommodates children from 4 to 120 pounds, and transforms into a booster seat for older kids. That should give families the flexibility to use it until at least age 10.
The 3QX holds kids from 4 to 50 pounds in the rear-facing position, from 22 to 65 pounds in the front-facing position, and from 40 to 120 pounds in booster seat mode.
All seats in the Radian series come with the guarantee of a 10-year lifespan. After that period, parents should retire them in favor of a new model.
Safety features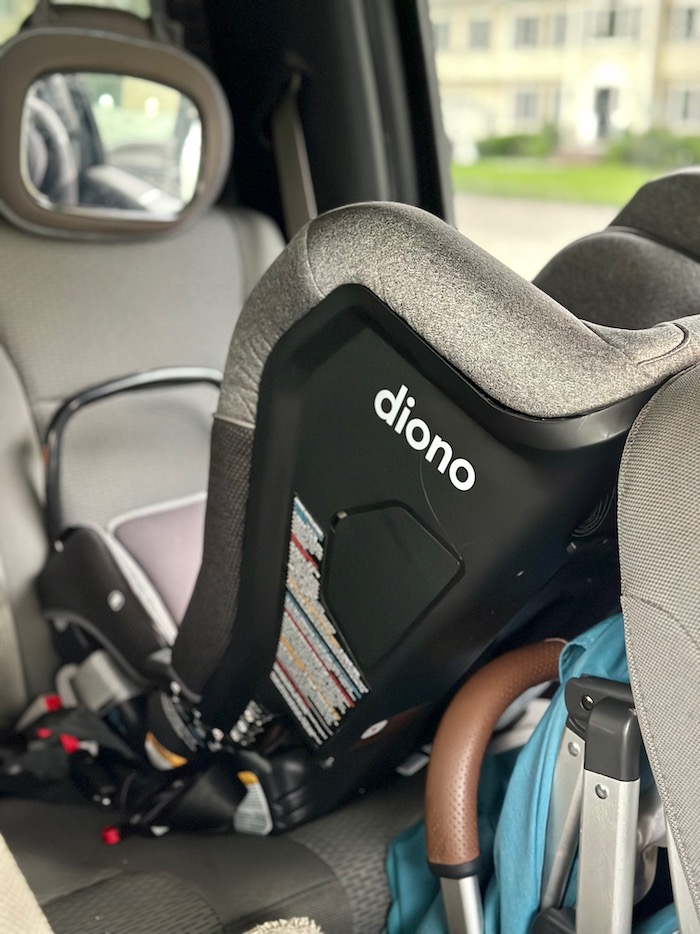 We originally started looking at Diono because of the Radian line's slim profiles, but it was the thoughtful safety features that really drew us to the 3QX.
The seat has been rigorously tested in multiple crash scenarios. It incorporates advanced side-impact protection with thick sidewalls and padding that extends up high alongside child passengers. Its steel core frame, a hallmark of Diono car seats, is heavy and sturdy.
The 3QX allows children to ride rear-facing — which is the position the American Academy of Pediatrics recommends using for as long as possible — longer than competing car seats. It's also approved for use on aircraft, as long as it isn't in booster mode.
Consistent with the rule of thumb for most kids' safety seats, the Radian should be replaced after any moderate or severe impact.
Here are some additional unique safety elements we love on our Diono Radian 3QX:
Anti-rebound bar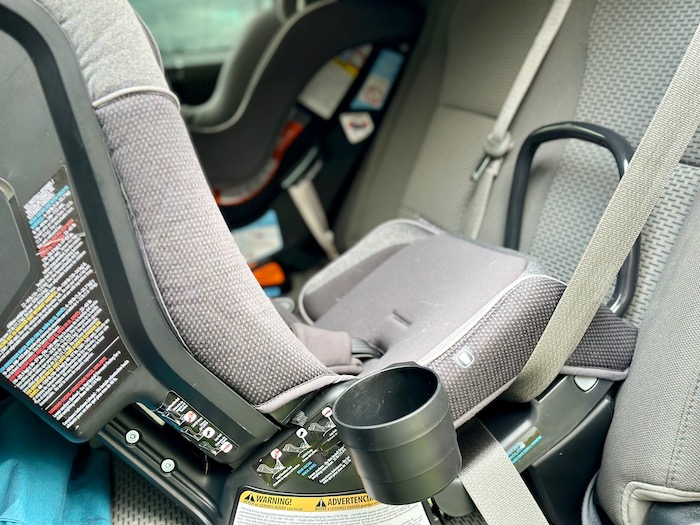 In the rear-facing orientation, the 3QX has a steel anti-rebound bar wedged between the car seat and the vehicle's rear seat-back. It helps prevent the car seat from flipping up toward the back of the car in the case of a collision from the rear. Diono claims that the bar reduces rebound rotation by a whopping 50% in crash situations.
SafeStop
The 3QX includes protective harness pads and Diono's innovative "SafeStop," which is an extra strap that goes behind the car seat for front-facing passengers less than 40 pounds. The extra piece absorbs energy and decreases the forces on the head, neck, and chest in the case of a collision.
Removable infant inserts
Diono's infant positioning liner adds impact protection, comfort, and padding for newborns and younger infants. It has wraparound support for the head, body, and legs of families' tiniest passengers. The newborn wedge is an additional piece parents can use to position little babies at a more natural angle in their car seat from day one. Drivers can add and remove both of these adjustable infant elements at their discretion.
Comfort and adjustability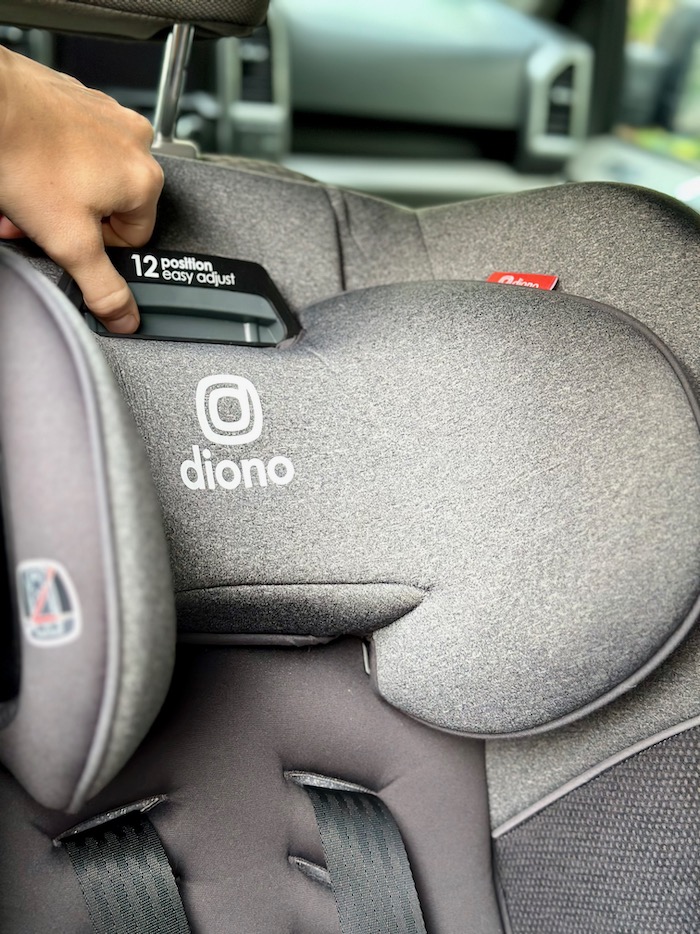 In addition to the removable newborn wedge and infant insert, the Diono Radian 3QX has abundant adjustable features to keep kids comfortable. Three different bottom-buckle slots and five shoulder-strap slots allow us to frequently adjust the car seat's harness to keep up with our daughter as she (way too quickly!) grows taller.
The 3QX head rest couldn't be easier to adjust. By pressing down on a lever at the top of the head support, we can quickly slide it up and down to one of twelve different height options.
To top it off, the 3QX surrounds kids in super soft padding and fabrics, and it contains memory foam cushioning under the seat to keep those little bottoms comfy.
Size and weight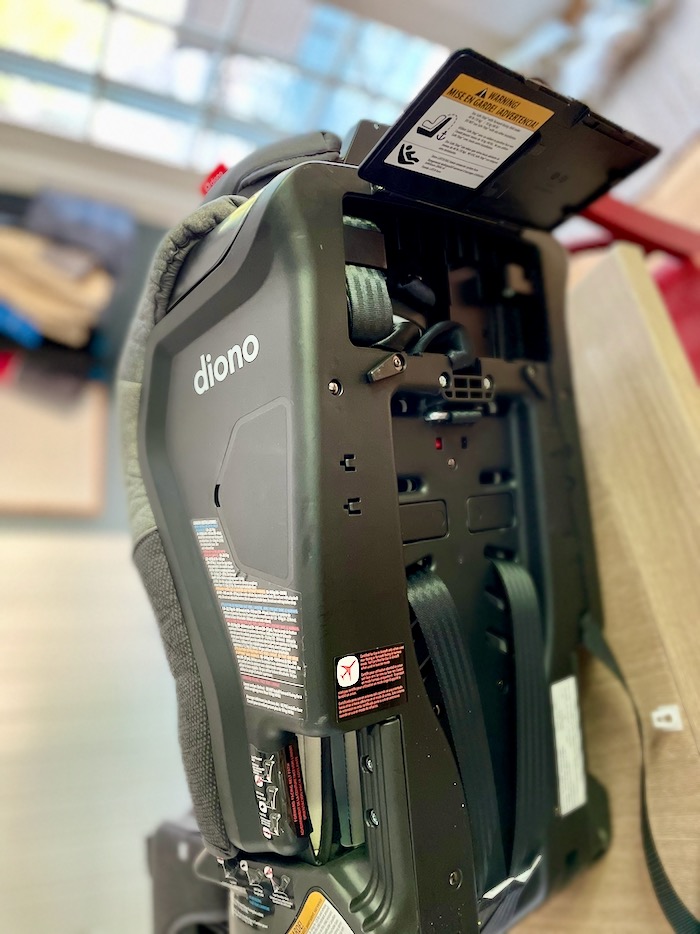 There's no denying it — the Radian 3QX is heavy. It's one of the factors that makes it safe, but it's also one of those features that makes it difficult to use. Compared to our son's Graco seat, the 31.3-pound 3QX is hard to switch from one vehicle to the next.
As is consistent with the Radian reputation, parents can fit three 3QX car seats in the back of any vehicle with at least 51 inches between the interior door handles. However, in the rear-facing position, we've noticed that the 3QX takes up significant space from front to back. Depending on the angle of the vehicle seat, the 3QX occupies anywhere from 30 to 36 inches in length, making it a tight fit in more compact cars.
To keep things tidy, the car seat has a storage compartment behind its headrest to store extra pieces like the SafeStop, Latch connectors, top tether, and belt-locking plate when not in use. When removed from the vehicle, the 3QX's seat bottom actually folds up to occupy less space when storing or transporting it.
Installation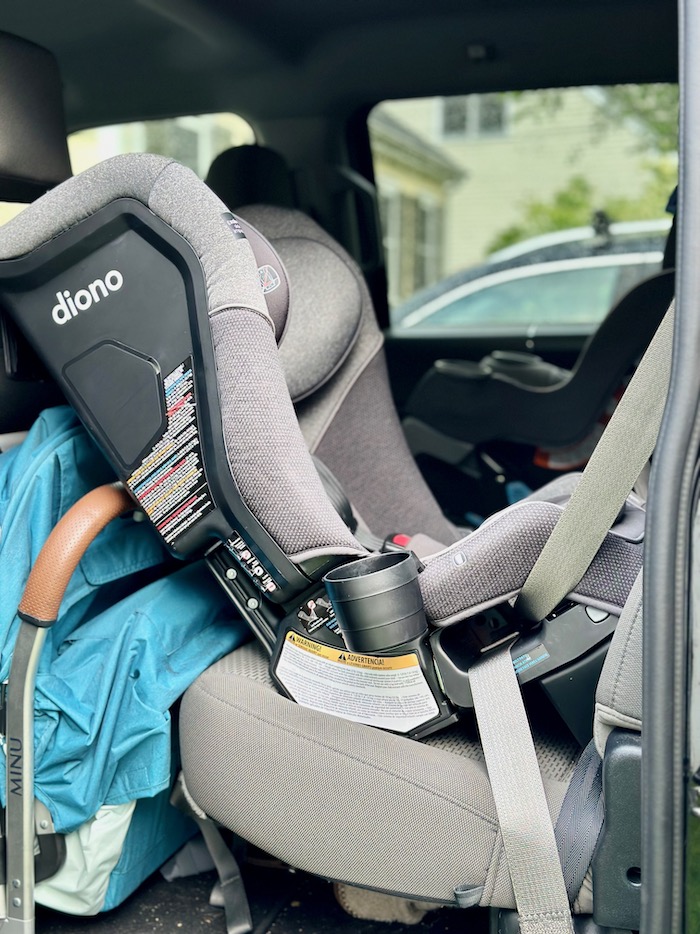 After practicing a couple times, we've found our Radian 3QX to be easy to install. The 3QX uses vehicles' Latch anchors, which are present in most cars manufactured after 2002. The Latch system is safe to use in the rear-facing position for children up to 35 pounds and in the front-facing position for children up to 40 pounds. After those limits, you'll need to use your vehicle's seat belt to install the car seat.
We learned through trial and error to adjust the harness strap and buckle strap locations before installing the 3QX. Diono's manual also provides helpful guides to ensure that the vehicle seat and belt configuration are safe for installation.
If using the car's seat belt, you'll want to make sure you're choosing the correct belt path for the rear-facing, front-facing, and booster seat modes. Diono provides helpful installation guides, checklists, and videos (see below) for the Radian Q series in each position.
Care and cleaning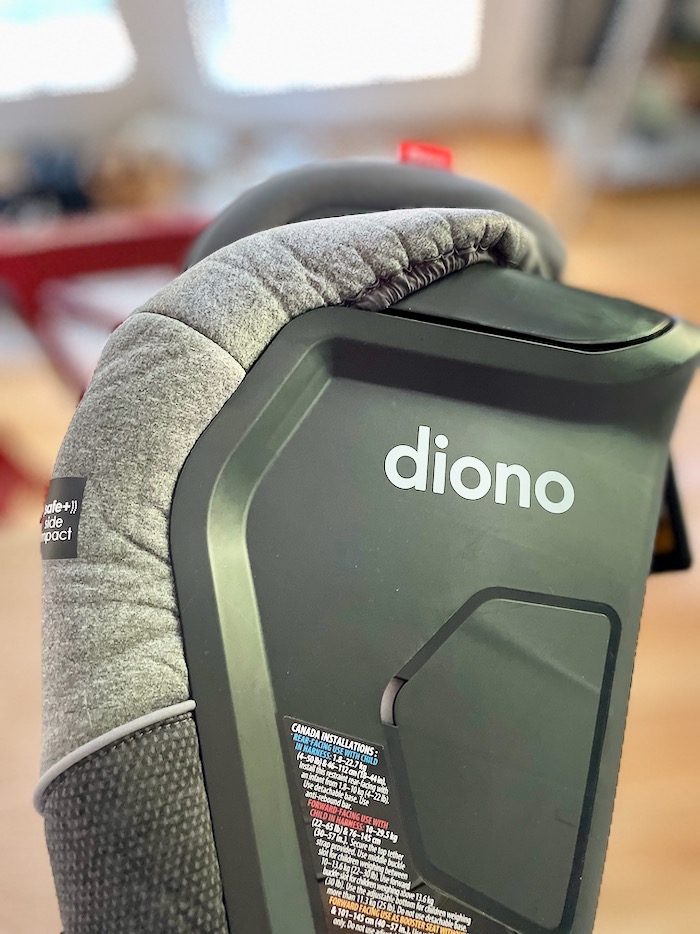 Every parent knows there's nothing stickier and stinkier than a child's car seat after one day of use. Machine-washable fabrics are a must, and fortunately the Diono's fabrics are easy to remove and throw in the wash.
I will admit that getting the fabric to slide back on the car seat frame is no easy feat. The first time I removed and washed the cover, I found it almost impossible to return it to the snug position it was in when we bought it. Although it's gotten easier the more times I clean it, it still takes me almost 30 minutes to reattach.
For more details on how to clean all the parts of the 3QX, see Diono's cleaning guide.
Aesthetics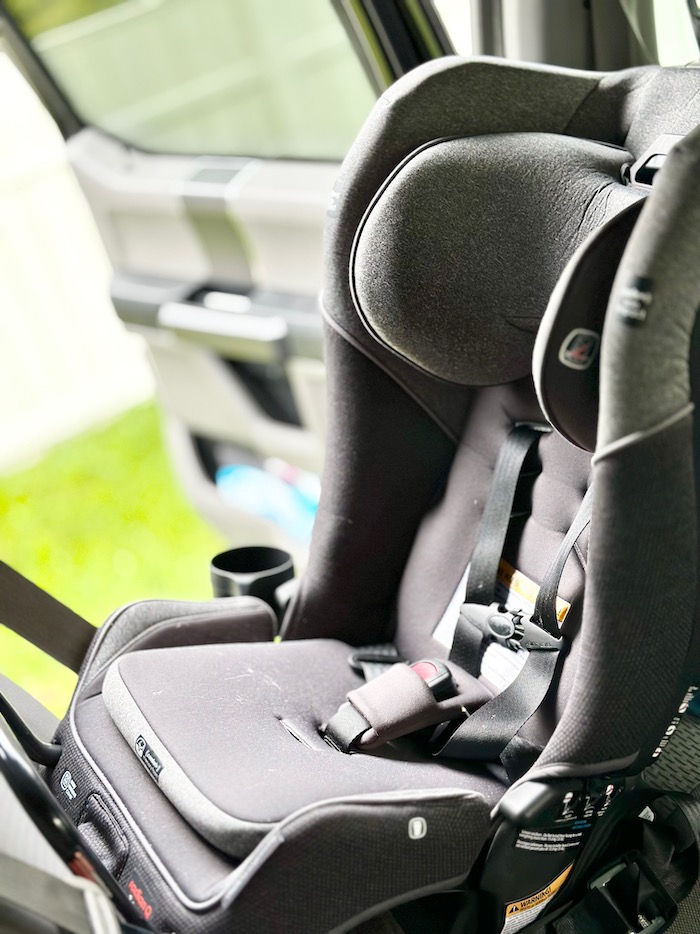 Radian car seats are known for their fun and vivid hues. In addition to black and gray, the 3QX comes in bright yellow, red, blue, and purple. Diono car seats have a streamlined, clean aesthetic without gimmicky logos or busy patterns.
Accessories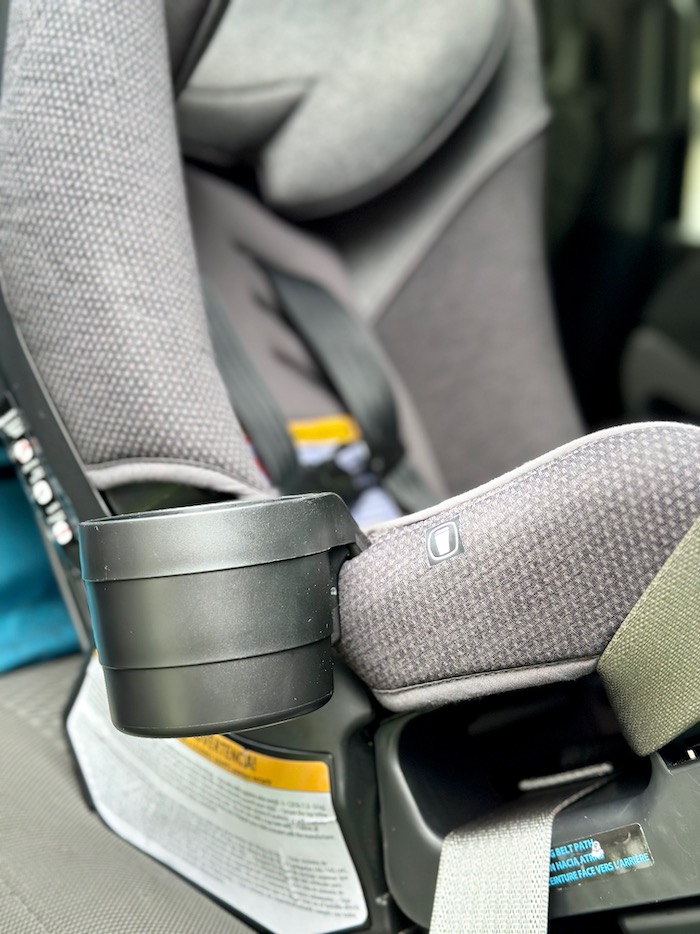 The 3QX comes with a removable cup holder. Although it's big enough to fit a large water bottle, it can be difficult for smaller kids to reach. We also find that it falls off of the car seat easily, especially when we're moving it to a different vehicle. Parents will need to remove the cup holder to fit three car seats across in most vehicles.
Diono sells other separately available accessories for its Radian series. These include a travel bag, a recline angle adjuster, and a carrying strap. The brand also sells other essentials for traveling with kids, like mirrors, protective mats, and sun shades.
The Upshot: The Diono Radian 3QX Car Seat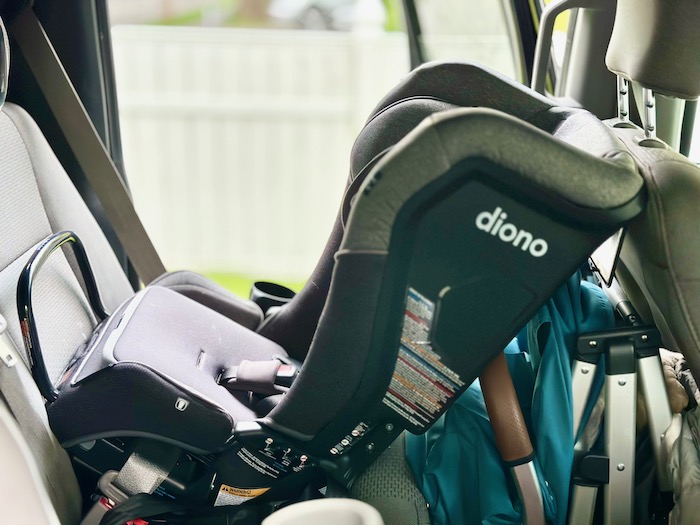 All in all, I love our 3QX. I would buy it again if given the chance. There are times when it's not the most user-friendly, but it's heavy-duty, comfortable, and safe. Its slim profile also gives us clutch flexibility when traveling in tighter vehicles.
For our thoughts on infant car seats, see our review of the Uppababy Mesa and Nuna Pipa car seats. For more guidance on hitting the road with your youngsters, read our posts on surviving a road trip with a baby or toddler.