Eufy SpaceView Baby Monitor Review: Why I Love It and What I Had to Replace
When we were expecting the birth of our son, deciding on a baby monitor was one of the first things we did. It felt like an easy task to check off and add to our baby registry.
It turns out that choosing a monitor isn't as straightforward as it sounds. The market is flooded with local and WiFi-connected options in a wide range of prices.
After reading countless reviews and researching the models available, we settled on the Eufy SpaceView video monitor. Although we ended up needing to replace our unit due to a broken kickstand and antenna, we've loved using the SpaceView to keep an eye on our two young children over the past few years.
Our experience with the Eufy SpaceView baby monitor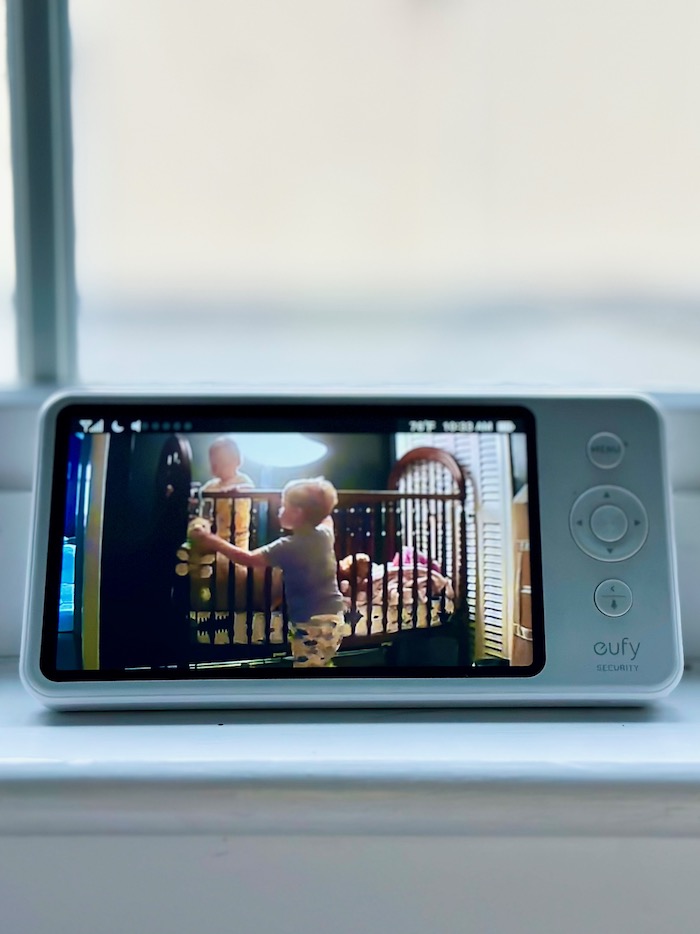 We've used our Eufy everywhere — from our old downtown condo to our current suburban home, and from hotel rooms to remote destinations with no internet access. No matter where we travel, the monitor is extremely reliable. It has worked well everywhere we've used it, with no connection mishaps or interrupted signals.
We originally chose the SpaceView because we were looking for a locally connected video monitor (with no Wi-Fi necessary) that had a clear picture and great reviews from parents. The Eufy has been a well-loved pick year after year, even earning the top spot as the New York Times' favorite video baby monitor for 2023.
See Eufy's video below for a more detailed look at its SpaceView baby monitor:
Replacing our monitor unit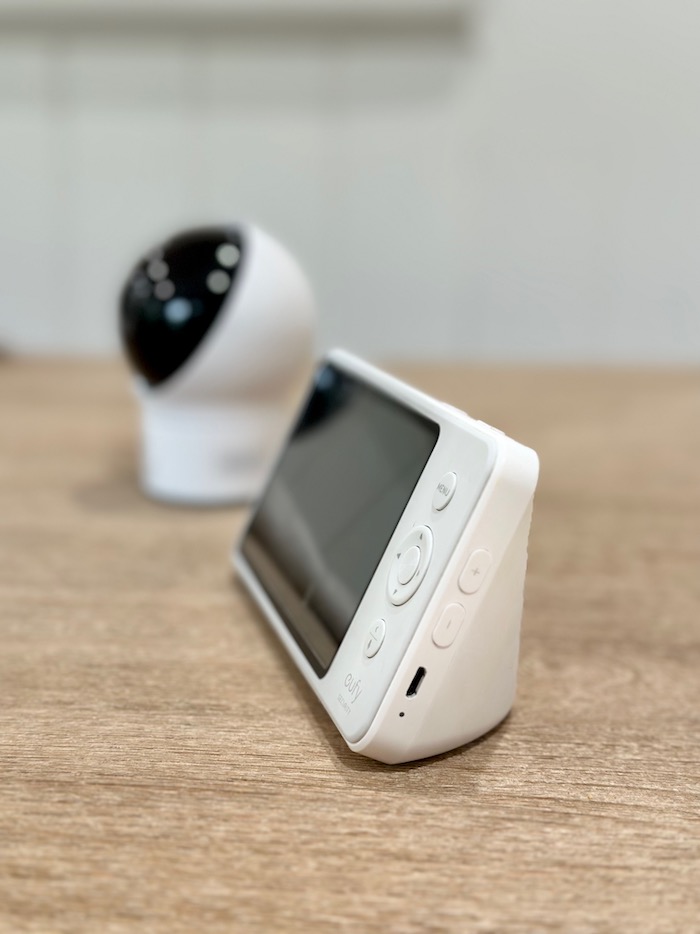 Our only problem with this model has been the durability of the physical monitor unit itself. As our son reached toddlerhood, I made the mistake of letting him pick up and play with the monitor a few times. The folding antenna quickly snapped off.
The monitor still worked well, so we attempted to glue the antenna back into place a few times. After our son got his hands on it again and broke both the antenna and the kickstand, we decided it was time to replace the monitor. We knew we had a second child coming along soon, so we wanted to buy an additional camera as well.
It was at this time that we discovered and decided to buy Eufy's SpaceView Pro model, which uses the same camera with a slightly different monitor. The Pro is chunkier and more difficult to fit in a pocket, but we like it because it's more durable — with no antenna or kickstand that can break off. Its pyramid shape allows it to stand upright on a flat surface on its own, and its battery life is longer than that of the base SpaceView model.
I realize that it was our mistake to let our son use our original monitor as material for his Hot Wheels ramps in the first place, and overall our cameras and updated monitor model have lasted well through much wear and tear.
Eufy SpaceView and SpaceView Pro: Weighing the pros and cons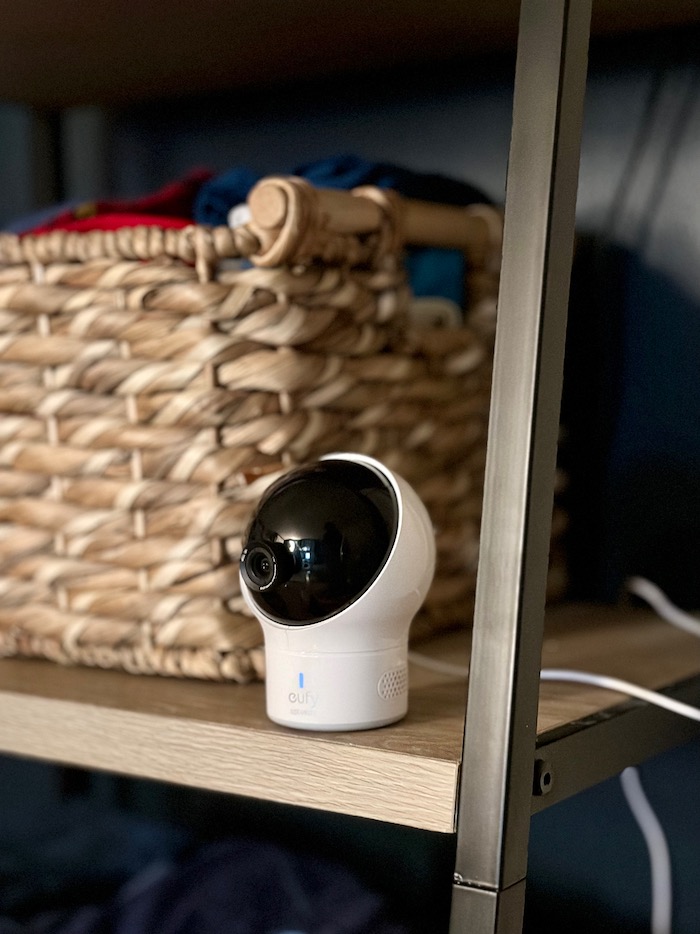 Here are some more features I appreciate about the reliable Eufy SpaceView and SpaceView Pro — and some areas with room for improvement. Since the two models are so similar, I'll use the name "SpaceView" to refer to them both, noting specifically when their differences come into play.
Pros
The local radio-wave connection is secure, easy to set up, and requires no Wi-Fi for use.
A dedicated monitor unit leaves smartphones available for other tasks during nap time.
The SpaceView maintains clear video quality in bright and dark rooms.
The wide camera view lets me see a large proportion of our kids' room, with impressive panning, tilting, and zooming capabilities controlled remotely from the monitor.
Monitor controls are intuitive and easy to use.
The long-range connection (up to 600 feet) allows us to walk through the house and into the yard without interruption.
Cons
As with all locally connected monitors, as opposed to those that use Wi-Fi, we can't check the monitor when away from home (although I've never had the need yet).
On the standard SpaceView monitor unit (as opposed to the SpaceView Pro), the antenna and stand are prone to breaking or snapping off. This is especially true if the monitor makes its way into toddler hands.
The Eufy is more expensive than some other local video monitor options.
There is no split-screen capability when using two cameras, so parents need to cycle through each camera view one at a time.
Detailed Features and Specifications
If you're thinking about buying the Eufy SpaceView baby monitor, here's all the information you should know before making your decision:
What's included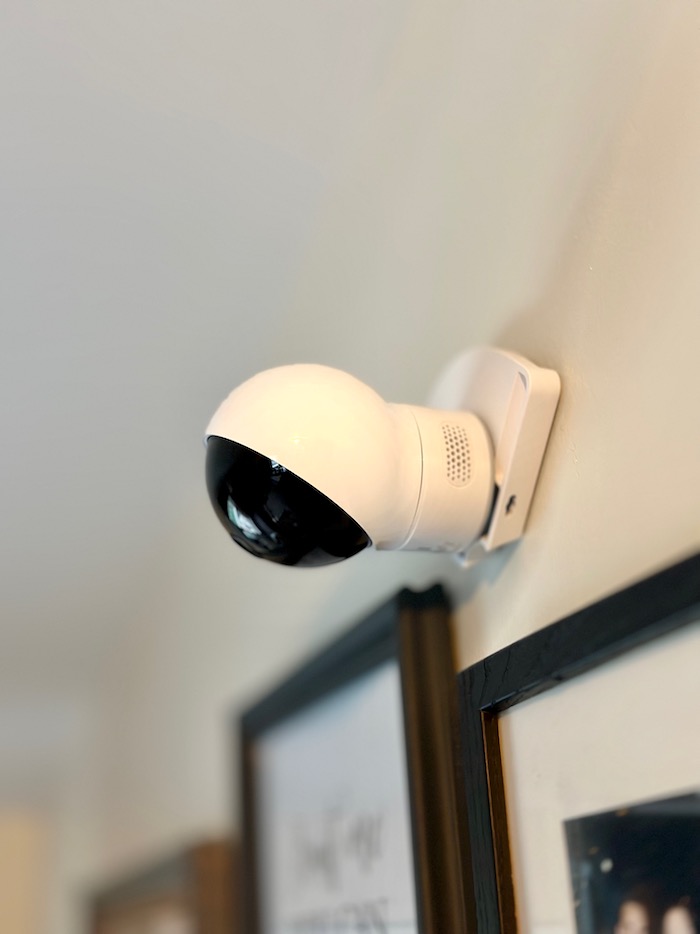 When you order a Eufy SpaceView, you'll receive the following:
The Eufy camera
A wide-angle lens attachment
The parent monitor screen
A power cable and adapter for the camera
A power cable and adapter for the screen
A wall-mounting shelf with hardware
If you buy a Eufy SpaceView Pro, you'll receive all of the above except for the wide-angle lens attachment.
Cost
The SpaceView camera package costs about $160 altogether. For about $10 more, parents can purchase the SpaceView Pro. The Pro uses the same camera, but the monitor unit has improved battery life and a built-in alarm clock feature.
These prices are in the middle to high end of the spectrum compared to other non-Wi-Fi baby monitors on the market, but the SpaceView boasts many key features that competing systems are lacking.
The camera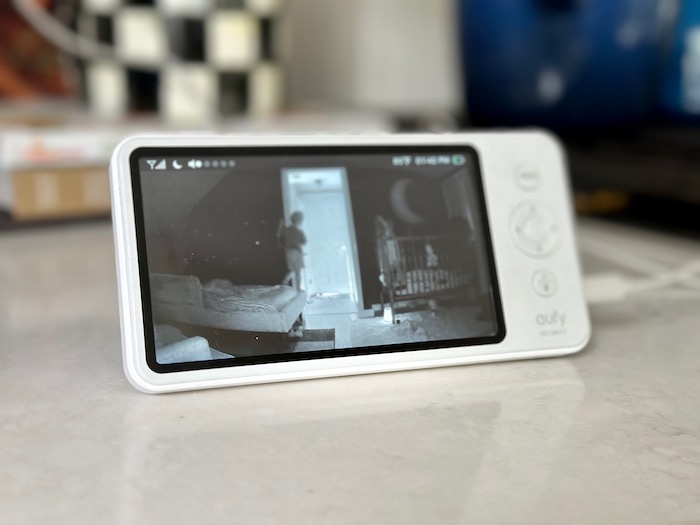 Compared to more limited cameras I've seen other parents use, the SpaceView gives us a broad picture of almost the entire room we place it in. It allows us to see our kids clearly in their beds, or keep an eye on them if they're across the room playing. Our children share a room, and as demonstrated above, I can clearly see their pre-nap shenanigans without needing to place two cameras in the same bedroom.
The SpaceView camera pans 330 degrees to the left and right, and it tilts 110 degrees up and down, all controlled remotely. Attaching the included wide-angle lens more than doubles the camera's field of view without panning.
The camera has a small speaker on it with two-way communication that I often use (unsuccessfully) to remind the small rascals above that they should be sleeping. It also plays soft sounds for sleeping — a feature I haven't used and didn't realize was present until writing this review!
The camera has proven to be extremely durable, sustaining no damage despite our children knocking it out of place or rolling it across the floor. When we had an infant sleeping in our bedroom, we used Eufy's wall mounting shelf to keep the camera secure and capture an excellent view of the crib below.
The monitor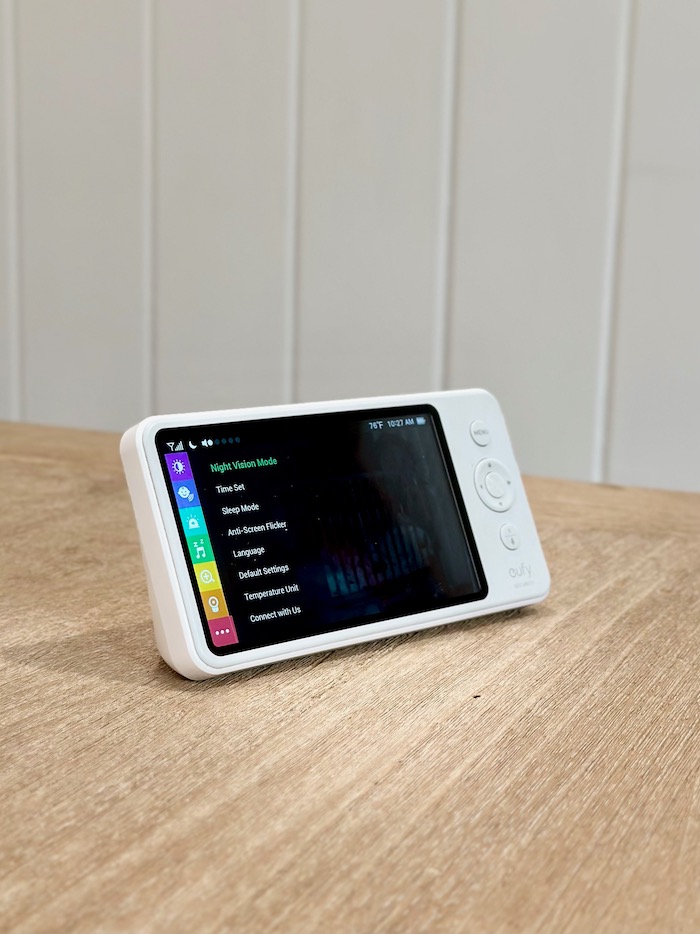 I love that the Eufy comes with a dedicated monitor unit. Between my husband and me, we know that whoever has the monitor in hand is on baby duty, without having the opportunity to become distracted from a monitoring app on our phones. Not needing a phone app also frees up our devices to help us complete our giant list of to-dos while the kids are sleeping.
The monitor's five-inch display is large, and the 720-pixel resolution is clear. The time of day and kids' room temperature are visible right on the screen. The monitor has intuitive buttons to zoom (up to 2x!), pan, tilt, and adjust the brightness or volume. It flips automatically between light and dark mode depending on light in the room, but parents can also set the monitor to night-vision mode manually.
For times when we need the volume off, the display contains a visual indicator of how noisy the room is, on a scale of one to five. "One" means everyone is snoozing peacefully with white noise, "three" means our son is singing the alphabet out loud to his sister instead of letting her sleep, and "five" means Mom or Dad should start running up the stairs to grab a crying baby. Parents can also set up audio alerts for an alarm to sound from the monitor unit overnight if someone starts to fuss.
The monitor for the SpaceView base model and SpaceView Pro model are slightly different. The original SpaceView has a kickstand and an antenna to improve the signal. The larger SpaceView Pro monitor has no antenna (but we've never needed one) and a built-in wide base that lets it stand on a flat surface.
Connection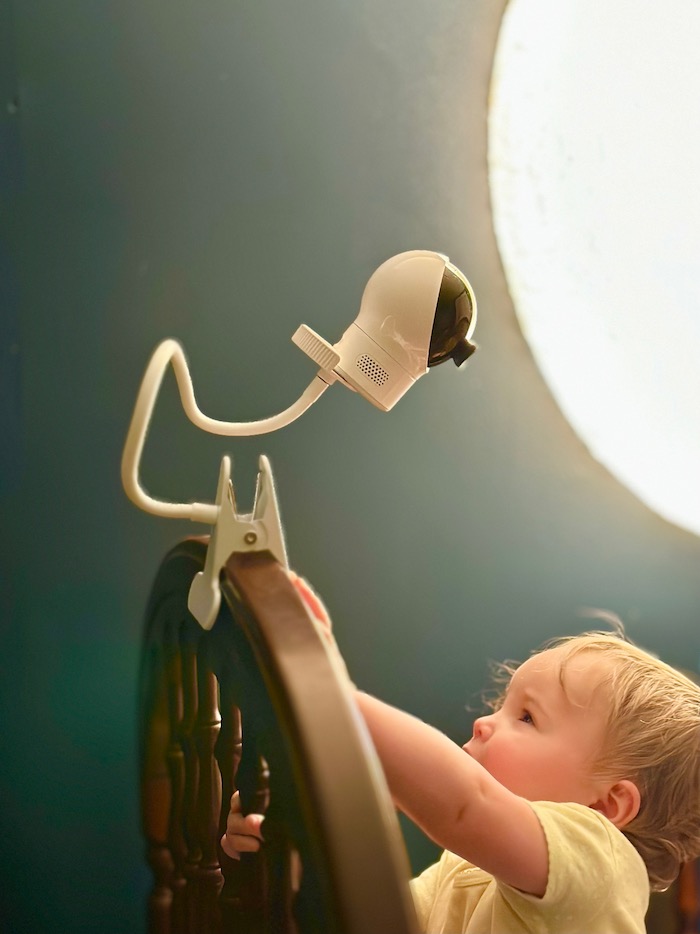 The Eufy is a great monitor for travel. It doesn't need Wi-Fi to operate, which has been a lifesaver for us at remote locations without internet. Once the camera and monitor are paired, all we need to do is plug the camera in at our destination, and the monitor automatically detects it.
The monitor has a maximum range of 600 feet, which means we can be on the other side of the house, in the garage, or in the yard while still keeping an eye on naps.
Eufy incorporates a local radio connection called frequency hopping spread spectrum (FHSS), which is used by many non-Wi-Fi baby monitors and considered to be very secure. There's no app or signing in required. That means there's no way for babysitters or other visitors to access the camera views remotely after they leave the house.
Battery
Eufy's monitor battery power is impressive. The SpaceView can monitor sound for 15 hours or video for 8 hours, and the Pro can monitor sound for 30 hours or video for 12 hours. I've found that as long as I plug the monitor in to charge overnight, it's good to use for the kids' naps and bedtime the next day.
The monitor recharges via a standard micro-USB cord, so its charger might overlap with other devices you already have in your home.
Multiple cameras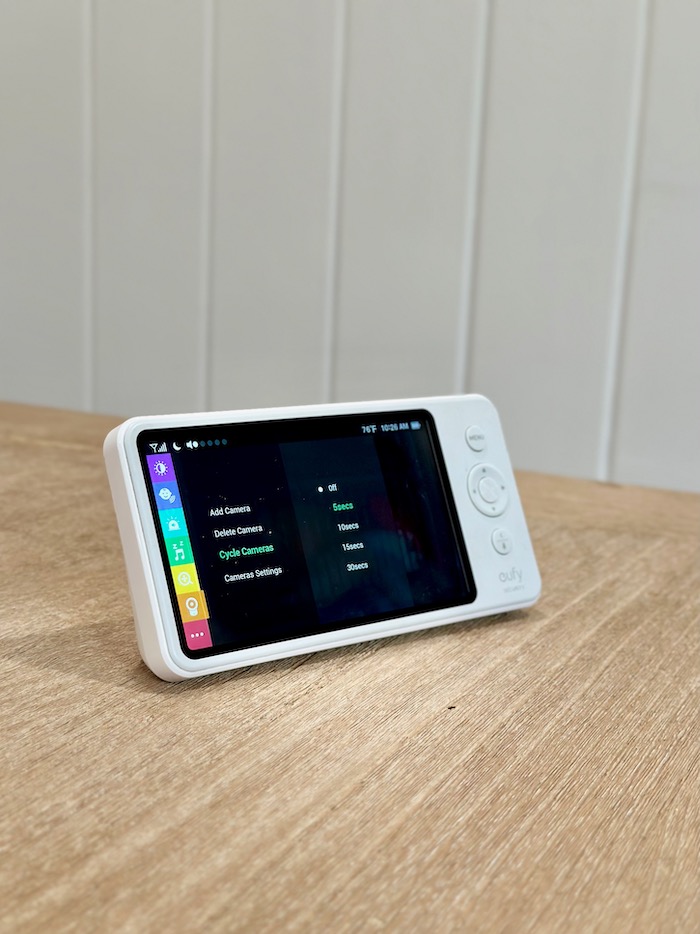 A Eufy baby monitor can link with up to four cameras. Parents can switch the camera view manually from the monitor or set it to cycle through the cameras every 5, 10, 15, or 30 seconds. When we first bought a second camera with the arrival of our daughter, I was disappointed that there was no split-screen feature to see two rooms at once, but I've grown to like rotating through them every five seconds instead.
Accessories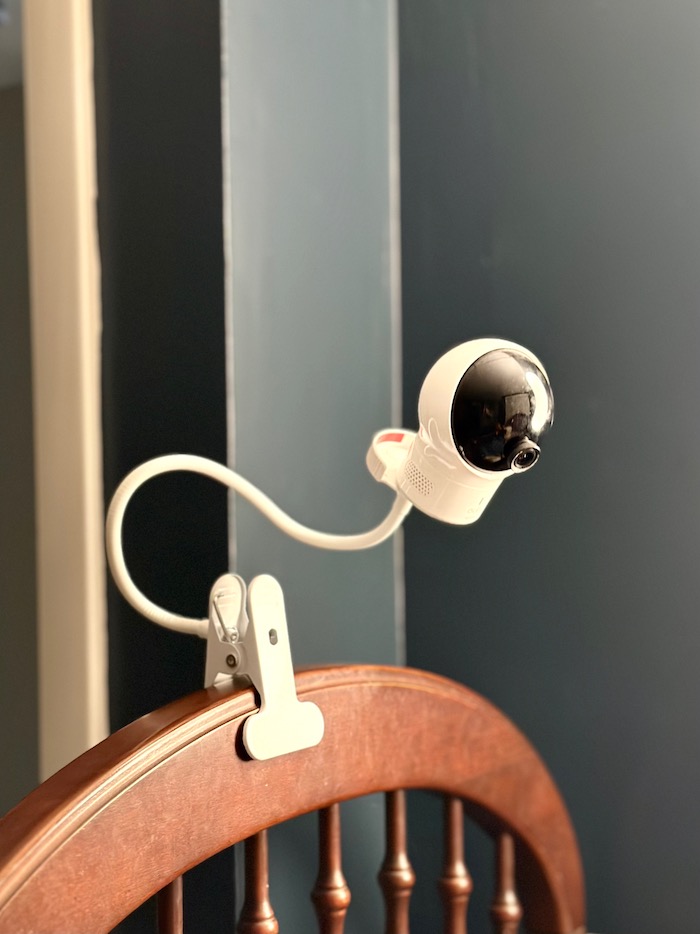 Eufy sells add-on or replacement SpaceView cameras and monitors for roughly $100 each. We also decided to purchase an off-brand camera clip mount for travel. The clip is easy to attach to the edge of the pack-and-play or nearby furniture, and it gives us a better view of our sleeping daughter.
Comparing the Eufy SpaceView to Others in the Field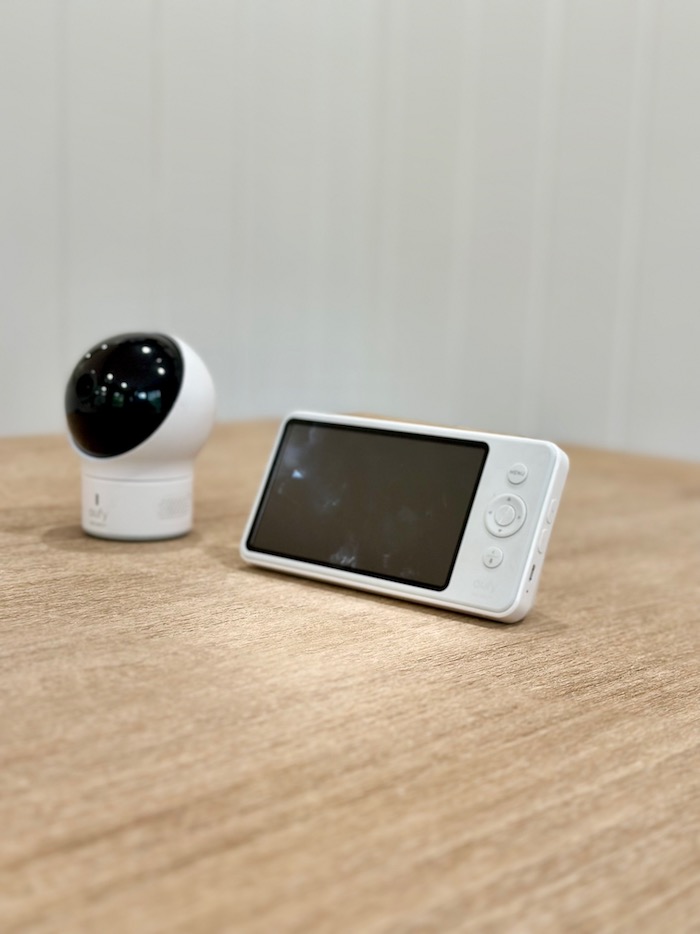 If you're still narrowing down your search, here's a quick look at how the SpaceView matches up against a few popular competitors:
The roughly $200 DXR-8 Pro is a similar locally connected monitor, with two-way communication and a clear, 720-pixel, five-inch display. Pan and tilt are more limited than with the Eufy, but an included lens offers 6x zoom capabilities. The Infant Optics' battery life is shorter than the SpaceView's, but parents can purchase a replacement battery if they notice its charge shortening over time.
If you're looking for a budget-friendly, non-Wi-Fi video monitor to meet your basic needs, VTech's $80 VM5254 camera has a night light, a temperature sensor, two-way communication, and a range up to 1,000 feet. Although there's no remote panning and tilting, no way to wall-mount the camera, and a more limited view of the nursery, the VTech is a great purchase for the price.
Parents looking for a Wi-Fi monitor with all the bells and whistles will appreciate the popular Nanit Pro's 1,080-pixel video quality, easy-to-use smartphone app, and curated sleep-summary videos of their little one. Although there's no dedicated monitor unit, parents can set the Nanit to continuously play the monitor's audio stream while they use other apps on their phone.
Parents I know who use the $246 Nanit love the ability to check on baby when away from home, but potential buyers should know that some features require a subscription after the first year of use.
The Upshot on the Eufy SpaceView Baby Monitor
The Eufy SpaceView monitor has been the perfect way for us to check on our son and daughter during naps and after bedtime. If I were to re-create my baby registry, I would choose the Eufy again. With awesome video quality during day and night, two-way communication capabilities, and a secure local FHSS connection, it's been easy to use both at home and away.
For our thoughts on other baby sleep essentials, read our reviews of the Hatch Rest sound machine, the Dreamland Baby sleep sack, the SNOO smart sleeper, and the Chicco LullaGo Nest bassinet.