Uppababy Mesa vs. Nuna Pipa Car Seat (From a Mom with Both)
Which is better, the UPPABaby Mesa car seat or the Nuna pipa lite? As a mom with both, my friends, I have thoughts.
Both UPPABaby and Nuna are household names for those of us who prioritize nontoxic ingredients in our baby items. It's how I was initially led to both brands myself when looking for a car seat that didn't use flame retardants and rated well for safety. I wondered what you're probably wondering now – which truly reigns supreme?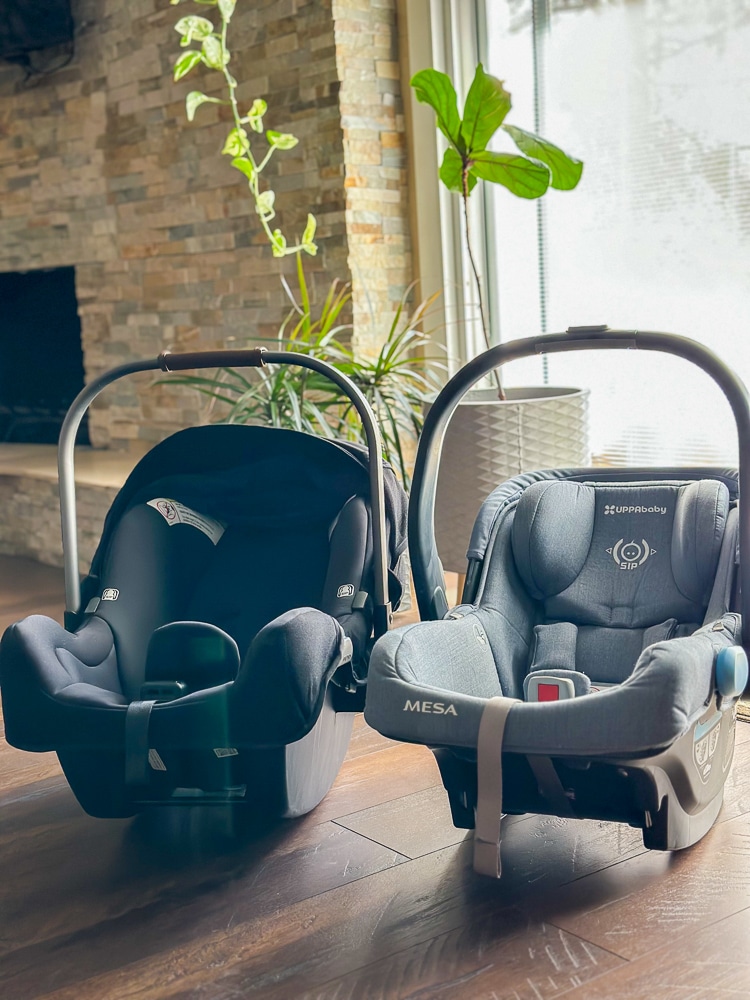 My question was answered when I received the Nuna pipa lite from my baby registry and was gifted a hand-me-down UPPAbaby Mesa from a close friend, which we use as our 'travel' car seat.
Over the past nine months, I've used each extensively. Here's everything to know when picking between the UPPAbaby Mesa and Nuna pipa lite car seats, and which one I like better:
What's So Special About Nuna?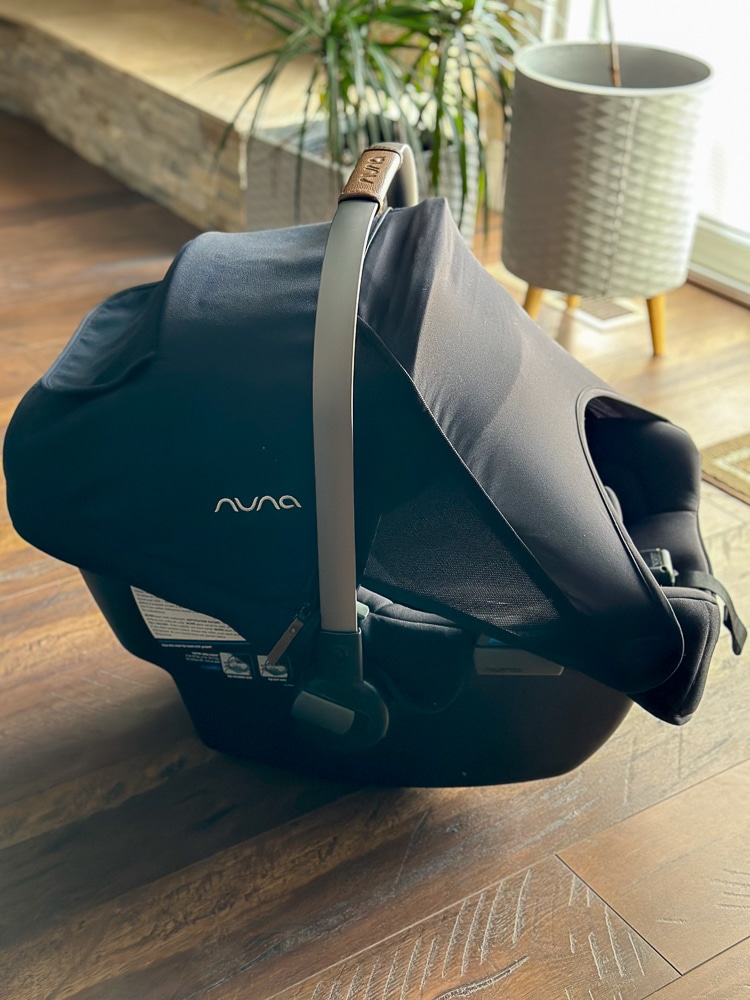 Nuna is known for being one of the premium baby brands, and for good reason. Their "Dutch-inspired" products consistently perform for safety. The Nuna pipa lite is one of few infant car seats rated "best" in crash protection, and the Nuna pipa lite and compatible stollers are GREENGUARD GOLD certified, meaning that they have been thoroughly tested and certified to meet stringent emissions standards for over 360 volatile organic compounds (VOCs) and chemical emissions. Essentially, your child will breathe in fewer chemicals while sitting in this car seat.
Nuna is also committed to reducing and reusing, and abide by the international ISO 14000 family of standards that cover a company's environmental responsibilities, including the use of alternate fuel sources, such as solar-powered energy, and the treatment of wastewater, as well as the use of recycling programs for plastic waste and packaging.
Nuna also uses fabrics that meet the OEKO-TEX® Standard 100, which certifies that they are free from harmful and allergenic substances, are GOTS™ certified, and often utilize environmentally-friendly Merino wool tencel.
What's So Special About UPPAbaby?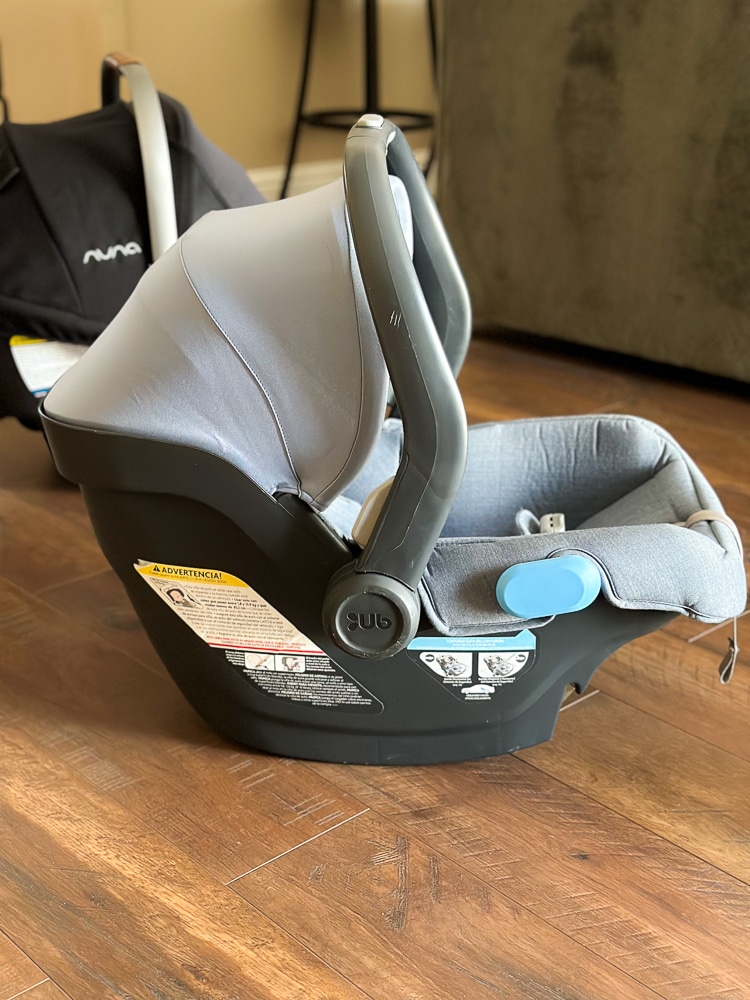 Founded in the US, UPPAbaby is also a premium brand and Nuna's most notable competitor. The Mesa V2 is also GREENGUARD GOLD certified, and the Henry and Jordan models also utilize Merino wool and are free of flame retardants. They were the first car seats to pass federal safety standards without the use of toxic flame retardants.
UPPAbaby's main production facility utilizes solar power, and UPPAbaby packaging uses FSC-certified cardboard paper, which ensures that the packaging "comes from responsibly managed forests that provide environmental, social, and economic benefits." Their products are developed with the goal of limiting packaging and plastic waste using recyclable packaging materials.
Both brands also offer year warranties on their car seats.
Safety of UPPAbaby vs. Nuna Pipa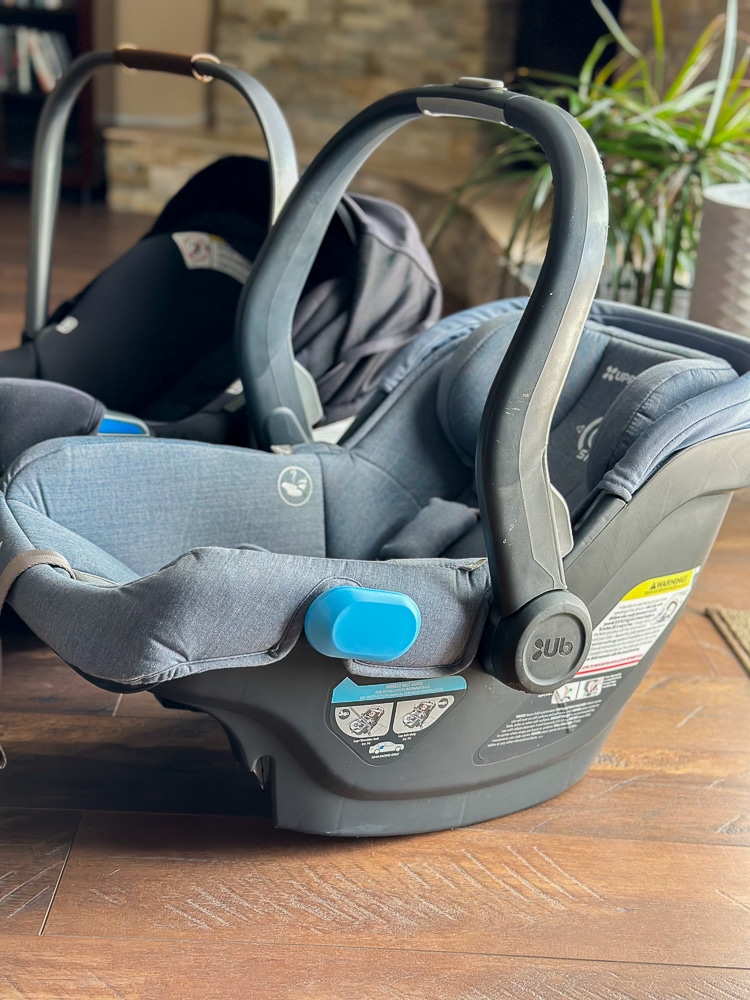 both the UPPAbaby Mesa and the Nuna pipa lite car seats have passed safety standards set by the National Highway Traffic Safety Administration (NHTSA) in the United States. These are their criteria:
Crash Protection: Testing the car seat's ability to protect a child in a crash. The car seat is tested in both front and side impact crashes, as well as rollover crashes.
Ease of Use: Evaluating the car seat's installation process and determining how easy it is for parents to use correctly.
Labels: The NHTSA evaluates the car seat's labels and instructions to ensure that they are clear and easy to understand.
Nuna Pipa Safety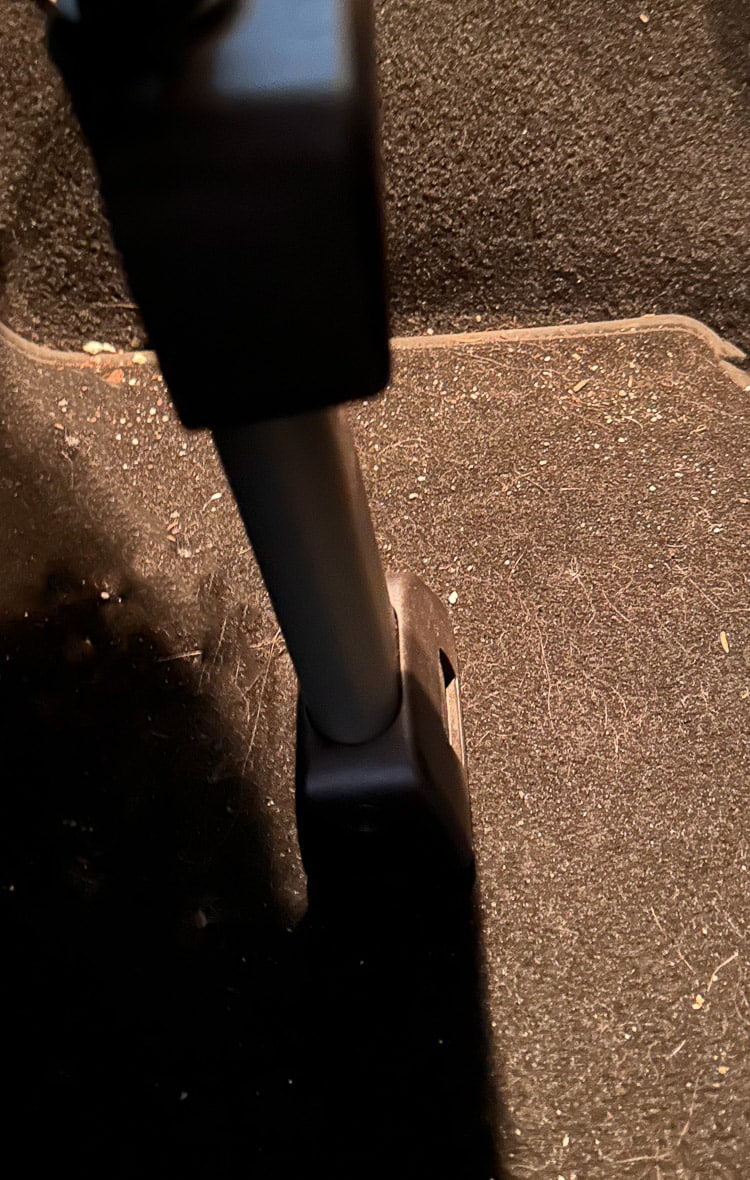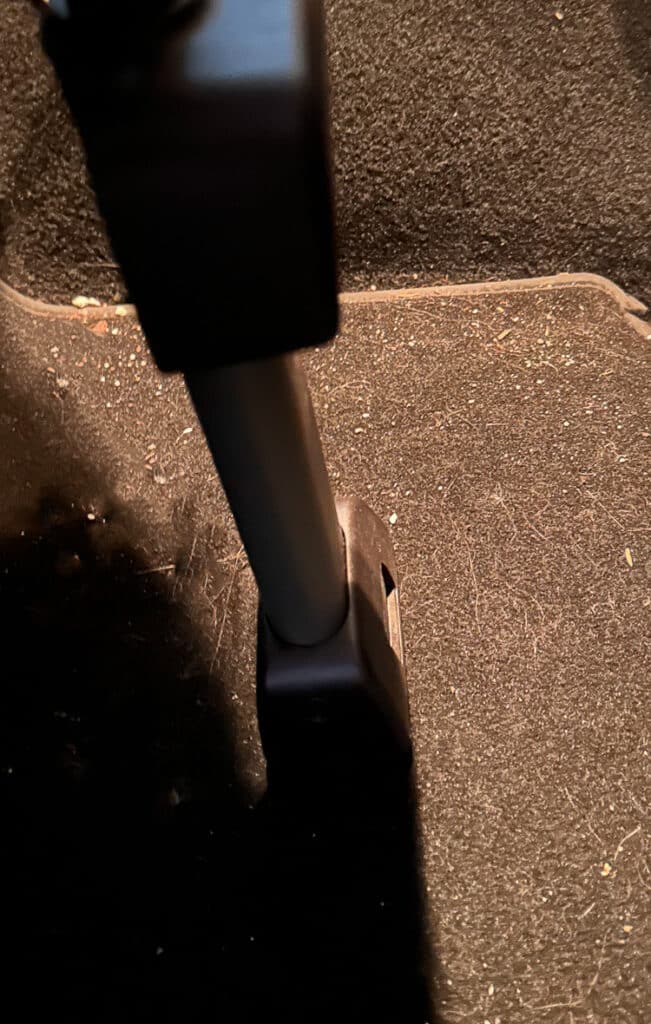 Both the UPPAbaby Mesa and the Nuna pipa lite have received high safety ratings from the NHTSA. But the Nuna pipa lite and UPPAbaby Mesa have quite different designs and installation methods. The Nuna pipa lite has a steel leg while the Mesa does not. The leg extends from the base to the floor of the vehicle, and helps absorb impact energy and pull force away from your baby if you are in a crash.
According to Consumer Reports, the Nuna pipa lite seat's steel leg reduced the risk of head injury in a crash by 46%.
Both car seats have been rated highly for side impact protection, as well as the traditional safety features of front and rear impact protection.
The Nuna pipa lite has a 4-star rating for overall ease of use. Having used both, I can confirm that the installation of the Nuna pipa has a bit more of a learning curve due to the leg. It can be hard to see if you've got it green. Since ease of use contributes to overall safety, the leg comes with its pros and cons.
UPPAbaby Safety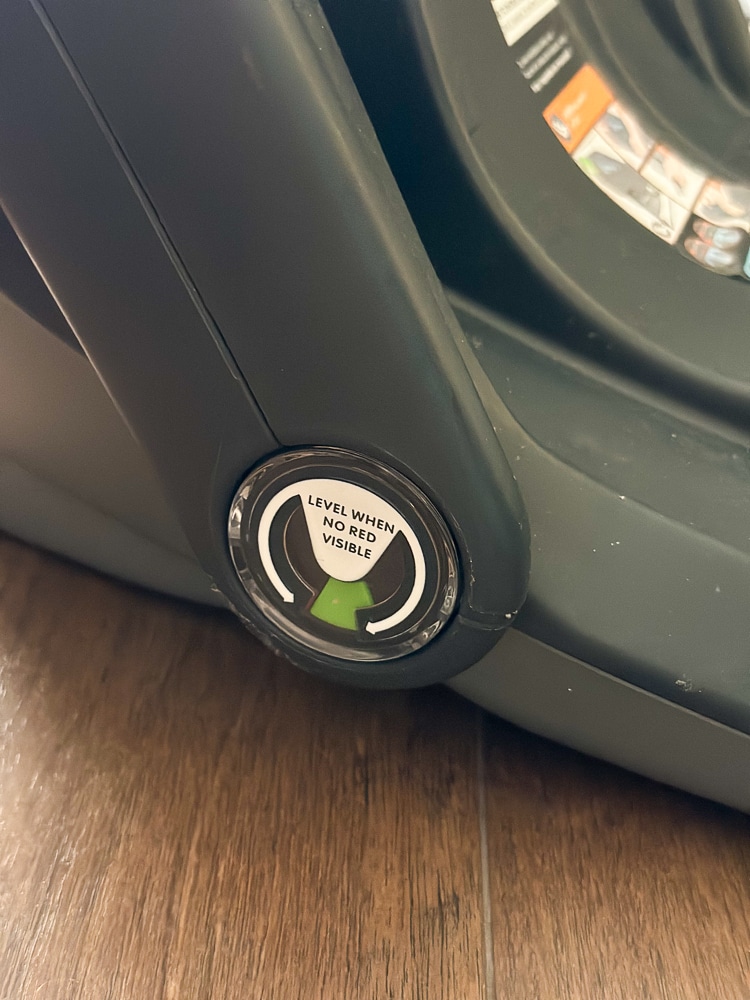 The UPPAbaby Mesa has a 5-star rating for overall ease of use — the highest possible rating — compared to the Nuna pipa lite's 4-star rating.
However, it has a lower Consumer Reports crash protection rating than Nuna since it does not have the load leg attached to the base.
While safety ratings are the most important factor to consider when choosing a car seat, they aren't the only one. The car seat's weight and size, additional features, and price are all important, too.
UPPAbaby Mesa vs. Nuna pipa lite Specs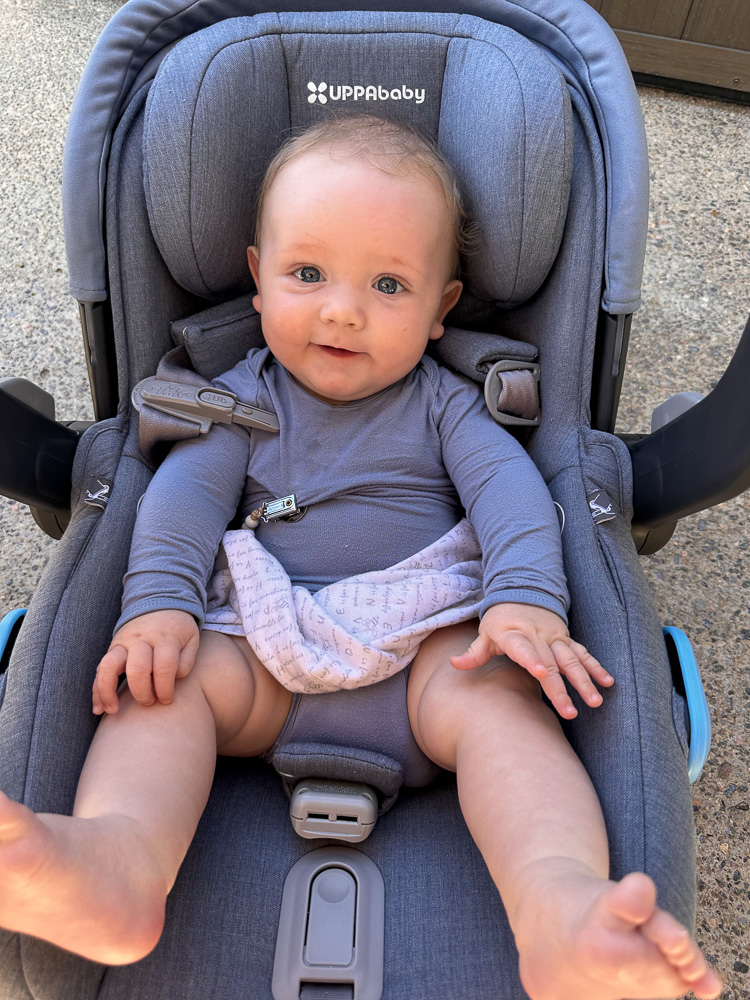 UPPAbaby Mesa
Weight limit: 4 to 35 pounds
Height limit: 32 inches
Comes with an infant insert
Includes a canopy with Ultraviolet Protection Factor (UPF) 50+
No rethread 5-point harness
Fabric is easy to remove and clean
Carrier weight: 9.9 lbs.
Base weight: 9 lbs.
Priced at $329.99 or $349 for charcoal melange (without flame retardants).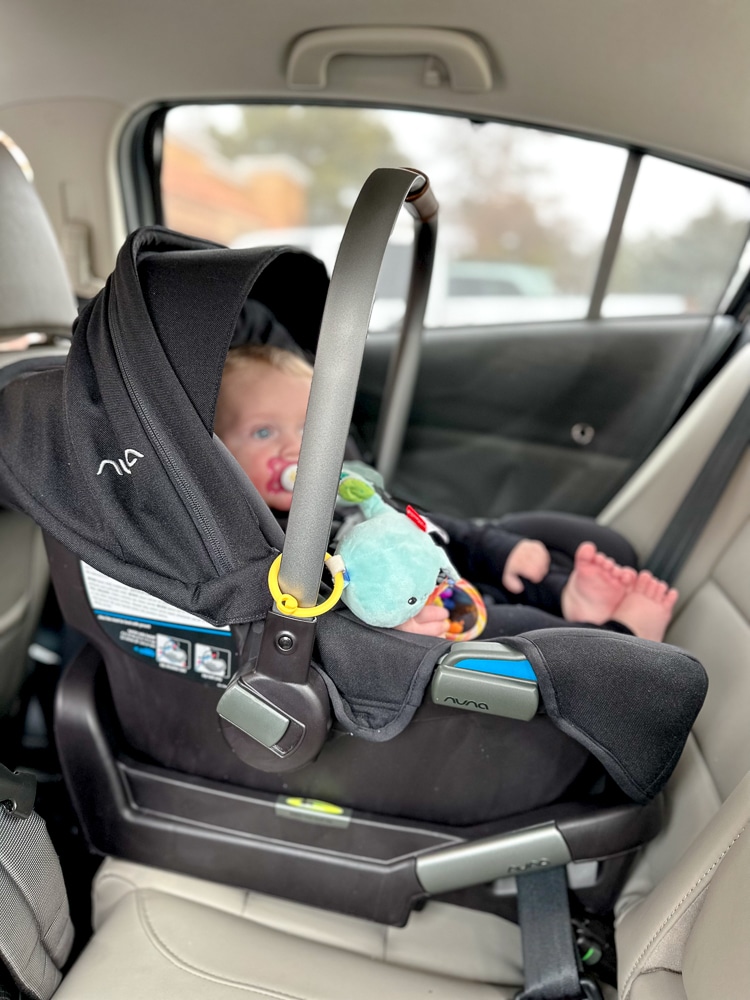 Nuna pipa lite
Weight limit: 4 to 32 pounds
Height limit: up to 32 inches
Fabric is machine-washable
Heavy duty shell with side impact protection.
Comes with removable infant insert
FAA-certified for use on an aircraft without base.
Carrier weight: 7.9 lbs
Base weight: 5.3 lbs
Priced at $400
My Preference After Using Both
I initially chose the Nuna pipa lite mostly because it fit with the secondhand Nuna stroller that I found. Great reason, I know, but after using both I can tell you that the weight of the car seat and base have ended up being major factors as well. You really do feel the difference between the combined weight of the UPPAbaby Mesa at nearly 19lbs vs. the Nuna pipa lite's 13.2lbs.
The Nuna pipa lite also has a lot more features, like a zip-out sun shade that connects with magnets to the front of the seat, and a ventilation flap at the back of the shade. This makes nap time in the car seat much easier and shields him from the sun if it's behind us while keeping the air flowing. On long road trips where that's where he's taking his nap, I've found it quite helpful.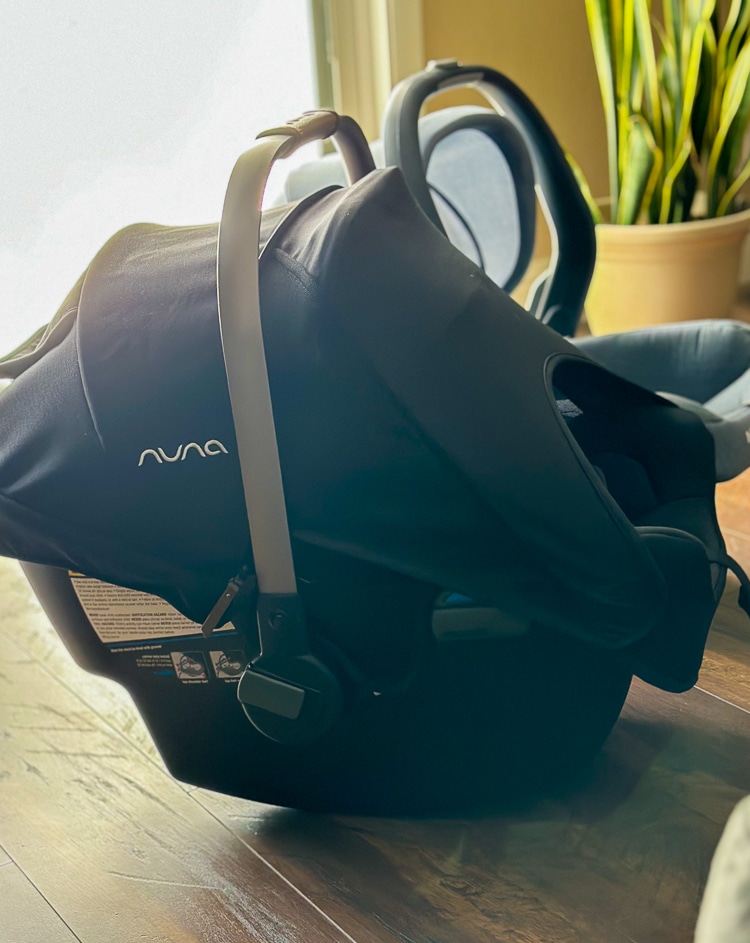 The UPPABaby, while keeping him more upright, would cause his head to slump in what looked like thoroughly uncomfortable positions when he was sleeping. I felt like I needed to hold it up for him. I didn't see the same happening with the Nuna.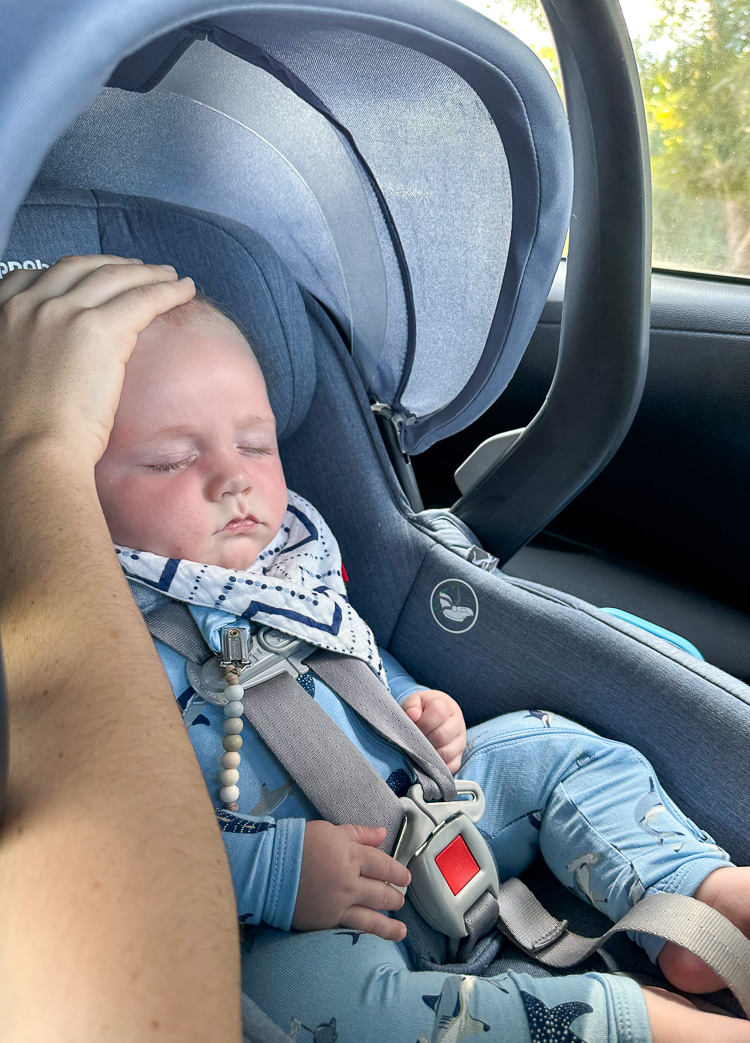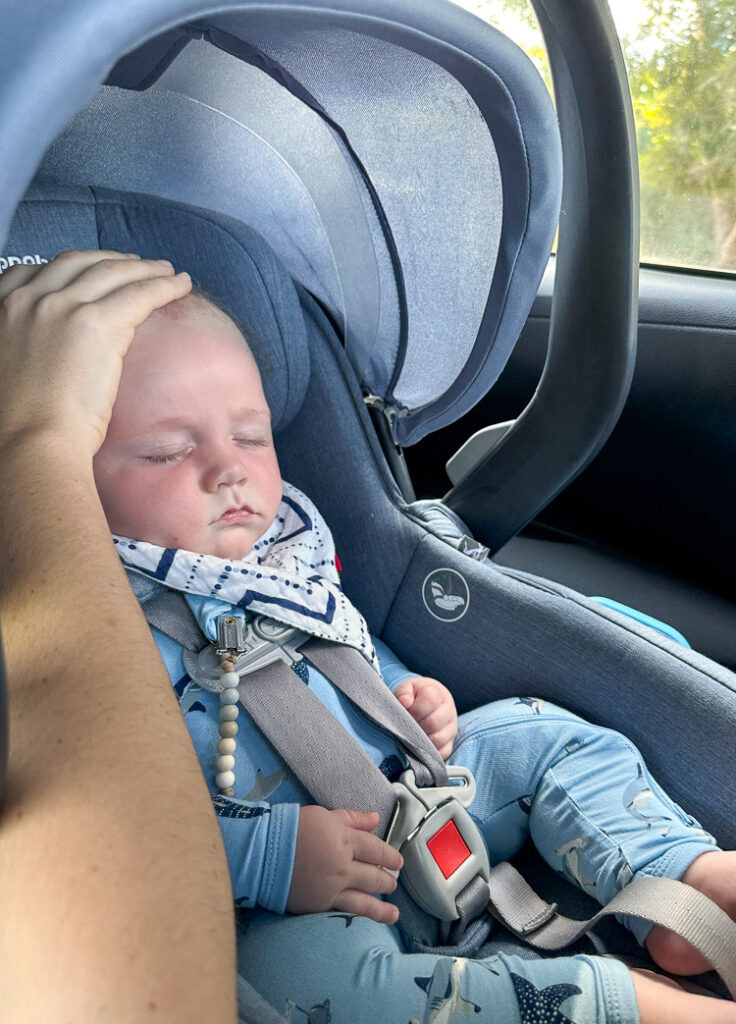 Although I initially found the load leg of the Nuna Pipa annoying, the added safety and stability it provides makes it the better choice as well. It truly feels SOLID in the car. It also just feels nicer overall – the material, the coziness, and the added features make it feel like more of a luxury item.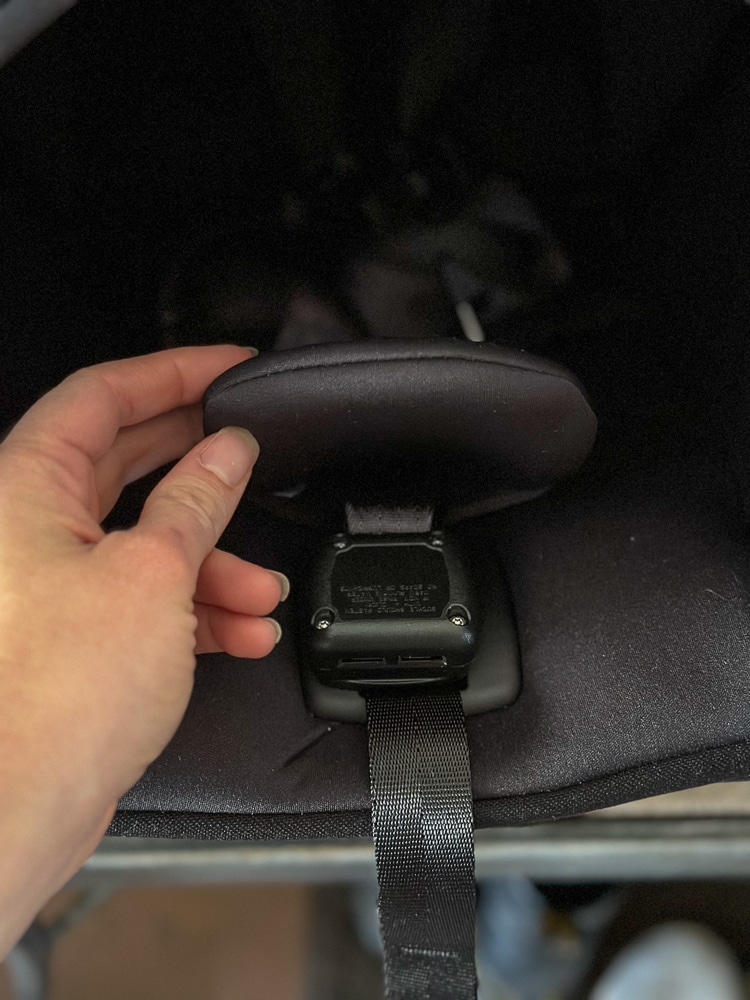 That said, it's easier to travel with the UPPAbaby Mesa. We install the base in every taxi and Uber we use, and the two connectors with red to green safety indicator make it easy to know we've done it right. The load leg would add a step. It also can accommodate a child up to 35 rather than 32lbs, which can be a meaningful difference in longevity of use, especially for smaller kids. Unfortunately for us, our 9 month old is about to outgrow both due to his height. It also has a little slot on the side for the buckles to rest while you get your baby into the car seat. This is a nice feature that the pipa lacks.
Honestly, I like having both, but if I could only pick one, it would be the Nuna pipa lite. The lighter weight, added features, and load leg all make it the better overall choice. When he outgrows it, we'll be sticking with Nuna brand and using the Rava as well.
Compatible Strollers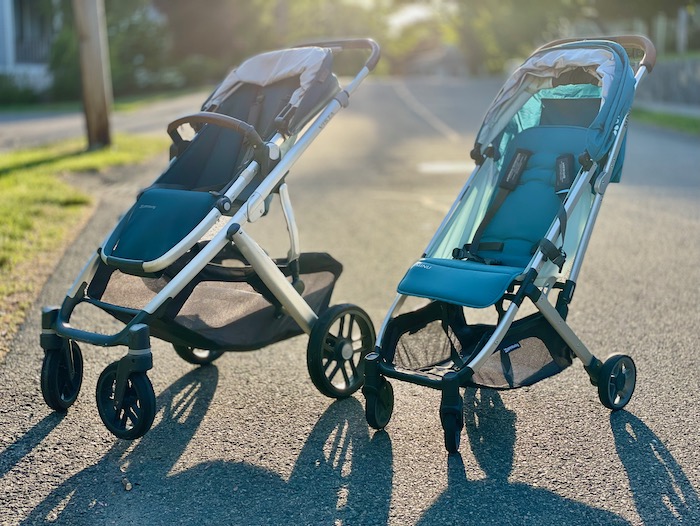 As I mentioned before, stroller compatibility was the main reason I ended up choosing the Nuna, although I now know with adapters anything probably would have worked. I also learned early on that it's not good for babies to be in the hunched position in the car seat for prolonged periods of time, so I only used the compatible bassinet with the Nuna Mixx until he could sit up, at which point we used the normal seat.
The bassinet was initially great. We even used it as his sleeping space on road trips early on.
It looks like the Mixx has now been replaced by the Nuna Demi Grow stroller, which is compatible with the entire Nuna Pipa series with included adapters, as well as the Demi Grow Bassinet or sibling seat.
Alternatively, The Nuna PIPA urbn + TRVL Stroller & Car Seat Travel System comes with the car seat and more compact, travel-oriented stroller. The PIPA urbn + TRIV Next Stroller & Car Seat Travel System also comes with the car seat, and has the ability to recline the normal stroller seat so that a bassinet is not as necessary, though it doesn't appear to recline all the way.
The UPPABaby Mesa is compatible with the UPPABaby Vista V2 (full review), which conveniently comes with a bassinet. The Cruz V2 is also compatible and more affordable, and the Minu V2 (full review) is the smallest and most affordable of the three. Read our UPPABaby Vista V2 and Minu stroller comparison. Unlike the Nuna sets, it appears you'll need to buy the car seat separately.
I also later learned that with the right adapters, most strollers can be compatible with both car seats. Nuna and UPPABaby tend to be compatible with each others as well. Check before you purchase your stroller to be sure.
I hope this helped you choose. I prefer the Nuna, though both are excellent and you can't really go wrong.
*Some links in this post affiliate links that support this site at no extra cost to you. Rest assured I only promote products that I have tried and tested myself. Your trust always comes first! Thanks for your support.