Large but Essential: Fisher-Price 4-in-1 Step 'n Play Piano Review
It's amazing how quickly your living room can be taken over by baby gear once you welcome a little one into the family. Pack-and-plays, high chairs, baby loungers, and floor seats occupy some serious real estate, let alone just-for-fun items like jumpers, bouncers, and entertainers.
Even though it's large, the Step 'n Play Piano is one of those major baby gear items that has been essential in raising our two children. In this comprehensive review of Fisher-Price's musical baby entertainment center, we'll discuss all the pros and cons of the Step 'n Play Piano, and why I think it's worth adding to the must-have list of sizable baby products for any new parent.
The Fisher-Price Brand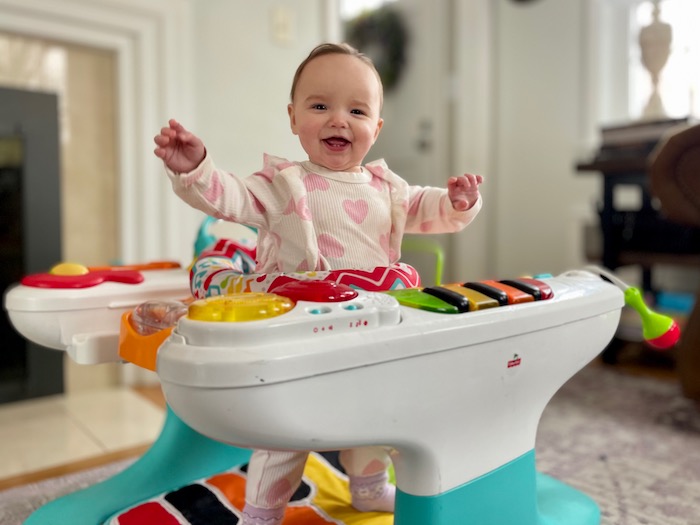 Fisher-Price is one of toy giant Mattel's well-loved brands, alongside Barbie, Hot Wheels, American Girl, and others. It's a huge name in baby essentials, toys, and games for families with young children. The brand makes everything from bathtubs, bassinets, and floor seats to building block sets, dolls, and baby entertainers. It's also committed to sustainable design and responsible sourcing.
In addition to a Hot Wheels collection that somehow grows every week, we have a ton of Fisher-Price gear in our house. We've invested in small baby toy sets, Little People toys for toddlers, and Linkimals plush toys, as well as larger items like walkers, ride-on toys, and a Jumperoo. Out of all these, the 4-in-1 Step 'n Play Piano is probably our most used product from Fisher-Price.
Snapshot of the 4-in-1 Step 'n Play Piano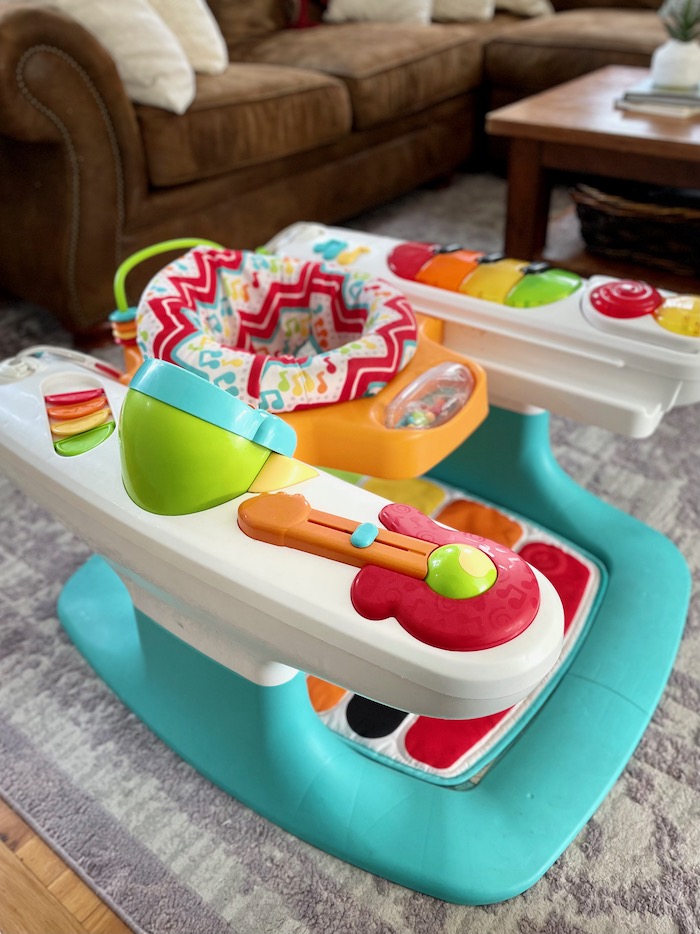 The Step 'n Play Piano is a large baby entertainer that can be used in place of a jumper or a bouncer. It's dubbed a four-in-one product because parents can use it as a simple tummy-time mat, a swivel seat for baby to explore in all directions, a traveling seat that acts as a miniature walker, and a toddler activity table with the seat removed.
In reality, there is no difference between using the product as a swiveling chair and as a traveling seat, because the included seat easily rotates and slides at the same time. This gives babies significant freedom to explore the space around them, stand upright with support, and engage in over 20 attractions. Most toys on the piano have music and lights to accompany them.
The 4-in-1 Piano helps babies with fine and gross motor skills, keeps them happy and occupied, and lets parents have their arms free for a second to prepare a bottle or even wash some dishes (every mom's dream, right?). The product has excellent reviews from caregivers on multiple baby store websites.
Our Experience with the Step 'n Play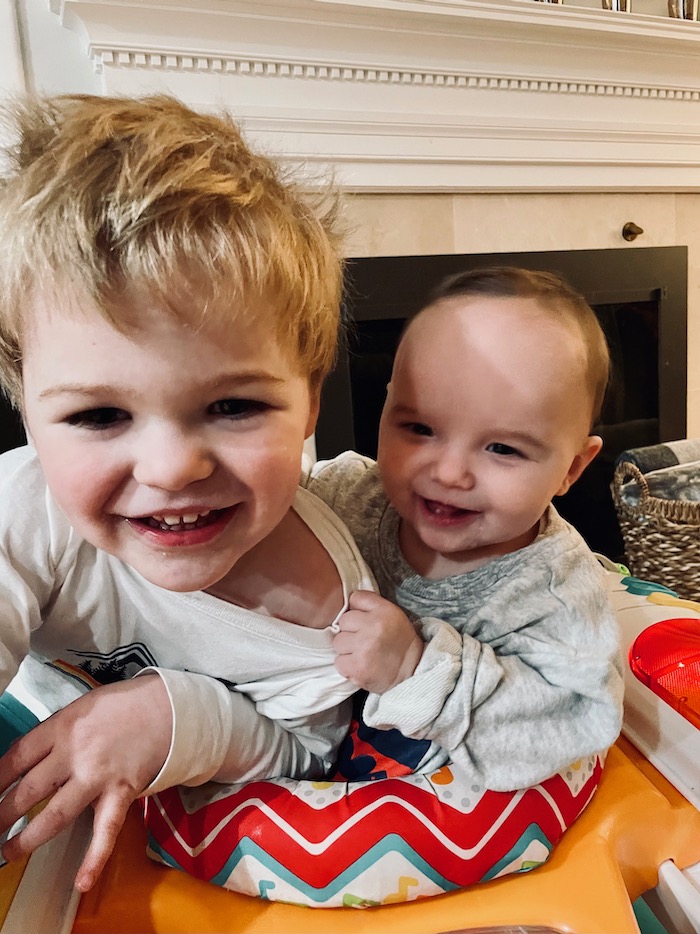 We started using Fisher-Price's piano entertainer when our firstborn was three or four months old. He struggled with acid reflux and was uncomfortable lying flat. Although the American Academy of Pediatrics recommends limiting time in confining baby equipment for proper motor development, it was helpful for us to have a few well-loved products that supported him in an upright position.
During our son's first few weeks using this toy, it quickly became our favorite piece of baby gear. When we lived in a two-story downtown condo, we would even lug it up and down the stairs regularly, depending on where we were spending our time. We've used it indoors and outdoors.
I'd also bring the piano into our bathroom so I could grab a shower, and we'd put it in the car every Sunday for dinner with the grandparents. The Step 'n Play is now a staple in our living room with our second child as well.
I think parents shy away from buying items like this piano because of its size, but something about its design and activities keeps babies extremely entertained. My sister-in-law even bought the same toy for her infant daughter when she saw ours and gave it a try.
The Fisher-Price 4-in-1 Piano lets our infant daughter interact safely with our toddler son. When she's standing in the entertainer, they're closer to eye level with one another, and she's steadier than she would be in a bouncer or a jumper. Our son loves to show her all the gadgets and how they work.
As a family, we've found this piano to be more enduring than a bouncer, a swing, or a floor chair. Little ones can use it from babyhood to toddlerhood. It's definitely one of my must-have items.
The 4-in-1 Step 'n Play Piano: Weighing the Pros and Cons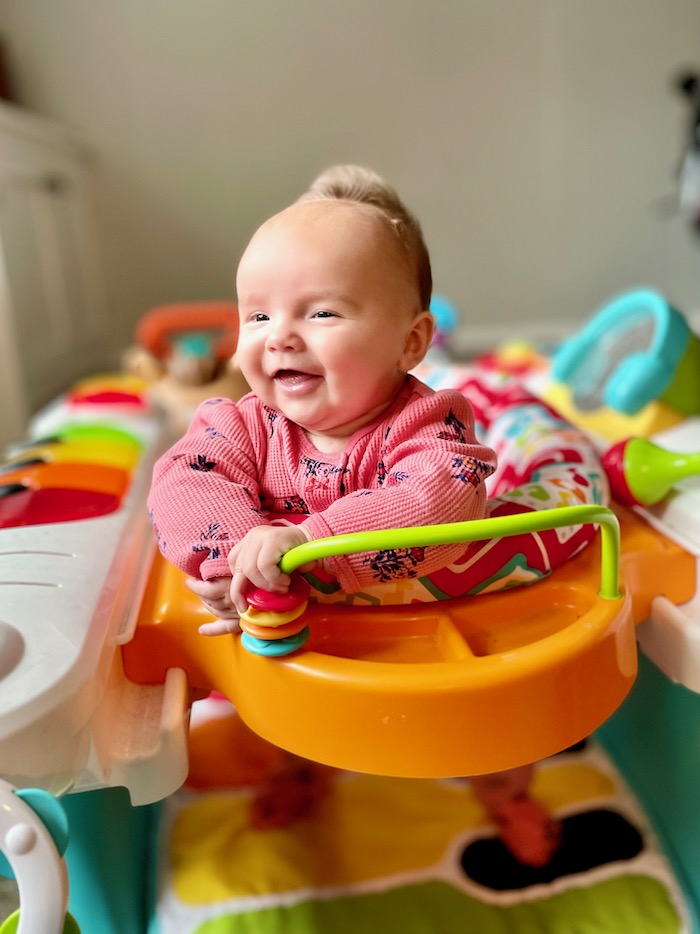 Here are some of our favorite features of the Step 'n Play, and some areas that could use improvement:
Pros
Three sound settings let parents switch between continuous music, short musical bursts with each step, and simple piano key sounds.
Compared to other baby toys, the songs featured on this piano are (in our opinion) not annoying.
The piano is battery operated, so no plugs are required!
This toy features multiple interactive buttons and activities to keep baby's attention, including a centrally located mirror.
The 4-in-1 Piano is long-lasting, keeping babies engaged from the newborn stage to toddlerhood.
All fabrics are machine washable.
The piano is sturdy, and it feels like a safe place for baby to play under supervision.
Cons
This entertainer is large! It takes up significant space in any home.
The piano is cumbersome and difficult to carry around, even just from one room to the next.
At full price, it's more expensive than most baby entertainers and jumpers.
As with any entertainer, it can be difficult to clean inside all the toy's the nooks and crannies (especially with babies who spit up!).
Detailed Features and Specifications
Let's take a closer look at all the minutiae that matter when considering this piece of baby gear for your home:
Size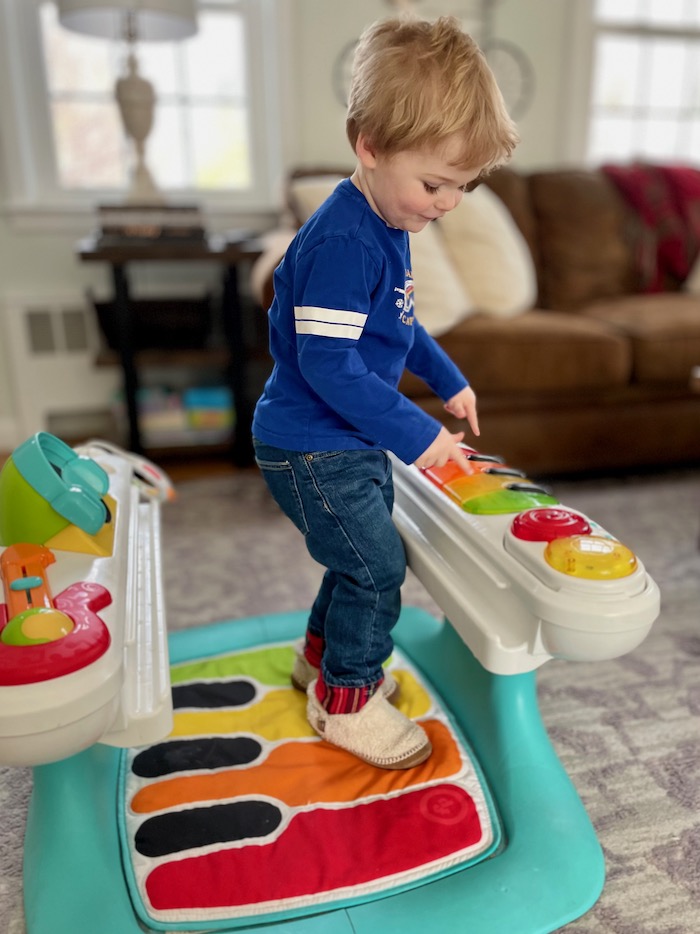 There's no getting around it: this baby entertainer is big. Its dimensions are 28.4 inches long by 31.5 inches wide by 22.4 inches high. It does not collapse for easy portability. Although the footprint of this toy is large, it takes up a bit less floor area than our Fisher-Price Jumperoo.
Weighing 21 pounds, the Step 'N Play isn't terribly heavy, but its bulk makes it difficult to carry.
Cost
The Step 'N Play Piano costs about $120 at full price. As of the writing of this article, it's on sale for around $85 at Walmart. I've seen it sold at a discount from other retailers as well.
The cost of this entertainer is on par with other large baby containers like jumpers and swings. These items aren't cheap, but they can make babies happy and provide them with stimulating activity before they can sit and stand on their own.
Age range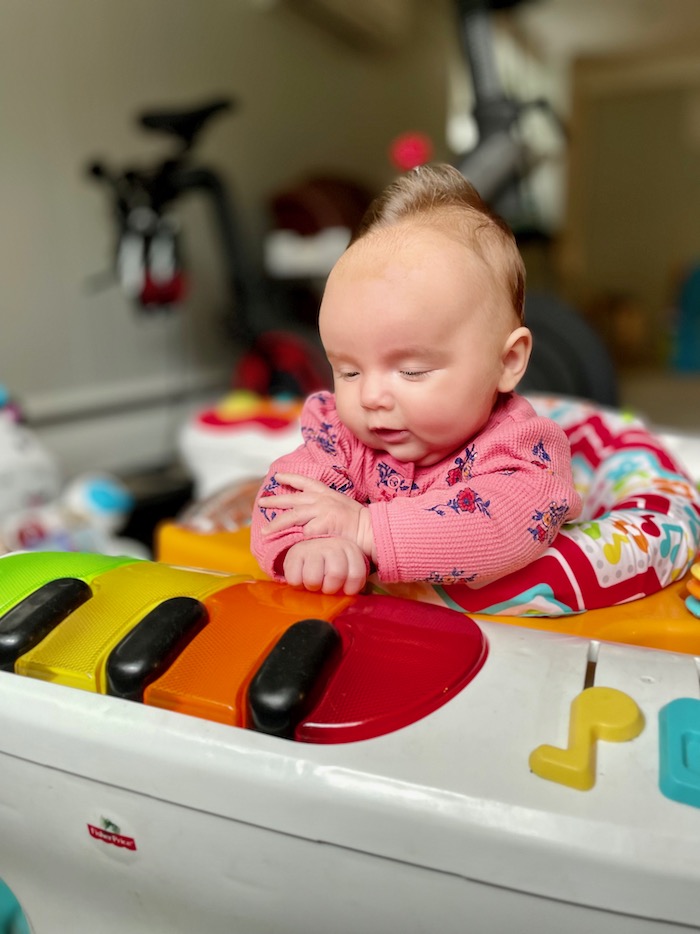 The bottom of the 4-in-1 Piano is a piano-key mat that doubles as a tummy-time mat. This allows parents to use the entertainer from birth.
The piano's seat is suitable for infants as soon as they can hold their head up unassisted. Parents can use the entertainer with the swiveling seat until their baby walks, climbs out of the toy, or surpasses 25 pounds in weight. After that, the piano serves as a standing entertainment center for toddlers (with the seat removed).
Even if only considering the Step 'n Play with the seat attached, these guidelines give it an age range of about 3-4 months to 9-10 months. In our experience, that's broader than most pieces of baby gear. When taking into account the tummy-time mat option and the standing entertainment center, the 4-in-1 Piano is a great toy for little ones from birth through young toddlerhood.
Activities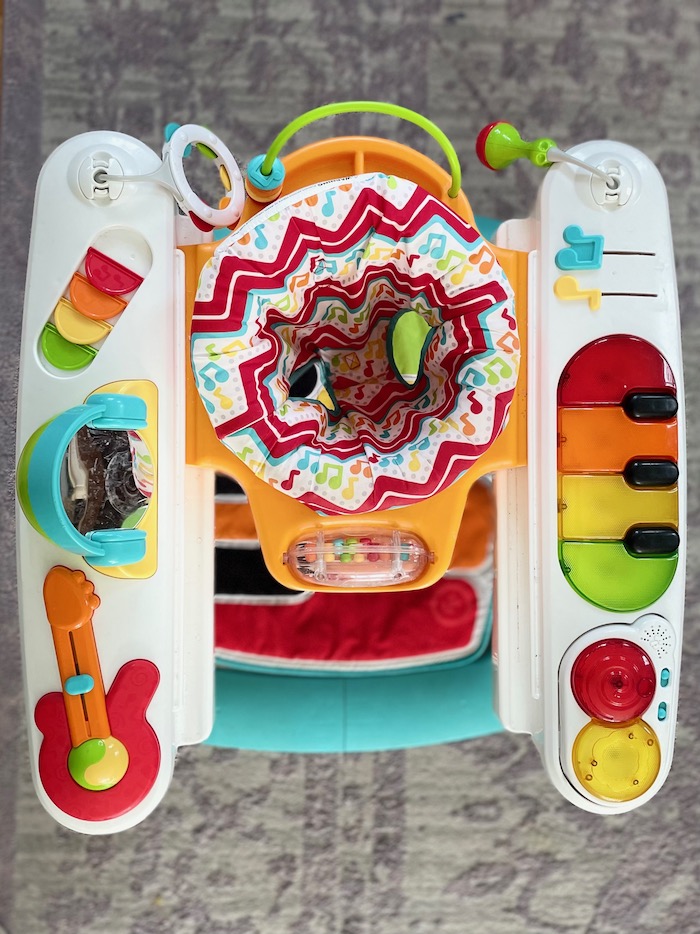 The Fisher-Price Step 'N Play Piano is more versatile than a jumper or a baby swing because of all the activities included. In addition to serving as a tummy-time mat, the pad at the bottom of the toy is a giant piano that plays four different keys in time with baby's steps.
A hand-controlled keyboard on top of the toy also makes piano music. Two light-up drums, which babies can spin and push, make additional sounds. Sliders on the other side of the piano keys make catchy notes reminiscent of disc jockey controls.
The entertainer has two removable rattles, a tambourine, and a microphone, for playtime on and off the piano. When the drums and rattles are removed from the entertainer, parents can attach them together as a clever tummy-time toy.
A colorful guitar on the top of the toy features a mesmerizing roller ball and a sliding strummer that delivers a satisfying clicking sound. The toy has other toggles, spinners with beads, and sliding toy games that are engaging for little ones even though they aren't electronic.
Finally, in addition to a two-compartment snack tray (they really have thought of everything), the piano has a centrally located mirror. This is a simple toy, but it's a real winner with babies. I can't even say how much time our children have spent smiling and laughing at this mirror. Our family owes major props to the geniuses at Fisher-Price that included it.
Sounds and settings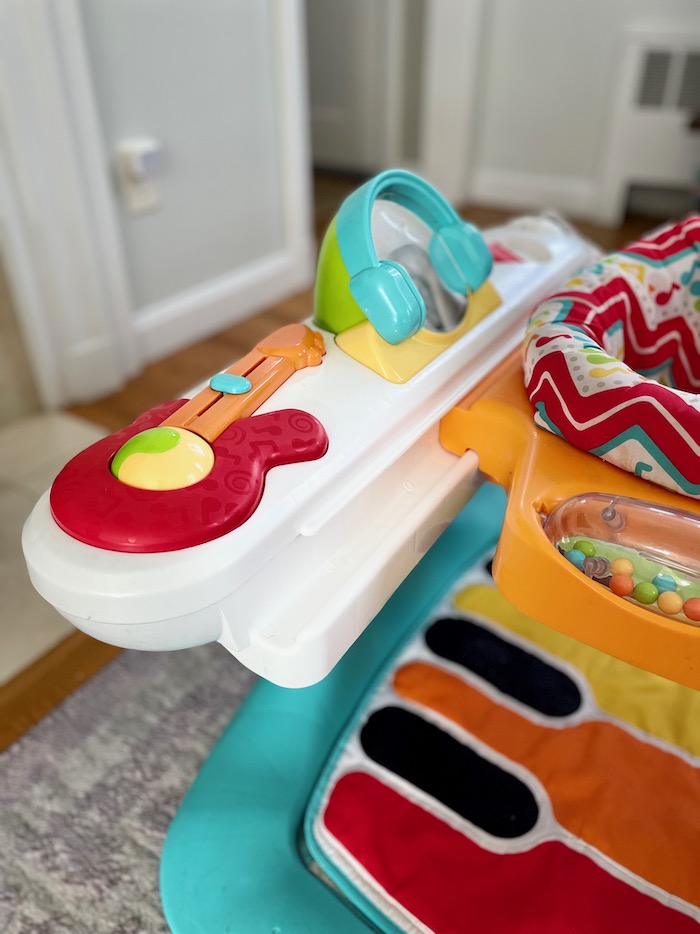 The 4-in-1 Piano has three sound settings. To keep things fresh, we tend to switch among all three when our child plays in it.
Children can listen to a continuous loop of rotating songs, which, in all honesty, are pretty catchy and not annoying to my husband or me. Youngsters can also make the music themselves using their hands and feet. Parents can choose to have their baby's movements trigger short, DJ-inspired tunes a few notes long, or play one note at a time in simple piano mode.
The 4-in-1 Piano gives the option to switch the volume to loud, quiet, or completely off.
Seat mobility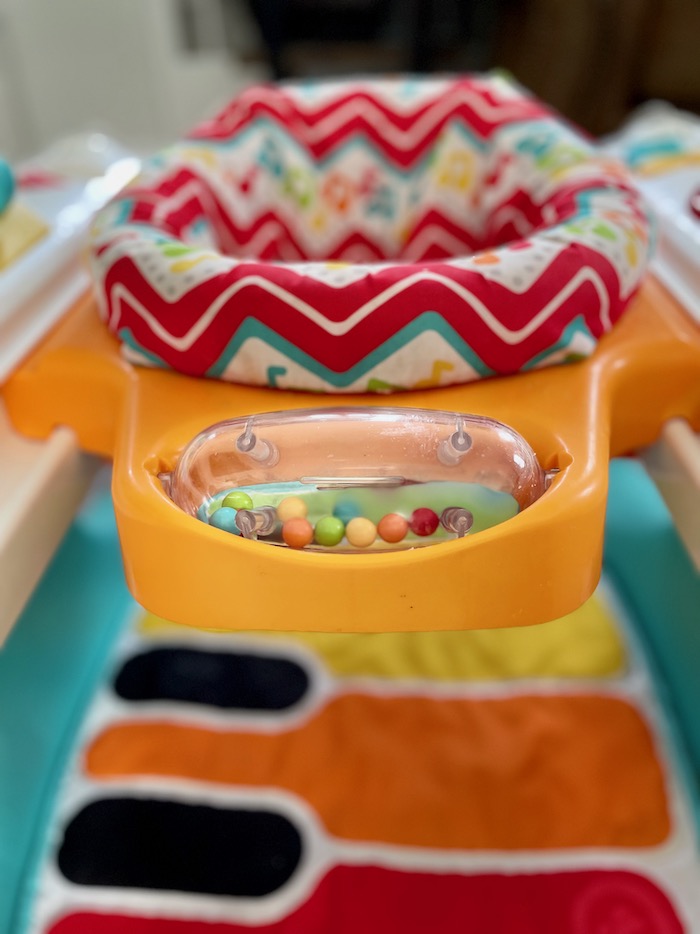 The seat incorporated in the Step 'n Play travels from one end of the entertainer to the other. The traveling seat lets baby practice taking steps without the safety worries of a true walker, which can tumble down steps.
Babies can also spin around in the seat to see toys in every direction. The seat is very easy to twist from one spot to the next, especially in comparison to our jumper seat, which our daughter has a hard time turning.
Adjustable features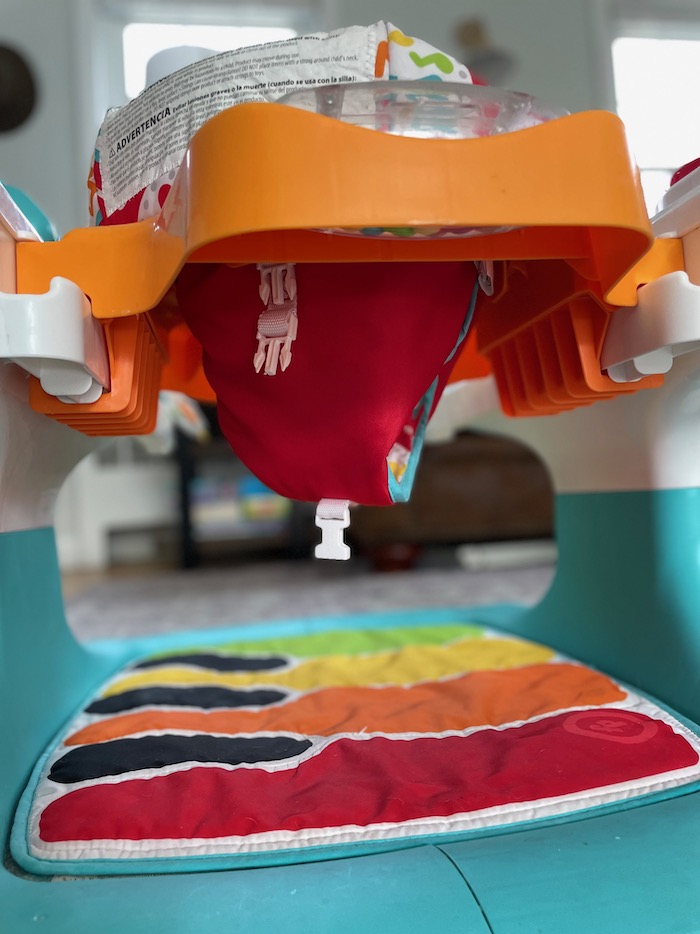 The swiveling seat of this entertainer has a buckle at the bottom, so parents can adjust the height setting as their little one grows taller. As mentioned above, they can also completely remove the seat so toddlers can use the piano as an activity table.
Care and cleaning
If your babies are anything like ours, you're probably a pro at cleaning up spit-up. We find it's relatively easy to clean the plastic parts of this baby entertainer with a damp cloth, although it can be difficult to wipe out all the nooks and crannies of each attached toy.
The fabric parts of the Step 'n Play, including the mat under baby's feet and the padded seat, are machine washable. The ability to machine wash is a must for any baby gear in our house!
Power supply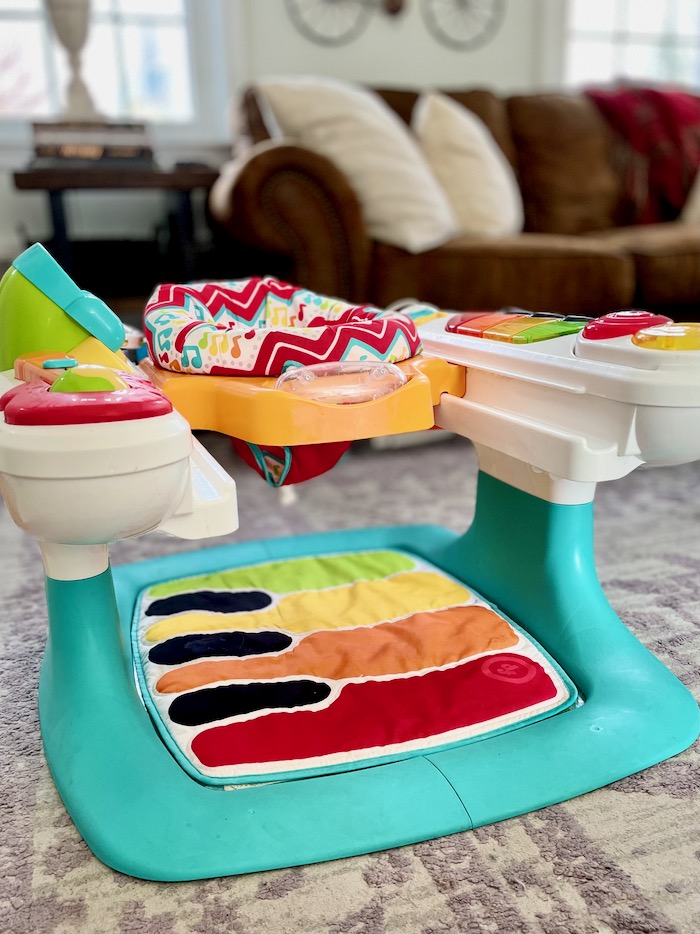 The Fisher-Price 4-in-1 is completely battery operated, so there are no hazardous plugs and cords involved. Only three AA batteries are needed, and it's easy to change them out using a screwdriver.
The battery power for this toy has proved to be long-lasting. We've been using it every day, and between two children, I think we've only changed the batteries once or twice.
The Upshot: Fisher-Price 4-in-1 Step 'n Play Piano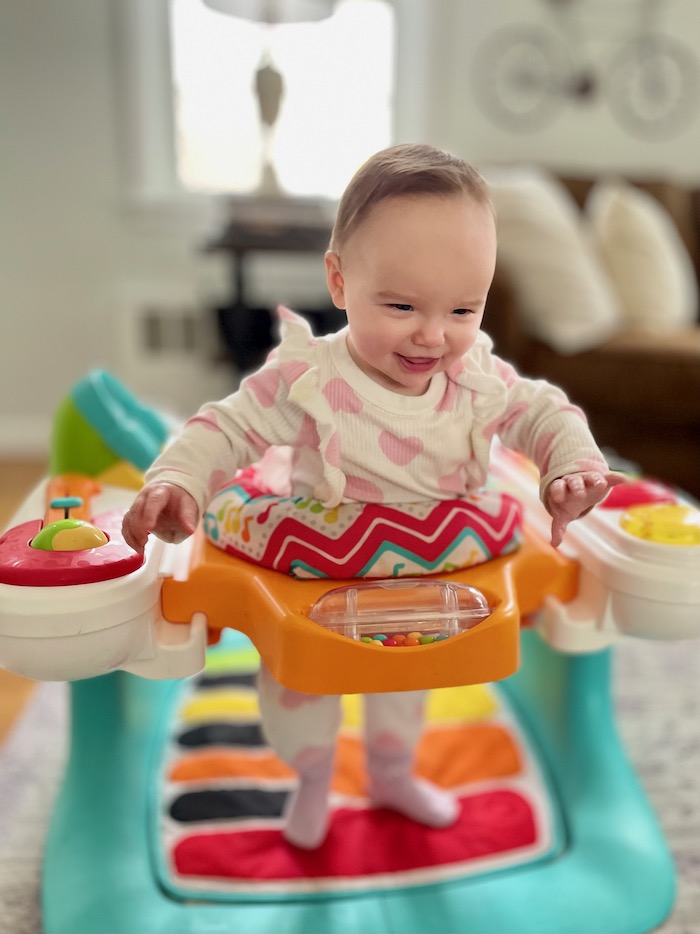 The 4-in-1 Step 'n Play Piano from the toy geniuses at Fisher-Price is one of our must-have registry items and has been a lifesaver in our household. It has brought tons of fun and smiles to our babies. I'd recommend it to any family with a young infant. They might be resistant at first to having another large baby item, but this toy is unique and worth the real estate.