How to Travel with Baby Formula on a Plane
By the time my son turns nine months old, we will have taken him on 35 flights from shorter jaunts to nearby states to international flights that lasted for 13 hours. Over that time we've gone from combo feeding him to transitioning to 100% formula.
Thankfully it's pretty simple to bring your baby's food along once you know the rules and best practices. Here's everything to know about how to successfully travel with baby formula when you fly:
TSA Regulations for Carry-Ons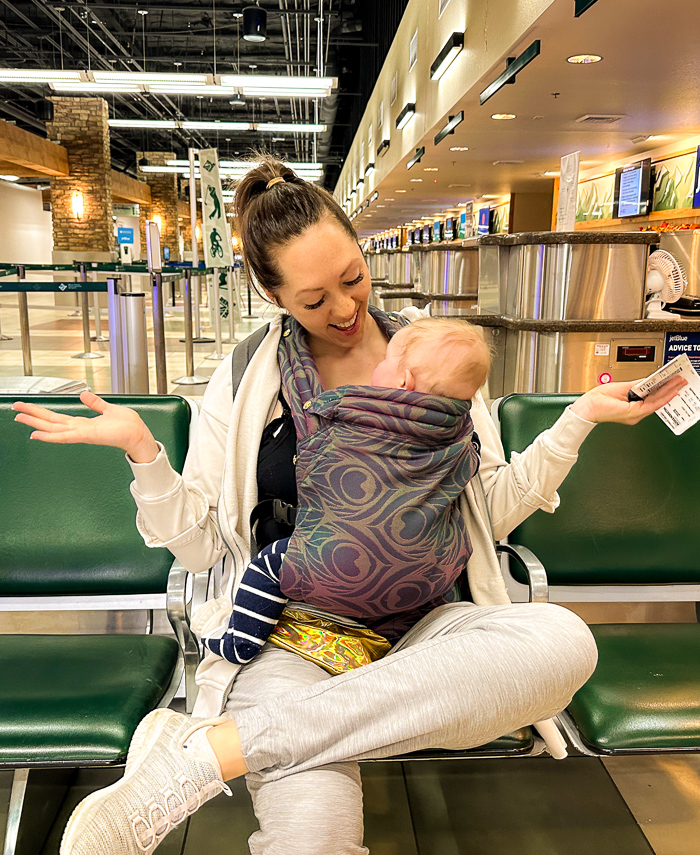 The first important thing to know is the TSA regulations regarding liquids, as you will most certainly have extra checks. Be sure to budget extra time for this! Whether you have TSA precheck or not, the following considerations all apply:
Liquid amounts
For baby food including breast milk, water for formula, liquid formula, juice, and other forms of milk, you're allowed to bring "a reasonable amount" of each above the 100ml/container limit.
The amount that is reasonable is left up to the TSA officer. I have actually run into issues with this when they wanted us to dump one of our water bottles for his formula when our flight was only about an hour and a half. For reference we had 240 mls. I knew we were within our rights to have all of the water, and in case we had delays in the air, which has happened to us before, we needed to have it along. I remained polite but firm that we were allowed to have it and asked to speak to a supervisor, who agreed that the amount we had was, indeed, reasonable. If we'd had to dump, we could have bought water in the terminal, but I preferred to use our own.
I highly recommend printing out or saving TSA rules to your phone in case you run into any issues. Read full TSA rules here.
Extra checks
Almost no TSA experience has been the same for me, but 80% of them have involved extra checks for the liquids. Be sure to let the officer know before you go through security that you have liquids in excess of 100ml/3oz for your baby. They will probably pull them out for extra screening.
They are allowed to put the bottles through an extra machine and they are allowed to unscrew the top for a vapor test, they are not allowed to stick anything into the liquid. I have only had a vapor test performed once.
I highly recommend using clear bottles, which usually means easier screening and fewer vapor tests.
Powder checks
If you have powder formula, they will probably run a white test strip over it for bomb testing as well. I have never had them open up the formula, but rather run the strip on the outside of the container. As far as I know there is no limit on the powder amounts. I've brought entirely full cans with me many times.
If you're traveling abroad, be sure to look into the rules for the specific country you're traveling out of. So far going through customs in Mexico and Japan, the experience has involved no additional checks and was much easier than US security.
Packing Formula Safely and Effectively
The worst thing would be a formula spill en route when it's difficult to impossible to replace the formula. I've never actually seen formula for sale in the airport, so make sure that you bring more than enough with you in case of delays, and pack it securely.
We sometimes transfer formula to a clean Tupperware with locking lids. I also will store a can with a secure lid in the diaper bag. I make sure that I only bring unopened bags and cans of formula in my checked baggage and wrap them in clothing so that they don't get jostled and burst. Though we don't use liquid formula, I'd do the same with liquid cans.
That said, weight from liquid can add up quickly, and they tend to take up a lot more space, so if you also use powder, I would recommend only traveling with the powder. Also be sure to check whether your destination has formula you can easily buy. If you use a hypoallergenic or speciality formula, you may need to bring it all with you. We could have easily bought more in Mexico and Japan, though I've heard in destinations like Thailand it can be harder to find.
If You Need to Warm the Water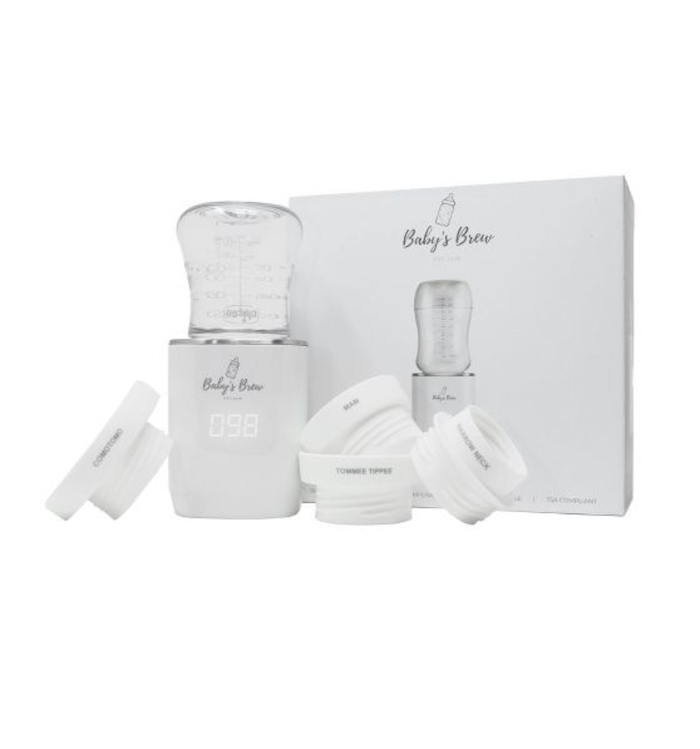 The best thing we ever did is slowly start only serving our baby room temperature formula. According to the CDC, formula does not need to be warmed to be safe to drink. When he's hungry, we can just make a bottle on the spot. I like to pre-fill his Comotomo bottles with the exact amount of oz we'll need for ease.
But what if your baby prefers it warm? No problem, this portable bottle/formula warmer can be charged ahead of time (or in your seat in a pinch). Consider bringing a portable power bank to recharge the warmer as needed.
I have also been offered warm water from flight attendants previously, but since we only use bottled or boiled filtered water for his formula, I've used what we brought since I know the origins of it.
Washing Bottles on the Go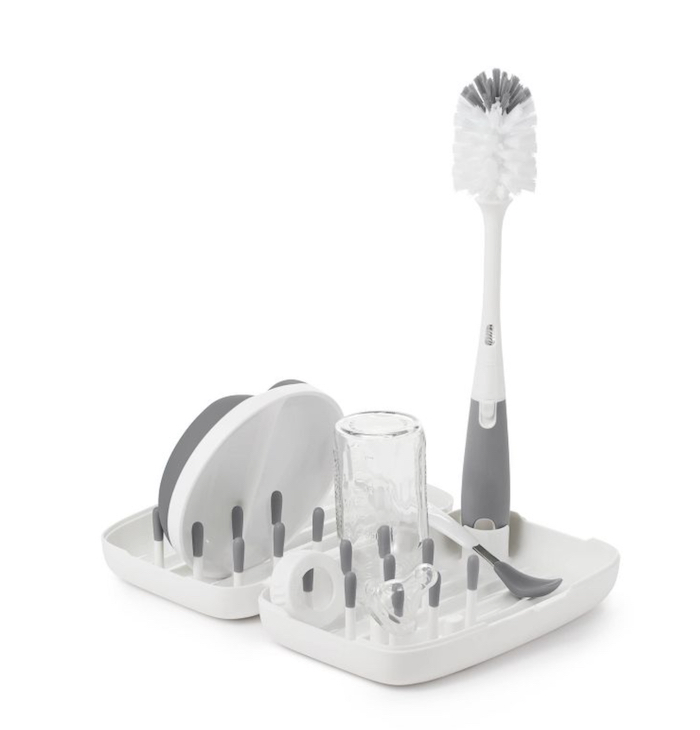 I'm in love with our OXO baby bottle brush and drying rack. I joke it's the best $18 I've ever spent. We even use it at home to keep our son's bottles totally separate from the rest of our dishes.
It folds up for easy portability and fits into our diaper bag with ease. I recommend bringing your own soap in a carry-on size bottle since airport and airplane soap is usually not the kind that you would want to use on bottles. It can be heavily scented, foam, or high in chemicals and antibacterial agents.
You can easily wash bottles in the airport bathroom or lounges. On the flights, I use filtered water from my own water bottle that I get in the terminal. If I'm out of that, I asked the flight attendant for a bottle of water. It's never been an issue. I tend not to use the water from the top on planes as sometimes it's not potable and I also I'm not sure about the state of their water trucks. For me I would not care, but for my baby I'm extra cautious.
Where, When, and How to Feed
As formula feeding parents know, the ease of being able to bottle feed anywhere is delightful. We have walked through the airport with our son in a carrier (I like this one for travel days) feeding him while we walk. We are also always sure to feed during takeoff and landing to help clear his ears.
Formula feeding has been way easier than pumping, though if you combo feed, I have tips for pumping on the go and traveling with breast milk for you, too.
Overall, flying with formula is pretty simple once you know the rules and how to properly store it. It's a bit more to travel with, but it's not a big deal, either. Happy flying!