How to Travel with a Car Seat
So you've booked your dream vacation, and now you're realizing that there's a lot of stuff a baby (or toddler) needs in order to make traveling possible, including a car seat.
We've been on over 50 flights with our one-year-old including four international trips, and have brought a car seat on most of them. It doesn't have to be too complicated. Here's what to know about traveling with a car seat:
Do You Even Need a Car Seat?
It's possible you won't need a car seat on your trip, depending on what you choose to do. If you are going to a destination where you're mostly using public transportation, like we did on our trip to Japan with our then-six-month-old, you could opt to travel without a car seat.
Keep in mind that you will need a car seat if you're going to take an Uber or taxi to the airport at home. Although some Ubers in some cities do have options with car seats, I've heard of people getting stranded because they planned on utilizing that option and there were no cars available.
Alternatively you can book a private transport that can guarantee a car seat or of course you can ask a friend or family member to give you a ride, which is usually what we do. There's also the possibility of renting one at your destination. Make sure you know the state and brand of the car seat you're renting, though. I've been stuck with some I opted not to use, which I discuss below.
When flying, it's safer to get your child under 2 their own seat rather than having them fly as a lap infant, and in this case, you'll want that car seat on board.
To Check or Not to Check the Car Seat?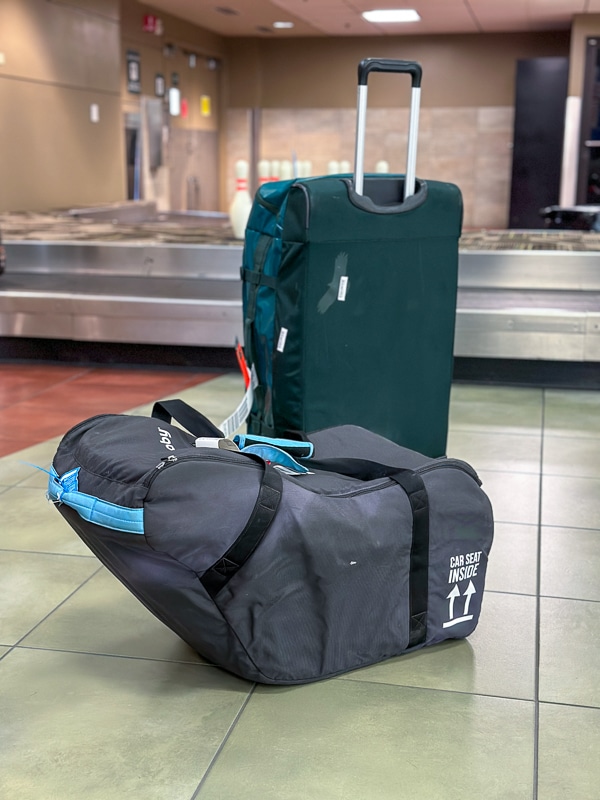 On the vast majority of our trips, we have opted to bring a car seat. On every single one where my son does not have his own seat, we check it as hold luggage. You run the risk of your car seat getting lost or delayed this way, but knock on wood, we have been OK so far.
If you do decide to check the car seat as hold luggage, definitely get a travel bag for it. Most brands of car seat have an associated travel bag, and I recommend buying the one meant for your brand. We travel with the Uppababy Mesa and its associated travel bag. The travel bag is pricey, but I was able to find one secondhand on Mercari and it has served us well.
I have not come across an airline yet in the US, Canada, Asia, or Europe that counts a checked car seat against your baggage allowance or that charges extra for it.
If you're nervous about the car seat getting lost, or if you opt to get your baby their own seat on the plane, you'll bring it along with you to the gate. I like that the Uppababy we have fits through the x-ray machine and that it's FAA-approved (without the base). I usually wear it on my back through the terminal like a backpack, using the carrying straps as backpack straps. If your child does not have their own seat on the plane, you can gate check the car seat for free.
You can also pick a stroller (ideally a stroller that fits in the overhead bin) with adapters for your car seat for easier transport through the airport, or whatever travel stroller is already compatible with the car seat. In our case that would be the Vista stroller.
Picking an FAA-Approved Car Seat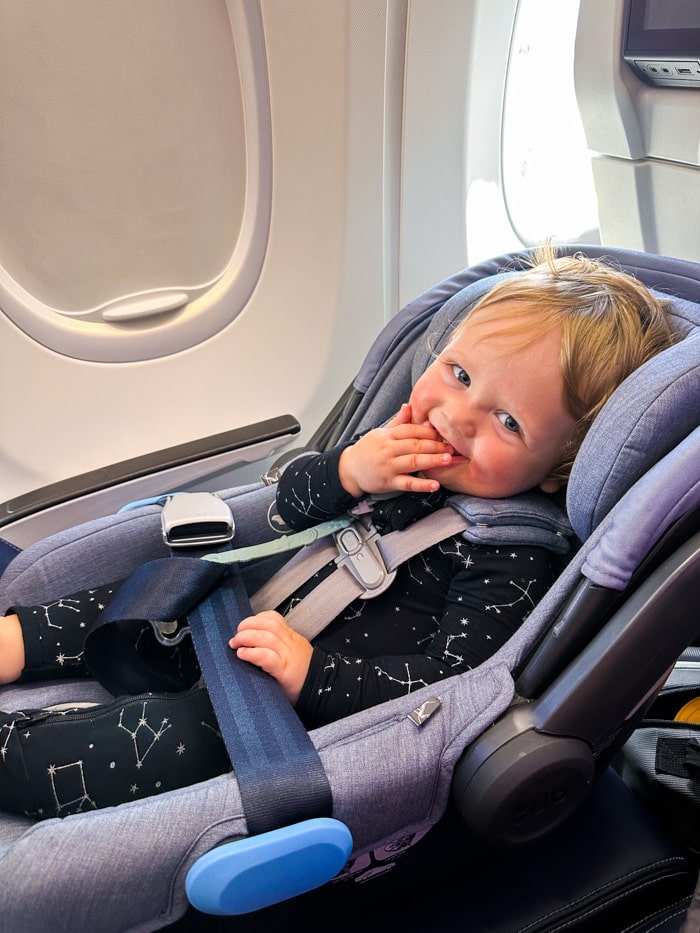 I am sad that we're at the end of our time with the Uppababy Mesa, which is FAA approved without the base, and is so easy to strap in.
We'll be moving to the Nuna Rava for our 'at home' car seat now that my son has outgrown his Nuna Pipa (read my thoughts about Uppababy vs Nuna since I tried them both!), but it's too heavy for travel.
Target has a list of FAA-approved car seats, including the Diono Radian, which is loved by our writer, Christy.
However it seems the most popular travel car seat, which is also FAA-approved, is the affordable Cosco Scenera NEXT, which weighs just 10.4 lbs and costs under $60.
Can You Use a CARES Harness Instead?
A CARES harness is a system of webbing and buckles that adds a shoulder harness and chest clip to an airplane seatbelt. It is designed specifically for aviation use for children age 1 and older who weigh between 22 and 44 pounds. For shorter flights, this might make sense. For longer flights where your child is likely to sleep, a car seat might provide a more comfortable sleeping space.
For our upcoming trip to Namibia, which will involve nearly 30 hours of travel, we opted to get our 1-year-old his own seat and were excited about doing a combo of a CARES harness and the Flyaway bed – until I read that United does not allow them. Now I'll be searching for a deal to upgrade us to business if at all possible! Otherwise, I guess we'll bring the car seat on board and hope he can sleep well in it.
Renting a Car Seat at Your Destination
Can you just rent a car seat at your destination? While an option, I haven't loved the provided car seats by car rental companies. We recently did a one-way rental to get to the closest major airport to us (about 4 hours by car from Reno to San Francisco), and we were so disappointed with their crappy car seats that we opted to bring our own on our trip to Bali with our baby, which I was ultimately glad we did but had not been in our original plans.
Depending on where you're traveling to, you can know which brands are available and rent what you want ahead of time. Babyquip is a great option for the states, and you can search availability on Google for any other country you may be visiting. I'd pick this option over the mystery seat a car rental company might provide.
Traveling with a car seat is an added item, but thankfully it doesn't cost anything to check it or travel with it, and it's worth it for the peace of mind, even in countries where it's not required.
*Some links in this post are affiliate links that support us at no extra cost whatsoever to you. Everybody wins! Thanks for your support.